We are reader supported and may earn a small commission on some (but not all) links within our content to products we think will genuinely help our readers at no extra cost to you.
If you're looking to kickstart your fitness regime, there's nothing quite like a fitness program or app to help provide structure, guidance, and motivation.
They've come a long way in recent years and the quality of exercise programming, coupled with fancy tech, means the world of online exercise is undoubtedly thriving.
From celebrity-led live classes to fitness apps built using A.I. algorithms, we wanted to get to the bottom of which ones are really worth the money…
So, here's your comprehensive guide to the world of online fitness programs and apps… based on our first-hand experience of trying and testing them all out.
In this round up review, we provide an honest, real-world experience of the best of the best when it comes to fitness programs and workout apps. Whether you want to follow along to immersive workouts, or leverage tech to track your progression, find out which brands we think do the best job.
1. Fitbod – Best for Strength Training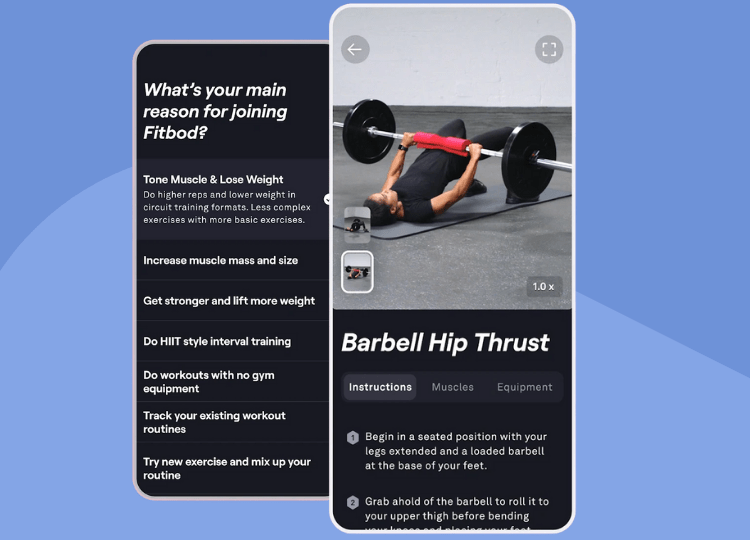 Fitbod is elegantly simple, but incredibly effective when it comes to crafting customized workouts that are tailored to you and your goals.
There are a plethora of workout apps that promise to track your exercise routines, but none execute it quite like Fitbod.
Fitbod uses an exercise algorithm to adapt your workout plan based on your ability, past workout performance and available equipment. The result is a seamless exercise experience, whereby each workout seems to be so perfectly created (as if by magic!)
We've selected Fitbod as best for strength training as it lends itself so well to track incremental improvements in your weightlifting. It also makes lifting weights more inclusive and less daunting if you've never done it before.
We're big believers in the benefits of strength training, no matter what your age or experience is. Building muscle is a vital component to overall health and wellbeing, and Fitbod makes this achievable.
Fitbod also comes in a lot cheaper than most fitness programs and apps, so that's certainly a bonus for the money conscious too.
Fitbod doesn't offer live classes though, so if that's a feature you want from your fitness app, there are others on this list you may want to learn about…
Cost – $5/month (using our discount code)
Website – fitbod.me
2. Openfit – Best for Budget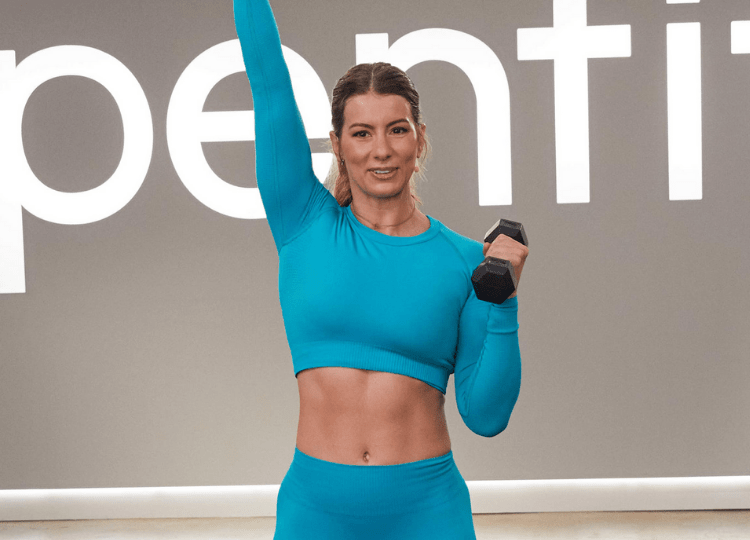 Openfit offers everything, from live classes to meal planning, and at a very appealing price.
If you're not too sure what kind of workouts you like, or if you simply want a lot of variety, Openfit is certainly worth considering.
The app is easy to use and the inclusion of nutritional meal planning also helps you to eat healthier as you follow along to new exercise programs.
We've selected Openfit as best for budget as it really offers a lot of value for the price. Many other brands on this list, like Obé for example, are so fun to use, but the monthly cost is likely going to be out of many people's price range. Openfit brings a lot of the features of these higher end apps and offers them at an affordable price.
Openfit also includes the more traditional "programs" to follow along to, such as the popular Xtend. Our recent Openfit review provides an in-depth look at all the features.
Cost – $8/month
Website – openfit.com
3. Alo Moves – Best for Yoga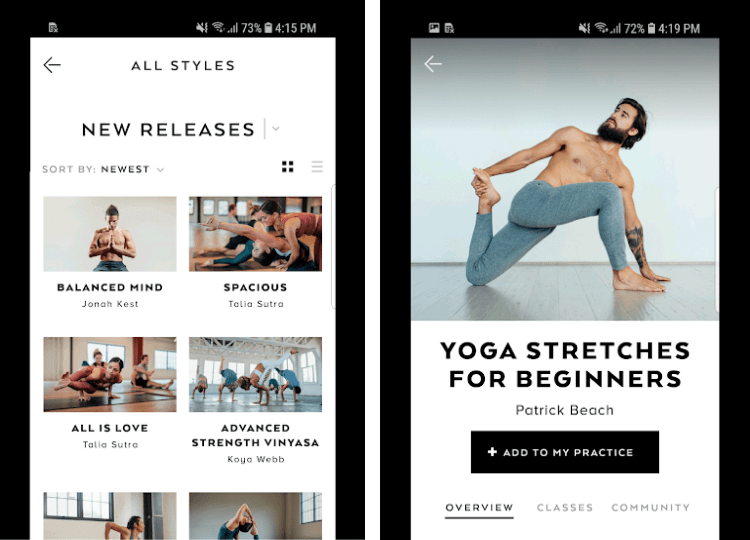 If you like yoga and want to progress from just following YouTube videos, Alo Moves is a great choice.
Although it falls into the category of yoga app, Alo Moves includes quite a varied selection of workouts, including HIIT and strength workouts.
A feature we really like is the "skill" series, which helps you practice and perfect specific skills. If you've always wanted to impress friends with a handstand, for example, then these lessons are really worthwhile.
We've selected Alo Moves as best for yoga as it includes so many on-demand and live yoga classes led by world-recognised teachers. It also includes something for every level, including beginners right up to advanced yogis.
With so many instructors to choose from, you can find one that best suits your workout style. Whether you prefer your instructors to be laid-back and calming, or high energy and motivating, Alo Moves ensure you can find one that fits your style.
Although it is a "yoga" app, we think Alo Moves deserves recognition as one of the best online fitness programs too, as their HIIT workouts and strength routines are solid in their own right.
Cost – $20/month
Website – alomoves.com
4. Aaptiv – Best for Audio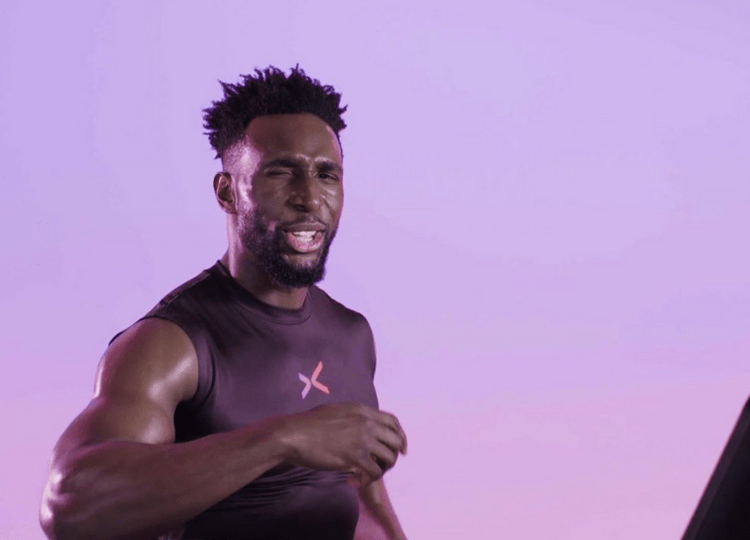 Aaptiv is an audio fitness app, giving it quite a unique angle in the market.
Combing carefully selected music with personal guidance during the workout, Aaptiv definitely makes workouts more fun and engaging.
Due to a lack of visual demonstration of the exercises, Aaptiv isn't as useful for say weight lifting, whereby seeing how to do a resistance band deadlift, for example, is very useful to ensure correct technique. As a result, we feel Aaptiv is best for cardio, HIIT and exercises that doesn't require technical movement.
We selected Aaptiv as best for audio as it really is the king of the fitness soundtrack. They focus all their attention on this, instead of it being a bolt-on feature. If you want to give your eyes a bit of a rest from a screen, audio workouts are worth exploring more.
Cost – $14.99/month
Website – aaptiv.com
5. P.volve – Best for Toning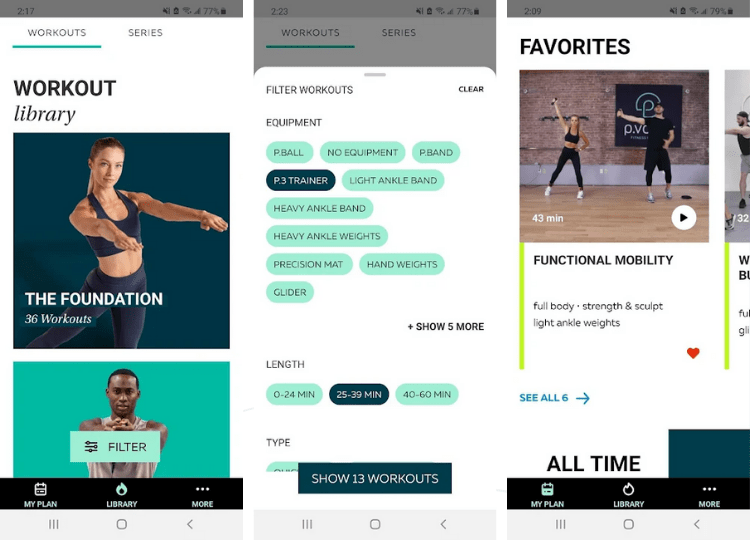 P.volve has carved itself quite a unique niche within fitness. It doesn't really fit into any category, but rather follows the P.volve methodology to provide effective workouts.
P.volve's workouts usually involve using their own equipment, so to get the most out of it, you probably want to buy their equipment too.
The workouts feel like a bit of a mash up between barre, HIIT and Pilates. The focus being on toning an sculpting the body.
Although toning is a key area for all P.volve programs, the workouts are also great for developing practical strength and balance too. They are also low-impact, making them great for an older audience too, that may want to avoid the high impact routines of many other fitness programs.
We selected P.volve as best for toning as the workouts offer a great blend of low impact strength and cardio movements, helping to burn fat and tone your body. If you've struggled with weight loss but have never really tried resistance based workouts, P.volve would be a great choice.
Cost – $7.99/month
Website – pvolve.com
6. Physique 57 – Best for Barre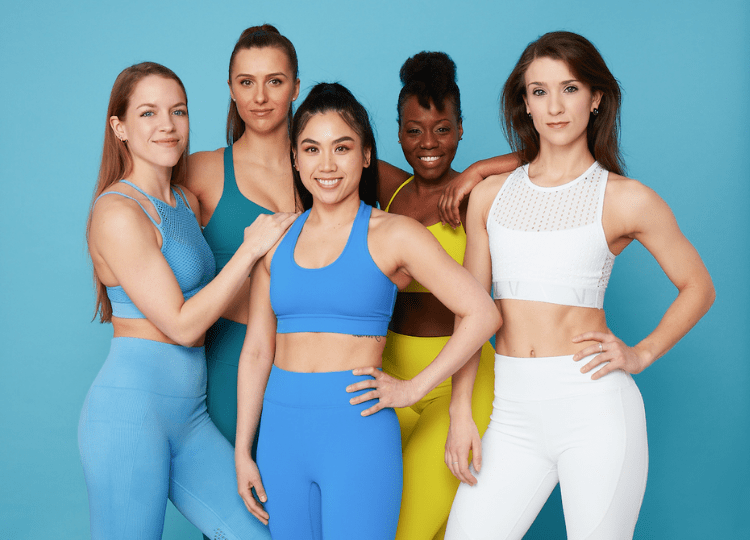 Originating from high end New York barre studios, Physique 57's On Demand service offers unique access to the world of barre, at an affordable price.
With celebrities and the elite of New York amongst the many Physique 57 fans, this on-demand barre app is great for anyone who wants to dive head first into the sculpting world of barre.
As soon as you sign-up, you'll have access to pre-set barre programs, that provide a structured environment to enjoy barre.
We selected Physique 57 as the best for barre as it's a brand that has a longstanding reputation both online and offline. It has managed to take the excitement and energy from a barre studio and package this up in an app for anyone to use. With not many Physique 57 studios around the world to choose from, chances are you don't live that close to one, so the on-demand service is a great way to get your barre fix.
Our in-depth review of Physique 57 goes into everything you need to know.
Cost – $24.99/month
Website – physique57.com
7. MUTU Systems – Best for Postnatal Program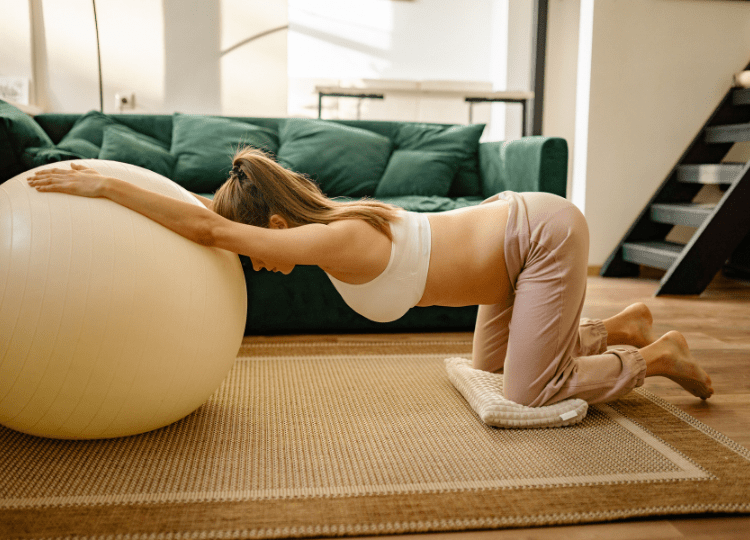 MUTU is perhaps the least known of the programs and apps on this list, but if you're a mum, then this could be the fitness program you've been searching for.
MUTU Systems offers a tailored fitness program for mums, helping them regain their fitness, confidence and overall wellbeing. Based out of the UK, it has been used in NHS trials and is medically proven to deliver results. The program offers expert support and guidance, going beyond just workouts and exercise plans.
As well as a fitness program dedicated to mums (both new and not-so-new), MUTU's members also benefit from a global community of like-minded women which can be a real bonus when it comes to ongoing motivation.
We selected MUTU as best for postnatal because the program includes specific exercises related to what new mums go through. A focus on the pelvic floor, for example, ensures MUTU helps its audience with specific goals and areas of wellbeing.
With lots of very short workouts, MUTU clearly understands what mums wants from an exercise program and if you fall into this category, MUTU is definitely worth considering.
Cost – £99 one-off payment
Website – www.mutusystem.com
8. MyFitnessPal – Best for Weight Loss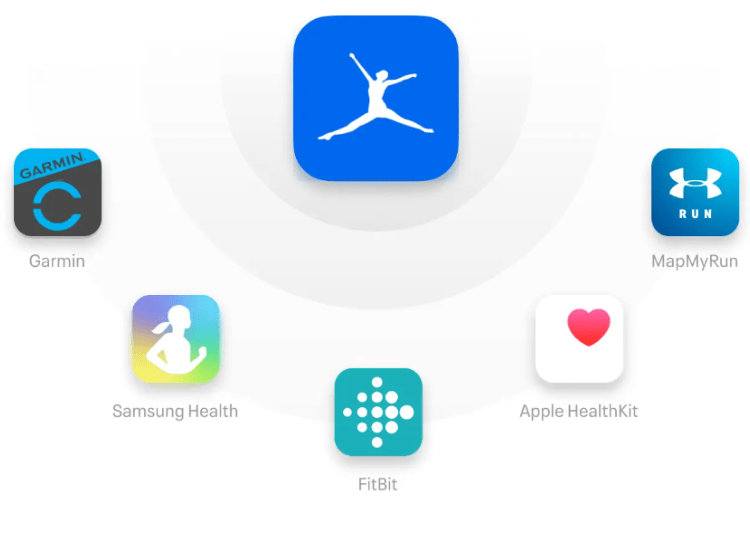 With over 200 million users worldwide, it would be pretty hard to ignore MyFitnessPal on a list of the best fitness apps.
Launched in 2005, it's still very much at the forefront of apps trying to help you get fitter.
MyFitnessPal is fundamentally a calorie counter… it helps you understand how many calories you are consuming and expending in a day, to illustrate if you're likely to reach your overall fitness goals.
For anyone looking to lose weight (or gain weight for that matter), this ability to quickly see insights into your calories for the day is really useful… and considering the price, it really could provide incredible value for you.
The app is free to download, but the premium version includes more insights into your macronutrients, nutritional plans and doesn't include ads.
You can read our full MyFitnessPal review for details on what the service is like.
Cost – $79.99/year
Website – myfitnesspal.com
9. Obé Fitness – Best for Community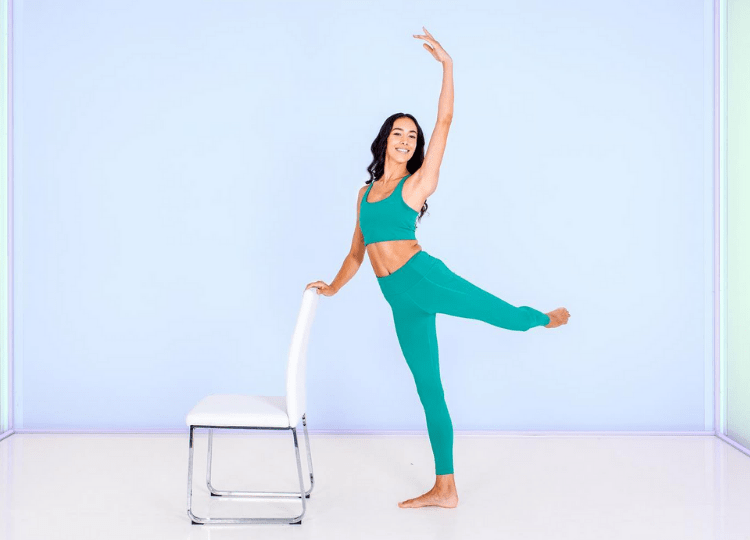 If you're finding your normal workout a bit boring and struggle with motivation, it's time to discover the world of Obé.
Obé Fitness offers fun exercise classes and workouts, with a thriving community.
With its bold colourful backdrops, charismatic instructors, Obé doesn't conform to what fitness apps should be and instead, follows its heart and provides a very unique experience.
If you want to get fit, but have fun at the same time, Obé is a great choice. Many fitness apps fall victim of being too serious and assume everyone wants an intense, high tempo, energetic coach… but if you want a coach with their own distinct personality, Obe is the perfect fit.
We selected Obé as best for community as you really do feel a part of a larger, caring community as soon as you join. The focus on live classes, instead of just on-demand workouts, means you really feel like you get to know the coaches.
With so many different workout styles to choose from, and a jam-packed live schedule, there is something for everyone.
Check out our Obé Fitness review for a full breakdown (and a unique discount code).
Cost – $19/month
Website – obefitness.com
10. Beachbody – Best for Variety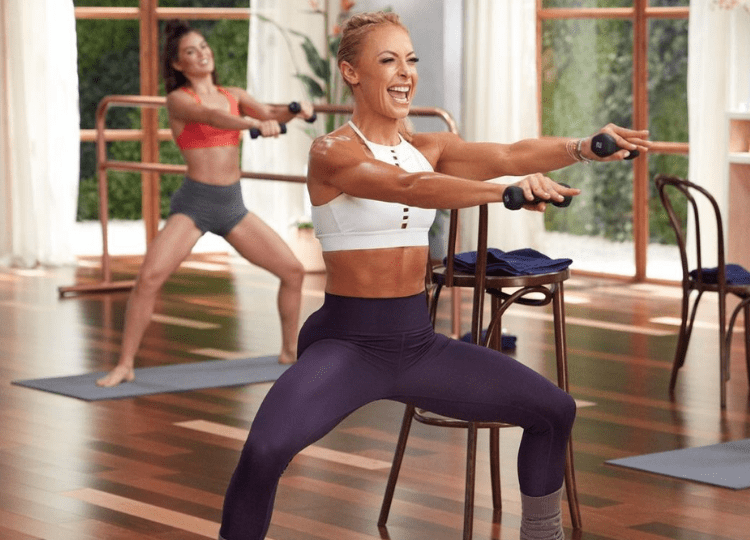 Beachbody is pretty much the grandfather of online fitness programs. With titles such as Insanity really kickstarting the concept of online workouts, Beachbody has a huge following and raving reviews.
In fact, considering how many users Beachbody has, the amount of 5 star reviews illustrates a brand that really gets fitness.
We selected Beachbody as best for variety as the on-demand service includes access to all their titles, which basically includes everything under the sun.
Beachbody has also just released a new coaching feature, which is a bit of a game changer and almost turns Beachbody into a personal training solution.
Cost – $8.25/month
Website – beachbodyondemand.com
Related Articles:
Obé Vs Openfit Vs Peloton Vs Beachbody
Alo Moves Vs Glo Vs Gaia Vs Yoga International