We may earn a small commission on some links at no extra cost to you. Learn more.
Looking to upgrade your home yoga flows? There's an app for that…
In fact, there are plenty of apps for that… so deciding which one to use is a tough choice.
That's why we've been testing all the leading apps and programs, to understand which ones are worth the money, and which ones aren't.
After exclusively using Alo Moves for 14 days, we absolutely fell in love with the classes, and actually, fell in love with yoga again. It is not just our current top pick for yoga apps, but it's also quickly becoming our go-to choice for more general fitness workouts too.
With thousands of classes to follow along to, including instructor led workouts, at $12.99/month, we weren't expecting to become such Alo Moves converts after such a short period of time… and that really highlights the quality of what Alo Moves has created.
Claim your free trial below or continue reading our honest Alo Moves review to understand what features we liked, didn't like and other useful info.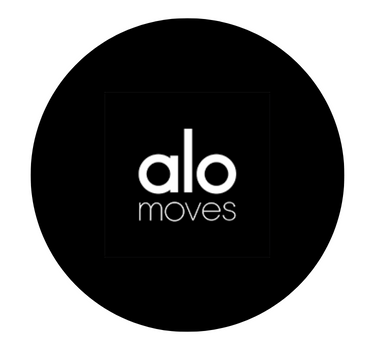 ALO MOVES
Free trial available, suitable for beginners and advanced, unlimited yoga, fitness and meditation workouts. 👇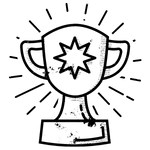 Alo Moves Scorecard – Updated 2023
Ease of Use – 5/5
Exercise/Workout Quality – 5/5
Performance Tracking – 4/5
Technical/Support – 4.5/5
Price – 4.5/5
Overall Rating – 4.8/5
Learn more about our review scorecards as part of our editorial review guidelines.
How Does Alo Moves Work?
Alo Moves (owned by the popular yoga brand, Alo Yoga), is an online streaming service, focusing on yoga and fitness content.
Once you sign up, you'll have unlimited access to their library of video classes.
There are thousands of classes to choose from, split primarily into the 4 categories of: yoga, fitness, meditation and skill. The classes can be accessed online, via their website or their app (available on both Android and Apple).
In July 2021, the membership also included access to live classes, where you could follow along to live instructor led classes and chat with other members, but this feature has since been removed (hopefully it comes back soon).
In mid 2023, the monthly priced dropped from $20/month to $12.99/month, keeping all the same features.
| Features | Details |
| --- | --- |
| Free Plan? | No |
| Price | $12.99/month or $129/year |
| Free Trial | 14 Days |
| Discount? | 20% with Annual Plan |
| On-Demand Workouts? | Yes |
| Live Workouts? | No |
What We Like About Alo Moves
The Joy of Mindful Movement
Something we struggle with when using a lot of fitness or yoga apps is the overwhelming focus on "weight loss" or "bulking up." The reality is, a better approach to fitness is to simply keep active and move with purpose.
Using Alo Moves is a great way to get you excited about moving mindfully, whether that's through a gentle yoga routine or an intense HIIT workout.
By consistently following such classes each week, your body will thank you.
For us, this is a better, more sustainable approach to fitness compared to fad diets and intense weight loss programs.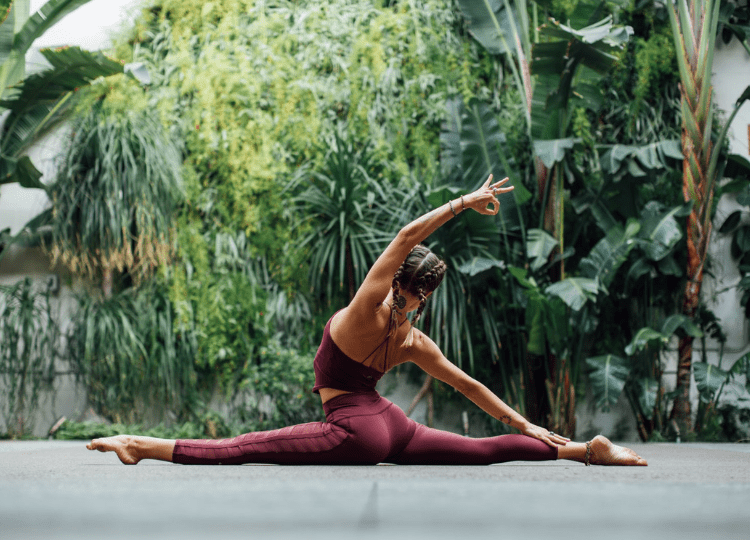 Library of Content
Alo Moves have certainly been busy in recent years creating so much content. There are endless playlists and videos around all sorts of areas of movement.
Unlike some other fitness and yoga apps we've tried, the sheer depth of Alo Moves is undoubtedly a selling point and would likely keep you engaged with the platform for a very long time. There are also new classes being added each week too!
They also include specific types of yoga classes, such as restorative, vinyasa, hatha, or ashtanga. This means if you really want to double down on a specific style, there is still more than enough to keep you busy. This is a key point as people tend to have a preferred style of yoga and stick with similar routines so knowing there is so much variation within each style is definitely a plus.
Classes also vary in length, from short 10 minute routines all the way up to 90 minute sessions (with most somewhere in the middle).
We found that selecting a shorter fitness workout, followed by a shorter yoga workout worked really well for us. But it's really up to the individual how to structure the workouts.
We really enjoyed the "Alo Moves in the Wild" series of workouts, which blends exercise with mindfulness very well.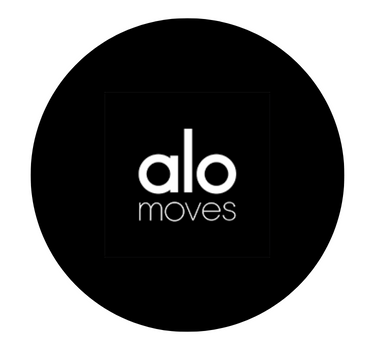 ALO MOVES
Free trial available, suitable for beginners and advanced, unlimited yoga, fitness and meditation workouts. 👇
Suitable for Beginners and Advanced Yogis
The classes also vary in skill level considerably. Although you'll find most of their marketing videos and content promote the very advanced yoga poses and flows, there are lots of beginner friendly classes too.
The recent addition to live classes (which we'll discuss in more detail later), are perfect for beginners as you can ask questions in the chat as you follow the routine.
It's worth mentioning, however, the term "beginner" is slightly up for interpretation. Alo Moves' description of a beginner is probably someone new to yoga or strength training, but has an ok level of movement. If you've got limited movement due to an injury or chronic condition, the beginner classes may not be as "beginner friendly" as you need. In such instances, it's always worth checking with a Physical Therapist for personalized recommendations on starting a new fitness program.
Our recent Mighty Health review discusses how their app is designed for very low impact workouts, perfect for older adults and those with limited mobility. So that's worth a consideration if you want very gentle workouts.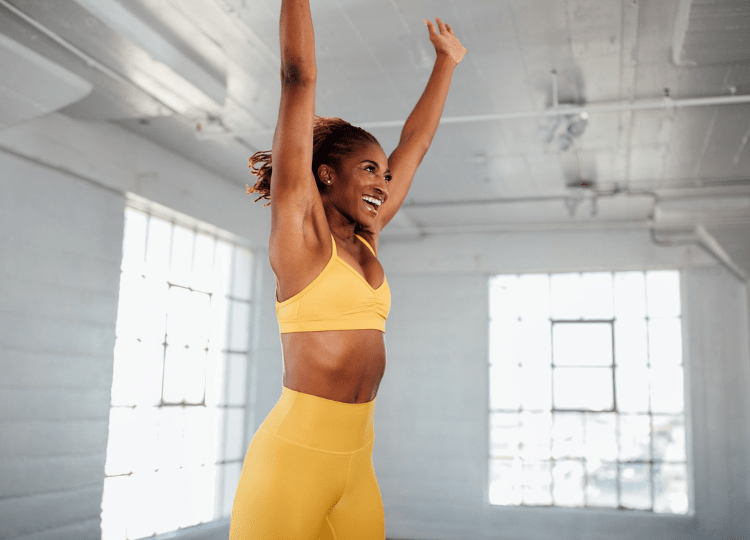 Strength and HIIT Workouts
We signed up for Alo Moves for the yoga… but we got hooked on the fitness and skill content.
The fitness hub of content, including strength workouts and HIIT routines certainly isn't a "bolt-on" but is equals the yoga content as far as quality and depth go.
Simplicity
The actual platform is very simple and easy to use.
When you sign up, there is a personalized quiz that helps tailor some early recommended classes for you. This is a good place to start in terms of navigating content.
The dashboard makes it very easy to find new classes and filter on what you're looking for. We actually found filtering on instructor was our favourite way to build up a list of workouts to follow along to.
Alo Moves launched a new "daily recommendations" feature that we really like… whereby 3 new classes will be recommended for you on your home screen when you sign in each day.
The platform also seems to be pretty good at surfacing content related to classes you've already done, so you don't have to spend hours scrolling or searching for new classes.
Skills
The skills series are a great feature for those looking to really push themselves.
Skills are things like "handstands" or the more advanced yoga poses. This content helps guide you through actionable steps to achieving such goals.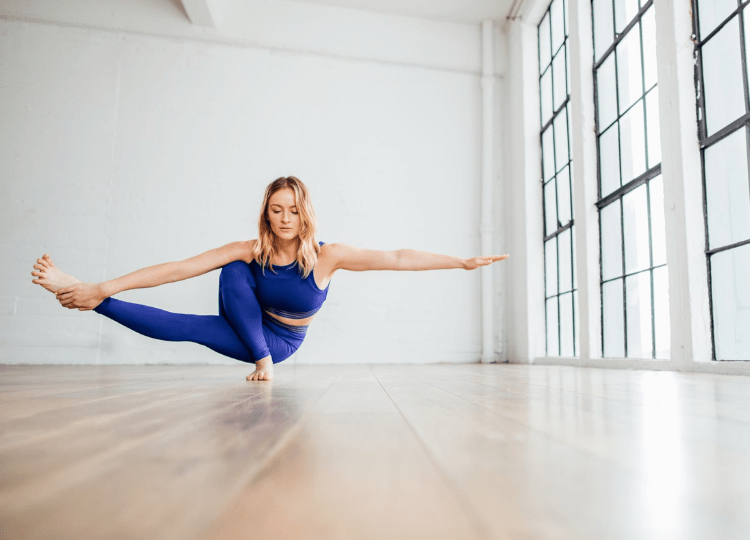 Quality of Instructors
There are over 80 instructors on the Alo Moves platform… so you really can't complain about the choice.
Although we haven't followed classes by every instructor, we did try and test out as many as we could and they are all really good. They are helpful, motivating and not too intense.
The onboarding quiz at the start will try and point you in the direction of instructors Alo Moves thinks you'll enjoy most (which is worthwhile as the quiz doesn't take long).
You also may recognize some instructors as many of them have large social media followings in their own right too.
Of the instructors we experienced, they all seemed to find a very good balance between providing guidance and letting you get on with it. We've tried some yoga apps that often start with an instructor explains their whole backstory which just isn't necessary when you want to get started with a routine.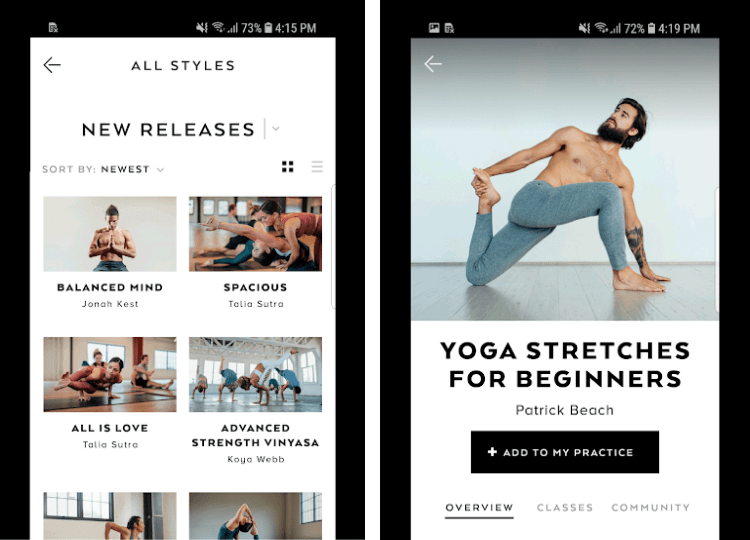 Download Classes
A feature we really like about Alo Moves is the ability to download classes.
Whether your internet connection is a bit dodgy, and you want to ensure you don't get interrupted during a class, or you want to follow along to a class outside or on the move, this feature really opens up new opportunities to get your daily fix in.
You may even find you want to follow a fitness class in a gym for extra motivation.
For us, doing yoga outdoors really enhances the experience and we found we ended up downloading most of the yoga classes we followed along to.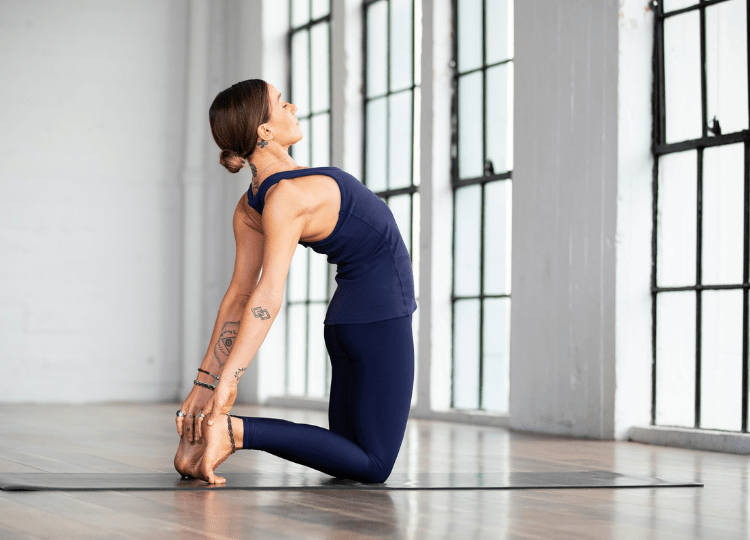 Save Classes
You can save classes within the "my practice" tab. This means you can build up your own workouts to do again and again. Or equally, to save workouts and classes you want to do that week, so they are ready and waiting for you.
Doesn't Require Much Equipment
You could definitely follow along to Alo Moves with no equipment whatsoever.
In an ideal world, having a yoga mat and a pair of dumbbells will open up the majority of classes.
Each class will state what equipment is needed so you know before you start the class.
As far as home fitness goes, being able to follow along without any specialist equipment is definitely a bonus.
Considerations
Live Classes No Longer Available
Alo Moves appeared to test the viability of offering live classes but this feature is no longer available.
Hopefully it will come back because we know a lot of people enjoy following along to live classes as it helps boost motivation.
Doesn't Track Workouts
Some fitness apps like FiiT, Peloton and others, have really leveraged workout tracking to provide cool features like real-time leaderboards, heart rate stats and overall workout performance.
Alo Moves doesn't offer this or sync with wearable devices and this is perhaps only relevant for HIIT workouts, as opposed to yoga flows.
Nevertheless, some fitness apps are really embracing this, so if you'd enjoy tracking your performance, this isn't as intuitive with Alo Moves as other apps.
Lack of Movement Modifications
Something that Alo Moves currently doesn't provide are movement modifications or alternatives, if you're struggling to do certain poses or exercises. We find some fitness apps will include an easier version of each exercise for anyone who might have limited mobility or wants a very low-impact modification.
Alo Moves doesn't include this within the workouts themselves, however you can filter on workouts and classes based on attributes like "beginner" which means you should be able to find suitable classes.
So for us, this wasn't a major blow to our overall experience using Alo Moves.
Alo Moves Alternatives
There's a lot of yoga and fitness apps out there… in fact, more than you could imagine.
But in terms of price range and quality (and based on our own experiences of using them), we've listed out the main alternatives to Alo Moves below. We've also created a head-to-head comparison guide between four of the most popular yoga platforms.
StretchIt
If you like stretching routines and workouts, StretchIt is worth looking into. The app includes a vast library of stretching based routines and is ideal for anyone who wants to reach a goal such as doing the splits or a forward bend.
Unlike Alo Moves, StretchIt is more focused on reaching specific fitness goals and targets, so for some, that might be more suitable.
You can also grab a 30% discount on StretchIt by clicking below.
Glo
Glo is another popular yoga app, and arguably most similar to Alo Moves. It tends to focus more on yoga, and doesn't include the depth of content around fitness, wellbeing and skills, like Alo Moves.
Nevertheless, with a free trial available, you can simply take them both for a test drive and decide for yourself. Glo does include live classes too, which is a big bonus.
Historically, lots of reviews mentioned how much people loved the Glo classes but that the app (especially on Android) didn't work very well… but it looks like they've sorted that issue now and the app store reviews are generally very positive.
BODi (Formerly Beachbody)
Although BODi would be seen as a more general fitness app, instead of a yoga/mindfulness app, the sheer quantity of workouts and classes, including live classes, means even if you just want to follow their yoga/Pilates/stretching routines, you won't be disappointed.
BODi comes in at a very low cost if you opt for annual billing.
With the inclusion of live workouts, community groups and a coach chat feature, we think a lot of people would find Beachbody On Demand very useful.
You can read our full BODi Beachbody On Demand review to get the lowdown on all the features.
Who is Alo Moves Best For?
Alo Moves is best for those who want to get motivated to keep active and move. It is perfect for anyone who wants to give yoga a try, as well as other fitness styles, in a safe and enjoyable environment.
Alo Moves will push and challenge you, yet in a fun way, so if you are looking to really focus on your health and fitness around mindful movement, it's definitely one of the best options out there.
Some yoga apps go big on the spiritual side of things, but Alo Moves feels more suited to those who want to really move their bodies (whether it be in a gentle stretching flow, or an intense strength workout).
It's also a good fit for anyone who wants to do yoga and learn from the best, but who prefer home exercise compared to using a local yoga studio. In comparison to a yoga studio, it's also a much cheaper option so it could save you money too.
Alo Moves Reviews
Alo Moves boasts some really impressive reviews on both Android and Apple. The app currently has an average rating of 4.4/5 from 6.8K verified customers on Android and 4.9/5 from 19.8K verified customers on Apple.
Most reviews mention how much they love the content and the workouts. The underlying theme for any review that isn't 5/5 seems to be with the functionality of the app itself (e.g., sometimes having glitches).
You can use Alo Moves on desktop too, so if you've perhaps got an old phone that might not be running new apps smoothly, then using the desktop version of Alo Moves might be worth a try. It also means you can see the workouts on a larger screen.
Alo Moves Free Trial
Alo Moves offer an unlimited 14 day free trial. Unlike other free trials we've used, Alo Moves sends you a reminder emailer 7 days before your trial runs out, ensuring you have time to cancel if it's not a good fit.
The free trial is more than enough time to really get stuck in to all the content.
We suggest trying all the different styles of workouts, including yoga and fitness, so you can experience all that Alo Moves has to offer.
Sign up for your free trial here. If you like it, you can save 20% by signing up for the year.
Bottom Line
We've tried a lot of fitness, workout and yoga apps recently, as we try to find the best ones out there… and Alo Moves is undoubtedly one of our very top picks.
We've genuinely seen big improvements in our yoga by following the classes, and the advanced fitness workouts will leave even the fittest feeling the burn the next day.
Compared to alternatives, we consistently found the instructors and workouts were of a very high quality and genuinely enjoyable to follow along to. The app is also very easy to use and makes finding new workouts and classes to try a breeze.
At $12.99/month, Alo Moves provides a lot of value and we think the free trial is certainly worth trying to see if it's right for you or not.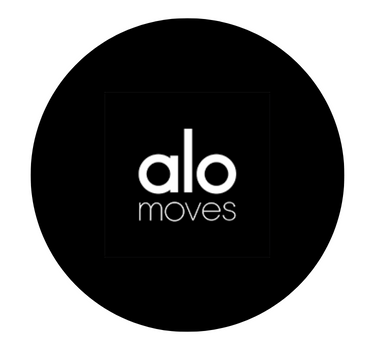 ALO MOVES
Free trial available, suitable for beginners and advanced, unlimited yoga, fitness and meditation workouts. 👇
Related Articles
Best Yoga Apps for Weight Loss
Best Online Home Fitness Programs and Apps