We are reader supported and may earn a small commission on some (but not all) links within our content to products we think will genuinely help our readers at no extra cost to you.
Stretching can help reduce the risk of injuries, improve joint range of motion, improve flexibility, increase muscle blood flow and ultimately make everyday movements easier… so, any app that helps make stretching easier, fun and more engaging is worth considering.
Cue the STRETCHIT app.
We discovered this popular stretching app last year and have followed a variety of their programs, classes and challenges.
So roll out your yoga mat and lumber up, because this STRETCHIT review outlines everything you need to know about the app, including what we like, things to consider and who we think it's best suited for.
In a hurry? You can grab a unique 30% discount by clicking below (the promo code FITNESSDRUM30 will automatically be applied to your account). If you're not convinced after 7 days, simply cancel your free trial and you won't be charged.👇
STRETCHIT App – Voted Best Stretching App 2023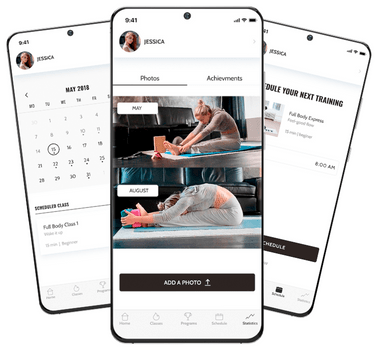 Instructor-led classes, expertly crafted stretching programs, suitable for beginners and advanced, 7 day free trail.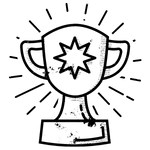 STRETCHIT Scorecard – Updated 2023
Ease of Use – 4.5/5
Exercise/Workout Quality – 5/5
Performance Tracking – 4.5/5
Technical/Support – 5/5
Price – 4.5/5
Overall Rating – 4.7/5
Learn more about our review scorecards as part of our editorial review guidelines.
What is the STRETCHIT App?
The STRETCHIT app is a fitness app focused on stretching, flexibility and mobility. It was launched in 2016 by sisters (and co-founders) Natasha and Marina.
After discovering the benefits of stretching, Natasha and Marina wanted to create a product that would help everyone improve their strength, flexibility, mobility, sleep, and overall movement, through carefully crafted stretching routines and programs.
The app includes content for both beginners and those with experience stretching (such as dancers and gymnasts).
Programs and challenges range from basic full body stretching to learning how to do the splits.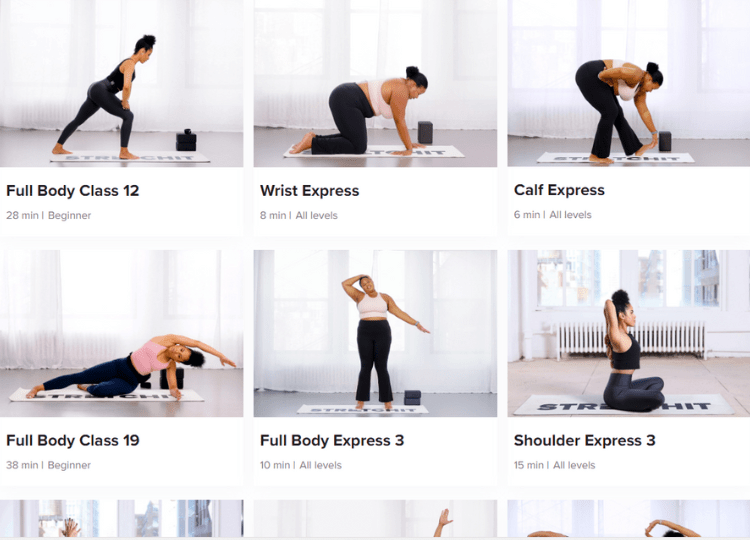 What We Like About STRETCHIT
Makes Stretching a Habit
The STRETCHIT app includes a variety of content, from daily stretch routines to structured 90-day challenges. We feel this really helps make stretching a daily habit for you.
We think this is a huge benefit for those using the app, because when it comes to flexibility and mobility, little and often is really the best approach.
You want to keep your muscles and joints loose, so doing a little bit of stretching every day is better than scheduling in one intense yoga class a month, for example.
STRETCHIT does a great job at encouraging you to just keep moving each day, whether it's a basic routine to combat sitting at a desk all day, or a more complete stretching program to achieve a specific goal… either way, the end result is that your body adapts better.
Stretching Workouts
STRETCHIT also includes classes that feel more like a "workout" too – which is great if you're looking to lose weight or get toned at the same time as stretching.
Quality Instructors
We really like the STRETCHIT instructors, namely, Alicia Archer and Allison Wardwell.
They talk you through the movements and include ways to modify the routine as you go, which we found really useful.
The difference between seeing a real human doing the stretches, in comparison to just an animated graphic is vast.
We found this to be the case with weight lifting apps too (which is why we landed on Alpha Progression as our top pick).
STRETCHIT also use different camera angles during the routines, so you can see where your body should be positioned very easily. Again, this is a subtle feature, but it demonstrates STRETCHIT really cares about their customers and helping ensure they fully understand how to do each stretch.
From our experience, all the exercises were also demonstrated very well, with correct body positioning, form and technique (which can't be said for every yoga and stretching app we've tried).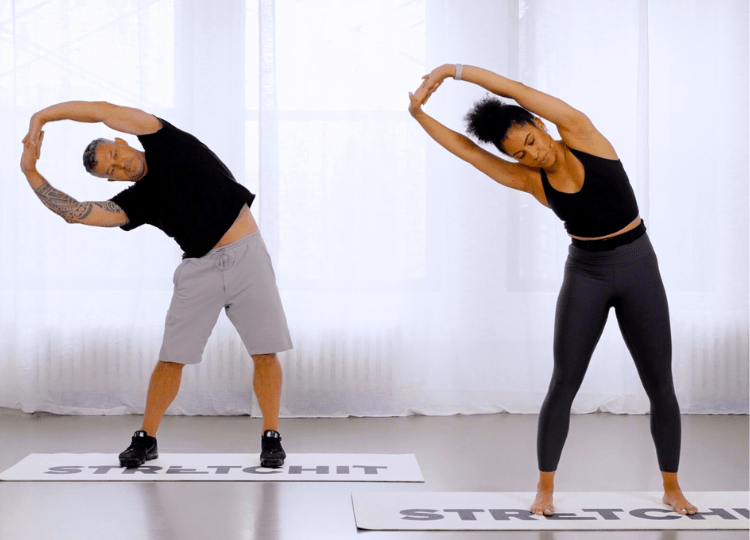 Intuitive and Logical Interface
The app has quite a simple design… but this makes it easy to navigate and use.
Some other apps we've tried do have nicer user interfaces, but this can actually confuse things and sometimes keeping it simple is the best option.
When you first log in, you can either browse a class and get started, or answer a few questions in their quiz to get customized recommendations. We found the quiz is a good way to get started on the right path if you're unsure what level you are.
Inclusive Brand
We really like it when brands ensure their apps are available (and similar) on both iOS and Android.
We've found health and fitness apps tend to offer preferential treatment for those with iOS devices. Sometimes this is because they literally don't have an Android app (which excludes 95% of the world's current phone users), or they do create an Android app but it lacks basic features that are available on iOS.
We tried STRETCHIT on Android as well as iOS and it was the same experience, which means you don't need to worry about what device you have.
It also works on desktop as well.
Goal-Orientated Programs
Especially for beginners, the STRETCHIT programs are a great place to start. They allow you to follow goal-orientated programs, which provide you with expert structure and guidance.
If your goal is wanting to do the splits, for example, this approach is perfect.
Upload Photos to Stay Motivated
A great feature that STRETCHIT includes, which most "free" stretching apps don't, is the ability to upload photos and track your progress visually.
This can really help boost motivation and keep your eyes on the prize.
Learning how to do the splits, or touch your toes, will take time, so seeing the improvements will help you understand where you are.
We also find seeing pictures (or videos) of yourself doing any sort of exercise can really help improve your technique and allow you to evaluate if you are performing the movements correctly.
(You don't have to upload photos though if you don't want to… you may find it takes too long and you just want to get on with your stretching routine).
Community Challenges
As well as the regular challenges, STRETCHIT include community challenges that start on specific days. This is ideal for anyone who wants to boost motivation by following a challenge with others.
Simpler than Yoga
Yoga is synonymous with stretching and flexibility training… but classes can often put a lot of focus on breathing and relaxation. Although this undoubtedly has lots of benefits, for some, the reason they do yoga is to improve their flexibility, mobility, or simply get fitter… in which case, a direct stretching app may actually be the better choice.
Following along to a stretching program allows you to focus more on specific problem-areas or specific goals that are customized to your body.
For example, if you have lower back ache (from sitting at a desk all day), you can follow stretches that specifically address that. You don't necessarily need to follow a 40 minute yoga class 3 times a week… instead, you can do 5 minutes of stretching each night and probably see much quicker and better results.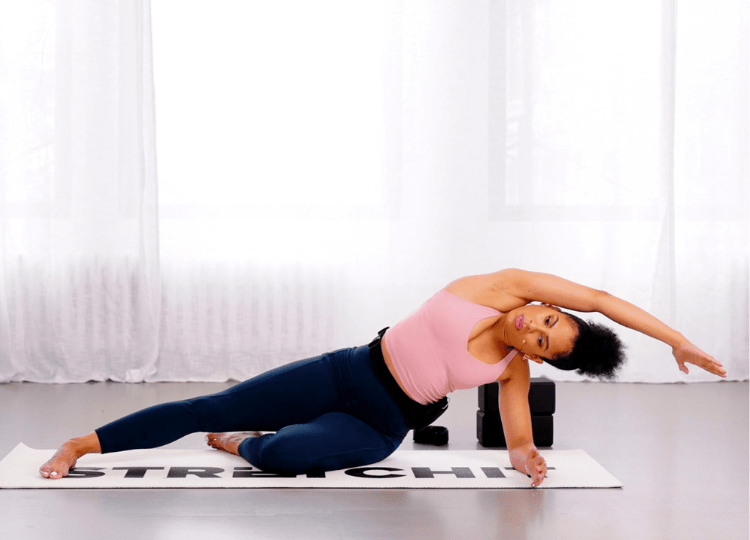 Mobility Movements
Flexibility and mobility are often used interchangeably… but they are, in fact, different things.
Flexibility is the ability for a muscle to lengthen passively, whereas mobility is the ability for a joint to move through its full range of motion. Without getting too scientific, this simply means, doing passive stretches to improve flexibility isn't the only thing you should be doing to improve your overall movement.
Mobility exercises will ensure your joints can move freely… which then will actually allow you to better move into stretches too.
We were pleasantly surprised with the amount of mobility movements that were included in the stretching programs… including some movements that we'd never really tried before, and have now become key exercises in our weekly fitness routine.
In comparison to other flexibility and stretching apps, this is a huge bonus for STRETCHIT and something we think not enough yoga/stretching apps include.
Things to Consider
Current Fitness Level
There's a lot to benefit from following STRETCHIT classes and programs, but it's important to know your body, fitness level and limitations.
Trying to follow a program that is too advanced for you could lead to injury, or at the very least, lower your motivation.
We think this is really important and if you have any doubts, start with the most beginner-friendly classes and slowly work your way up.
Commitment
To get the most out of STRETCHIT, you need to be consistent and commit to following the workouts, classes and challenges each month. If you miss your stretch training for a few months, you can't expect to get the same results as if you would have trained as recommended in the app.
Understanding When to Push and When to Stop
It's hard for any app to offer the same guidance as a Personal Trainer or Physical Therapist can in helping interpret when you should push yourself that little bit more, or when you should stop.
Pushing beyond your body's current limits could lead to injury, so you need to learn how to interpret signals from your body as to when your stretching is at your body's limit.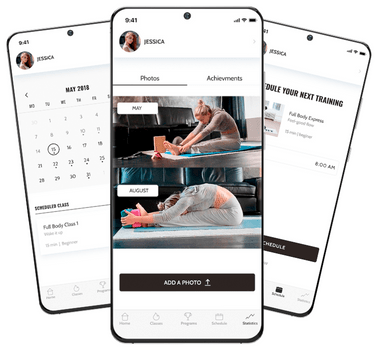 Instructor-led classes, expertly crafted stretching programs, suitable for beginners and advanced, 7 day free trail.
Who is STRETCHIT Best Suited For?
We think STRETCHIT is best for anyone looking to improve their flexibility so they can achieve goals, like doing the splits or touching their toes.
It is also a great option for anyone simply looking to enjoy the benefits of stretching and like the idea of stretching-based workouts (or perhaps those looking to regain flexibility).
If you enjoy the stretching side of yoga most, then STRETCHIT is definitely worth trying too.
Best Fitness Apps Shortlist
Common FAQs
How Much is the STRETCHIT App?
The STRETCHIT app costs $19.99/month or $159.99/year (which saves 33%).
Where can I get a STRETCHIT Discount from?
The discount promo code FITNESSDUM30 will get you 30% off the price of STRETCHIT, for both monthly and yearly plans.
Online STRETCHIT Reviews
Our experience of the STRETCHIT app has been overwhelmingly positive and this reflects the general online reviews of the app.
At the time of writing, the average reviews on the Android store is 4.6/5 based on 1,100 reviews and 100,000+ downloads and the average reviews on the Apple store is 4.8/5 based on 12,000+ reviews.
Bottom Line
Ultimately, we think the STRETCHIT app is well worth it. The quality of classes is really high and the programming works incredibly well.
The online reviews are also largely very positive, demonstrating the app appeals to a large audience as well.
With a free 7 day trial, STRETCHIT allow you to try the app first, before committing to either a monthly or yearly membership.
When you sign up for a free trial, use FITNESSDRUM30 to get 30% off your membership price (or simply click below for this discount to automatically be applied.
Related Articles
Asana Rebel Review – What's this Yoga App Like?