We are reader supported and may earn a small commission on some (but not all) links within our content to products we think will genuinely help our readers at no extra cost to you.
We love workout apps here at fitness drum. From live classes to on-demand content, they help boost motivation and provide structure to your exercise regime.
And although some apps are really pushing the boundaries in using technology to create a personalized experience, these apps undoubtedly fall short of actually using a personal trainer.
Personal trainers can understand your preferences, nuances, struggles and goals, helping to create a truly customized fitness plan that is designed specifically for you.
The catch? Personal training requires a bit of an investment. In fact, a single session in New York can often set up back upwards of $150. Looking for a couple of sessions a week? You can see this is a service that needs quite the budget.
Cue Future… a personal training app that connects you to a real, highly skilled personal trainer at a more affordable price.
In this Future fitness app review, we delve into everything you need to know about the service, including what we like about it, and things to consider.
In a hurry? Check out their website below and get started with a risk-free first month. 👇
What is the Future Fitness App?
Future.co is a fitness app that specializes in online personal training services. It connects you to a real personal trainer and gives you unlimited access to communicate with them. They will help create an exercise plan that suits you and is tailored to your preferences, skills and abilities.
The Future app is currently priced at $149/month. This may seem pricey for a fitness app, but in terms of personal training services, and even using local online personal trainers, this is very reasonably priced in our opinion.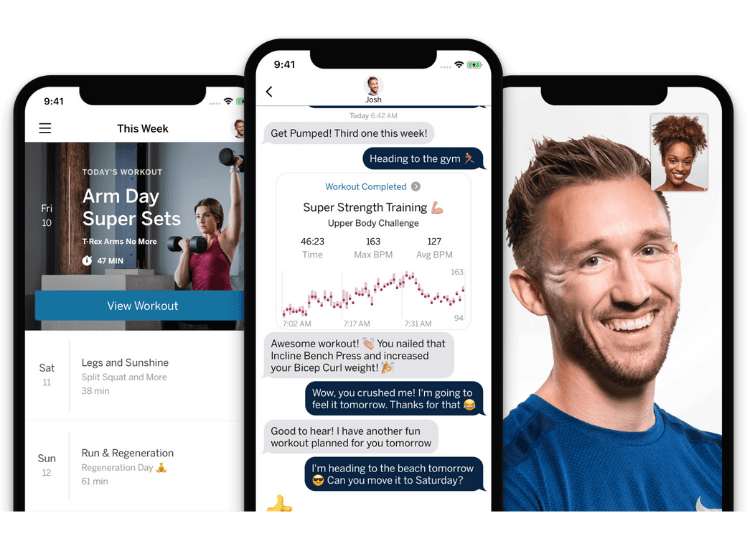 What We Like About Future App?
Proper Coaching
Like we said in the intro, we love workout and exercise apps… but there's a big difference between what they offer and using a service like personal training.
Having a proper coach who you can get to know on a personal level is something the more general workouts apps simply can't offer.
Even with it being online, you'll discover you gain a bond and connection with your personal trainer and that it becomes a longterm partnership.
You'll likely get to know your coach very well, and although it sounds cliché, you probably will gain a friendship out of this too.
Unrivalled Accountability and Motivation
One of the biggest hurdles for reaching a fitness goal is sustained motivation. We all know exercise and healthly eating are important, but when we've had a stressful week and we're tired, the effort and motivation to exercise or make a healthy meal can be a real challenge.
Having someone who regularly checks in, and there to support you, helps to create unrivalled accountability for your fitness routine. The fear of letting them down is often more motivation than letting yourself down.
At the end of the day, this accountability and added motivation can have a defining impact on how you approach your fitness plan. It's probably the core difference between those who seem to hit their goals with ease, and those who seem to always struggle to.
Workout Plans and Coaching are Seamless
The app is very well designed and allows for a seamless experience between communicating with your trainer and following workout videos.
Many local personal trainers will offer remote/online sessions, but the technology they use often isn't as reliable and the whole experience can sometimes feel like a work-in-progress instead of the finished product.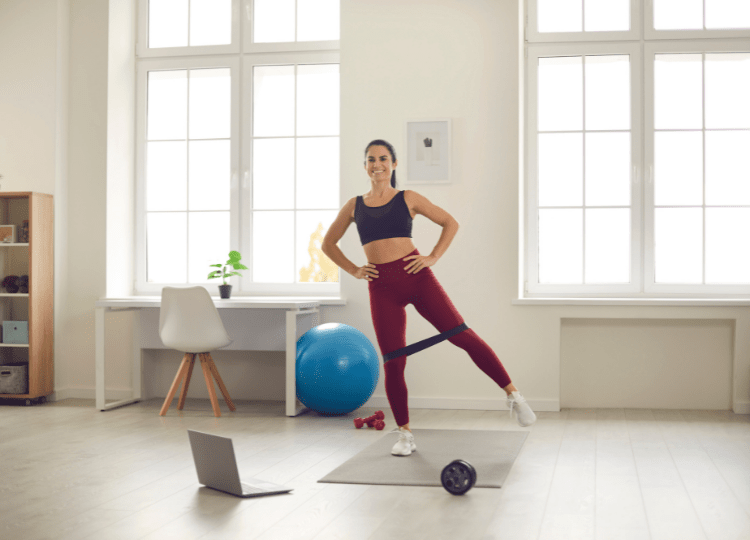 Everything's Personalized
The impact of having an exercise plan personalized isn't to be under-estimated. Even being able to discuss how family plans may impact your workouts for certain weeks is a game-changer.
If you've got a busy day on Friday, for example, your coach can listen and adapt the training to this, potentially including a shorter HIIT session so it's more likely you'll stick to the plan.
It makes the whole experience feel very intuitive and natural.
Apple Watch
We're sure the free Apple Watch is factored into the price, but the gift will still put a smile on your face.
The Apple Watch will help your trainer gain insights into your workouts, such as heart rate and calories burnt.
Sending Videos to Your Coach
For beginners, understanding if you're doing the exercises correctly is incredibly important. Poor technique is not only inefficient, but can also lead to injury.
The direct communication channel between you and your coach means you can upload recorded videos for them to view and critique. (Regardless of sending the video to your coach, this is also just good advice anyway so you can view your own movements and compare them to the video).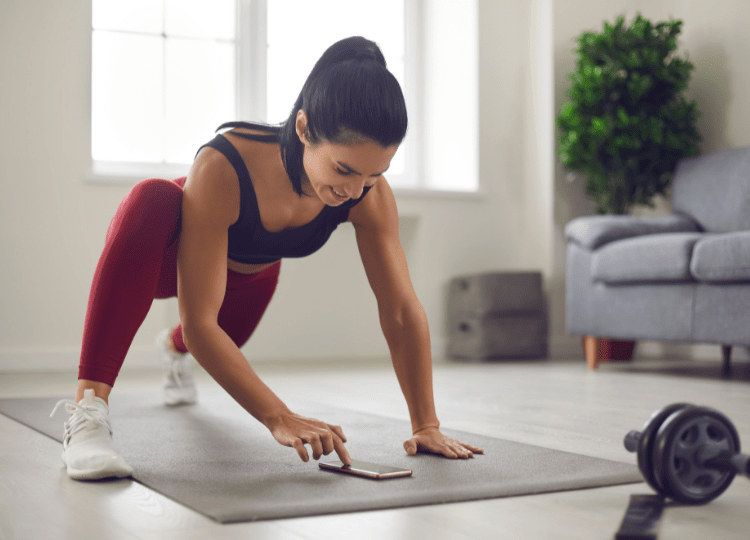 Blends Human Emotion with Power of Tech
Some of the latest fitness tech is seriously impressive… we're talking workouts displayed through mirrors that use artificial intelligence to provide real-time feedback! Or brands like Hydrow offering incredibly immersive home rowing classes.
However, being able to message to a real human being will always deliver a different experience. This ability to blend impressive tech with more human emotion will leave you feeling more motivated and excited about your workouts.
All-in-One Solution
We've recently reviewed a lot of fitness apps and most of them will have a particular focus or speciality. Whether it's yoga, strength training, or HIIT, the workouts often lean towards one style more than others.
But with a personal training service, they can incorporate any kind of workout style, and include all the necessary exercises to help you reach your goals.
It's the only health and fitness app you'd need.
High Quality Coaches (and Lots to Choose from)
The quality of the coaches can't be faulted. Future includes an impressive roster of highly talented individuals.
When you sign up, you'll complete a quiz that will match you to relevant coaches. Before doing this quiz, you may want to browse all their coaches and read their details, in case you'd rather manually select one. You may want to block out quite a bit of time for that though, as the list of available coaches is very long.
You can see what qualifications each coach has, their interests and their overall approach to fitness (e.g. do they prefer functional movement workouts, or barre, or Olympic lifting, etc).
At the end of the day, your coach is largely going to dictate your experience and overall opinion of the app.
Try Risk Free
The Future Fitness app offers a risk-free first month. If you don't like it, you can cancel in this first month and receive a full refund.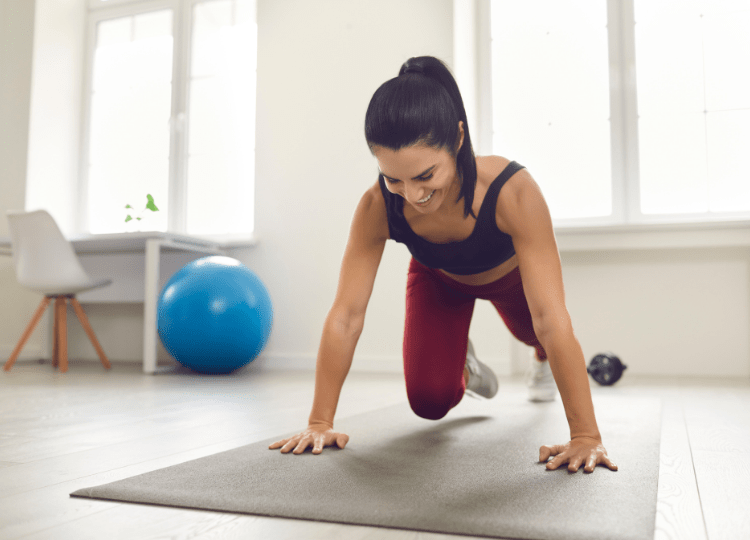 Things to Consider
Only Available on iOS
This really buffles us. The app is only available on iOS devices so if you've got an Android, you basically can't use the service.
For a company that has raised quite a lot of money (a Series B $24 million in late 2020), we can't really understand why they wouldn't release an app for Android, or just create a PWA (progressive web app) that would allow anyone to download the app.
They've clearly put their eggs in the Apple basket, partnering with them to use the Apple Watch for tracking, but for us, this seems a bit unnecessary and likely that they'll lose out on quite a lot of users. All it takes is FitBit or WHOOP or Garmin (or any other brand) to release a game-changing device and Future users may feel like they'd rather use these other devices and hop off Apple.
Local Personal Trainers
Future Fitness isn't the only way to gain access to online personal trainers. In fact, most personal trainers will use a third party app, like MindBody to deliver an online experience.
But finding a local personal trainer you like isn't as straight forward as you'd hope for and some of them could be world class trainers, but just aren't very good communicating virtually. Future's coaches are all clued up on how to use the tech and understand what is required from them in terms of communication and workout delivery.
Feedback Isn't Live
The sessions aren't live, which makes sense, as the cost would just skyrocket if every session was 1-2-1 with a trainer.
But this does mean things like recording yourself becomes important to ensure you make the most out of it.
Get a Good Stand
If you're paying $149/month, it's worth splashing out on a decent phone stand if you don't already have one. Trying to balance your phone on a table during workouts will just annoy you.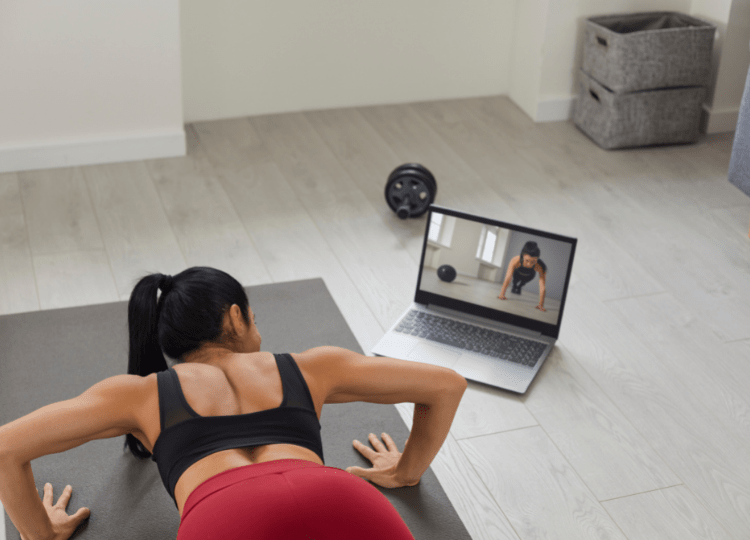 Who is Future Best For?
Future is ideal for anyone who struggles with motivation.
Having a dedicated personal trainer that offers tailored workouts and support will undoubtedly create a newfound level of motivation.
If you've wanted to give personal training a go, then Future offers a more affordable solution, with many of the same benefits.
Bottom Line
Exercise plays a vital role in our overall health and fitness, so any service that helps to improve that is worth discussing. Future offers a solution that will likely help you see better results from your workouts.
In terms of the value this brings to your life, it can priceless, so for that, Future gets our seal of approval.
Try Future below and see what you think.
Related Articles:
Is Physique 57 The Best Barre Workout App?
Obe Vs Peloton Vs Openfit Vs Beachbody – Battle of the Home Workout Apps