We may earn a small commission on some links at no extra cost to you. Learn more.
The accountability and motivation that comes from a personal trainer can be transformational when it comes to reaching your fitness goals…
The catch?
Personal trainers and fitness coaches can be pricey.
This is why we were super excited to discover the Future Fitness app, where you get connected to a real certified fitness coach, who not only creates a completely customized workout for you, but is also there every step of the way to offer support and guidance… at a price that is more realistic for many.
But what's it actually like using the service and how does it compare to just using a basic workout app or gym logger?
In this Future fitness app review, we delve into everything you need to know about the service, including what we like about it, and things to consider.
In a hurry? Check out their website below and get started with 50% off your first month. 👇
What is the Future Fitness App?
Future.co is a fitness app that specializes in online personal training services. It connects you to a real personal trainer and gives you unlimited access to communicate with them. They will help create an exercise plan that suits you and is tailored to your preferences, skills and abilities.
The Future app is currently priced at $149/month. This may seem pricey for a fitness app, but in terms of personal training services, and even using local online personal trainers, this is very reasonably priced in our opinion.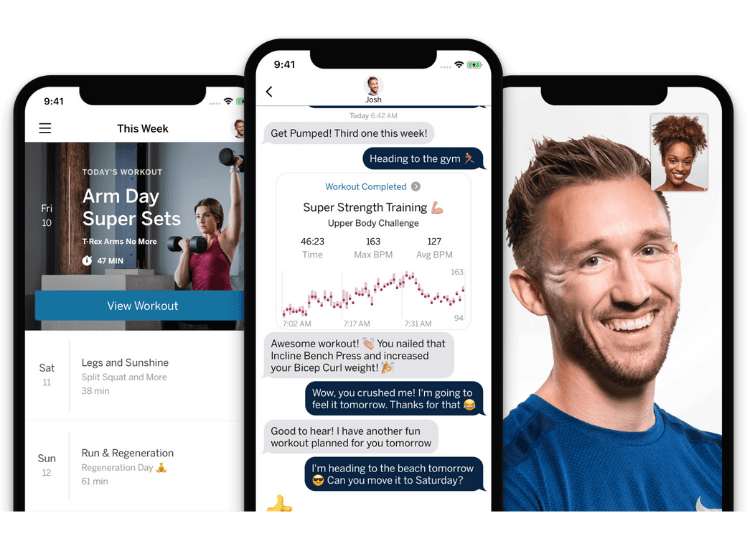 How Does It Work?
When you sign up, you'll be asked a series of questions to help Future better understand your exercise preferences, experience and goals. From here, they'll recommend a selection of coaches that they think would be a good match (although you can manually search for other coaches if you prefer).
You can also change your coach at any time, so don't worry too much about trying to find the absolute perfect match in the beginning.
Once you've picked your coach, it's time to say hello and discuss what you're looking to achieve. You can hope on a FaceTime call or just message them.
They'll then start creating workouts and a fitness plan for you to follow.
Using the Future app and Apple watch integration, your coach will have access to your workout stats to help them better tailor the experience to your abilities and ensure you meet your fitness targets.
What We Like About Future App?
Proper Coaching
We love fitness apps… but there's a big difference between what they offer and using a service like personal training.
Having a proper coach who you can get to know on a personal level is something the more general workouts apps simply can't offer.
Even with it being online, you'll discover you gain a bond and connection with your personal trainer and that it becomes a long-term partnership.
You'll likely get to know your coach very well, and although it sounds cliché, you probably will gain a friendship out of this too.
Unrivalled Accountability and Motivation
One of the biggest hurdles for reaching a fitness goal is sustained motivation. We all know exercise and healthy eating are important, but when we've had a stressful week and we're tired, the effort and motivation to exercise or make a healthy meal can be a real challenge.
Having someone who regularly checks in, and there to support you, helps to create unrivalled accountability for your fitness routine. The fear of letting them down is often more motivation than letting yourself down.
At the end of the day, this accountability and added motivation can have a defining impact on how you approach your fitness plan. It's probably the core difference between those who seem to hit their goals with ease, and those who seem to always struggle to.
Workout Plans and Coaching are Seamless
The app is very well designed and allows for a seamless experience between communicating with your trainer and following workout videos.
Many local personal trainers will offer remote/online sessions, but the technology they use often isn't as reliable and the whole experience can sometimes feel like a work-in-progress instead of the finished product.
One of our favourite features is the audio introductions that your coach will leave for you before a workout. They can offer more personalized tips for what the workout involves, helping you feel more prepared and confident. For example, they may say something like "We're going to attempt deadlifts and squats today, so save some energy during the deadlifts." This small bit of guidance can completely change the workout, ensuring you don't skip the squats because you went too hard at the start of the workout.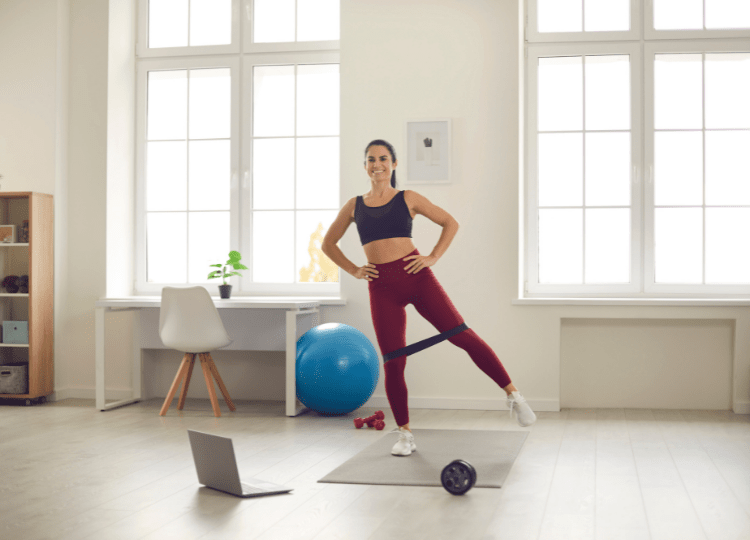 Everything's Personalized
The impact of having an exercise plan personalized isn't to be under-estimated. Even being able to discuss how family plans may impact your workouts for certain weeks is a game-changer.
If you've got a busy day on Friday, for example, your coach can listen and adapt the training to this, potentially including a shorter HIIT session so it's more likely you'll stick to the plan.
It makes the whole experience feel very intuitive and natural.
Sending Videos to Your Coach
For beginners, understanding if you're doing the exercises correctly is incredibly important. Poor technique is not only inefficient, but can also lead to injury.
The direct communication channel between you and your coach means you can upload recorded videos for them to view and critique. (Regardless of sending the video to your coach, this is also just good advice anyway so you can view your own movements and compare them to the video).
You may want to think about investing in a phone stand though, as balancing on some dumbbells during a workout isn't ideal!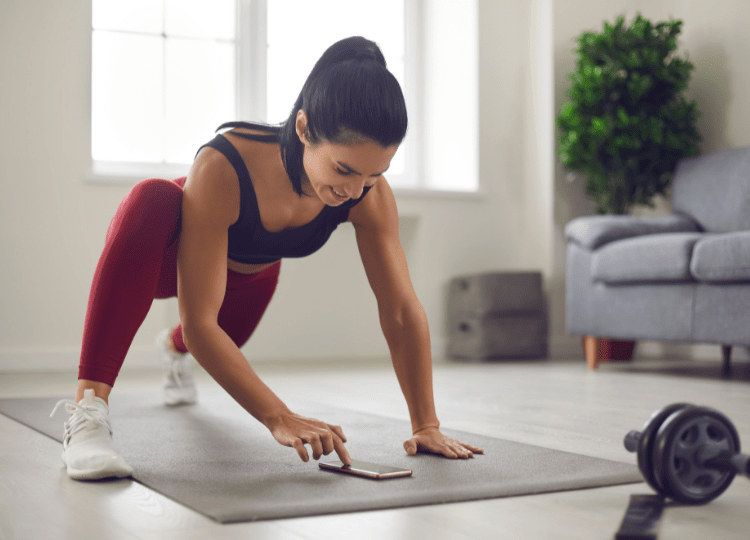 Blends Human Emotion with Power of Tech
Some of the latest fitness tech is seriously impressive… we're talking workouts displayed through mirrors that use artificial intelligence to provide real-time feedback! Or brands like Aviron offering incredibly immersive home rowing experiences.
However, being able to message to a real human being will always deliver a different experience. This ability to blend impressive tech with more human emotion will leave you feeling more motivated and excited about your workouts.
Ultimately, there's no silver bullet when it comes to fitness. Hardwork and consistency are key to success… and this is easier when you've got someone there supporting you.
All-in-One Solution
We've recently reviewed a lot of fitness apps and most of them will have a particular focus or speciality. Whether it's yoga, strength training, or HIIT, the workouts often lean towards one style more than others.
But with a personal training service, they can incorporate any kind of workout style, and include all the necessary exercises to help you reach your goals.
With Future, it's the only health and fitness app you'd need.
Nutritional Coaching
Although the main selling point of Future is exercise and movement, many of the coaches are more than qualified in nutrition too… so if this is something you want help with, you can gain some amazing insights into nutrition and diet too.
High Quality Coaches (and Lots to Choose from)
The quality of the coaches can't be faulted. Future includes an impressive roster of highly talented individuals.
When you sign up, you'll complete a quiz that will match you to relevant coaches. Before doing this quiz, you may want to browse all their coaches and read their details, in case you'd rather manually select one. You may want to block out quite a bit of time for that though, as the list of available coaches is very long.
You can see what qualifications each coach has, their interests and their overall approach to fitness (e.g. do they prefer functional movement workouts, or barre, or Olympic lifting, etc).
At the end of the day, your coach is largely going to dictate your experience and overall opinion of the app.
Try Risk Free
The Future Fitness app offers a risk-free first month. If you don't like it, you can cancel in this first month and receive a full refund.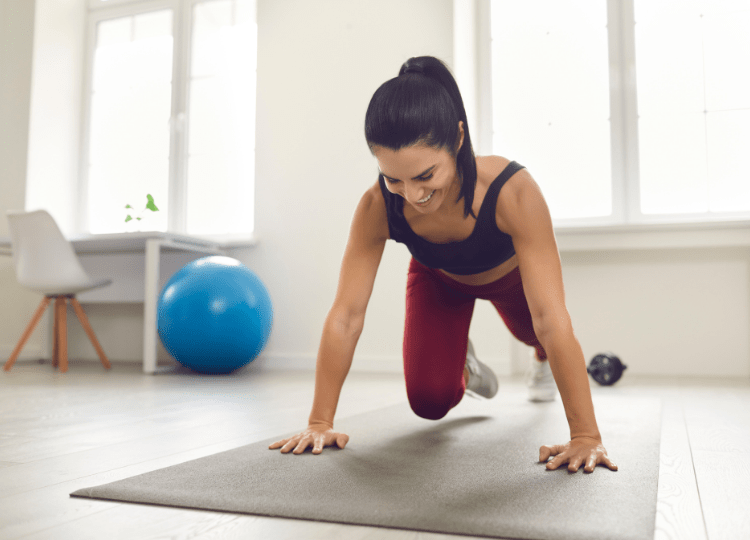 Things to Consider
Only Available on iOS
Unfortunately the app is only available on iOS at the moment. This means if you've got an Android device, you actually can't use the service.
There's talk of an Android app coming soon, but there's no update on this yet. You can sign up on their website to be notified when they will be supporting Android phones.
Hopefully this comes soon as this excluded a big chunk of the population.
For a company that has raised quite a lot of money (a Series B $24 million in late 2020), we can't really understand why they wouldn't release an app for Android sooner, or just create a PWA (progressive web app) that would allow anyone to download the app.
They've clearly put their eggs in the Apple basket, partnering with them to use the Apple Watch for tracking, but if you aren't in the Apple eco-system, this is likely going to be quite a big drawback.
Local Personal Trainers
Future Fitness isn't the only way to gain access to online personal trainers. In fact, most personal trainers will use a third party app, like Mindbody to deliver an online experience.
But finding a local personal trainer you like isn't as straight forward as you'd hope for and some of them could be world class trainers, but just aren't very good communicating virtually. Future's coaches are all clued up on how to use the tech and understand what is required from them in terms of communication and workout delivery. You can also swap coaches with Future so that makes it easier to change.
Future's coaches are also very highly skilled, often ex-professional athletes, so gaining access to this sort of coaching is rare, especially when you're searching locally.
Feedback Isn't Live
The sessions aren't live, which makes sense, as the cost would just skyrocket if every session was 1-2-1 with a trainer.
But this does mean things like recording yourself becomes important to ensure you make the most out of it.
Some coaches may be in a different time zone too, so that may create some delay in response.
Get a Good Stand
As we mentioned earily, if you're paying $149/month, it's worth splashing out on a decent phone stand if you don't already have one. Trying to balance your phone on some dumbbells during workouts will just annoy you.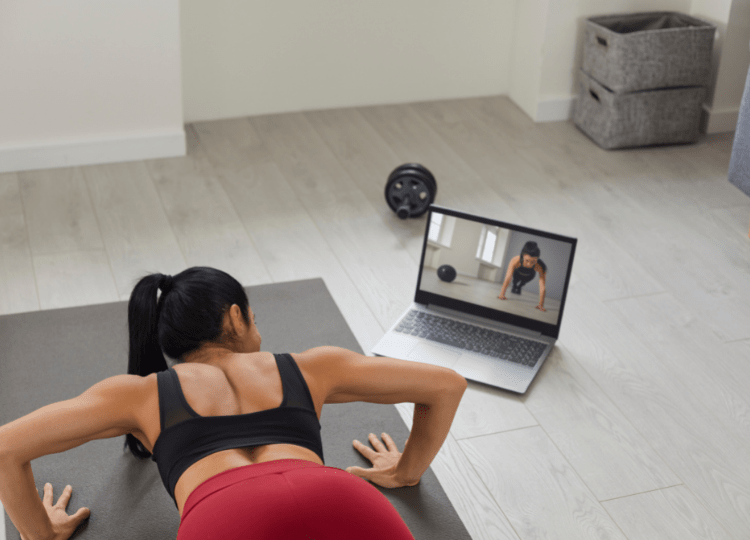 Who is Future Best For?
Future is ideal for anyone who struggles with motivation.
Having a dedicated personal trainer that offers tailored workouts and support will undoubtedly create a newfound level of motivation. We also think beginners and those who want more guidance during their workouts would also really benefit from Future.
If you've wanted to give personal training a go, then Future offers a more affordable solution, with many of the same benefits.
Future Fitness App Reviews Online
The online reviews for Future app are largely positive too, with an average of 4/5 on TrustPilot (based on 95 verified reviews at the time of writing).
Lots of reviewers talk about the benefits of having the personalized support.
Some negative reviews state they weren't happy with the exercise programming… although with a direct communication channel with your coach, if you find yourself in this position, you really just need to voice your concerns and we're confident it'll be changed.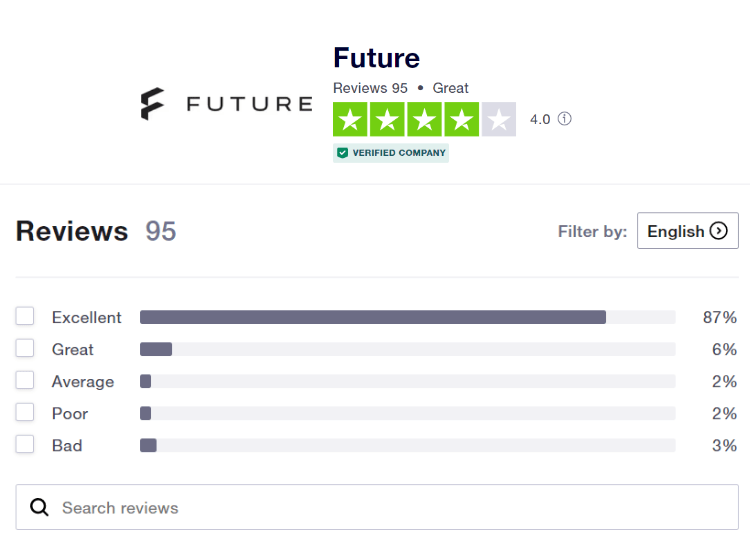 Bottom Line
Exercise plays a vital role in our overall health and fitness, so any service that helps to improve that is worth discussing. Future offers a solution that will likely help you see better results from your workouts.
In terms of the value this brings to your life, it can priceless, so for that, Future gets our seal of approval.
It is however, a service where you get out, what you put in… you really need to utilize your coach and reply to their messages, ask plenty of questions and try your best to stick to the routine.
Try Future below and see what you think.
Related Articles:
Is Physique 57 The Best Barre Workout App?
Obe Vs Peloton Vs Openfit Vs Beachbody – Battle of the Home Workout Apps