We may earn a small commission on some links at no extra cost to you. Learn more.
If you're looking to get started with yoga, online classes and workouts are a great way to immerse yourself into the wonderful world of yoga.
From meditation and restorative yoga flows, to more advanced core and stability workouts, yoga has it all. With an estimated 300 million people doing yoga worldwide, you're in good company if you're thinking about taking it up.
Whether you want to visit a local yoga studio, or practice at home, or a mixture of both, you may find a lot of value in online yoga apps. These apps help you practice and perfect yoga poses and flows, covering everything for the mind, body and soul.
When searching for the best yoga apps, there are 4 names you'll likely come across…. Alo Moves, Glo, Yoga Interational and Gaia. They all come with raving reviews and loyal followings… but which is best for you?
That's what we're here to help with.
In this comparison guide, we put all 4 yoga apps in a head-to-head battle, providing a simple yet comprehensive review of what you can expect from each platform. We've signed up and tried each one for at least a week, giving us first hand experience of what they are like.
Head to Head Comparison
| Features | Alo Moves | Glo | Yoga International | Gaia |
| --- | --- | --- | --- | --- |
| Free Trial | ✓ | ✓ | ✓ | ✓ |
| Live Classes | ✓ | ✓ | ✕ | ✕ |
| On-Demand Workouts | ✓ | ✓ | ✓ | ✓ |
| Price | $20/month | $18/month | $19.99/month | $8.25/month |
| TV Streaming | ✓ | ✓ | ✓ | ✓ |
| Apple App Rating | 4.9 | 4.9 | 4.5 | 4.8 |
| Android App Rating | 4.4 | 2.7 | 1.8 | 4.8 |
| website | Alo Moves | Glo | Yoga International | Gaia |
Alo Moves review
Key Features
Wide variety of classes and instructors.
Includes more general fitness classes too.
Personalised recommendations, including playlists, and series.
Owned by Alo Yoga, a popular yoga clothing brand.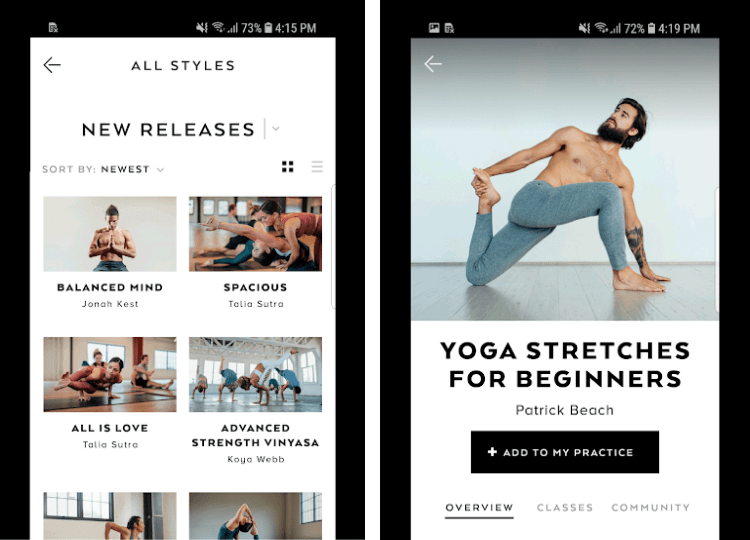 What We Like About Alo Moves
Alo Moves does a fantastic job at making yoga simple. Perhaps it's the mix of other more general fitness classes in there, but for anyone who hasn't done yoga before, or thinks yoga isn't for them, Alo Moves creates individual classes, series and playlists that help slowly introduce new poses and flows into your skillset.
After a couple of weeks, you'll be surprised at what you're able to do.
We enjoyed the variety of classes, not just in style (from HIIT, to barre to vinyasa) but also in duration. Some classes are just 10 minutes, ideal for a quick morning or evening routine, while others are well over an hour long, better for than dedicated yoga session on a free weekend.
Most yoga apps have more than one instructor, so you can find one you like. With other 70 to choose with Alo Moves, they make sure you'll definitely find an instructor you like… with instructors from all over the world, there really is something for everyone. We also found they included a bigger variety of styles of instructors, from more general fitness style coaches, to traditional yogis.
Alo Moves has very simplicitic branding… black font on a white background. And their user-interface within the app and desktop is also very simplicitic… and this works so well in helping you navigate everthing. You don't get distracted by big promotions or overwhelmed by thousands of videos, but instead, enjoy a very clear and elegant layout to select your classes. They also do a grand job at recommending classes and playlists you might enjoy next… helping to keep that motivation up and ensure you don't slack off!
The classes themselves are studio-quality and the instructors are clearly some of the best in the world. Their guidance and support throughout the sessions helps you to enjoy it and progress.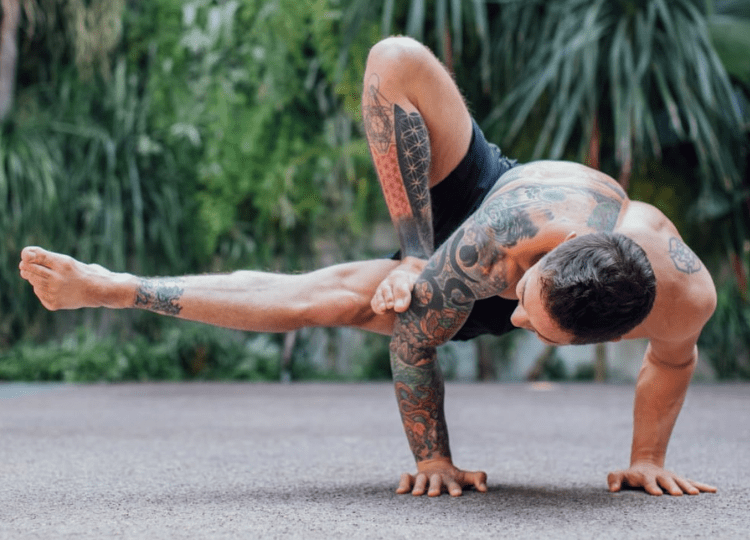 Who is Alo Moves Best For?
Alo Moves is priced at $20 a month, which feels like a bargin for the value you gain from it. The quality of classes and app layout makes practicing yoga fun and enjoyable, so we think it's definitely worth the price.
Also, as of July 2021, they have included live classes for anyone with a membership, so for $20, you get a lot for your money. A lot of other apps that offer live classes can commonly go up beyond $30/month.
Alo Moves is best for those who would enjoy more general fitness classes as well as yoga routines. If you mainly do yoga but would enjoy the occasional HIIT class, Alo Moves is ideal for that. With so many instructors, it's also a great choice for anyone who is a bit picky about coaches.
You can grab a free trial and test it out yourself.
Glo review
Key Features
Over 4,000 on demand yoga classes
Yoga and fitness programs to join
World renowed teachers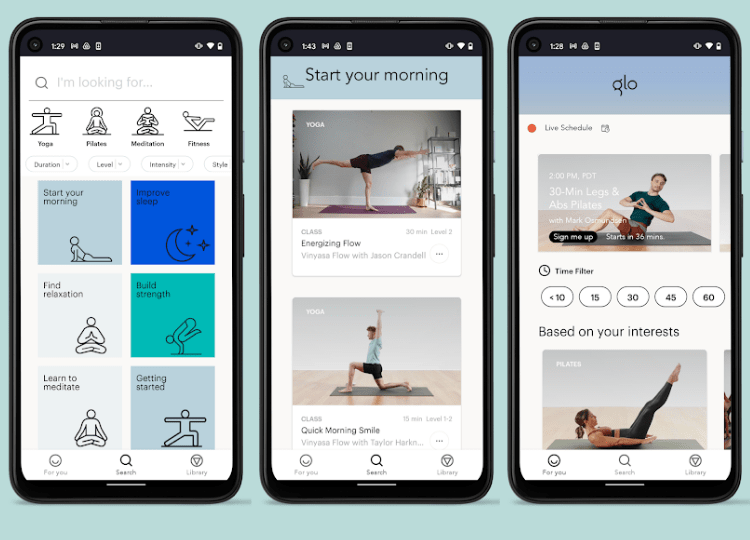 What We Like About Glo
Glo, formally YogaGlo, has long been a leader in the online yoga streaming business. Founded in 2021, it has helped pioneer the concept of at-home yoga.
Like Alo Moves, Glo have also ventured beyond just yoga and include Pilates and other fitness classes. We really enjoyed the Pilates classes as you really notice your progression with such movements.
With over 4,000 on-demand videos, Glo's longevity in the industry means it has a spectacular library of classes to enjoy.
Glo also does a good job of explaining and showcasing the different styles and types of yoga. Many other apps simply describe bucket all their classes as "yoga", but Glo help you understand the differences between your Hatha and your Ashtanga. This can help you understand if there is a certain style that you prefer.
We enjoyed Glo's programs, which offers more structure to your yoga routine. For example, the "Mind-Body Barre Sculpt" program is a 2 week program that includes 6 classes. Following something like this is extremely useful for beginners and helps avoid that feeling of overwhelm when faced with thousands of videos to choose from.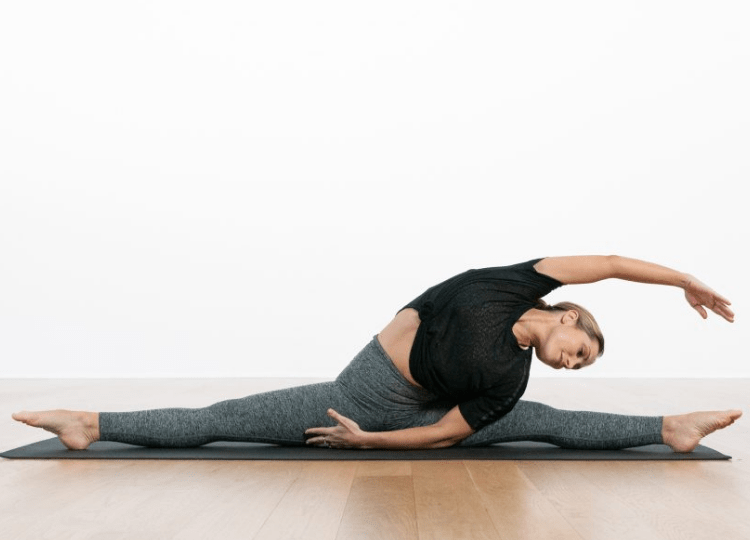 Who is Glo Best For?
Priced at $18 a month it is more expensive than a lot of generic yoga apps in the app store, but the price reflects the value of getting classes led by world renowed yoga instructors.
If you want to learn from the best, and are keen to take yoga seriously in the long-run, Glo is a great option. With so many classes to choose from, you'll never get bored.
The reviews for the Android app aren't very good at all, many people mentioning how it doesn't function properly. The platform works on desktop though, so you if do have an Android device, that's something to bear in mind.
Yoga International Review
Key Features
Wide variety of classes and programs.
In-depth yoga courses and articles.
Very educational and helps you learn as you go.
Impressive line-up of instructors.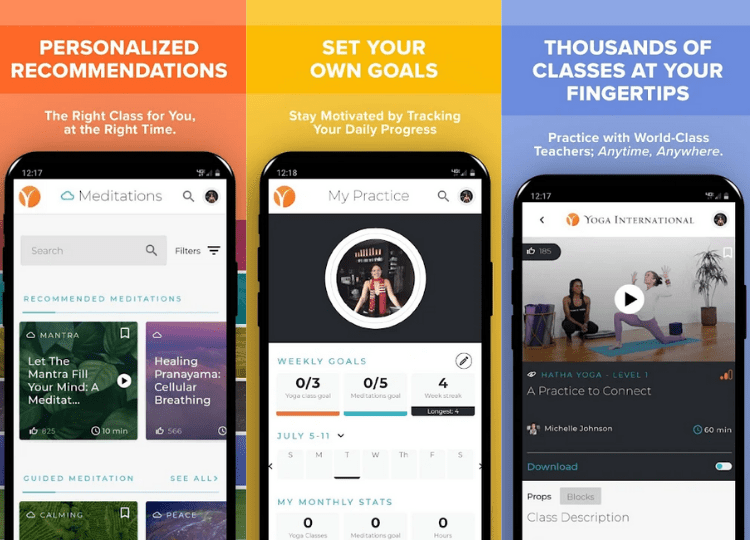 What We Like About Yoga International
Yoga International feels like the real-deal…. it feels like the kind of app where yoga instructors go to learn.
As well as classes, they have courses. As opposed to programs, like with Glo, these really do feel like courses. They are as much as educating you about your mind and body, as doing the actual movements. For anyone who is keen to learn the "why" behind yoga and the reasons it has become so popular, these courses provide insight into the benefits you gain. Similarly, if you run a yoga studio, I imagine this type of content would be extremely valuable.
Yoga International also offer structured programs too, which are great for beginners and those who don't know where to start.
Yoga International is without doubt the leader within the space when it comes to articles. It has a vast library of informational articles around yoga poses and tips for your at-home workouts. If you search for any yoga question, you'll probably start to notice these articles popping up frequently.
We felt Yoga International's classes offered the most tailored advice for poses that the others… perhaps reflecting their positioning as an authority in yoga education and courses. If you want to impress your friends with yoga tips and insights, this is your secret weapon.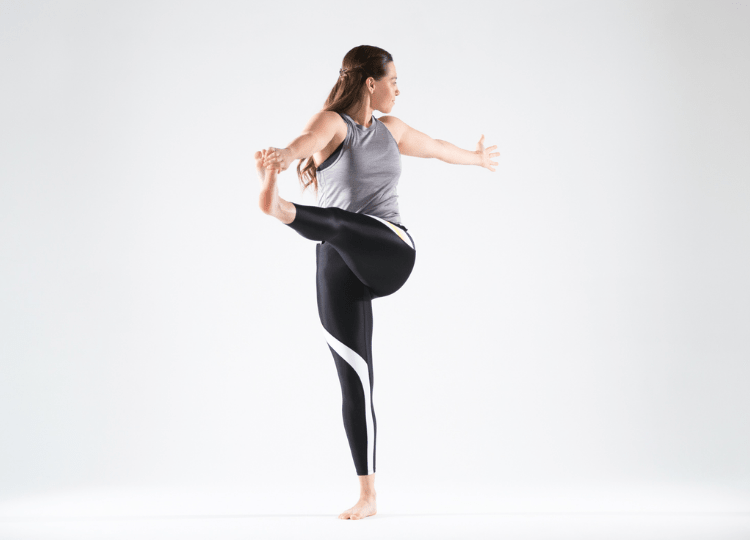 Who is Yoga International Best For?
Yoga International is best for those who want to learn along the way. If you're looking for that extra guidance and to become a yoga guru, Yoga International is a great way to go.
If you buy an annual membership, it costs only $9/month (as opposed to $19/month), so that's definitely worth considering. The free trial allows you to try before you buy and if you like it, then the annual pass it your best bet.
Gaia
Key Features
Leader in spirituality content.
Membership includes films and original series.
Live events and workshops.
Watch on any device.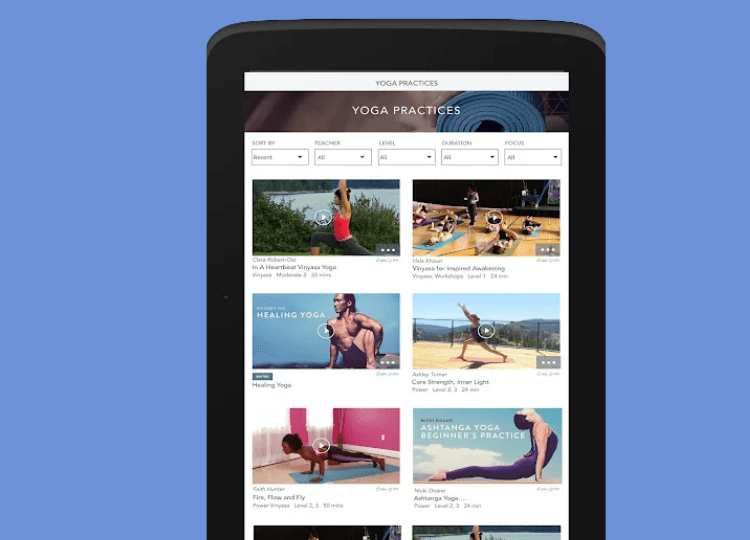 What We Like About Gaia
You could be forgiven in thinking Alo Moves, Glo and Yoga International are quite similar. The layouts, styling and benefits are undoubtedly aligned. Gaia, on the other hand, feels very unique. It doesn't try and be like other yoga apps, and it will either be your clear favourite, or bottom on the bunch.
Gaia's homepage showcases the brand's core values around spirituality, meditation and mindfulness. Yoga plays a fundamental role in all this (which is why Gaia is often seen as a yoga app), but it goes well beyond that. There are 100's of hours of films and original series that take a deep dive into spiritual topics and exploration.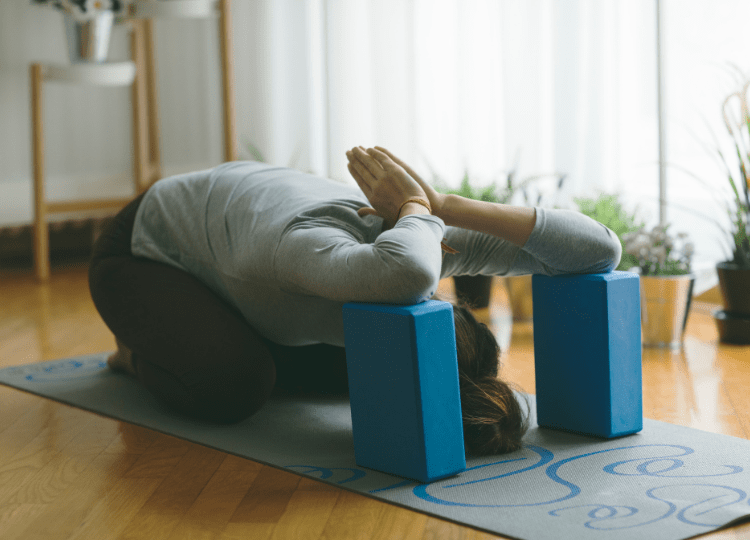 Who is Gaia Best For?
Gaia is definitely best for those who want to immerse themselves into the spirituality and meditation side of yoga.
Priced at $8.25/month if bought annually, you get a lot of content for it. If you think about how much a movie costs or DVDs, you can see the value in gaining unlimited access to all this for just $8.25/month.
Bottom Line
Yoga apps and platforms are a great way to enhance your yoga practice. With Alo Moves, Glo, Yoga International and Gaia all offering free trials, it's never been easier to find the one that best suits your style.
Related Articles:
Fitness App Showdown: Obe Fitness Vs Peloton Vs OpenFit Vs BeachBody