While taking a stroll down a country lane two decades ago, it was occasionally possible to spot a rambler, striding out with what appeared to be a pair of ski sticks strapped to their wrists.
The individual would attract curious stares and the odd jovial enquiry, "Where are your skis?!".
Twenty years on and country lanes and rural tracks are swarming with groups of Nordic walkers who might be entitled to ask the same strollers if they've lost their poles.
The rapid worldwide growth of Nordic walking has been quite a phenomenon to behold. In this article, we outline everything you need to know about the activity and ultimately if it's for you or not.
Looking for a virtual walking challenge?
Our friends over at 99 Walks are currently offering 44% off their virtual walking challenges. This is a great way to add motivation during Nordic walking adventures – learn more about 99 Walks here.
What is Nordic Walking?
Nordic walking or "suomalainen sauvakävely" as it is known in Finland, the country where the sport was born, has its roots in the summer training of cross country skiers dating back to the 1930s.
However, the idea of exercising and walking with ski poles was presented to the Finnish public by Leena Jääskeläinen, a mixed secondary school PE teacher in Helsinki, who introduced it into her school PE curriculum in the mid-1960s.
Nordic walking continued a patchy development in Finland in the 70s and 80s, but without a clear sense of direction and without the acknowledgement of being a "sport". That all changed, however, in 1988 when an unexpected snow melt on January 5th forced the organisers of a high profile event to quickly change their plans. The event was the marking of the 100th birthday of Lauri "Tahko" Pihkala, a leading sports personality in Finland. The climax of the ceremony was the unveiling of a statue of Tahko at the Olympic Stadium in Helsinki.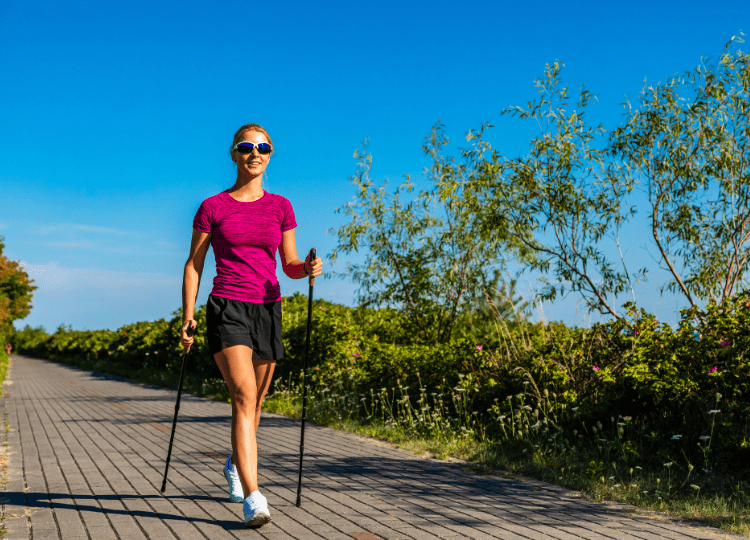 The original plan was for a group of skiers to ski from a nearby lodge to the Olympic Stadium as the opening of the celebration. However, when the snow melted it was decided to simply equip everyone with ski poles and the group ended up pole walking the entire distance. This first public Nordic walking group march in the world was captured by photographers and by Finnish TV and the event provided the catalyst that was required to further advance the discipline.
Another significant stride forward for Nordic walking came in September 1997 as a result of a small advert in the Helsinki Times advertising weekly guided walks. Participants were encouraged to bring their own poles or rent some.
By that time Excel, the leading company promoting the sport, had designed and produced a specific pole for the new sport and it was Excel who gave the sport the more international name of "Nordic walking". Fifty people turned up to the first guided walk and within a matter of a few weeks that number had multiplied to three hundred. The media were at hand to report this remarkable explosion of participation and the sport then grew at a rapid pace throughout Finland, particularly in the rural areas.
Nordic walking was officially launched as a new sport in 1997 and by 1998 the first instructor training courses were being rolled out. In that same year, researchers found that 150,000 Finns were participating in Nordic walking at least three times a week and half a million had tried it at least once. Pioneers of the sport attribute the rapid growth in participation to the newly designed poles, the media interest …and middle aged women.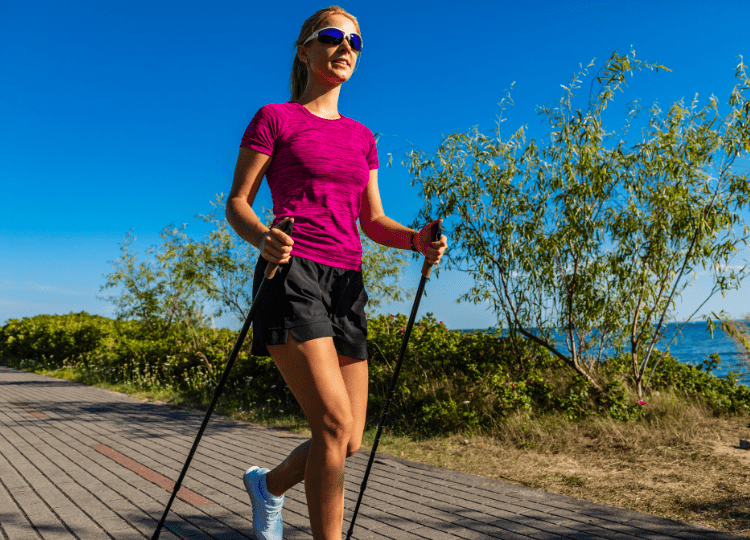 Tuomo Jantunen, a leading sports administrator in Finland and one of the earliest promoters of Nordic Walking says, "During the first weeks of our public events, 80% of the participants were middle-aged women, and they simply decided that Nordic Walking was the perfect form of exercise for them…In addition to this, many women decided to become instructors."
The gender balance is closer today with women making up around 60% of the participants and the age range has broadened, with more younger people taking an interest as the benefits become more widely understood.
In 2000 INWA (International Nordic Walking Association) was founded, which started developing educational programs and instructor networks for Nordic Walking. Soon after its establishment, other countries started forming associations some of which joined INWA and some started working independently. The first INWA instructors started teaching in the UK in 2004 with British Nordic Walking being the INWA representative from 2008.
Nordic walking is now one of the fastest growing recreational fitness activities across the world with participants in around forty countries. The International Nordic Walking Association (INWA) estimated that, globally, there were about 7 million people Nordic walking at least once a week in 2006. Figures suggest that this figure has now grown to more than 10 million.
Nordic Walking Technique
Nordic Walking for Beginners
Nordic walking can be enjoyed on any terrain from the urban pavement to the most open and rugged countryside, but it's recommended that before venturing out with your poles, you learn the technique from a qualified instructor who can maximise the benefit you will gain from the activity.
Most instructors offer a taster session so that you can make sure it's something that's right for you first. They also usually run local groups, which you can join for regular walks once you've learned the technique.
You can find an instructor on the websites of Nordic Walking UK or British Nordic Walking.
The training sessions will help you gain forward propulsion from the poles by engaging the correct upper body muscles, understanding correct gait and co-ordination. You move in a similar way to ordinary walking and swing your arms from your shoulder with your elbows straight as in marching.
It is advisable to arrive at the start of sessions around 10 minutes before the start time to allow for individual fitting and adjustment of glove-straps.
When properly used, the poles take the weight off the knees and lower body joints which makes you feel lighter on your feet. Mastering the handgrip and use of the pole straps in order to develop technique is also part of the training. You will also need to learn how to adapt the body position and pole angles for walking up and down hills.
Through the sessions you will be adding more speed through improved technique, understanding how your body reacts to exercise and learning how to stay within your comfort zone. Improving posture and understanding how to use technique will ensure that you get the most out of your Nordic walking.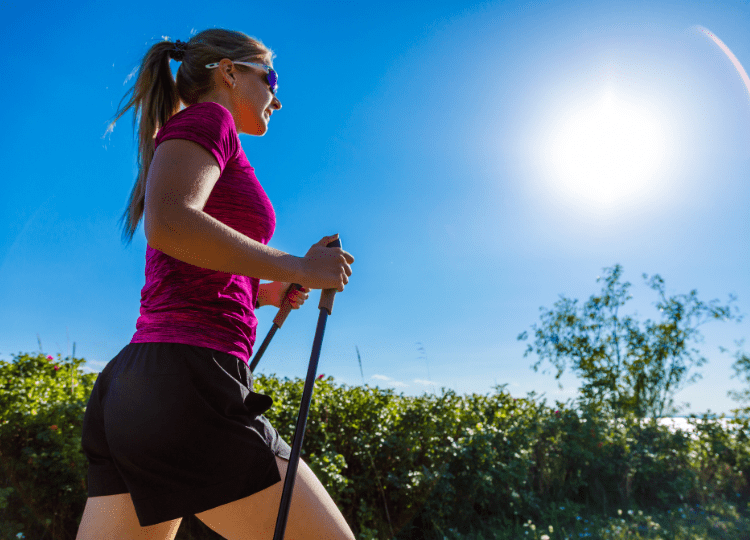 Nordic Walking Equipment
Once your training is over you will be all set to start reaping the rewards that Nordic walking offers. First, however, you need to be properly equipped.
Nordic Walking Poles
Poles are usually provided free of charge for taster and course sessions, so it is probable that your first purchase on completing the course will need to be your own set of poles. Specific poles are required for Nordic walking which are not simply adapted trekking poles, but tailor-made ones for this particular activity.
Nordic walking poles are typically shorter than ski poles and some trekking poles and have slightly different grips than trekking or ski poles do. Nordic walking poles have specialized wrist straps or demi-gloves and tips that are designed to work best on various surfaces. Some models are adjustable and telescopic, while others have a fixed length. The appropriate length of pole for you depends on your height.
Poles are made of one of several materials, although carbon fibre and aluminium are the most common. Some key features to look out for when buying poles include their carbon fibre content and the manufacturing process of the shaft (strength, low weight & flexibility), their ergonomic design (glove-strap & handle), the technical specification (rubber paw & metal tip) and the nature of the product's guarantee or warranty. Nordic walking poles range in price from around $40 to the all singing and dancing $200+ pairs.
Footwear
For Nordic walking you should wear comfortable walking or outdoor trail shoes. The sole must have good grip and waterproofing is a good idea. Free movement of the lower leg and ankle is important and therefore some walking boots can be a problem if the upper part covering the ankle is stiff or the laces around the neck of the boot are tied too tight.
Clothing
It is best to wear lightweight clothing and include light gloves, a hat and a waterproof jacket for cold and wet weather. In the summer sun cream/block and sunglasses is an important addition. It is better to wear several light layers of clothing rather than heavier, thicker clothing. It is also advisable not to wear something likely to flap at the sides of the body.
Check out our guide on the best Nordic walking clothes.
Rucksacks & Bags
For Nordic walking it is best to carry personal belongings and water in a waist or bum bag as rucksacks and shoulder bags are likely to swing around too much.
Benefits of Nordic Walking for Fitness
One of the key reasons Nordic walking has become so popular is that it provides such good exercise. It involves more muscle groups, particularly in the upper body, and increased energy use (calories burned) when compared to regular walking.
It also generates increased oxygen consumption and increased heart rate compared to regular walking. Nordic walking increases muscle strength more than regular walking does and also provides a better intensity-to-impact ratio than traditional walking does.
You can burn between 20% and 46% more calories with Nordic walking than with ordinary walking, which is good news if you are trying to lose weight or keep your weight down. The increased calorie demand is because you are using both your upper and lower body. Using the poles makes you work harder without you even being aware of it.
Nordic walking targets your triceps, the bingo wings, and helps to strengthen and define your shoulders. Proper use of the poles will also trim your waist and strengthen your entire core. Pushing the poles into the ground really works the entire middle of the body and all of your back, providing a great upper body workout from a very natural movement.
Nordic walking is also a weight-bearing exercise and uses 90% of the body's skeletal muscle and is therefore excellent for bone health. As it is an outdoor activity your body is also able to absorb the all-important vitamin D.
Correct Nordic walking technique requires that you plant the poles behind you and this keeps your posture upright and your chest open. This technique, which includes rotating your upper body, also helps release tension in your neck and shoulders and reduces the impact on joints.
Benefits of Nordic walking for Health
Physical Health
Beyond the excellent general fitness that Nordic walking provides, it also has a powerful list of benefits for people affected by particular conditions, including cancer, heart disease, high blood pressure, being overweight, type 2 diabetes and asthma.
For cancer patients it can be beneficial at all stages, preventing the decline of physical function without increasing fatigue, helping to recover physical function after treatment and reducing the risk of recurrence and of developing other long-term conditions. It also helps patients to maintain independence and wellbeing.
The physical activity involved in Nordic walking also improves the control of blood sugar in patients with type 2 diabetes, even in the absence of weight loss, and can also improve overall fitness.
Nordic walking also plays an important role in cardiac rehabilitation and can help people with peripheral vascular disease walk further before the onset of leg pain. It is also beneficial in rehabilitation programmes for stroke and chronic obstructive pulmonary disease patients.
There is also evidence showing that Nordic walking can help prevent the bone density loss associated with ageing. It can counter the effect of rheumatoid cachexia in rheumatoid arthritis patients, two thirds of whom have significant muscle wasting and increased obesity.
Nordic walking is a recommended physical activity for those recovering from breast cancer, lung or cardiovascular problems, joint replacements and some chronic pain conditions.
Mental Health
Not only does Nordic walking provide obvious physical health benefits, but there are mental health benefits too. Physical activity such as Nordic walking can be as effective as antidepressants or psychotherapy in treating mild or moderate depression, particularly in the longer term.
The charity Mind recommends the recognition of 'ecotherapy' or outdoor physical activity as a clinically valid treatment for mental distress.
Final Thoughts
Nordic walks are almost invariably accompanied by chatter and laughter, so while getting a great work-out you are also having fun and often meeting new people. The technique of Nordic walking means that you can walk further and faster than you usually would and still keep up a conversation. You can say "goodbye" to the steamy, noisy, claustrophobic atmosphere of the gym and the pounding of the treadmill, and exchange it for the fresh air and uplifting environment of the great outdoors.
Don't be a stranger to the poles and grab the benefits of Nordic walking with both hands!
(Check out our guide to the best stretches to do before walking).
Related articles:
Wild Camping Equipment Kit List