We are reader supported and may earn a small commission on some (but not all) links within our content to products we think will genuinely help our readers at no extra cost to you.
Use "fitnessdrum"
for $175 Discont at MedBridge
We're incredibly excited to offer our readers an exclusive promo code that gets them a $175 discount at MedBridge (which is the best discount currently available online).
Simply click the button below to have the $175 discount automatically applied or enter "fitnessdrum" at checkout 👇
MedBridge Price
Once you apply the "fitnessdrum" discount code, the price for the different MedBridge plans are:
| MedBridge Membership | Price |
| --- | --- |
| Premium | $250 |
| Education | $200 |
| Enterprise | $200-250/user |
| Student | $100 |
How to Reedem MedBridge Promo Code
Reedeming a MedBridge promo code is easy. Simply visit medbridgeeducation.com, click on "Try MedBridge" in the top right navigation and at checkout enter "fitnessdrum".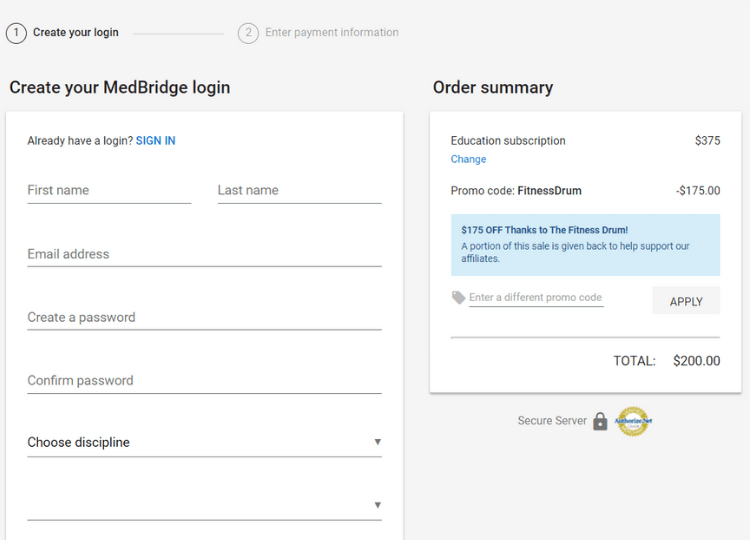 An extra bonus is that if you choose to renew MedBridge, you'll automatically be offered the discounted price and save $175 every year.
What's the Best MedBridge Promo Code?
The best MedBridge promo code available is a $175 discount. By entering "fitnessdrum" at checkout, you will be get this discount applied to your order.