Use "fitnessdrum"
for $150 Discount at MedBridge
We are reader supported and may earn a small commission on some (but not all) links within our content to products we think will genuinely help our readers at no extra cost to you.
We're incredibly excited to offer our readers an exclusive MedBridge promo code that gets them a $150 discount (which is the best deal currently available online). This is 40% off the normal membership price!
Simply click the button below to have the $150 discount automatically applied or enter "fitnessdrum" at checkout 👇
MedBridge Price
Once you apply the "fitnessdrum" discount code, the price for the different MedBridge plans are:
| MedBridge Membership | Price |
| --- | --- |
| Premium | $275 |
| Education | $225 |
| Enterprise | $225-275/user |
| Student | $100 |
How to Redeem MedBridge Promo Code
Redeeming a MedBridge promo code is easy. Simply visit medbridgeeducation.com, click on "Pricing" in the top right navigation and at checkout enter "fitnessdrum".
This will show the discounted MedBridge price, which is 40% off!
Alternatively, just click here to have the discount automatically applied and go straight to checkout.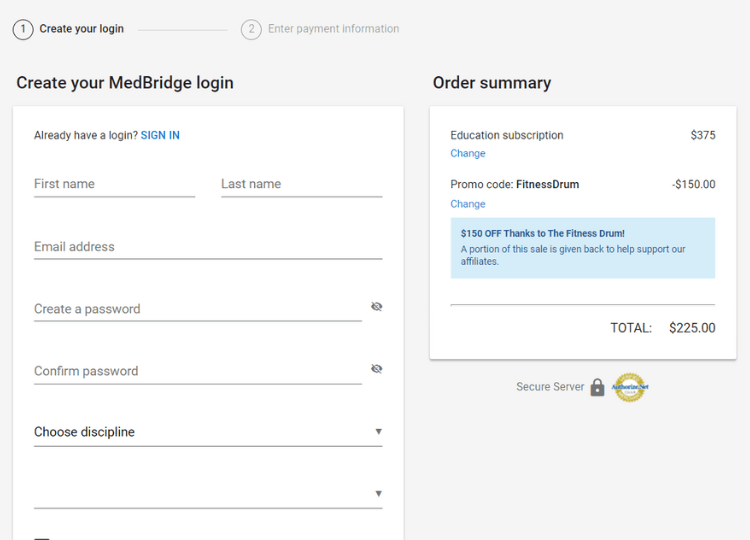 An extra bonus of using the "fitnessdrum" promo code, is that if you choose to renew MedBridge, you'll automatically be offered the discounted price and save $150 every year. This means saving at least $150 each year, for accessing the best CEU we've ever used.
What's the Best MedBridge Promo Code?
The best MedBridge promo code available is a $150 discount. By entering "fitnessdrum" at checkout, you will get this discount applied to your order.
Enjoy MedBridge Black Friday Savings All Year Round
By using the MedBridge promo code "fitnessdrum" at checkout, you can enjoy Black Friday savings all year round.
This deal gives you $150 off, which is the best discount they currently offer, so there's no need to wait until Black Friday to renew or subscribe to MedBridge Education.
Use "fitnessdrum"
for $150 Discount at MedBridge
MedBridge Education Vs Premium Membership
When you sign up for MedBridge, you'll need to choose between the Education or Premium plan (or the Enterprise plan if you're an organisation with more than 5 users).
MedBridge Education gives you unlimited access to their: Continuing Education Courses, Certification Prep Programs, Live Webinars, Clinician Mobile App, Compliance Training, MedBridge Certificates, Microlearning.
After testing our fair share of CEUs, we think MedBridge offers the best value and makes learning complex topics very digestible and enjoyable. Their roster of instructors is also very impressive, especially for those wanting guidance on quite technical and specialist topics.
MedBridge Premium includes everything you get with the Education membership, as well as their: Home Exercise Library, Patient Education, Home Program (HEP) Builder, Online Patient Portal and Patient Mobile App.
For the extra $50/year, the Premium gives you some incredible tools for remote patient engagement. The HEP builder and exercise library allows you to prescribe programs for patients in a very professional manner and saves a huge amount of time compared to using free HEP builders.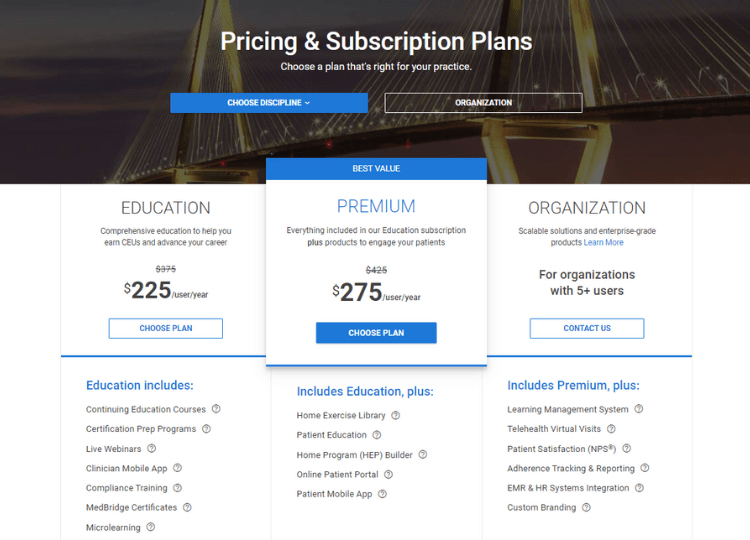 (We've noticed that "free" HEP builders and remote patient engagement software usually have significant limitations and end up being more than $50/year once you opt into the paid versions). You can read more in our review of the best HEP builders, which highlights just how much this feature alone is worth, if you were to buy standalone remote patient software.
Ultimately, we think this makes the Premium membership a great choice for those interacting with patients as it will likely save money on not needing other services like HEP builders or remote patient engagement tools, and is much quicker and professional than manually prescribing exercises.
MedBridge also have a Student membership for those that are currently studying, which is a great way to gain knowledge and practical understandings relates to your course.
With the "fitnessdrum" MedBridge promo code, the Education membership plan is $225, down from $375, and the Premium membership is $275, down from $425.
MedBridge Education in a Nutshell
As far as CEUs go, we feel MedBridge is second to none. The courses are set up very well, especially for those that enjoy video-based learning. From instructor explanations to 3D graphic illustrations, these videos are really high quality and make learning difficult topics a breeze. The quality of instructors is also head and shoulders above other CEU providers.
MedBridge also follows an evidence-based learning curriculum, helping you ensure you're staying up to date with the latest research and findings.
The yearly cost of MedBridge, especially by using our promo code, makes it much more affordable than in-person training events too.
For more information on MedBridge, you can read our dedicated MedBridge review, or our comparison of MedBridge Vs Summit Education.
Use "fitnessdrum"
for $150 Discount at MedBridge
MedBridge and Fitness Drum
Our aim here at Fitness Drum is to help people enjoy better movement so they can feel empowered to seek adventure and keep doing the things they love. We are proud to create inclusive digital fitness that is accessible for everyone… which is why our virtual fitness challenges and online coaching are free and always will be.
By using our MedBridge promo code, you are supporting our mission and helping us provide meaningful coaching and support for communities all around the world who don't have access to Physical Therapy services.
It really does make a difference and your support means the world to us and those we are able to serve through partnerships like MedBridge.