We are reader supported and may earn a small commission on some (but not all) links within our content to products we think will genuinely help our readers at no extra cost to you.
Looking to get fit and healthy? There's an app for that….
In fact, there's a lot of apps for that.
So, how can you decide which app is worth the money, and which app will actually help you reach your fitness goals?
That's where we're here to help…
We've been busy testing all the top workout apps and getting our sweat on, to provide comprehensive, honest reviews of the brands and products that promise to help you get fitter.
One specific app that has quickly built a very large and loyal following is Fitbod (an app that we've also used for some time now), so we thought it was worth providing the ultimate review into everthing you can expect from the Fitbod workout app.
In a hurry? Sign up via the button below and our unique 25% discount will be applied to your account 👇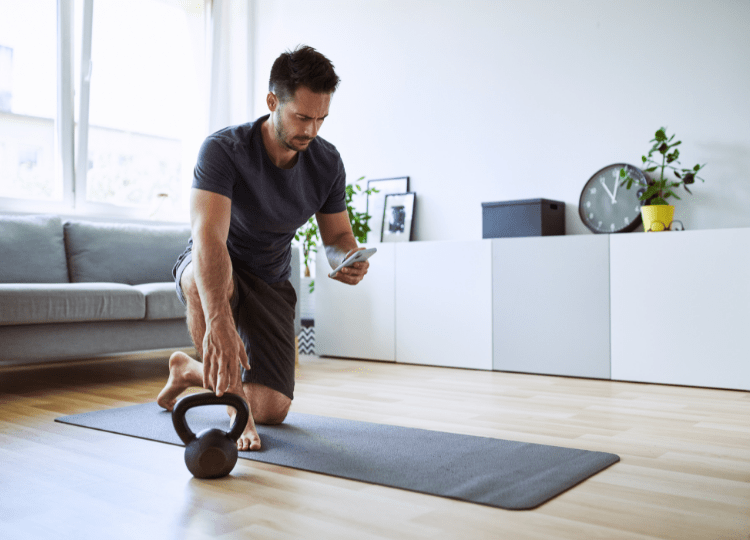 What is Fitbod?
Fitbod is a fitness app that uses a training algorithm to build personalized workout plans. The premise is simple, by tailoring workouts to specific goals and user preferences, as opposed to more general fitness workouts and programs, users are more likely to get healthier and fitter.
Although the concept of using algorithms and artificial intelligence to build workouts sounds very science fiction, Fitbod explains how it achieves this using quite a simple approach. To build your custom-fit workout, Fitbod's training algorithm understands your strength-training ability, studies your past workouts and adapts to your available gym equipment.
In other words, the more you use Fitbod and input data about your workouts, the more Fitbod can tailor recommendations for the future that will help you reach your goals.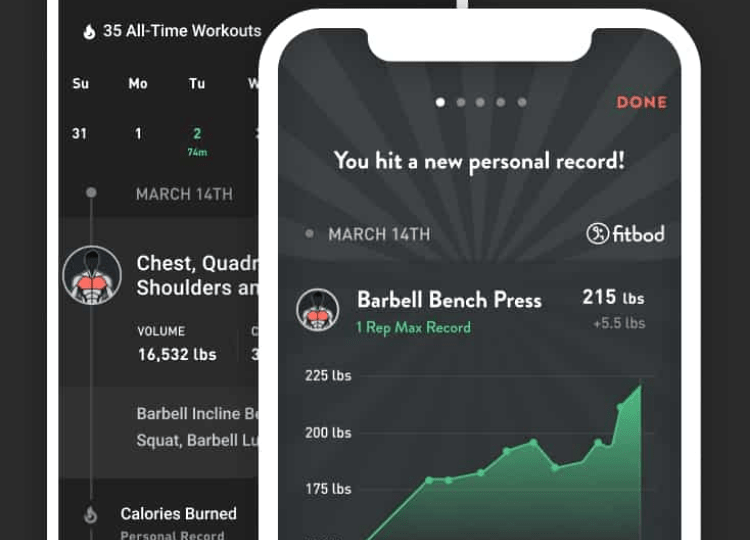 What We Love About Fitbod
Strength Training
Although Fitbod comes under the broader umbrella of a fitness app, it really focuses on strength training. We think this is a great specialty to focus on as so many people simply ignore strength training because they feel intimidated by it.
Fitbod makes strength training easier and creates a clear roadmap of what to do. It also allows you to select a type of strength training, from bodyweight movements, to HIIT, to more traditional bodybuilding workouts.
Exercises
Especially for beginners, Fitbod can help introduce new exercises and workouts.
Looking to strengthen your glutes? Perhaps you've only been doing squats because you've never heard of hip thrusters, glute bridges and other effective exercises.
Fitbod helps ensure you become aware of proven and effective movements.
Progression
Fitbod's algorithm is designed to help you reach your fitness goals, so it naturally keeps pushing you if you start to find workouts easy.
Instead of continuing to go through the motions, Fitbod will ensure future workouts have a slight increased difficulty to keep your muscles working hard and seeing progress.
If the workouts are too hard, then it will adjust them to ensure you can do them.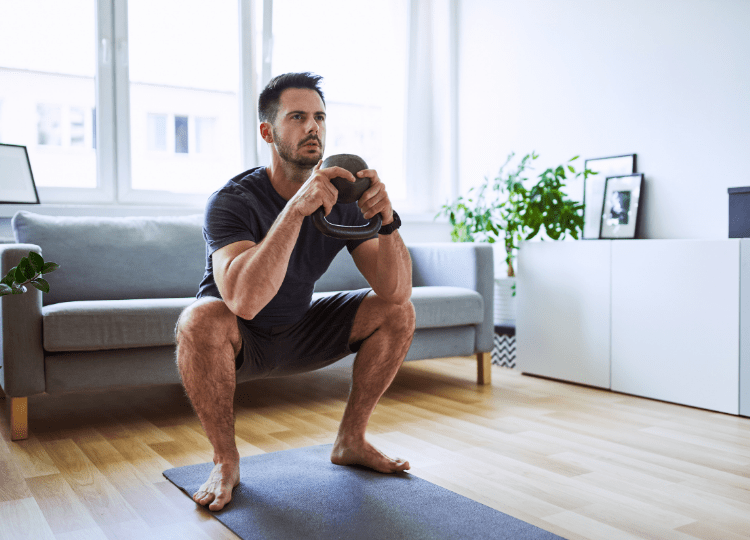 Adaptable
Another great feature is the ability to workout based on the equipment you have access to. This instantly makes it ideal for anyone training at home, or that may not have access to a lot of the expected equipment.
It also means you can get recommendations that incorporate the equipment you prefer.
If you don't like using dumbbells, you can just say you don't have access to them and no workout will include them.
Automated Programming
Unless you have access to a personal trainer, there's always that element of trying to decide what to do in a workout… and that can often mean subconsciously picking the easier option.
With Fidbod, the workouts are automatically presented to you, so you can simply follow along.
Simple Design
Fitbod doesn't overcomplicate things and uses a very clean, intuitive design to map out workouts and exercises. Even if you're not very techy, it's an easy app to use.
This is a big bonus and means you can focus on the exercises, instead of getting frustrating with the app.
We've also found it to have no bugs or unexpected issues, unlike quite a lot of free fitness apps. Many free apps tend to flood you with ads which quickly becomes very annoying and often means they load slower or freeze too.
You can also sync Fitbod to your Apple Watch if you have one, making the ability to track workouts even easier.
Muscle Recovery
A key component to strength training, or any type of fitness, is recovery. Fitbod naturally takes recovery into consideration and ensures your muscles have time to recover and rebuild.
Depending on what type of workouts you are following, the app will suggest how best to include recovery into the week.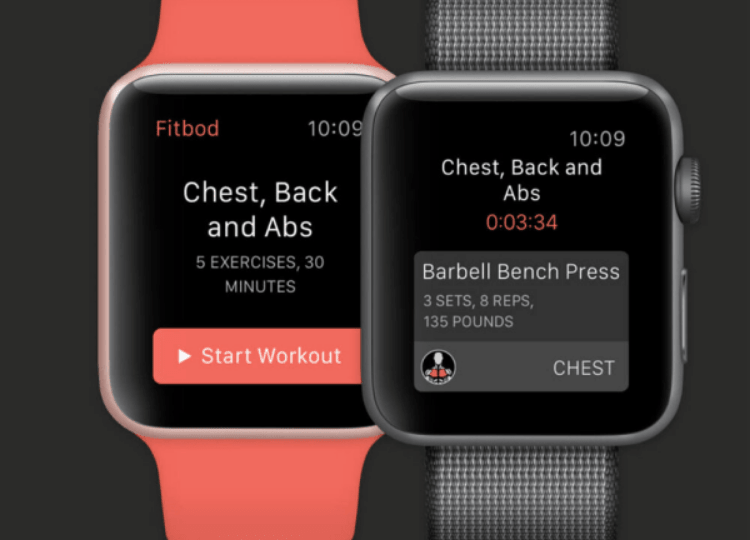 Who is Fitbod Best For?
Fitbod is great for anyone who perhaps can't afford a personal trainer but is looking for guidance and support when working out.
It's ideal for anyone who is a beginner when it comes to strength training and doesn't have a particular routine they are following.
By using strength training programs, Fitbod can help achieve all sorts of aims, including; getting stronger, building muscle mass, toning muscles and weight loss.
People can often be surprised when strength training achieves weight loss, but the reality is, it's actually the ideal partner for any new diet or weight loss plan. Swapping fat for muscle is a key factor in your body's ability to lose weight.
Who is Fitbod Not For?
Although we think Fitbod is great, and tailors to the mass market very well, there are some who may not benefit from it.
Fitbod doesn't offer live classes to follow along to. If this is your preference, you may want to check out brands like Obe Fitness, Openfit and FiiT.
How Much is Fitbod
Fitbod offers a free trial which gives you 3 workouts to try out the app. Once your trial has ended, you'll need a subscription to continue using the app.
When billed annually, Fitbod costs just $5/month… but if you use our unique link, it will apply a 25% discount, meaning you can access everything Fitbod offers for just $3.75/month!
Fitbod Reviews
Reviews are a great indication of the effectiveness of an app, and Fitbod's reviews are second to none. At the time of writing, Fitbod has a rating of 4.8/5, based on 137,000 reviews!
So many reviews talk about how they've seen real, tangible results by using the app. At the end of the day, that's a big reason why we workout in the first place… to achieve our fitness goals.
Bottom Line
As fitness apps go, Fitbod is undoubtedly a leader in the space. If you're looking for a fitness app that focuses on strength training then Fitbod is worth using.
For the price, it brings serious value and is definitely one of the more affordable solutions for those looking to get fitter.
Use it at home, in the gym, or while you travel, it's entirely up to you.
Sign up below and start your free trial. 👇
Related Articles:
An Honest Review of the Openfit Workouts
Obe Fitness Workouts and Live Classes Review