We may earn a small commission on some links at no extra cost to you. Learn more.
An estimated 300 million people practice yoga around the world (according to the International Yoga Federation).
That's a lot of people getting their daily oommmmm on.
But… not all yoga is the same. From Vinyasa to Hatha to Ashtanga, different styles bring with them unique health and wellbeing benefits.
So, when it comes to doing yoga for weight loss, what is your best option?
We're glad you asked… we've been busy secretly trying out all the top rated yoga and fitness apps, to help you understand which ones we think are best suited to those looking to shed a few pounds.
In this comprehensive review, we delve into 12 apps that we found most effective for burning calories, toning muscle and ultimately losing weight. This is based on first-hand experience of downloading and using all the highest rated yoga apps and programs found on the app stores.
(We've also tried to find and link to any free trials available too).
Featured Apps – Yoga Apps for Weight Loss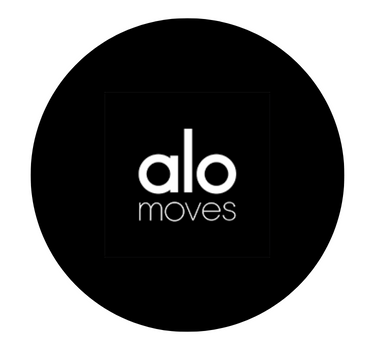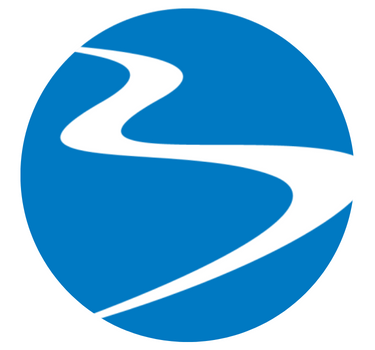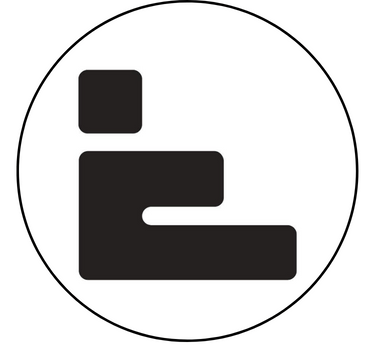 Why Trust Us? Review Process Explained
We believe in editorial integrity and providing genuine value to our readers. For this review, we used and tested 21 yoga/fitness apps (detailed under the methodology heading at the bottom of the article) and used our internal quantitative metrics to evaluate each app in accordance with our
review guidelines.
Alo Moves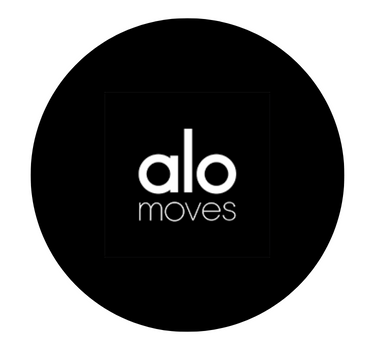 ALO MOVES YOGA
Unlimited yoga workouts, fitness classes and daily meditation. Huge range of yoga classes. Ideal for beginners and advanced yogis. 14 day free trial.
With the goal of finding the best yoga app for weight loss, we were looking for yoga routines that put us through a bit of a sweat and really got the body moving… and Alo Moves did that like no other.
For $12.99/month, Alo Moves offers unlimited yoga, fitness and meditation, led by some of the best instructors in the world.
As opposed to some yoga apps that lean very much towards to spirituality and mindfulness side of yoga, Alo Moves really leans towards the fitness side, offering routines that leverage yoga poses and movements to tone and sculpt your body.
Blending both strength and mobility movements into the same yoga workouts, we felt that Alo Moves is the best for those who are really wanting to see tangible improvements in their physique from a yoga app.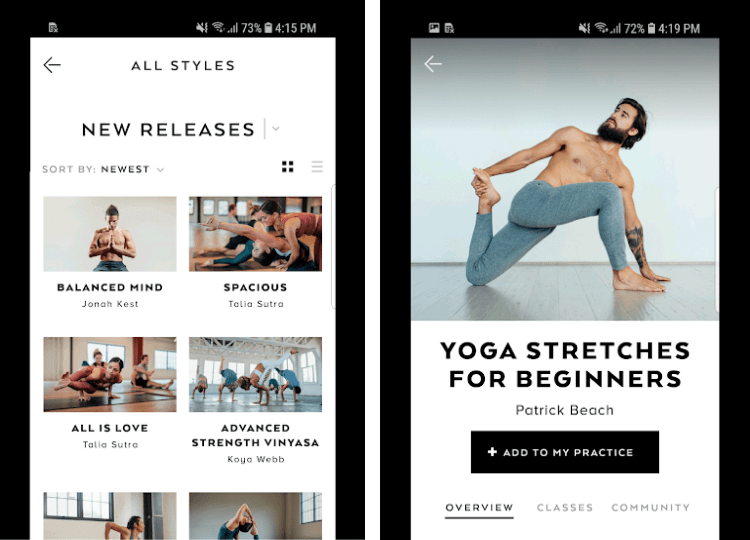 The app provides personalized recommendations, based on your goals, so if weight loss is at the top of your agenda, then the app will naturally draw your attention to workouts and classes that are aligned with that goal… pretty neat.
They also offer a free trial so there really isn't any excuse for giving it a try!
You can read our full Alo Moves review for more details of what the workouts and classes are like.
We selected Alo Moves because we think the app offers a fantastic blend of yoga and movement routines that are enjoyable, effective and ultimately a great way to practice yoga at home.
Pros – Big library of workouts, includes barre, Pilates, bodyweight and HIIT as well as yoga routines, quality instructors, easy-to-use app.
Cons – No live classes at the moment.
BODi (formerly Beachbody)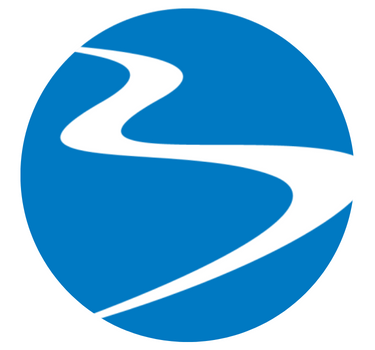 BODi (FORMERLY BEACHBODY)
Huge library of workouts and programs (including live classes), community groups for support, diverse range of exercises, amazing value for money.
BODi (previously called "Beachbody On Demand") gives you access to a vast catalogue of fitness workouts and programs, including yoga.
We've found the yoga classes tend to be very well structured and guided by an instructor who helps you understand why you're doing certain poses and movements.
They also have all sorts of hybrid workouts, such as HIIT/yoga workouts, which are perfect for anyone looking to lose weight as a primary fitness goal.
Having such diversity in one single membership is definitely an advantage and means you probably don't need a separate app for strength/fitness workouts too.
As far as membership costs go, having access to so many different types of exercise classes, alongside yoga workouts, is a big bonus and probably why the company has so many 5 star reviews online.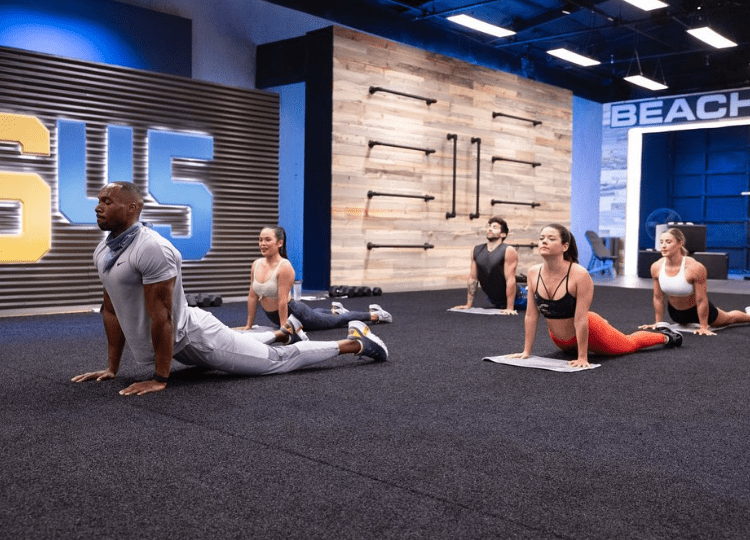 BODi is big on shakes/supplements too… so again, if weight loss is a goal, you may be interested in their nutritional plans as well (although that bumps up the membership price quite considerably).
We selected BODi because we find their workouts are often geared towards weight loss and their community includes lots of motivation and support for those looking to hit a specific goal. The fact you get access to nutritional content as well will also boost goals related to losing weight.
Pros – Big library of workouts and programs, community groups, live classes.
Cons – Supplements feature quite heavily in nutritional content.
StretchIt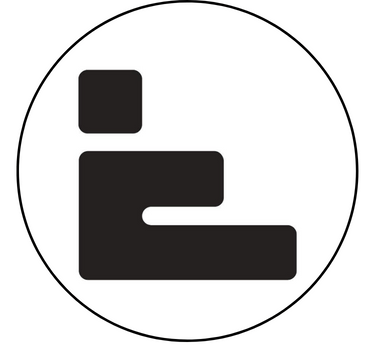 STRETCHIT
Fantastic stretching workouts, perfect for improving flexibility, on-demand and live classes.
A big part of yoga is stretching… and for us, no app offers stretching workouts and online classes quite like StretchIt.
Although StretchIt isn't a self-proclaimed "yoga app", if you like the idea of doing primarily stretching-orientated workouts to reach a specific goal (like touching your toes, or doing the splits), then StretchIt is definitely worth considering.
The app is easy to use and the workouts/programs are well structured and perfect for those who want to track their progress.
One of the main reasons we like StretchIt so much is that it makes doing a little bit of stretching/exercise each day very achievable and attainable. If you struggle with consistency, then StretchIt's approach to challenges and community workouts could really help you stick to your fitness routine.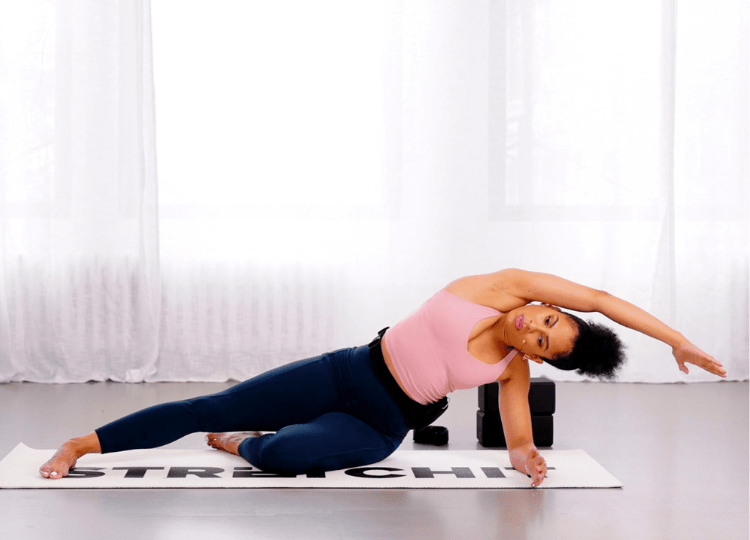 As we mentioned, because StretchIt doesn't really see itself as a yoga app, you won't be introduced to "yoga poses" as such, however, you'll likely be doing very similar movements within the stretching routines.
You can read our full StretchIt review here.
We selected StretchIt because you might not come across it when searching for a yoga app, but the ability to do so many stretching based workouts means it could be exactly what you're looking for.
Pros – Live classes, stretching programs, track progress.
Cons – Not as suited to those looking for meditation and guided yoga flows.
YogaWorks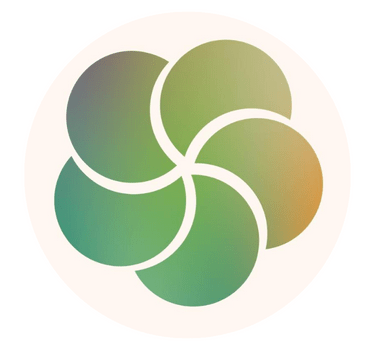 YOGAWORKS
On-demand and live yoga classes, quality instructors, guided yoga routines.
YogaWorks is a great online yoga service for both on-demand and live classes. With a 14-day free trial, it's easy to get set up and start following along to their immersive routines.
Something we really like about YogaWorks is the sheer diversity and variety of their classes… they have something for everyone. They also list the duration and level for each class, making it easy to filter and find classes suited to your requirements.
And as far as live classes go, they have over 25 daily live streams, which is mightily impressive considering the price. This is ideal for anyone who enjoys live yoga streams, as opposed to just following an on-demand workout.
Established in 1987, it's clear YogaWorks are industry experts and they bring this knowledge to all their online yoga routines.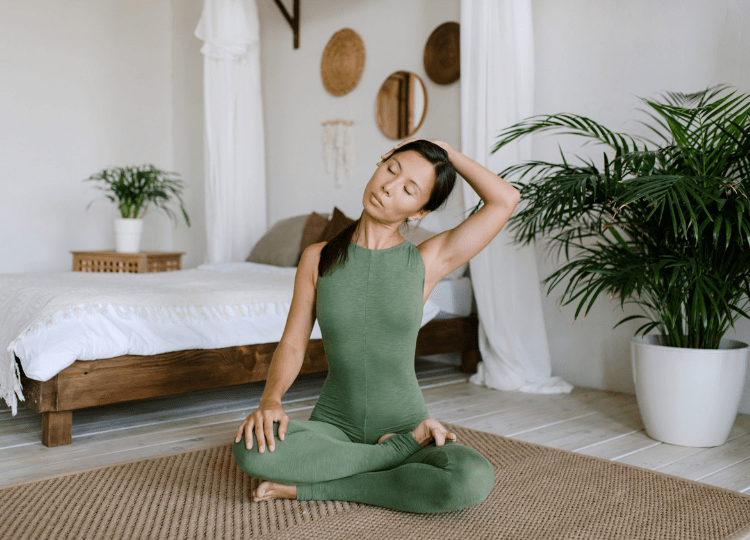 We find live classes definitely boost motivation, which is important for achieving long term fitness goals.
Especially if weight loss is your goal, you can filter on the live class schedule and select ones that are most suited for this… for example, they have a BodyWorks class that is focused on building strength, burning calories and delivering an effective cardio workout using yoga poses, so we'd recommend giving that one a go.
When it comes to weight loss, the effectiveness of yoga workouts will depend on what movements are involved, so being able to select the most appropriate classes in such a simple format is definitely a bonus.
We also found the promo code accessyourbest which makes the all-access monthly membership just $19 once your free trial is finished.
We selected YogaWorks because the brand has a long history of delivering quality yoga content and the inclusion of live classes is a big bonus. You can preview some of their yoga classes on their website before signing up to get an idea of what it's like too.
Pros – Live classes, quality instructors, great for beginners, guided yoga routines.
Cons – The app uses Mindbody so it isn't a bespoke app and feels a bit outdated.
Sweat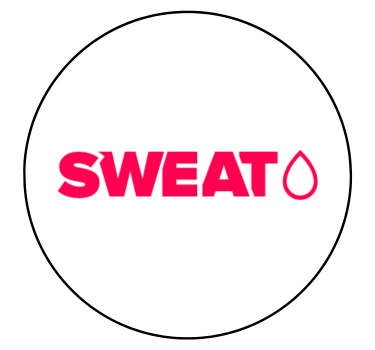 SWEAT
30+ million downloads, 34,000+ 5 star reviews, quality workout programs, meal planning, progress tracking and community.
With over 30+ million downloads and 34,000+ 5-star reviews, Sweat is undoubtedly one of the most popular fitness apps on the app stores.
Along with HIIT, strength and bodyweight workouts, Sweat has a lot of content around yoga (as well as Pilates and barre).
There are currently 3 dedicated programs focused exclusively on yoga too, as well as all sorts of on-demand yoga flows too.
If you want to follow along to yoga routines as well as other styles of fitness, Sweat is definitely worth considering.
One of the big reasons we like Sweat for yoga, is that they use real people to demonstrate the movements and poses (as well as other fitness exercises). This is in the form of gifs, which makes it really easy to copy and follow along to.
We find some yoga apps that use graphic illustrations aren't as effective as they can sometimes move in ways a human body simply doesn't.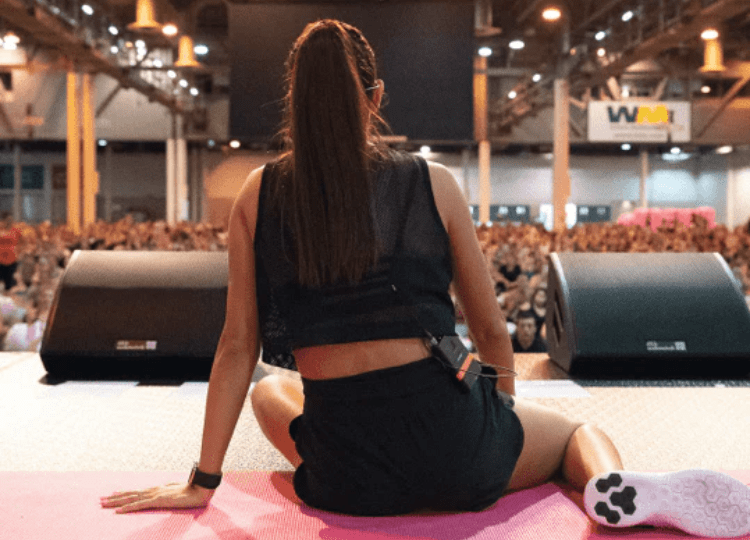 Sweat has a really active online community and there is a dedicated space within the app to talk to fellow Sweat members and keep each other motivated.
The Sweat app goes well beyond just yoga, or even fitness… and also includes meal plans and healthy recipe ideas too.
Pros – Quality workout programs, wide variety of workouts, swap movements, track progress, meal plans, active community
Cons – Experienced yogis may want workouts that include more challenging yoga poses and holds.
Gymondo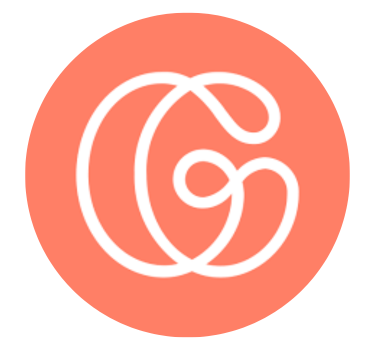 GYMONDO
Unlimited access to 500+ workouts, 40+ programs and 1,000+ recipes. More affordable than other workout apps. 4.7/5 average rating on the app store.
Gymondo is another app that offers a wide range of workout programs, including yoga.
Something we really like about Gymondo is that they partner with specialists for each of their programs. This means each program feels very unique and nothing is repeated.
If you want an app that will keep you motivated for a long time, Gymondo is certainly worth considering.
Gymondo is also a great option for the budget-conscious, available from $5/m.
If you're looking for yoga programs on Gymondo, start by filtering on the goal "increase flexibility" and it will bring up all the latest yoga routines. Once you pick one you like the look of, it will provide details on who the program is best suited to, as well as what equipment you might need and what outcomes you can expect to gain by following along.
It also indicates how long the program lasts… most seem to be around 6-8 weeks. This means you have every yoga routine mapped out in a calendar for the duration of the program.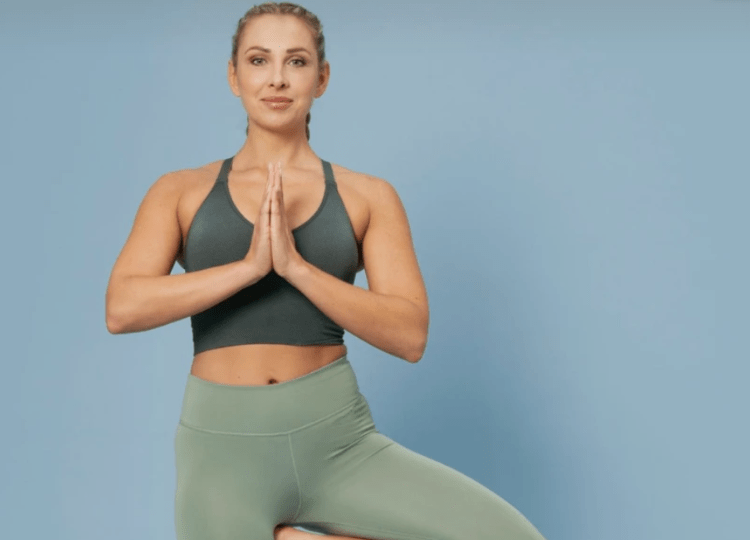 In comparison to Alo Moves, we feel Gymondo is better suited to beginners, with most of the programs geared towards beginner-level.
Check out our full Gymondo review to learn more.
Pros – Low cost, wide variety of classes, expert instructors, track progress, great for beginners
Cons – Limited content for advanced yogis.
Asana Rebel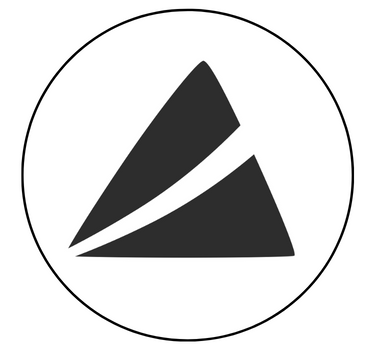 ASANA REBEL
Popular yoga app, free version available, HIIT yoga routines for high-energy workouts.
Asana Rebel has long been one of the top yoga/fitness apps in the app stores. It arguably coined the term "HIIT yoga" and its workouts have been followed millions of times.
If you like the idea of high-energy workouts than include a bit of everything (bodyweight movements, yoga, stretching, cardio), then Asana Rebel won't disappoint.
This approach to movement offers an effective hybrid between different exercise styles and we think it lends itself well for those who want short and simple fitness routines to follow along to.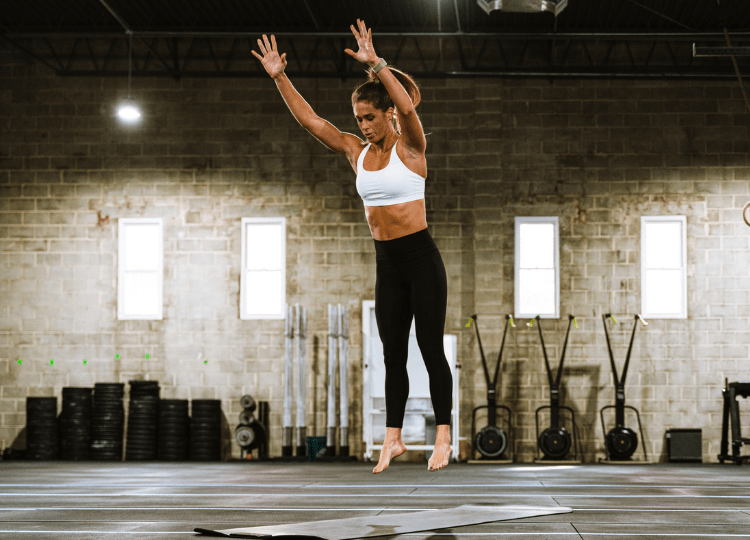 Asana Rebel is free to download, but the paid version is a bit pricier than we would have expected.
We selected Asana Rebel because at the end of the day, it offers high-energy yoga routines that will burn calories and ultimately help you lose weight.
Pros – Asana Rebel's typical workout will likely burn more calories than a traditional yoga routine.
Cons – The app can be quite buggy, paid membership is expensive, the inclusion of HIIT/strength movements means sometimes it doesn't really feel like a "yoga" workout.
Yoga Wake Up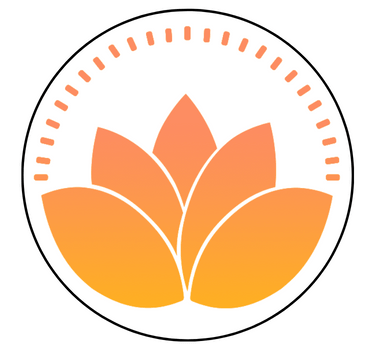 YOGA WAKE UP
Audio yoga routines, ideal for bed yoga and morning routines, easy to use app.
Reaching any goal, whether that's losing weight, gaining muscle, or becoming more flexible, is all about creating healthy habits and committing to a routine.
Yoga Wake Up makes following a new yoga routine simple and easy.
The app offers audio-guided yoga sessions to follow along to. If you know your downward dog from your warrior pose, then swapping video demonstrations for audio guidance might be a welcome change (and a nice break from your mobile screen).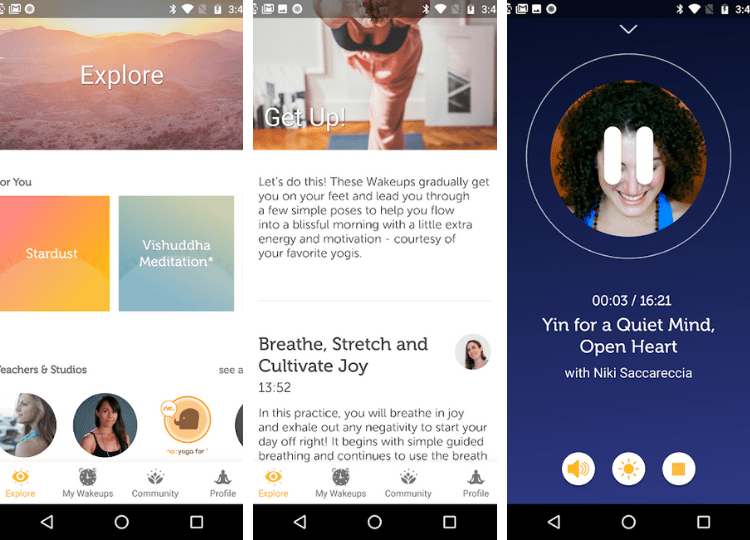 The app can also actually replace your alarm, so you can start the day with some mindfulness and yoga before you've even had breakfast.
As far as yoga apps go, the focus on audio flows proved a welcome change and something that really was enjoyable to follow along to.
We selected Yoga Wake Up because the focus on audio-guided yoga workouts could be a great option for lots of people who perhaps want a break from looking at a screen all day. The workouts are also very well put together and offer something for everyone.
Pros – Audio-guided yoga, quality instructors, community group.
Cons – No video demonstrations means beginners might not know who to perform certain poses.
Mighty Health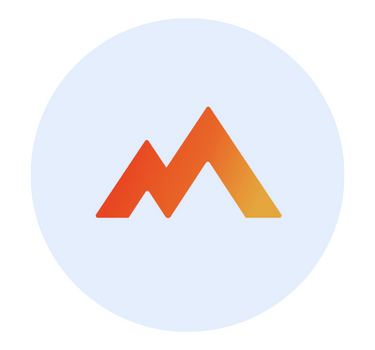 MIGHTY HEALTH
Aimed at older adults, low impact workouts (including yoga), personal support from a dedicated coach.
Mighty Health is a fitness app focused on over 50's… and although it isn't exclusively a "yoga" app, there are more than enough yoga workouts to keep you busy.
Due to the app focusing on over 50's, most workouts and classes are low-impact (which is often one of the things that attracts people to yoga in the first place).
Mighty Health includes lots of other low impact classes too, such as Pilates and Tai Chi. You can also filter on categories such as "seated" exercises for low-impact movements as well. This opens up all sorts of "chair yoga" moves and routines, which is surprisingly missing from lots of traditional yoga apps.
Where we think Mighty Health exceeds is the coaching and community support features. These really help boost motivation and get you excited to exercise. When you sign up, you are paired with a health coach who sends daily texts to offer any support and guidance that's needed.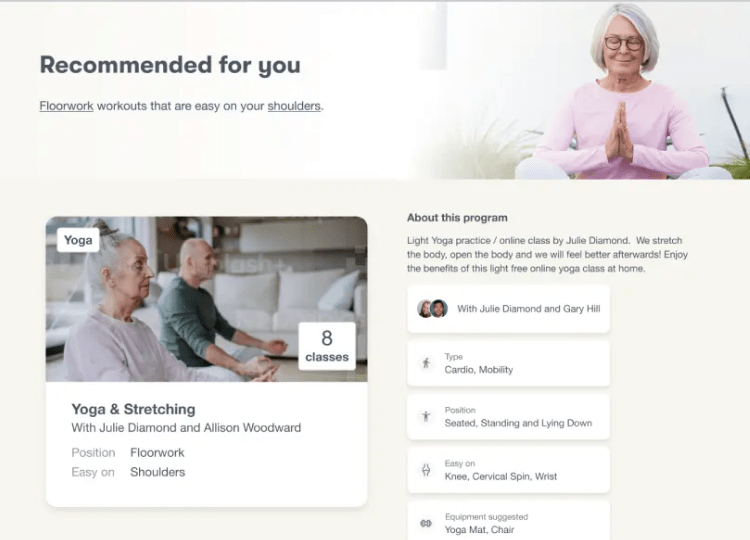 Movement is only half of the Mighty Health experience, and you'll find more than enough nutritional content to help you eat healthier too (which is definitely useful for losing weight).
Mighty Health is more expensive than a typical "app" though, so it is perhaps better to think of it as an online health coaching service, similar to Future.
We selected Mighty Health because the focus on low impact exercise such as yoga, coupled with nutritional content means it is heavily geared towards anyone looking to lose weight.
Pros – Perfect for over 50's, includes more than just yoga, you have a personal coach supporting you every day, includes nutritional content too.
Cons – More of a healthy lifestyle app as opposed to a comprehensive yoga app (if you want to learn all the different poses and styles of yoga).
Obé Fitness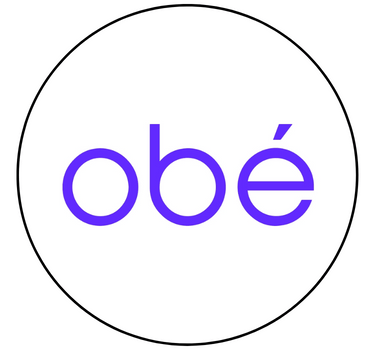 OBE FITNESS
Fun live and on-demand workouts, lots of yoga routines as well as barre, bodyweight, Pilates and more.
Obé Fitness probably falls into the broader category of "fitness apps" as opposed to yoga, but the platform includes so much content for all sorts of styles of exercise, including yoga, if you want to just do yoga, Obé has more than enough workouts and classes for you.
The value of Obé really comes from the live classes. They are fun, energetic and will definitely improve your fitness. We also really like how they include classes of varying lengths, from just a few minutes to over an hour. It means even if you're short on time, you can do something… and when it comes to reaching weight loss goals, consistency is king.
The yoga classes include titles like Yoga Sculpt which really does exactly what it promises… doing yoga moves to sculpt your body.
The ability to do all sorts of yoga workouts, as well as other types of fitness classes, such as HIIT, barre and strength, all within the same membership brings a lot of value.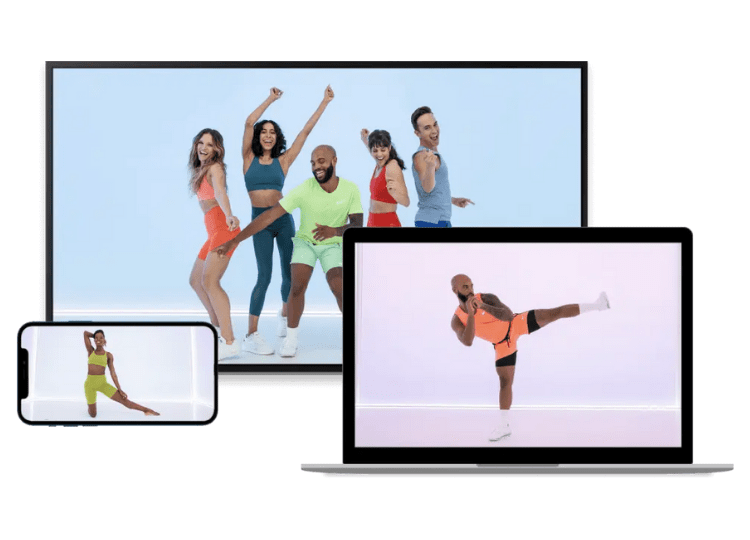 And let's remember, this article is about the best yoga apps specifically for weight loss, so with that clear goal in mind, being able to do yoga alongside these other fitness classes will likely help you see improvements in your overall fitness.
Our Obé review includes more details about what you can expect from the workouts.
We selected Obe Fitness because it offers live classes at an affordable price and the workouts are fun to follow along to.
Pros – Live classes, supportive community, diverse range of classes, lots of tone/sculpt workouts too.
Cons – Not exclusively a yoga app.
Yoga Daily Workout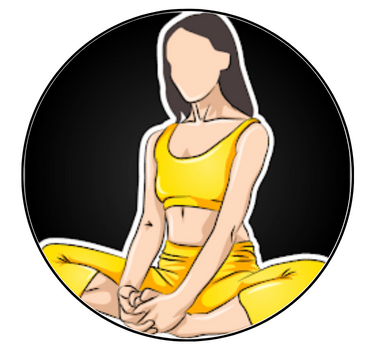 YOGA DAILY WORKOUT
Popular yoga app, free version available, simple introduction to yoga, watch exercise demonstrations.
With over 1 million active installs on Android alone, "Yoga Weight Loss" by Yoga Daily Workout is a free app that is worth considering if you just want a basic app to get started.
It doesn't offer live classes or instructor-led workouts, but with plenty of yoga poses and workouts to follow along to for free, the app has become very popular.
The poses are more generic, and despite the name, there isn't an obvious connection between the workouts and weight loss. Nevertheless, money talks, and if $20/month is too much for something like Alo Moves, then using a free app will likely bring you more value than simply trying to make it up as you go along.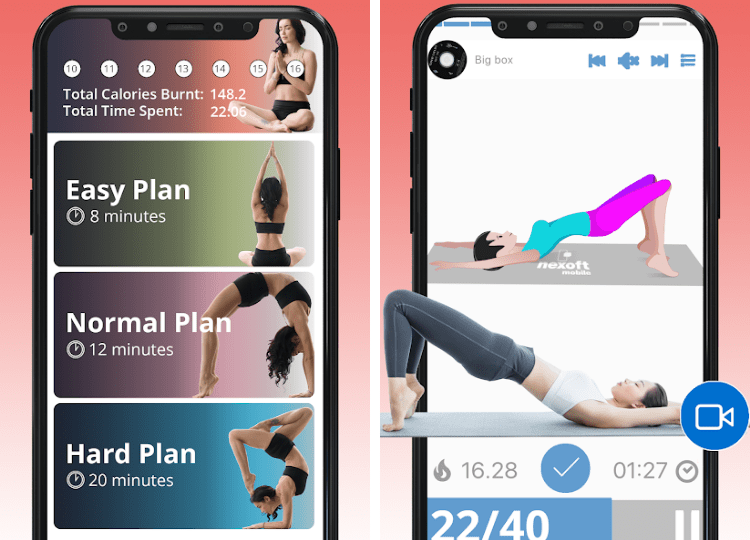 Yoga Daily Workout provides clear instructions on how to do different poses, so especially if you're a beginner, this will help introduce you to new moves.
Although the app is free, to unlock all features requires an in-app purchase of $2.99/month.
We selected Yoga Daily Workout because it is more of a traditional yoga app in terms of price and features. It doesn't include instructor live classes or advanced tech, but the price point is likely going to attract a wider audience than more premium yoga apps.
Pros – Free plan, premium plan is still very affordable.
Cons – No instructor-led classes, user-interface is basic, graphic illustrations used for yoga poses aren't as easy to follow as instructor demonstrations.
Future Fitness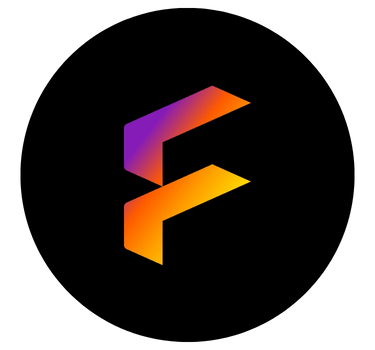 FUTURE FITNESS
Personal fitness coaching, completely customized yoga/fitness workouts, track performance in app.
In contrast to the previous app which was free, Future Fitness is certainly as premium as it gets, coming in at $149/month.
However, this app is much more than some generic workout app that spins out random exercise graphics. Future Fitness connects you to a real Personal Trainer, offering unlimited virtual coaching for the whole month. When compared to using a Personal Trainer or going to fitness studios, you can see how $149/month suddenly doesn't seem expensive at all… in fact, it works out much cheaper.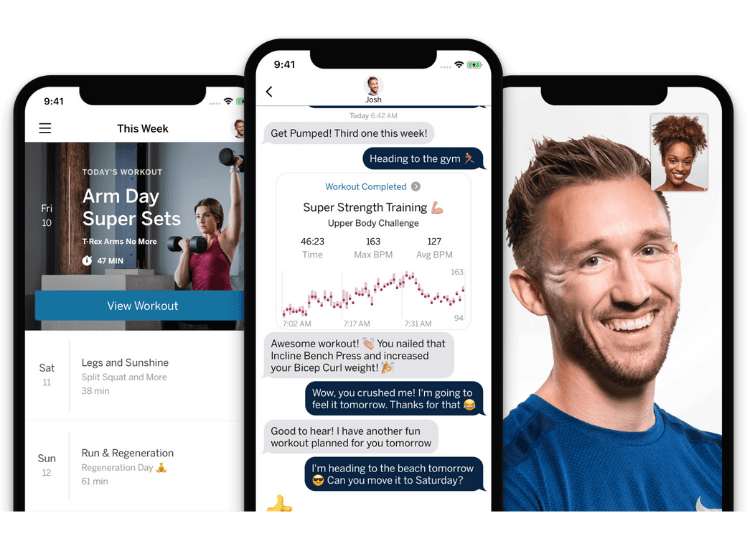 When you sign up for Future, you can choose your coach. If yoga is your preference, you can simply select a coach that is qualified and experienced in yoga. You can discuss your weight loss targets, as well as other fitness goals, and your coach will create a completely customized exercise program for you to follow along to.
Read our full Future review for more info on this personal training service.
We selected Future because the app has incredibly positive online reviews and we found the service to be extremely useful for custom support and advice.
Pros – Custom yoga/fitness plan, communicate with a coach directly, track progress in the app.
Cons – Expensive compared to more traditional apps.
FAQs
Is Yoga Good for Weight Loss?
Yoga can help to burn calories as well as build and tone muscle. When done alongside a healthy diet, this can certainly help you lose weight and get into better shape.
Yoga can also help to better manage stress, which is often a root cause for unhealthy eating too.
How Much Are Yoga Apps?
Yoga apps vary in price quite considerably. Free and cheaper apps tend to offer limited features and may just introduce you to a few yoga workouts and routines. More premium apps may include live classes or even personal coaching.
We've found yoga apps can range from $0-$149/month. The average premium yoga app probably comes in between $10-30/month.
What to Look for in Yoga Apps?
On-demand yoga routines, live classes, tracking progress, community forums, and chatting to a coach are the sorts of features we think are really useful for yoga apps.
The ability to learn different styles of yoga and filter yoga workouts based on skill level are also the sorts of features that make a yoga app feel very intuitive to use.
Methodology
For this review, we used and tested the following apps: Alo Moves, Skill Yoga, Yoga Wake Up, StretchIt, Yoga International, Gaia, Obe Fitness, Yoga Daily Workout, Glo, BODi, Future, Fyt Personal Training, YogaWorks, Pocket Yoga, Down Dog, 5 Minute Yoga, Asana Rebel, Yoga Wake Up, Gymondo, Sweat and Mighty Health.
We also keep this list up-to-date and remove/add apps based on new updates and releases, to ensure it is still relevant for anyone trying to decide which yoga app is best suited to them.
Bottom Line
This review highlights the quality of apps currently on the market that offer yoga routines and online classes. When it comes to weight loss, we would recommend any yoga or fitness app that includes routines that will get you moving and burning calories. From free options to premium yoga apps, there are solutions for any budget.
You can also grab a free trial with most of the apps in this list, which means you can try them before you commit to buying a membership.
Related Articles:
Best Fitness Programs for Home Workouts