We may earn a small commission on some links at no extra cost to you. Learn more.
Bursting onto the app stores in 2015, Asana Rebel is one of the old guards when it comes to fitness apps.
They undoubtedly helped lead the way and illustrate the value that fitness apps can offer… and based on the number of active downloads they have and their social media following, it is clear the app has been a popular choice for many years.
Well before the boom in home workouts, Asana Rebel has been helping users with their fitness goals, using their unique HIIT yoga workouts and healthy lifestyle recommendations. The app also offers recipes to help inspire healthy eating through tasty meal plans.
But what is the app actually like to use? Is it worth it, or are there better alternatives? That's what we're here to discuss. This Asana Rebel review outlines everything you need to know about the app including what we like, don't like and things to consider.
In a hurry? Here's the key takeaway… Although Asana Rebel was once our go-to workout app, it didn't make our shortlist for the top fitness and workout apps this year. Make sure you check out that list if you're on the hunt for a new fitness or yoga app as there are some fantastic new apps that we've discovered that are well worth trying. 👇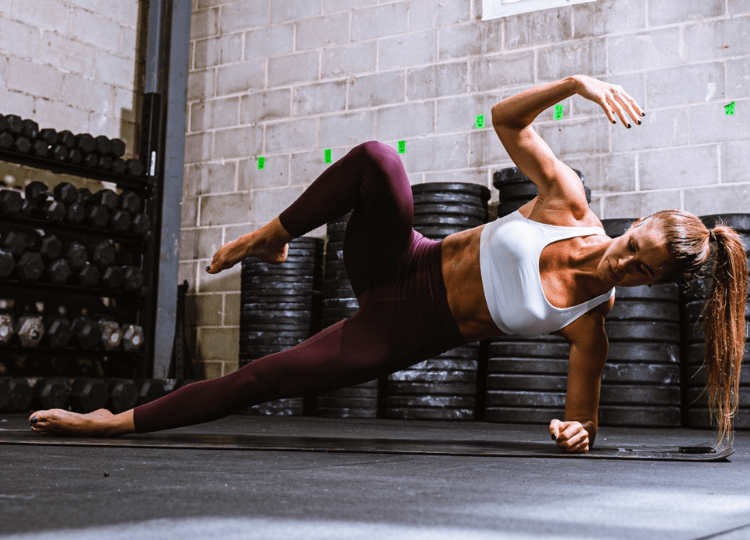 What is Asana Rebel?
For all intent and purposes, Asana Rebel is a yoga app… although it also offers more general fitness workouts, recipes, and healthy habits too. Most workouts can be seen as a bit of a fusion between yoga and bodyweight HIIT movements.
The app aims to help people lose weight, get fit and live a healthy lifestyle… and with over 10 million users worldwide, it's clear Asana Rebel's messaging resonates with the masses.
Due to the lack of equipment needed, the workouts are suitable for beginners and those exercising at home.
The app has two main sections; a daily plan and a discovery area. The daily plan provides recommendations for the day, with regard to workouts and healthy habits… while the discovery area allows you to find new workouts, challenges and recipes to follow along to.
How Much Does Asana Rebel Cost?
Asana Rebel costs $58.99 for a yearly subscription. They also offer a lot of sales throughout the year, so you may well be presented with lower prices or special offers.
Apple shows the in-app purchases available, which reflect slightly more confusing pricing, often bundling 3 month packages for discounted prices. The list below shows all the available paid plans from the Apple store.
Rebel Premium – $58.99
Asana Rebel Super – $35.99
Rebel Pro 3 Months – $37.99
Unlock Everything 12 Months – $58.99
Rebel Pro – $15.99
Premium 12 Months – $69.99
Asana Rebel Pro – $15.99
Asana Rebel Pro – $82.99
Asana Rebel Life – $69.99
Asana Rebel Pro – $69.99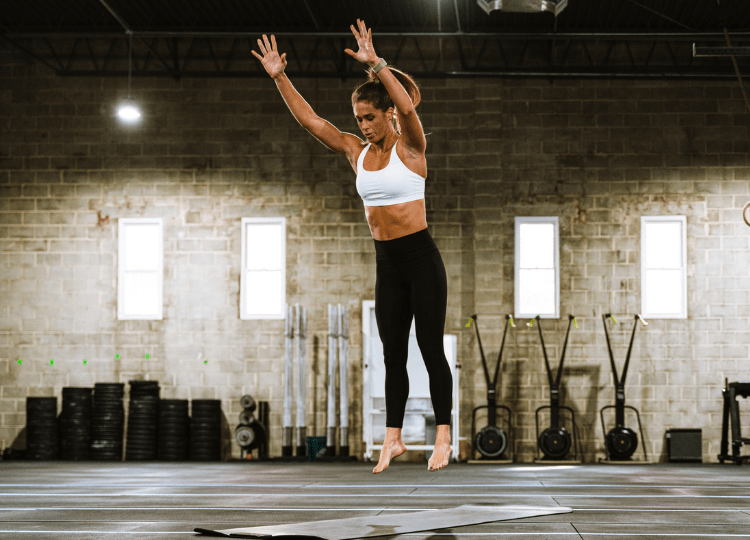 How Do You Cancel Asana Rebel?
To cancel your Asana Rebel subscription, follow the instructions highlighted in this guide – https://help.asanarebel.com/hc/en-us/articles/360009573399-How-do-I-cancel-my-subscription-
You basically want to visit your subscriptions page within your Android or Apple profile and select Asana Rebel. From there you should see a choice to cancel the subscription.
It's worth noting, many negative reviews for Asana Rebel relate to the automated renewals… i.e. you'll be billed until you cancel. Most fitness apps do this as well, but it's important to remember if you sign up for a free trial or upgrade, as you'll want to remember to cancel it before it renews.
Also, deleting the app doesn't automatically cancel your membership! You need to follow the steps outlined above.
What We Like About Asana Rebel
Healthy Habits
The healthy habits feature is a nice and effective way to keep on track of things like drinking enough water. The recommendations are usually quite basic and general, but these sorts of activities will certainly influence your overall health, so the reminders are a good addition.
These healthy habits are one of the ways Asana Rebel tries to expand out beyond just yoga workouts… as a way to become a part of your daily life.
The caveat is that you could also just set reminders or notifications directly on your phone which would have the same effect.
Effective Workouts
The workouts on Asana Rebel are effective… if somewhat basic and repetitive.
There is only so many ways you can move your body without equipment for the more general fitness workouts, so after a while, you may miss workouts that use equipment like dumbbells, barbells, etc.
Nevertheless, if the aim is to encourage you to sweat and get moving, you can't fault Asana Rebel's workouts… they will certainly achieve that.
The use of yoga poses to build functional strength, flexibility, balance and burn calories is definitely effective so the programming can certainly help you reach all sorts of fitness goals.
The video below shows the general style of most of the workouts.
For us, it would have been nice to see more variety in areas like strength training. Using concepts like progressive overload (with dumbbells and barbells) is really effective at building strength and losing weight… which many other apps often include too.
Meditations
The app also includes audio meditations which are good. This leans into Asana Rebel's roots as being more of a yoga app and the importance of mindfulness as part of your fitness routine.
Daily Plan Outlined For You
Although the daily plan was sometimes a bit basic, it was nice having a plan set out for you. It's easy to get side-tracked with a new workout you found on YouTube, or completely forget to workout at all… so having a daily plan definitely helps with accountability and commitment.
Recipe Content
Asana Rebel has quite a robust recipe section, which can be filtered on your preferences, such as vegan, or gluten-free.
The recipes aren't anything ground-breaking, but it's nice inspiration and motivation to eat healthier. Especially if weight loss is your goal, your diet is going to play a vital role in achieving that.
Makes Fitness Easier
A lot of people compare fitness apps (especially paid ones) to free content they can access online… such as YouTube or the very website you're on now!
Asana Rebel definitely makes fitness easier by providing a structure to follow along to. If you were to follow exactly what it says, you are likely to get fitter… compared to just following a YouTube workout once in a blue moon.
Nevertheless, this can't be compared to the value of a personal trainer, or online personal training service, which will be much more personalized to your requirements.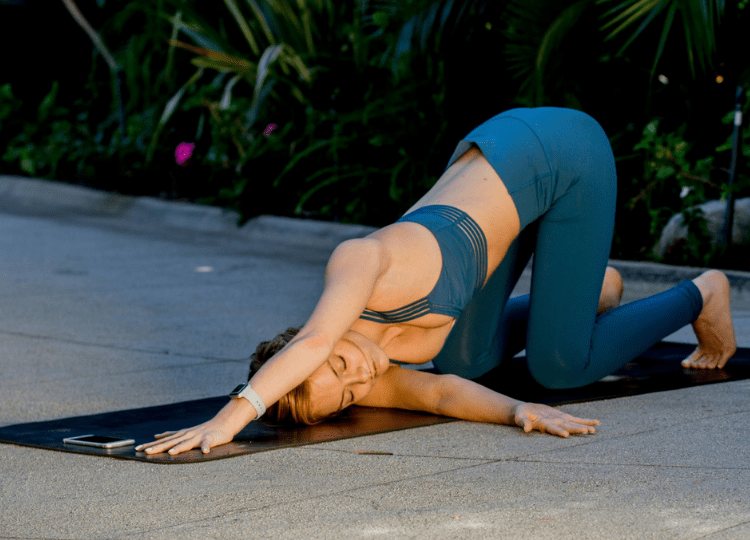 Intuitive Design
The app design is simple and clear to follow. You can find everything you need and even non-techy users will be able to find workouts, recipes and other content without issue.
What We Don't Like
Website is Difficult to Navigate
This isn't an issue with the app… but as a company, their website is difficult to navigate. The homepage is just a landing page that takes you to a quiz, but if you have any issues or difficulties, it's not obvious where you can access that information.
If you do pay for the app, we suggest you bookmark https://help.asanarebel.com/hc/en-us as a page where you can access things like billing support, app onboarding and other useful resources.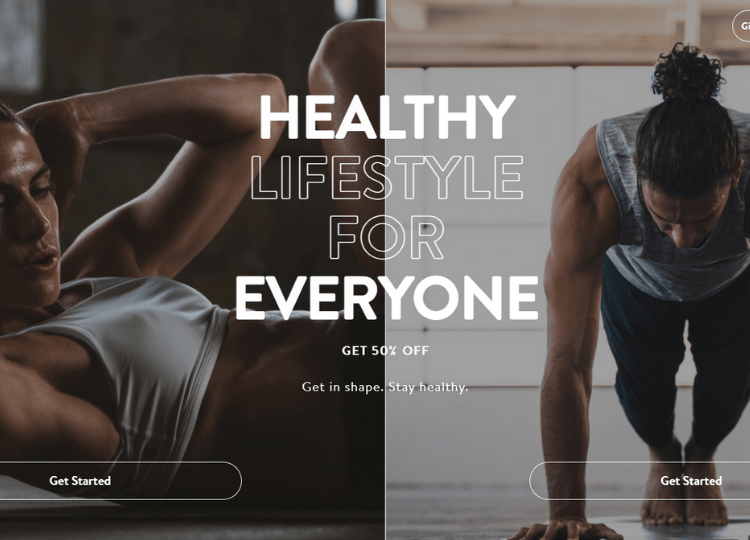 Confusing Pricing
Asana Rebel's pricing is also a bit confusing. Like many fitness apps, it follows a freemium model, which means you can sign up and use the app for free… however, the free version is very limited so you'll really need to upgrade to enjoy all the benefits and features of the app.
The majority of fitness apps probably operate in the same way… however, Asana Rebel don't just have a paid membership, they have different plans, which feels a bit confusing and unnecessary.
Pricier Than Competitors
So… the elephant in the room. The value of Asana Rebel really has to factor in price, especially compared to other fitness apps.
For us, this is where it starts to feel like we're comparing apples to oranges. There are numerous fitness apps that are offering serious value for similar prices. We're talking more advanced technology, live classes, performance tracking and more.
Asana Rebel feels like it's been left in 2015 and hasn't adapted to what new apps can offer, and this is ultimately why it doesn't feature on our shortlist of the top fitness workout apps this year.
Online Reviews Are Concerning
We always want to do our diligence when reviewing any product and service… and it didn't take us long before we discovered the horror of Asana Rebel's TrustPilot page. We definitely appreciate brands can pick up negative reviews unfairly and some consumers will drop 1 star reviews without any true justification (and then there's the whole fake review industry too!).
However, the TrustPilot reviews for Asana Rebel seem genuine and disappointing. Most of them simply refer to the fact that they tried so hard to cancel and still got billed… and couldn't get a refund.
This really comes down to the fact that services like Asana Rebel will auto-renew, so if you upgraded to the paid plan, it will auto-renew forever, until you cancel. This seems to be the biggest issue people have with the app, which to be fair, is how most fitness apps work too.
Nevertheless, there could certainly be arguments for making such services be more transparent about up and coming billing to ensure you have enough time to cancel (especially if you're on the annual plan).
Despite the TrustPilot issues, the app actually has pretty good reviews on the app stores, with an average of 4.7/5 on Apple and 4.4/5 on Android. It's not clear if these reviews come from people using the free or paid version though, so that's something to bear in mind.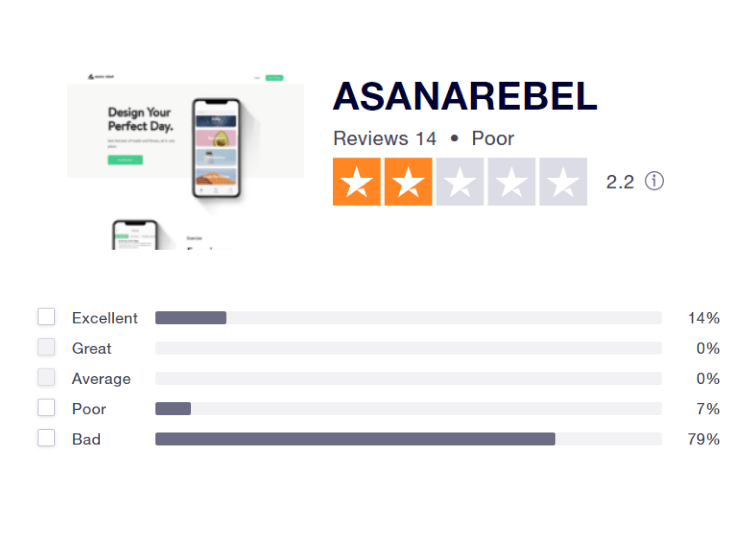 No Specialism
Asana Rebel definitely appeals to the masses… but in recent years, there's been a wave of more specialist fitness apps based on more specific goals or workout preferences. This is likely where the industry is heading, so the more general apps that appeal to everyone, almost feel like they appeal to no-one at the same time.
Like lifting weights to get fit? Fitbod is worth looking into…
Love following live yoga classes? Alo Moves is for you…
Love HIIT workouts? Try FiiT…
Looking for low impact workouts for older adults? You've got to try Mighty Health…
Love dancing? STEEZY's got you…
The list goes on.
Asana Rebel Alternatives
As far as alternatives, there are a lot of fitness and yoga apps out there… but we've narrowed it down to ones we've tried.
| Brand | App Store Rating | Yearly Price |
| --- | --- | --- |
| Alo Moves | 4.9/5 | $99 |
| P.volve | 2.5/5 | $95.88 |
| Openfit | 4.8/5 | $96 |
| Yoga International | 4.5/5 | $120 |
| FiiT | 4.9/5 | $120 |
| Fitbod | 4.8/5 | $59.99 (with our promo code) |
| Yoga Wake Up | 4.7/5 | $53.99 |
Alo Moves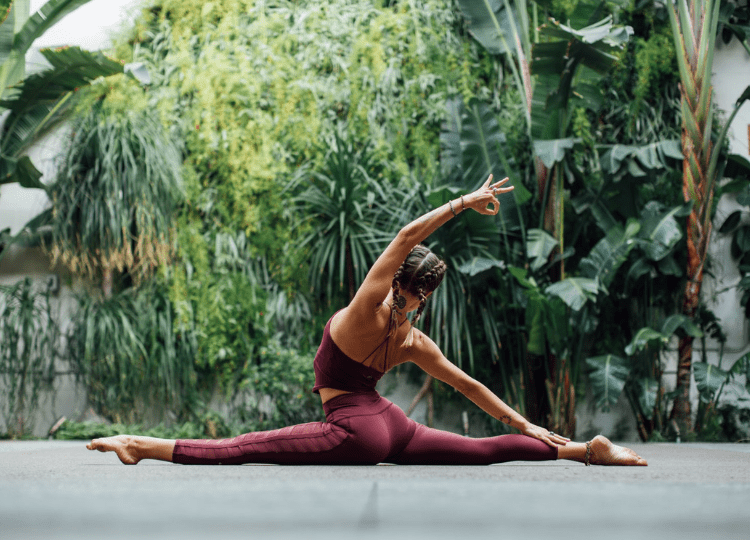 Alo Moves is our top recommended yoga app at the moment. The classes are diverse and they even include live classes for your membership now too.
Alo Moves allows you to really get to know specific instructors, which is something we love. This means once you find an instructor you like, you can easily follow additional workouts from them.
Alo Moves also offers fitness workouts and meditation, as well as skills content which basically helps you perfect advanced yoga and bodyweight poses.
You can grab a free trial of Alo Moves by clicking below.
P.volve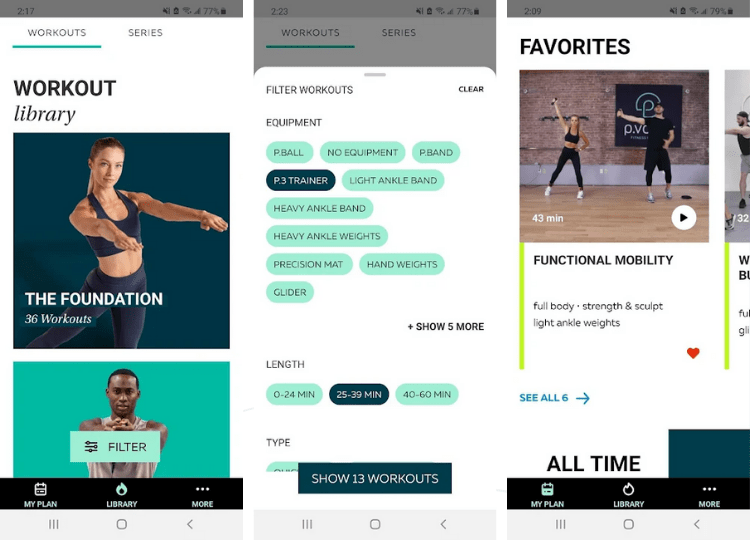 P.volve is a brand that's quickly gaining a lot of attention in the fitness space. They offer a unique workout style that is like a fusion between barre, HIIT, resistance training and yoga. It's high intensity, but low impact… ideal if your joints don't like lots of jumping or running.
P.volve also sells equipment like slant boards and sliders for their workouts.
The workouts are very different from a traditional yoga routine… but if you're more focused on losing weight or getting stronger, their workouts are likely going to help to achieve that quicker.
P.volve also have a large community and following so if you enjoy engaging with fellow users, you'll enjoy what P.volve has to offer.
P.volve also offer a free trial if you click below.
Openfit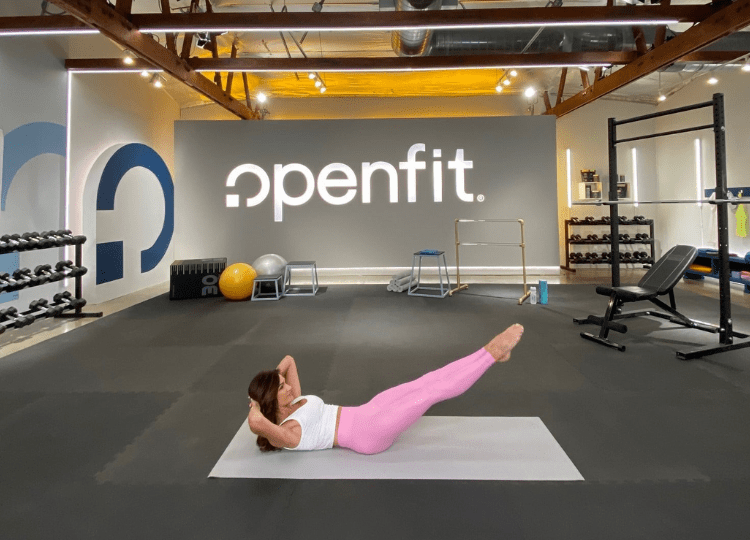 Update for 2022 – Openfit is now part of Beachbody on Demand
A Beachbody on Demand membership will now give you access to all of Openfit's workouts and content. We think this makes Beachbody (BOD) the ultimate fitness content membership and incredible value for the low monthly price. Learn more about BODo membership.
Openfit is a royal pain in the metaphoric backside of many fitness apps… simply because it offers so much for such a low price.
Openfit includes a huge library of on-demand workouts, programs, and meal plans.
The content is so diverse and vast… there is really something for everyone. You can find yoga classes and focus exclusively on that style, or dive into all sorts of things like kickboxing classes, walking workouts, barre and much more.
Obe Fitness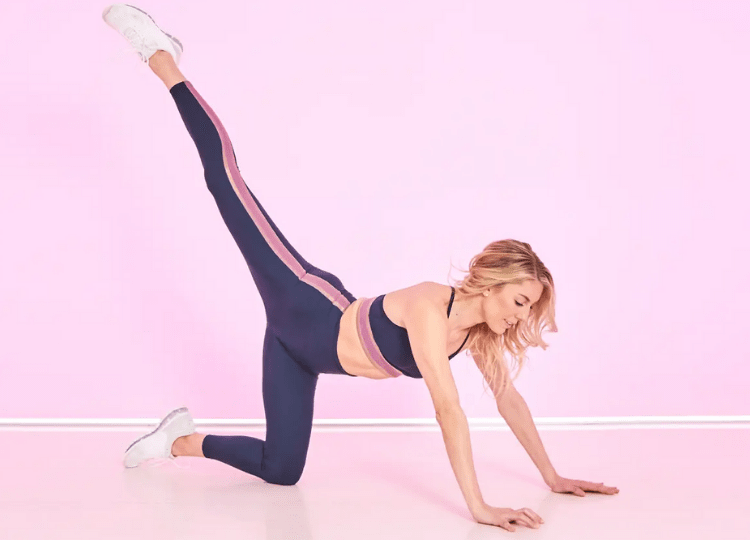 If you want a change from the usual serious instructors who will push you to your limits, then Obe's fun and more inclusive approach to home workouts could be for you.
Obe has a big selection of on-demand workouts, covering all sorts of disciplines, as well as an impressive schedule for live classes.
Obe's community is also very impressive and something you can gain a lot of value from.
Obe also offer a free trial to experience everything they have to offer.
Yoga International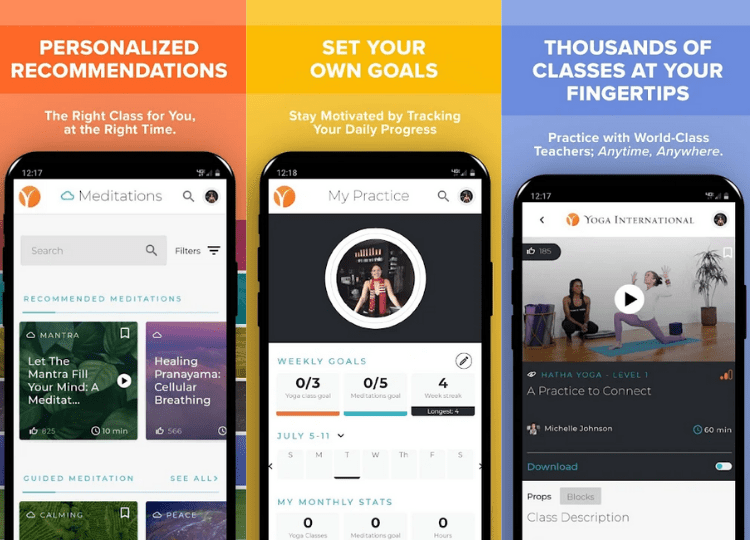 If your heart is set on yoga, and you think you'd enjoy learning more about each pose and how to really progress your practice, then Yoga International is worth considering.
This app includes a vast library of yoga workouts, flows and demonstrations. They also have an impressive number of articles.
FiiT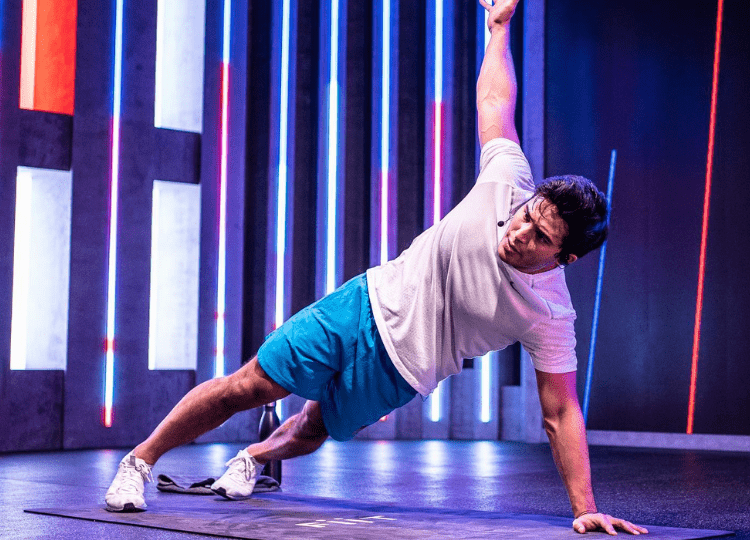 FiiT is a little gem when it comes to fitness workouts. It is delightfully affordable and offers all sorts of on-demand and live workouts. The inclusion of live workouts for that price tag makes FiiT a serious consideration for anyone on a budget.
FiiT also integrate impressive tech into their app, making it easy to track your performance and see your progress over time.
Fitbod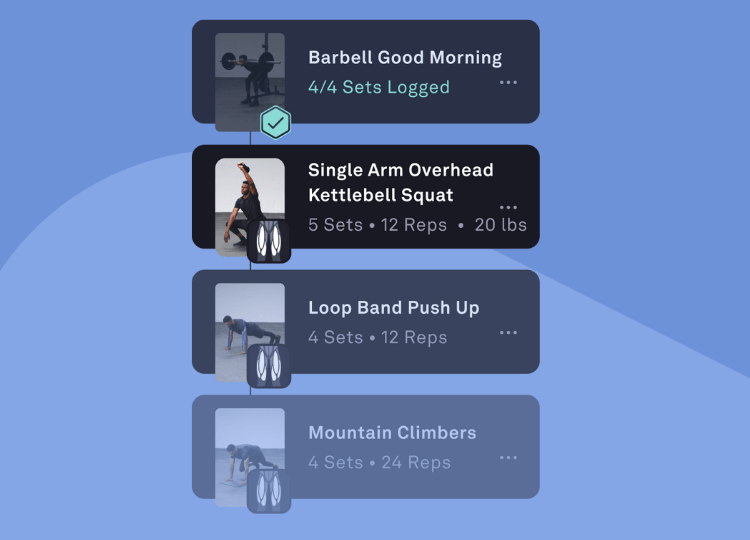 Fitbod is our recommended weight lifting app, but it goes beyond just those just doing strength training. The app also includes a variety of other styles of exercise and their automatic programming means it keeps challenging you.
If you're serious about hitting your fitness goals, Fitbod is definitely worth trying.
Fitbod have very kindly offered our readers a unique 25% discount code… meaning it comes in at a seriously low price for what you get.
Yoga Wake Up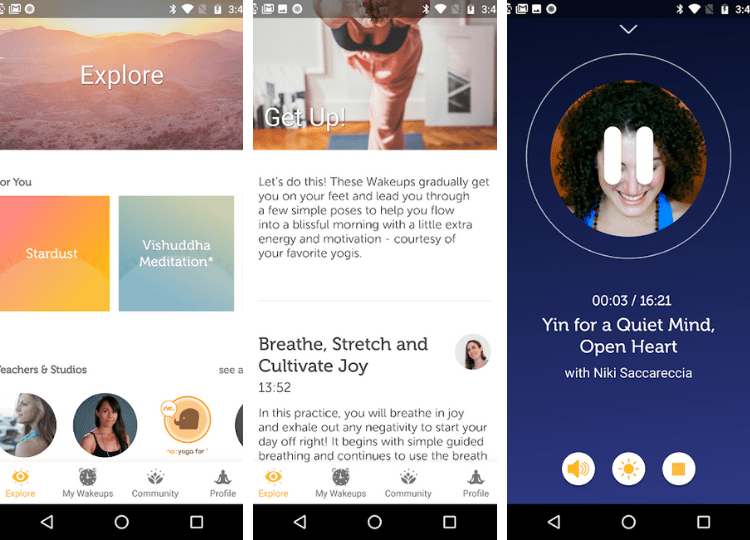 Back to the yoga apps, Yoga Wake Up is a simple yet effective yoga app. It focuses on audio guided yoga workouts, which is ideal for those looking for a break from the screen.
This does mean if you're a beginner it might be harder to follow along to, but we've found the audio guides very helpful and intuitive.
Asana Rebel Reviews
For another view on Asana Rebel, check out the review below, which delves into the functionality of the app.
Before and After Using Asana Rebel
We found that we couldn't notice any specific differences when comparing before and after using Asana Rebel. It was probably effective at maintaining existing fitness levels, but we didn't necessarily feel pushed to reach new strength, flexibility or cardio fitness.
Having said that, fitness requires a long term approach so it's hard to evaluate results from 30 days.
Bottom Line
Following Asana Rebel's workouts, recipes and healthy habits is undoubtedly an effective way to kickstart your fitness regime… however, when you factor in the price, we think there are definitely other fitness apps that provide more value, either in relation to advanced technology or the inclusion of live classes or interactive feedback.
You can always download Asana Rebel for free (or watch some of their workouts on social media) to get a taste for what the app is like and decide whether it is right for you.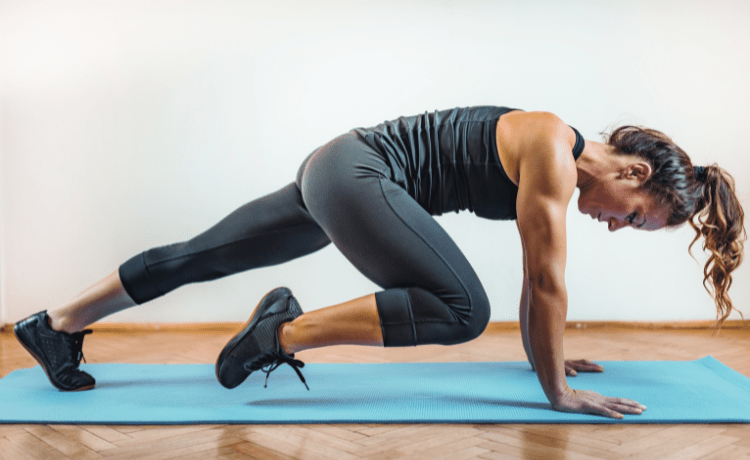 A FITTER, STRONGER YOU
A simple science-based workout plan that is proven to help build muscle, burn calories and lose weight. Suitable for all levels.
Related Articles
Best Yoga Apps for Weight Loss