We are reader supported and may earn a small commission on some (but not all) links within our content to products we think will genuinely help our readers at no extra cost to you.
On the hunt for a new home rowing machine in 2023?
It's time to talk smart rowers…
Rowing machines have come along way in the past few years and new brands are showcasing how they can take your standard home rowing workout and transform it into a futuristic interactive experience.
Along with Hydrow and Ergatta, one of the leading brands in the space is Aviron.
In this Aviron rower review, we take a look at everything these interactive rowing machines offer, including key features, what we like about them, what we don't like about them and ultimately whether they're worth the money or not. We also highlight the differences between the Impact series and the newly released Strong series rowers.
In a hurry? Ultimately, we think Aviron rowers offer incredibly fun and engaging interactive rowing workouts, supported by quality built machines. If you're looking to boost motivation for your home cardio workouts, Aviron is definitely worth considering. You can also grab a 30 day risk-free trial, allowing you to test it before you commit.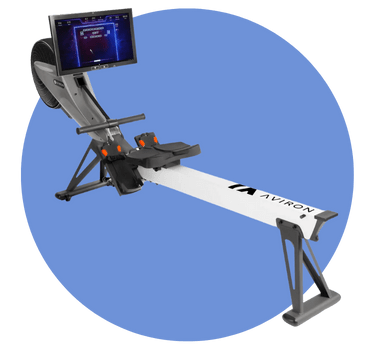 Shop Aviron Rowers
Gamified rowing workouts, interactive races and games, adjustable resistance, unmatched variety, try risk-free for 30 days. 👇
Why Trust Us? Review Process Explained
Here at Fitness Drum, we believe in editorial integrity and providing reviews that will genuinely help our readers. We've reviewed all of Aviron's main competitors, including Hydrow, Peloton, CityRow, Ergatta and RowErg, giving us unique insights into how these rowers perform and how Aviron's features stack up in terms of value for money, reliability, effectiveness and enjoyment.
Aviron Rowers Overview
| Features | Aviron Impact | Aviron Strong |
| --- | --- | --- |
| Price | $1899 | $2199 |
| Screen | 22″ HD (Pivot) | 22″ HD (Full Rotation) |
| Belt | Nylon | Nylon |
| Storage | Foldable | Store Upright (Free Stand) |
| Cooling Effect | No | Yes |
| Rotating Handlebars | Yes | Yes |
| Weight Limit | 397 lbs | 507 lbs |
| Height Limit | 6'7″ | 6'8″ |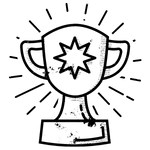 Aviron Scorecard – Updated 2023
Build Quality and Safety – 4.5/5
Workout Diversity – 4.5/5
Muscle Engagement – 5/5
Shipping, Customer Support & Warranties – 4.5/5
Price – 5/5
Overall Rating – 4.8/5
Learn more about our review scorecards as part of our editorial review guidelines.
What is the Aviron Rower?
Aviron Active rowing machines fall under the category of "smart rowers". As opposed to the more traditional rowing machines you might be used to in your local gym, this new breed of smart rowers creates a more dynamic and interactive experience.
Think… real-time competitions, leaderboards, badges, group workouts, etc.
In essence, Aviron uses gamification and a group environment to create compelling digital rowing machine based workouts.
Using proven habit-forming psychology and game design, Aviron's unique style of fitness entertainment aims to boost your motivation and adherence to exercise through truly engaging and interactive content.
There are currently two Aviron rowers available, the Impact series and the Strong series.
(Update for 2022/23, the Tough series has been discontinued and replaced by the Strong series).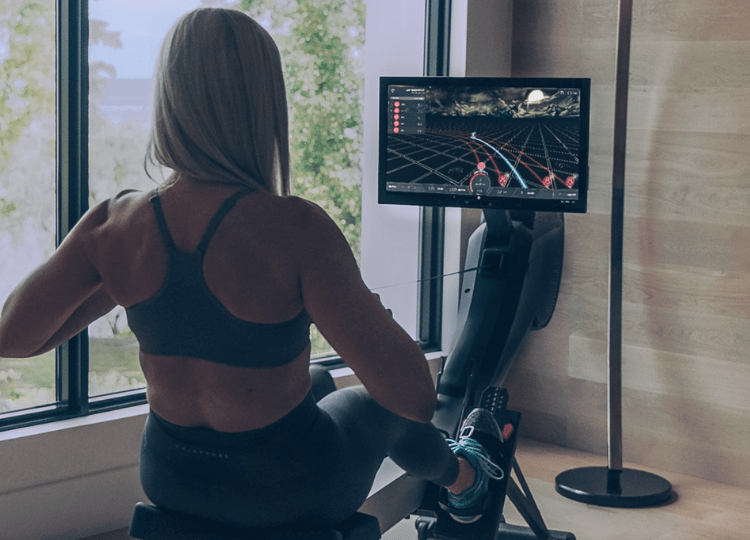 Aviron Impact
The Aviron Impact is the cheaper of the two models and comes with all the features you'd need to enjoy your home rowing workouts.
Aviron Impact includes the same unlimited access to Aviron's interactive content but the actual rowing machine is slightly different to the Strong series.
It's technically the "lightweight option" of the two, although still 100 lbs. Compared to other rowers, the noticeable benefits Aviron Impact offers is the quality nylon belt which creates a quiet, smooth rowing experience, and the high frame rail, which makes it easier to get on and off.
We think this rower is suitable for most users who want a quality connected smart rower.
Aviron Strong
The Aviron Strong is slightly more expensive (currently an extra $300). The Strong comes with some additional features, like the ability to widen the foot pads (useful if you've got wide hips or limited hip mobility), as well as a high seat/low frame combo to make it more user friendly to get on and off.
The Strong series screen can also rotate to the side too, better for combined on/off rower workouts.
Although this rower doesn't fold, it can be stored vertically (free standing)… as long as your ceilings are tall enough, this is actually probably better and more convenient for storage than folding designs.
Which Model Should You Choose
Both rowers give you access to Aviron's interactive content so it's really about which design speaks to you. We think for an extra $300, there are some features on the Strong series that are genuinely really useful.
The high seat/low rail combo is unique and a great feature. We also really like the ability to rotate the screen, so you could combine your rowing with some free weights during a workout.
The ability for the Strong series to store vertically without support is also really useful (although it is heavy, so factor that in).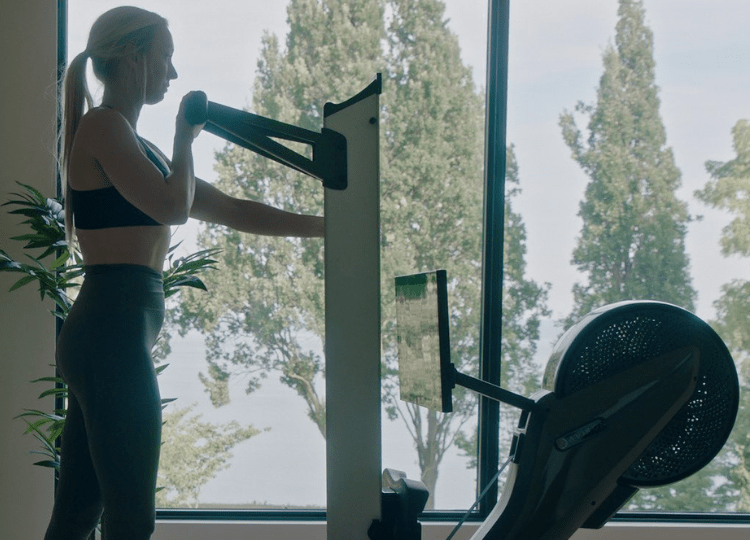 Aviron Rower Workouts
Aviron has built a very impressive rowing machine, definitely one of the best on the market. Yet, where Aviron excels is the software and the workouts available to do.
Once you log into your device, there are basically 7 styles of workouts you can follow along to (with over 500+ workout options to choose from).
Virtual Tours – This setting allows you to row through real-world settings and some of the world's most scenic destinations.
Performance – This setting allows you to use data to help create the most effective workout. Burn calories, build muscles, it's all easier when you can see the data.
Games – This is perhaps what got Aviron a lot of media coverage in the beginning. The games setting allows you to play virtual games as you row. (Trust us, when a zombie is about to catch you, you'll suddenly find some extra energy to keep going!)
Pros Vs Joes – This setting allows you to compete against professional athletes. Got a friend who thinks they could have been a pro athlete? Put them to the test!
Guided programs – This setting involves following structured workouts. Interestingly, some of these workouts involve movements off the rower as well, creating more variety in your at-home workouts.
Competition – Compete against family and friends.
Power Play – This setting is basically a combination of the guided programs and games. You collect points as you complete the workout.
Arcade – This perhaps should fall under the Games category, but the Arcade setting is for playing the more traditional arcade style games while you row.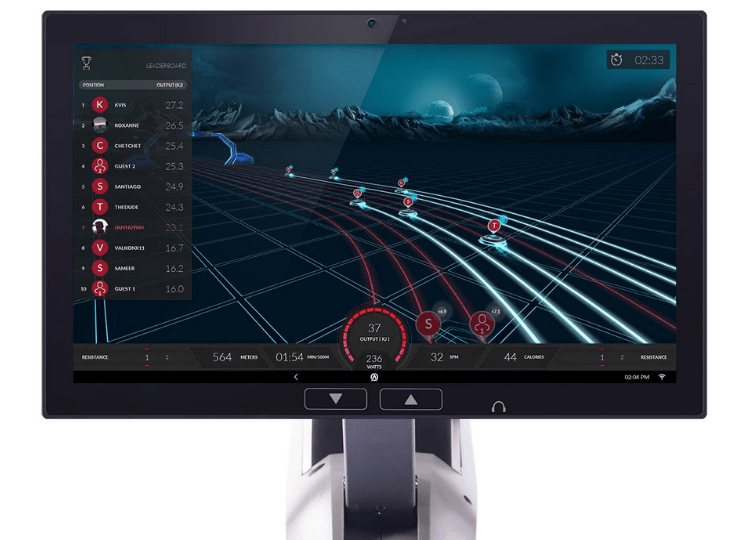 What We Like About the Aviron Rower
Workout Modes
The 7 different workout modes are where Aviron really takes the lead over competition.
For us, the game mode and pro vs joe, in particular, were incredibly addictive and at the end of the day, are very effective at making you push yourself harder during the workout.
If you struggle to get motivated to exercise, this really is a game-changer as you can burn calories whilst engaging with all sorts of content.
The variety of content is also vast, with something for everyone.
If you don't like games, you could also row along to a Netflix show or listen to Spotify.
Family Friendly
The Aviron feels like the ideal exercise equipment for families. With the gamification settings, getting reluctant kids to exercise, or convincing your other half to stick to their workout routine seems much easier with the Aviron.
Kids who like video games are going to love Aviron too, which lots of gaming options to choose from… and because the results are based on efforts on the rowing machine (as opposed to duration or skill), they literally have to exercise to complete the games.
When you think about the fact your whole family can use it, the value it provides becomes pretty clear.
Resistance
The ability to pull up to 100lbs of resistance will completely change the way you view your rowing machine. It becomes as much a strength training tool as it does a piece of cardio equipment.
The high resistance settings feel very natural and make pulling high resistance very efficient.
There are 16 settings too, so if you want a low resistance, there are plenty of settings that will feel easy to pull, whatever your fitness level.
Aviron uses both air and magnetic resistance, which allows for this ability to adjust resistance yet also enjoy a very realistic rowing machine experience. It's also quieter than most rowers we've tried.
As a side note, 100lbs of resistance is pretty unique and a lot of cheaper rowers simply don't come close to this.
Benefits of "Pulling" Movements
Most of us tend do more "pushing" movements day-to-day and in our workouts. This leads to muscular imbalances, often resulting in a rounded, hunched posture (due to stronger chest/front deltoids). Pulling workouts, like rowing, help to strengthen the back and rear deltoids, combatting this rounded posture.
High Seat
The Impact series rowers include a high rail frame, so you are noticeable higher up compared to other rowers. This makes it easier to get on and off… although the high rail means you have to lift your leg over.
The Strong series, however, takes this logic and takes it one step further by including a lower rail frame (10 inches off the floor) with a high seat (20 inches off the floor). This is fantastic for those with limited mobility and who may struggle to get on and off a low rower.
It also changes the angle of your hips and legs during workouts, which you may find more comfortable.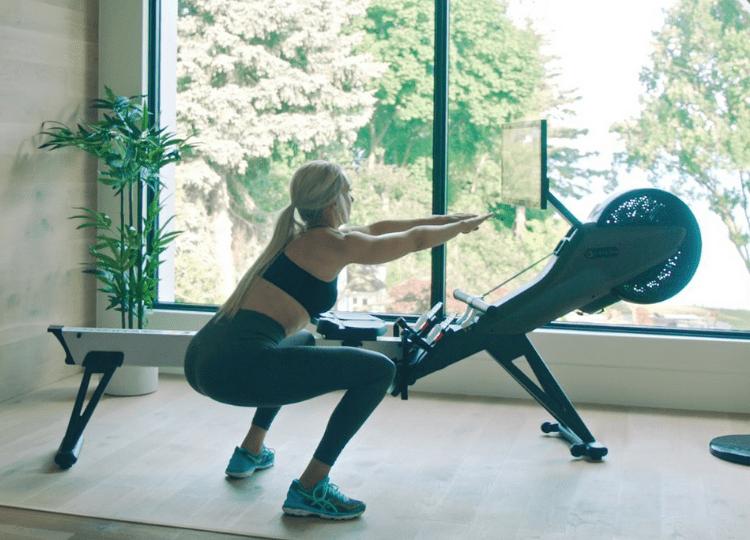 Great for Tall and Heavier Users
Both the Strong and Impact Aviron rowers include a long rail, which is great for tall users. They state the rails are suitable for anyone up to 6'8″.
The Strong series has a better max user weight of lbs.
It also allows you to move the foot pads apart, which might create a more comfortable rowing experience if you've got wide hips.
Feels Quality
From the 22inch touchscreen display, to the seat and frame, the Aviron feels like a luxury rower.
There are subtle features, such as an ergonomic seat, that are just so much better than the average rowing machine seat. All these premium features create a very positive overall experience.
Motivation
Although the concept of playing video games while you exercise may sound like a bit of a gimmick, it undoubtedly increases motivation. Seeing your name drop off in a race (and to be overtaken by your partner!) is more than enough motivation to keep you pushing harder.
We all know that exercise and eating healthy are how we'll reach our fitness goals, yet it's never that easy… motivation and long-term commitment are vital for seeing progress over time.
Any tools or content that boosts motivation, is really worth exploring.
We found similar results from Future Fitness App, that offering customized personal coaching, as a way to boost motivation.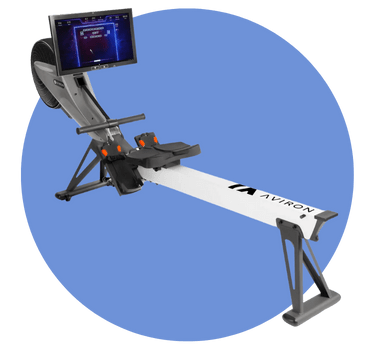 Shop Aviron Rowers
Gamified rowing workouts, interactive races and games, adjustable resistance, unmatched variety, try risk-free for 30 days. 👇
Highlights the Benefits of Rowing
A lot of people like to compare any new fitness equipment with Peloton… "how does Aviron compare against Peloton?" "Which one should I buy?"
Well, regardless of the brand or tech, rowers do come with some big advantages over bikes and treadmills. Rowing machines offer a more complete workout, engaging your whole body. Legs, glutes, core, shoulders, arms, back, it's a team effort for all your muscles.
Rowers also tend to integrate strength and cardio better than other cardio equipment. You can't naturally include upper body strength training when running on a treadmill… but with a rower, this all comes included.
So for anyone who is short of time, or doesn't like lifting weights, a rower is probably the best bit of cardio equipment you could use.
Surprisingly Compact
The Aviron Impact series rowers fold up into a surprisingly compact shape. This makes it useful for home use.
Aviron's rowers aren't as beautiful as Ergatta's in terms of aesthetics, but this ability to fold up, means you have more options in terms of storage.
Rotating Handlebars
The rotating handlebars encourage you to hold the bars in the right position for rowing. This is a great feature for beginners and means you don't need to worry about over-reaching as you row, which could put more stress on the forearms as you pull back.
It also makes for a more comfortable experience.
No Membership Required
Like all other connected smart rowers, you need a membership to access all the additional features… however, unlike all the other brands, Aviron will let you still use the rower and access some basic features and content without a membership.
Although we wouldn't recommend buying the rower without the membership, the knowledge that you can still use it with some basic features if you did decide to cancel your membership years down the line is definitely a bonus.
Things to Consider
You'll need an Aviron membership to actually use all the interactive features. This costs $29/month (or $25/month if billed annually). You only need one membership per rowing machine, regardless of how many people use it, which is a significant bonus. You can also cancel your membership whenever you want and re-start it at a later date, which again, is a significant bonus and very practical for most home users.
Internet is also needed to access the interactive content, so that's something to consider in terms of where you use it.
Who is the Aviron Best For?
If you're a gamer, then Aviron is without doubt the rower for you. The ability to basically play video games while you exercise will completely change the way some people workout at home.
We also think it's a great choice for families as you can compete against one another and boost motivation to exercise.
The 100 lbs of resistance also means Aviron is great for anyone who wants to benefit from resistance training without lifting weights or do other strength-based workouts. Rowing engages 86% of your muscles, which is superior to cycling and running, so as far as cardio machines go, rowers are hard to argue against.
Aviron rowers are pricier than the typical home rowing machine you may be used to, so anyone on a budget may wish to look for alternatives. Our guide on the best compact rowing machines includes some budget friendly options.
We also wouldn't recommend it if you just want a basic rower without any interactive content.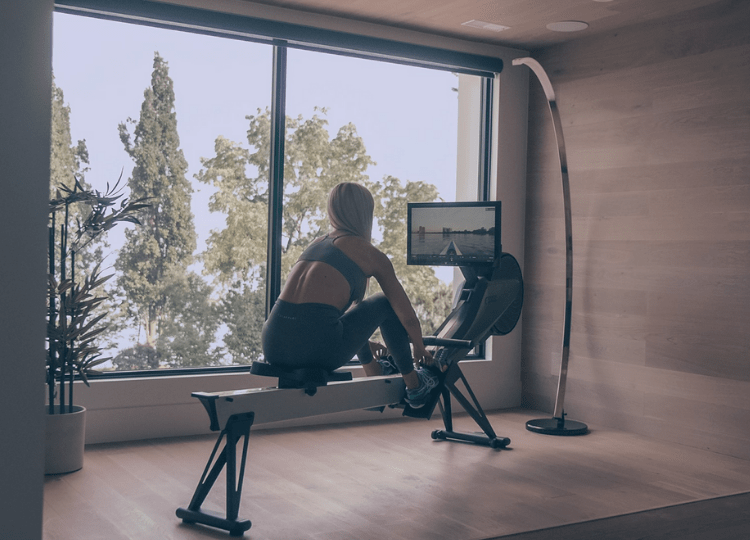 Aviron Reviews
Aviron boasts an impressive statistic… that less than 1% of their customers return the rowing machine. The online reviews are all very positive and highlight how fun the rower is to use.
Below is a video review that highlights some of the key features of the machine.
Aviron Alternatives?
Smart rowers is a hot market at the moment and Aviron does have competition. The major competitors would be:
Hydrow – The Hydrow rower, and the newly released Hydrow Wave rower, specialize in live, instructor-led rowing workouts. These are often led by professional rowers in beautiful settings. This is similar to the Virtual Tours feature within Aviron's content. Hydrow has also recently expanded into other styles of rowing workouts.
NordicTrack – One of the biggest names in gym equipment obviously didn't want to miss out on home rowing workouts. They have a few different models that sync on-demand and live workouts via the iFIT app, such as the RW900.
Ergatta – You may confuse the Ergatta with an art installation, but it is in fact, a water resistance rowing machine. Very stylish, very trendy, the Ergatta is another hot brand to watch out for. Check out our full Ergatta review for more details.
CityRow – CityRow also uses water resistance to power the rower and focuses on hybrid rowing/HIIT style workouts. Born out of the boutique studio, our CityRow review highlights everything you need to know.
ErgRow– We probably wouldn't really say the ErgRow is a competitor, as it falls short of being a "smart rower". However, as rowing machines go, ErgRow is undoubtedly one of the most popular, with outstanding reviews online.
LIT Method – This low impact strength training machine leverages water-based rowing workouts to help users keep fit and strong, without using equipment like weights. Read our LIT Method review to learn more about this unique brand.
Bottom Line
If you're looking for a home rowing machine, smart rowers are definitely the way to go (assuming your budget can stretch that far).
Although pricier than standard rowing machines, the ability to follow fun and engaging workouts will completely change the way you exercise at home.
In terms of Aviron's two models, the Impact series is cheaper and more than enough for most users. If you want some of the additional features like high seat or movable foot pads, the Strong series might be worth the extra few hundred dollars.
If the idea of playing games as you exercise sounds like your cup of tea, Aviron would definitely be our top recommendation. They currently offer a 30 day risk-free trial, so it's well worth taking them up on that offer and seeing for yourself if Aviron is the rower for you.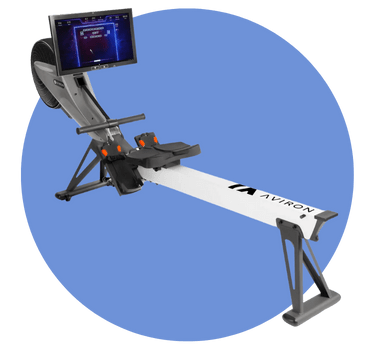 Shop Aviron Rowers
Gamified rowing workouts, interactive races and games, adjustable resistance, unmatched variety, try risk-free for 30 days. 👇
Related Articles:
Hydrow Vs Aviron Vs Ergatta Vs CityRow
Terra Core Balance Trainer Review