We may earn a small commission on some links at no extra cost to you. Learn more.
Rowing machines are a fantastic piece of exercise equipment, engaging up to 86% of your muscles during a workout. Whether you want to build functional strength or burn calories, rowing workouts have all bases covered.
But rowing machines have traditionally been pretty big, bulky and difficult to squeeze into a small studio apartment or home.
So, we've been on the hunt for the best compact rowing machines that are suitable for the smallest of spaces, to help you find the perfect option for your requirements and budget.
All the rowing machines listed in this article are either compact in design, or foldable, making them ideal for home use and small spaces, and range from under $300 all the way up to premium smart rowers coming in just shy of $2,000.
Best Compact Rowing Machines for Small Spaces
Ergatta Rower – Best Foldable Smart Rowing Machine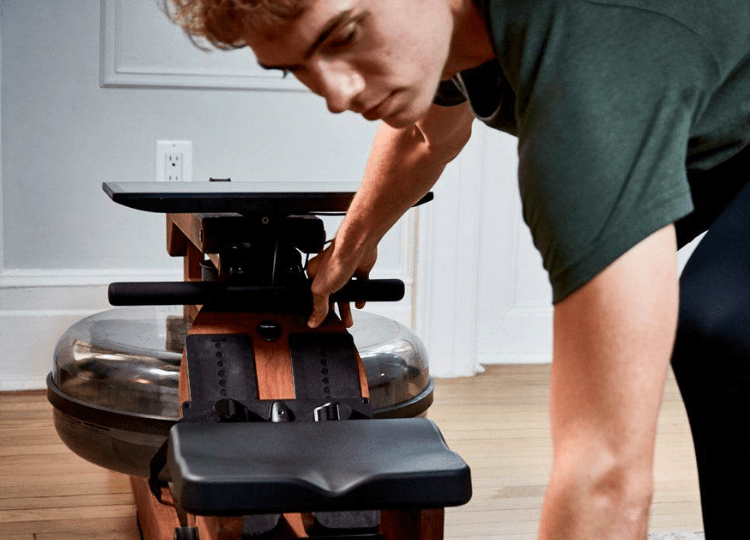 Pros
Live races, workouts and classes.
Beautiful foldable frame.
Small footprint when folded up by storing it vertically.
Cons
Need connectivity to access live races and workouts.
Requires ongoing membership (currently $29/month).
Water-resistance rowers require some maintenance.
Ergatta is undoubtedly one of our favourite smart home rowers… and with the frame folding up incredibly conveniently, it is the perfect piece of exercise equipment for small spaces and apartments.
Ergatta's slogan is "living room ready" and it certainly doesn't disappoint…the beautiful wooden (Appalachian cherrywood) makes the rowing machine look like a genuine bit of furniture.
But the rowing machine is only half the value with Ergatta… the machine also opens up a plethora of races, challenges and workouts to keep you engaged and motivated to exercise.
Ergatta focuses on "games" so it's ideal for anyone who's a bit competitive and likely to enjoy racing against others or the clock.
The frame has a weight limit of 500 lbs and a long rail (which is suitable up to around 6'8″). This is a big bonus over lots of cheaper rowing machines that typically have much lower weight limits and don't feel very sturdy.
The footprint when stored is just 23" x 22.5", so it really would fit in any small space or apartment. The wheels also make it very easy to move and transport around a room or house, which is useful too.
Ergatta useswater-resistance, which is pretty quiet (it makes quite a nice sloshing sound), so your neighbours, family or housemates won't be put off when you're exercising.
We think the Ergatta rower is best for anyone who wants an immersive smart rower that is easy to store. If you like the idea of joining live races, following new challenges each month, accessing a huge library of workouts and having all your rowing performance metrics laid out to help tailor new workouts and goals… and much more, then this rower won't disappoint.
For more details, check out our in-depth Ergatta rower review.
CityRow Go Max – Best for HIIT Workouts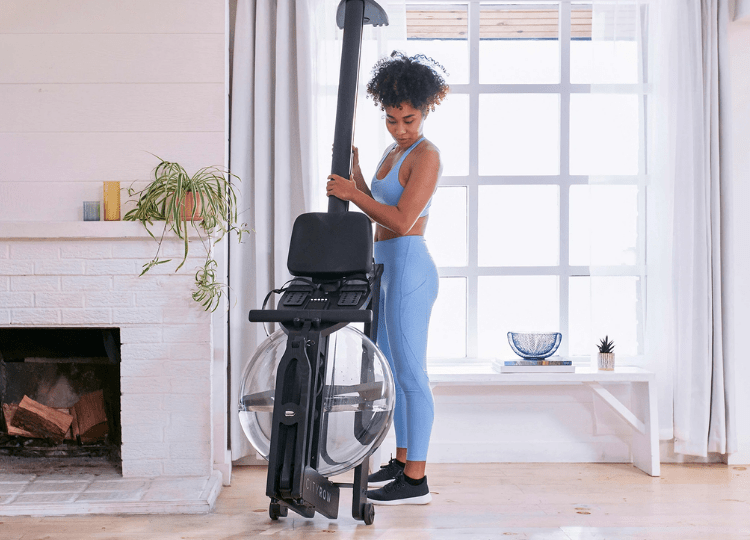 Pros
Live classes.
Combines rowing with HIIT workouts.
Foldable frame that's easy to store.
Cons
Need connectivity to access live classes and workouts.
Requires ongoing membership (currently $29/month).
Water-resistance rowers require some maintenance.
Like Ergatta, CityRow Go use WaterRower for their actual rowing machine frame. This means CityRow Go largely brings all the same benefits (and potential drawbacks) as Ergatta in terms of the rowing machine.
The machine has a weight limit of 350 lbs (which we don't really understand why this is lower than on the Ergatta, considering the machines are made by the same manufacturer… but this might be due to CityRow opting for a single rail compared to Ergatta's double rail). The footprint when stored is just 20" x 22.5", so like Ergatta, it really would fit in any small space or apartment. The wheels also make it very easy to move and transport around a room or house, which is useful too.
CityRow Go also leverages water-resistance too, which is becoming a popular type of resistance for home use.
CityRow Go is available in two models, the Classic and the Max… the difference being the Max includes a large HD screen and the Classic leverages a user's smartphone or tablet.
In terms of this list, it's most comparable to Ergatta and would fall into the category of smart home rowers…. however, they approach live workouts and classes quite differently from Ergatta, so it's likely you'll either be drawn to one or the other.
CityRow Go was born out of the boutique fitness studio and their live classes feel very much like a studio workout. Their workouts also tend to include both rowing and non-rowing exercises, such as bodyweight movements, yoga and basic dumbbell strength exercises. Ultimately, this is very good for those who want to improve their overall health, including strength and cardio health.
CityRow Go is best for those who would like to follow live classes and workouts, and like the idea of hybrid workouts that include rowing and off-rower exercises.
Our full CityRow Go review outlines everything you need to know about this rower.
LIT Method – Best Rower/Resistance Machine Combo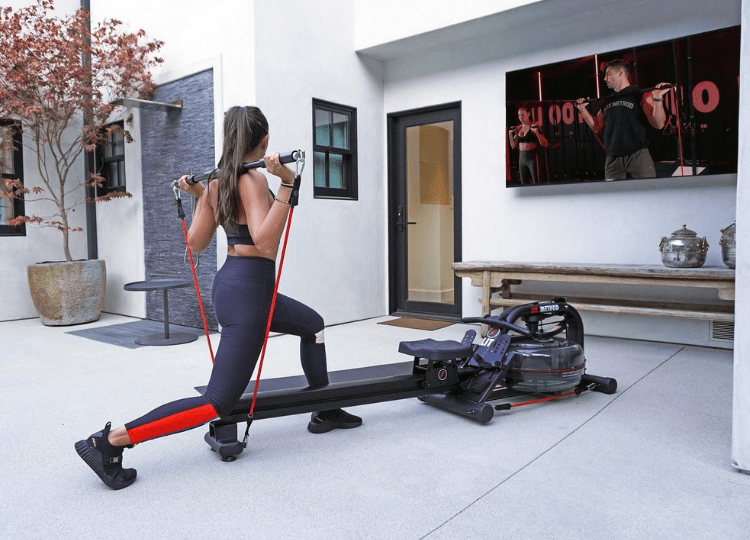 Pros
Hybrid machine that offers low-impact workouts.

Can be stored vertically.

450 lbs weight limit and 6'9″ height limit.
Cons
Many off-rower workouts require extra space.
Pricier than a basic home rowing machine.
On-demand subscription required for live classes and workouts.
The LIT Method is a solid rower in its own right… but it is also a fantastic option for those short on space that might want just a single piece of exercise equipment for their home or apartment that offers a variety of workout options. Without any other equipment, like dumbbells, bike or resistance bands, the LIT Method has all bases covered, delivering low impact workouts for all fitness levels.
If you like the idea of low impact exercise, we'd recommend LIT Method over equipment like a bike or treadmill.
The LIT Method has a weight limit of 450 lbs and a height limit of 6'9″, making it a great choice for all body types.
Like Ergatta and CityRow Go, the LIT Method rower can be stored vertically, which we think is the best space-saving approach for home rowers. Many people want a rower that can fit under the bed… but for a rower to be that low, it often simply doesn't come with quality resistance (either a fan flywheel, water or magnetic). But when a rower can be stored vertically, it can be tucked into a corner and simply rolled out when required.
We think the LIT Method is best for those who want a single piece of home exercise equipment for all their workout requirements.
LIT Method also comes with a lifetime warranty… read our full LIT Method review here.
Concept2 RowErg – Best Air Resistance Foldable Rower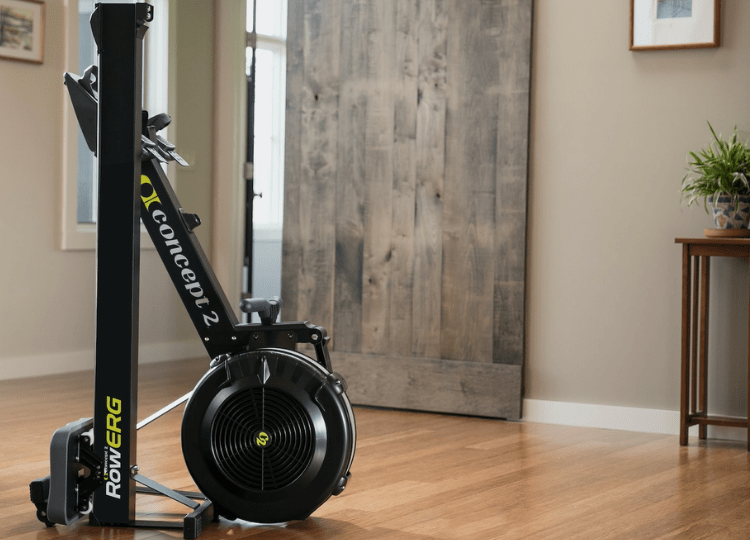 Pros
Different height options when in use.

Separates into 2 different pieces for storage, ideal for really small spaces.
Weight limit of 500 lbs.
Cons
No smart tech or live workouts.
The fan flywheel is quite loud if you're really going hard during a workout.
Separating the rower for storage involves a bit of effort.
Concept2 RowErg is arguably the most popular home rower… consistently praised by the CrossFit community as the best rower for performance (check out our recent guide on the best CrossFit workouts for beginners). Conveniently, it also folds up surprisingly well for a rower focused on performance, making it easy to store or transport.
It's built to last and designed for elite Olympians to train hard on it day in day out… meaning it's as reliable as it gets when it comes to buying a rowing machine.
The Concept2 uses a fan flywheel (air resistance) and has 10 levels of resistance. It is also suitable for users up to 500 lbs.
Although it doesn't boast the same kind of immersive smart tech as Ergatta, CityRow Go, Aviron and Hydrow, it is Bluetooth enabled so can sync data to other apps for performance tracking.
Concept2 has found a great balance between sturdiness and size. The rower doesn't take up any unnecessary space, yet it feels very durable and sturdy during workouts, which is important if you're looking to push yourself.
Unlike some of the other rowers on this list, it has two rowing heights when in use, which is a popular feature.
By separating into two pieces for storage, it gives you more options, and would probably be the closest rowing machine to fitting under a bed, or transporting in a car, for example.
NordicTrack RW900 Rower – Best Magnetic Foldable Rower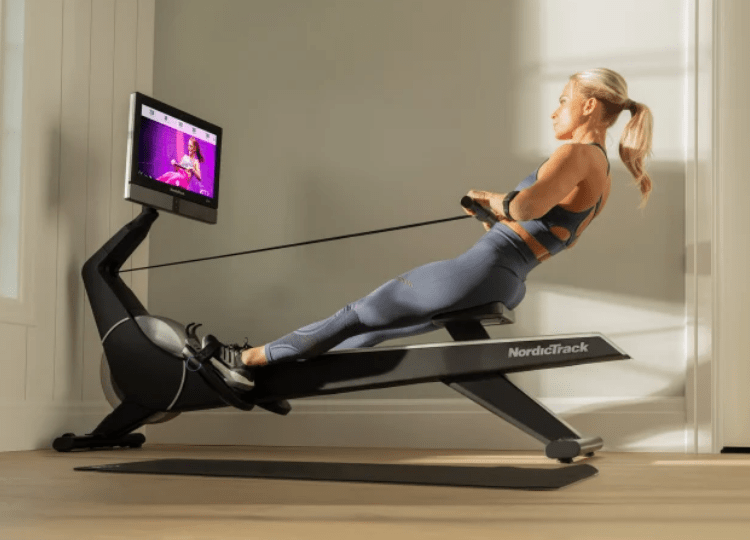 Pros
Harness iFIT for live and on-demand workouts.

Folds into a small, compact shape.
Ergonomic design.
Cons
Separate iFIT membership needed.
Need connectivity for iFIT and interactive workouts.
Folding is a bit awkward, especially with the large HD screen.
NordicTrack is undoubtedly one of the leading brands in fitness equipment. If you've used cardio equipment in your local gym, it's more than likely you've used something made by NordicTrack.
This experience in making quality equipment for a long time sets NordicTrack apart from a lot of other competitors, and the RW900 is one of their best home rowers to date. It brings the engineering and design of a top performing rowing machine, but includes simple features like a rail that folds, meaning it can be packed away to take up very little space.
The caveat to the impressive folding capabilities of the RW900 is that when compared to some of the water rowers on this list, like Ergatta and CityRow Go, it is more effort and doesn't actually save any more floor space (it just saves height space).
The RW900 uses magnetic resistance offering a smooth and quiet rowing experience. You can also adjust through 26 levels of resistance during your workout.
Max weight limit is just shy of 400 lbs, and reflects the durability of the machine.
Ultimately, we would recommend the NordicTrack RW900 to anyone who likes iFIT, as it is basically built to leverage this on-demand and live workout service.
If you're not bothered about these live classes, you don't really need the large HD screen (which you're paying for), so you're probably better off with a cheaper model. If this is the case, we'd recommend checking out the NordicTrack RX800, which doesn't include the large HD screen.
Stamina BodyTrac Glider – Best Portable Rower
Pros
Budget friendly.

Easy to adjust.
Very compact and folds down to fit under a bed.
Cons
250 lbs weight limit.
Hydraulic resistance offers a different experience to other rowing machines.
Light frame, which doesn't feel too sturdy.
If you're looking for the absolute smallest rower, both in use and in storage, the Stamina BodyTrac Glider may well be what you're looking for. It also comes in much cheaper than a lot of the other rowers on this list.
Under $400, the Stamina BodyTrac Glider definitely falls into the category of budget compact home rowing machines. The lower price tag is largely influenced by the fact it uses hydraulic resistance. For us, this doesn't compete with quality fan, water or magnetic resistance, but if you're looking for a budget option, then hydraulic home rowers are likely going to tick that box.
Although the rowing is smooth, it doesn't feel as natural as rowing using other types of resistance… however, the price and the fact it is so compact, means it is definitely worth including in this list.
The max weight limit is 250 lbs.
Ultimately, the Stamina BodyTrac Glider is the best choice for anyone who really does want the absolute smallest home rowing machine they can find, even if this comes with a few compromises such as durability, weight limit and integrated tech.
Echelon Smart Rower – Best Affordable Smart Rower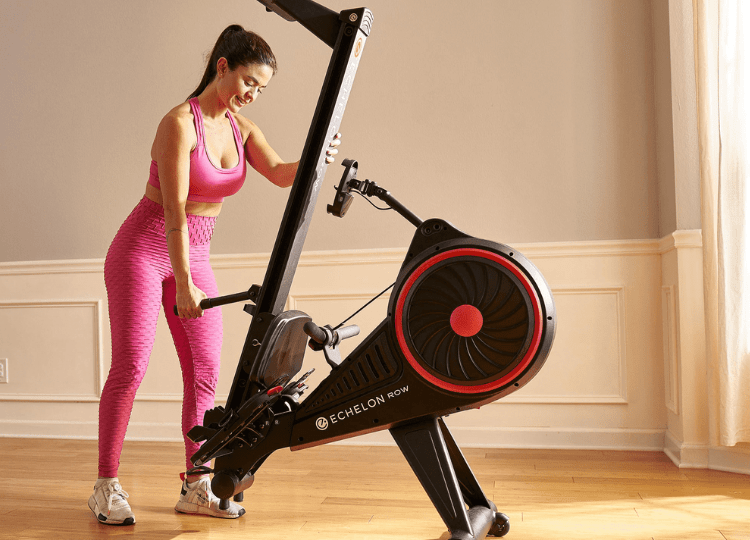 Pros
Quality rower for under $1,000.

Quiet home rowing machine.
Enjoy immersive workouts through your phone or tablet.
Cons
Requires separate Echelon membership at $34.99 month for workouts.
It's not the most space saving design in terms of how it folds.
Without membership, it's actually quite expensive for just the rower.
The Echelon rower offers a quality smart rowing machine at a pretty reasonable price. At under $1,000 you're getting a lot of the features of rowers almost double the price. By allowing users to stream Echelon on their phone or tablet, instead of using a built-in monitor, the rower comes in at a cheaper price tag.
It has 32 levels of resistance, which can be adjusted with a flick of a button on the bar, making it great for dynamic workouts where you want to change intensity whilst rowing.
The Echelon folds nicely and although it doesn't get quite as compact as others, it's really easy to fold up (with just a press of a lever). It also has wheels, making it pretty easy to transport around a room or home.
One of Echelon's leading features is how quiet it is… making it great for homes and apartments.
Fitness Reality Magnetic Rowing Machine – Best Budget Friendly Option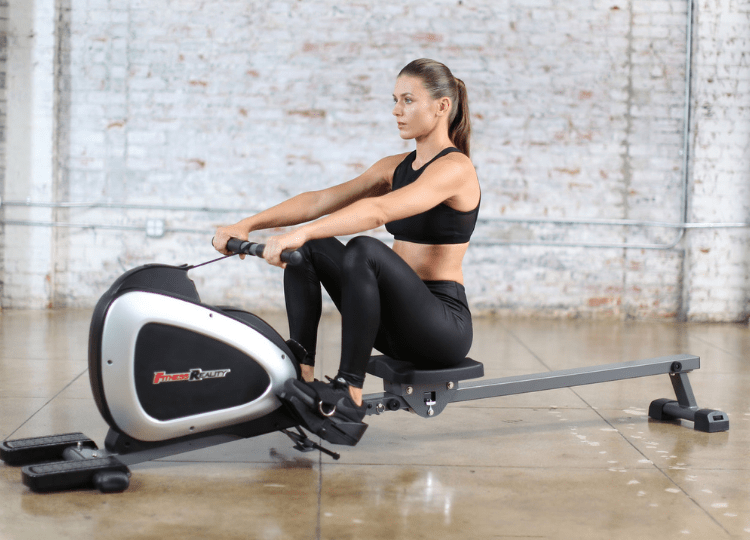 Pros
Full body workout capabilities.

Affordable compact home rowing machine.
Low frame for small spaces, even when in use.
Cons
Frame isn't as durable or stable as more premium rowers.
Some users stating the Bluetooth connectivity wasn't great.
When folded, it's still 21.5″ x 39.5″
Fitness Reality 1000 is a great budget-friendly magnetic rower. It offers a quality rower in a very compact and low frame. Unlike some of the other compact rowers, even when in use, the Fitness Reality 1000 don't take up much space, due to the low frame at the front.
You can also put the bar at different angles, which basically transforms the machine into an all-in-one home workout machine.
The magnetic resistance and nylon belt offer a quiet rowing experience too, ideal for home workouts.
It folds up nicely for storage, however, as we've discussed with many "folding" rowers, they still actually take up more floor space than ones that can be stored vertically, like the LIT Method, Ergatta and CityRow Go… these brands are still the ones to beat in terms of space saving design when not in use.
The Fitness Reality 1000 comes with a device holder so you can stream fitness workouts (such as iFIT) or other more general apps like FiiT, or Peloton, to enjoy immersive home workouts.
We would recommend the Fitness Reality 1000 for anyone who wants a quality rower at a more affordable price. It doesn't boast the same kind of features as some of the smart home rowers or the Concept2, but it provides a simple piece of cardio equipment that is naturally compact in design and folds up to save space.
Tips for Buying a Compact or Foldable Rowing Machine
Dimensions – Storage and In-Use
When searching for a compact or foldable home rowing machine, you want to look at the dimensions for both storage and in-use.
Some rowers may fold up and take up minimal space when in storage, but still require quite a large space when they're actually in use. Therefore, if you're really short on space, such as a studio apartment, this may not be ideal, so check the size of the rower when it's in use too.
You'll want a bit of space around the rowing machine as well, to make it easy to get on and off, so bear that in mind.
Smart Tech
Over the last few years, new smart rowers have entered the market and changed what a home rowing workout looks like.
Brands such as Aviron, Ergatta, Hydrow and CityRow Go all offer immersive rowing workouts with large HD screens to view live classes, on-demand workouts, games, races and rowing performance metrics.
These rowers do come with a higher price tag, but the value you can gain from them is undeniably more than with a basic rowing machine.
If you're serious about rowing at home, these smart home rowers are definitely worth considering.
The Ergatta and CityRow Go both feature in this list, which both come with a foldable frame, making them ideal for small spaces and apartments. We've also got a comparison guide between the top four brands to help you understand the unique benefits of each one – Hydrow Vs Aviron Vs CityRow Go Vs Ergatta.
Resistance Type
Not all rowing machines use the same type of resistance, so this is something to note when comparing them.
Fan/air resistance, magnetic resistance and water resistance are probably the three main types you'll come across. Hydraulic rowers are another option, often much cheaper, but these tend to be lower quality and don't offer the same smooth experience.
Fan resistance has been the most common type of rowing machine, but water resistance has grown in popularity a lot in recent years.
Warranties
Different brands will offer different warranties so it's worth checking these details before finalizing your decision. Most exercise equipment brands will offer competitive warranties, but you may find some more unknown brands (e.g. selling on marketplaces like Amazon) don't offer great warranties or guarantees.
Compact Vs Foldable
Finding a great compact rowing machine doesn't necessarily mean you're just looking for foldable ones. A rower like the LIT Method technically doesn't fold, but because it can be stored vertically, it actually has one of the smallest footprints of any rower (even ones that fold).
This is just something to bear in mind when searching and comparing models.
Noise
If you're using a rowing machine in your home or apartment, noise is definitely a consideration. Generally speaking, magnetic rowers like the NordicTrack RW900, and water-resistance rowers are pretty quiet as well (they make a sloshing sound).
Fan flywheels that use air resistance tend to be louder, but will vary from model to model.
Maintenance
Most rowers shouldn't need much maintenance or repairs, and the warranties should cover such events.
Water-resistance rowers may require the water to be changed, (or the use of cleaning tablets), but this doesn't take too long and simply keeps the water tank fresh and clean.
You'll probably find cheaper rowing machines may suffer from wear and tear a lot quicker than more durable alternatives. Complaints that the rail is easily damaged or the belt is faulty are quite common in reviews of rowing machines under $300.
Rail Length
If you're tall, you may also want to check the rail length. Again, it's usually the cheaper rowing machines (especially those that claim to be "compact" that might use a shorter rail length, which isn't ideal if you're tall.
Most standard rowing machines will be suitable up to around 6'9″, so if you're taller than that, it's worth checking or searching for rowers that have an extra long rail. This ensures you can extend your legs fully during the rowing movement.
If you're tall and looking for home cardio equipment, our recent guide on the best ellipticals for tall people is also worth reading, as we outline some key factors to consider.
Weight Limit
The max weight limit also varies quite a lot from one rowing machine to another. Some rowers like the Ergatta and Concept2 have max weight limits of up to 500 lbs.
This is an important feature to note for compact and foldable rowers, as the inclusion of a rower that is naturally compact and smaller could mean the manufacturer has compromised on stability and max weight limit.
We haven't included any rowers will low max weight limits in this list as we think they tend not to be as durable in general too.
Bottom Line
Compact rowing machines come in all shapes, sizes and prices…. ultimately, it's up to personal preference and budget which rower you'll naturally lean you.
In our experience, the cheaper compact rowers don't tend to offer the same durability and longevity, so sometimes it is worth spending a little bit more to get something that will last the test of time. Anything under $200 probably won't be designed for intense workouts or longevity, so you're probably better off investing a bit more to have something that is built to last.
Although you may think of the best compact rowing machine as one that fits nicely under your bed, we tend to prefer the ones that can be stored vertically. We find this takes up less space, whilst still offering a quality rowing experience when in use. The Ergatta, for example, even looks more stylish than most furniture, so you'll probably want to see it in all its glory, even when it isn't being used.
Related Articles
Try This 30 Day Rowing Machine Challenge for Beginners
How to Combine Rowing and Weight Lifting
This website, fitnessdrum.com, is a participant in the Amazon Services LLC Associates Program, an affiliate advertising program designed to provide a means for sites to earn advertising fees by advertising and linking to Amazon.com.