We may earn a small commission on some links at no extra cost to you. Learn more.
If the Tempo Studio got your attention… but the price tag was a dealbreaker, you'll want to pay close attention to the brand's latest product… the Tempo Move.
Coming in at 5 times cheaper than the Studio, this seamingly simple bit of connected fitness tech still leverages Tempo's artificial intelligence 3D Vision technology and world class workouts, offering a genuinely affordable bit of tech that could transform your home workouts.
Using your iPhone's camera and a TV, the Tempo Move turns your living room into an immersive workout experience. But what is the app actually like? And does the product live up to the promises? That's what we're here to discuss.
In this Tempo Move review, we outline everything you need to know, including what we like, don't like and ultimately if it's worth the money or not.
In a hurry? Tempo Move are currently offering a 30 day risk free trial by clicking below. 👇
What is Tempo Move?
Tempo Move aims to turn your living room into a home gym, powered by artificial intelligence, unlimited workouts and personalized programming and tracking.
It works by leveraging your iPhone's camera and a TV. This differs from most connected fitness products, including Tempo's flagship Studio home gym, that comes with a dedicated screen and more integrated hardware. Ultimately, this decision to use your phone's camera and at TV's screen, means you save money and Tempo can focus on improving the software without you needing upgrade your hardware in the future.
You do, however, still get some flashy colour-coded dumbbells too – which allow Tempo to automatically track the weights to create a seamless workout experience.
Tempo's technology allows it to offer real-time feedback and personalization… which gives it a clear unique angle in the ever growing space of fitness apps and membership sites.
How Much is Tempo Move?
The Tempo Move is currently priced at $395. This is reduced from $495.
The Move includes:
Tempo Core
1.25lb smart weight plates (4x)
7.5 lbs dumbbells (2x)
2.5lb smart weight plates (4x)
Weight Storage Cabinet
5lb smart weight plates (4x)
Weight Collars (4x)
HDMI Cable
You'll also need a Tempo Membership to access the content and app, which comes in at $39/month. You can create up to 6 accounts per membership.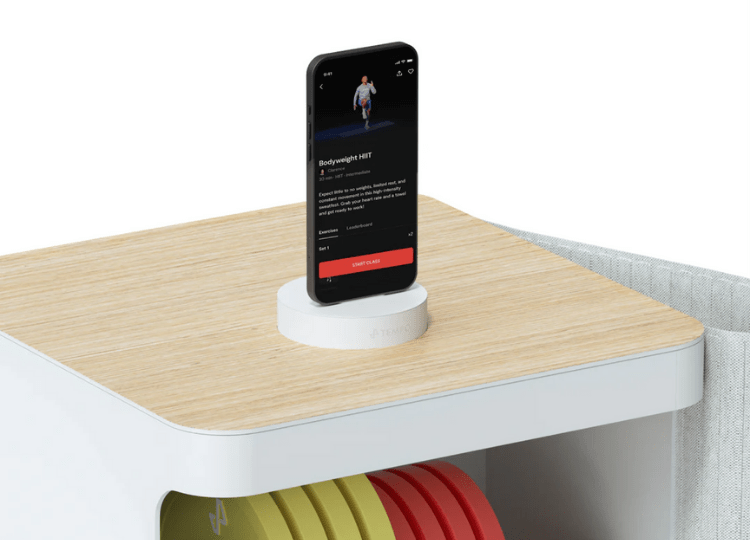 Is Tempo Move Worth It?
This review delves into all the details you need to know, but if you're looking for a quick takeaway and whether Tempo Move is worth it… then we think it certainly is. As far as value goes, Tempo Move has undercut all competing technology to offer a truly disruptive experience that will likely shape a new era of home workouts.
What We Like
More Affordable Than Similar Tech
One of the biggest selling points is that in terms of "connected fitness" products, the Tempo Move sits at a delightfully lower price than many of its competitors… and by quite some margin too.
Whether you opt for a smart rowing machine, treadmill, bike, or mirror (like Tempo's Studio), the price point is usually somewhere between $1,500-$3,000, excluding ongoing membership costs.
So, as far as financial commitments go, many of these other brands aren't cheap… there's simply no other way of saying it.
But, Tempo would also admit its flagship Studio also falls into this higher price tag at $2,495… which is why it has launched the Move, to offer a more affordable solution.
Ironically, even though Tempo Move is cheaper, the very nature of dumbbells is that they are pretty hardwearing and will probably last longer than other equipment like treadmills or rowers that might need repairs. Tempo Move also leverages software that is easier to update and allows Tempo the ability to innovate and improve much faster than brands that have committed to hardware that could limit them years down the line.
Very Compact & Portable
The Tempo Move comes in an aesthetically pleasing little unit that is compact and easy to move. This houses the dumbbells and plates.
The phone dock, referred to as the "core" is removable too… so you could place it in a different location to the unit. For example, you may want to place your phone next to your TV but keep the unit behind your sofa.
The reality of the Tempo Studio and other smart mirrors is that many of us simply don't have the space in our homes… or even if we do, keeping it permanently in the living room may cause controversy with our spouses!
There is also no installation required, you simply place the unit where you want it and away you go (we wish this could be said for all connected fitness products, but it definitely isn't the case).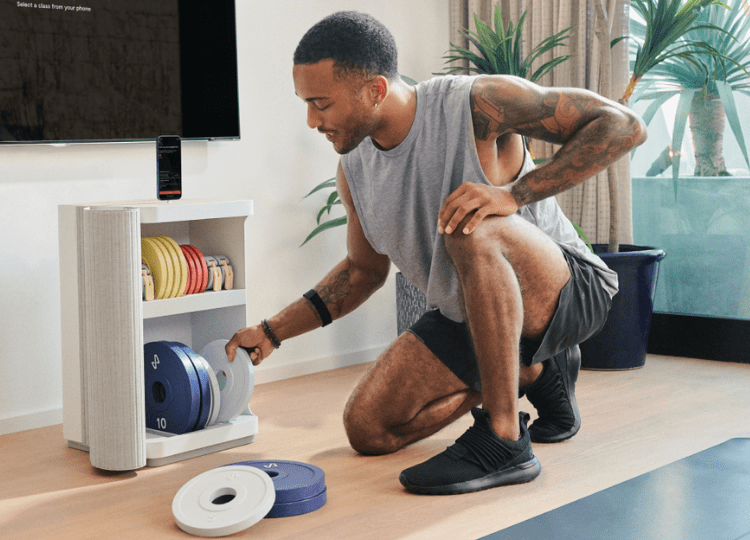 Quality Equipment and Unit
This is quite universal across most connected fitness brands, and Tempo Move is no different. The actual dumbbells themselves and Olympic weight plates are quality and built to last. If you care for them, there is no reason why they wouldn't last the test of time.
Especially when you compare this to rowers or bikes… the concept of a dumbbell isn't going to change over the years, so you can be confident you'll continue to benefit from the equipment for decades.
Effective Strength Workouts
Tempo's ethos and approach to fitness is geared more towards strength workouts… and for us, this is undoubtedly one of our favourite aspects of it.
Lots of fitness apps tend to lean towards HIIT workouts and hyrid fitness routines that are great… but fail to really leverage the benefits of resistance based exercise.
Tempo uses world class instructors, including Olympians, who understand what the body needs to do to be in the best possible shape… i.e. progressive overload training, adequate rest between workouts, and a clear roadmap of progress and achievements.
Let's be clear… Tempo's workouts are designed to get you fit. The combination of the instructors they use and the personal training tech, you'll really feel it the following day after a workout.
Compatible with Apple Watch
If you've got an Apple Watch you're in luck, as the Tempo Move integrates really well with it. This is a new feature and allows you to use Apple Watch's heart rate monitor during workouts, as well as having the ability to pause workouts from the Watch (which is more practical than reaching for your phone).
Progress Tracking
Compared to the old days of manually recording your workout stats… or just not recording any stats… Tempo Move will automatically track your progress and keep pushing you to achieve (and exceed) your goals.
The progress tracking is simple, intuitive and makes it clear where you currently stand in relation to you overarching aims.
Tempo will register how many reps you do, what weight you are holding and other metrics so you can a clear picture of your workouts over time.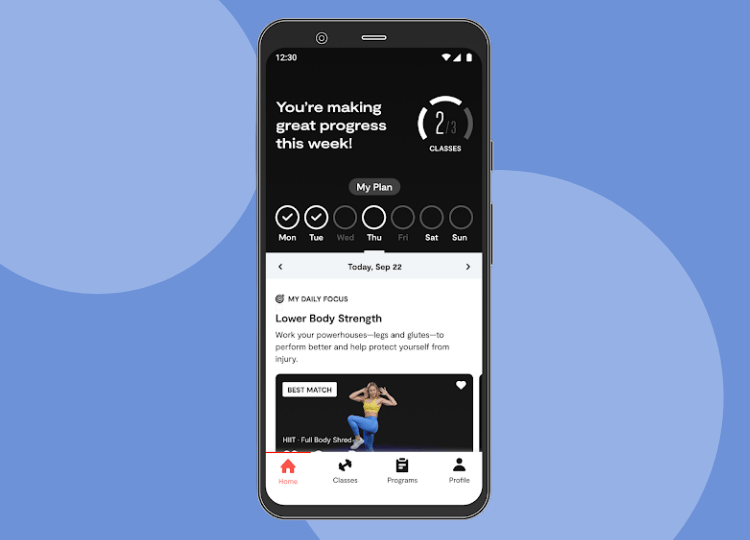 Form Correction
In theory, this is one of the most exciting features of Tempo Move (and Studio). It probably doesn't work as well as you'd hope… but it's clear this feature is developing and likely to improve with each and every update.
Depending on the lighting and things like what you're wearing, the technology doesn't spot incorrect form every time. However, the form correction messsages are good reminders themselves of good technique and can encourage you to adapt your position.
Live and On-Demand Workouts
Tempo Studio's on-demand and live library are vast… and due to the Tempo Move being a new release, it doesn't boast the same depth of workouts (and they can't necessarily share the same workouts as the Move focuses exclusively on dumbbell workouts at the moment).
Nevertheless, this is developing on a weekly basis and the library is likely grow over time.
As far as workouts go, Tempo's live and on-demand workouts are definitely some of the best in the industry. The actual exercise programming is solid, and clearly based on sports science, as opposed to just random YouTuber's doing a variety of their favourite exercises.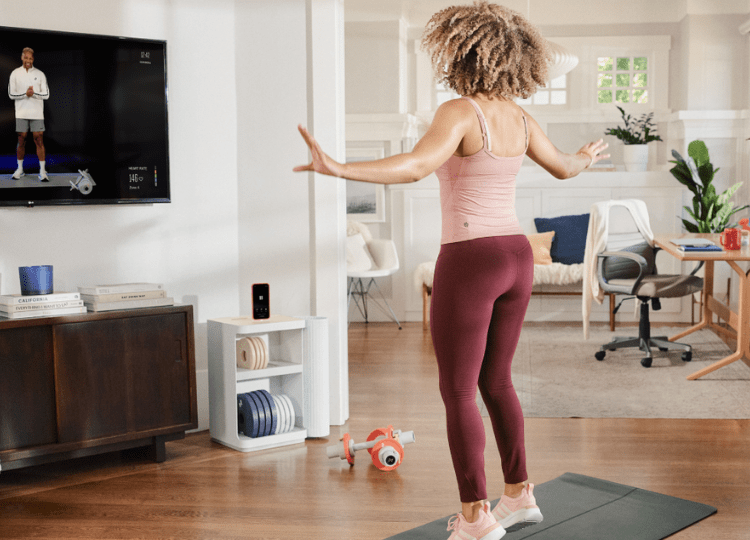 Leaderboards
Tempo Move comes with leaderboards so you can challenge your friends or fellow users from around the world.
The added motivation of leaderboards will depend on your personality, but for some, it's definitely a motivating factor that can push them further.
This feature tends to work better for conditioning workouts or bodyweight exercises, whereby it makes sense to measure speed of the workout. However, for more traditional dumbbell workouts, we wouldn't worry too much about the leaderboard positions as it's more important to follow good form (and doing reps slower is actually better… and harder!)
Similarly, you can hide this feature if you'd prefer.
Actual Personalized Training
Most fitness brands promote "personalized" experiences, but the truth is, a quiz that suggests certain workouts based on your answers, isn't really that personalized.
Tempo Move, on the other hand, is genuinely getting close to actually delivering a personalized experience, based on real-time user feedback.
As you complete workouts and progress, Tempo can automatically create new targets, goals and plans, to help create dynamic personalized training… which is closer to the value of a real Personal Trainer than most fitness apps achieve.
Workout Variety
Although Tempo Move leans towards strength-based workouts, this doesn't mean there isn't variety. From higher repetition conditioning routines to more traditional progressive overload training, there is more than enough to get stuck into within the app.
There's also a growing yoga and meditation section of classes too.
Up to 6 Users Per Membership
Tempo Move's content is all hosted within their membership plan. You can add up to 6 users per membership (ideal for a family).
This makes the membership considerably cheaper if you imagine the cost is divided by 6.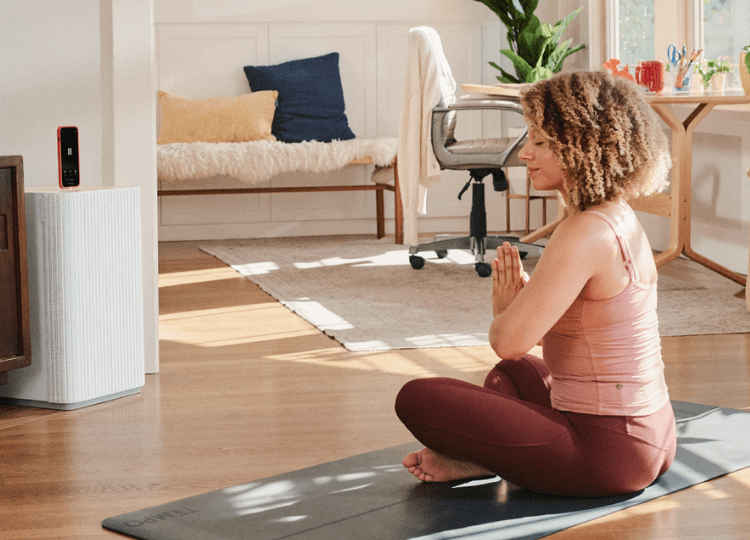 30 Risk Free Trial
With any new technology, there is an element of the unknown, which makes a 30 risk free trial very welcoming from Tempo Move.
This allows you to try it out and if it turns out it really isn't for you, you can get a full refund.
Things to Consider
Requires a TV and Select iPhones
The Tempo Move ditches the built-in screen that the Tempo Studio and other smart mirrors use… and instead uses your TV to display the workout. Considering most of us own a TV, this makes sense and avoids buying in a larger device simply to display content (that a TV could do).
This means you'll want to think about what room you have a TV in as that will be the room you'll be working out in. You also need to stand about 5ft away from your phone so if you've got a small room or lots of furniture, you may want to think about the logistics of where you'll workout most efficiently.
The Tempo Move also requires select iPhones… which is a drawback if you don't own on of those devices. There are talks of it becoming compatible with Android phones very soon, but at the time of writing, that isn't the case. So this currently leaves a big chunk of the market unable to actually use the Tempo Move.
Only 35lbs of Weights Included
The weights are quality… but with just 35lbs of plates, if you like to lift heavy, you may be wanting more.
As there are talks of barbell and kettlebell workouts coming soon, I imagine the selection of weights will increase.
35lbs is fine for most users and exercises… but if you want to aim for heavy deadlifts, for example, then it's something to be aware of as you might want more weight.
You can use your own weights and go as heavy as you want, but that wouldn't allow you to leverage the automatic scanning feature that tracks your weights (which creates such a seamless tracking experience). Therefore, you probably want to stick with Tempo's weights to keep that useful feature.
Tempo Membership Required
Every connected fitness brand operates with an ongoing membership model and Tempo Move is no different. The membership costs $39/month and gives you access to their workouts and classes.
Decent Lighting is Useful
To make the most out of Tempo, you need to ensure the 3D Tempo Vision technology can actually see you. This means if you're exercising in low or bad lighting, it may struggle to count reps or scan the weights.
Most lighting is more than fine, but if you find yourself training in the dark for whatever reason, it's something to bear in mind.
Barbell and Kettlebell Classes Coming Soon
Currently, the Tempo Move focuses exclusively on dumbbells, but barbells and kettlebell workouts are coming soon. We're not sure what this means in terms of equipment just yet (e.g. storing a barbell in a tiny box is no easy task). So we'll watch this space and see how they integrate other equipment.
Tempo Studio Vs Tempo Move
The Tempo Move and Studio both leverage Tempo's smart 3D Vision technology and workout library for immersive home exercise classes. The Studio comes with a 42″ screen and more weights (75lbs), whereas the Move leverage's a user's iPhone and TV to display workouts and comes with fewer weights (35lbs). The Studio is currently priced at $1,995 (reduced from $2,495) and the Move is currently priced at $395 (reduced from $495).
Both the Move and Studio use Tempo's $39/month membership, so the difference is really between if you want a cheaper option with fewer weights and the need to use a separate TV, or a premium all-in-one solution.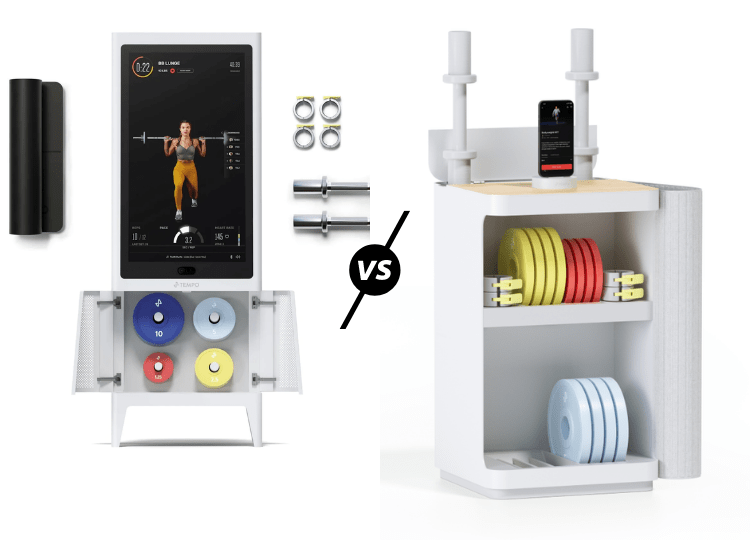 Does Tempo Move Work With Android?
Currently, the Tempo Move only works with select iPhones so it is not compatible with Android.
This is a big shame for Android users and likely a massive opportunity for a competitor to fill the space.
Tempo's membership app started out on Apple first, so there is hope that Tempo has simply shipped the Apple version first and will be looking to launch an Android version in the near future… but only time will tell.
Does Tempo Move Work With iPads?
Tempo Move currently doesn't work with iPads either. This is another big shame and something they may look to address in the future. Currently, the only Apple devices the Move works with are:
iPhone XR
iPhone XS
iPhone XS Max
iPhone 11
iPhone 11 Pro
iPhone 11 Pro Max
iPhone 12
iPhone 12 Mini
iPhone 12 Pro
iPhone 12 Pro Max
iPhone 13
iPhone 13 Mini
iPhone 13 Pro
iPhone 13 Pro Max
Who is Tempo Move Best For?
Tempo Move is great for anyone looking to upgrade their home workouts (and that has a compatible iPhone). For the price, nothing comes close to providing as much value.
Due to the artificial intelligence being able to count reps, correct bad form, and create a personalized training plan, Tempo Move is perfect for beginners and those new to following workout programs.
It's also great for those who like strength routines, or similarly, those who haven't yet benefited from doing strength routines.
Bottom Line
After reviewing our fair share of connected fitness brands and products, Tempo Move is a genuine game-changer. It's ability to channel a user's smartphone and TV means the brand can keep improving and adjusting their software to keep improving the product. No new hardware is required if they want to release new features, meaning as far as investments go, that initial $395 could go a very long way.
Dumbbells are also simple and doesn't need re-inventing… so you won't need to upgrade to get the latest dumbbells every few years.
This really goes against the grain in terms of what all other connected fitness brands are doing… they want to you buy pricey equipment… but what actually happens in a few years when they realize they could offer an even better product by changing it? You guessed it… they'll try and get you to upgrade… or a competitor will leverage those improvements in a completely new product.
The longevity of these new innovative home fitness brands is something not enough people are thinking about… but it seems like Tempo has and provided a clear solution to these concerns.
Tempo's inclusion of lots of strength based workouts and more traditional progressive overload programming, means as far as workouts go, Tempo Move's are second to none in terms of effectiveness.
Related Articles