We may earn a small commission on some links at no extra cost to you. Learn more.
Home rowing machines have had a serious makeover in the last few years.
Performance tracking, immersive on-demand workouts, live racing… it's these sorts of features that have completely changed what the concept of a home rowing workout looks like.
Although rowing has always been unrivalled in its ability to burn calories and engage the whole body at once… it has often been associated with "boring" workouts. But just like Peloton changed the way we approached spin classes at home, these new smart rowers are promising a new era of rowing.
One of the leading brands in the space is Ergatta.
With its stunning wooden frame, live racing, immersive workouts and performance stats, this is certainly a rower worth considering if you're looking to upgrade your home fitness equipment.
In this Ergatta rower review, we outline everything you need to know about the rowing machine, including what we like, don't like and ultimately if it's worth the money or not.
In a hurry? Ergatta are currently offering an impressive 30 day risk free trial, so you can test it out for yourself.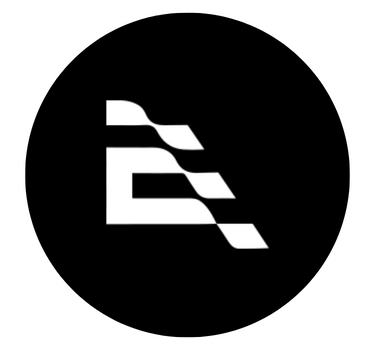 ERGATTA ROWER
Interactive races, compact design, beautiful wooden frame, workouts adapted to your goals, impressive online reviews.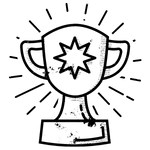 Ergatta Scorecard – Updated 2023
Build Quality and Safety – 5/5
Workout Diversity – 4/5
Muscle Engagement – 4.5/5
Shipping, Customer Support & Warranties – 5/5
Price – 4.5/5
Overall Rating – 4.7/5
Learn more about our review scorecards as part of our editorial review guidelines.
Ergatta Overview
The Rower
With the slogan "living room ready", the Ergatta is hard to argue against as being the most stylish rower you'll ever see.
The wooden frame looks like a piece of furniture in itself and it would genuinely look good in any home… even the swankiest of apartments.
The rower also folds up when not in use, making it practical for the home (as opposed to brands trying to make your home look like a commercial gym!)
It includes a 17.3" android-powered HD touchscreen and is Bluetooth enabled.
We'll delve into more details about the rower itself further down in this review.
(For those of you with an eagle-eye, you may notice the rower looks awfully familiar to that of CityRow Go. No, they haven't just copied them, both brands use WaterRower to manufacture their rowers).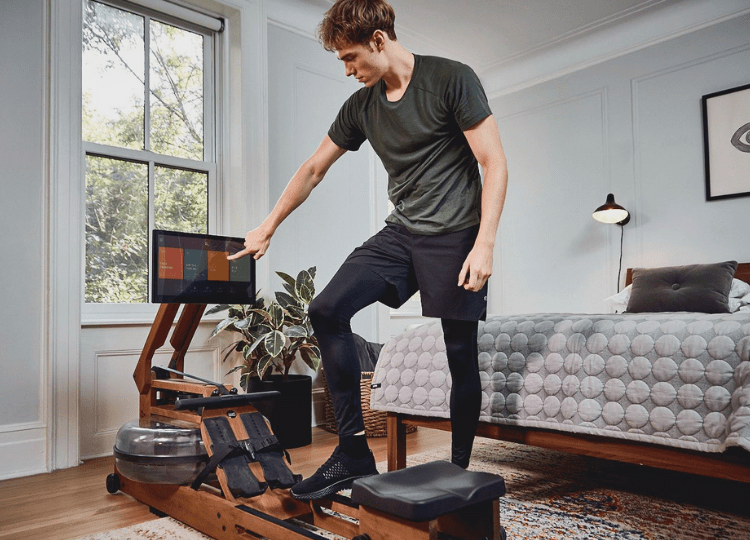 The "Experience"
Just like with any connected fitness brand, the equipment is only part of it… the "experience" (or the app to put it another way) is the other vital component.
Considering it's possible to buy a WaterRower (or a CityRow Go for that matter), that would give you the same fundamental rowing machine, the app and all the associated content is really what you want to be evaluating when thinking about buying an Ergatta.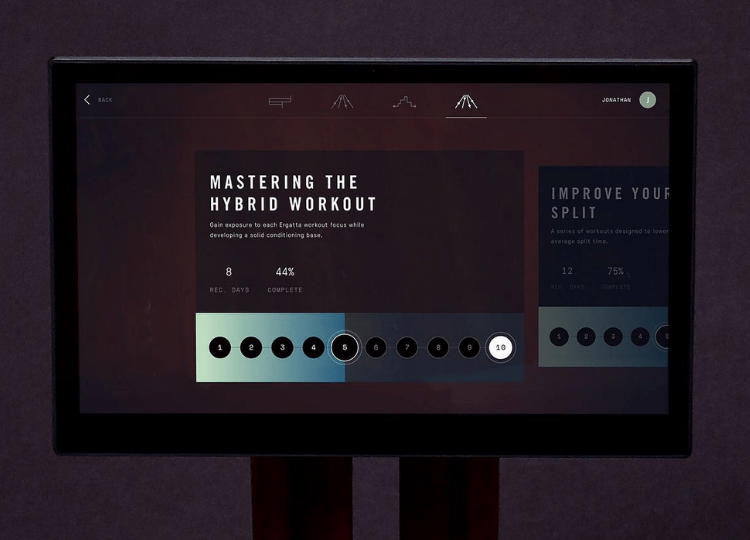 What We Like About Ergatta
Beautiful Design and Frame
Although the focus of fitness equipment is to ultimately help you get fitter and hit your goals, when talking about home equipment, the aesthetics are definitely worth considering.
If a rower has to be in your home, shouldn't it look like it belongs there?
If the bland chrome appearance of most rowers makes you want to hide it away in the garage, it's time to get familiar with Ergatta's stunning wooden frame and unique design.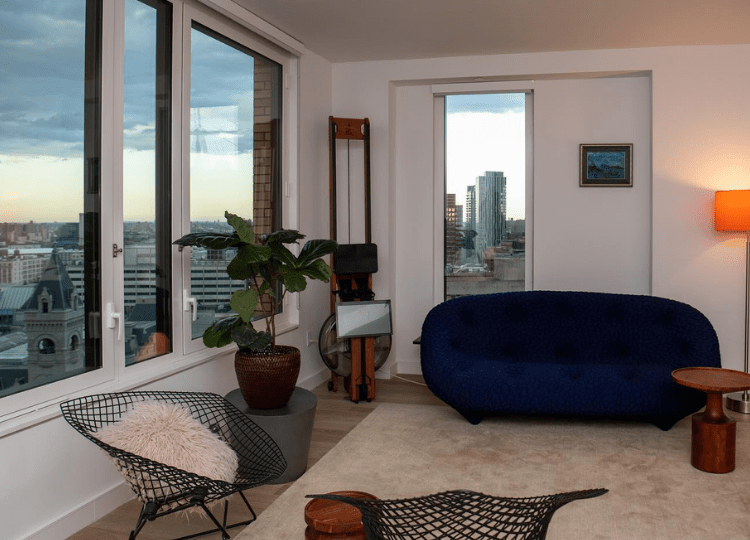 The frame is also made in the US from sustainably-sourced Appalachian cherrywood.
The water tank creates a much nicer sound compared to a fan wheel (like most rowers), so again, it suits the home much better.
If we're talking about putting a rowing machine in a gym, we'd be less bothered about appearances, but for the home, it does make a difference.
Compact
Ergatta folds away into a surprisingly compact shape.
The storage footprint is 23" x 22.5" and no other parts are needed. It probably takes about 10 seconds to transform the rower from the storage position into the activated position ready to row.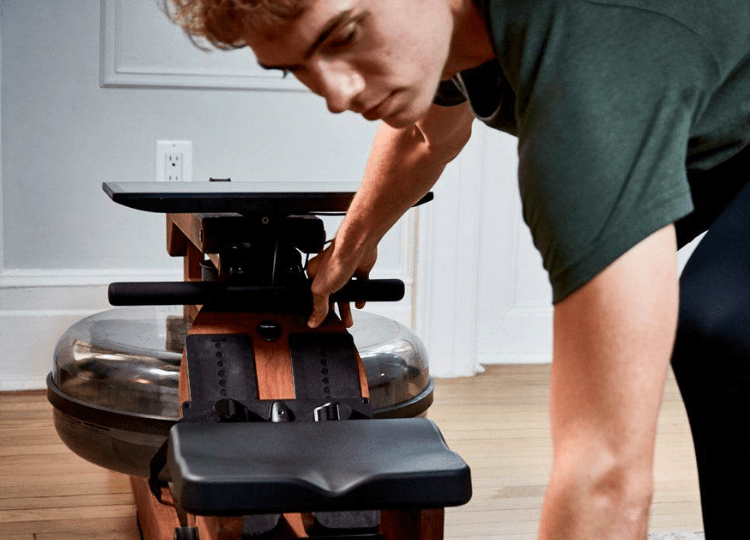 To provide some context, 23″ x 22.5″ means it really will fit nicely into the corner of a room without any trouble. There are no bits that stick out and it feels like it's sturdy in the compact, upright position (which is useful too).
Once folded, it can also easily be wheeled into another room or into a different part of the room. Again, this just makes for a very practical experience, which ultimately will increase the likelihood of you using it.
For this reason, we included Ergatta in our recent guide to the best compact home rowing machines.
Goal Based Training
Goal based training is a fantastic setting and one we recommend you try. You can find this under the "Push Programs" setting.
It allows you to set a goal, for example, row for 30 minutes, and helps you build up to that. This is great to help you focus on goals and what you want to get out of it… whether that losing some weight, gaining muscle, or improving your cardiovascular health.
This setting also highlights the versatility of rowing and why it really is a great activity for so many goals.
Racing
This is arguably the biggest selling point of Ergatta. They have really doubled down on their racing content and creating truly immersive races.
There are multiple ways of racing… from challenging your friends in a head-to-head, to joining a live global race with fellow Ergatta users from around the world, to simply racing yourself by measuring previous times.
This feels very much like playing a video game but with the bonus of getting incredibly fit at the same time.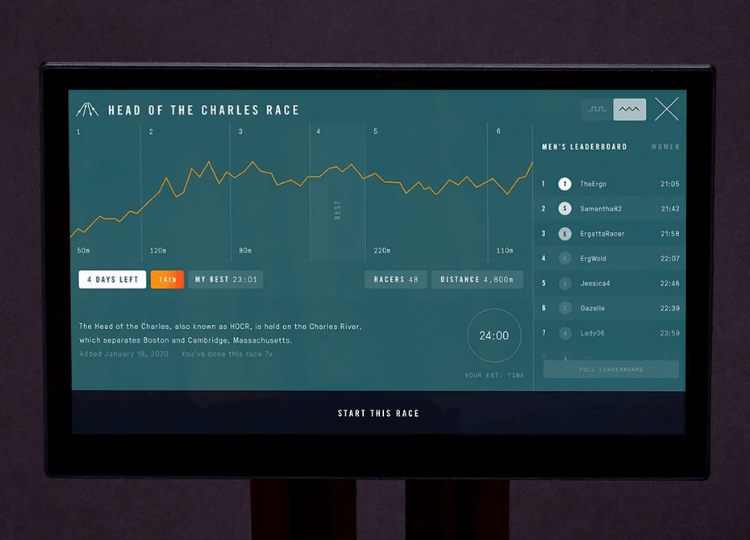 It also solves one of the problems rowing machines have faced in the past… in that people often find them boring.
When you discover someone else has overtaken you and you're only 500m from the finish line, there is no question this will keep you engaged, keep you motivated and keep you pushing harder.
If you lack motivation, then joining races is a great way to instantly create a bit of friendly competition to push yourself.
If you can convince your friends to get an Ergatta too, then you can challenge them to races and keep each other motivated.
Scenic Rowing
Although Hydrow is really the king of scenic rowing experiences, Ergatta does offer this feature too.
This allows you to visit places around the world as you row. It's pretty cool, and again, a great way to stay engaged during a long row.
Live Stats Displayed
Having live stats visible on the HD display is a huge bonus when working out. You can see how hard you are pushing yourself and how long left you have.
Especially with the goal settings, this helps ensure you are hitting your targets and using rowing workouts to stay fit.
New for March 2023 – Sync with Apple Watch
This new feature allows you to seamlessly sync data such as heart rate and other workout stats from your Apple Watch or activity rings with your Ergatta dashboard for more accurate overall data.
Ergatta's ability to sync and display metrics from other devices, such as heart rate monitors and Bluetooth devices, means your dashboard creates a very accurate overview of your overall physical activity.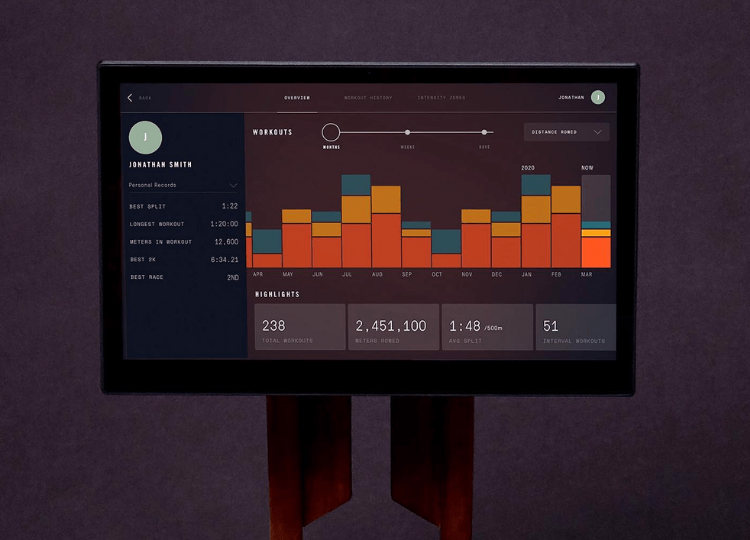 New Content Each Week
Ergatta are constantly releasing new content each week, keeping the experience new and relevant.
This is useful for those using the machine frequently as you'll always have new workouts, challenges and races to join.
Due to the racing features, you don't need to rely on on-demand workouts or content as much as other brands, as you've always got races you could join.
Similarly, there is a "just row" feature if you want to jump on a starting rowing.
Personalized
Ergatta does a great job at personalizing the experience. Depending on your past rowing performance, it will tailor and create personalized recommendations for you. This ensures you're always pushed and challenged, yet in an achievable way that doesn't squash your confidence or motivation.
As you progress, your rower will automatically adjust your targets… which is very impressive.
Unlimited Use for Whole Family
This is another key feature worth considering. Your Ergatta membership is issued per "household" – i.e. you can create unlimited accounts for your family's rower. This means the whole family can enjoy the experience and all have personalized goals and settings.
Sharing one single account simply doesn't work for connected fitness equipment (even if some brands have decided on that model), so this is a welcome setting that ensures everyone in your family gets the most out of the Ergatta.
Trial Period
Ergatta usually offer a 30 day trial period so you can try it before committing. At the moment, this has been increased to a 60 day trial period which is undoubtedly very generous and removes a lot of the stress of buying a high end rowing machine.
You can buy your rower knowing that if it simply isn't for you, you can return it for a full refund.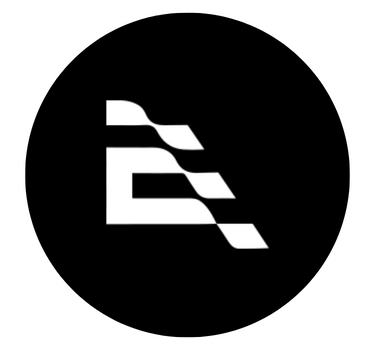 ERGATTA ROWER
Interactive races, compact design, beautiful wooden frame, workouts adapted to your goals, impressive online reviews.
Benefits of Rowing Workouts
You may be set on a rowing machine… in which case, the question really boils down to which rower is right for you.
But equally, you may not be completely set on a rower and instead, are looking at all sorts of home fitness equipment, including treadmills and bikes. If this is sounds like you, it's worth thinking about the benefits of a rower and if this matches what you want from your fitness equipment.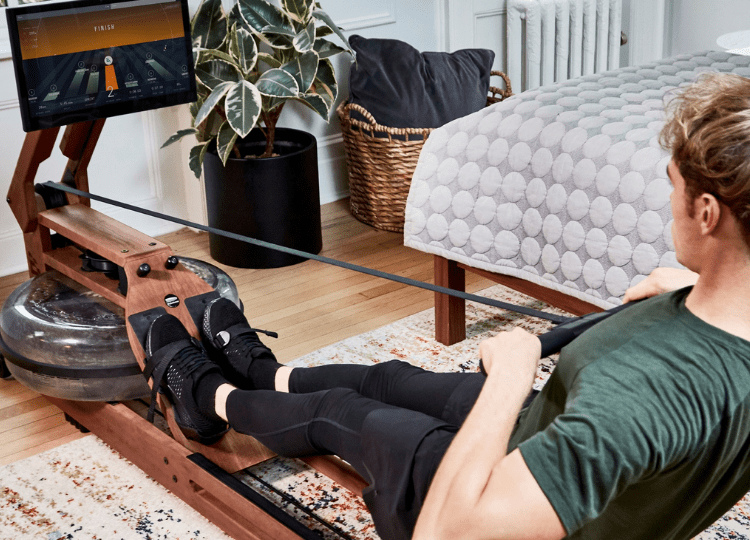 Rowing machines have two main benefits over other fitness equipment, as detailed below, but ultimately, it's down to personal preference if you like the idea of cycling, running or rowing.
Low Impact
Rowing is a low impact activity… for example, your knees and joints don't take the same kind of beating as they do on a treadmill.
If you struggle with sore joints and are looking for low impact activities and exercise, rowing is definitely a great option. It's low impact by nature, but also very efficient at burning calories and improving strength.
Cycling is also low impact as well, if you're looking at bikes too… but treadmills might be worth avoiding.
Works 85% of Body's Muscles
Although cycling can argue its case for being low impact, no other fitness equipment can boast the same sort of metrics when it comes to working the muscles in the body.
The movement of rowing engages up to 85% of the muscles in your body, including both your upper and lower body.
This is seriously impressive and means that rowing can offer you a complete full body workout routine, without doing anything else. For those short on time, this efficiency in working the muscles puts rowing in a league of its own.
Things to Consider
Water Resistance
Something worth considering with Ergatta is that it uses water resistance. This is likely different from the type of resistance you'd be used to if you've used rowing machines in the past.
Most gyms or home rowers have used a fan wheel for resistance.
Water resistance uses… you guessed it… water to create resistance. This creates a more realistic rowing experience and is much quieter.
However, the water will need changing from time to time and it isn't possible to set the resistance… instead the resistance changes depending on how hard you row.
Generally, the reviews seem to suggest most people absolutely love the water resistance and consider it an improvement to a fan wheel, but the rowing machine traditionalists amongst you may find you miss the old school fan wheel.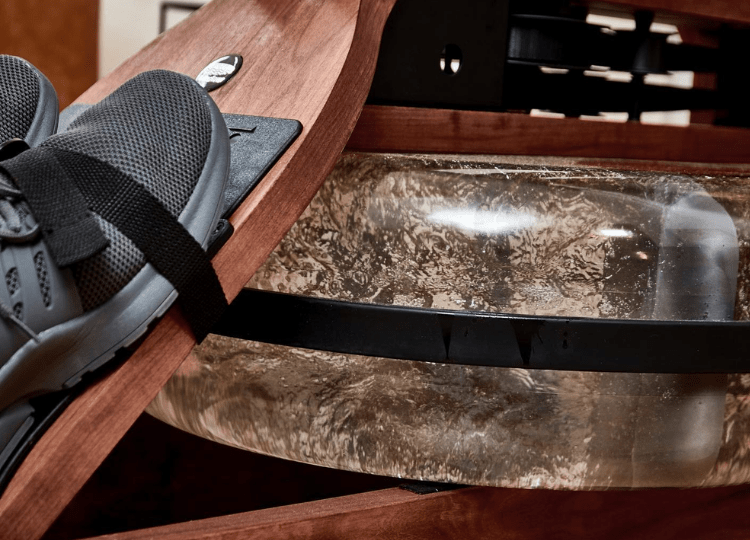 Monthly Membership
You'll need an ongoing membership to enjoy the live races, on-demand workouts and the Ergatta app. This costs $29/month, which is pretty reasonable compared to other brands.
You can cancel at any time… although without the app, the Ergatta is really just the WaterRower, so it's worth factoring in the $29/month as an ongoing cost.
No Live Classes
We believe this is by design, as opposed to a feature they forgot to include. Ergatta aren't trying to be like Hydrow or CityRow Go, offering instructor led live classes… but rather focus on a game-inspired experience.
For some, this focus on games and racing will be a better fit, but it's worth noting the exclusion of live instructor led classes if you were hoping to join them.
Ergatta have recently launched a new program to help provide instruction of rowing technique and form… so this does help in terms of ensuring you know how to make the most out of the rower.
Live classes may be added in the future, but based on the language they use around the "Ergatta experience", we wouldn't hold our breath.
No Off Rower Workouts
There are currently no off rower workouts. Interestingly, CityRow Go who also use WaterRower to manufacture their rowers really double down on combining rowing and non-rowing workouts.
So if you really want off rower workouts, CityRow Go is probably a better choice.
Connectivity
It's not a major drawback (and applies to any smart fitness equipment), but worth considering when you think about where you'll put your rower as you'll need an internet connection to join live races.
Who is Ergatta Best For?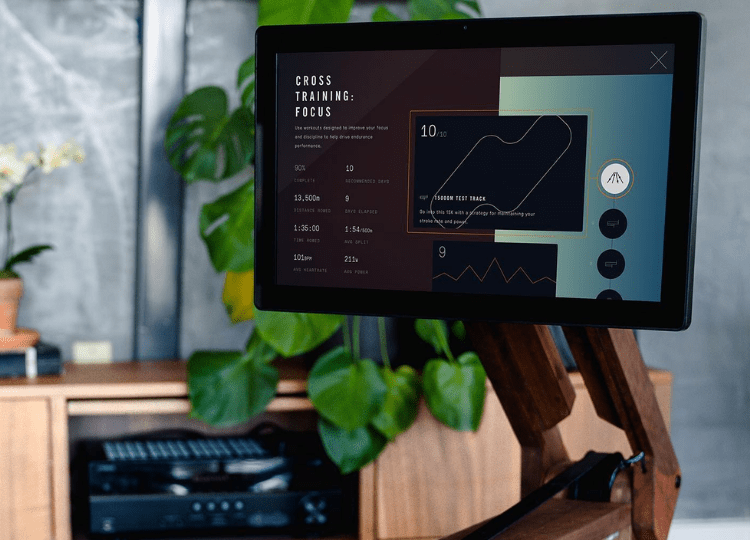 Ergatta is really best for those who get motivated by competition or games.
If you hate losing, and can channel that energy into your rowing, Ergatta will push you beyond what a regular rower could.
If you enjoy playing video games too, you'll feel right at home.
In contrast, if you prefer instructor led classes then there are probably better suited brands out there… which nicely leads us on to potential alternatives…
Ergatta Alternatives
Aviron
Aviron is probably the main competitor to Ergatta… who have also focused on gamifying the rowing experience.
Aviron have probably gone bigger on "games" whereas Ergatta have focused more on "racing". It's similar, but there are differences.
Our Aviron review includes more details about what you can expect from this rower.
Hydrow
Hydrow has become a popular name in the connected fitness space with plenty of celebrity backers.
Hydrow focuses on instructor led classes, so although it's a smart rower, the experience is very different from Ergatta.
Ultimately, you need to decide if you want to be led by an instructor on the open water, guiding you through a workout… or whether you want a more game-inspired experience, whereby you can race friends or fellow users.
CityRow Go
CityRow Go uses the same WaterRow frame, so that creates a very similar rowing experience.
The apps, however, are very different, with CityRow Go focusing more on HIIT style workouts that use the rower as well as bodyweight/dumbbell experiences.
CityRow Go feels like a boutique fitness class, streamed in your living room.
Ergatta Reviews
The online reviews for Ergatta are very impressive. The screenshot below shows the average rating from 485 verified purchases. 96% giving it 5 stars.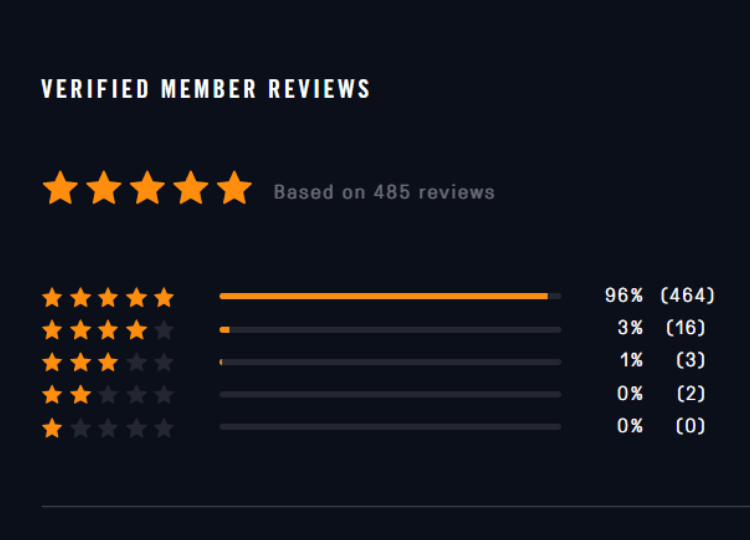 The video below shows an install and review of the Ergatta rower.
FAQ
How Much Does Ergatta Rower Cost?
The Ergatta rower costs $2,499. To gain access to all the interactive content, you also need a membership, with costs $29/month.
Do You Need a Subscription for Ergatta?
Technically, you don't need a membership to use the rower, however, without the membership, you could just buy a WaterRower and save yourself some money. Consequently, we would really factor in the subscription membership as part of the cost for the rower.
Your membership includes unlimited profiles, so you only need one per household.
Is Ergatta Easy to Assemble?
Yes, the Ergatta can be assembled using just an Allen key (which is included). You can choose to have it assembled for you, for an additional cost if you prefer though.
What are the Dimensions?
Ergatta is 86″ x 23″ x 40″.
Bottom Line
Ergatta has certainly created an immersive home rowing experience, ideal for those who like the idea of racing against others.
The Ergatta app boasts all sorts of features to help you get the most out of your workouts and ultimately makes rowing at home more fun. Coupled with a beautifully crafted wooden frame and HD monitor, it offers a quality rowing experience for beginners and avid rowers alike.
You can currently try Ergatta with a 30 day trial below by clicking below.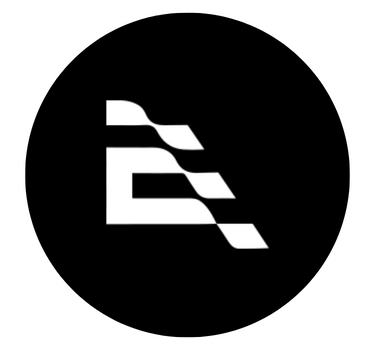 ERGATTA ROWER
Interactive races, compact design, beautiful wooden frame, workouts adapted to your goals, impressive online reviews.
Related Articles
Hydrow Vs Aviron Vs CityRow Go Vs Ergatta