We are reader supported and may earn a small commission on some (but not all) links within our content to products we think will genuinely help our readers at no extra cost to you.
Coming in at under $1,000, the Horizon Fitness 7.0 AE Elliptical is likely to come up when you search for the best home ellipticals. It's Horizon's best budget elliptical to date and boasts some impressive features… as well as lots of very complimentary reviews from happy customers.
With a max weight for users increased to 325 lbs (from 300 lbs on the EX-59 machine), an unrivalled 20 levels of resistance and incline, a low 10″ step on height which makes it ideal for low ceilings, an incredibly sturdy frame, and solid tech integrations to make your workouts more fun… this elliptical cross trainer is definitely going to tick a lot of boxes for a lot of people.
In this 7.0 AE review, we include everything you need to know about the machine, including what we like, things to consider, and our overall verdict.
Horizon Fitness often run sales throughout the year on their equipment, so click below to check the latest price (at the time of writing, it's currently got $150 off!)
Would We Recommend the Horizon Fitness 7.0 AE?
Ultimately, we would definitely recommend the 7.0 AE. If you're looking for a sturdy elliptical with a 20″ stride length (better for taller people), low step on height (better for low ceilings), and the reliability of a trusted brand with impressive warranties… all at a very affordable price, then based on our in-depth research and evaluation of similar models, it's currently second to none.
Horizon Fitness 7.0 AE Elliptical – Overview
At a glance
Lifetime warranty on the frame.
20″ stride length.
325 lbs weight limit.
20 levels of resistance and incline.
Quiet and smooth movements.
6 workout programs.
Sturdy, ergonomic frame.
Front-driven elliptical.
Cooling fan.
Under $1,000.
And also, as you'd hope from any respectable elliptical trainer… it includes a water bottle holder!
You can view the full product specifications on the Horizon Fitness website – Horizon Fitness 7.0 AE Elliptical.
What We Like About the Horizon Fitness 7.0 AE Elliptical
20″ Stride Length
The stride length is one of the most important features to look at when buying an elliptical, which often goes under the radar. It describes the distance between the pedals at their furthest point away from each other and helps suggest who the elliptical is best suited to.
The perfect stride length should create a similar feeling to when you walk… and when it's right, it will feel comfortable and enable you to enjoy a low-impact workout. If the stride length is off, however, it might feel slightly unnatural as you use the cross trainer.
The 7.0 AE comes with a 20″ stride length which is ideal for anyone between 5'3″ and 6'5″. This should cover most users and if you've used budget ellipticals in the past with smaller stride lengths, you'll definitely notice the impact as soon as you stand on the 7.0 AE.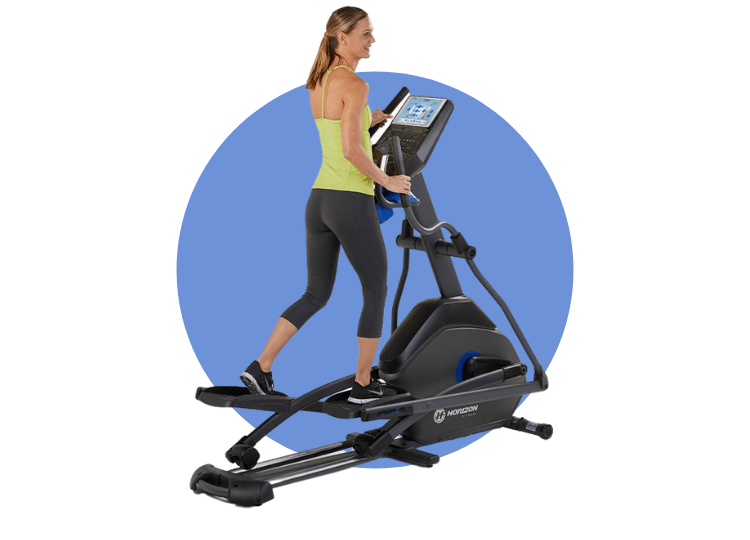 Durable
The footprint of the Horizon Fitness 7.0 AE Elliptical isn't small (which may be a consideration for some), but this means it feels very sturdy and durable. The 23 lbs fly-wheel is heavier than most home ellipticals, which may contribute to this stability.
When you want to go hell for leather during a workout and really push yourself, you don't want to feel like the elliptical is going to topple over. Even the most intense workouts will be no problem for the 7.0 AE, so that's definitely a bonus.
If you're considering cheaper ellipticals, especially if they "fold", you may be compromising quite considerably on the durability and sturdiness of the machine, which ultimately could hinder your workouts.
The Horizon Fitness Evolve 3 and 5 are both folding, to make them more home-friendly, but this will impact durability. The 7.0 AE is unapologetically sturdy compared to these other models. With the same logic, though, if saving space is more important, then you're likely better off with the Evolve 3 or 5.
20 Levels of Incline and Resistance
The 20 levels of incline and resistance really open you up to all sorts of workouts. Having the choice of both resistance and incline is also great, as personal preference is going to dictate if you prefer upping the resistance or incline to increase the difficulty.
The Horizon Fitness 7.0 AE Elliptical makes it very easy to adjust the incline and resistance too, which is ideal for changing during a workout.
The 20 levels of resistance is double what the Horizon EX-59 model offers.
Coach's Tip
Increasing the resistance will make your muscles work harder… but changing the incline (as well as the position of the pedals) will engage muscles differently. This means you can focus more on glutes one day, and quads another… to create more dynamic and targeted workouts.
Great for Low Ceilings
It's the subtle features of the Horizon Fitness 7.0 AE Elliptical that really got us excited. The low 10″ step on height basically means you are lower to the floor than a lot of ellipticals… which is very important if you're exercising at home and have low ceilings.
If you use bulky commercial ellipticals in the gym, you may notice you're actually quite high up once you're stood on the machine – which makes them unusable if you've got a low ceiling.
This means you can add 10″ to your height to work out if there's enough head space in your home… you obviously want a bit of space between your head and the ceiling too.
If there isn't, it's likely no elliptical will be fit for the job, as 10″ step on height is as low as it gets… so you might be better off with a treadmill, bike or rower.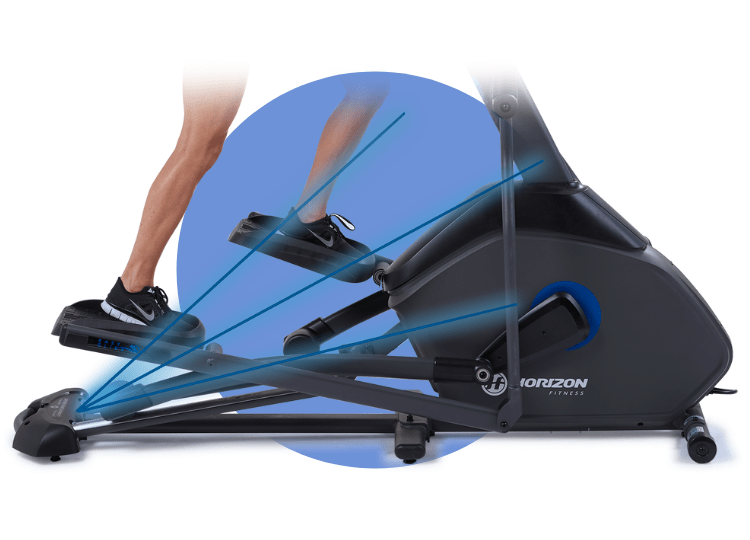 325 lbs Max Weight
The machine comes with a 325 lbs max weight limit. Although this still may exclude some users, it's a more generous weight limit than a lot of ellipticals, so if you're a heavier user, this max weight is likely to be a plus when comparing similar models.
The Horizon Fitness EX-59, for example, as max weight limit of 300 lbs.
Bluetooth for Syncing
With Bluetooth connectivity, you can stream music, movies or on-demand classes as you exercise. This lends itself very well for elliptical training, especially if you prefer a lower intensity workout for a long duration, whereby you want to watch something to keep you entertained.
This ability to stream on-demand classes mean you could also integrate your elliptical workout with a yoga flow afterwards, or even a dumbbell workout.
It also has a charging port and shelf so you can play content on your phone or tablet.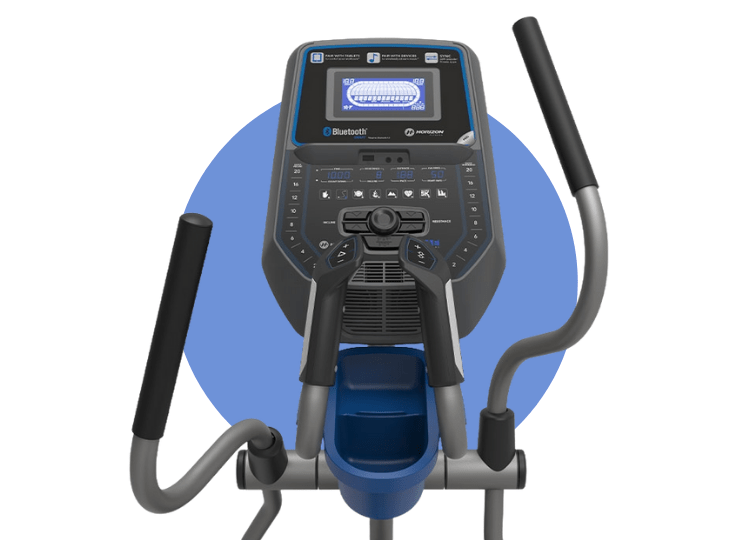 Super Smooth
Lots of online customer reviews of the 7.0 AE talk about how it "glides" during workouts… highlighting the super smooth movement of the machine, even as you change incline.
Especially for home use, having something that is smooth and quiet will definitely keep the rest of your family happy too!
Workout Programs and Performance
The 7.0 AE comes with 6 workout programs, although with the ability to choose from 20 levels of resistance and incline, you can really create endless workout combinations to try. Being able to set a distance or target heart-rate are the two options we would use most.
It also comes with a training app that lets you track and sync your workout data. The Horizon app is pretty basic, especially if you've used premium workout apps in the past, but this means you can import such metrics to your Fitbit, for example.
Horizon machines are all "engineered for apps and streaming fitness classes". To put it another way, it means you can easily follow workouts from your favourite apps whilst using your Horizon machine.
This includes a lot of popular apps, but it also includes some great additions, like Alo Moves, Openfit, Obe and more… which we all rate highly too.
You can also watch YouTube which opens up endless workout videos too.
Ergonomic Frame
The point of exercising is get fitter and feel healthier… so you definitely don't want to use a machine that requires bad posture to use. This unfortunately happens when manufacturers try and put something together cheaply and quickly. Horizon Fitness have clearly spent time and effort making small tweaks to maximize the ergonomics of all their fitness equipment over decades of experience.
The 7.0 AE comes with their certified Six-Star frame, which helps to maintain ideal body position and maximize comfort whilst exercising.
This ultimately means you avoid picking up injuries and will feel more comfortable exercising for longer.
All Horizon machines are commercial quality, even the ones suited for home use.
Trusted Brand
And that leads us nicely to another key point… Horizon Fitness being a trusted brand. Established in 1999, these guys know their stuff and have decades of experience, customer feedback and research that helps them launch new products successfully.
This is reflected in their warranties, which really are second to none. You've got a lifetime warranty on the frame, for example, so this removes a lot of buyer's remorse when opting for a trusted brand.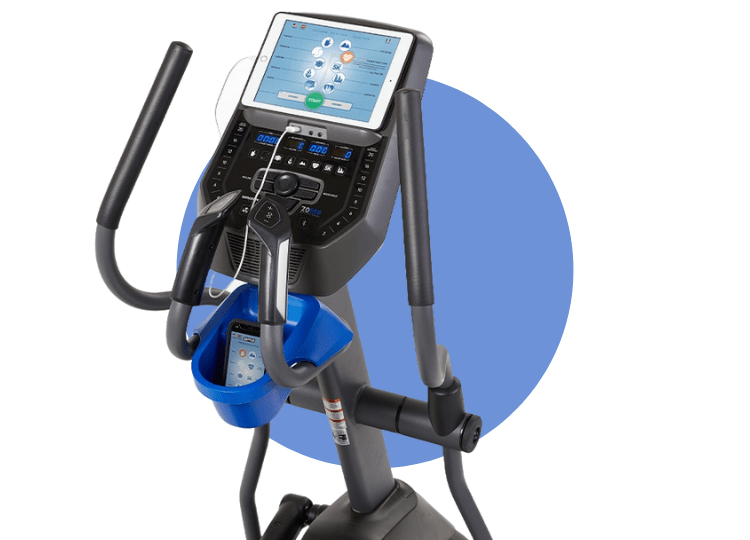 Customer Reviews
The customer reviews are largely all very positive, with an average rating of 4.4/5 on Horizon's website.
Most customers talk about the elliptical being very sturdy, smooth and easy to use. The machine is also a popular choice in many commercial gyms too, with lots of customers saying they often select the Horizon 7.0 AE machine in their gym, if it's available.
Other reviews highlight the benefits of ellipticals in general, such as being low impact and better for bad knees and joints.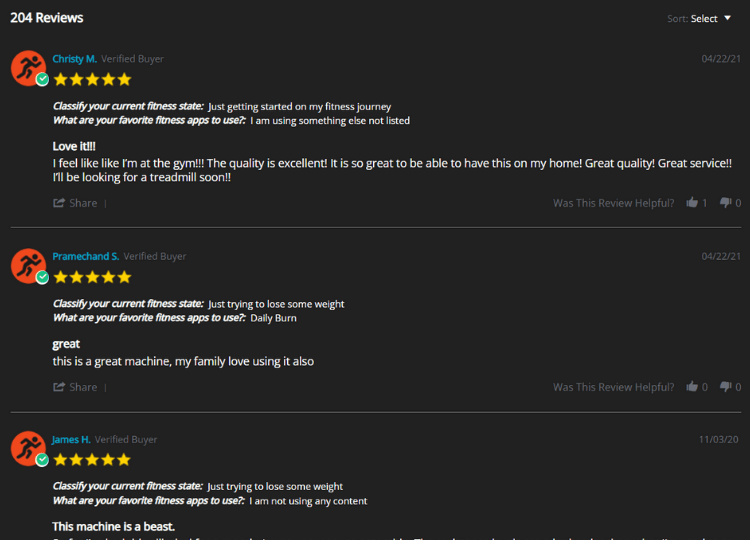 Things to Consider
Stride Length
We mentioned how the 20″ stride length was something we really liked (as we've found a lot of basic ellipticals often have 18″ lengths, which isn't ideal if you're tall.
The caveat to this 20″ stride length, is that if you're smaller than 5'3″, you may find it feels like a slight stretch. It probably isn't enough to put you off entirely, but it's better to stick with a machine that is matched to your height.
Coach's Tip
Most guides and product specs for ellipticals may reference height as a way to gauge the ideal stride length (which is also what we've done in this article). However, what's more important is the length of your legs… i.e. you could be small, but have long legs, which would mean a 20″ stride length might still be the best option.
Small Display
The display is slightly small, coming in at 7″. It's also dual-colour, so doesn't have the same feel as HD monitors. To call a spade a spade, it feels pretty dated.
Peloton redefined what a display on exercise equipment could look like when it originally launched its bike… and brands like Hydrow and Aviron have followed suit in the rowing space. Consequently, a lot of consumers may be expecting similar screens for all fitness equipment. But it's important to remember, lots of this equipment is literally double the price of the 7.0 AE.
The 7.0 AE's display is perfectly adequate, but it's not a large HD screen. If you want to watch your favourite Netflix shows whilst exercising, or enjoy a more visual dashboard, we'd recommend using a tablet (iPad) or phone and resting it on the ledge.
Reading other customer reviews, this appears to be the popular choice when people are watching movies or TV shows whilst using the machine.
Large Footprint
We've reviewed a lot of home exercise equipment, many of which fold up, such as the Ergatta home rower… and often, this ability to fold doesn't impact the use of the machine. For ellipticals, you probably would notice the difference between models that can fold, and those that can't.
This means if you want a machine that feels as sturdy as a rock, you're likely going to have to compromise on a machine that has quite a large footprint. If you've got a home gym or garage space, this hopefully isn't a problem… if you're thinking about putting it in the corner of your small studio flat, it might feel like a squeeze.
Assembly
You can opt in or out of home assembly when you buy the Horizon Fitness 7.0 AE Elliptical. Obviously home assembly comes with a cost, but in most cases it's probably worth it.
The actual machine is really quite heavy, so simply moving it around the home is easier said than done.
These things always take longer than you'd expect (or hope) to assemble too.
Who is the Horizon Fitness 7.0 AE Elliptical Best Suited For?
The Horizon Fitness 7.0 AE Elliptical is best suited for anyone who is looking for home cardio equipment and wants something that is sturdy and durable. The stride length and weight limit will also likely appeal to taller or heavier users and separates this machine from a lot of other ones.
Good ellipticals are also quite pricey, so boasting all these features and coming in at under $1,000 is really impressive… ideal if anyone's on the hunt for a bargain.
It's also great for anyone who isn't too bothered about a fancy HD display and is happy to use their phone or tablet to view content.
Equally, no fitness equipment is perfect for everyone. If you're short on space, you're probably better off with a model that folds, such as the Evolve 3 or 5, or actually ditching ellipticals altogether and going for a smart rower which can have a seriously smaller footprint when folded.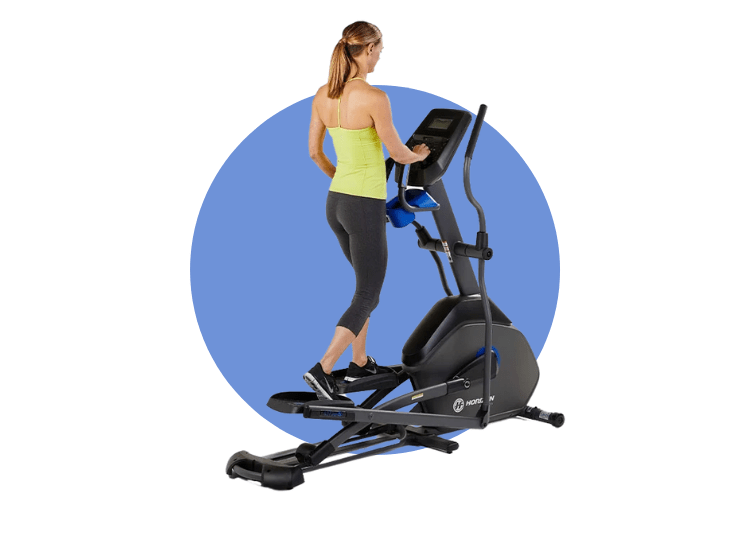 Alternatives
The most similar elliptical from Horizon would be their EX-59. The EX-59 is Horizon's most popular elliptical and the best choice for those who just want to jump on and exercise… without the need for any specific features (such as better stride length, max weight, sturdiness, and other impressive features that are present with the 7.0 AE.
The Horizon Evolve Series, Evolve 3 and Evolve 5, are noticeably more expensive and can be folded. This makes them better for small spaces, but also means they naturally aren't as sturdy. These models also don't have Bluetooth.
Bottom Line
With the low step on height, 20 levels of resistance and incline, sturdy frame and attractive price, the Horizon Fitness 7.0 AE Elliptical is likely going to be the best machine for many people searching for home ellipticals.
Offering low impact workouts, that can burn calories, build lower body strength and boost cardiovascular health, ellipticals may not be as trendy as flashy home bikes at the moment, but they are great bits of home exercise gear that can make fitness easier and more sustainable.
You can check the latest price for the 7.0 AE below.
Related Articles
Battle of Home Smart Rowers – Hydrow Vs Aviron Vs Ergatta Vs CityRow Go