Engaging up to 86% of the muscles in your body, rowing workouts are hard to beat when it comes to getting results.
Whether your goal is to drop a few pounds or to build muscle, rowing has all bases covered… which is why it's becoming such a popular piece of home workout equipment.
If you're looking some for rowing workout inspiration, we've got you covered with this simple 30 day rowing machine challenge, that you can try at home or in the gym. It's ideal for beginners and those getting started… but it can also be scaled up to increase difficulty making it suitable for more experienced rowers too.
Like following along to virtual fitness challenges?
Create a free account here at Fitness Drum, so every month you can follow along to unique home workouts to boost your motivation and stay connected with our community. Earn points and digital trophies as you complete your challenges.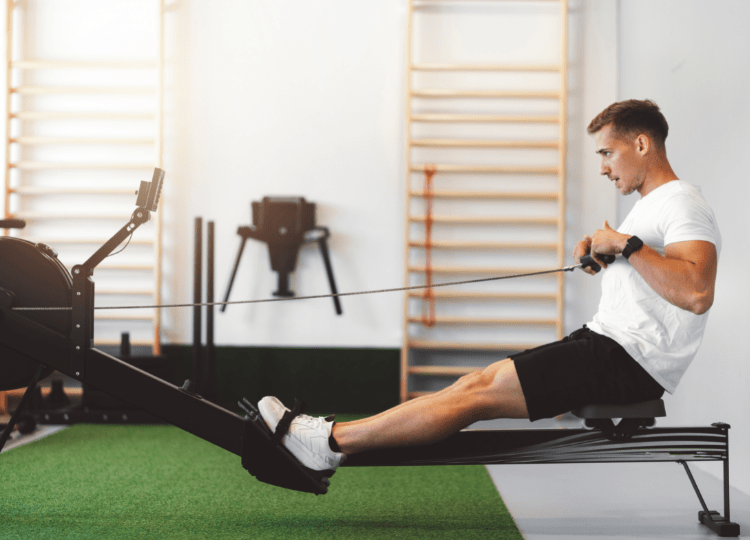 If you're completely new to rowing, or any sort of exercise, it's best to ease into things and ensure your body feels comfortable before you try and push yourself too hard.
It's also important to warm-up and stretch before any sort of rowing workout. This should involve stretching all your muscles, including both upper and lower body.
You should also ensure you are following correct rowing technique throughout, to avoid potential injuries. Your back should be straight, and you want to focus on leveraging power from your legs and arms to push yourself, as opposed to trying to swing your upper back and shoulders.
If you lean back slightly when your legs are fully extended during your rowing workouts, it helps to further engage the core (which is ideal if you don't have time to squeeze a quick ab workout in during the week).
The Rowing Machine Challenge
This rowing machine challenge is focused on small, incremental improvements over the 30 days (an extra 100m each day). The aim is that in just one month, you will be able to see noticeable improvements in your rowing to help boost motivation and keep you on track.
Day 1 might seem easy, but by day 30, you're rowing a good distance.
As well as an increase in total distance, it's worth tracking your time for the first 500m. The time you can complete a 500m split, is often used in rowing as a way to measure performance.
Timing how long it takes to row 500m is a simple way to calculate how fast you actually went… so the final column in the table on the printable PDF is for you to fill out after each workout. Ideally, you'll see an improvement in your first 500m throughout the month, as well as covering additional distances each day too.
Remember though, by day 30, you've got a long way to go after that first 500m, so don't go overboard trying to beat your time if it means you can't complete the rest of the distance.
The challenge can also be scaled if you want to make it more difficult, simply by increasing the distance per day… or just repeating the workout for each day twice.
You can print off a PDF version of the table below. The PDF version has an extra column to record the time of your first 500m for each day, so you can monitor your progress as you work through the challenge.
| Day | Workout |
| --- | --- |
| 1 | 500m |
| 2 | 600m |
| 3 | 700m |
| 4 | 800m |
| 5 | 900m |
| 6 | 1,000m |
| 7 | 1,100m |
| 8 | 1,200m |
| 9 | 1,300m |
| 10 | 1,400m |
| 11 | 1,500m |
| 12 | 1,600m |
| 13 | 1,700m |
| 14 | 1,800m |
| 15 | 1,900m |
| 16 | 2,000m |
| 17 | 2,100m |
| 18 | 2,200m |
| 19 | 2,300m |
| 20 | 2,400m |
| 21 | 2,500m |
| 22 | 2,700m |
| 23 | 2,800m |
| 24 | 2,900m |
| 25 | 3,000m |
| 26 | 3,100m |
| 27 | 3,200m |
| 28 | 3,300m |
| 29 | 3,400m |
| 30 | 3,500m |
What's a Good Time for the Challenge?
As a general benchmark, some average times for 500m are below… but remember, this is really a personal challenge that depends on your current fitness level, so don't worry if 500m takes you longer.
By the time you get to day 30, you're doing 3,500m without break, so this is going to take a lot longer than simply 7 times your best 500m time… you'll naturally tire and slow. This is why we're only recording the time of the first 500m, so you can compare that each day.
Average 500m Rowing Times
Average 20 year old man beginner – 01:53
Average 20 year old advanced – 01:28
Average 40 year old man beginner – 01:55
Average 40 year old man advanced – 01:29
Average 60 year old man beginner – 02:07
Average 60 year old man advanced – 01:39
Average 20 year old woman beginner – 02:25
Average 20 year old woman advanced – 01:47
Average 40 year old woman beginner – 02:26
Average 40 year old woman advanced – 01:47
Average 60 year old woman beginner – 02:49
Average 60 year old woman advanced – 02:04
Other Rowing Challenges To Try
Other rowing challenges to try would be to set a distance for the whole month. Each day you row towards completing the end goal. This could mean some days you row more than others.
Each month you can slowly increase the distance to keep pushing yourself.
This is great for anyone who might want a more leisurely row, whereby timings aren't important, just overall distance covered.
For added motivation, we quite like the concept of working out distances between major landmarks, so you can work towards something like "rowing the Grand Canyon", which can really help you visualize your achievement by the end.
Virtual Rowing Challenges and Races
If you like the idea of virtual rowing races and challenges, a home rowing machine you might want to consider is the Ergatta rower.
Ergatta offers a water-based rowing machine, with a large HD screen which connects you to all sorts of workouts and races. You can join live races and row against users from all over the world… or join weekly challenges that track your performance.
The ability for Ergatta to keep all your workout performance in one place, makes it easy to visualize and monitor your progress. It can also adapt recommended challenges and races based on your previous efforts (and preferences).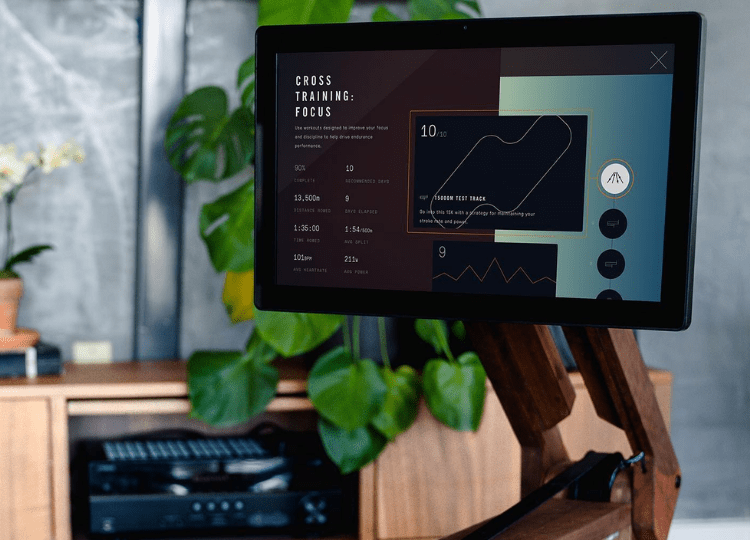 This recommendation comes from our big comparison guide between 4 of the most popular smart rowers, Hydrow, CityRow Go, Aviron and Ergatta. It's worth reading that if you're interested in a new rower, as it outlines what you can expect from each one and who we think each rower is best suited to.
Related Articles