We are reader supported and may earn a small commission on some (but not all) links within our content to products we think will genuinely help our readers at no extra cost to you.
Looking for the best dumbbells specifically for women? We've got you covered…
In this buyer's guide, we delve into everything you need to know about home weights, so you can find the best dumbbells for your needs. From adjustable free-weights to lightweight yoga dumbbells, we cover it all, so you can shop with confidence and start benefiting from using dumbbells in your workouts.
It's no secret the weights market can often be more geared to men and heavier weights, but with a bit of research and product testing, we've uncovered a whole new range of dumbbells that are designed to help women get strong, build muscle, tone up and lose weight.
These weights can be used in all sorts of workouts, from toning up your arms, building functional lower body strength, or adding difficulty to your favourite yoga flows.
It's time to redefine strength training and time for women of all shapes and sizes to start enjoying lifting weights.
In a hurry? Check out our top picks below…
At a Glance….
Our Top 6 Picks – The Details
1. FLYBIRD Adjustable Dumbbell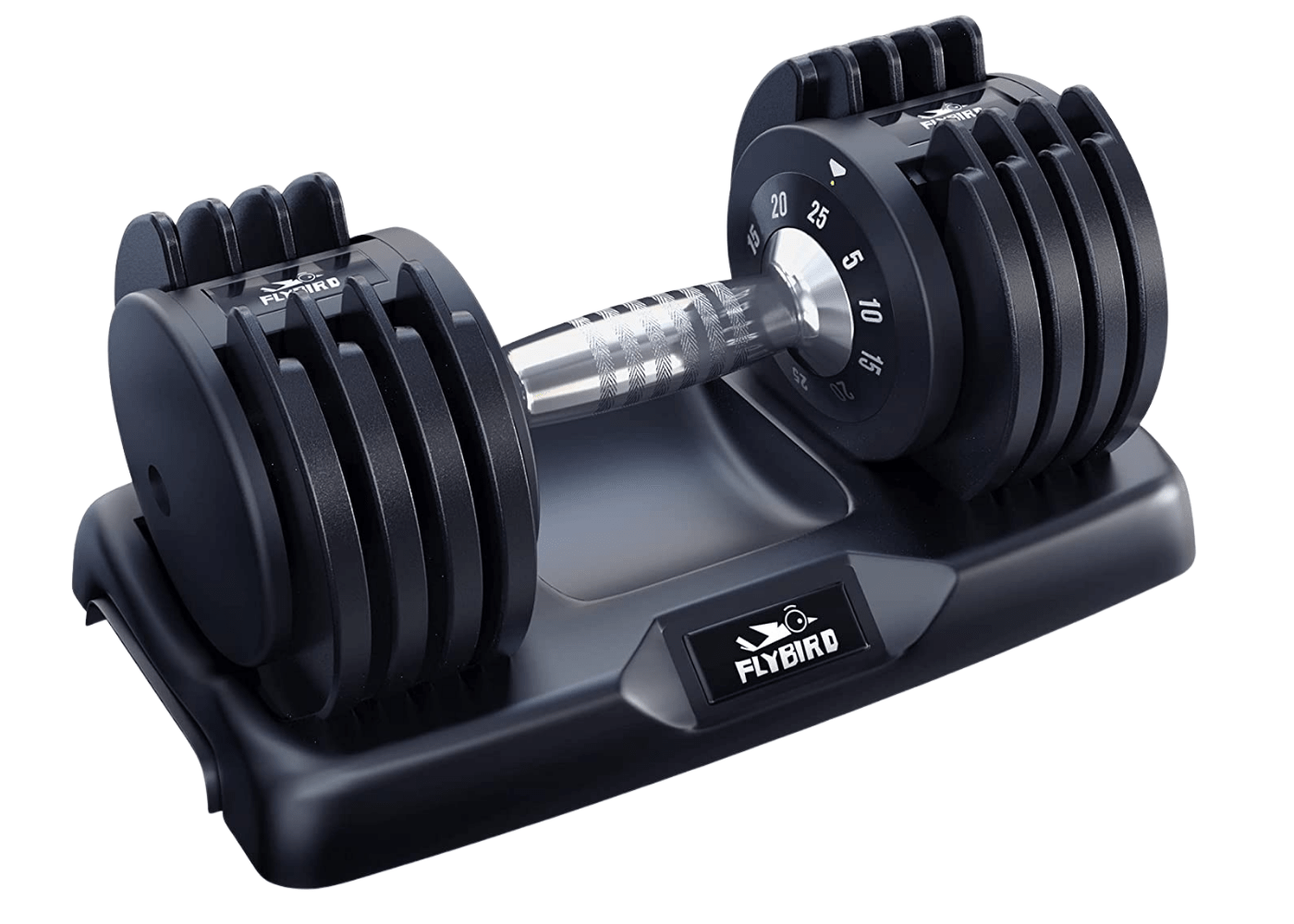 The Flybird adjustable dumbbell is the ultimate for convenience. The turning handle means you can adjust the weight with ease, making it fast to change up the weight during a workout. No more screwing extra weight onto a dumbbell or buying big sets in case you need extra weight.
The flybird is a premium weight that comes with very impressive reviews and ratings from all retailers.
It is available in two models, one being lighter than the other one. For women, the 25lbs one is likely the best option, but if you want to lift heavier, the other one goes up to 55lbs.
These weights are so easy to use, it really does make home workouts more enjoyable. The ability to swap weight between different exercises means you can follow along to HIIT workouts much easier. You can change weight using just one hand.
Compared to sets, this adjustable option takes up less space so is a good option for small apartments or those who don't want exercise equipment to take over their home.
Compared to other adjustable weights, the Flybird is nicely compact, so it feels natural to move in all sorts of exercises. Often the larger ones can start to feel a bit bulky, which may mean you move your body to accommodate the extra size during a lift.
2. Nice C Adjustable Dumbbell Weight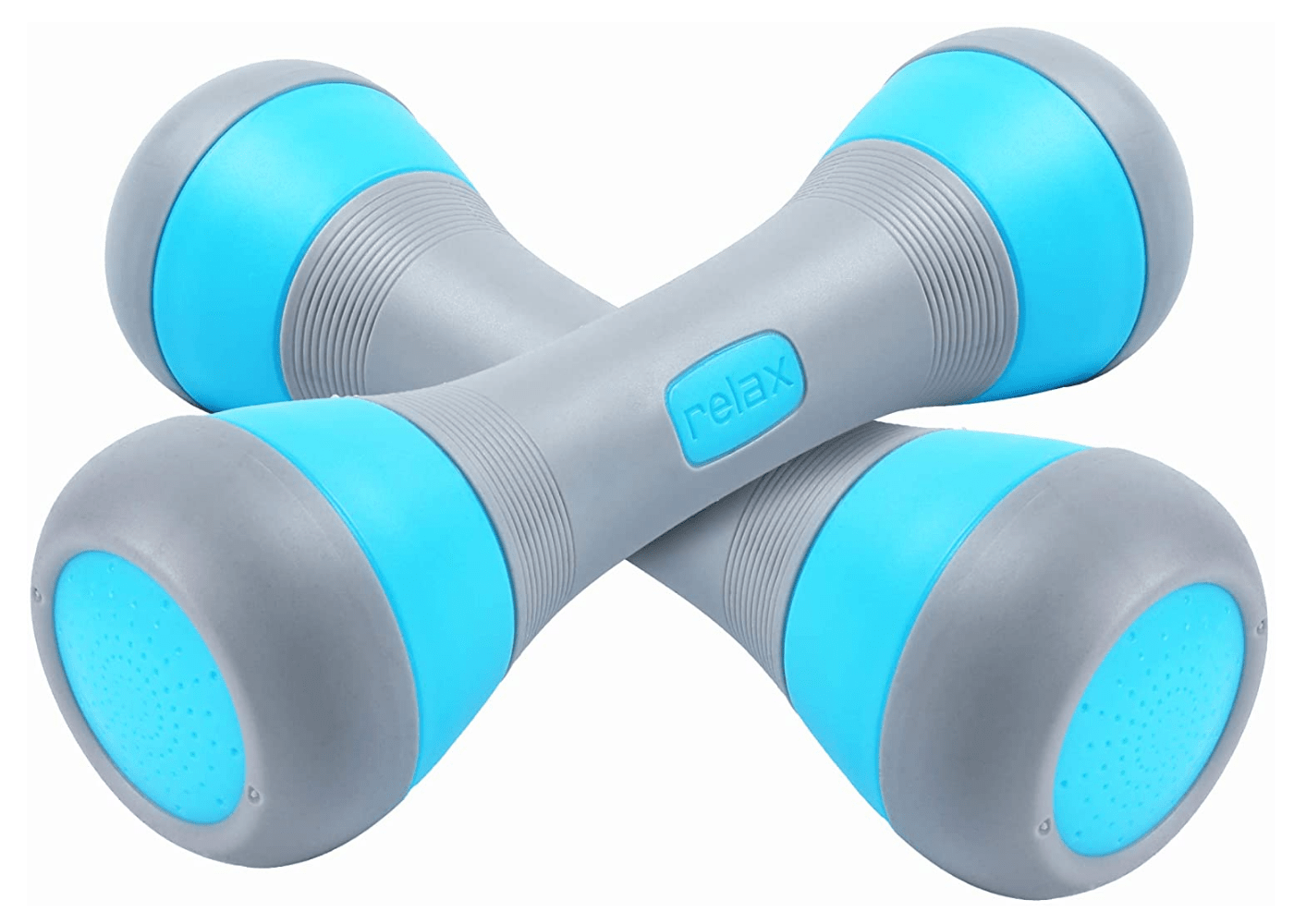 Nice C have created a very clever way of adjusting weights.
The ends of the Nice C dumbbell can be unscrewed and mini weight bars can be either added or removed upon your preference. This is ideal for traveling or for those who perhaps only want to change the weight once in a while.
The dumbbells themselves are small and compact, and have a nice design to encourage better grip.
They are available in 2 sizes, so you can either go with the lighter option or the heavier one, depending on your preferences.
3. CAP Barbell Neoprene Dumbbell Set with Rack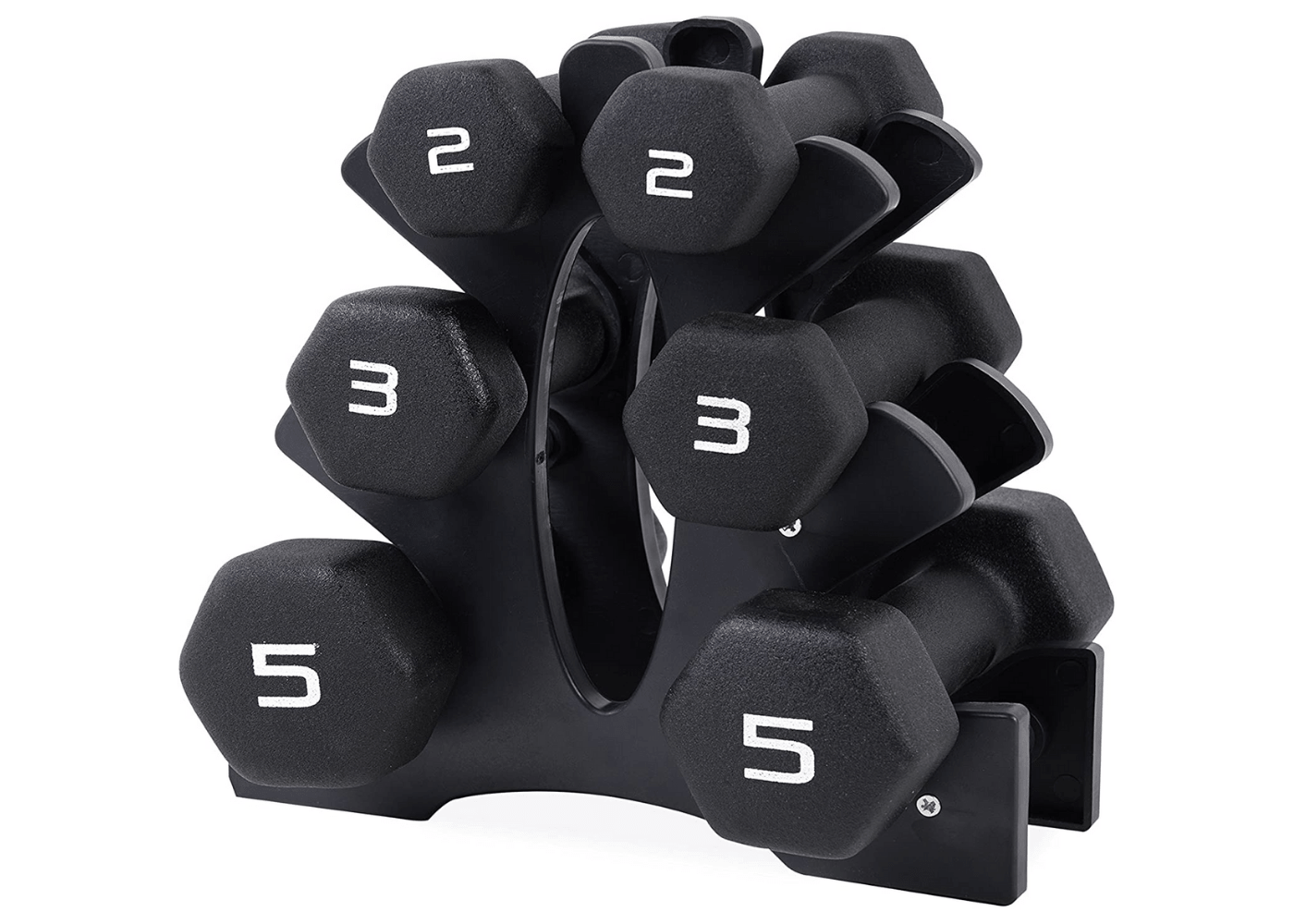 This neoprene set is hardwearing, durable and a great option for any home gym or studio.
The neoprene black coating creates a very nice finish that is easy to hold and carry.
CAP is a solid fitness supplier and make a wide range of exercise products so the brand is one that can be trusted to create something that lasts the test of time. This is useful for weights that are likely to get thrown around.
This set is available in 2 sizes, one including a 2, 3 and 5lbs weight, and the other including a 3, 5 and 8lbs weight.
It also uses a hexagonal shape to avoid the weights rolling. Simple but very useful.
4. Gaiam Soft Hand Weights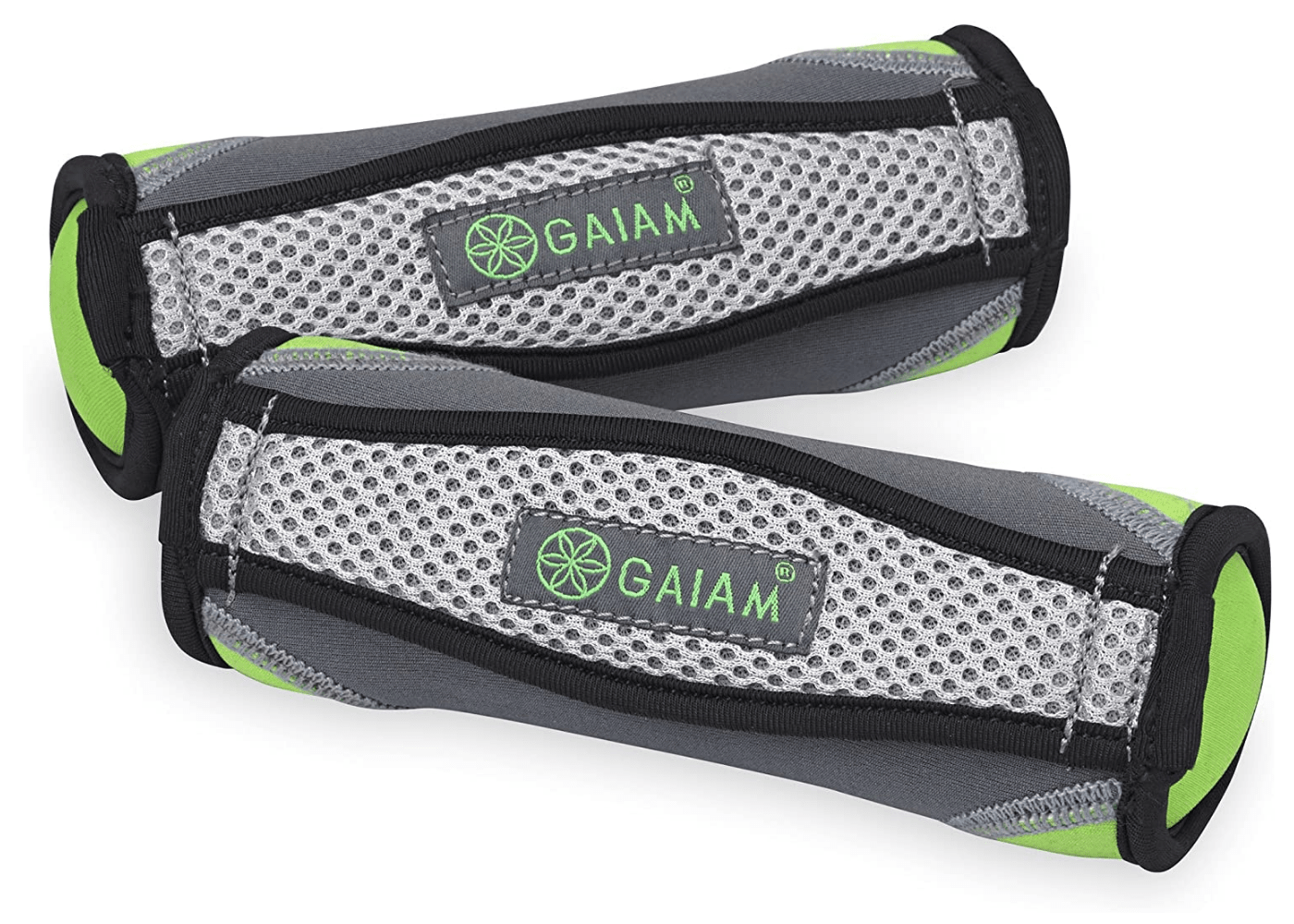 One of our favourite yoga brands comes in with a fantastic option, geared towards those looking to add a bit of weight to yoga flows, Pilates or daily activities.
These weights are well-designed to use with ease, simply sliding your hands into the straps and away you go. Using sand as the weight also means you hand naturally shapes around them.
They are very light, available in 2lbs or 4lbs and prioritize comfort. As a result, you can hold them for a long time and use then for all sorts of movements, including ones that you simply couldn't do with other options.
They feel almost like wrist weights, and could be used when you go for a walk, or doing a cardio workout too, as a way to increase the weight your body is moving.
The very lightweight nature of them means that they wouldn't be as suitable for those looking to build strength and use dumbbells for movements like shoulder press, bicep curls, etc.
5. Fitness Alley Neoprene Dumbbells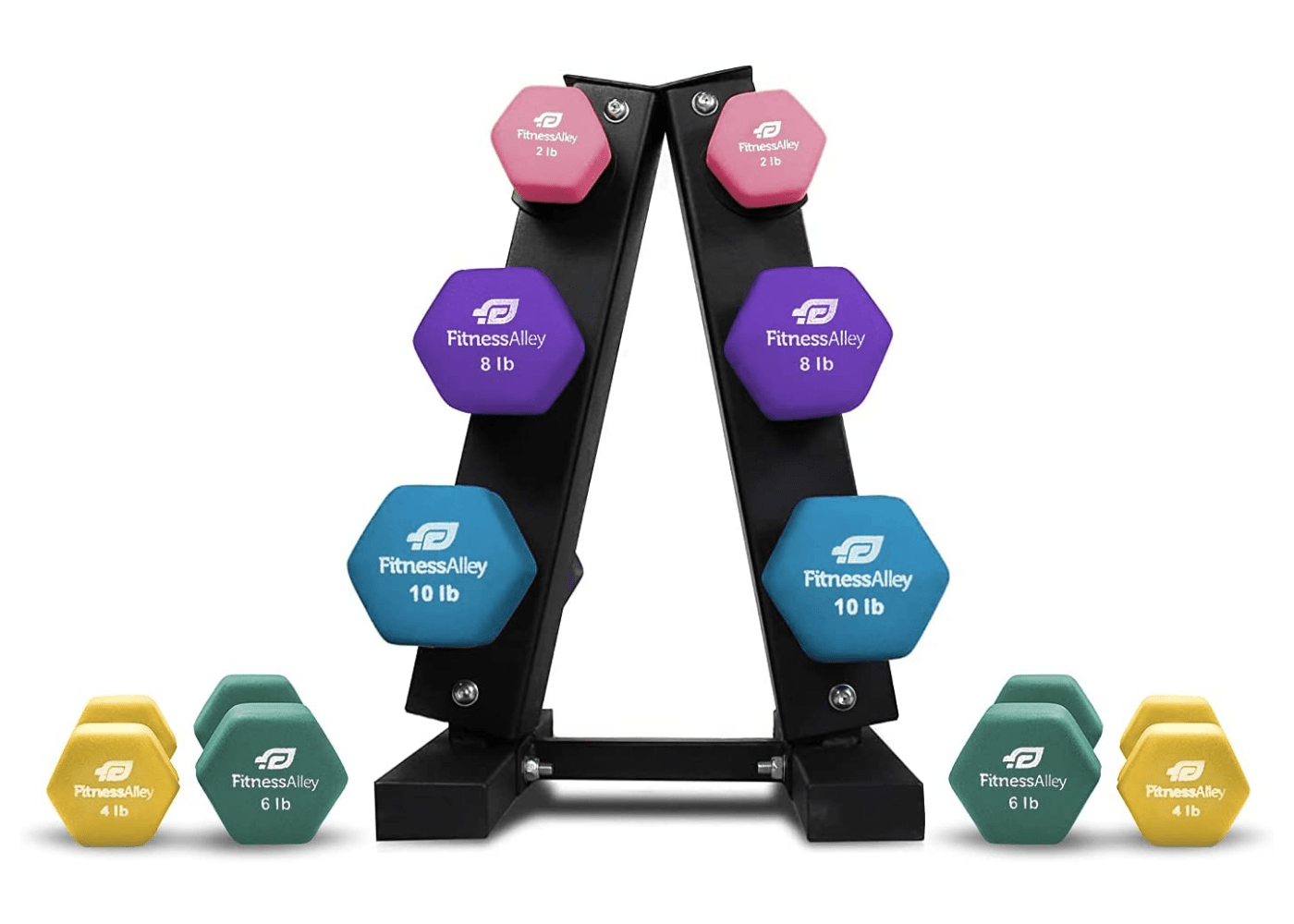 Fitness Alley offers a great set for those looking to have more choice with their weights at home. The set comes with different size dumbbells, so you can decide which size to use, depending on the exercise you are doing.
The different sizes also means you can try and progress with the weights over time. This is a great way to see how your workouts are impacting your strength.
This set in particular is a really nice option for beginners and seasoned fitness pros alike. The neoprene coating creates a comfortable yet durable weight to hold.
6. Amazon Basics Neoprene Coated Dumbbell Hand Weight Set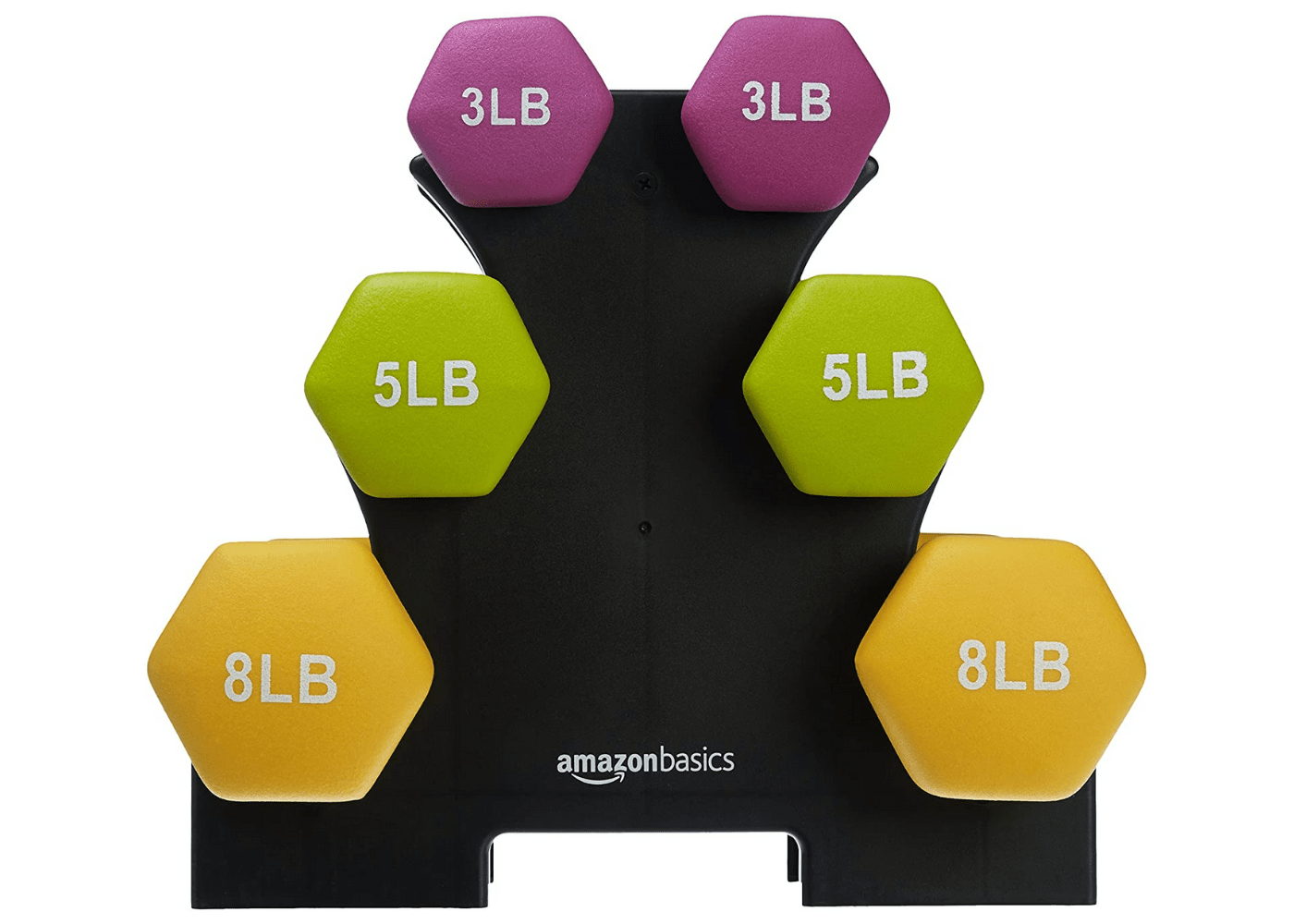 Amazon Basics offer a great option for those on a budget. With an impressive amount of 5 star reviews, it's clear these are a popular option for lots of people.
This option also comes with the benefit of being available in a lot of sizes, more than other dumbbell sets.
As with other options in this list, the Amazon Basics dumbbells are neoprene-coated for durability, and offer a non-slip grip.
Things to Consider When Buying Women's Weights and Dumbbells
Dumbbells are undoubtedly one of the best bits of home fitness equipment you can buy. They lend themselves to all sorts of exercises and workouts, helping you tone up, build muscle, and lose weight.
Dumbbells can empower you to take your strength training to the next level, and provide a powerful tool to allow you to follow along to a 100s of new exercises. If you buy just one bit of exercise equipment, its hard to argue against it being dumbbells.
For those women who usually shy away from the weights section in a gym, or any sort of strength training, dumbbells are a great option to introduce this type of exercise into your normal routine.
Strength training doesn't have to be about building big muscles, but instead, creating functional and practical strength that helps support better body movement. It can also help tone up muscles, create lean muscle mass and can in fact burn more calories than doing cardio alone.
Dumbbells workouts can also be a lot more efficient than just running on a treadmill. A 15 minute dumbbell HIIT workout could target the whole body and not only get you out of breath, but also tone up your arms, legs, abs and glutes.
So it's safe to say that buying some dumbbells for the home gym is definitely a worthwhile investment (especially as you can pick up a pair for a decent price). We've outlined some tips for buying the best dumbbells for women so you can be rest assured to end up with ones that will help you achieve your fitness goals.
Weight
The weight of the dumbbells is perhaps the main decision you need to think about. If you select the wrong weight, the weights won't provide you with as much value.
Weights that are too heavy will be too hard to lift and incorporate into exercises. Similarly, weighs that are too light won't offer enough resistance to build muscle.
This is the benefit of buying a dumbbell set or adjustable dumbbells. You don't need to think so specifically about the weight of them and can adjust them as required.
Something else to consider when thinking about what weight to buy are different exercises. You are likely going to be able to lift heavier dumbbells for different movements. For example, a 8lbs dumbbell may be more than enough weight for a negative bicep curl, however, you may find it too light if you wanted to do a compound lift like a dumbbell sumo deadlift.
As a result, you may want to think about what exercises and workouts you want to do, and what weights are most suited to those movements. This may mean you have some dumbbells that are heavier than you may have expected.
The weight of the dumbbells can also correlate to your goals. Doing fewer reps with heavier weights helps build more power and strength, whereas doing more reps with lighter weights helps tone up your muscles more, so again this is something to think about.
As a general rule, having 5lbs-20lbs is likely going to give you the weight needed to complete all your favourite workouts.
Material
The material is also a consideration. Dumbbells have historically been made from metal, such as iron or steel, but many new options are made from different materials, often offering more comfortable grips.
Neoprene has become a more popular option for women's weights and provides a nice finish that is easy to hold and carry.
Neoprene is usually finished in a colour too, which often makes it easy to spot which weight you are picking up if it is part of a set.
Grip
Grip becomes a vital component of dumbbells, especially during a sweaty workout!
Cheaper dumbbells may just have a regular metal bar to hold, which can be harder to maintain a solid grip towards the end of a workout.
Better products will have thought about grip more and have designs that encourage stronger holds during any movements.
If you are struggling with the grip, using weightlifting gloves could be worth exploring too.
Shape
The size of the dumbbells is perhaps misleading when it comes to guessing the weight. Sometimes using denser materials means that dumbbells can be small in size and relatively heavy.
Up to around 8lbs, they can be quite small in shape and size, anything heavier than that and they start to become larger.
Adjustable dumbbells will usually be larger.
Adjustable
Speaking of adjustable… this is another consideration. This basically avoids the need to buy a set or multiple dumbbells in different sizes.
Using one product, you can change the weight, adapting it for different exercises.
FAQs
What size dumbbells should a woman use?
Woman should use whatever size dumbbell they feel comfortable with. 3-8lbs would be a good starting point.
How heavy should my dumbbells be?
Use heavier dumbbells for power and strength, and lighter dumbbells for toning and burning calories.
Is 2 kg dumbbells good for beginners?
2kg is a good weight for beginners. As you feel more confident, you could look to progress to 4kg, then 6kg. Depending on the exercise, different sizes will be more suitable.
Will dumbbells make me bulky?
No. Strength training can be used to sculpt and shape your body is a variety of ways. If you want to bulk up, that's possible, but equally, if you want to slim down and tone up, strength training can absolutely achieve that too.
Related Articles:
Best At-Home Balance Equipment
A Buyer's Guide to Speed Bands
Top Functional Fitness Equipment for Home Gyms
This website, fitnessdrum.com, is a participant in the Amazon Services LLC Associates Program, an affiliate advertising program designed to provide a means for sites to earn advertising fees by advertising and linking to Amazon.com.