We are reader supported and may earn a small commission on some (but not all) links within our content to products we think will genuinely help our readers at no extra cost to you.
On our quest to discover the best at-home workout apps, we came across the digital streaming service NEOU.
NEOU Fitness offers live, on-demand and interactive workouts at a very appealing price… so there was no other option but for us to sign up and see for ourselves whether this trending streaming service is worth it or not.
Dubbed "the Netflix of fitness", the platform offers all sorts of fitness based content, from weight loss to building muscle.
In this NEOU Fitness review, we outline everything you need to know about the platform, including what we liked, didn't like and ultimately if we'd recommend it.
Fitness App Awards 2022 🏆
We've recently compiled a shortlist of the best home workout apps and fitness programs for this year. Based on first hand experience using the apps and customer feedback, we outline which apps are worth the money and which ones are worth avoiding.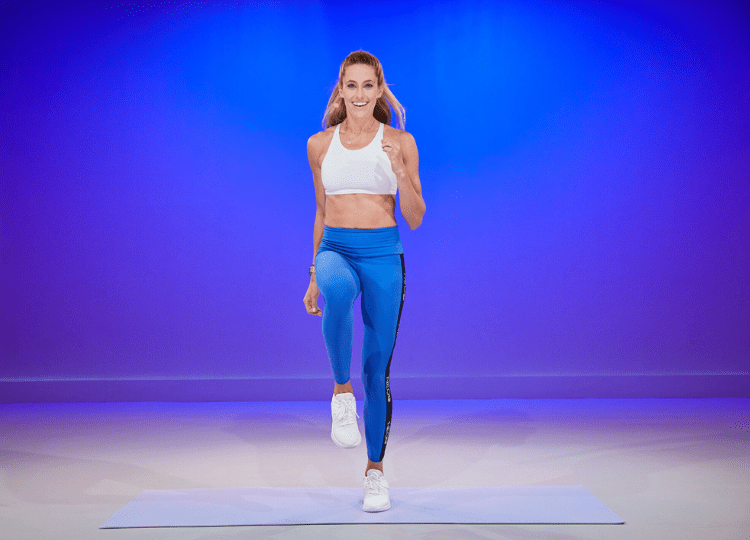 What is NEOU?
NEOU (pronounced "New-You") is a fitness streaming service that offers live, on-demand and interactive workouts. Founded in 2015, the brand has ridden the recent wave of home workouts and is one of the leading platforms for those looking to get their sweat on in the comfort of their own home.
Based out of New York, NEOU offers the energy and excitement of a trendy NYC fitness studio.
NEOU aims to connect fitness influencers and trainers with a worldwide audience… as opposed to just creating all the content itself. It considers itself a marketplace to find and discover the best fitness content, rather than just pushing its own content to you. This means the variety of workouts is vast, but it also means the style and approach to workouts is also vast.
If you want to immerse yourself into a world of what seems like unlimited workouts, that span every type of style of exercise under the sun… NEOU won't disappoint.
As far as existing fitness platform go, NEOU is undoubtedly a leader in streaming fitness content.
There is all sorts of classes to choose from, including:
CLASS TYPES:
Bootcamp/HIT
Dance
Toning & Sculpting
Yoga
Core
Strength
Stretching & Recovery
Pilates
Barre
Boxing & Kickboxing
Meditation & Breathing
Nutrition
Running
Machine Cardio
Pre/Postnatal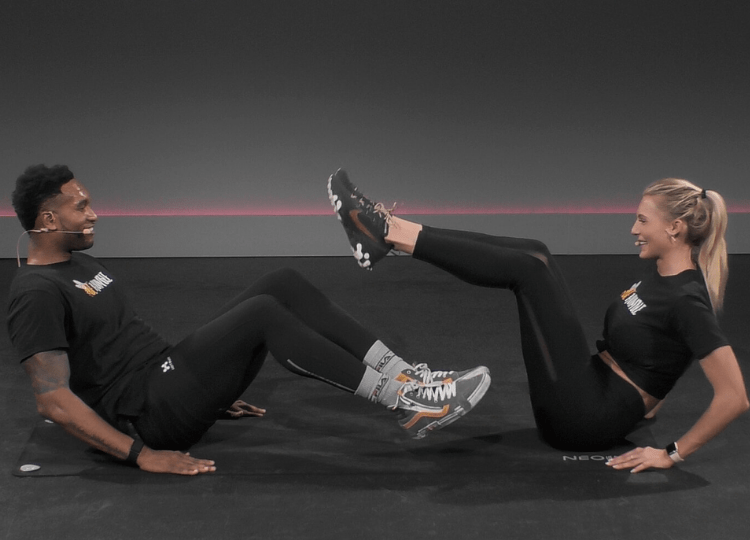 NEOU Workouts and Programs We Tried
With thousands of hours of content, we tried to follow along to a variety of classes to get a good feel of what NEOU offers for this review.
Over the course of 30 days, we followed along to workouts from:
GO with Cristi
Cardio Burn
Full Out
ONEFIT
Peak
Move
Example NEOU Workout
The video below shows a sample of one of NEOU's workouts. This features CrossFit legend Annie Thorisdottir leading a very tough functional workout.
What We Like About NEOU
Variety of Workouts
Due to the unique business model being centred around a marketplace, as opposed to just a platform, the variety of workouts is truly vast. When searching for workouts, the individual titles get so specific and cover areas of fitness you've probably never even thought about. This makes it great for discovering new styles of exercise and keeping your fitness routine fresh and exciting.
From yoga, to Tai Chi, to weight lifting…you'll find it all.
As NEOU's content is created by real fitness professionals, it also changes with the times and it consequently always feels relevant.
The workouts also vary in terms of time, fitness level and things like equipment available, so you can filter on what is most suitable for you.
We've found that having the ability to filter workouts based on length, is a huge bonus as the reality of a busy day can mean you might need to squeeze in a shorter workout than originally planned.
Content Quality
NEOU's videos are really good quality. We're not just talking about HD visuals, but the actual quality of the workouts. The instructors guide you through it very well, the camera angles are perfect, the lighting is just right… and overall, it creates a very professional end product that certainly outshines many of its competitors.
You can easily stream the content on your TV via a Fire TV, Apple TV, Roku, and Xbox, or just by connecting your smartphone.
Community Focus
Community is an aspect of fitness that is often ignored. Brands like CrossFit prioritized community with great success, yet so many new fitness brands fail to really leverage the power of an engaged community.
NEOU gives you the ability to join interactive live classes, whereby you can chat with fellow users and even ask instructors questions.
Considering the price of NEOU, this is really impressive and to be honest, we've tried online personal training services that charge a lot more that offer less opportunity to communicate with instructors/fellow participants.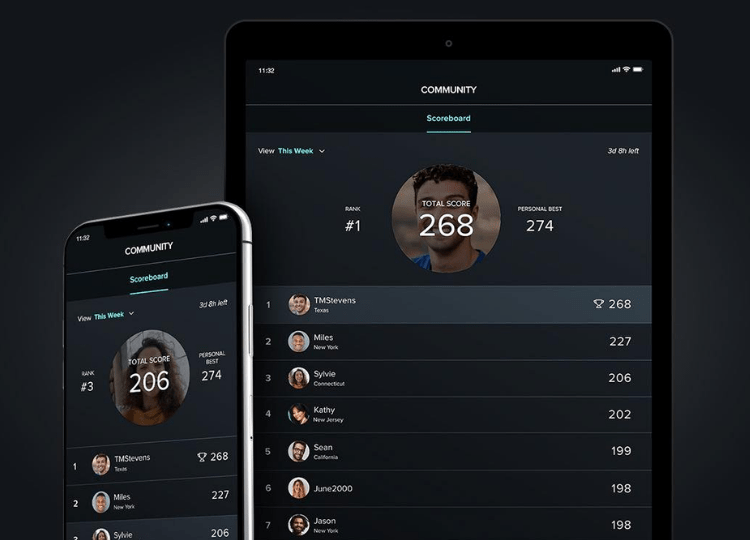 Follow Structured Programs or Challenges
Following a structured program or challenge is definitely the best way to get the most out of a service like NEOU.
NEOU includes all sorts of programs and challenges, that will focus on a particular outcome over a certain duration. This adds accountability to your exercise routine and makes it very easy to track if you're successful.
Price
The price is delightfully affordable. We've reviewed enough fitness apps and programs to gain a good understanding of what a brand will likely charge… and we definitely thought NEOU would be more expensive than it is.
NEOU costs $79.99 a year (when billed annually), which is very well priced compared to similar services. However, they seem to frequently have up to 50% off – at the time of writing, it is currently $39.99 for your first year!
Similarly, their FAQ page actually states that the price is $34.99/year, so it looks like they are perhaps testing different pricing. Whatever they stick on, it definitely looks to be cheaper than other similar services… however, you might end up paying more depending on when you sign up.
Particularly with the inclusion of live classes and interactive workouts, we really were expecting it to exceed $100 at least.
It makes comparing NEOU to other fitness apps quite interesting as it sits well below most of its competitors… so if you're looking for the budget friendly option, NEOU could definitely be for you.
Track Progress
We would describe NEOU first and foremost as a streaming service. This is really its selling point.
Nevertheless, it still does allow you to track workouts, earn badges and monitor your progress.
As you enter your goals and preferences, the app will become more personalized to you, which helps surface relevant workouts and challenges. As a result, it's well worth filling in those details to make the most out of the app.
This tracking isn't as robust as some other brands, (e.g. FiiT that offers live leaderboards and post workout performance stats, or many of the services that we covered in the best weightlifting apps review), but it does add to the motivation and your desire to keep exercising… which is really what these platforms are all about.
(Real-time heart rate data is available with Health App + Apple Watch).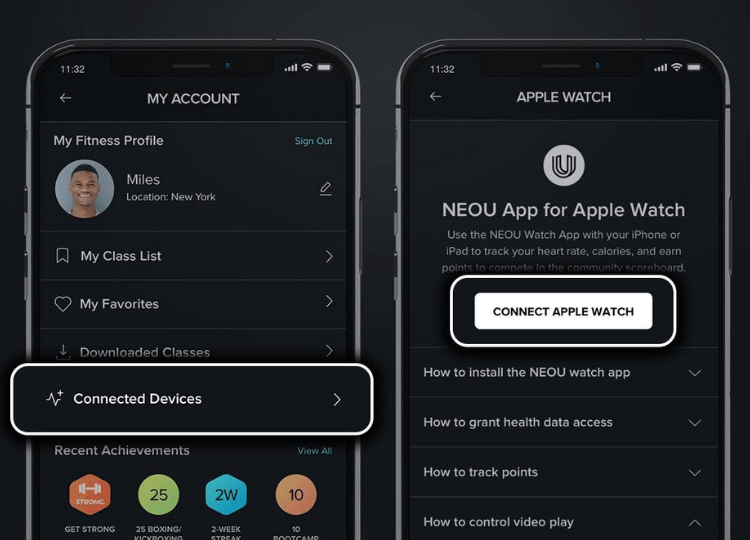 Nutrition
The nutritional content currently isn't as vast or comprehensive as the workouts, but it's still there… and beats just trying to find random recipes online.
Hopefully this area will continue to expand, but regardless, considering NEOU is a workout platform, having nutritional content in there as well is a welcome bonus.
If having access to lots of healthy recipes is important to you, apps like 8fit are worth looking into as well (our recent 8fit review highlights what you can expect from this workout app).
Kids
NEOU Kids is great feature included in the NEOU membership. It includes workouts designed for kids and families.
This is an area of fitness we've seen given little attention by other platforms, but it could be so valuable if you're looking to motivate your kids to exercise and keep active too.
Things to Consider
Although the nutrition content was a real bonus, it isn't the main focus of the platform at the moment… so if you're really looking for recipes and meal ideas, there probably are more specialist services out there worth considering too.
Another consideration is that there are lots of different creators, or "brands", as NEOU refers to them. This means you may really like one instructor and style of class, but struggle with another one… there isn't necessarily a universal standard across the board. Having said that, we enjoyed every instructor we found and they do tend to use very well respected fitness coaches and professionals who have fitness brands in their own right.
NEOU do offer a 7 day free trial on the annual plan. You'll be charged as soon as your 7 days is up, so bear that in mind if you do want to trial it out.
In terms of customer reviews, most users are very happy with the workouts themselves, but there are quite a lot of negative reviews that relate to the app being very slow and hard to navigate. Even things like struggling to log-in appears to be a common occurrence across reviews. This is perhaps the biggest shame about NEOU as this ultimately has little to do with the workouts, but does impact the overall experience of using the service.
NEOU App Alternatives
There are a lot of fitness apps… and a lot of fitness programs. So as far as alternatives go, every fitness app has plenty of competition.
As we've highlighted in this review, NEOU's focus is really on content so we wouldn't really start comparing apps like Fitbod to NEOU as the core focus is different. Similarly, if you really want an online personal training experience, there are platforms like Future that are worth checking out.
There are, however, 3 other brands that really follow a similar model to NEOU in terms of creating a vast library of workouts and live classes, which are; Beachbody, Obe Fitness and Openfit.
NEOU Vs Beachbody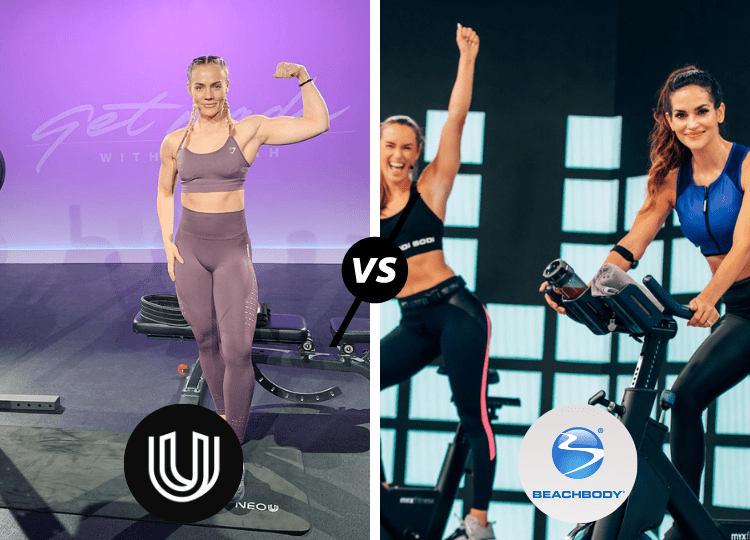 The godfather of online workout videos, Beachbody is still a worthy contender.
If you like instructors who have definitely had their caffeine fix for the day, then Beachbody will be up your street.
Beachbody opens up a world of on-demand and live classes, similar to NEOU.
As a brand, they look to be making some changes, with the launch of BODi and their BODGroups offering. This seems to be positioning Beachbody as a genuine competitor to Peloton (with the MXY Fitness bike).
Beachbody has a very large userbase and impressive online reviews, and they know what people want from fitness content.
NEOU Vs Obe Fitness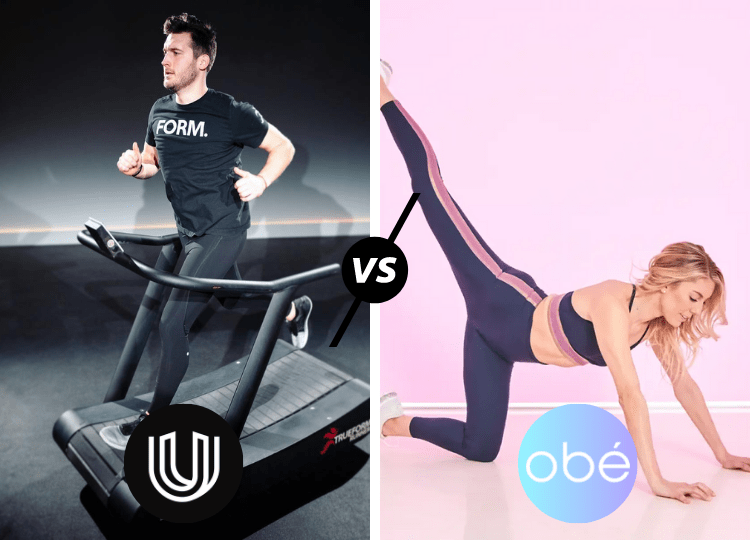 Obe Fitness has a very unique brand… it's colourful, exciting, and doesn't take itself too seriously. It feels like it's designed for people who want to enjoy their workouts, as opposed to pushing their bodies to the limit (although their advanced workouts will definitely make you sweat!)
Just follow along to one of their themed workouts and you'll understand what we mean.
Obe Fitness includes a big on-demand library and an impressive live class schedule, covering all aspects of fitness (although it's probably targeted more to a female demographic).
It's currently priced at $19.99/month or $199.99/year, so it is more expensive than NEOU.
They offer a free trial so it's worth signing up and seeing what you think (you'll probably either absolutely love it, or absolutely hate it!)
If you want to learn more about them, check out our Obe Fitness review for a full breakdown of what to expect.
Or similarly, grab their free trial below and use the promo code FDMONTH to get your first month completely free.
NEOU Vs Openfit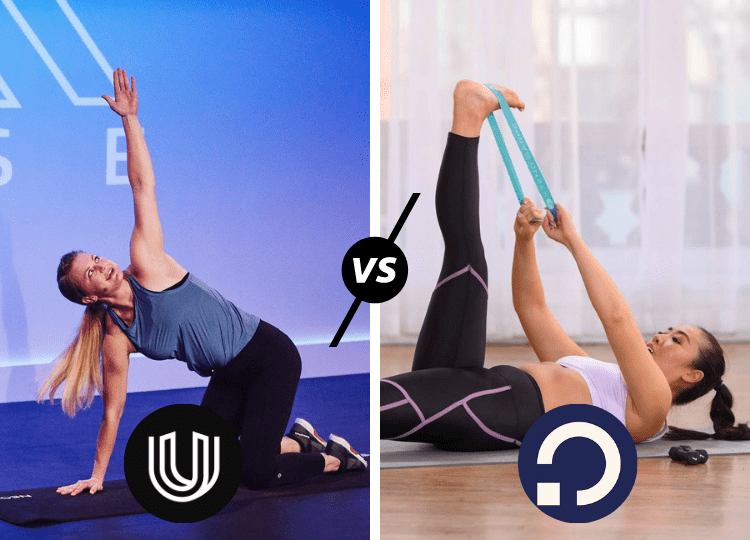 Update for 2022 – Openfit is now part of Beachbody on Demand
A Beachbody on Demand membership will now give you access to all of Openfit's workouts and content. We think this makes Beachbody (BOD) the ultimate fitness content membership and incredible value for the low monthly price. Learn more about BODi membership.
Openfit feels very similar to NEOU… it packages up workouts into programs and challenges, and leveraging other "brands" or fitness professionals, such as the wildly popular Xtend Barre, to engage users with impressive workouts.
Openfit is currently $96/year if billed annually, so again is pricier than NEOU, but we've found Openfit to be a very popular choice and continues to get raving reviews.
Openfit also include nutritional content too.
With a free trial available, if you're on the fence, it's worth checking them both out.
Bottom Line
When it comes to quality home workout apps and platforms, we're all very much spoilt for choice. There are so many great brands and apps that can help you reach your fitness goals.
NEOU comes in at a very reasonable price and it has a big selection of workouts to follow along to.
If you want something that won't break the bank, and gives you a wide selection of fitness routines, then NEOU is definitely worth considering.
With a free trial, it's easy to give it a try… just remember to cancel before your 7 days are up to avoid a nasty billing surprise.
Related Articles
Alo Moves Review – What Are the Online Classes Like?
Mighty Health App Review – Is It the Best Over 50's Workout App?