We may earn a small commission on some links at no extra cost to you. Learn more.
Elliptical cross trainers offer effective, low-impact workouts… and if you're looking for some new home cardio equipment, they're likely going to be a serious contender.
But when you're tall, finding one that is comfortable to use isn't as straight forward as you might hope.
Specifications such as the "stride length" can vary from elliptical to elliptical, which ultimately influences who the machine is best suited to… as well as things like max weight limit, sturdiness and size of foot pedals all needing careful thought. So, that's why we've created this definitive guide to the best long stride ellipticals for tall people, highlighting the machines with the best reviews when it comes to features that are important for anyone over 6'0″.
In a hurry? Check out our top recommendations below on the best ellipticals for tall people.
At a Glance – Best Ellipticals for Tall People
Horizon Fitness 7.0 AE Elliptical – Best Budget Friendly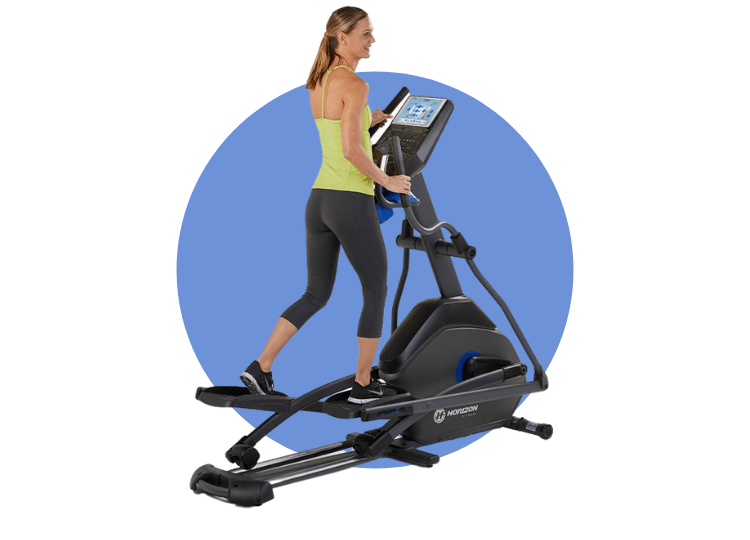 With a stride length of 20″, this elliptical is suitable for anyone up to 6'5″. It also has a max weight limit of up to 325 lbs, an increase from 300 lbs on Horizon's popular EX-59 model.
The stride length, coupled with a low 10″ step on height means this elliptical is great for lower ceilings and those looking for an elliptical for home use.
It's got a very solid, sturdy frame, which is also ergonomically designed to improve your body position whilst using it. With an impressive 20 levels of resistance and incline, this machines opens up so many ways to enjoy elliptical training during a workout.
We selected the Horizon 7.0 AE Elliptical as the best budget option, as it currently comes in at less than $1,000. Although this may not seem "cheap", for the quality and functionality, it's head and shoulders above similarly priced options. We found anything under $400 simply wasn't going to last the test of time, so when you think of budget ellipticals, the $1,000 mark is a good benchmark.
We would also recommend the 7.0 AE to anyone who wants to do a lot of incline workouts… with the ability to seamlessly switch between 20 levels of incline, this will add a whole new dimension to your workouts.
It feels very similar to what you'd expect from an elliptical in your local gym, so being able to get that in your home for a reasonable price definitely puts the 7.0 AE high on the elliptical wish-list.
If you want to learn more about this machine, check out our recent Horizon Fitness 7.0 AE Elliptical review.
The machine is however, quite large, so if you're short on space, you may need to opt for a folding one (such as Horizon's Evolve 5, which also features in this list).
Schwinn Fitness 470 Elliptical – Best for Quick Home Workouts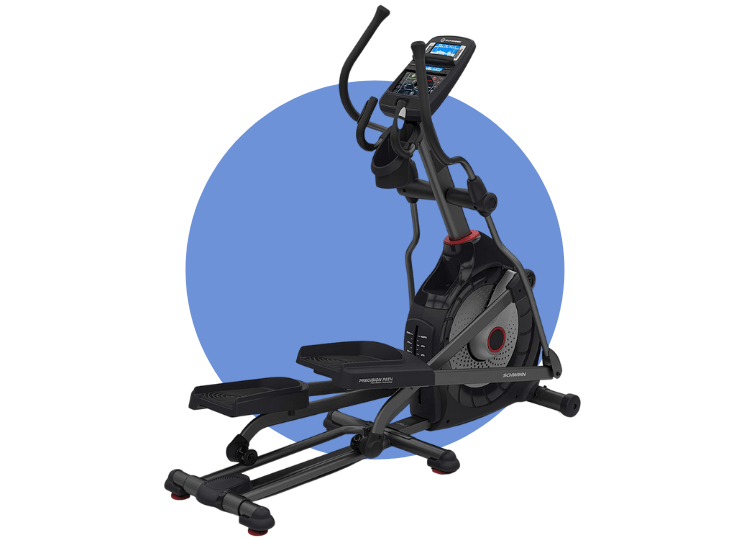 Schwinn is another big name in the home elliptical space, and their 470 model delivers a lot of value for the price tag.
The stride length is 20″, so it should be suitable for users up to around 6'5″ and it comes with a max weight limit of 300 lbs.
The Schwinn 470 is great for anyone who just wants to jump on an elliptical for a quick home workout. It doesn't boast quite so many features as some of the machines over $1,000, but it has the core features to make it easy to enjoy quality elliptical training at home. The frame is sturdy, the handles and pedals are smooth, which together create the base for a great elliptical workout.
With 25 levels of resistance and 29 exercise programs, you can create very dynamic workouts at home, which vary from cardio focus to lower body strength training… which is also a fantastic feature that definitely shouldn't be ignored.
The frame is surprisingly heavy, which isn't ideal of moving or assembling… but it does mean that it feels sturdier than you might expect, especially when comparing ellipticals with a similar footprint, so that's a bonus.
You can also sync the machine to plenty of fitness apps via Bluetooth as well, so you can collect your workout data in these other apps if you wish.
Sole E95S – Best Adjustable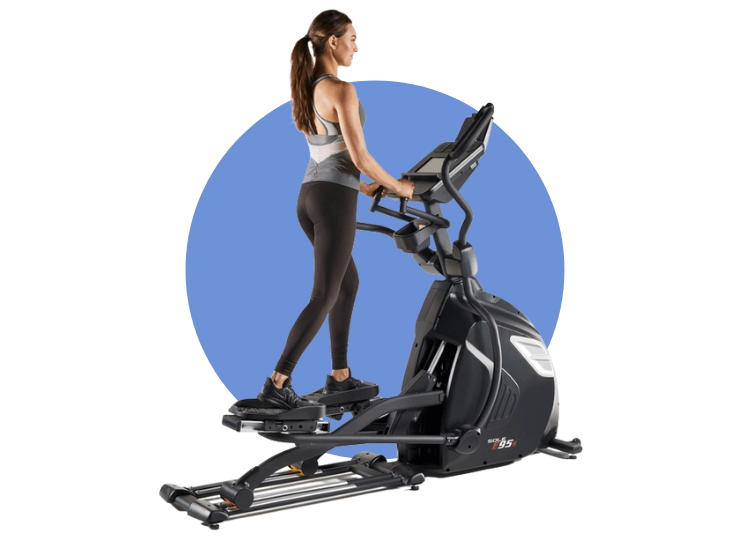 The Sole E95S has been a popular choice for many home workout enthusiasts since its launch.
With an adjustable stride length between 18-24″, it is perfect for home use, where you might have different people sharing the elliptical cross trainer.
One of the first things you'll notice with the Sole E95S is the durability and sturdiness… and it comes as no surprise the max weight limit is 400 lbs (which we think blows almost every other elliptical out of the water).
So if you're tall and heavy, the Sole E95S is certainly worth looking at.
The machine uses a 30 lbs fly wheel, which helps contribute to the sturdiness and the very smooth overall feeling when using the elliptical.
Overall, it's a very impressive piece of cardio equipment.
The catch? It does come at a higher price tag than other models, so it's probably recommended for those who are serious about elliptical home workouts. Sole do offer cheaper ellipticals, but you may need to make compromises in some areas, such as the sturdiness, weight limit or stride length.
Teeter LT3 Recumbent Cross Trainer – Best Recumbent Hybrid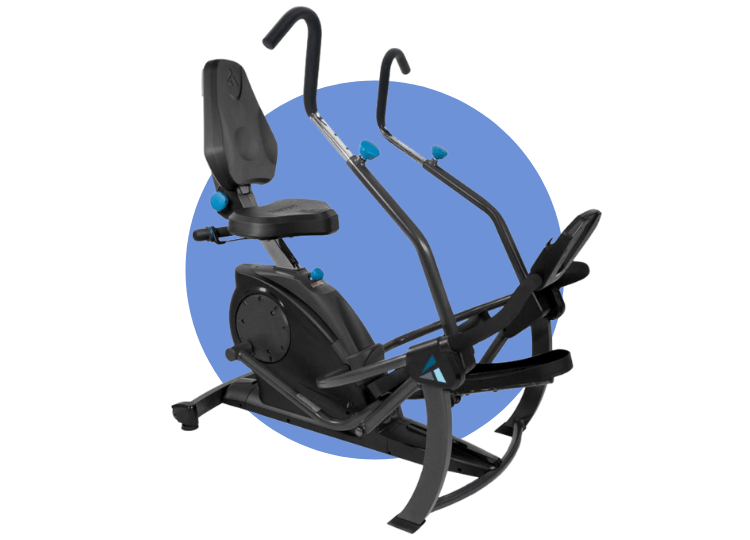 Suitable for anyone up to 6'6″ and 300 lbs, the Teeter LT3 is a great machine for low impact workouts. It operates like an elliptical cross trainer, but offers a recumbent position, which allows for a lower impact workout, as well as being better suited for low ceiling homes.
One of the big problems for tall people is that when they stand on an elliptical in their home, they may be getting awfully close to the ceiling… but the sitting position of the Teeter LT3 means you don't have to worry about this.
Although it looks more like a recumbent bike machine, the use of handles and ergonomic foot pedals, means it offers all the benefits of an elliptical machine.
We would recommend the Teeter LT3 for anyone who wants a lower impact and lower intensity workout… perhaps if you're new to exercise, recovering from an injury or have low levels of mobility (although it's definitely worth speaking to your health professional about the best exercises for your specific circumstances if you've got any chronic pain or injuries).
It's a very quiet machine, so it would be ideal for those looking to have their cardio exercise equipment in the living room and use it whilst watching TV, for example.
It also comes with Teeter Move, which is a pretty decent fitness app for Teeter machines, offering a whole host of on-demand workouts.
If you're looking to do intense workouts, this probably isn't the best suited machine, and we'd maybe suggest looking at the Schwinn or Horizon models.
Schwinn 430i Elliptical – Best for Beginners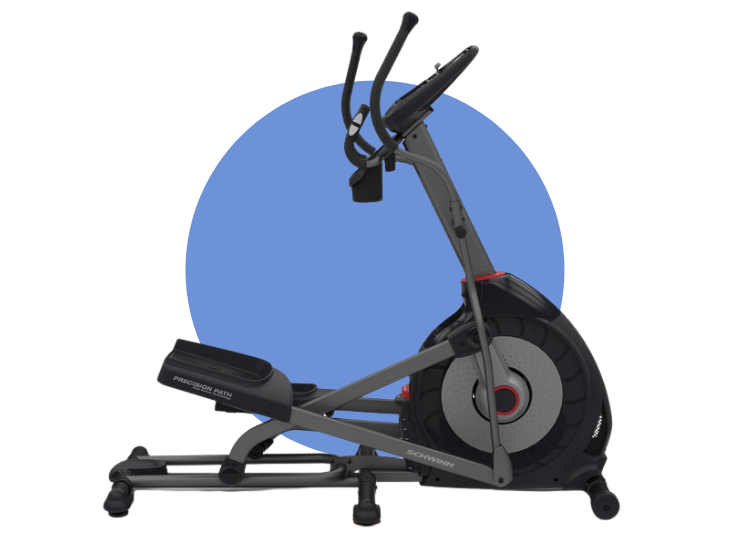 With a 20″ stride length and large foot pedals, the Schwinn 430i is a comfortable elliptical that provides a reliable platform for all sorts of workouts.
With 20 different levels of resistance, the ability to set individual goals, and 22 workout programs, you won't get bored on this elliptical anytime soon.
The 430i falls into the category of "budget" ellipticals, but we feel it still holds up against many mid-range machines too. It still has a solid frame and feels sturdier than most affordable ellipticals on the market.
We think the Schwinn 430i is great for beginners as the large foot pedals and 20″ stride length offer the core functionality you need… and then the performance tracking makes it easy to keep on track of how many calories you've burned and distance covered.
If you're thinking of really going hard on your elliptical and following quite intense workouts, budget ellipticals like the 430i probably aren't as suited for your requirements as higher-end machines. The higher price tag often means the elliptical will be more durable, heavier and able to handle hours of intense workouts with ease. So this is something to bear in mind with beginner/budget ellipticals.
Compared to the Schwinn 470, there are some other key features missing, such as no Bluetooth connectivity.
Sunny Stride Magnetic Elliptical Trainer Machine – Best Portable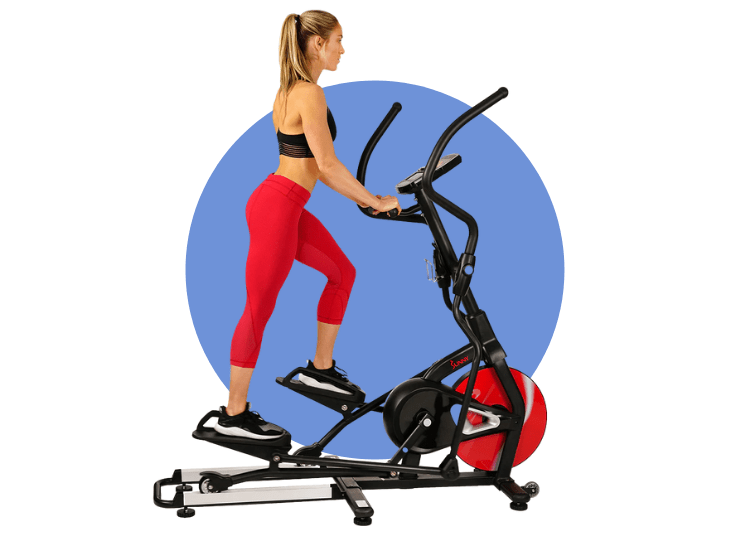 Sunny's Magnetic Elliptical Trainer maintains a solid 20″ stride length, but comes in a much lighter frame and design than most of its counterparts.
Ultimately, this makes it perfect for those who need a portable option that is movable around the home. Many of the other 20″ ellipticals weigh over 200 lbs and their bulkier designs make it pretty difficult to move.
Interestingly, despite the frame looking much simpler than other ellipticals, the inclusion of a solid 44 lbs flywheel, it's a very smooth experience and sturdier than you may expect.
We also really like the curved handles, offering different hand placement options.
The weight capacity is only 265 lbs, which is still ok, but less than others on this list. Realistically, having a design which is easier to move will require some compromises in other areas, such as weight capacity and additional features.
Horizon Fitness Evolve 5 – Best Foldable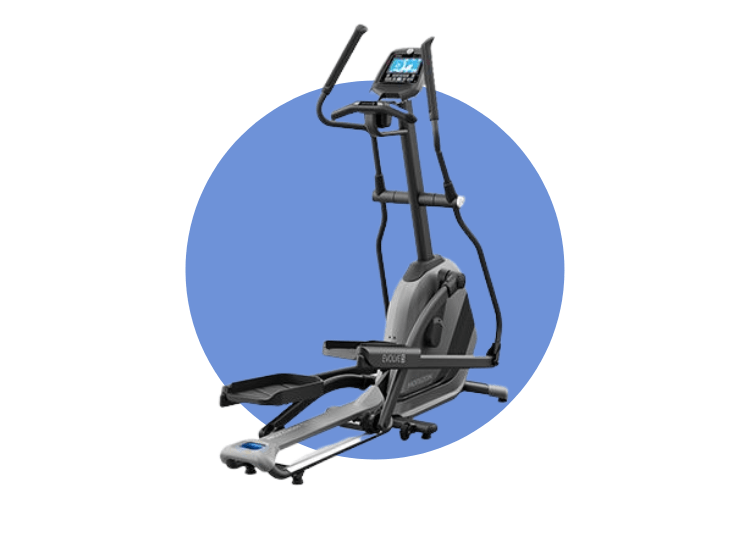 The Horizon Fitness Evolve 5 brings the quality of Horizon's fitness equipment in an elliptical specifically designed for smaller spaces.
The patented rear folding design makes it easier to store this elliptical when not in use. Especially if you want to put the machine in your living room, for example, the ability to fold it up when not in use is definitely a benefit.
When folded, the elliptical is 3″6 x 2″4.
The Evolve 5 comes with a 20″ stride length, so is suitable for anyone up to 6'5″. A 23 lbs fly wheel is also used for a smooth glide.
It comes in more expensive than the Horizon 7.0 AE, likely due to the technology needed to enable the folding mechanism.
Horizon's ellipticals don't boast HD screens and things like that, but the machines are built to last, and are one of the more popular brands for commercial gyms (highlighting their durability). By resting an iPad or phone on the elliptical, you can follow along to other workout apps (as Horizon's own app is a bit dated).
NordicTrack FS10i – Best for Super Tall People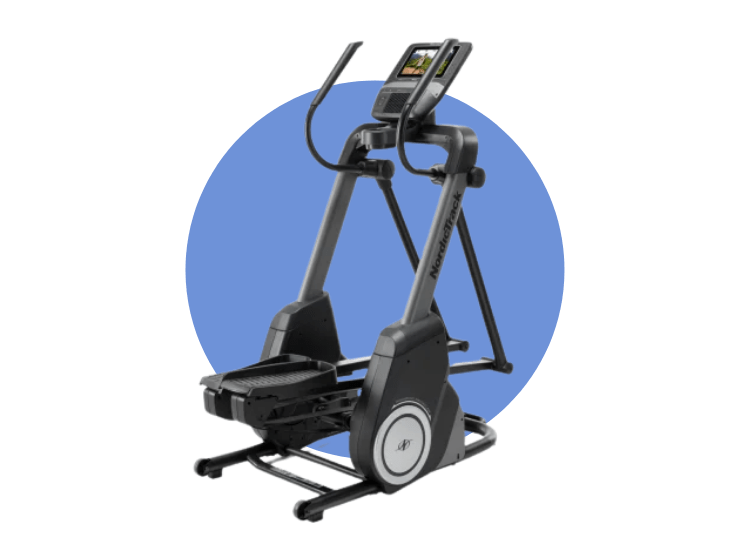 With an auto-adjustable stride length of up to 32″, the NordicTrack FS10i is a beast of a home elliptical machine.
The weight capacity is 375 lbs as well… so this is a great option for anyone that wants a big machine that can handle extra height and weight.
Unlike most other home ellipticals, the NordicTrack FS10i comes with a beautiful 10″ touchscreen to watch workouts and track performance on.
It also comes with iFIT so you can immerse yourself into a world of on-demand and live workouts. iFIT is a great service (similar to Peloton and other smart connected equipment)… although your membership is only free for a year, after that, you'll need to renew a membership to keep using the iFIT functionality. So the cost can start to add up pretty quickly to be fair.
The inclusion of iFIT does transform the FS10i into a fantastic home personal fitness machine, but the only caveat is pretty much all ellipticals come with a ledge to hold an iPad or phone (which could stream any fitness service). So, you are paying more for this to be built-in to the machine. And it's potentially another thing that could break or need fixing.
The NordicTrack FS10i can also be used as a stepper and treadmill. The unique design means the elliptical is basically a 3-in-1 home cardio machine.
The flywheel is only 20 lbs, which is a little light, considering the other features… we'd have loved to have seen a slightly heavier flywheel for an even smoother workout.
Ultimately, if you're really tall (e.g. like professional basketball player tall), then an adjustable stride length up to 32″, is going to offer a really comfortable experience. If you're not that tall, a 20″ or 22″ is likely going to be more than enough.
This is an expensive machine, so if the price tag makes you wince then some of the other ellipticals on this list come in at more affordable prices.
A Buyer's Guide for Ellipticals if You're Tall
Stride Length
Ultimately, this is the most important feature you should be looking for when buying an elliptical. Especially when you browse on Amazon, you'll notice some machines have thousands of 5 star reviews, with people claiming it's the best machine they've ever used… but if you look closely, the stride length is just 16″.
If you're tall… this simply isn't going to be comfortable.
A 20″ stride length is a good starting point and we'd recommend having that as your benchmark. This should be suitable for people up to 6'5″.
If you're close to 6'5″ or taller, then 22″ or 24″ would likely be even better.
As this guide outlined, there are some ellipticals with adjustable stride length (that go all the way up to 30″+), ideal if you want to share the machine with other family members who are different heights.
Coach's Tip
Although height is a good way to measure the best stride length, the length of your legs would actually be a better measurement. For example, if you're tall, but most of your extra height comes from your torso, you might find a regular 18/20″ stride length is fine. Equally, a shorter person with long legs may find they would benefit from a higher stride length.
Max Weight Limit
Another thing to bear in mind would be the max weight limit.
Max weight limit can vary quite a bit between brands and machines. Again, many of the cheaper ellipticals will often save money by using a lightweight frame, which comes with a lower max weight limit.
If you are heavier than the max weight limit, it's still possible to use, but you'll probably find it wobbles and doesn't offer the same stability as the machine promises.
Increased stride length often correlates with increased max weight limit as the machine ends up being more bulky and sturdy.
Sturdiness
And that leads us nicely to sturdiness… which pretty much goes hand in hand with max weight limit.
The very cheap ellipticals aren't sturdy and will influence how you can use the machine. The machines we've listed in this article are all built by trusted brands that ensure their machines are sturdy and safe to use.
This may not be as important when you're warming up or doing a gentle workout, but if you want to increase the intensity, you need to have confidence that the machine won't topple over as you push yourself harder.
Fly Wheels
Generally speaking, the heavier the flywheel, the smoother and quieter the elliptical is likely to be.
The more premium models tend to opt for these heavier fly wheels that offer an incredibly smooth gliding motion, whereas cheaper machines will have light fly wheels that often don't create as smooth a glide.
Step-On Height
This is another useful metric to take note of, especially if you have low ceilings.
The lower the step-on height, the better.
If you're tall person, standing on a machine that is 20″ elevated is likely going to bring you up very close to your ceiling.
Having the luxury of a garage or high ceilings would be ideal, if not, measure up your ceiling height and be sure there's enough head room to use the elliptical.
Warranty
Warranties vary from manufacturer from manufacturer, but you'll probably notice the more established and trusted brands offer better warranties.
Good elliptical cross trainers aren't cheap, so you want to know you're covered if something breaks or is faulty.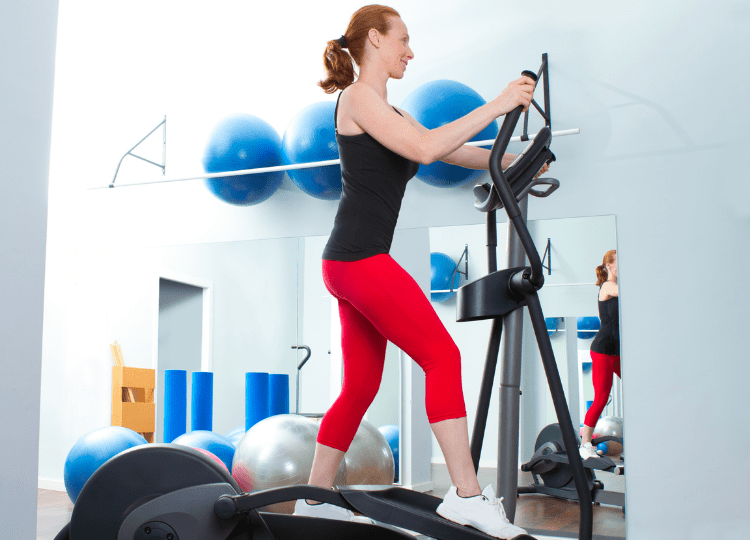 Benefits of Ellipticals
Although being taller does bring some extra considerations when buying an elliptical cross trainer, they are still worth getting for your home workouts.
They allow you to burn calories, improve your cardiovascular health and strengthen the muscles in your lower body… all in a very low impact manner.
If you're carrying aches and pains in your knees or hips, for example, it doesn't matter what the benefits of running are, the high impact nature of the exercise is likely going to impact your decision to exercise.
Combing elliptical workouts with some basic bodyweight or dumbbell strength exercises is more than enough to see substantial improvements in your functional fitness.
As far as home cardio equipment goes, we'd rate ellipticals very highly for beginners (whether you're tall or not).
If you're tall enough to play professional basketball and currently live in a home with low ceilings, there may be no getting around the height issues… in which case a home rower might be the better option.
Bottom Line
Just because you're tall, doesn't mean you can't benefit from elliptical training at home. This buyer's guide outlines 8 great machines that offer at least 20″ stride length, which makes them more suitable for taller uses.
Along with looking at stride length, features such as weight capacity, levels of resistance, sturdiness and performance tracking… as well as cost, will likely help steer you in the right direction when searching for home ellipticals.
Related Articles
What is the LIT Method Strength Rower Like?
Horizon 7.8 AT Treadmill Review
Terra Core Review – What Is this Balance Trainer Like?
This website, fitnessdrum.com, is a participant in the Amazon Services LLC Associates Program, an affiliate advertising program designed to provide a means for sites to earn advertising fees by advertising and linking to Amazon.com.