We are reader supported and may earn a small commission on some (but not all) links within our content to products we think will genuinely help our readers at no extra cost to you.
If you're thinking of getting certified as a yoga instructor, you're more than likely going to come across the ISSA yoga certification during your research.
As one of the top accredited personal training course providers and most recognized certifications globally, ISSA has an impressive reputation when it comes to delivering effective fitness knowledge.
But how does their yoga certification stack up against others? What's the certification process like? And ultimately, who is it best suited to?
We've got you covered…
This ISSA yoga certification review delves into everything you need to know to help you decide if it's a good fit for you.
In a hurry? ISSA is currently offering a 50% discount on their yoga certification. Click below to access this deal. 👇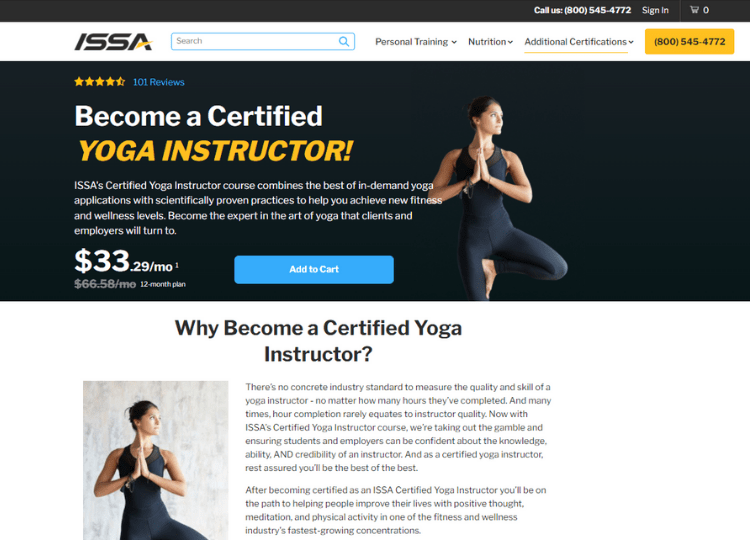 ISSA Yoga Certification – Overview
What is the Yoga Certification from ISSA?
The yoga certification from ISSA (International Sports Sciences Association) is an online certification available to anyone. It offers accreditation for those looking to teach yoga and can be bought as a stand-alone program or selected as part of an ISSA bundle (for example, with their Master Trainer course).
What's Included
Certified ISSA yoga online textbook.

100 multiple choice questions and 6 essay questions

.
Library of video lectures to help you learn.
Unlimited educational support.
Online.
One free exam retake.
Nationally accredited by the NBFA (National Board of Fitness Examiners).
Free NCAA accredited exam with it.
Want to Preview the Content?
If you scroll to the bottom of the ISSA Yoga Certification page, you can preview the first chapter by submitting your name, email and phone number.
What You'll Learn
The course is broken up into the following modules and lessons.
THE HISTORY AND FOUNDATION OF YOGA
Yoga Defined
Four Yoga Paths
Who Can Practice Yoga
What is Needed to Practice Yoga
Integrating Yoga into Your Current Profession
STRUCTURAL AND FUNCTIONAL MOVEMENT
Anatomical References
Planes of Motion
Musculoskeletal System
Foot and Ankle Complex
Knee
Lumbo-Pelvic-Hip Complex (LPHC)
Anatomy of the Shoulder Girdle
Anatomy of the Arm, Elbow, Wrist, and Hand
The Neck
Considerations for Anatomical Variations
YOGA APPLICATIONS OF FUNCTIONAL ANATOMY MOVEMENT
Vrksasana (Tree Pose)
Adho Mukha Svanasana (Downward-Facing Dog Pose)
Virabhadrasana 1 (Warrior 1 Pose)
Parivrtta Trikonasana (Twisting Triangle Pose)
Urdhva Mukha Svanasana (Upward-Facing Dog Pose)
Paschimottanasana (West Side Intense Stretch Pose)
Bakasana (Crow or Crane Pose)
YOGA POSES – STANDING POSTURES
Classification of Yoga Postures
YOGA POSES – FORWARD BENDS
YOGA POSES – BACKBENDS
YOGA POSES – SUN SALUTATIONS AND TWISTING POSTURES
Surya Namaskar (Sun Salutations)
Twists
YOGA POSES – ARM BALANCES
YOGA POSES – INVERSIONS
YOGA POSES – SEATED POSTURES
TEACHING PRANAYAMA
Learning Objectives
Anatomy of Breathing
Cardiovascular System
The Nervous System
Pranayama
CLASS DESIGN
Principles of Sequencing
Sample Class Design Sequences
COMMUNICATION AND CUEING
Key Communication Principles
Nonverbal Communication
Verbal Communication
Neurolinguistic Programming
Cueing
Communicating in the Yoga Classroom
Sample Cues in Poses
INCLUSIVE YOGA INSTRUCTOR
Novice Students
Prenatal Students
Injury Management
Children's Yoga
Yoga for Seniors
Advanced Yoga
CLASS PREPARATION
Preparing to Teach a Yoga Class
Class Enhancements
PROFESSIONAL YOGA PRACTICE
Scope of Practice
Legal Considerations and Protections
Professionalism, Ethics, and Client Confidentiality
Continuing Education
Self-Care
Building a Brand
Marketing and Networking
Where to Teach
THE PHILOSOPHY OF YOGA
The Eight Limbed Path
The Kleshas-Fear-Based Emotions
Bandhas
The Chakras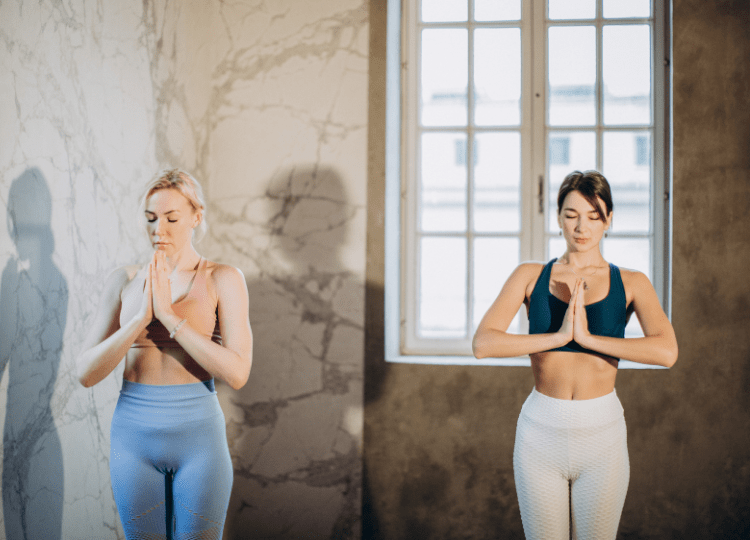 What We Like About ISSA Yoga Certification
Learn to Teach Yoga, Not Just Practice It
We think one of the main benefits of any sort of yoga instructor training, is that it helps you learn how to teach yoga, not just practice it.
You could be extremely gifted at yoga, able to hold the most difficult of poses with ease… but if you can't teach and share your knowledge effectively with others, then you might not actually end up getting the best feedback from your clients.
ISSA is a fitness learning business, with roots in accredited personal training courses. They understand the need for their customers to become good educators and communicators, to ensure they land themselves jobs after signing up to these courses. Their yoga course is no different… it is built with you in mind, to help you develop your career.
Ultimately, we feel by following along to the modules and classes in this course, you'll be in a very good position to lead entry level yoga classes… even if you're a complete beginner.
Illustrates Your Expertise
There is no governing body for yoga… i.e. anyone can do it and anyone can teach it.
But, if you want to get hired by a gym, a company or attract new clients, having a certification is an easy way to illustrate your expertise.
Teachings Are Based on Proven Scientific Practices
Yoga is quite a broad discipline with many styles and approaches. With strong roots in meditation and lifestyle medicine, some yoga "influencers", teachers and brands can sometimes make claims that aren't actually backed by science… which can unfortunately give yoga a bad name.
Luckily, ISSA focuses on the science of yoga and ensures all teaching material is accurate and reliable. It focuses on the proven benefits of yoga, which can help you better explain this to your clients too.
ISSA's yoga course has a strong focus on biomechanics which will ultimately help you use yoga to help clients reach their fitness goals.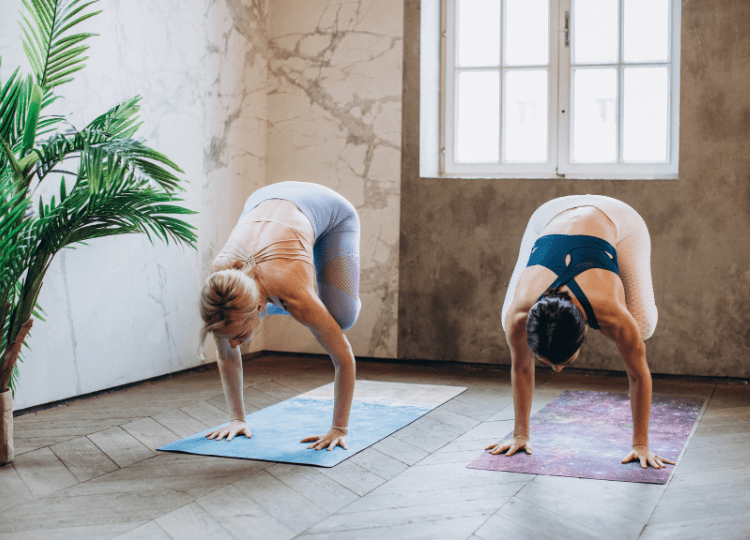 Helps Differentiate Your Practice Locally or Online
When there are multiple yoga studios and instructors in the same region, customers ultimately need to decide which one they'll attend.
Being able to state that you're an accredited yoga instructor, from a trusted supplier like ISSA is definitely a big advantage.
It can instantly set you head and shoulders above competitors if they aren't accredited.
Similarly, if you're trying to increase your online clients, it can be even more competitive, so having a yoga certification is likely going to be a requirement too.
Help You Understand How to Use Yoga to Benefit Different Types of Clients
One of the things we really like about ISSA's training, both yoga and other topics, is that their courses help you understand how to use this knowledge to benefit your clients… including different types of clients.
Good yoga instructor training isn't just about gaining an in-depth knowledge of yoga, it's about learning how to create change for others by using yoga.
Understanding how yoga could equally benefit a 21 year old female, or a 70 year old man, is very important. These yoga classes would likely look very different, even though they both fall under the umbrella term of "yoga." Ultimately, this ability to leverage yoga to create positive change for various needs is how certain yoga instructors will see substantial growth in their careers or businesses.
ISSA CPT
If you're looking to progress your career in the health and wellbeing space, you may want to consider getting certified as a Personal Trainer. Our recent
ISSA Personal Trainer review
outlines what this popular certification is like.
The Value of Yoga for Personal Training
The ISSA yoga certification offers a lot of value for personal trainers in particular. Firstly, you can use the certification as one of your CEU (continuing education) models or included as part of their personal training certification bundles.
Although yoga may not be your primary focus, in terms of landing clients, or getting hired, a yoga certification is bound to look impressive.
Group classes can also be a great way for personal trainers to scale their operations, and yoga lends itself very well to that too.
Gym Requirements and Interviews
If you're just starting out in the world of yoga, fitness and wellness, you may just be hoping to land some interviews.
Already having accredited yoga certifications means an employer like a gym could allow you to lead classes as soon as you're hired… which is a big bonus for them, and likely gives you that edge during the hiring process.
Many gyms may even ask for a yoga certification for some roles, as the popularity continues to increase.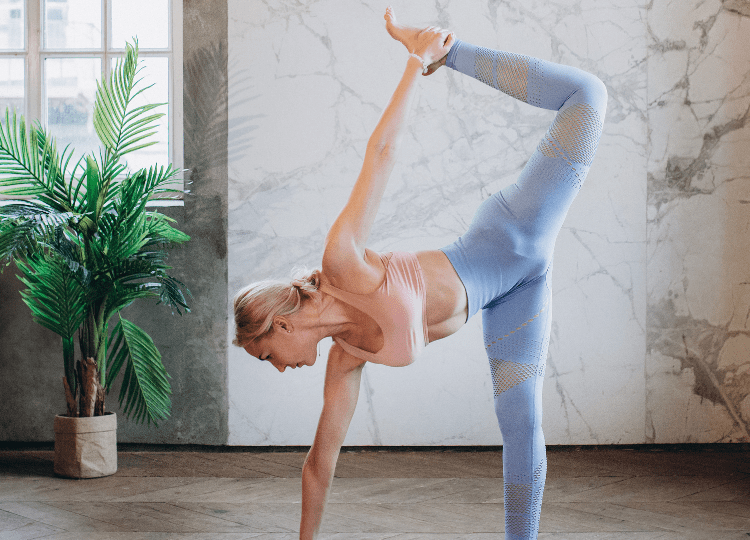 Count Towards Your CEUs
The ISSA yoga certification contributes 19 credits towards your CEUs.
Learn 100% Online
Being 100% online is a great benefit for anyone who just wants to get started straight away. You don't need to wait for a local seminar, and invest in transport and accommodation… instead, you can sign up and start learning within a few minutes.
Currently 50% Off!
If you're slightly intrigued, then being able to access the cert for 50% off is definitely something to consider.
This brings the price down from $66.58 to $33.29/mo.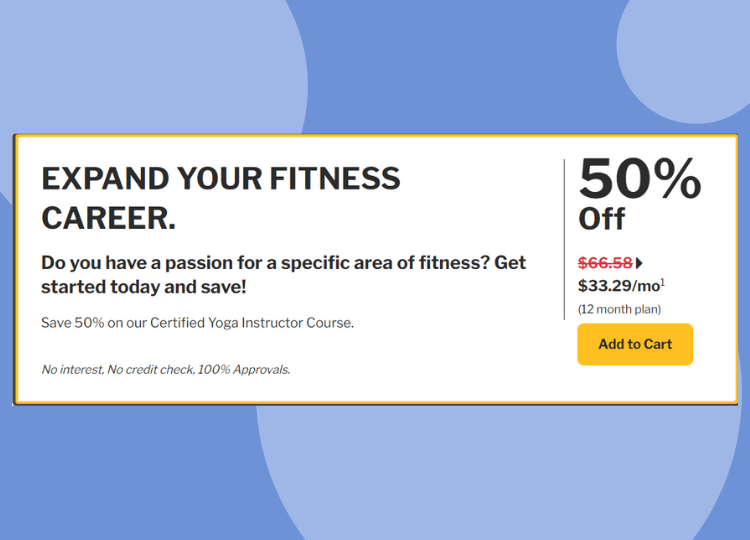 Things to Consider
The world of yoga certification and teacher training is a little confusing… and that's largely because the industry isn't regulated by a governing body. Similarly, different gyms, organizations, and countries may have their own general standards, but these may not be universal.
At the end of the day, anyone can call themselves a yoga teacher, whether they have a certification or not.
Ultimately, we think this is a big opportunity for serious health and wellness professionals who want to progress by getting accredited from a trusted source to help showcase their legitimacy and authority.
ISSA definitely isn't the only supplier of yoga certifications, but due to their reputation in the personal training certification space, and their brand reputation, we feel their cert is a good place to start.
If you want to go all in on teaching yoga, as well as an ISSA certification, you may want to look into more immersive, in-person RYT (Registered Yoga Teacher) courses, that include the 200hr course, 500 hour course and other advanced courses. These certifications are approved by the Yoga Alliance and may be required for certain yoga studios or teaching in retreats. These programs are often $2,000+… which is why ISSA's certification is a great option for beginners and those who want to get their foot in, without investing quite a lot straight away.
Who is ISSA Yoga Certification Best Suited For?
We think the ISSA yoga certification is best suited for personal trainers and fitness coaches looking to advance their careers. The yoga training gives them the knowledge and understandings to use with new and existing clients, whether it be in more general fitness classes, or in specific yoga classes.
Being an accredited yoga teacher will provide a big boost for any CV, which can help land jobs or attract new clients to a private fitness/yoga studio.
With just shy of 9,000 reviews on TrustPilot and an average rating of 4.7/5, it's clear ISSA delivers exceptional results for their customers, which helps remove any buyer's remorse when thinking about what certs to get.
Who is ISSA Yoga Certification Not Suited To?
If you're big into the spiritual side of yoga, you may find some other training and certifications better reflect that.
Similarly, if you actually require RYT certification, you'll probably need to find a local accredited teacher or school for this… although, as previously mentioned, this is more expensive.
Bottom Line
ISSA has some of the most impressive online reviews of any fitness instructor training provider and their recognition helps their certifications have instant impact with both employers and clients.
We think the ISSA yoga certification is a great option for personal trainers and fitness coaches looking to further expand on their knowledge and expertise. It can be included in an ISSA bundle too, or used for continuing learning modules and can be NCCA accredited.
If you're thinking of setting up a yoga studio, this can also be a good place to start, but you'll also want to look at more immersive RYT 200 and RYT 500 programs too.
If you're in doubt about ISSA, we'd recommend signing up to sample the first chapter at the bottom of Yoga Certification page. Just enter your name, email and phone number in and you'll gain access to this content, helping you understand the sorts of things it covers.
Similarly, the course is currently heavily discounted so you can snap yourself up a bargain today if you're ready to commit.
Related Articles