We are reader supported and may earn a small commission on some (but not all) links within our content to products we think will genuinely help our readers at no extra cost to you.
Established in 1988, ISSA is one of the most recognized and respected Personal Trainer certifications in the world.
They have almost half a million students, across 174 countries.
With glowing online reviews and a strong brand presence, we wanted to explore what this certification was really like, to help anyone who wants to become a Personal Trainer, decide if this is the certification for them.
To do this properly, we signed up for ISSA CPT, followed all the course material and took the final exam. We also did the same for all the other leading PT certifications to gain unique insights into the pros and cons of each (and highlight how ISSA compares to these alternatives).
In this ISSA Personal Trainer certification review, we guide you through our first-hand experience of taking the course, including what we liked, didn't like and ultimately, who we think is it best suited to. We believe this is the most complete and useful ISSA review you'll find.
In a hurry? You can currently get 60% off ISSA's most popular certification packages by clicking below (including money-back guarantees if you're not happy).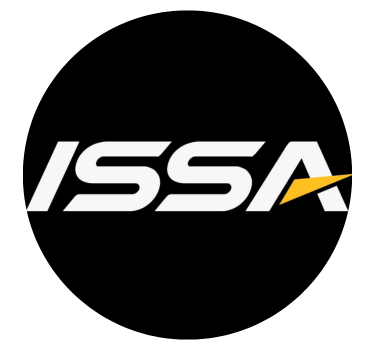 ISSA PERSONAL TRAINER CERTIFICATION
100% online certification, study at your own pace, highest pass rate in the industry, globally recognized brand, unrivalled support, money-back guarantee.
At a Glance – ISSA Personal Trainer Certification
90% pass rate for final exam is the highest in the industry.
Great certification for anyone without a related exercise qualification (e.g. sports science degree).
Audio and video study material makes studying easier and more engaging.
Fantastic support throughout.
Flexible learning and exam.
A variety of specialist courses to further your passion.
Guaranteed job offer.
Why Trust Us? Review Process Explained
We believe in editorial integrity and providing genuine value to our readers. For this review, we painstakingly went through the entire ISSA CPT course, including the final exam, and used our wealth of experience in the fitness space to highlight the pros and cons of this certification.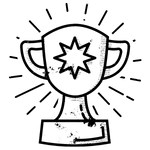 ISSA Scorecard – Updated 2023
Career Development – 5/5
Business Impact – 4.5/5
Ease of Use – 5/5
Support – 5/5
Price – 5/5
Overall Rating – 4.9/5
Learn more about our review scorecards as part of our editorial review guidelines.
A Quick Overview of Personal Trainer Certification
If you're passionate about a career in fitness, gaining a Personal Trainer certification is a great place to start.
This is something most health and fitness employers would look for and means you can usually negotiate a higher salary compared to someone who isn't certified.
Having an official certification demonstrates you have the knowledge and understanding to help clients reach their fitness goals, and means you have expertise in topics such as nutrition, client assessments, exercise programming and more.
There are all sorts of companies that offer Personal Trainer certification, including ISSA, ACE, and NASM.
Once you've become a CPT, you may also want to get additional specialist certifications, such as strength and conditioning, nutrition or yoga.
Personal Trainer Job Growth
The Personal Trainer job market is expected to grow by 39% by 2030, compared to an expected 8% growth across all occupations. New verticals such as online training and international markets are fuelling growth predictions… making it a great time to get into the industry.
What is ISSA?
ISSA (International Sports Science Association) is an e-learning platform for health and fitness professionals. ISSA offers a wide range of certifications, including its flagship Personal Trainer Certification.
It's well known and respected in both the US and overseas, meaning it's definitely a safe bet when it comes to getting certified.
Accepted at 10,000+ gyms through unique partnerships, ISSA trainers are given a great opportunity to land a job quickly after they get certified.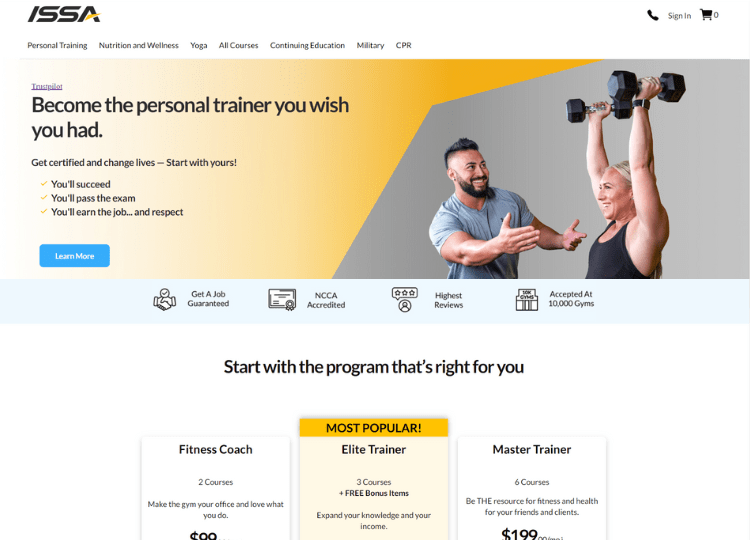 Who is ISSA Personal Trainer Certification Best Suited To?
We think ISSA Personal Trainer certification is best suited to anyone who wants a fully remote learning experience, that allows them to study and take a final exam in their own time.
The inclusion of audio and video study material also means ISSA is a great choice for anyone who doesn't want to solely rely on reading textbooks.
You also don't need any formal qualification, such as a degree in sports science, to get certified, making ISSA a great choice for anyone who is thinking about a career in fitness, whatever their background or existing knowledge.
With a final exam pass rate of 90%, ISSA CPT is also definitely worth considering if you're nervous about taking a final exam (some other certification companies have a pass rate in the 50-59% range, and charge for retakes).
This pass rate is the highest in the industry (at the time of writing), so in theory, you've given yourself the best chance to succeed by choosing ISSA.
Thinking About Becoming a PT?
We think ISSA is the best certificate for anyone who has a passion for fitness and is considering a career in the industry. It's the easiest way to get started and avoids lengthy degrees or further education.
Who isn't it Suited To?
If you've already got a degree in sports science or an exercise-related subject, and are looking to work with elite athletes, you may find a certificate like NSCA is better suited to your goals.
If you want in-person learning, you may also want to search for any local companies that offer Personal Trainer certification courses.
What's Included in ISSA Personal Trainer Certification?
Online textbook.
Online quizzes.
Final exam (with free retake option).
Audio and video lectures.
Student forum access.
Success coach for 1-2-1 support.
Free website (if you want one).
Study aids (e.g., BMI calculator and exercise library)
To receive your certificate, you need to be 18+ and have a CPR/AED (which you can also purchase through ISSA if needed).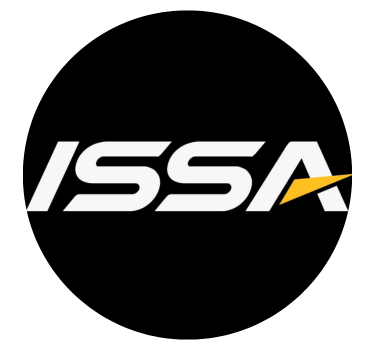 ISSA PERSONAL TRAINER CERTIFICATION
100% online certification, study at your own pace, highest pass rate in the industry, globally recognized brand, unrivalled support, money-back guarantee.
What We Like About ISSA
User-Friendly Course Portal
Once you sign up, you'll get access to a dedicated trainer portal. This is your dashboard to view all the course content, take the quizzes and final exam.
The portal has a very clear navigation and simple design, making it very easy to work your way through the course.
You can buy study books from a link within the portal to ISSA bookstore, for an additional $40, if you want a hardcopy.
Upon completing your ISSA Personal Trainer certification, you would also use this portal to complete CEUs (continuing educational units) and to join new certifications.
1-on-1 Support
If you browse through the online reviews for ISSA, you'll quickly notice an area they exceed in is customer support and 1-2-1 help.
As well as helping you with any technical or account issues, ISSA actually offer educational support, through a dedicated success coach.
The amount of support and assistance you can get is quite remarkable and if you're worried about the exam or struggling with a certain topic, you've basically got unlimited access to an expert who will listen to your questions and work with you to ensure you understand it.
As far as value goes, this is a huge thumbs up from us.
Audio and Video Lectures
ISSA Personal Trainer certification includes study content in the form of audio and video lectures too.
For those who don't like the idea of just look through a meaty textbook each night, the ability to learn all the appropriate course material by these other mediums is a fantastic addition.
Being able to listen to course material on the go, for example, means you can make use of your commute or a long drive, which we found to be really valuable.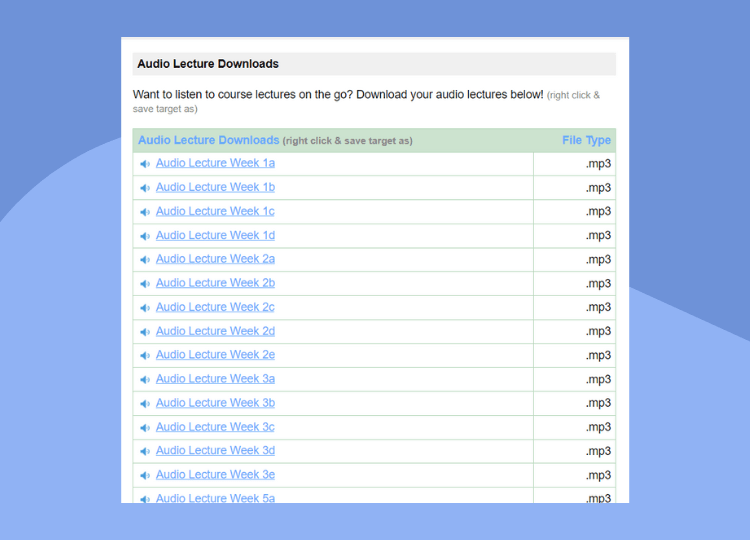 Fast Course Completion
Due to the way the study material and quizzes are laid out, we think the ISSA CPT is probably one of the quickest certifications to pass (if you're confident in your knowledge and expertise).
You're not forced to read every single page, or to turn up to lectures on topics you may already be very competent in.
This means you can tailor your studying to suit your learning style and your existing fitness knowledge, which ultimately leads to a faster course completion.
If you do a few hours of study a day for 10 weeks, you should be ready for your final exam.
If you're looking to get a job as soon as possible, this could be the difference of starting work months earlier than if you'd have chosen a different certification.
Clear Study Material
For us, most of the value of any Personal Trainer or fitness certification comes from the study material itself. This is going to shape your understanding and influence your ability to help clients reach their fitness goals.
If your knowledge isn't up to scratch, it doesn't matter if you're certified or not, it's going to be difficult to get results for your clients.
The course is designed around the following 6 fundamental topics:
Basic and applied science.
Client assessment.
Special populations.
Program design.
Nutrition.
Professional practice, ethics, and business.
ISSA includes quizzes for each section to help you understand if you're ready for the final exam. This is a great way to gauge how well you are taking in the information and whether you need to go back to certain chapters and topics.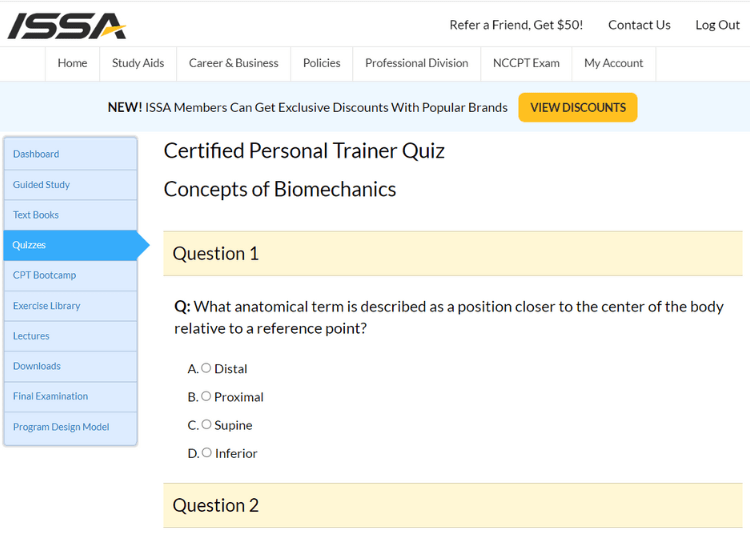 Exam Format
The exam format will definitely be welcomed by many ISSA students.
It is an open book exam, that includes multiple choice questions. You can also pause it and resume later that day, or on another day, or alternatively, complete it in one go.
This really allows you to focus on learning the course material, and not stressing about an exam that feels like it's trying to catch you out.
The exam is 200 questions long (split into 6 sections), so being able to take breaks is definitely useful. We thought we would do the exam in one go, but ultimately had a break at the halfway point to grab a coffee.
We also found the questions reflected the course material very well… there weren't surprise topics or unusually worded questions. The exam just tested to see if the information had stuck.
The exam questions also felt very similar to the quizzes too… so if you're getting all those questions right, that's a very good sign you'll do great in the final exam.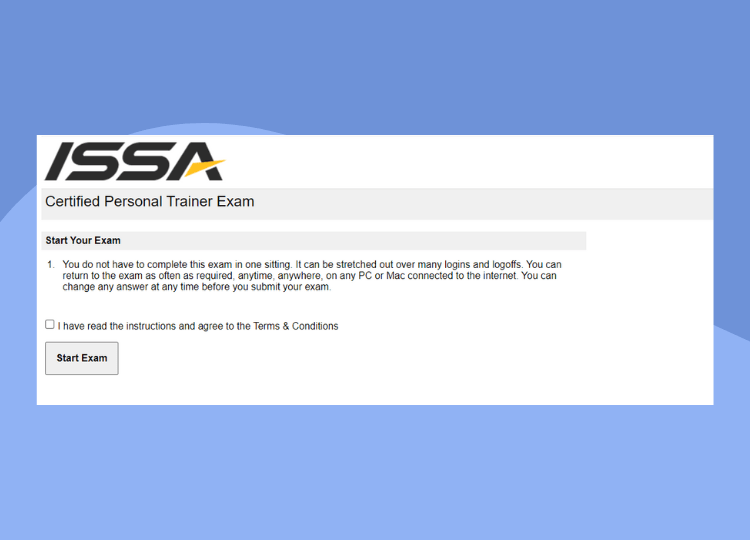 Specialist Courses
One of the unique benefits of choosing ISSA for your Personal Trainer certification, is that they offer all sorts of specialist courses (either to do as a bundle with your CPT certification, or once you're certified). We recently reviewed their Strength and Conditioning and Yoga Certification to provide more details on these two popular specialisms, as examples.
These sorts of specialisms are a great way to further your knowledge around your own interests, and allow you to start focusing on certain types of fitness, which helps to shape your career prospects.
Online Reviews
We were very impressed with the whole experience of using ISSA to gain a CPT certification… and it looks like we're not alone.
The online reviews for ISSA are really positive and at the time of writing, they have an average rating of 4.7/5 on TrustPilot from 11,478 students, which is hard to argue against.
Interestingly, lots of reviews talk about gaining additional certifications with ISSA too, illustrating they are happy to continue using ISSA for their fitness learning.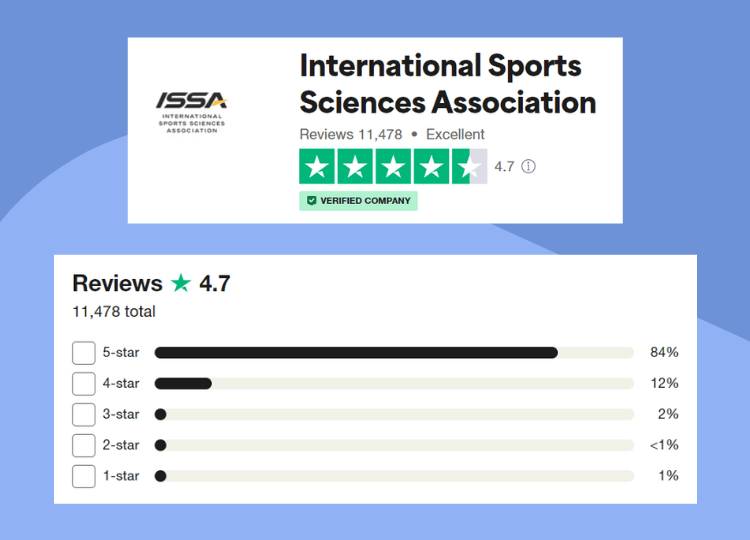 Trusted, Reputable Brand
Although the most important thing about any sort of certification is the teaching and the knowledge you gain… it's undeniable that using a certification that has a great reputation is a significant bonus too.
ISSA is widely accepted globally, and this will definitely help in job interviews.
Price
Due to ISSA promoting lots of bundle offers and special deals on their certifications, the price is often really competitive.
Especially when you consider how much a certified Personal Trainer earns in comparison to an individual without a certification, the return on investment makes it a no-brainer for anyone wanting to pursue a career in the fitness space.
Free Retake
If you do fail the final exam (you need more than 75+% on all sections of the final exam), you can take a free retake within 30 days.
You do have to do the retake within 30 days though, so if you do fail, we'd recommend reaching out to your success coach and working with them over the following week to make sure you ace the exam next time.
It's also worth noting, all the other major competitors to ISSA currently charge for a retake, so being able to do this for free is another selling point for ISSA.
Spanish Version
Something we haven't seen other Personal Trainer certifications offer is a completely native Spanish version of their CPT course.
If Spanish is your first language, this is a great option.
This is a separate course, found here, as opposed to selecting a different language in the portal.
As ISSA is seen as a global certification, hopefully they release more language-specific courses for those who want to study in their local language.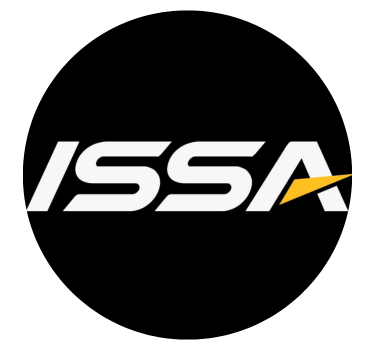 ISSA PERSONAL TRAINER CERTIFICATION
100% online certification, study at your own pace, highest pass rate in the industry, globally recognized brand, unrivalled support, money-back guarantee.
How does ISSA Stack Up Against Competitors?
| | | | |
| --- | --- | --- | --- |
| | ISSA | ACE | NASM |
| Exam Pass Rate | 90% | 65% | 64% |
| Exam Time-Limit | Unlimited | 180 Mins | 120 Mins |
| Re-Test Price | Free | $199-250 | $199 |
Things to Consider
Complete and Pass Quizzes Before Final Exam
Although you can complete the ISSA CPT very quickly, you are required to pass the quizzes after each section before the final exam is accessible.
This means you can't see the final exam until you've gone through these 18 quizzes.
Each quiz includes 10 questions and relates to a specific topic.
Recertification
Personal Trainer certifications require you to get recertificated through CEUs (continual educational units) every few years. For ISSA trainers, this means every 2 years, you'll need to acquire 20 credits in CEUs.
If these are done through ISSA courses, this recertification is free, however, if the courses are done outside ISSA, you will need to pay $99.
This is where the recent expansion of courses, such as Yoga200, is where staying in the ISSA ecosystem for all your CEUs is very convenient.
Deadline for Completing Final Exam
It's worth noting that once you sign up, there is a deadline of 6 months to complete the final exam.
This is plenty of time, but means you need to be ready to start studying shortly after you sign up.
No Individual Exam Score
Once you submit your exam, you'll be instantly notified on whether you've passed each section and ultimately, if you have gained your Personal Trainer certification. Getting this instant feedback is definitely a bonus and means there's no waiting around.
You don't get feedback on your individual exam questions though (probably to avoid you helping someone else pass the exam), so you only know that you got 75%+. You can reach out to student support though, if you want to know your actual score on the exam.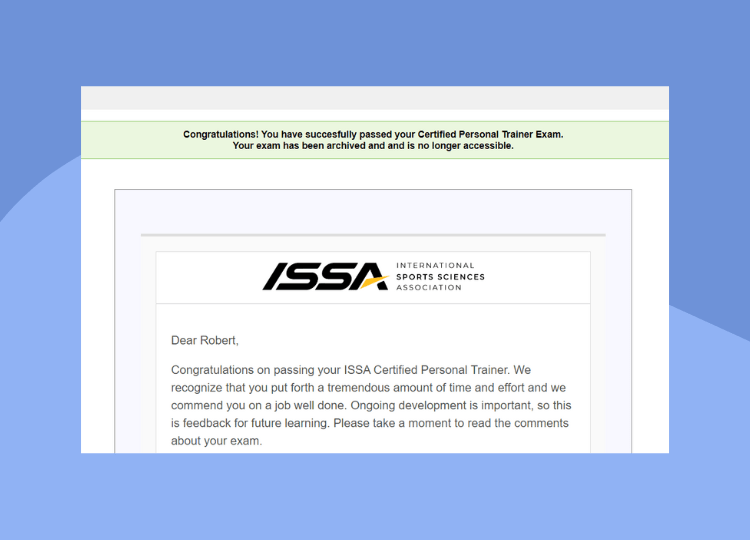 FAQs
ISSA CPT Certification Cost
ISSA CPT costs as little as $83.25/month (for 12 months).
It's worth checking their website for the latest price as they often run deals throughout the year. You can also get bundle deals that include additional certifications which might provide further discounts.
For the best deal on the ISSA CPT certification, we'd recommend going straight to their special deals page (this updates each month and includes big savings on their most popular certificates).
What's the Final Exam Like?
The final exam for ISSA Personal Trainer certification is an open-book exam. There is also no time-limit, which means you can pause it and resume your progress at a later date.
We thought the exam was a good reflection of the course material and if you've gone through each model properly, you should be confident in taking the final exam.
You need 75% to pass in each of the 6 sections.
The average pass rate is 90%, which is the highest in the industry.
What Gyms Accept ISSA Trainer Certification?
ISSA has partnerships with 10,000+ gyms. The certificate is also recognized globally, so most gyms would likely accept an ISSA CPT certification.
Is ISSA CPT Accredited?
ISSA can be NCCA accredited by doing an additional exam from your portal. This is via ISSA's subsidiary, NCCPT.
What is ISSA Master Trainer Certificate?
The ISSA Master Trainer Certification bundles 6 individual certifications together. This saves a significant amount of money compared to buying them separately. It also streamlines the learning experience and allows you to work through the content faster.
Bottom Line
Ultimately, we think the ISSA Personal Trainer Certification is a great way for anyone to get certified and start their career as a PT.
Being 100% online, having a high pass rate, and requiring no previous experience or qualifications in sports science to do the exam, means ISSA will likely appeal to the widest audience when it comes to fitness certifications.
Whatever your learning style, ISSA has course material to suit your preferences. We found the videos really useful and definitely saved us a lot of time compared to reading and re-reading pages from a textbook.
Overall, we would certainly recommend ISSA for anyone who wants to become a PT or gain further knowledge in fitness and exercise.
Once you've got certified, we would also recommend looking at some of their specialist courses to help further separate yourself from other PTs. The strength and conditioning or nutrition certs would be great next steps.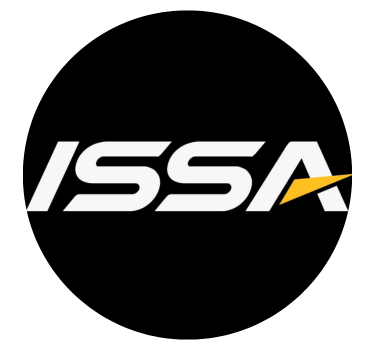 ISSA PERSONAL TRAINER CERTIFICATION
100% online certification, study at your own pace, highest pass rate in the industry, globally recognized brand, unrivalled support, money-back guarantee.
Related Articles
TrueCoach Personal Training App