We are reader supported and may earn a small commission on some (but not all) links within our content to products we think will genuinely help our readers at no extra cost to you.
Trying to decide if MedBridge is right for you?
We've got you covered…
In this comprehensive MedBridge review, we outline everything you can expect from the platform, including what we like, don't like and ultimately if it's worth the money or not.
In a hurry? With a 30 day refund policy, you can try it risk free today. Click the button below to get 40% off your plan (the best discount code they offer!) 👇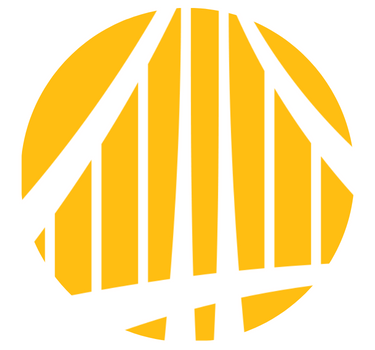 MEDBRIDGE EDUCATION
Grab a 40% discount by using FitnessDrum at checkout.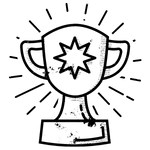 MedBridge Scorecard – Updated 2023
Career Development – 5/5
Business Impact – 4.5/5
Ease of Use – 4/5
Support – 5/5
Price – 5/5
Overall Rating – 4.8/5
Learn more about our review scorecards as part of our editorial review guidelines.
What is MedBridge?
Founded in 2010, MedBridge has established itself as one of the leading providers of continuing education and learning for healthcare professionals. In recent years, they have also added some very exciting additional tools to help healthcare professionals engage with their patients online, which we will cover in more detail later in this MedBridge review.
Continuing Education Units (or CEUs) are a fundamental pillar for professions like Physical Therapy, Occupational Therapy, Athletic Training, Speech Therapy and Nursing. They help professionals keep abreast with best-practices and the latest research, ensuring they are equipped with the skills and knowledge to boost and further health-based careers.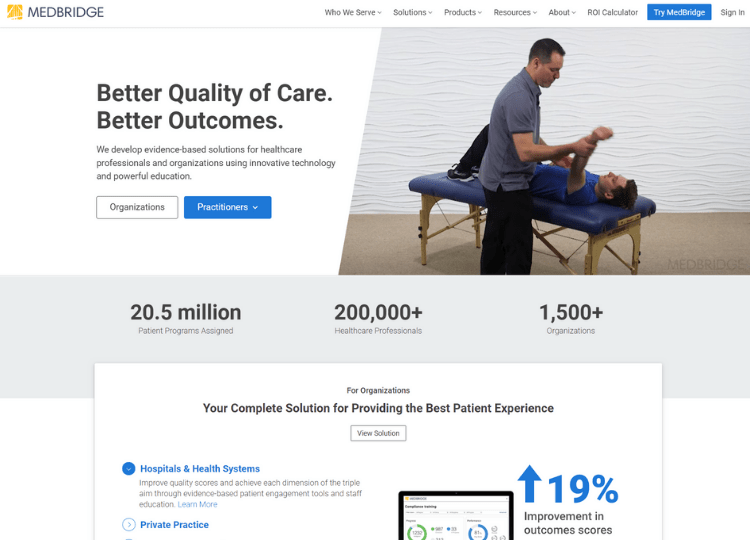 So… if you work in any of these sorts of disciplines, it's likely you've been tasked to research the best CEU providers, which may introduce you to MedBridge Education.
MedBridge also offer business and enterprise tools, helping healthcare businesses improve the efficiency and profitability of running healthcare organizations.
In terms of MedBridge memberships, there are 3 different plans to choose from:
Education
This is the core MedBridge offering. It includes access to the online learning videos, and webinars for your CEUs.
| MedBridge Education | More Info |
| --- | --- |
| Continuing Education Courses | Unlimited access to 2,000+ courses |
| Certification Prep Programs | Useful exam prep programs |
| Live Webinars | Join live webinars for latest research and Q&As |
| Clinician Mobile App | Access everything via an app |
| Compliance Training | Ensure you are compliant |
| MedBridge Certificates | Earn certification |
| Microlearning | Just in time training to make learning easier |
We think this plan is best for those who are mainly focused on finding a suitable accredited continuing learning platform.
The Premium plan isn't much more expensive and includes some really nifty features around patient engagement though, so you may find yourself wanting to upgrade to Premium at some stage.
Premium
The premium plan includes some exciting additional features around patient engagement, such as the home exercise builder and the patient mobile app (you also have all the features from MedBridge Education too).
| MedBridge Premium | More Info |
| --- | --- |
| Home Exercise Library | Over 7,000 exercises |
| Patient Education | High quality resources for patients |
| Home Program (HEP) Builder | Build and prescribe home exercise programs |
| Online Patient Portal | Ideal for patient reporting |
| Patient Mobile App | Patients have access to their exercises via an app |
This plan is best for those looking for extra tools around patient engagement and delivering a better online experience.
Enterprise
Enterprise offers branded apps and more extensive reporting. It also offers CRM functionality in how organizations can track and manage their patients.
| MedBridge Premium | More Info |
| --- | --- |
| Learning Management System | Great for staff training |
| Telehealth Virtual Visits | Deliver telehealth services |
| Patient Satisfaction (NPS®) | Capture feedback from patients |
| Adherence Tracking & Reporting | Comprehensive reporting suite of tools |
| EMR & HR Systems Integration | Store patient and staff data safely and securely |
| Custom Branding | Upload your own branding |
This plan is best for those looking to grow their own healthcare brand, as well as being able to leverage patient data more within their organization.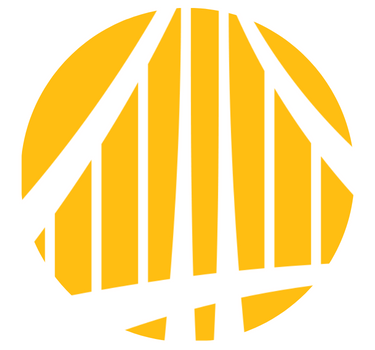 MEDBRIDGE EDUCATION
Grab a 40% discount by using FitnessDrum at checkout.
Who is MedBridge Best For?
MedBridge offers all sorts of value for healthcare professionals and organizations.
As far as CEUs go, MedBridge is best for anyone who enjoys virtual learning. Having access to the platform 24/7, means clinicians and students can refer to the information and knowledge at any time. For many, this is a much better way of learning, compared to being bombarded with new complex theories over a weekend course.
Considering the price, it also likely works out much cheaper than attending physical learning seminars, although this will vary depending on the individual providers.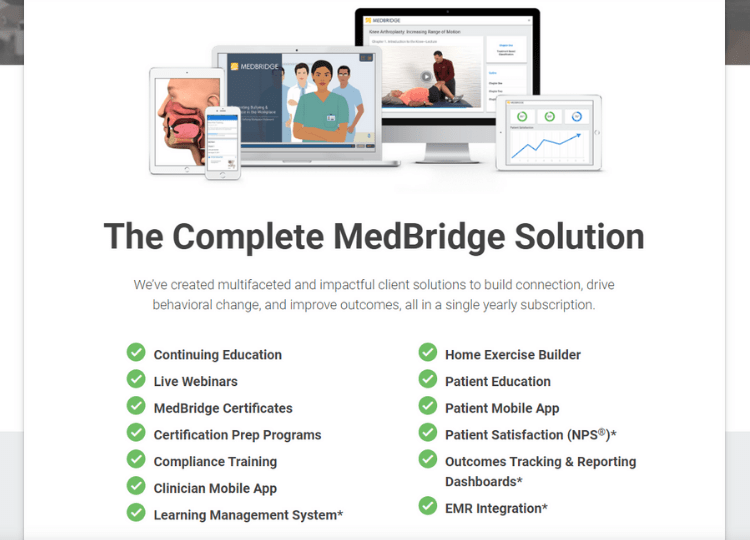 MedBridge is also well positioned for professionals looking to reinforce their patient recommendations and double check the latest science-based treatment for specific conditions. Whatever stage you are in your career, this is certainly worthwhile and can ensure you always deliver an exceptional patient experience.
Continuing Learning/Education – At a Glance
A CEU (continuing education unit) or CEC (continuing education credit) is a way to measure continual learning in professional progression to maintain licenses.
This is common in healthcare specialities all over the world.
In recent years, there is a shift towards remote learning and obtaining credits via online courses and programs, as opposed to local seminars.
The industry of continual learning becomes slightly complex as different states and countries have different requirements for licenses. This means depending on where you live, there will be different hours you need to log.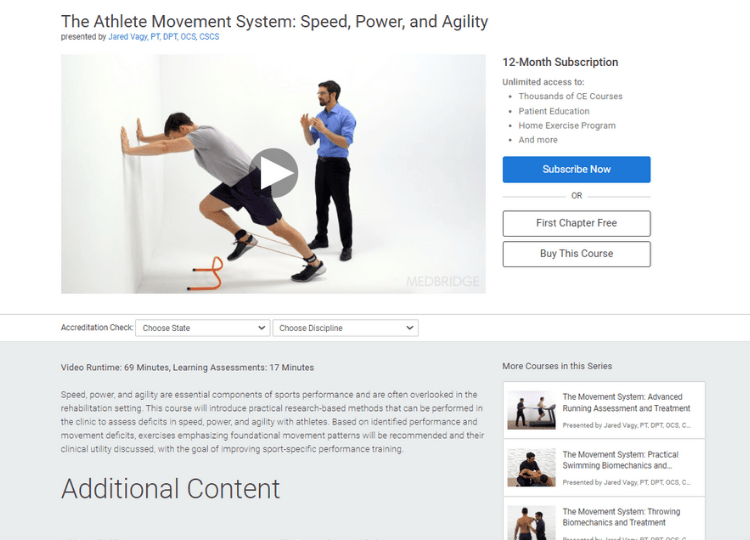 What We Like About MedBridge
Unrivalled Library of Content
If the whole point of a continuing learning platform or healthcare seminar is to learn… well, MedBridge certainly doesn't disappoint.
It has a huge library of very high quality lessons, teachings and insights, led by some of the best practitioners in the world.
We also found a lot of the content to be very effective at communicating key learnings. Some YouTube videos can be interesting but often feel lengthy and convoluted… which isn't ideal when you're trying to learn.
Some topics also feel very unique and different from the sort of generic lessons you might be able to watch online. They are clearly well researched and strive to be thought-provoking.
They also focus mainly on video learning which is useful for the types of topics discussed. These also include video graphics to help communicate quite complex things.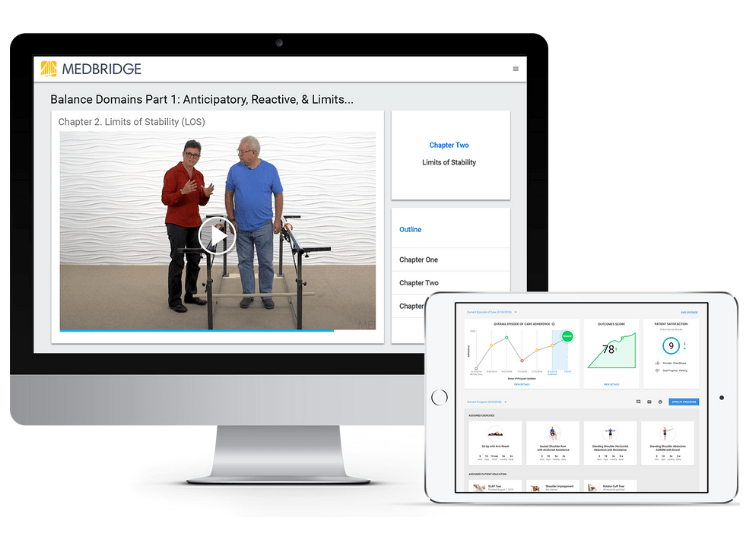 Searchable Content
Despite having such a large volume of content, MedBridge's platform organizes it very well.
You can simply search and filter on content to quickly narrow down the videos and resources. Whatever topic you're interested in, you can quickly navigate through it and find all relevant videos.
It may sound simple, but this is a feature that many other platforms really struggle with and you can quickly find yourself spending unwanted time trying to navigate the content.
With MedBridge, once you've found the course you want, you can read the course outline, which describes what you can expect from it, before enrolling.
You can also add courses to a queue, to build up a personal library of content to want to work through. This means once a month, for example, you can search and find relevant courses, add them to your queue, and you've got this ready and waiting for you every time you log in.
Quality Instructors
With any sort of teaching, the quality of the actual teachers is arguably the most important thing. We really have found the instructors to be very good at MedBridge.
They use specialists for each topic, so you're likely to come across lots of different instructors while using the platform. Each specialist is really able to delve into their chosen discipline in such a thorough way, it feels like you're getting mentored by the best in the business.
Especially compared to local seminars, this instant access to world renowned specialists is second to none. We haven't found another platform that offers such depth in their instructors.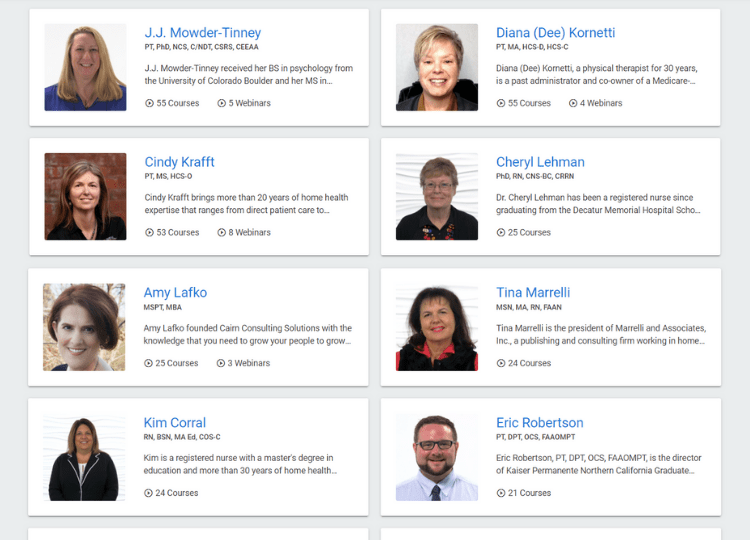 Accredited
Accreditation is a difficult topic… simply because not only does it vary from country to country… but even from state to state.
The plus side is that the MedBridge platform makes it easy to filter on specific courses, states and professions, to double check if it will count towards your accreditation.
Similarly, you can filter on your state to bring up all the accredited courses in your local area.
A nifty feature we really like is that when you finish a course, MedBridge can automatically submit this to your chosen accredited provider if you want. To enable this feature, you just need to ensure your profile is filled out and completed so MedBridge knows your location and profession.
Live Training/Webinars
As well as the evergreen courses and content, your MedBridge membership will allow you to join their monthly webinars. These webinars are interactive, offering the perfect opportunity for you to ask any specific questions you have, or simply listen to the latest ideas being presented.
Depending on your state license, these webinars may also count to your accredited hours, but you'd need to check that.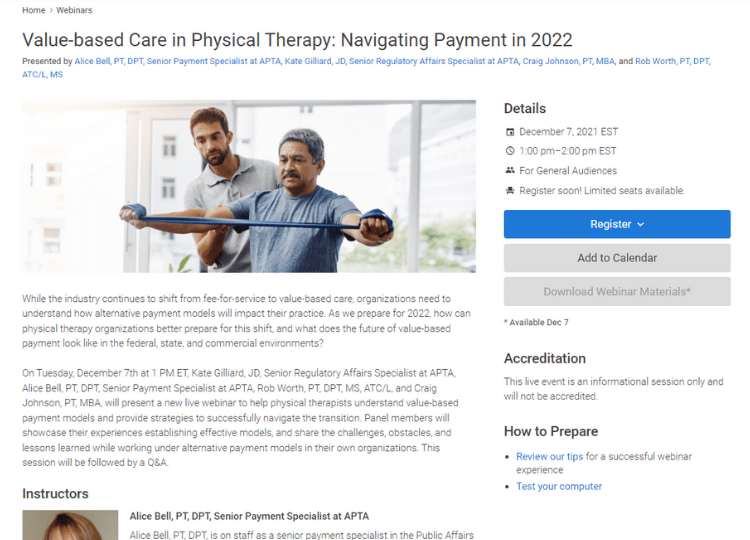 Researched and Evidence Based
In the digital age, it is easier than ever to get lost in opinions, pseudoscience, or even just "fake news." But when it comes to health and healthcare best-practice, as a professional, you want to ensure any information you are absorbing is based on evidence and is trustworthy.
MedBridge's content is all well researched and reliable, ensuring you can use the knowledge in your professional setting without concern.
When comparing this type of platform to just watching YouTube videos, for example, the reliability of content can be worlds apart and as an organization, using a legitimate platform ensures all clinicians are following best-practice in their chosen fields.
Mobile App (Patients and Clinicians)
MedBridge comes with two apps, one for clinicians (available on all plans) and one for patients (available on Premium and Enterprise plans).
The app for clinicians simply allows you to learn on the go. As far as apps go, it's very user friendly. It makes it very easy to navigate the content, which ultimately is all you need from such an app.
The simplicity also means it comes with few bugs or problems, which is a welcome bonus.
It should be noted, for all features, accessing MedBridge on your computer is the best user-interface, but the app is still useful to learn on the go.
The patient engagement app (known as MedBridge Go) is the ideal solution for those looking to enhance their virtual offerings and increase customer loyalty. This enables healthcare professionals to provide a more professional service to their patients remotely. A big feature of this is the home exercise builder, as discussed below.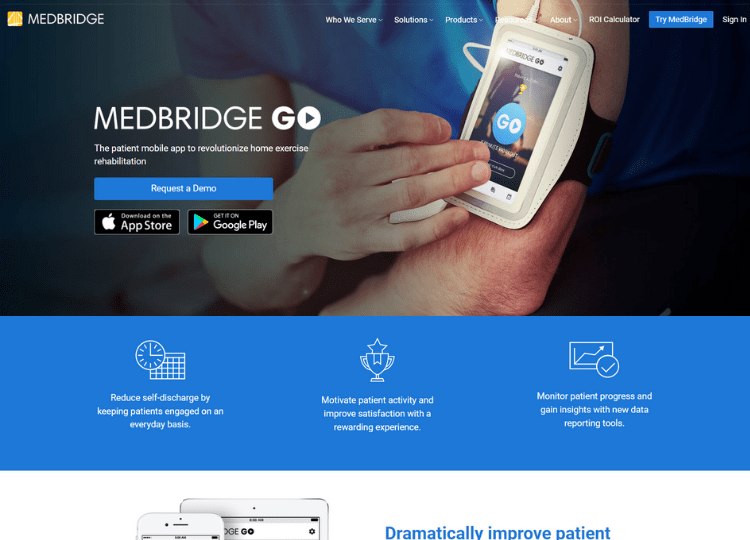 Home Exercise Builder
The home exercise builder is a delightful feature that feels like MedBridge could have launched it as a separate business.
It allows you to build interactive patient care programs, specific to each individual patient.
You can drag and drop specific resources, such as exercise demonstrations, into a structured timeframe, creating a treatment program for your patients to follow along to.
The MedBridge Go app means patients can access this 24/7, and it helps create more structure and systems around patient engagement compared to other methods.
There are a number of companies, such as Physitrack, that offer such a service, so to get that included in your Premium membership is a real bonus and something that could allow you to scale your services.
For us, if you are considering MedBridge, the Premium plan isn't much more in terms of price and gaining access to a feature like this can really transform your patient offering, especially delivering virtual and online content.
Create Template Libraries
A really useful tool within MedBridge is to create template libraries for specific conditions/treatments. This can really help you streamline the process and deliver effective remote treatment to patients by pairing exercises together that you commonly prescribe.
Net Promoter Score
With a whole suite of tools dedicated to understanding patient satisfaction, it becomes difficult to compare MedBridge with other continuing learning platforms, as the value extends far beyond just education.
Having the ability to seamlessly track patient satisfaction and at different points of their experience with your organization is vital for understanding any areas that need addressing. These insights can sync automatically back to senior leadership teams to get a clear overview of how patients are rating their experience.
Ultimately, this helps proactive healthcare organizations improve and build stronger relationships with their patients.
Do all patients love a specific part of your care?… Or, is there an area that seems to cause friction with multiple patients? MedBridge makes this very easy to find out.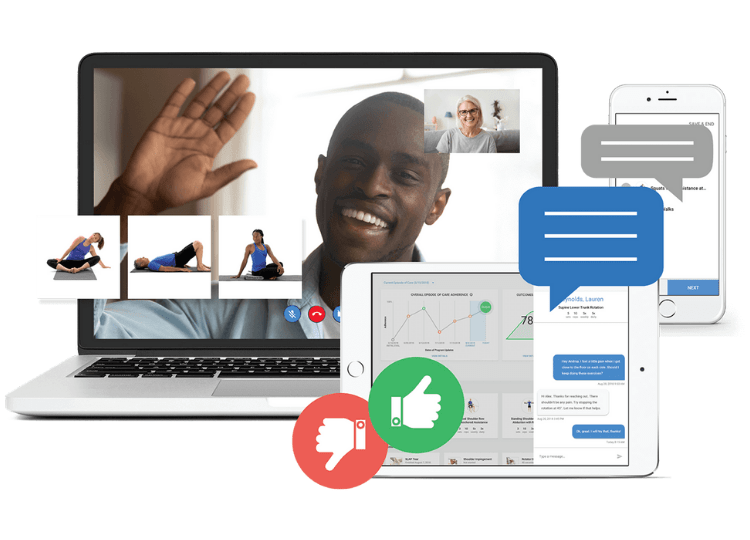 Time is Money
It's sometimes quite baffling when people refuse to invest a bit of money into something that could save so much time in the long run… and when it comes to running a healthcare business, time is money (usually, a lot of money!)
Whether we're talking about MedBridge's continuing learning content, or their tools to engage patients and deliver effective home exercise programs, we've found the platform helps save a substantial amount of time. If you're an individual, then that's a worth noting… and if you're an organization, this can equate to a significant impact on your bottom line.
Even something like the home exercise builder tool could save each clinicians substantial time during each and every appointment with a patients. If you're looking to scale, this sort of thing can't be ignored.
Reduce No-Shows
One of the most frustrating things about running a clinic is dealing with no-shows. MedBridge's remote patient tools can help significantly reduce no-shows by keeping patients engaged over long periods.
Things to Consider
Like any sort of continuing education platform, you need to understand what it is you want to get out of it.
If you love the idea of spending weekends going to industry seminars, you may find the virtual component doesn't excite you as much.
Or similarly, understanding your career goals and what information you actually need is worth considering. MedBridge includes a vast library of content, but if none of that is related to your areas of speciality, then it won't provide the same kind of value as it could for others.
MedBridge Free Trial
MedBridge currently doesn't offer a free trial as standard, however, they do honour a 30 day money-back guarantee, so you can try the platform risk free.
Simply sign up and delve into the platform to try it for yourself.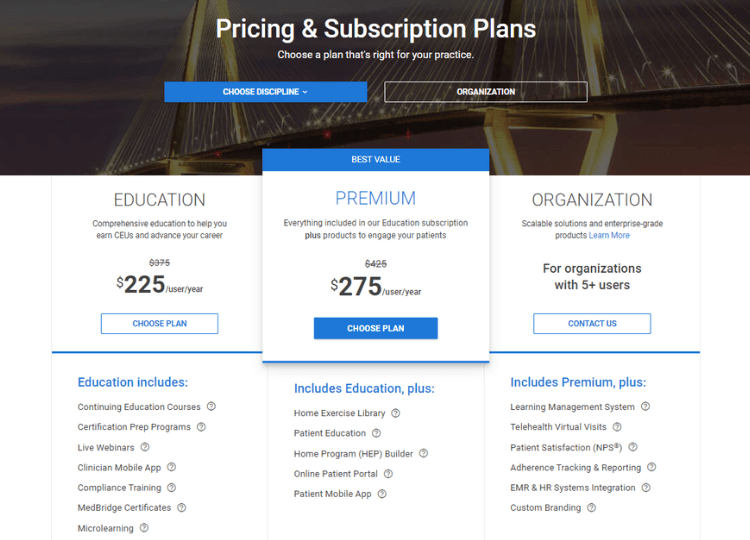 Bottom Line
With over a decade of experience, MedBridge has certainly carved out an impressive reputation for itself. The organization also looks to be constantly improving its core offering, as well as adding new features to the platform.
With new tools focused on patient engagement and telehealth, MedBridge is perfectly positioned to become a must-have for all therapists and healthcare professionals.
This makes it a great investment for any therapist, student or healthcare organization that wants to improve the effectiveness of continual learning as well as gaining access to other useful tools.
If you think this MedBridge review was useful and has inspired you to give it a try, sign up to their platform and use "FitnessDrum" at checkout for $150 off your membership!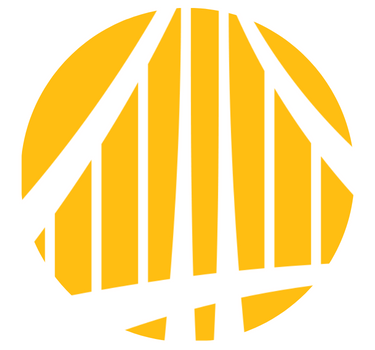 MEDBRIDGE EDUCATION
Grab a 40% discount by using FitnessDrum at checkout.
Related Articles