We are reader supported and may earn a small commission on some (but not all) links within our content to products we think will genuinely help our readers at no extra cost to you.
Just like you're doing now, a few months ago, we set out to try and understand what the best Personal Trainer certification was.
After painstakingly analyzing hundreds of online reviews, signing up for certifications ourselves to assess the study material and course format, and for some of the major certification providers, literally taking the exam too… we feel know, this review is different from other ones you'll likely come across online.
With no bias to one provider over another, this buyer's guide includes our thoughts on all the leading names including NASM, ISSA, ACE and NCSF.
We appreciate PT certification is a big investment (but one that is totally worth it), so you want to make sure you pick a CPT that best suits your personal requirements… which is why this has taken us weeks to prepare.
We've also included links to any special offers we could find, so hopefully you can save some money too!
At a Glance – Best Personal Trainer Certifications 2023
Why Trust Us? Review Process Explained
We believe in editorial integrity and providing genuine value to our readers. All research for this review was conducted by a CPT and for most major certification companies, were able to access their student portals, learning material and exams. We used the following metrics to help inform our recommendations; price, ease of use, reputation, exam format, support and overall experience. Learn more about our approach in the methodology section at the bottom of this page.
Best Certifications for Personal Trainers
ISSA – Best Overall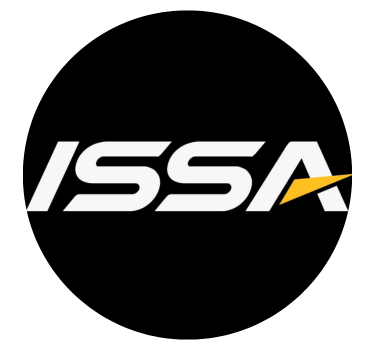 ISSA PERSONAL TRAINER CERTIFICATION
100% online certification, study at your own pace, highest pass rate in the industry, globally recognized brand, unrivalled support, money-back guarantee.
ISSA is one of the most well-known certification providers globally.
Established in 1988, the brand has a very good reputation online and at the time of writing, has an average of 4.7/5 on TrustPilot from over 11,000 students.
For any company, those numbers are mightily impressive… especially when it comes to education.
ISSA offer a variety of fitness certifications, including the Certified Personal Trainer (CPT) qualification.
The ISSA PT certification covers the fundamental topics you'd expect to find in a CPT course, including: basic and applied science, client assessment, special populations, program design, nutrition, and professional practice ethics and business.
Our ISSA CPT Certification review includes a full breakdown of what this certification is like.
Pros:
Comprehensive course material based on the latest exercise science and fitness research findings.
Access to continuous development courses after certification.
Well recognized in the industry.
Highest exam pass rate.
Quality student success team/support.
Job placement guarantee.
Free retest.
Great for CEUs.
DEAC and NCCA accredited.
Very good online reviews from past students.
Cons:
NCCA accreditation requires additional exam.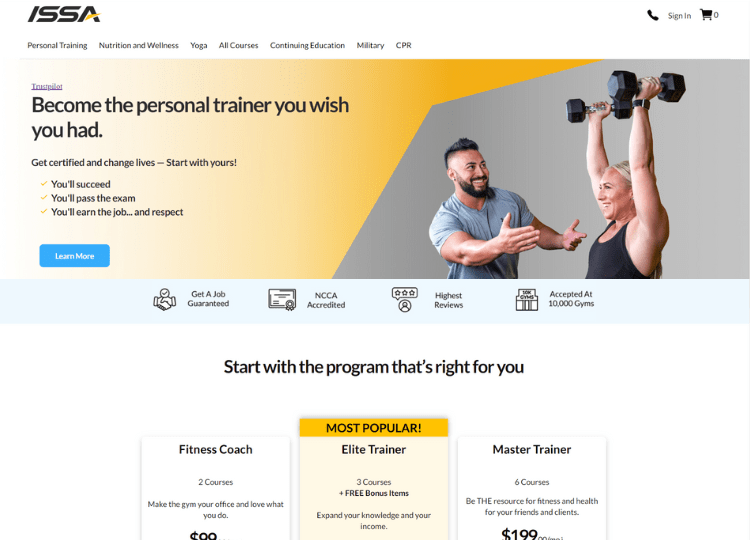 Why We Picked ISSA
We picked ISSA as the best overall certification for becoming a CPT because we've personally had the best experience as a customer with this brand. From signup to exam, the experience was amazing and the customer support was genuinely outstanding.
For example, we realized on completing the ISSA-CPT exam, we must have entered a typo upon registration which meant the surname on the certificate was incorrect. This was resolved quickly by a very friendly and supportive team member from ISSA. For us, this reflected what so many online reviews say about ISSA in relation to the level of support you get.
The brand is also well recognized and trusted within the space, and we'd be surprised if any gym or health facility didn't look positively on a candidate with a ISSA-CPT. They also have lots of other great courses and CEUs, which means it's a brand you can use throughout your career as a Personal Trainer.
The RRP is higher than some other certifications (although still cheaper than others), but they often run big offers (check current deals here), including certificate bundles, which ends up making ISSA great value for money too.
Who is ISSA-CPT Best Suited To?
We think ISSA is best suited to anyone looking to become a CPT that wants a quick and effective way to gain the relevant knowledge so they can pass the exam.
The exam pass rate is the highest (or at least one of the highest) in the industry, and is open-book and untimed, which is likely going to appeal to those who don't like the thought of an intense final examination (and you get one free retest too).
It's also 100% online, which means even if you're not in the US you can still get certified with them.
The days of commuting to a local assessment center are over!
With a guaranteed job offer once you've passed your exam, ISSA-CPT is also great for anyone who wants job security and employment.
NASM – Best Reputation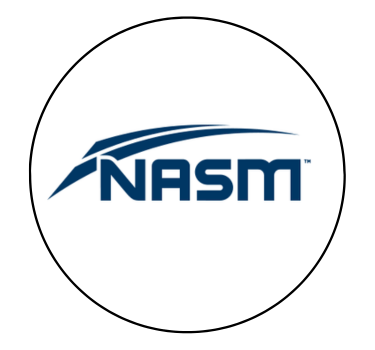 NASM PT CERTIFICATION
Most popular certification, DEAC and NCCA accredited, best study material, thriving online community of NASM-CPTs
The NASM-CPT comes with a very strong and impressive reputation. This is largely due to the fact the exam is considered harder than most, and therefore any aspiring PT that passes it, clearly knows their stuff.
NASM's course material is also heavily backed by science and proven training principles, so lends itself well for trainers who want to maximize results for their clients.
Founded in 1987, NASM (National Academy of Sports Medicine) has decades of experience, with thousands of students trusting it to get certified each year.
A total of 1.4+ million students have been educated by NASM, so you're in good company.
Pros:
Very strong reputation.
Most popular certification (more PTs use NASM than any other provider).
NCCA-accredited.
Great community of fellow NASM-CPTs.
Includes NASM's Optimum Performance Training (OPT™) model.
Gymternship™ includes internship at a gym.
Job guarantee.
The lower exam pass rate and harder exam means some employers will look very positively on a NASM-CPT.
Cons:
Hard exam – contributes to reputation, but also means pass rate is lower.
More expensive.
If you're completely new to fitness, it might be overwhelming.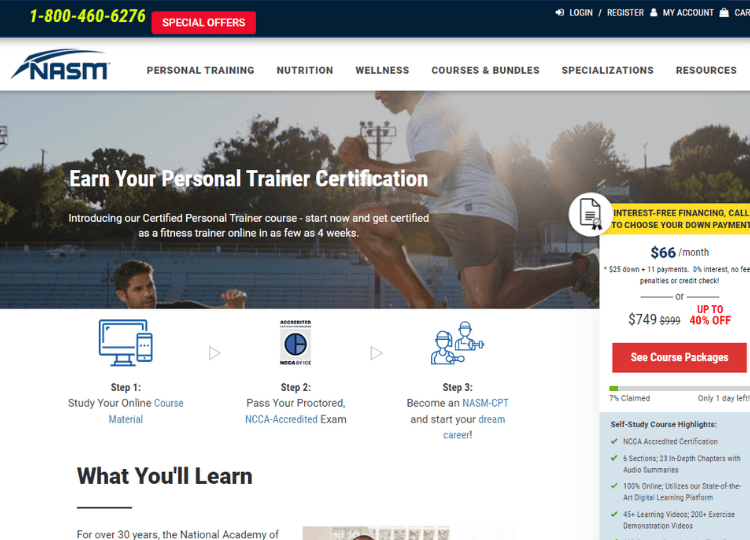 Why We Picked NASM
Ultimately, it would be very hard to compile a list of the best PT certification and not include or mention NASM.
It's the most popular certification based on active certified PTs and has a very strong reputation within the fitness space as a trusted and respected brand.
The online reviews are hard to look past too… PTs clearly love the company.
This reputation largely stems from the course material and exam itself. The NASM Optimum Performance Training (OPT™) model is often praised by past students and all this means NASM Personal Trainers put themselves in a great position to progress their careers.
Similar to ISSA, NASM-CPT also includes a guaranteed job offer, which is definitely something to consider if you are looking for a local job after getting certified.
Who is NASM-CPT Best Suited To?
We think the NASM-CPT is best suited to those who already have a bit of experience within fitness. Perhaps a degree in sports science, or a vocational qualification in sports…. or even just years of enjoying fitness and exercise and taking an active approach to learning about new theories and proven-scientific principles.
With a harder final exam, NASM is best for serious trainers and therefore not as suited to beginners or those nervous about passing.
NASM is also a great option for anyone who wants to be a part of what feels like quite a special and elite group of trainers. They have social communities and groups where you can share ideas and tips with each other.
ACE – Best Basic Certification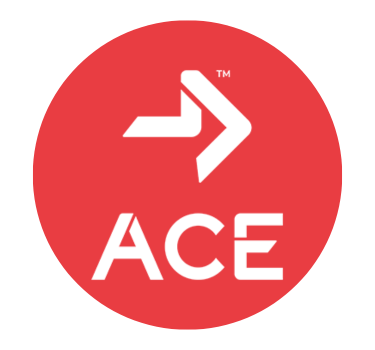 ACE PERSONAL TRAINER CERTIFICATION
Great for beginners (no experience needed), competitively priced, special populations focus, non-profit, outstanding reputation.
ACE, American Council on Exercise, is a non-profit with decades of experience certifying Personal Trainers.
Some aspiring trainers may prefer the idea of using a non-profit to get certified, as the interests and focus of the organization are different to those of a private company.
We really liked all our interactions with ACE and feel they are a brand that understands what CPTs need in terms of knowledge but also attitude and expectations.
This is evident in their list of CEUs, which includes courses around aging populations, diversity/inclusivity, corrective exercise, weight management and women's health.
These are all very practical courses that give CPTs useful knowledge when it comes to training clients in the real-world.
You can also do the exam online or in person now (it used to just be in-person).
Pros:
Competitively priced CPT.
Another popular brand.
NCCA and EHFA accredited.
Non-profit organization.
Simple pricing/packages.
Live Q&A enhances online learning experience.
Get certified from 3 months after enrolling.
Cons:
Basic package doesn't include quite a lot of our favorite features.
High re-test and recertification costs.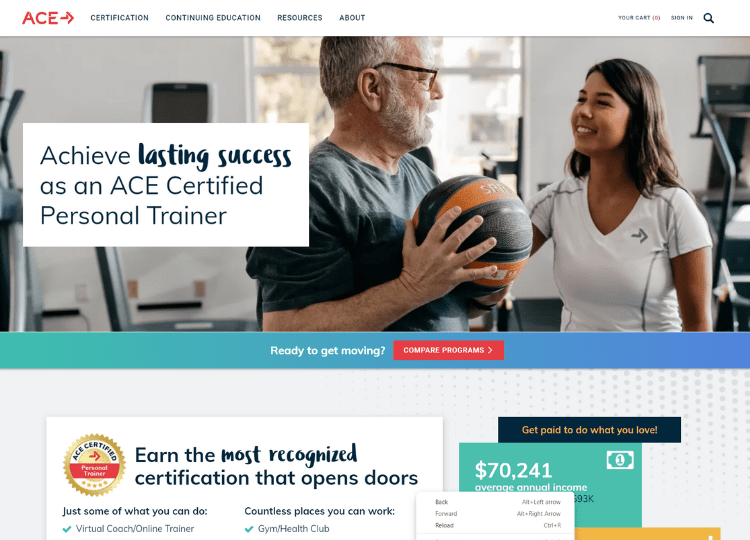 Why We Picked ACE
The ACE-CPT is another great choice for beginners and those looking to get certified quickly.
It feels the most comparable to ISSA and their marketing/messaging is quite similar.
Although ACE used to keep things simple with just 4 certification packages to choose from, they've recently launched bundles and additional packages with new specialist courses included.
We'd personally recommend either the Plus or Advanced CPT package as you get some really useful additional study material, such as "live Q&A" and audiobooks, and they aren't that much more than the Basic package.
You can also now take the exam online, instead of at a local test center, which is a big thumbs up for us. We'd guess most people would prefer doing the exam on their own terms.
Who is ACE-CPT Best Suited To?
We think the ACE-CPT is best suited to anyone who wants a simple way to get certified.
It's a relatively quick course and ACE state you could be ready for your exam within 3 months (although this depends on how fast you work through the study material).
We also think ACE is a great option for anyone who wants to focus on special population clients and understand the nuances in coaching such clients.
Features such as "live Q&A" also mean that although the ACE-CPT is an online certification, you get some of the benefits of interactive learning.
For those who want that additional learning experience, ACE's Plus and Advanced packages are well-priced options.
The ACE Certified Medical Exercise Specialist certification is another very interesting option for trainers and one that would likely help them stand out in a competitive job market.
Fitness Mentors – Best Low Cost Certification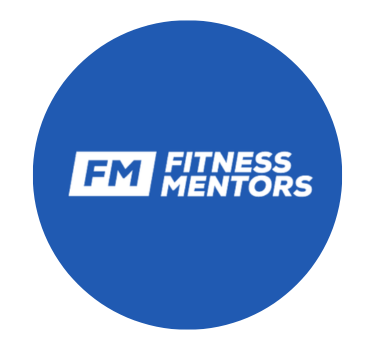 FM-CPT
Cheapest CPT, one of the highest exam pass rates, short exam, weekend and evening support.
Originally just a study provider, FM (Fitness Mentors) now offer their own CPT certification.
Although they are a newcomer to the space, they are NCCA accredited, which means their CPT meets the same industry standards as all the other leading certification brands.
To stand out in an already crowded market, Fitness Mentors' CPT is very competitively priced and also comes with a very high exam pass rate… which means although it is a new certification option, we'd guess it will appeal to quite a large audience.
Pros:
Probably the cheapest CPT.
High exam pass rate
NCCA accreditation option.
Great alternative to the more established ISSA, ACE and NASM CPTs.
Weekend and evening customer support.
Short final exam – 100 questions.
Cons:
Not as well-known as other certifications.
Fewer students enrolling means less community support.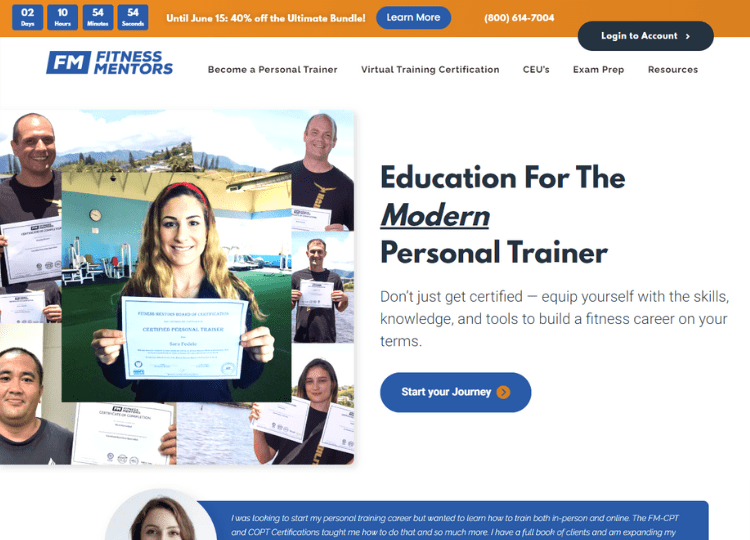 Why We Picked Fitness Mentors
Although Fitness Mentors is less well-known than brands like ISSA, NASM and ACE, their reputation and customer reviews indicate they are very much here to stay and one to watch for the future.
We picked Fitness Mentors as the best low cost PT certificate because you can get certified for as little as $499 (at the time of writing).
It also has one of the best exam pass rates (very similar to ISSA), which means those who want to give themselves the best chance at getting certified should definitely consider FM.
Who is FM-CPT Best Suited To?
We think FM-CPT is best suited to anyone who wants the cheapest certification, and cost is their main criteria.
As far as study material go, Fitness Mentors has a lot of really good business content, which seems more practical and useful than other business/marketing sections in other certification course material.
This would be most beneficial for PTs who want to go self-employed or start their own business, as this aspect of the course could make a big difference in their ability to attract new customers and grow a success personal training business.
The final exam only has 100 questions, so it's a short exam compared to other CPTs, which might be welcomed by those who don't like exams.
NCSF – Best for International Coaches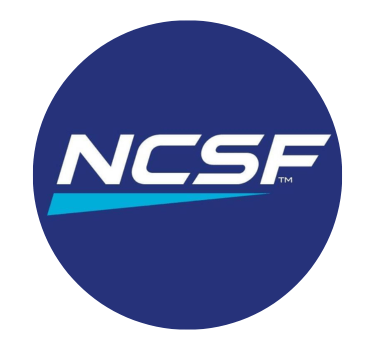 NCSF PERSONAL TRAINER CERTIFICATION
Big international presence/reach, competitively priced, great online reviews, partnerships with leading gym brands, low CEU requirements, in-person/online options.
The National Council on Strength and Fitness (NCSF) is another leading brand in the space, especially when it comes to international reach.
They are NCCA accredited and have some great partnerships with leading gym brands, ideal for NCSF-CPTs wanting to land dream jobs in these sorts of companies.
The CPT from NCSF is also competitively priced and allows you to study and take the exam at home.
The platform that hosts the study material is also very easy and intuitive to use, which makes learning the course material relatively straight forward.
At the time of writing, they also have a big discount on their packages, which actually brings the price of NCSF-CPT lower than the one offered by Fitness Mentors.
Pros:
Currently on sale, making it one of the cheapest CPTs.
Great gym partnerships for job opportunities – Equinox, LA Fitness, Gold's Gym, Orange Theory.
NCCA accredited.
Lowest CEU requirements (just 10 hours over 2 years).
Inclusion of Strength and Conditioning great for training athletes.
In-person and online options.
Cons:
Limited CEUs/additional courses compared to other options.
Lower exam pass rate might put some beginners off.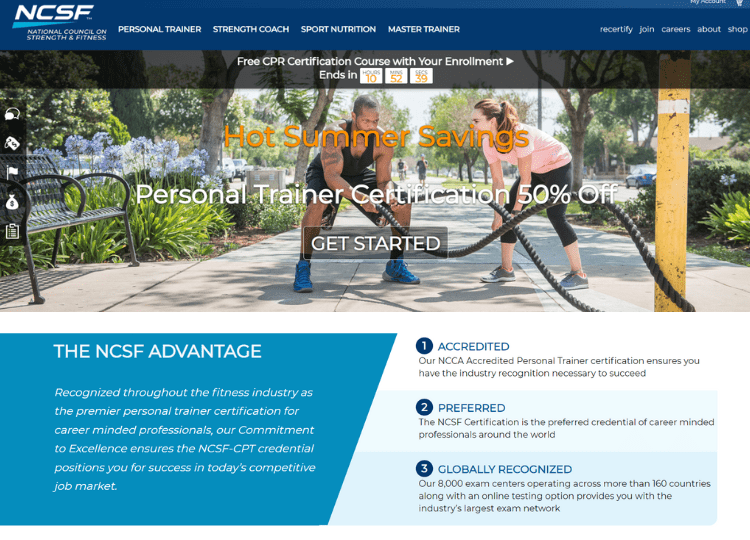 Why We Picked NCSF
We initially picked NCSF because of its international credentials and recognition… but we could have easily picked it for price too.
The NCSF-CPT is very competitively priced, and like all the other certification providers, they also run big discounts and offers on this throughout the year.
They have a global reach, and partnerships with international gym chains, making it a great choice wherever you are in the world.
You can also study and take the exam online, so there is no requirement to attend a local seminar/test center.
Who is NCSF-CPT Best Suited To?
We think NCSF-CPT is best suited to anyone who likes the idea of training athletes, or who wants to include lots of strength and conditioning principles into their clients' fitness plans.
NCSF, like NSCA, also has a big focus on strength and conditioning which is perfect for anyone who wants to work with athletes or in a professional sporting capacity. With testimonials from the likes of Jay Sabol from the Miami Heat, NCSF Strength Coach is an additional certification worth looking into.
The NCSF-CPT also has low CEU requirements (10 hours every 2 years), which might be a big selling point for some.
We think the exam is harder than Fitness Mentors, ISSA and ACE, so beginners may want to check they're up for the challenge.
NSCA – Best for Strength and Conditioning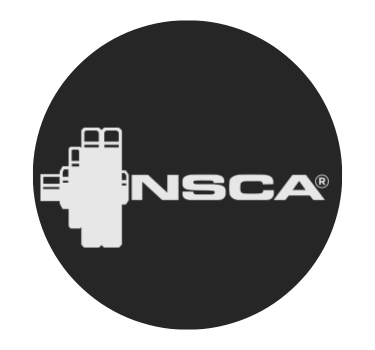 NSCA PT CERTIFICATION
Great reputation for strength and conditioning training, CPT is available in different languages, results-driven focus.
The National Strength and Conditioning Association (NSCA), is a non-profit that has been dedicated to advancing the strength and conditioning and related professions since 1978.
The NSCA-CSCS is highly regarded within the fitness space, but requires a bachelor's degree, so the NSCA-CPT is a great alternative for those without a bachelor's that want access to the same approach and teachings.
It's slightly different from the other providers on this list in that it allows you to become a member, which then makes certifications cheaper and grants you access to unique journals and content.
They have fewer courses, which means you can't add specialist courses as a bundle deal (which ISSA and FM promote quite heavily), but this also means it's quite straight-forward for those who just want to get a CPT.
Pros:
Programming takes center stage, which makes it great for results-driven PTs.
Focus on strength and conditioning, which is an area lots of coaches want to specialize in.
Est 1978, good long reputation.
The CSCS and NSCA-CPT exams are available in Chinese, Italian, Japanese, Korean, and Spanish.
CSCS and CPT go great together. The CSCS is also very respected.
Unlike their CSCS, the CPT just needs a high school diploma and not a bachelor's.
Cons:
Must take exam in person.
Less guidance which might not suit beginners.
Membership is recommended to save on your certification costs.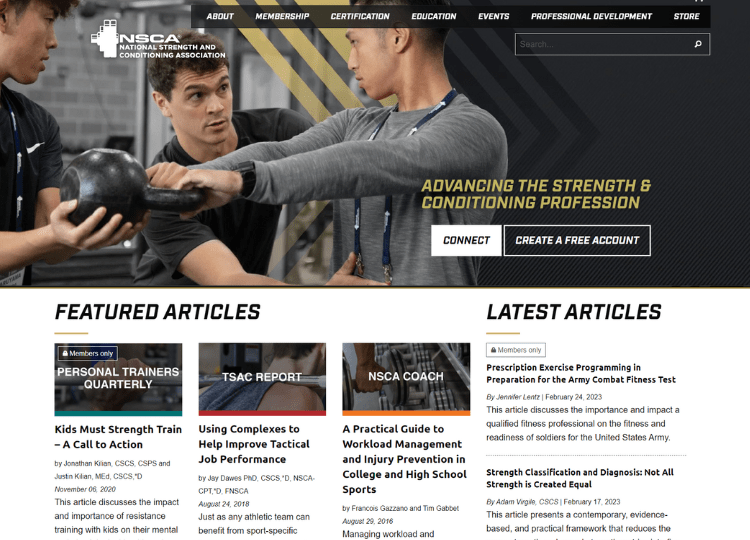 Why We Picked NSCA
We really like that NSCA are the only provider on this list that avoid bundling multiple certificates together, which can make it harder to compare prices and certificates.
They keep things very simple and don't go over the top with their messaging.
We picked NSCA-CPT because if you're serious about strength and conditioning, then this course is undoubtedly worth considering.
NSCA sell the exam registration and study material separately, and if you add everything together, it comes in at a very competitive price. This probably reflects their non-profit organization structure which doesn't prioritize profit over product.
Who is NSCA-CPT Best Suited To?
We think the NSCA-CPT is best suited to anyone who wants to focus their career on strength and conditioning, especially at an elite level.
It's also best suited to anyone who likes the idea of having an ongoing membership that grants them access to further education and content.
PT Certification Comparison
| | ISSA | NASM | ACE | FM | NCSF | NSCA |
| --- | --- | --- | --- | --- | --- | --- |
| Price* | $828 | $999 | $675 | $499 | $799 | $435** |
| Average Pass Rate*** | 90% | 64% | 65% | 90% | 57% | 58% |
| NCCA Accredited? | ✅ | ✅ | ✅ | ✅ | ✅ | ✅ |
| Exam Questions | 200 | 120 | 150 | 100 | 150 | 155 |
| TrustPilot Rating | 4.7/5 | 4/5 | – | 4.7/5 | – | – |
*Prices can often change throughout the year and with bundles/special offers.
**Membership and study material sold separately.
***Based on available data.
Why Get Certified, Anyway?
You might be asking yourself, "Why should I get certified? Can't I just start training people?"
While it's true that there's no law requiring fitness coaches to be certified, there are several compelling reasons why you should consider obtaining a Personal Trainer certification.
Credibility and Professionalism
Firstly, a certification lends credibility to your practice. The importance of this really can't be understated.
It shows your clients and potential employers that you have the knowledge and skills necessary to provide effective and safe training… and this will have a huge impact on how your career progresses.
A CPT is a mark of professionalism that illustrates you meet a specific benchmark for coaching and training.
Increased Job Opportunities
If you aren't a CPT, you may quickly realize that many gyms and fitness centers prefer or even require their fitness coaches to be Certified Personal Trainers.
Having a certification can open up a wider range of job opportunities and make you more attractive to potential employers. You may find promotions and other opportunities are much easier once you've got that base CPT qualification.
Higher Earning Potential
Money talks… and when it comes to fitness coaching, Certified Personal Trainers often have a higher earning potential. According to a survey by the National Board of Fitness Examiners, a CPT will earn about 25% more on average than those without the PT certification.
Gain Knowledge
Not to be ignored, a CPT is more than just a piece of paper, it will teach you new things and new approaches, that will ultimately help you become a better fitness coach for your clients.
You really don't want to be the PT that doesn't know what they're doing and starts getting a reputation for not delivering results.
How to Choose the Right PT Certification
The best Personal Trainer certification boils down to personal preferences. This buyer's guide aims to help you navigate through the marketing and sales of each company and hopefully makes it clear which ones sound like the best fit for you.
Below, are a few key points to remember before you click the buy button.
Accreditation
Accreditation is a key factor to consider.
It ensures that the certification program has met certain standards of quality and reputation. This usually means those unknown certification companies that are offering deals that sound too good to be true, are probably worth avoiding.
Look for certifications that are accredited by reputable organizations such as the National Commission for Certifying Agencies (NCCA).
All certifications on this list are NCCA certified.
Price
Certification programs can vary quite significantly in cost.
Consider your budget, but also remember that investing in a high-quality program can pay off in the long run and try and find a balance that works for you.
Study Materials and Support
Consider the study materials and support provided by the certification program. Do they offer textbooks, online resources, practice exams, and access to instructors for questions?
These resources can greatly enhance your learning experience and preparation for the certification exam.
Physical textbooks might come with additional costs, so bear that in mind too.
Exam Format
The format of the certification exam is another factor to consider.
Some exams are multiple-choice or even open-book, while others may include practical components.
Make sure you are comfortable with the exam format and know what to expect on exam day.
There can be re-test fees if you fail too, so check how that works and what those costs are.
Recertification Requirements
Finally, consider the recertification requirements (i.e., you'll be required to get "recertified" to demonstrate you are still actively learning).
Most certifications require you to recertify every few years (usually every 2 or 3 years), which may involve continuing education and a recertification fee. The amount of CEUs may vary though, and this might mean cheaper CPT end up pricier over the long run due to these additional recertification costs.
So make sure you understand these requirements before choosing a certification.
Specialist Courses
One of the differences we noticed when researching PT certificates was that some providers had a bigger catalogue of specialist courses. This could be yoga, strength and conditioning, bodybuilding, you name it.
What you'll probably find is that it's easier to do other courses and CEUs under one company just for the admin of it all… in which case, choosing a PT certification company that has all these additional courses available is definitely a benefit in our eyes.
(For example, the new 200 Yoga certification from ISSA, is really popular and something that a new CPT might want to consider as a next step).
Job Opportunities
You also want to think about job opportunities. Some certification companies literally offer a job guarantee once you're certified, as well as having partnerships with certain gym chains and brands.
If you want to find a job quickly after you get certified, choosing a company with existing ties to certain brands would also be something to consider.
FAQs
How do you Become a Certified Personal Trainer?
Usually, anyone over the age of 18 and a CPR/AED certification can become a certified Personal Trainer.
To become certified, you need to sign up to a certification program and pass the final exam.
The requirements for passing the final exam will vary from provider to provider, and may be 100% online, or require in-person testing.
How Long does it Take to Get Certified as a Personal Trainer?
This will depend on the certification program you choose, but expect something around 12 weeks at a minimum.
If you're studying at your own pace, this could be faster, or slower.
If you already have a good understanding of the course material, some providers will let you take the exam quicker.
What's the Easiest CPT Exam?
This depends on the individual course material but based on exam pass rates, ISSA and Fitness Mentor would likely be seen as the easiest exams (statistically speaking).
What's the Most Respected Personal Trainer Certificate?
Any certification that is NCCA-accredited is going to be well received and respected.
Anecdotally, NASM is often seen as the most respected certificate, probably because the exam has a lower pass rate than others (suggesting it is one of the harder exams to pass).
What Personal Trainer Certificate Earns the Highest Salary?
We think there are too many other factors that would impact salary to draw any meaningful conclusions about individual certifications and salary. What does seem to be true, is that additional training/courses, such as strength and conditioning, yoga, corrective exercise, etc, do help negotiate higher salaries.
What CPT Program Exam has the Highest Pass Rate?
ISSA and Fitness Mentors both claim to have the highest pass rate, around 90%. This is noticeably higher than ACE and NASM.
Understanding our Methodology
We want to make it very clear how we came to the conclusions and ultimately selected certification providers for this roundup review.
To make this review, we used our own experience within the fitness space and with different certification providers, as well as acknowledging customer reviews online.
We made sure to assess all the leading certification providers and ones you'll likely come across in your research to get certified.
We tried to be honest and include pros and cons for each and help you understand which provider best meets your needs.
Over time, we will also keep this updated and make necessary changes to ensure it still offers the best overview of Personal Trainer certification.
Bottom Line
If you want a career in fitness/health, becoming a CPT is a great place to start.
There are lots of providers who can get you certified, which is why this buyer's guide provides some key overviews and our personal experiences to help you decide.
Good luck, and if you do get certified, send us a message as we're always looking to connect with fellow CPTs.
Related Articles
ISSA Strength and Conditioning Certification – Pros and Cons