We may earn a small commission on some links at no extra cost to you. Learn more.
Finding the best software for your gym or fitness club is no easy task… but don't worry, this buyer's guide has been expertly researched to cut through the noise, filter out the fads, and ultimately make finding new fitness management software a breeze.
We appreciate that as your business grows, or as you consider offering new services such as virtual classes, having reliable systems and technology in place can be the difference between enjoying fast growth in your business and struggling to keep your head above water.
In a hurry? Check out our summary table below for a quick snapshot of the best gym management software.
In the last few years, it has become clear that gym software is now undoubtedly a vital component to helping modern day fitness entrepreneurs and organizations manage their daily operations efficiently.
And with so many companies vying for your attention, deciding which software platform to use can soon feel overwhelming. With the prices and available features varying so dramatically from provider to provider, if you've never scaled a fitness business before, you may not really know what features are necessarily worth it… and what are simply bells and whistles that don't provide many tangible benefits.
We understand just how important getting the right software is for your business so we've put together this comprehensive review and comparison of the best options on the market today.
This guide aims to help you ensure you find the most suited gym software for your specific requirements and we'll help outline the benefits and drawbacks between the leading suppliers.
Unlike many other comparison guides you'll find, we aren't trying to sneak our own software into the list or push you towards any single provider. Instead, we want to simply highlight what we like, don't like, and things to consider about the businesses you're likely to come across when choosing gym software.
We hope this provides value and helps you spend more time inspiring your clients to reach their fitness goals, and less time worrying about business systems and technology.
So without further ado, let's dive in…
Best Gym and Fitness Software
Mindbody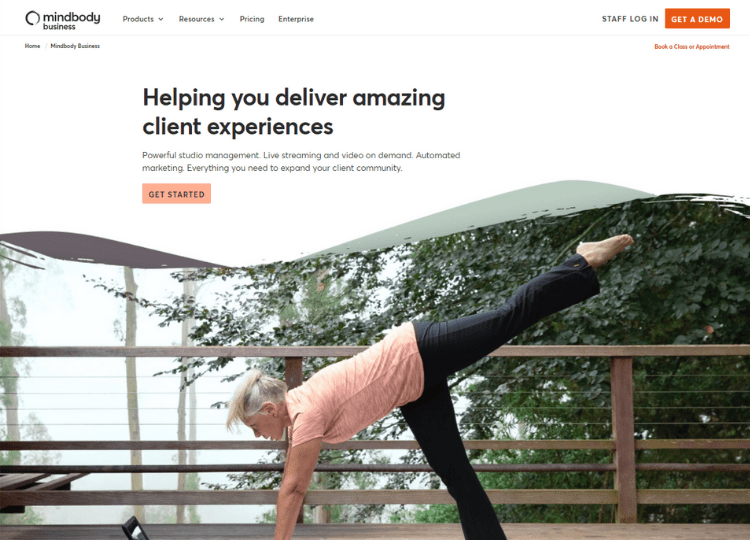 Mindbody has arguably been the market leader for a few years now and continues to lead the way in terms of innovation and new features. With the recent acquisition of ClassPass, Mindbody is showing no signs of slowing down this growth and continues to delight their customers with exciting functionality, coupled with reliable technology.
Mindbody is really the ultimate solution and the technology that powers some of the biggest fitness brands in the world. As far as fitness tech goes, Mindbody is second to none.
We chose Mindbody as our top pick for gym software as it gives fitness owners all the tools needed to grow and scale. It's still very much affordable for small gyms, yet it can scale as you look to grow, making it the best system to adapt to whatever your business goes through.
Mindbody's consumer facing app also has an incredibly large audience (over 1.3 million monthly active users), which coupled with ClassPass' userbase too, means gyms that are looking to find new customers will find this incredibly useful by partnering with Mindbody's software. This instance access to such a large audience of people actively looking to join fitness classes and gyms can't be underestimated and for us, is why Mindbody is currently the market leader.
We find Mindbody's core functionality meets all the demands of organizing and managing a health or fitness facility, from taking payments to arranging staff rotas. But where Mindbody really excels is the marketing suite of tools, which allow you to deliver an extremely professional experience for users. Being able to deliver automated messages that are personalized based on user actions (such as booking or scheduling a class), means you can engage your customers without lifting a finger.
For gym owners looking to integrate virtual classes and online services into their business, Mindbody makes this very easy and simple to do so, with online streaming and on-demand workouts a core feature of the software.
The online reviews of Mindbody are generally very positive. The only real negative feedback often comes from business owners that feel overwhelmed by the features and don't really know where to start. In these instances, it's really important to just reach out to the customer support team at Mindbody. They offer a fantastic service and will help you get the most from the tool. Similarly, there are lots of useful resources and videos to help demonstrate how to use the platform online.
Key Features
Get listed on the Mindbody app and get connected with over 1.3 million users looking to book fitness and wellness experiences.
Powerful marketing tools, including personalization.
Your very own branded app.
Powerful reporting and business insights.
Scorecard
Overall – 95%
Price – 18/20
Reliability – 19/20
Ease of Use – 18/20
Features – 20/20
Reporting – 20/20
Virtuagym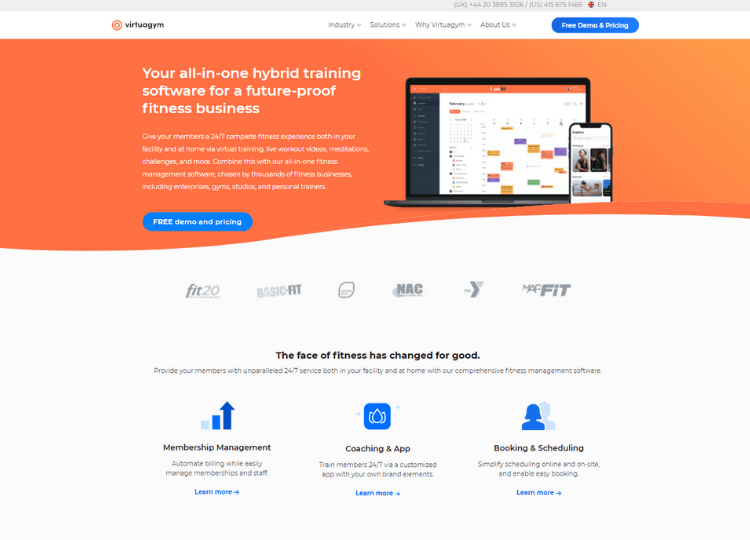 Virtuagym offers both a consumer facing app, as well as a tool for fitness businesses to manage their members online.
Virtuagym for business is an all-in-one solution that blends online coaching and services with more traditional gym management requirements very well.
Virtuagym offers all the core functionality you'd need from gym software, such as online booking, automated billing, membership packages, access control integration, and powerful dashboards. It also includes some nice additional features, such as upsells during checkout and virtual coaching features.
We like how Virtuagym makes it easy to sell and manage shorter term passes and packages, e.g. giving access to a gym or online classes for a week. Sometimes this is what customers want and having the ability to sell this sort of service without requiring extra adminstrative work is a real bonus.
It also feels very personal and offers the foundation to create a personalized and customer-focused online experience.
Due to Virtuagym's consumer facing app, it feels like they've learnt a lot about what users want, which makes their app for business very intuitive and likely to go down very well with your members.
Key Features
All-in-one solution, offering everything to manage and coach clients.
Online community and virtual challenges to engage your members.
Advanced coaching via the app.
Scorecard
Overall – 92%
Price – 18/20
Reliability – 18/20
Ease of Use – 19/20
Features – 18/20
Reporting – 19/20
10to8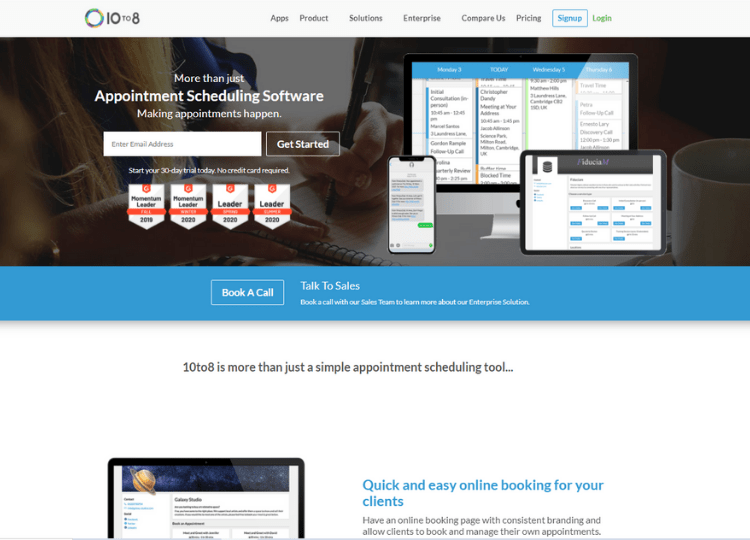 10to8 is an advanced booking system, which includes a free plan to help you get started.
It can be used in all sorts of user cases and isn't designed specifically for fitness clubs or gyms, but offers a lot of benefits for this type of business.
10to8 is all about simplicity and a great option for any business looking for a quick and easy way to accept and manage online bookings. It doesn't come with advanced marketing features or facility management, but it does online bookings very well.
If the main feature you want from your gym software is the ability to manage bookings efficiently, then you can likely save yourself a lot of money by using 10to8 compared to more specialist gym software.
As 10to8 is a more generalist tool, it may not feel as intuitive as other providers that have really crafted software to support every aspect of running a fitness business.
Key Features
Free plan available.
Simple but comprehensive scheduling tool.
Take online bookings and coordinate staff.
Scorecard
Overall – 91%
Price – 19/20
Reliability – 19/20
Ease of Use – 18/20
Features – 16/20
Reporting – 19/20
TeamUp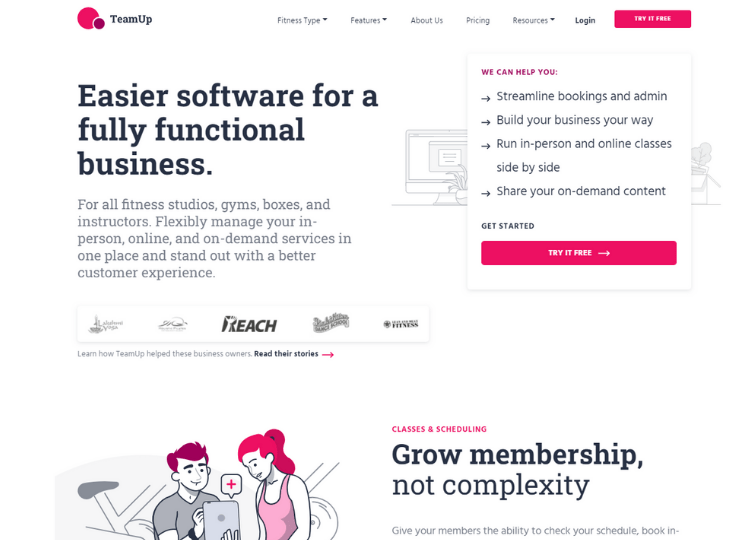 TeamUp offers a comprehensive solution to managing any health or fitness business.
With a simple pricing plan, that increases with more users, TeamUp make it very easy to get started. This type of pricing means that if you're a small gym or studio, you get a lot for your money, but if you run a large gym with thousands of members, this pricing model may not be as attractive.
As far as features go, TeamUp is very robust and covers everything you'd need. From scheduling to payments, TeamUp will take care of it all.
TeamUp has adopted the hybrid model very well and offers gym owners the ability to manage both physical premises and online classes very easily.
Features such as allowing members to book siblings on classes together illustrates TeamUp really understands the ins and outs of what a gym or fitness center needs. These seemingly minor features are actually where there is big opportunity for gyms to create very memorable experiences for their members.
Key Features
Very well priced for smaller businesses.
Powerful features to manage and engage members.
Includes a member app.
Scorecard
Overall – 90%
Price – 17/20
Reliability – 18/20
Ease of Use – 19/20
Features – 19/20
Reporting – 17/20
Glofox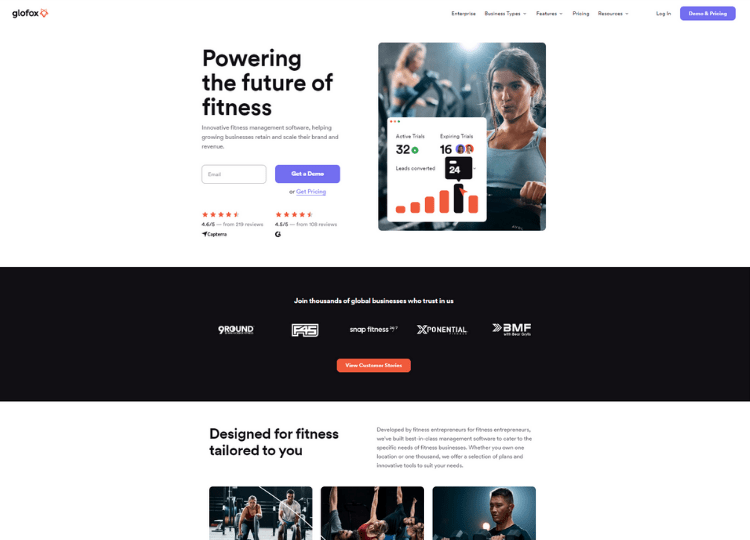 Glofox has quickly amassed a large following with gym owners, who are looking for a powerful all-in-one solution.
Glofox offers a very modern, clean and intuitive web interface, which makes managing and organizing the business a simple process (even for those who aren't tech savvy).
Glofox's dashboard provides a very elegant snapshot of your business, and it is likely something that gym owners would end up referring too throughout the day.
Glofox also offers a branded app, that is rich in features, such as push notifications. This really helps to keep users engaged and build a strong community feel for your gym.
Glofox keeps their pricing hidden, but their basic plan starts at around $110/month. This is perhaps a little higher than we'd expect based on features and functionality, but for those who want to trade some features for a very easy tool to use, then Glofox is worth considering.
Glofox's marketing and sales features are undoubtedly impressive and probably their key selling point, but for those looking to better organize gyms and studios that have lots of moving parts, the features designed to help the day-to-day management may feel less robust than other solutions.
Key Features
Sleek, modern interface.
Powerful marketing tools and features.
Branded app.
Scorecard
Overall – 90%
Price – 15/20
Reliability – 18/20
Ease of Use – 18/20
Features – 19/20
Reporting – 20/20
My PT Hub
My PT Hub is not really gym management software, but rather personal trainer software. It is designed for individuals, or small teams of trainers, that simply want an easy way to manage their clients.
My PT Hub comes in at a very attractive price, starting at just $20/month, offering features like payment processing, calendars, online workouts, and nutritional plans.
If you're more focused on remote and online services, this type of personal training or coaching software is likely to save you money, compared to the more comprehensive solutions designed for physical premises.
My PT Hub even integrated with Apple Watch, meaning you can track and monitor your clients workouts like never before. For virtual workouts and classes, this really is an impressive feature for the price.
If you want something that can streamline the management of a fitness center or gym, then you'll probably find there are some features that are missing from My PT Hub, but for those who prefer the idea of a virtual fitness brand, then this software could be all you need to scale up and grow.
Key Features
Take payments.
Offer virtual workouts and on-demand programs.
Integrate with Apple Watch.
Scorecard
Overall – 87%
Price – 19/20
Reliability – 17/20
Ease of Use – 18/20
Features – 16/20
Reporting – 17/20
SimplyBook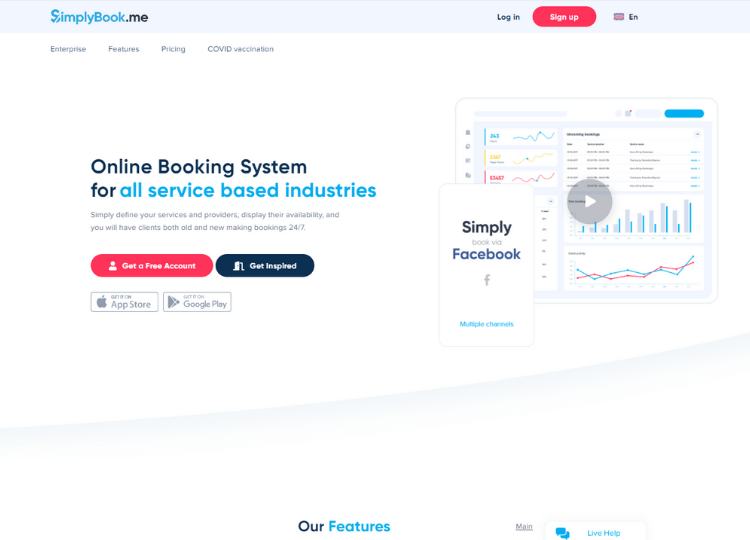 SimplyBook.me sits at the opposite end of the market to say a Mindbody or TeamUp.
With a free plan to help you get started, SimplyBook.me is a simple booking system to help you take and manage online bookings.
It lacks any specific features designed for fitness centers or gyms, but this ability to take bookings at a very affordable price, means for some businesses, it could be all that's needed to help grow.
You may find you need other software to manage the other parts of your business, such as marketing. The caveat to SimplyBook.me being so affordable, is that tools such as email marketing software, can actually end up costing $100+/month if you want all the personalization features. As a result, the gym management solutions deemed more expensive that include such features as part of their core products, suddenly seem like bargins.
Nevertheless, if you aren't very tech savvy, and simply want a way to take bookings automatically, then SimplyBook.me is worth considering.
It's worth pointing out, SimplyBook.me doesn't accept payments, instead, it integrates with solutions like PayPal or Stripe. So, if you don't like the idea of setting up integrations like that, you might want to bear that in mind.
Key Features
Free plan available.
Take online bookings.
Good reporting and business dashboard.
Scorecard
Overall – 84%
Price – 19/20
Reliability – 17/20
Ease of Use – 17/20
Features – 15/20
Reporting – 16/20
Zen Planner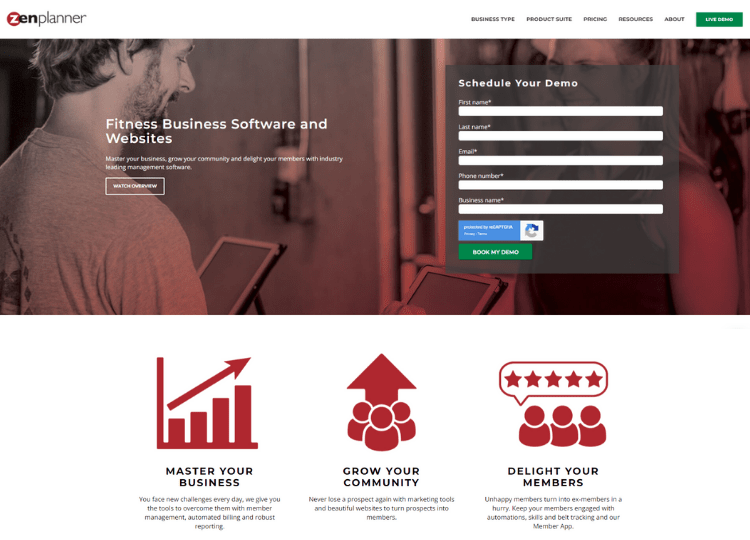 Zen Planner is an all-in-one gym and wellness management solution.
It comes with all the main features you'd want to see for managing a gym, such as customer billing, online scheduling, attendance tracking, automations and reporting.
The user interface looks quite outdated and doesn't feel as intuitive as you may hope for, but it does the job which is the main thing.
Zen Planner has some pretty cool features for martial arts studios, such as the ability to track belts and when members are ready for a test. Even for regular gyms, Zen Planner makes it very simple to monitor the progression of members, which ultimately helps fitness owners ensure their customers are reaching their goals efficiently.
Zen Planner also offer websites and marketing solutions. Unless you really don't have time to shop around, you're likely to find fitness websites at a cheaper price elsewhere. The website offering isn't really the selling point of Zen Planner in our opinion, so it's better to focus more on the business tools if you're deciding whether Zen Planner is right for you.
Key Features
Powerful member and staff apps.
Simplified billing.
Comprehensive reporting.
Scorecard
Overall – 81%
Price – 15/20
Reliability – 16/20
Ease of Use – 16/20
Features – 17/20
Reporting – 17/20
What is Gym Management Software?
Gym management software is a term used to describe digital platforms and systems that allow gym owners to electronically manage and organize the daily tasks of their business. From small fitness studios, to large international fitness club brands, this type of software uses databases and user-friendly interfaces to help store and organize information about payments, scheduling classes, instructor availability, membership status, staffing requirements, inventory management and other daily tasks.
It helps remove the need to use spreadsheets, messy filing cabinets and streamlines the process of delivering a high level of customer service.
Gym software can also help improve the security of managing personal data and payments.
Depending on the nature of the gym, certain features may be required, such as the ability to deliver virtual classes, or online workouts too.
Good gym software will also likely integrate with other business tools, such as accounting software.
Most leading gym software is web-based which means you can access and manage everything from a browser on your computer or phone. Some providers also offer apps as well.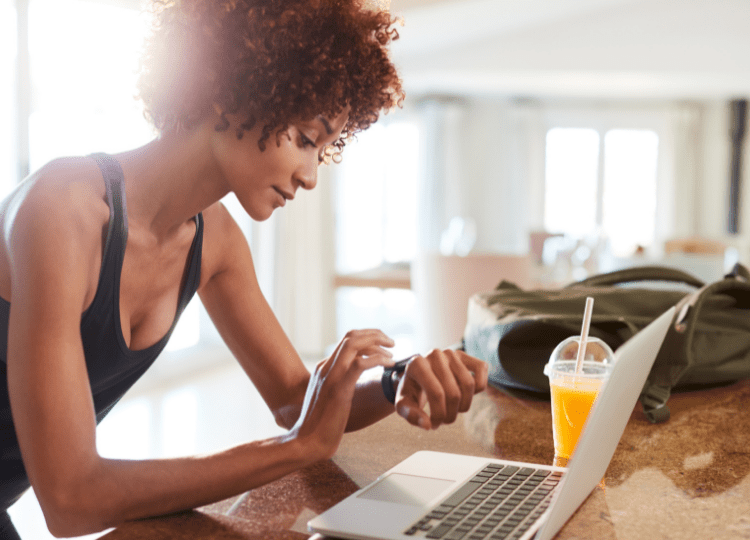 Benefits of Using Gym and Fitness Software
Gym management software brings with it a whole host of benefits. The ability to track, manage and organize every aspect of the business means that you and your staff can focus more on your customers and delivering an exceptional experience, and less time on the adminstrative daily tasks of running a business.
These platforms help save a lot of time when it comes to onboarding new customers, managing their memberships, billing them and ultimately retaining them as customers. As a result, they've become a fundamental part of running a fitness club or gym, regardless of size.
Being able to view and see all customer data in one single place also means it is easier to be proactive and spot any concerning signs that need addressing. This all helps to increase customer retention and grow revenue.
Gym management software also helps remove the need for multiple tools, which can also save more money. Accepting recurring payments, for example, is often included as a core feature in these tools, removing the need for additional payment software in your business.
Similarly, they often include comprehensive marketing tools, such as transactional emails, SMS texts and personalized email notifications.
These systems help to automate repetitive tasks and can help pay for themselves very quickly in terms of how much time they save owners and managers in adminstrative tasks.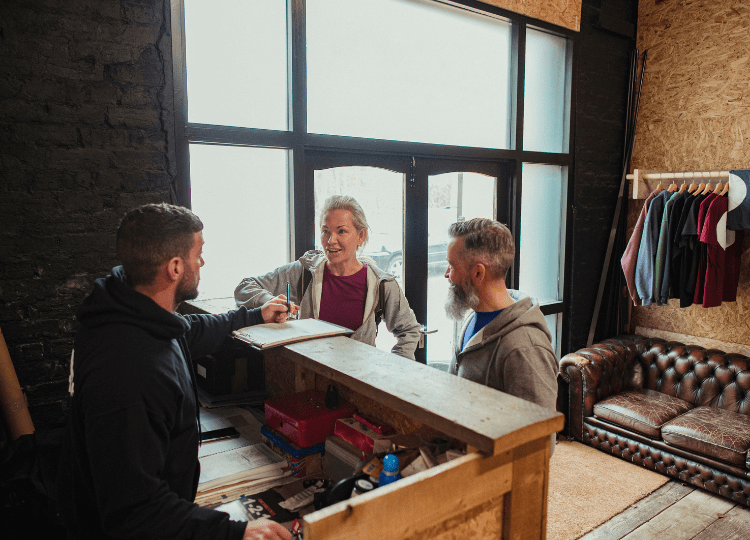 Things to Consider
Gym and fitness club software range in price and functionality quite considerability.
From pretty simple booking platforms, to more comprehensive solutions that help manage every single aspect of running a fitness business, deciding which option is best for you really comes down to what you and your business need.
Swapping software can be a tedious process, so choosing the right platform from the start can definitely help your business grow and scale more efficiently. Although, if you find you already using software that isn't fit for purpose, it's worth the pain of switching as soon as possible to avoid basic software becoming the bottleneck that stops you from scaling and growing.
Some features may sound impressive, but if you're unlikely to use them, or if they are unlikely to improve the management of your gym, then you can save yourself a lot of money by choosing a more basic option.
If you're a one-man-band, you may want to consider personal traing software instead of gym management software, as that is usually more affordable and designed for the needs of individual fitness instructors.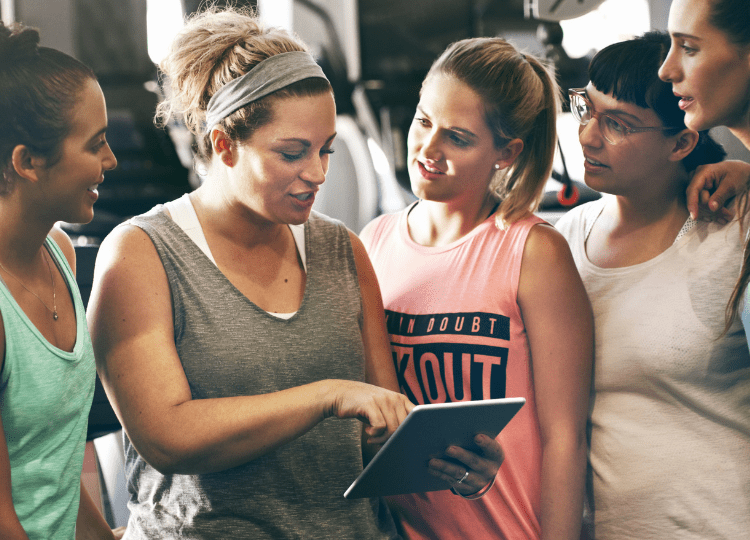 Reviewing and Comparing Fitness Platforms – Our Process
We pride ourselves on the integrity and trustworthiness of our reviews and comparison guides. We want to be completely transparent in how and why we rated certain providers higher than others.
To create this buyer's guide, we surveyed our audience to find out what features were most important for fitness centers and gyms. These core features provided the foundation to our "Scorecards" – a simple way to provide comparable data between difference platforms.
Personal preferences and requirements will also influence which software is best for your own business, so we have also explained what we like about certain providers as well as potential drawbacks and things to consider.
Bottom Line
Gym management software can be the secret weapon to helping you grow and scale. When you have the right software powering the day-to-day management of running your gym, it can make a world of difference for vital metrics such as customer retention, recurring revenue and customer acquisition.
Whether you're looking to switch provider or use gym software for the first time, the market is full of all sorts of solutions, from cheaper basic options right through to very impressive software that really does touch on every aspect of the business.
Ultimately, you need to weigh up how much money you have to invest, your ambitions as a business and what features will make your life easier.