We are reader supported and may earn a small commission on some (but not all) links within our content to products we think will genuinely help our readers at no extra cost to you.
Pilates studio software empowers instructors and teachers to better manage and organize the daily tasks of running a successful Pilates business.
From accepting online payments and bookings, to automating personalized marketing messages, studio management software helps wellness entrepreneurs like Pilates instructors to scale and grow their businesses. Whatever size your organization is, from solo individuals to multinational brands, there's a very good chance this innovative software can help support your Pilates business.
But which provider is the best when it comes to offering these sorts of tools?
From established technology brands like Mindbody, to new providers like Momoyoga, this review aims to put Pilates studio owners in the driving seat with honest, practical reviews of the top Pilates studio management software out there today.
In a hurry? Check out the table below for a quick snapshot of the Pilates software that tops the list based on our head to head comparisons.
Finding the right Pilates software can make a significant difference in your business.
The ability to automate repetitive tasks, better organize employees and customers, add more security to payment processing and deliver a better online customer experience…these features are not "nice to haves", but rather fundamental tools that enable owners to scale and grow a business more efficiently.
In this review and comparison, we signed up for each of the leading Pilates booking systems, exercise apps, and marketing software, as well as more generic wellness management tools, to understand which providers can truly make an impact for owners. We've based this on; price, features, ease of use and overall business impact.
6 Top Best Pilates Studio Software for Teachers and Instructors
Mindbody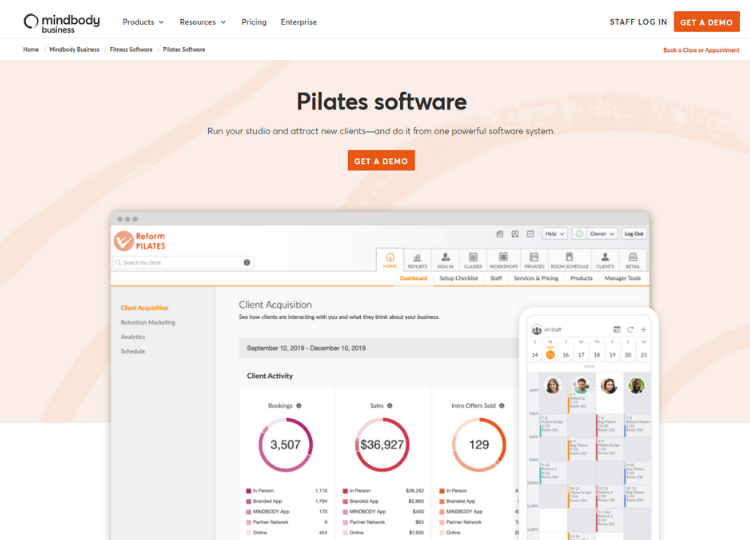 If you're looking for a reliable, all-in-one solution, Mindbody is the answer.
Founded in 2001, Mindbody has long been the leader in providing innovative tools for businesses in the health and wellness space. From solo Pilates teachers, to large health clubs, Mindbody is well suited to all sizes and helps to streamline, automate and organize the day to day tasks of running any sort of wellness service.
For Pilates teachers and studio owners, Mindbody has all the core features needed to scale and grow a business. From taking online bookings to automating personalized marketing messages at scale, the platform becomes the operating system for wellness entrepreneurs.
Particularly for Pilates instructors looking to take advantage of the boom in virtual and online classes, Mindbody's technology makes this very simple and intuitive.
Businesses using Mindbody can also benefit from instant access to over 1.3 million monthly users of their app, who are actively looking to book fitness classes (both local and online). Mindbody also recently acquired ClassPass, illustrating yet more users they are able to introduce to their business customers.
Mindbody is best for Pilates studios looking for a single platform to manage every aspect of their business. As far as functionality goes, Mindbody is second to none and offers a very comprehensive suite of tools. They also include some really impressive add-ons like their FitMatrix which integrates live data into leaderboards and customer performance reports. If you want to stand out in a competitive local market… this is how to do it!
The only thing to consider with Mindbody is that will such a broad range of functionality at your fingertips, it's easy to get slightly overwhelmed. Luckily, we've found their customer support team to be very useful, as well as all their tutorials online.
Mindbody starts at $129/month.
Momoyoga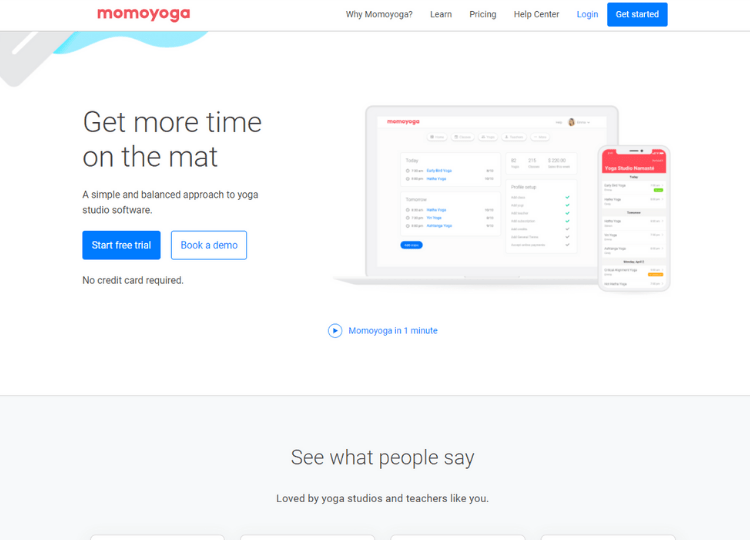 Momoyoga feels like a bit of a hidden gem. The user interface is incredibly simple to use and it makes it very clear what value you can gain from using the platform.
It doesn't boast the same reputation or brand awareness of some of the others on this list, but it has quickly built quite the following of loyal customers.
Momoyoga does 4 things very well. It allows you to take bookings online, accept payments, upload videos for virtual classes and automates basic marketing messages. The depth of each function is limited compared to more comprehensive tools, but this also makes it very easy to use. This simplicity means that if you really aren't tech-savvy and want something up and running instantly, Momoyoga provides everything you need.
Momoyoga offers a very easy to use platform. Without needing any technical skill and knowledge, an employee is likely to be able to finger it out and start using it. Although the name and marketing position it as "yoga" software, we've found it to be more than suitable for Pilates studios too. The only disadvantage is that your students would need to use the app to book classes, which is heavily branded towards yoga, which may put some "Pilates-only" studios off.
Momoyoga offers a no-strings attached 30 day free trial, so if you're on the fence, there's really no harm in giving the free trial a go and seeing what you think.
Momoyoga is best for smaller studios that want one piece of software to support all aspects of the business. Starting at just $20/month, it is also very affordable.
10to8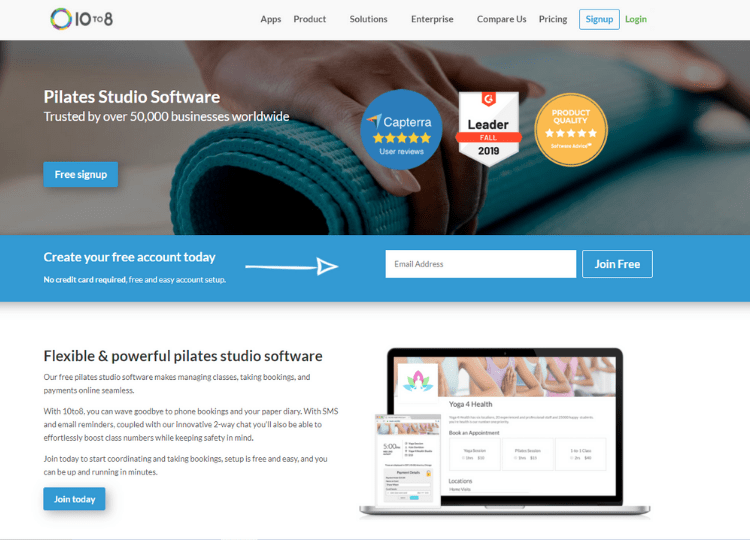 10to8 is another popular online booking and scheduling tool, that many health and wellness businesses use.
10to8's dashboards may look slightly out-dated but the core functionality and features are very impressive, especially considering the price.
10to8 includes a free plan, with very affordable paid plans for additional features.
10to8 focuses on scheduling and bookings, so unlike some of the other providers, this means you'll need another service for things like marketing messages. This exclusive focus on scheduling and bookings mean that 10to8 have created a very good product that allows businesses to manage their calendars efficiently.
10to8 also syncs with other apps very well too.
10to8 is best for Pilates studios that really just need help scheduling and managing their bookings. If the sound of some of these other features like branded apps sounds too overwhelming, then 10to8 might just be the simple solution you need. It is also ideal for anyone that wants to just migrate away from phone bookings and paper records.
TeamUp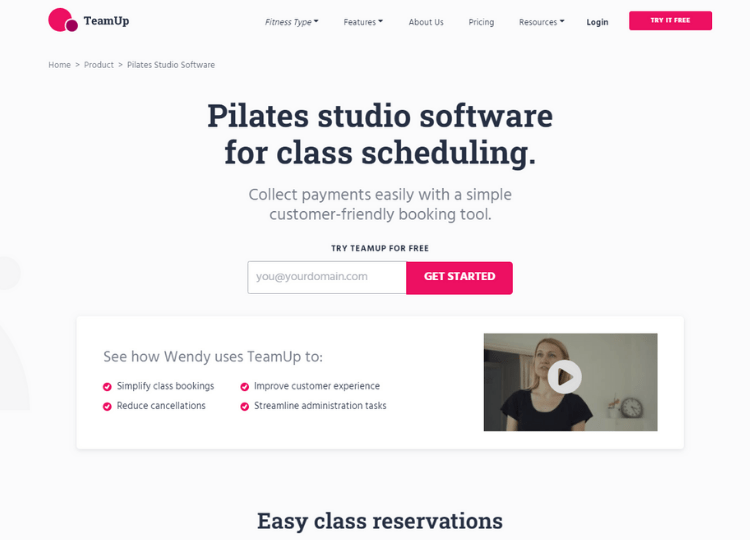 TeamUp is another all-in-one fitness management solution, that can certainly provide value for Pilates studios and instructors.
It offers all the core features you need for runnning a Pilates studio, including; taking online bookings, managing payments, memberships and reporting.
There are also specific features like letting members book a regular spot, which feel very well suited for Pilates studios.
Starting at $59/month, it packs a lot of features into that price tag.
The pricing is based on users, as opposed to features, so this really benefits smaller studios that can enjoy really powerful tools for a very affordable price. As your studio takes off and your user base increases then you may find the pricing model is less attractive.
Studio Growth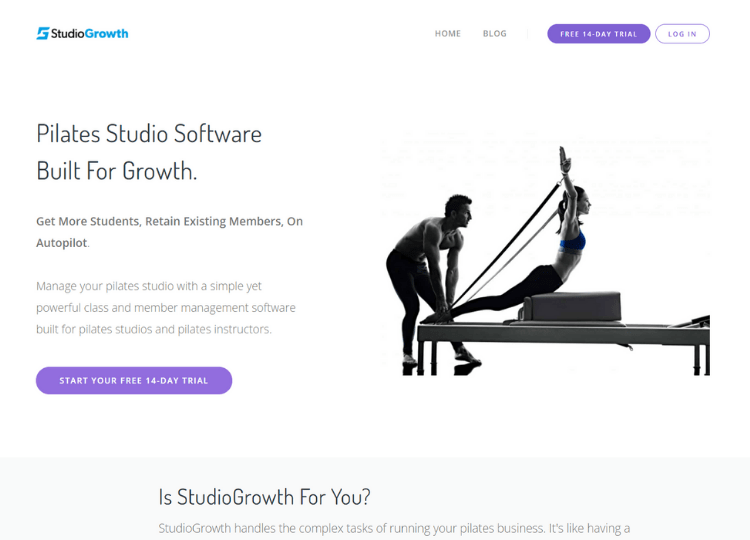 Studio Growth packs a punch in terms of features, and has a lot of subtle nuances that help create a very professional system, even for small businesses.
Studio Growth includes all the core features you would need, such as creating schedules, selling services online, managing attendance, offering basic email automation, powerful reports and even an integration with zoom for online classes.
It doesn't boast the same kind of deep business functionality that other platforms offer, but for smaller studios, Studio Growth certainly offers a lot of the key components to running a Pilates studio.
Growth Studio offers a free 14 day trial, so you can test it out before committing to it.
Glofox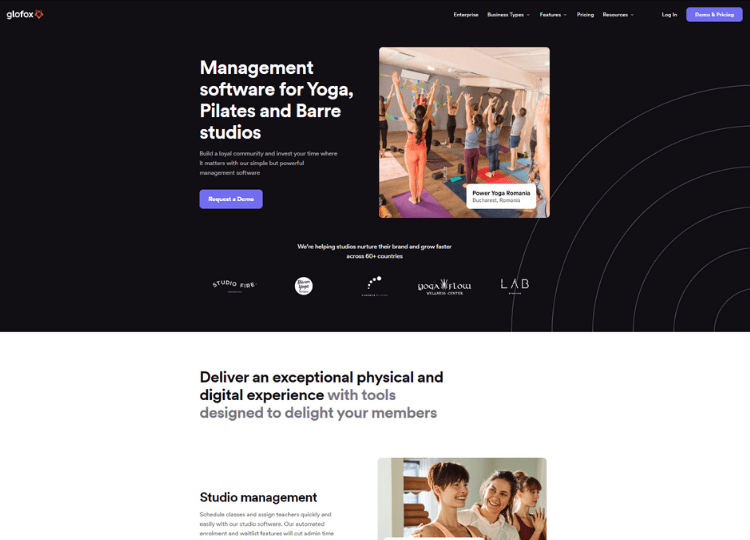 Glofox has quickly amassed a loyal following of users over the past few years.
Glofox is a joy to use and the user interface feels very intuitive and clear. Non-techy teams will likely find it very easy to navigate.
The platform is also rich in features and capabilities.
It does feel like the platform was originally made for "gyms" and that targeting Pilates studios has been bolted-on, but nevertheless, most of these features are relevant.
Glofox doesn't disclose the pricing on their website (which is annoying), but as a ball-park figure, expect pricing to start at roughly $110/month.
Other Providers and Alternatives?
There are of course lots of other health and fitness software that could be used for Pilates studios. Based on our research and trying out the platforms, we thought it would be useful to narrow down the shortlist to the 6 brands mentioned above. We thought this would be more useful than listing out 100 different providers, that start to all to sound similar and don't offer anything unique.
We will keep this list updated and providers may drop out or be added into the list if we try new software that we think can genuinely help Pilates business owners.
We have also been very conscious to base opinions on what is useful for Pilates studios specifically, and not just "fitness" clubs in general. Managing a local Pilates studio brings with it very different challenges to running a global gym, for example, so we've kept that in mind whilst we've used each software.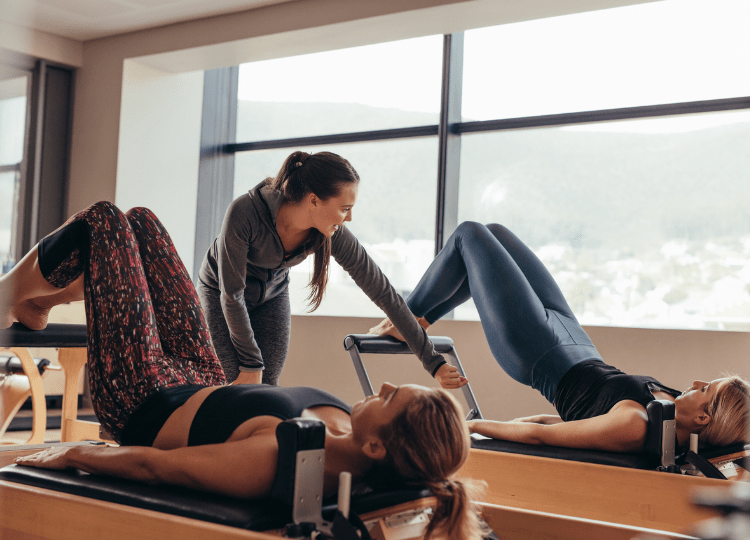 What Makes Great Pilates Studio Software?
Online Booking Functionality
Allowing your customers to book classes is one of the fundamental things you need from any sort of studio management software. This allows you to ditch the spreadsheets and create a more structured and integrated way to manage bookings and classes.
The result is a more seamless experience for your customers, fewer adminstrative mistakes and a lot of time saved.
When buying software for your Pilates studio, this feature needs to be at the forefront of your mind, because if the software doesn't do this well, you'll never be 100% satisfied.
Payment Processing
The ability to take payments is a huge bonus and changes the dynamic of your business. It allows you to scale and sell 24/7, without the need to be present during the checkout process. Customers can pay at a time that suits them.
You can also take payments upfront, helping to better manage cash flow.
Sometime to bear in mind, is that often cheaper providers will make money by taking a larger percentage of each payment they process. This can quickly cost you a small fortune, so in many instances, you're better off paying for pricer software that takes a smaller fee.
Automated Marketing Tools
Having marketing tools integrated into your studio management software is not to be underestimated.
The headaches of trying to sync CRM systems with separate marketing tools, are very much real and can end up engulfing your time and energy.
Being able to access these tools from the same system that has all your customer data in already is a big bonus and means you can craft the ultimate customer experience.
Reporting
Reports aren't just for big businesses, any studio owner can benefit from seeing how their business is performing.
Good Pilates software will create reports that help you visualize revenue, customer acquisition, attendance and other key metrics.
Virtual Classes
Online and virtual Pilates is very much here to stay. Whether this is a core service you offer, or something you are currently researching, it's useful to know you could add online classes and workouts to your services with ease.
Many providers offer this feature, but in different ways. The main thing is ensuring it suits you and that you feel confident using any features like this so you can spend your time teaching and instructing, and less time on technical support forums.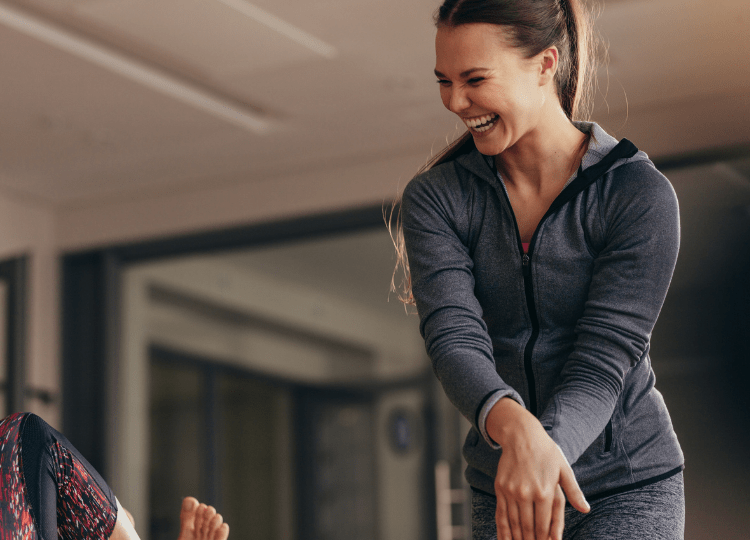 Bottom Line
The potential savings in time and money that the best Pilates software can provide is clear. The decision for you as a business owner is selecting the right provider, that offers the functionality that you need, at a price that works for you.
Related Articles
Mindbody Review – Can It Help Grow Your Wellness Business?