We are reader supported and may earn a small commission on some (but not all) links within our content to products we think will genuinely help our readers at no extra cost to you.
Getting certified in strength and conditioning is a great way for Personal Trainers, Physical Therapists, and other fitness professionals, to expand their knowledge and progress their careers.
Strength and conditioning coaching is all about optimizing performance, whether that's for ambitious grassroots athletes or elite Olympians.
The learnings and knowledge gained from such a certification program can really separate fitness professionals… especially those looking to train at a high level.
One of the most popular strength and conditioning certifications is from ISSA.
But what's the program like? What type of lessons are taught? And who is it best suited to?
This ISSA Strength and Conditioning review covers it all, and ultimately helps you decide if this is the certification for you or not.
In a hurry? ISSA is currently offering this certificate for just $39/month. Click below to learn more.👇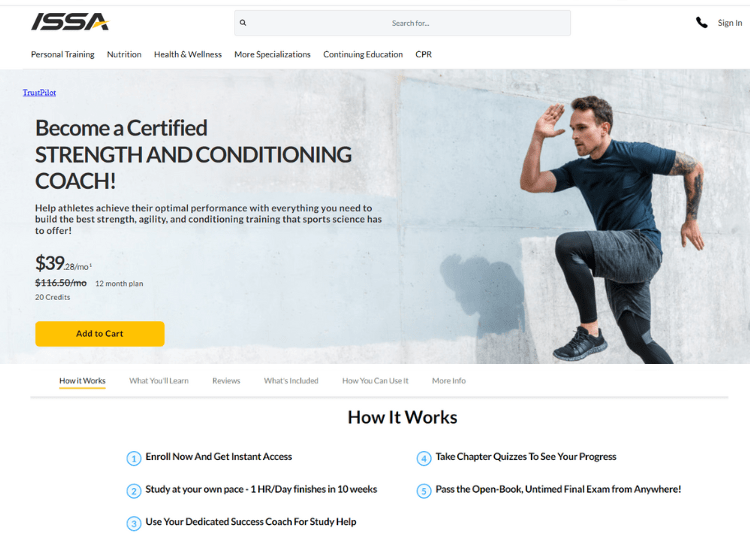 Did You Know…
Personal Trainers can earn as much as $4k more per year, when they take an additional specialization course like the Strength and Conditioning Coach certification (providing a significant ROI).
ISSA Strength and Conditioning Certification – Overview
What is the ISSA Strength and Conditioning Certificate?
ISSA (International Sports Sciences Association) is one of the leading suppliers of fitness certification programs. Their strength and conditioning coach certification is a relatively new certification, designed to give fitness professionals an accredited program focused on the optimization of athletic performance.
If you're unfamiliar with ISSA, check out our ISSA review, which outlines what their flagship CPT certification is like.
It's a broad certification that covers everything from biomechanics to nutrition.
What's Included
586-page textbook
Online exercise lab
Online student forum
Practice exam
Free NCCPT accredited exam
Unlimited educational support
Free website (if you want one)
Want to Preview the Content?
What You'll Learn
We've outlined the program modules and lessons below. As you can see, it's a beast of a program, including 23 separate modules. Although this is a beginner-friendly certification, it really does provide a fantastic range of teachings.
INTRODUCTION TO STRENGTH AND CONDITIONING
Health Benefits
Goals of This Course
THE NERVOUS SYSTEM
Functions of the Nervous System
Components of the Nervous System
Interactions of the CNS and the PNS
Lower Motor Neurons and Motor Units
Motor Commands
MUSCULAR SYSTEM
Anatomical References—A Quick Glance
Muscle Attachments
Skeletal Muscle Structure and Function
Muscle Actions
The Roles of Muscle
Muscle Fiber Types and Functional Characteristics
Muscle Size Changes
Muscle Growth Triggers
Skeletal Muscle Groups
Muscle Charts
References
SKELETAL SYSTEM AND JOINT ACTIONS
Skeletal Function
Skeletal Structure
Bone Functions
Bone Structure
Cartilage Structure and Function
Ligament Structure and Function
Joint Capsule
CARDIO RESPIRATORY AND SUPPORT SYSTEMS
The Respiratory System
The Endocrine System
The Digestive System
BIOENERGETICS
Energy for Life
Converting ATP into Energy
The Energy Systems
The Whole Picture
BIOMECHANICS
Study of Biomechanics
Mechanics
Levers
Wheel Axles and Pulleys
Laws of Motion
Friction
Force
Mechanical Loading
Anatomical Reference Terms
Anatomical Planes of Movement
Joint Actions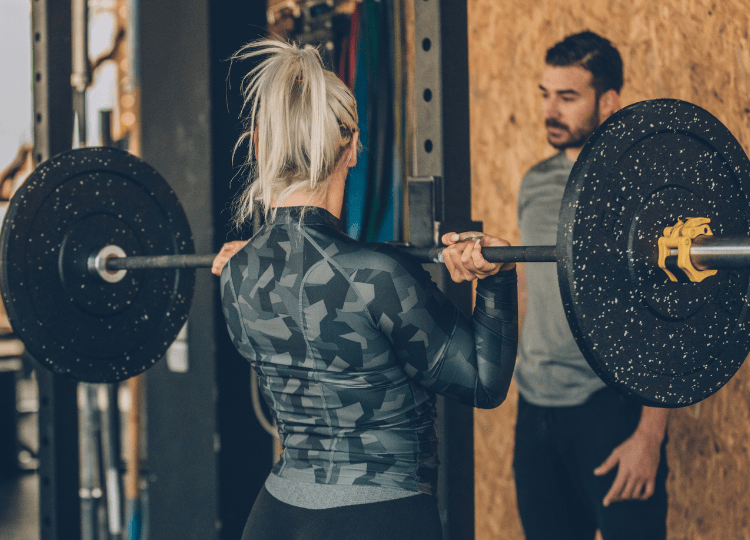 GENERAL ASSESSMENTS
Importance of Assessments
Health Assessments
Fitness Assessments
Cardiorespiratory Assessments
PERFORMANCE ASSESSMENTS
Assessment Selection
Strength
Maximal Strength
Explosive Strength
Reactive Strength
Strength Endurance
Speed and Agility
PRINCIPLES OF PROGRAM DESIGN
Components of Fitness and Program Design
An Individualized Approach
Principles of Training Program Design
Training Variables
Programming
FLEXIBILITY
Flexibility and Stretching
Muscle and Connective Tissues
Factors for Implementing Stretching to Enhance Flexibility
Applying Flexibility Techniques
Stretching Exercises
PLYOMETRIC EXERCISES
Phases of Plyometric Exercises
Plyometrics for Performance Enhancement
Progression of Plyometric Exercises
Upper-Body Plyometric Exercises
Lower-Body Plyometric Exercises
CORE EXERCISES
Anatomy and Function of the Core
Core Exercises in the Frontal Plane
Core Exercises in the Sagittal Plane
Core Exercises in the Transverse Plane
Multiplanar Core Exercises
LOWER-BODY EXERCISES
Lower-Body Anatomy
Lower-Body Movement
Technique
Lower-Body Exercises
UPPER-BODY EXERCISES
Upper-Body Anatomy
Upper-Body Movement
Technique
Upper-Body Exercises
POWER AND OLYMPIC-STYLE WEIGHT LIFTING
Overview of the Core Olympic Lifts and Power Training
Principles of Sports Science
Preparing for Power Exercises
Power Exercises
PART A: RESISTANCE TRAINING SYSTEMS
Fundamentals of Training Programming
Warm-Up
Training Parameters
Training Microcycles: Weekly
Strength and Conditioning Guidelines
Loading Variations
Deloading
PART B: APPLYING PERIODIZATION
Preparation Phase Programming (Preseason)
Competition Phase Programming (In Season)
CARDIORESPIRATORY PROGRAMMING
Glycolytic and Antiglycolytic Training
Components of Endurance
Types of Endurance Training
Training for Aerobic Power
Cardio Programming for the Preparation Phase
Cardio Programming for the Competition Phase
Cardio Programming for Cyclic Athletes
RECOVERY AND INJURY PREVENTION
Training and Recovery
Stress
Models
Recovery Methods
Recovery Adaptation Modalities
Prevention and Care of Athletic Injuries
NUTRITION
Scope of Practice
Macronutrients
Micronutrients
High-Performance Diet
Caloric Intake and Athlete Goals
Hydration
Common Supplementation
SUPPLEMENTATION
Supplements for Athletic Purposes
Nutritional Supplements
Supplements to Increase Absolute Strength
Supplements to Increase Speed and Reaction Response
Supplements to Increase Endurance
Supplements to Accelerate Recovery Time
Supplements for Weight Loss/Fat Loss
Banned Substances
PERFORMANCE PSYCHOLOGY
Performance and Sport Psychology Overview
Myths of Performance Psychology Training
Psychological Skills Training (PST)
Psychological Strategies and Applications
Practical Considerations and Suggestions
PROFESSIONAL PRACTICE
Roles of a Strength and Conditioning Coach
Scope of Practice
Preparing for a Job Interview
Build a Network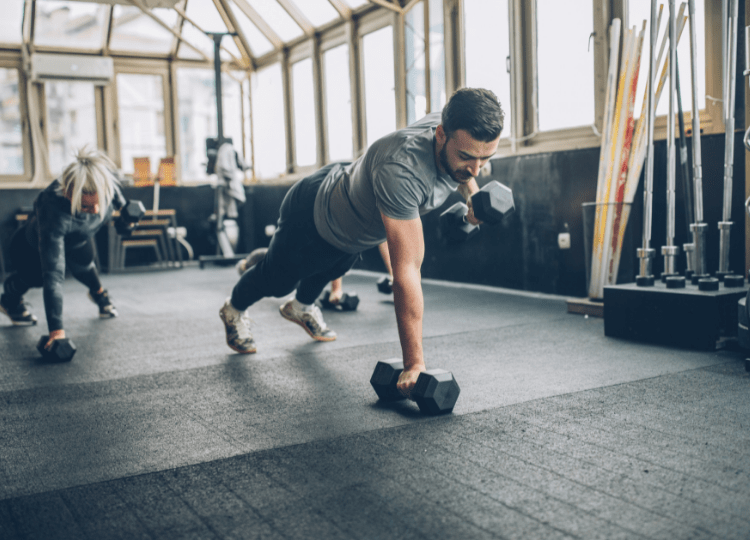 What We Like About ISSA Strength and Conditioning Certification
Training High Performance Athletes
If you're a CPT or general fitness coach, gaining a certification in strength and conditioning is probably going to be a requirement if you want to work with high performance athletes.
The inclusion of biomechanics and how to avoid/recover from injuries is going to be really important for these top performing individuals.
If you dream of a career in sport, ISSA Strength and Conditioning Coach certificate is a great introduction.
Sports Psychology
Modules that cover topics like sports psychology illustrate the more specific things you'll learn that relate to optimizing performance. Your role as a Strength and Conditioning Coach goes beyond just improving someone's 1 rep max on the bench press… and instead, needs to include a more holistic view of their performance, including their psychology and attitude.
Beginner Friendly Certification
Especially when you compare ISSA Strength and Conditioning Coach certification to other strength and conditioning certifications, the general view from most past students is that ISSA's certification is better for beginners (and basically, easier to pass).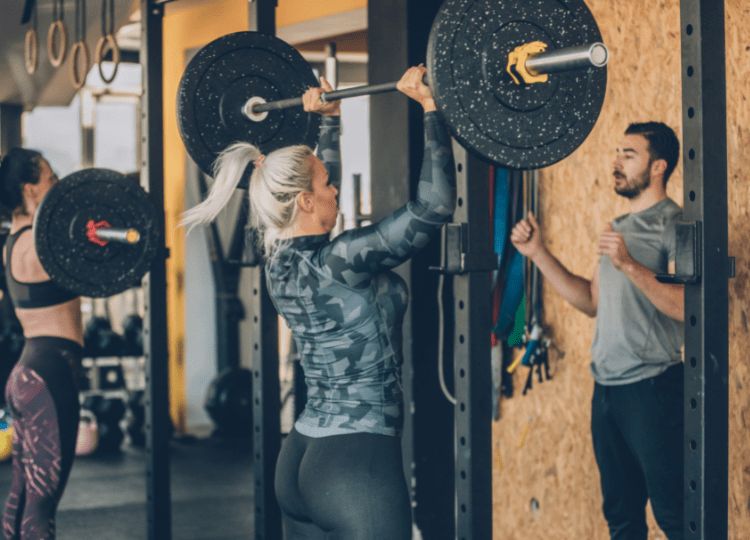 100% Online
100% online makes it very easy to get started and learn in your own time.
Whether you're at school, or working 9-5, you can make ISSA Strength and Conditioning Certification work around your schedule… which ultimately is going to help increase the chance of you passing the exam.
Not all strength and conditioning certifications are online, so if this is important, it's something to bear in mind when looking at alternatives.
Boost CV
Whether you want to train elite athletes, or just work with local clients in the gym, being certified in strength and conditioning is going to help you stand out.
As it's based on performance, it's going to equip you with lots of the knowledge needed to improve someone's fitness, whatever their level.
Program Design
Another useful skill you'll gain from ISSA Strength and Conditioning Certification is the ability to create and craft exercise programs.
This is an incredibly important skill to master if you want to work at the top level of fitness and can help you put your knowledge into practice by tailoring exercise programs to specific requirements and needs.
Strength Fundamentals
We're big believers in the value of strength training… whatever your fitness level.
It's a fundamental pillar to both athletic performance and healthy living, so getting to grips with the best techniques and recommendations for strength training is definitely a bonus.
ISSA's course delves into the different approaches to strength training and how to apply this to different contexts, helping you or your clients reach their specific goals.
Things to Consider
We think ISSA Strength and Conditioning Coach Certification is a great place to start for strength and conditioning certification… but if you're serious about training at elite level, it probably won't be the last strength and conditioning certification you earn.
Something like the NSCA CSCS, which is a more intensive program, might be something you consider further down the line too. This is trickier than ISSA Strength and Conditioning Coach Certification, which is why we like ISSA as an entry level way to get started with strength and conditioning.
You may also want to get specific experience in certain sports if that's where you want your career to go. For example, if you would love to be a strength and conditioning coach for a soccer team, implementing your knowledge within a soccer environment is worthwhile to boost your CV.
If you're curious about other ISSA additional certifications and CEUs, we recently reviewed ISSA Yoga Certification, highlighting what this program is like. If you sign up to ISSA's Master Bundle, you can select 4 additional specialisms, so including strength and conditioning, as well as 3 others, would be an option.
Who is ISSA Strength and Conditioning Certification Best Suited For?
Ultimately, we think ISSA strength and conditioning certification is best for personal trainers, Physical Therapists and other fitness professionals who want to work with top performing clients (whether that's locally or professionally).
A lot of the teachings from ISSA Strength and Conditioning Coach Certification develop on fundamental pillars of personal training and fitness coaching, so if you're a complete newbie, you may want to consider doing a standard certification first.
Nutritionists may also consider taking such a course too, to help improve their knowledge of biomechanics and exercise in relation to diet and nutrition for athletes.
You also need to be 18 and have a valid CPR/AED certification.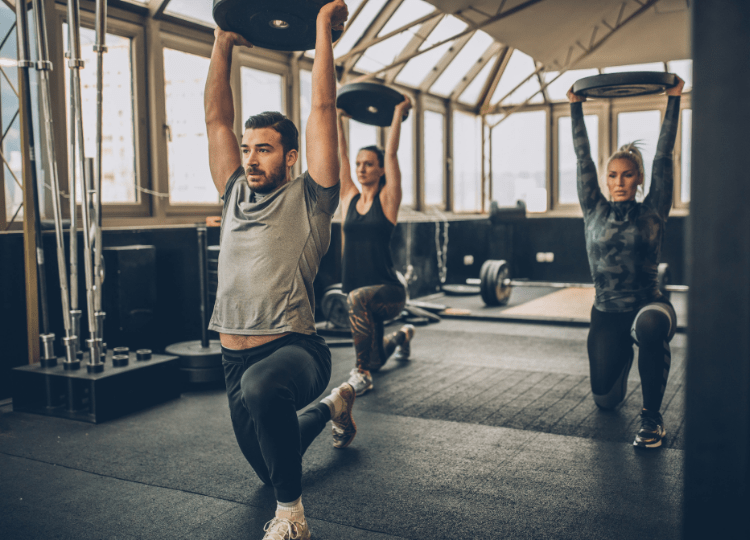 Who is it Not Suited For?
As most clients could benefit from your increased knowledge from ISSA Strength and Conditioning Coach Certification program, there aren't many fitness professionals who wouldn't benefit from it.
If you're already qualified with a certification like NSCA CSCS, then you would probably already have all the knowledge required to lead strength and conditioning services effectively.
Bottom Line
If you're thinking about boosting your fitness career, becoming a specialist in strength and conditioning is hard to argue against. It will give you the knowledge and expertise to create effective programming for your clients.
There are of course many strength and conditioning certifications out there… for us, ISSA are the best for beginners and entry level, as it is 100% online and the general feedback is that it is easier to pass than some of the other S&C certifications.
You can currently save $926 on the certification by clicking below. 👇
Related Article
MedBridge Promo Code – 40% Discount
Essential Personal Training Equipment Kit List