We are reader supported and may earn a small commission on some (but not all) links within our content to products we think will genuinely help our readers at no extra cost to you.
The sport of running is booming.
Strava recently reported the number of people completing marathons doubled from 2021 to 2022… and other fitness trackers have released data highlighting that running/jogging activities are unquestionably trending.
According to a Statista report, an estimated 60 million people in the US now actively run to keep fit.
But what does this mean for fitness professionals?
Well, it's safe to say, with more people running, there is more than likely going to be more demand for running coaches and associated services.
Cue… the ISSA Running Coach certification.
This 10 module course aims to give fitness professionals all the knowledge and skills they need to help others progress their running. Designed so coaches can help both amateurs and more serious runners alike, this course is something most CPTs and fitness professionals will want to seriously consider.
But what is a "running coach" anyway, and what's the ISSA Running Coach certificate actually like?
This review covers everything you need to know, and provides a clear overview of who we think would benefit from signing up and who wouldn't.
In a hurry? Check the latest price by clicking below, or view the latest bundle deals from ISSA here.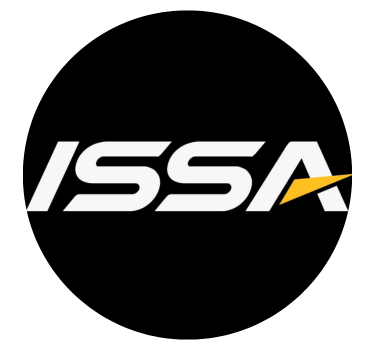 ISSA RUNNING COACH CERTIFICATION
100% online, study at your own pace, unlimited support, 20 CEU credits.
ISSA Running Coach – At a Glance
New course from ISSA.
Created in partnership with prolific author and running coach Jason Karp.
No prerequisites (except for proof of CPR/AED).
100% online.
Study at your own pace.
10 modules – Human physiology, running technique and drills, concepts of running training, programming for running training, running workouts, running injuries, special running considerations, running for weight loss, run training programs, and coaching running.
Assessed by a final open-book exam.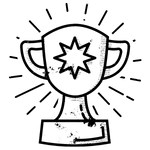 ISSA Running Coach Scorecard – Updated 2023
Career Development – 5/5
Business Impact – 4.5/5
Ease of Use – 4/5
Support – 5/5
Price – 4.5/5
Overall Rating – 4.7/5
Learn more about our review scorecards as part of our editorial review guidelines.
ISSA – A Quick Overview
Established in 1988, ISSA (International Sports Science Association) is an e-learning platform that has helped pioneer online fitness certifications.
In the last few years, ISSA has expanded beyond its flagship Personal Training certification to include all sorts of additional courses, including yoga, nutrition, corrective exercises… and now, running.
As far as certification providers go, ISSA is second-to-none and hard to look past. They have an average rating of 4.7/5 on TrustPilot from over 11,000+ verified customers, which is wildly impressive for any company.
So, if you want to boost your credibility, we think ISSA has the experience and reputation that ultimately means you won't have buyer's remorse after purchase.
If you want to learn more about ISSA as an organization, our ISSA PT certification review provides more context around what they do, student success and other useful information.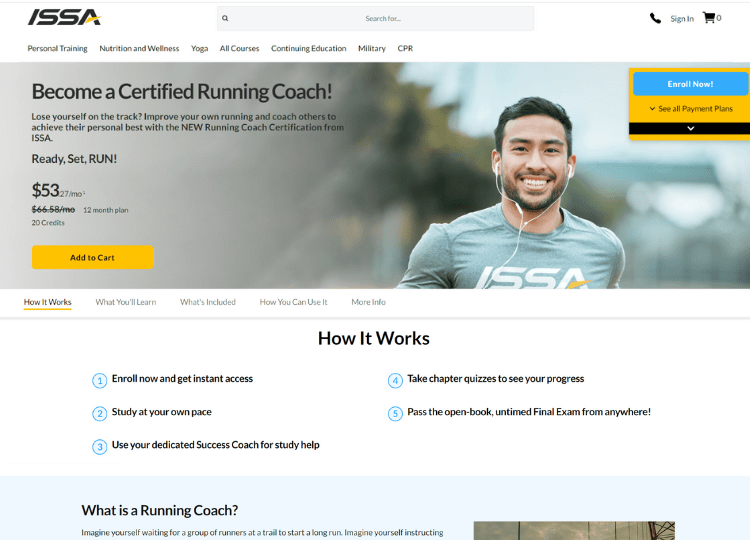 What is a Running Coach, Anyway?
A running coach is a fitness professional that specializes in helping someone improve their running. This can be on an amateur or professional level.
The sort of things a running coach would help a client with, include:
Running technique.
Ongoing motivation.
Injury prevention.
Nutrition.
Athletic performance.
Race strategy.
Training plans.
Do you need to have a qualification or certificate to coach running?
Although you don't need a certification to coach running, if this is your career, we think the investment is a no-brainer really.
Like any profession, you get good running coaches and not so good ones, regardless of what qualifications or certifications they have… but, given the choice, we think most people would naturally lean towards using a running coach that has some sort of specialist certification over one that doesn't.
There aren't any prerequisites for being a certified running coach (except for proof of CPR/AED), but we think a CPT or a related certification definitely helps (especially one that is accredited).
ISSA Running Coach – What's Included?
Online Textbook.
Practice Quizzes.
Manual.
Lecture Video.
Open Book Exam Option.
Unlimited Support.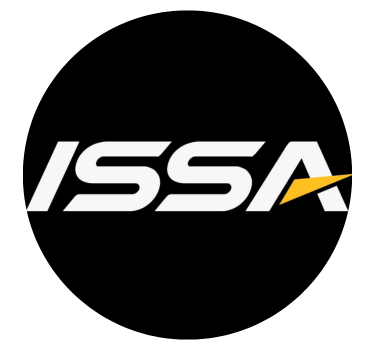 ISSA RUNNING COACH CERTIFICATION
100% online, study at your own pace, unlimited support, 20 CEU credits.
Who Is ISSA Running Coach Best Suited To?
We think ISSA Running Coach certificate is best suited to coaches who enjoy running and like the idea of integrating more running within their coaching routines.
For CPTs, it's a great way to further your knowledge, and if you aren't a certified Personal Trainer, you could sign up for ISSA Elite Trainer Certification and choose the running coach as one of your specialist courses as you get your PT certification.
Due to the popularity and accessibility of running, it's also a great course for any fitness professional looking to attract new clients or stand out in a competitive job market.
It also accounts for 20 CEU credits, so it is a great course for anyone looking for relevant CEUs.
Who Isn't It Suited To?
We think the ISSA Running Coach certificate will probably appeal to a wide audience, but it goes without saying, if you don't intend on coaching running, or don't like the idea of integrating more running workouts within your client fitness plans, there are other courses you may want to consider.
The Yoga 200, Strength and Conditioning, and Pilates certifications are ones that we think are really exciting for career progression. The ISSA Nutrition course also has very good reviews.
What We Like About ISSA Running Coach
Group Training Opportunities
As fitness professionals ourselves, we understand the business of fitness and that coaches need to think very carefully about how they allocate their time.
Group training is a fantastic way to scale a fitness business and a big revenue driver. In 60 minutes, you could earn $50 working one-on-one with a single client, or earn $300 by charging 10 people $30 for a group class.
It doesn't need to be all that you do… but including some group training is definitely worth trying at some stage if you're looking to boost revenue.
Running as an activity lends itself very well for group training opportunities and is often an activity beginners feel less intimidated by.
Jason Karp Lecture
Within the exercise library section of your dashboard, you'll find a video called "Jason Karp Lecture".
This includes over 5 hours of coaching gold, and is definitely worth watching (probably over a few sessions) to get the most out of this course.
Jason Karp covers everything and the video format is definitely a refreshing way to consume the content.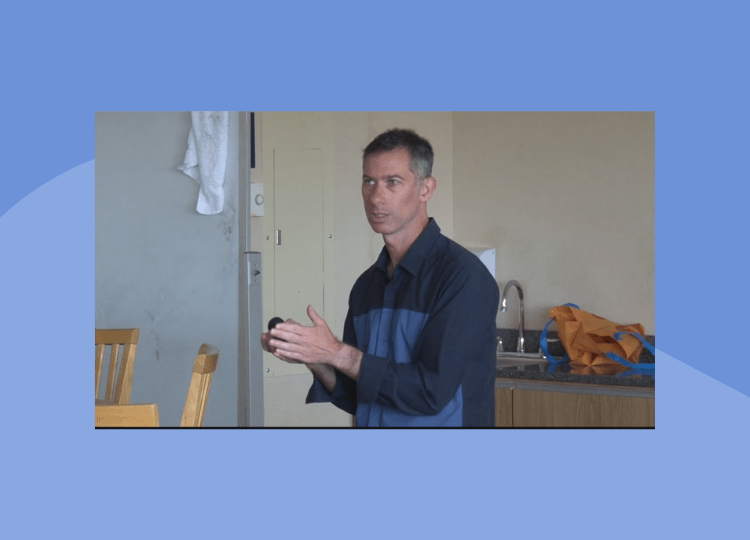 ISSA Success Coach
When you sign up, you'll get access to a Success Coach, who goes beyond just customer support and is there to ensure you get the most out of the course.
You may never need them… but it's nice to know someone is there if you do.
If there are any topics you're struggling with, just reach out to your Success Coach and they can help answer your questions and get you clued up for your exam.
Study at Your Own Pace
Like the ISSA-CPT, the Running Coach Certification allows you to study at your own pace.
This is a really significant benefit for online courses and means you don't need to worry about adapting your schedule to fit lectures and seminars in.
This means you could complete the course over a few months, or just a few weeks… it depends on your preferences and personal circumstances.
Open-Book, Untimed Final Exam
Like other ISSA certifications, the Running Coach Certification is an open-book, untimed exam.
This is great for anyone who doesn't like exams and it puts the focus on enjoying the learning experience, instead of trying to just pass an exam.
Module Quizzes
There is a quiz after each module that can help you understand if you're ready for the exam. If you're passing the quizzes, it suggests you're ready for the final exam.
Attract New Clients
Ultimately, our verdict on any sort of professional course comes down to whether or not it will help your career/business… and we think the ISSA Running Coach Certification would definitely help attract new clients and even open new career opportunities.
And for this reason, the ROI (return on investment) on this certificate could be monumental.
Even if it helped generate just 1 new client, it's probably still worth it in the long run.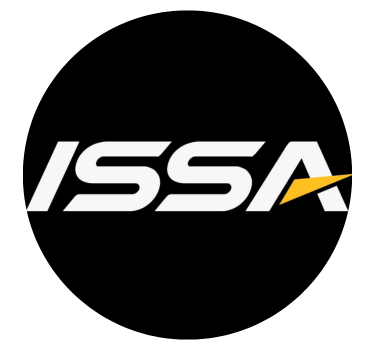 ISSA RUNNING COACH CERTIFICATION
100% online, study at your own pace, unlimited support, 20 CEU credits.
Things to Consider
CPT Would be Recommended Too
As we previously mentioned, there aren't any prerequisites to do the ISSA Running Coach Certification (except for proof of CPR/AED), but we think having a CPT would be recommended.
This is just because a CPT will give you a lot of the foundational knowledge for exercise and nutrition and will likely give you a boost when it comes to attracting new clients or applying for jobs.
A CPT is generally seen as the benchmark for fitness professionals, so even if you just want to focus on running, it's still a great starting point.
Complete Quizzes Before Exam
You need to complete the quizzes before the exam. There are 10 quizzes in total. These don't take long to complete, but do need to be completed before you can view/access the final exam.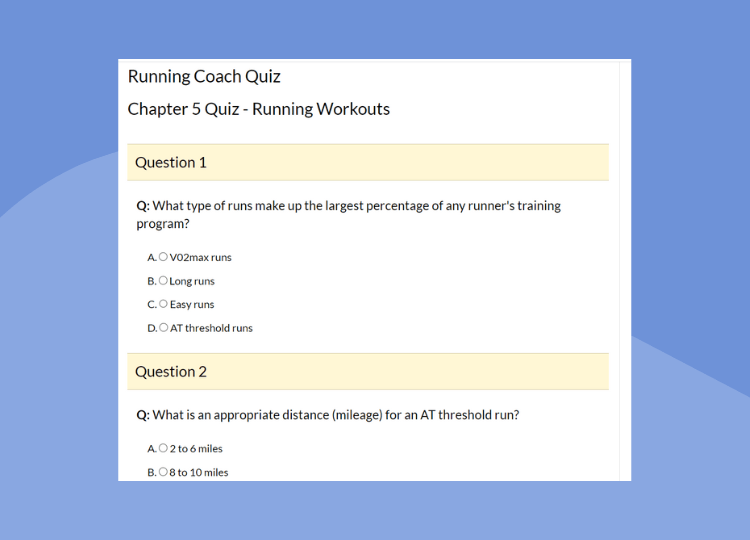 Audio Content
Something we really liked about the ISSA-CPT was the inclusion of audio content. For us, this made learning new concepts easier.
At the time of writing, there aren't any audio downloads to accompany the running coach course, but this is perhaps something that might be added in the future.
But, we did discover something we never knew before in that you can actually get Adobe to read a PDF out load to you. There are also other online tools that can convert text to audio… so you can listen to the content if you go through some additional steps.
Why Trust Us? Review Process Explained
For this certificate review, we followed the course material and went through the quiz/exam questions to help us provide a genuine evaluation of what it is like to use. We've also done the same for lots of other certifications at this point, giving us unique insights into fitness courses and education as a whole.
Bottom Line
If you're serious about coaching running and want to include more running workouts into your clients fitness plans, getting certified as a running coach is definitely something to consider.
ISSA Running Coach is affordable and includes all the necessary information and advice you need to help you confidently lead running sessions with both amateurs and elite athletes.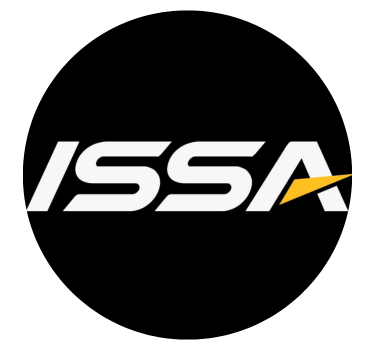 ISSA RUNNING COACH CERTIFICATION
100% online, study at your own pace, unlimited support, 20 CEU credits.
Related Articles
TrueCoach Personal Training Software Review