We may earn a small commission on some links at no extra cost to you. Learn more.
If you run any sort of health, wellness or fitness business, having the right studio management software is a vital component for your overall success.
From taking online bookings and payments, to managing staff rotas and inventory, business software tailored to health and wellness entrepreneurs provides all sorts of benefits that help save money and time. Whether you're a solo personal trainer, own a yoga studio, or run a growing gym franchise, the technology and systems that your business uses will likely have a defining impact on how you attract, retain and engage your customers.
One of the leading providers of such software is Mindbody.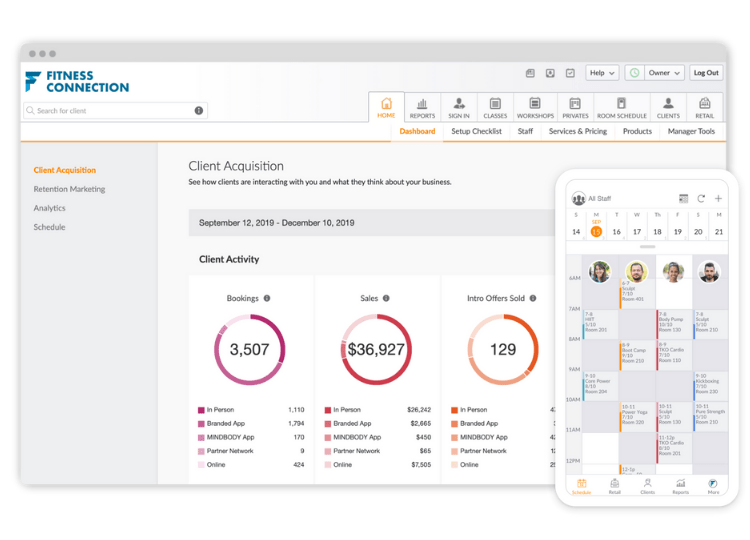 Mindbody's platform has long been at the forefront of the industry, helping business owners all over the world scale and grow their health and wellness brands. If you run a personal training, yoga or fitness studio, it's likely the software provider you've heard discussed amongst your peers.
But is Mindbody right for you? What is it actually like using the software? And how does it compare to alternative providers?
We're glad you asked…
We've been secretly testing out all the leading fitness studio software to provide honest reviews and comparsions of them, with the aim to really help you understand which provider is best for your goals.
In a hurry? Grab a free demo trial below and test Mindbody out for yourself. 👇
What Is Mindbody Business?
Mindbody Business is an all-in-one suite of tools designed specifically for health and wellness businesses, such as personal trainers, yoga instructors and gym owners. The cloud-based software can be accessed and managed via your internet browser or their app.
In terms of features, Mindbody is second to none. It includes everything needed to manage the day-to-day tasks of all sorts of wellness businesses, including those offering virtual and remote services, as well as those with multiple physical premises. (We'll delve into all of the key features later in this review – including how to get the most out of them too!)
Mindbody was founded in 2001 and is the longest standing company of its kind, offering very specialist software to improve the management of providing health and fitness services.
Mindbody also recently acquired ClassPlass, boosting its ability to connect businesses with potential customers.
It's worth noting Mindbody has both a consumer facing app and a separate suite of tools for businesses. As a result, you may find some reviews or discussions about Mindbody actually referring to the consumer facing app as opposed to the business software.
The consumer app is basically a very comprehensive directory of fitness businesses and services (both local and virtual), allowing users to easily find and book fitness classes online. This review, however, is focused on Mindbody Business – the software to help owners manage their fitness services.
To get a bit of a feel for what Mindbody can do, check out some of the reviews of real business owners below.
How Much Does Mindbody Cost?
Mindbody offers pretty straight forward pricing (which is refreshing compared to so many of its competitors who hide the pricing until you book a demo).
There are add-on features too, which mean you can select a lower package if you actually just want a specific add-on instead of everything in a higher tier.
Pricing will likely be displayed in your local currency.
There are currently 4 main tiers:
Starter – $129/month
This basic package offers most of the core features you need to run your business. This would be suited to smaller businesses and those looking to better manage their members.
Accelerate – $259/month
The Accelerate package includes more comprehensive reports, website integration and smart contact lists. This will likely improve member onboarding and selling your services.
Ultimate – $399/month
The Ultimate package includes most of the available features from Mindbody, including all the personalization, automation and marketing features. We would probably use this package out of the gate to run a wellness studio, as it would likely save money by removing the need to use a separate CRM, email marketing software and other marketing tools.
Ultimate Plus – $599/month
This includes all features, including your very own branded app. This would be the best option for businesses looking to scale and grow fast.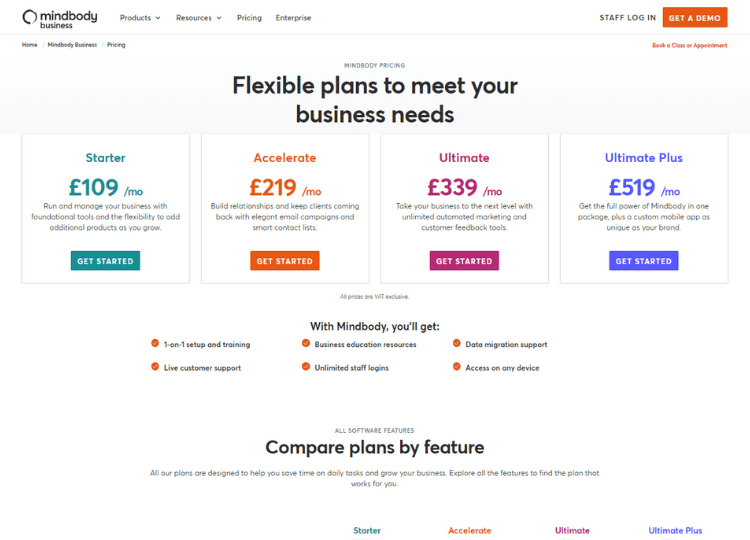 Is Mindbody's Price Worth It?
Mindbody will likely save you a lot of time… and time is money (especially if you're employing staff).
The Ultimate and Ultimate Plus packages also include so many marketing features, that is really removes the need to have other software running in your business. If you have a growing member base, it's not unusual to end up paying upwards of $150/month just in email software costs. When you add designing a branded app, personalized notifications, booking systems, inventory management, live-streaming solutions, and the like, using separate software for all those requirements would likely hit 4 figures a month pretty quickly.
Based on that, Mindbody's software is actually very well priced, and for the quality and reliability of the software, we would say it offers incredible value for any business.
It's also worth noting from our review of similar fitness software platforms, most alternatives are similarly priced, but lack the functionality and reliability of Mindbody… so in terms of price, Mindbody definitely gets a big thumbs up.
Key Features of the Platform
Class and member scheduling

Manage staff and payroll

Powerful reporting
Personalized marketing tools

Accept payments (online and in studios)

Branded app
Virtual live classes
What We Like About Mindbody
Reliability
An area we feel Mindbody really is in a league of its own is in reliability of the software.
The uptime is very impressive and the portal and app have very few bugs/errors.
Some newer providers often try and promote impressive features, but there is nothing as frustrating as when things break or don't function how you expect them to. At the end of the day, reliability is the most important thing when it is the operating system for your business.
We also feel having one single provider to manage all aspects of the business is more reliable than trying to get different apps and software to "talk" to eachother… whereby if one single error occurs, the reliability of transferring vital data is compromised.
If you're looking to avoid pulling your hair out at your fitness software, it's worth considering a switch to Mindbody.
Instant Access to Potential Members
Mindbody's consumer app, coupled with the acquisition of ClassPass, means businesses using Mindbody can get instant access to millions of potential members and customers.
With over 3.7 million fitness classes booked on the Mindbody app alone each month, you can start getting visibility and engagement.
Especially in smaller towns/cities where there's less competition, simply listing your business on Mindbody can instantly create a significant stream of new business for you.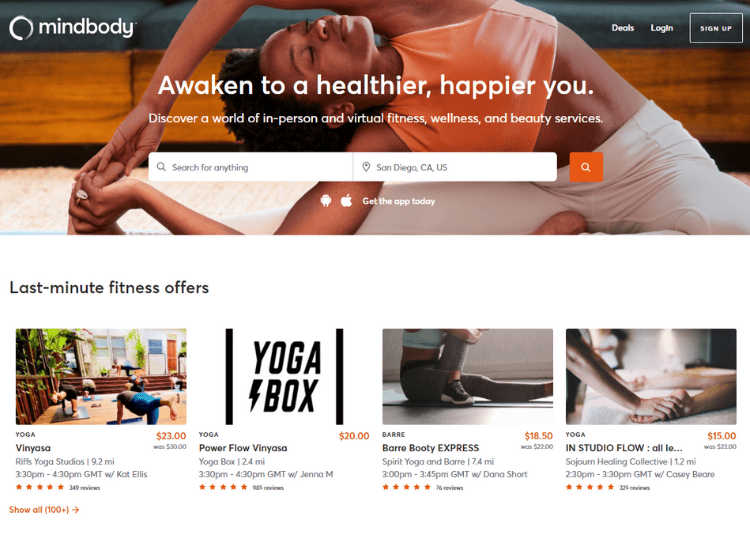 Tools for Virtual/Remote Classes
Whether fitness businesses like it or not, virtual classes have undoubtedly become incredibly popular in the last two years.
Having the tools at your disposal to create, launch and sell virtual fitness classes/experiences is a huge bonus and something all Mindbody Business customers should consider.
Even if virtual classes and programs don't become your main focus, having them as a way to build and develop your community and brand is not to be underestimated.
In terms of ease-of-use, the live-streaming funtionality is very intuitive and even non-techy employees should find this easy enough to set up and use.
Branded App
Mindbody offers its business customers the opportunity to basically "white-label" their app so you can sell and promote it as your very own branded app.
If you're looking to create a long-term fitness brand, having your own app is a great first step.
As far as apps go, this is incredibly more efficient than trying to get a developer to create you one from scratch. Firstly, Mindbody offer it at a very reasonable price, and secondly, custom apps need constant tweaks and edits to avoid them breaking over time, so the costs can continuously mount.
Also, the Mindbody app comes with very impressive features, such as payment processing, online scheduling, synced with your own content, and real-time data.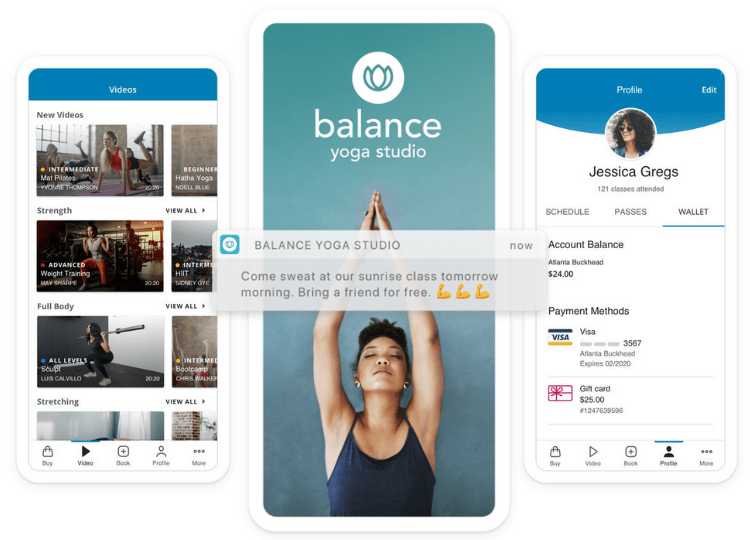 Unrivalled Marketing Tools
Mindbody is very good at managing adminstrative tasks associated with a fitness business, but where it really excels is the marketing and sales features.
For example, having the ability to deliver personalized messages automatically based on member interactions/status is incredibly powerful. You can set up comprehensive automated sequences that will run 24/7 without any interaction from you or your staff.
Similarly, having a referral engine built-in means you can create your own referral program in a few minutes.
All these features help boost member engagement and ultimately help make you more money as your customers stick around for longer.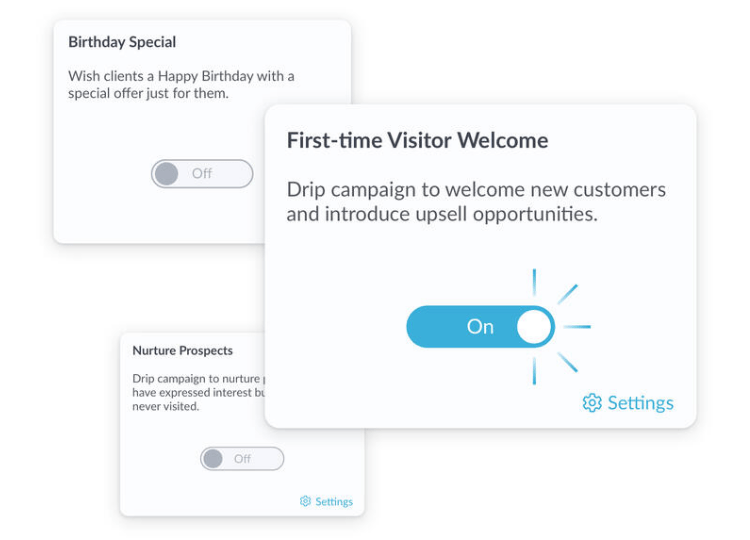 Great Customer Support
It's always useful to know if you ever have issues, there is someone there to help.
Mindbody offer very high quality customer service and we found them very quick to respond to any quesitons.
The important thing is to just ask for help. Too many people seem to just give up and assume the software doesn't work when really they didn't take the time to learn how to use it or ask for help.
FitMetrix
FitMetrix is a real hidden gem in the world of Mindbody and something every fitness business owner needs to understand.
It feels like the first step in empowering local and small businesses with the tools and technology that big fitness brands like Peloton have used to amass such loyal followers.
FitMetrix allows you to track member performance, monitor progress and gamify the whole experience.
Giving members data about their workouts, such as heart rate, calories burnt and other key metrics can transform your offerings and ultimately allow you to charge a lot more for your services.
This Mindbody add-on means your members can compete against each other in live workouts and you can really create a fun community vibe.
Coupled with Mindbody's automations, users can receive instant post-workout info messages, highlighting their performance.
In terms of Mindbody alternatives, no other provider in the industry comes close to offering a feature like this. For some, it may seem like an overwhelming or unnecessary feature, but for those looking at where the fitness industry is going, having the ability to integrate such exciting technology into fitness services is really something quite special.
The reality is that if other local fitness center or coaches start to use such technology, you may find yourself on the backfoot.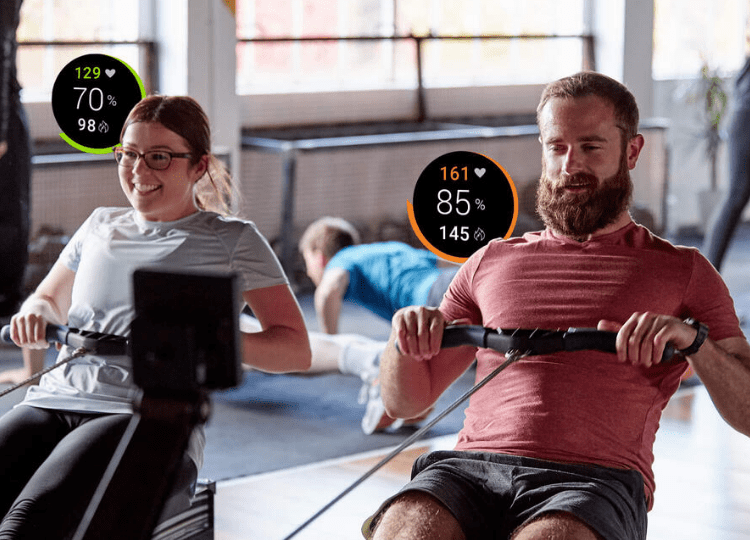 Scalable
Mindbody is quite unique in that it is suitable for both smaller businesses and large international brands.
The platform scales beautifully and this should be quite a key consideration when selecting fitness studio or personal training software. Switching providers frequently is not a fun task so knowing you can stick with Mindbody regardless of how many users you have is one less thing to worry about.
Things to Consider
Mindbody is a powerful platform, rich in features. Although this is something that makes the platform so effective, it also means you do need to spend time learning the ropes and investing your own time in understanding how to use everything effectively.
As we mentioned early, the support is very good, so just reach out with any questions you have.
Mindbody's user interface could also benefit from a refresh and looks a bit outdated, but from the sounds of it, they are aware of this and looking to upgrade this part of the software in the very near future.
Who is Mindbody Best For?
Mindbody is the perfect business management software for any type of wellness brand looking to grow and scale.
The tools and technology that Mindbody offer business owners make it easier to attract, retain and engage customers… which ultimately helps increase revenue and profitability.
Mindbody is best for those who want to streamline their operations and focus on using just one piece of software to use in multiple areas of the business, such as business management, marketing and sales.
Mindbody is also best for those who are keen to adapt to new consumer trends, whether that's the inclusion of virtual and remote services, or the integration of technology into workouts and exercise programming.
Based on the reliability of the platform, Mindbody would also be recommended for businesses who want to offer a very high quality service, without hiring technical staff to manage hosting, servers and apps.
Bottom Line
As far as health and fitness studio management software goes, Mindbody is undoubtedly one of the market leaders.
Its innovative features, coupled with very high customer service, are why so many business owners are switching to the platform.
Like any software, there is a learning curve and you should expect to invest some time understanding the tools and integrating it into your business. Once you've achieved that, you'll likely discover Mindbody saves you an incredible amount of time and money, and becomes an integral part of your operations.
If you're intrigued, book a free demo trial below and decide for yourself.
Related Articles:
Best Home Online Fitness Programs and Apps