We may earn a small commission on some links at no extra cost to you. Learn more.
We first heard about WeStrive when we were searching for the best software for Personal Trainers.
Although the platform has fewer reviews than some of the older names in the industry, every review they do have is extremely positive.
Customers talk about how easy it is to use, how much they've saved by switching and how good the customer service is.
We wanted to see for ourselves if WeStrive lived up to the hype, and if it is worth choosing over other options like Trainerize, TrueCoach or My PT Hub.
In this WeStrive review, we highlight our experience using the platform and how it compares to alternatives. We discuss features, pricing, usability and client experience.
In a hurry? Overall, we really like WeStrive… and it's our number 1 pick for client experience when it comes to PT software. You can grab a 14-day free trial by clicking below. You don't need to enter a credit card either, and it only takes a few moments to set it up.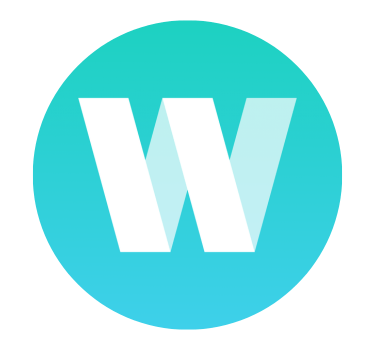 WESTRIVE SOFTWARE
Workout builder, quality client app, automations, billing, sell on-demand programs, custom app available.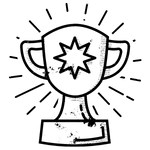 WeStrive Scorecard – Updated 2023
Career Development – 4.5/5
Business Impact – 5/5
Ease of Use – 4/5
Support – 5/5
Price – 4.5/5
Overall Rating – 4.8/5
Learn more about our review scorecards as part of our editorial review guidelines.
What is WeStrive?
Founded in 2015 by Cory McKane, WeStrive (originally called "PerFIcT"), aimed to be a fitness marketplace. Fast-forward 8 years, and the company finally found success creating a platform and client app for Personal Trainers to run their business.
Although the PT software market is saturated, WeStrive has managed to find a gap by providing a feature-rich platform at a lower cost than competitors.
Like most of the coaching platforms, WeStrive offer a free trial, which means you can test the software out for yourself, before committing to it. You can also use it on a monthly basis, avoiding any lengthy contracts too.
Getting Started Checklist
Once you sign up, you'll get a popup that offers to guide you around the platform via the "Getting Started" checklist. We'd recommend doing this, as this will show you where each feature can be found and tips for getting started. It only takes a few minutes and will likely help you hit the ground running.
What We Like About WeStrive
Client Activity
Your WeStrive home dashboard provides a great overview of your business, including recent client activity (including post workout feedback and surveys).
This is a great way to stay on top of your coaching business and instantly see if any clients need further support.
You can also spot potential issues before they cause your business a headache (e.g., if clients aren't happy about their workouts).
This allows you to be very proactive and offer an extremely personalized coaching service (which often warrants charging more too). Without a live feed like this from WeStrive, offering this proactive support is much harder (and slower).
From the home dashboard, you can then select an individual client and bring up all their activity and decide what action needs to be taken.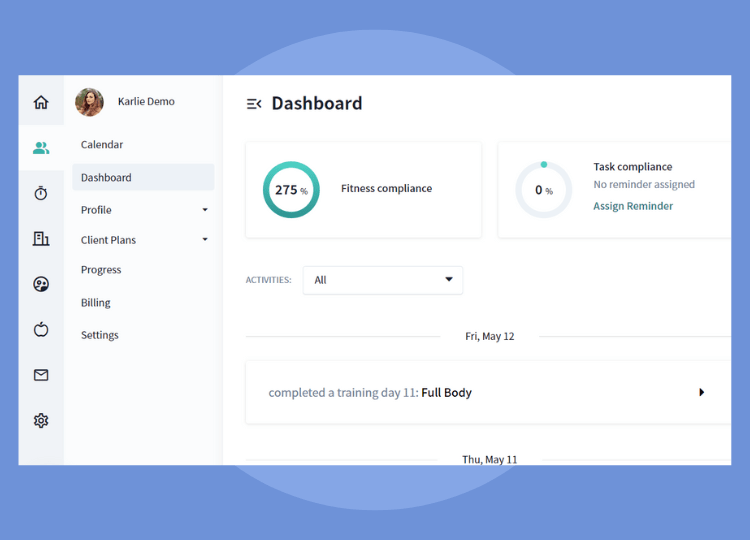 Super Professional Client App
Great Personal Trainer software needs to do two things very well… allow coaches to manage their business effectively and make it easier for clients to hit their fitness goals.
WeStrive's client app is genuinely really impressive and on par with lots of consumer-facing fitness apps we've used.
When a client logs in, they have the following 3 primary sections:
My Program – the program you've assigned to them. Clients can even download their workouts to access them offline.
My To-Do List – other activities and healthy habits you've assigned them.
Stats – workout stats and overall performance.
The inclusion of things like healthy habits is another great way for coaches to instantly increase the value they offer to clients (which just isn't possible if the PT software you're using doesn't have such a feature).
Clients also benefit from having a built-in timer, workout logging, feedback forms and progress tracking.
Upload Progress Photos
If you're an online coach, the ability for clients to add progress photos is a great way for you to see the visual progress of a client. This can also boost motivation for the client, and be great marketing material for your business too.
Scalable
WeStrive has the ability to scale very nicely, which ultimately means you don't have to worry about swapping to something like Mindbody as your fitness business grows.
WeStrive allows you to add team members, for example, other PTs or fitness coaches, as well as adding new locations within a single account.
As your fitness business grows, having access to things like client compliance rate per location/coach can be really valuable to help you understand areas that need improving… and all this can be done within WeStrive with no other additional software needed (this does need the Gym/Clubs membership plan though).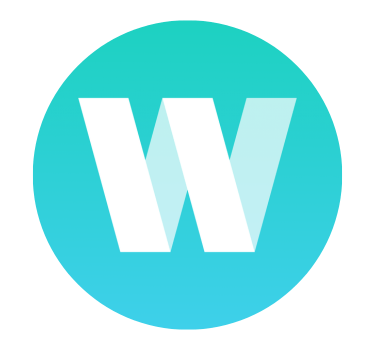 WESTRIVE SOFTWARE
Workout builder, quality client app, automations, billing, sell on-demand programs, custom app available.
Sync Activity Data
Clients can also sync activity data from Apple Health or Google Fit to their WeStrive account to give you more data on their overall activity.
This allows you to track things like sleep, water intake and steps.
Easy to Use
Alternatives like QuickCoach are fundamentally very easy to use but they don't include many additional features to help you manage and sell PT services.
If you want to package up memberships, on-demand products and benefit from more comprehensive features (such as automations), you'll probably want to choose software that gives you all these features… however, that's where things can start getting overwhelming.
Luckily, WeStrive does a fantastic job at including industry-leading features that are pretty straight-forward to figure out and use.
We think WeStrive offers a very similar feature set to Trainerize, but you'll probably find the software easier to navigate.
If you're not tech-savvy, this is definitely a big bonus and will allow you to get started quicker.
It also means bringing in other coaches to help you is easier and doesn't risk someone making mistakes due to the complexity of the software.
Browser Compatibility
WeStrive works best on modern browsers, so make sure your browser is up-to-date. WeStrive recommends Chrome or Firefox for the best overall platform experience.
Communication and Automations
WeStrive's automations and systems that enable you to deliver client programs are very impressive… and a great way to instantly offer a premium service, especially for remote coaching.
Everything updates in real-time, so you can update a client's program proactively if you see they are currently struggling with certain workouts.
You can also set automated reminders and tasks, to streamline the whole process for you.
This means you could deliver programs whilst away on holiday, and still provide a professional service.
We find these sorts of features tend to allow you to take on more clients and still offer the same overall experience, helping you increase your revenue.
The in-app messaging is also a great way to add structure to your client communicate and avoid just texting them from your personal number.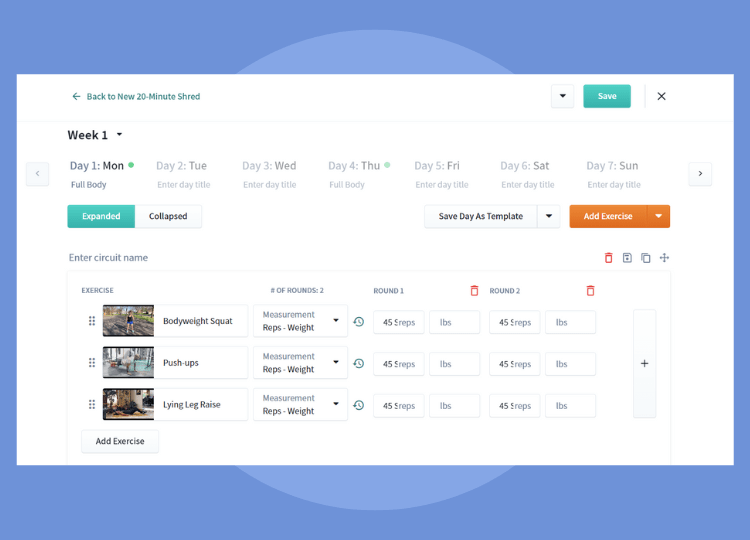 Available in Multiple Languages
WeStrive is available in multiple languages, which is great news for international PTs and coaches.
If you want to know more about language options, just reach out to WeStrive's support.
Custom App
We previously mentioned that the WeStrive client app is really impressive (and our top pick when it comes to the client experience for PT software)… well, you can use this as the foundation to your very own custom app too.
WeStrive allows you to customize the app in two ways. You can either pay $25/month to use your logo and branding within the WeStrive app, or pay $175/month to completely "white-label" the WeStrive app.
Compared to building an app yourself, most coaches would be better off with a solution like this. If you're wondering how much fitness apps like Sweat, Fitbod, and BODi spend on app development each month, I'm confident you can add a few zeros to the end of how much WeStrive are charging.
Very Impressive Online Reviews
The online reviews from other coaches regarding WeStrive are very positive.
WeStrive is a newer brand to the PT market, so doesn't have the number of reviews/customers as Trainerize or TrueCoach, however, it's hard to argue with their track record so far.
They've got an average of 4.9/5 on both TrustPilot and G2… and the individual reviews speak really highly about the service they've experienced.
Speed of Improvements
Cory and the team are clearly taking note and aiming to build something disruptive.
More than anyone else, WeStrive look to be listening to their customers and solving issues that arise.
Within your dashboard, there is even a section that allows you to suggest platform ideas, as well as seeing what features are in the pipelines. This transparency is something missing from a lot of apps and software we've used and tested.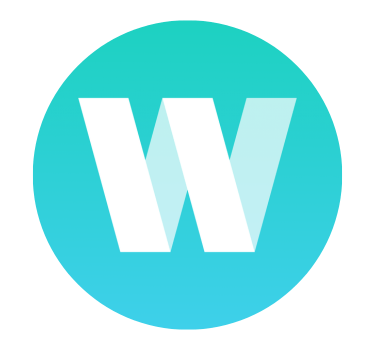 WESTRIVE SOFTWARE
Workout builder, quality client app, automations, billing, sell on-demand programs, custom app available.
Things to Consider
Custom App Has Ongoing Costs
We've already mentioned it, but just to reiterate, if you want either of the custom app options, that's an additional monthly fee.
What's impressive though, is the fact there is no set-up fee or lengthy contract… so you could try it for a few months and decide if it's having an impact and worth continuing with.
Additional Fee with On-Demand Programs
The ability to sell on-demand programs via WeStrive is likely going to be something you want to explore further. Especially for online fitness coaches, this can help scale and streamline your business operations.
There is a small additional cost for this though, at 2.1% of the price (after Stripe fees).
We think that's quite a fair price to be honest for the value and extra revenue this feature can give you… but it's just something to be aware of.
No Visual Feedback
Clients currently can't upload their own videos for you to review their form. This is a feature that isn't necessary most of the time, but if you're working with beginners, you may want to check they are performing the movements properly.
WeStrive's exercise library is good and includes audio-cues. You can also upload your own videos if you want to further explain things.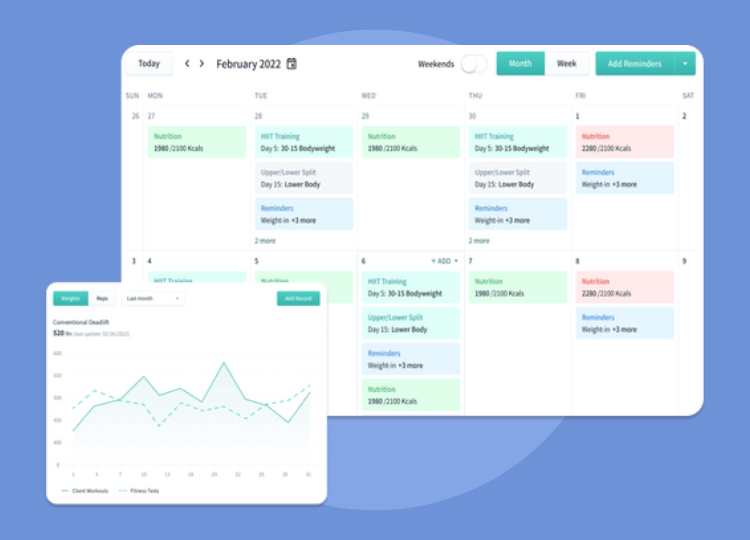 Alternatives
If you're reading this review, you're probably more than aware there are lots of options when it comes to PT software. We've provided a quick snapshot of how WeStrive compares to the main alternatives.
WeStrive Vs Trainerize
Trainerize is one of the oldest serving platforms for PTs and arguably the industry leader (in terms of number of active customers).
After using both, we think WeStrive and Trainerize share a lot of the same features, often just presented in slightly different ways.
Trainerize has recently launched a few new features around selling live classes, which might appeal to remote coaches… however, these additional features often come with additional fees, which makes WeStrive considerably cheaper.
You can read our full Trainerize review here or sign up for their free trial below.
WeStrive Vs My PT Hub
My PT Hub is the only PT software to offer a single plan (billed monthly or annually). This plan allows for unlimited contacts, which means if you have a very large client list, this becomes an incredibly cheap option.
If, however, you have a smaller client list, then it's actually quite expensive.
For example, if you have 3,000 online clients, it's suddenly unrivalled in terms of price… but if you just have 2 clients, it's pretty expensive. So that's probably the main decider in terms of considering My PT Hub.
As far as features go, it comes with most features you'd hope, as well as some additional ones like an Apple Watch integration, so for us, the value of My PT HUB really just depends on how many clients you have.
My PT Hub are currently offering a free trial below as well.
WeStrive Vs TrueCoach
We find TrueCoach is very easy to use… and the learning curve is as small as it gets for PT software.
It comes with all the standard features, although it doesn't include some of the features around automations like WeStrive offers.
TrueCoach's client app also doesn't boast the same 5-star reviews as WeStrive, which might be worth considering, if the aim is to provide a professional service for your business.
Our TrueCoach review provides more details on our experience using the platform. You can also grab a free TrueCoach trial below too (as well as 10% off).
Bottom Line
Ultimately, we think WeStrive is a great platform for Personal Trainers to run both in-person and remote services.
Compared to other PT software, we think the client experience WeStrive offers is second-to-none, and perfect for coaches looking to impress their clients with an easy-to-use and professional app.
Like any PT software, there is a learning curve and you'll want to spend a few hours just getting familiar with WeStrive and watching all the walkthrough videos before launching anything to your clients.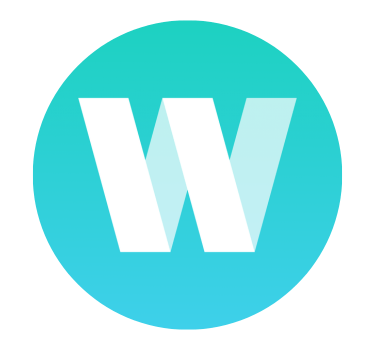 WESTRIVE SOFTWARE
Workout builder, quality client app, automations, billing, sell on-demand programs, custom app available.
Related Articles
ISSA Personal Trainer Certification Review
Best Personal Trainer Equipment – Buyer's Guide