We are reader supported and may earn a small commission on some (but not all) links within our content to products we think will genuinely help our readers at no extra cost to you.
Hungry for success in the health and fitness industry?
Sometimes it's not just about flexing those muscles but also flexing your knowledge on nutrition.
This flavorful ISSA Nutrition Certification review covers everything you need to know about one of the most popular nutritionist certificates online.
From the ins and outs of the course material to comparisons with other qualifications, and answers to burning questions, we've got the inside scoop.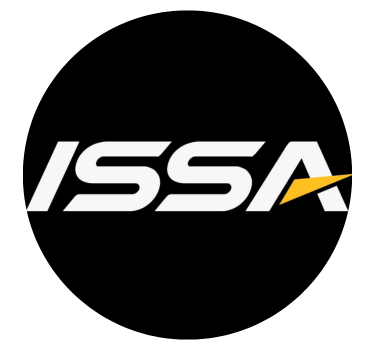 ISSA NUTRITIONIST CERTIFICATE
100% online certification, study at your own pace, highest pass rate in the industry, globally recognized brand, unrivalled support, money-back guarantee.
At a Glance – ISSA Nutrition Certification
Available as a standalone certification or within ISSA bundle offers.
Currently priced at $53.27/month (12 months).
Untimed, open-book final exam.
Interactive online learning material.
One of ISSA's most popular certificates.
Discover how to help clients reach their health goals through healthy eating and food habits.
Why Trust Us? Review Process Explained
Here at Fitness Drum, we believe in editorial integrity. For this ISSA Nutrition Certification review, we signed up to the course and followed along to the course material in the portal. We've also done the same for all of the other leading nutrition courses, giving us a good understanding of how ISSA compares to the wider market… and ultimately, who we think would benefit from this certification.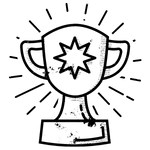 ISSA Nutrition Certification Scorecard
Career Development – 5/5
Business Impact – 4.5/5
Ease of Use – 4.5/5
Support – 5/5
Price – 4/5
Overall Rating – 4.7/5
Learn more about our review scorecards as part of our editorial review guidelines.
Nutritionist Certifications – The TL;DR
The nutritionist landscape has witnessed a recent surge, driven by increasingly health-aware communities.
As dietary habits gain prominence in the quest for holistic well-being, the demand for knowledgeable nutritionists has soared… and is expected to increase by 11% from 2020 to 2030.
This demand has given rise to a plethora of certifications, each catering to different facets of nutrition.
From specific diets, to sports and performance nutrition, there are all sorts of exciting opportunities to explore.
Amidst this bustling market, where each program boasts unique offerings, ISSA's Nutrition Certification subtly stands out, providing a balanced blend of inclusive access, cost-effective learning, simplified examination and expert support.
ISSA Nutrition Certification Overview
The ISSA Nutrition Certification isn't just another course on the menu. It's designed to transform fitness professionals (such as CPTs and fitness coaches) into knowledgeable nutritionists, equipped to guide clients towards achieving their personal health goals.
While exercise routines will always play a vital role in health, nutrition can't be ignored… especially when it comes to athletic performance and weight management.
This certification goes beyond the basics, diving deep into the world of food habits, helping you dish out smart recommendations that your clients will relish.
(If you want to know more about ISSA as a company, check out our in-depth ISSA Personal Trainer Certification review).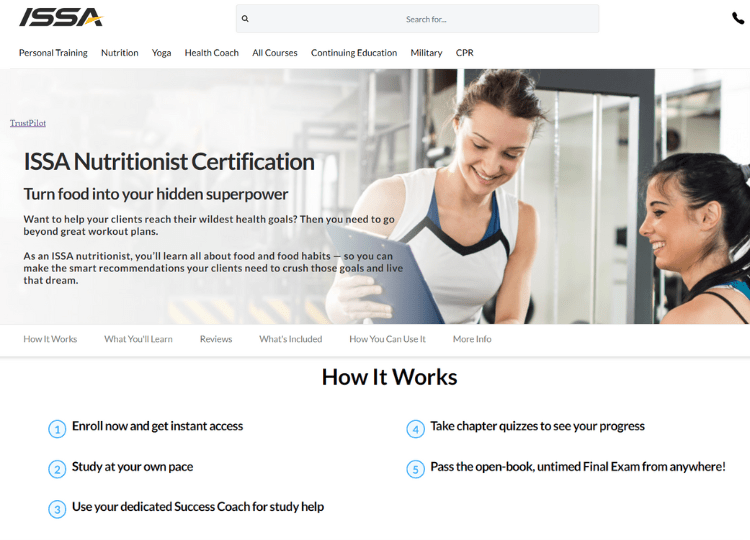 What You'll Learn
Macronutrients and Micronutrients.
Lifestyle Changes and Strategies.
Client Assessments and Goal Setting.
Product Labels and Claims.
Dietary Guidelines and Applications.
Trending Diets and Myths.
Supplementation.
Business of Nutrition Coaching.
What's Included
Online textbook.
Online quizzes.
Final exam (with free retake option).
Video lectures.
Nutrition Bootcamp online sessions.
Success coach for 1-2-1 support.
Free website (if you want one).
Study aids (e.g., BMI calculator and exercise library)
Who Should Become an ISSA Nutritionist?
Are you passionate about health, fitness, and the power of good nutrition?
If you're already guiding clients through workout routines but feel there's a missing ingredient in their fitness recipe, then the ISSA Nutrition Certification might just be the cherry on top.
Personal Trainers looking to add another feather to their cap, fitness influencers aiming to enhance their credibility, or anyone eager to explore the fascinating world of nutrition should consider this certification.
We also think it's a great stepping stone for those who are considering a career in nutrition and might want to do a more affordable course before investing in a Master's degree.
Who Shouldn't
If your interest in nutrition is as fleeting as a New Year's resolution, this might not be your cup of tea.
Similarly, those who already hold a nutrition degree or aspire to become Dieticians might find this certification doesn't meet the requirements they need.
There are more in-depth courses and degrees out there tailored to those seeking comprehensive knowledge in the field… and certain professions may require a Master's degree, for example, instead of a certification from a provider like ISSA (or NASM… or ACE).
| Section | Key Information |
| --- | --- |
| Certification Overview | Designed for fitness professionals aiming to become knowledgeable nutritionists. |
| Who Should Become an ISSA Nutritionist? | Personal Trainers, fitness influencers, and those passionate about health and nutrition. |
| Who Shouldn't? | Those with fleeting interest, existing nutrition degree holders, or aspiring dieticians seeking in-depth courses. |
| What We Like | Practical course material, nutrition bootcamps, forms/handouts, EREPS approval, unlimited student support. |
| Things to Consider | Not all information might be needed, distinction between nutritionist and dietician. |
| Comparison to Alternatives | NASM and ACE are probably the two most comparable certifications. |
| FAQs | Costs around $53.27/month (12 months), takes 8-10 weeks on average, fully online, potential salary between $40,000 to $75,000. |
| Bottom Line | ISSA offers a blend of theory and real-world application in the vast nutrition course landscape. |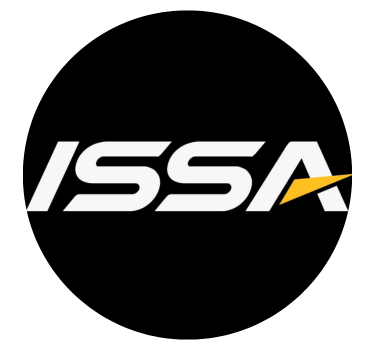 ISSA NUTRITIONIST CERTIFICATE
100% online certification, study at your own pace, highest pass rate in the industry, globally recognized brand, unrivalled support, money-back guarantee.
What We Like About ISSA Nutrition Certification
Great Continuation for CPTs
If you're a Certified Personal Trainer, the ISSA Nutrition certification is a natural extension to your skill set.
By understanding the intricate relationship between diet and performance, trainers can provide holistic guidance to their clients.
This course doesn't merely offer theoretical knowledge… it presents practical insights that trainers can integrate into their coaching methods.
By adding nutrition consultation to your services, fitness professionals can also diversify their services, leading to increased revenue.
Along with strength and conditioning, we would say a nutrition certification would be our top recommendation for further education if you're already a CPT.
ISSA Strength and Conditioning
Practical and Actionable Course Material
The course structure of the ISSA Nutrition Certification is designed for optimal knowledge retention and application.
The lectures provide concise overviews of each topic, making complex subjects more digestible (no pun intended!)
We found it very useful to watch the lectures before diving into the corresponding textbook chapters. This approach facilitated a deeper understanding and reinforced the material.
The combination of visual and text-based learning resources ensures that students can grasp and apply the concepts in real-world scenarios effectively.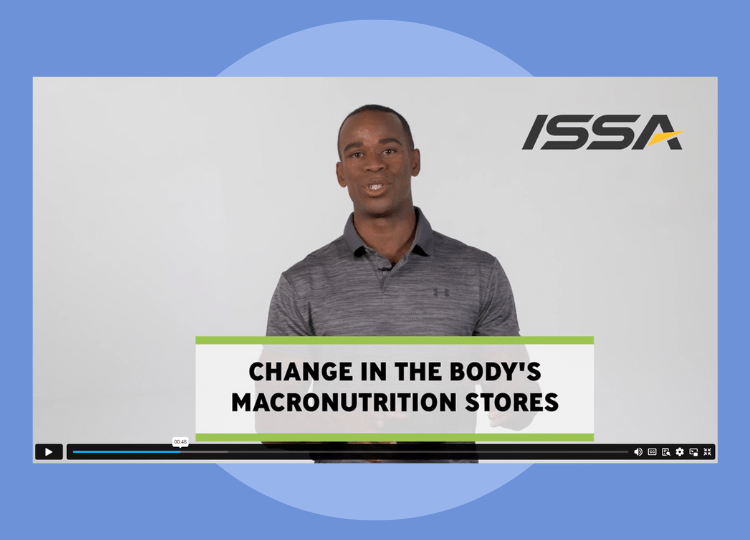 Nutrition Bootcamps
ISSA goes beyond traditional textbook learning and includes features like "Nutrition Bootcamps", which are designed to immerse you in a more interactive learning experience.
These bootcamps challenge students, ensuring that they don't just understand theoretical concepts but are also equipped to apply them in real-world contexts.
Think of these bootcamps as group training sessions where you're not just absorbing information, but actively participating, engaging, and applying nutritional knowledge.
For those seeking a dynamic and interactive learning experience, these bootcamps are a highlight of the certification.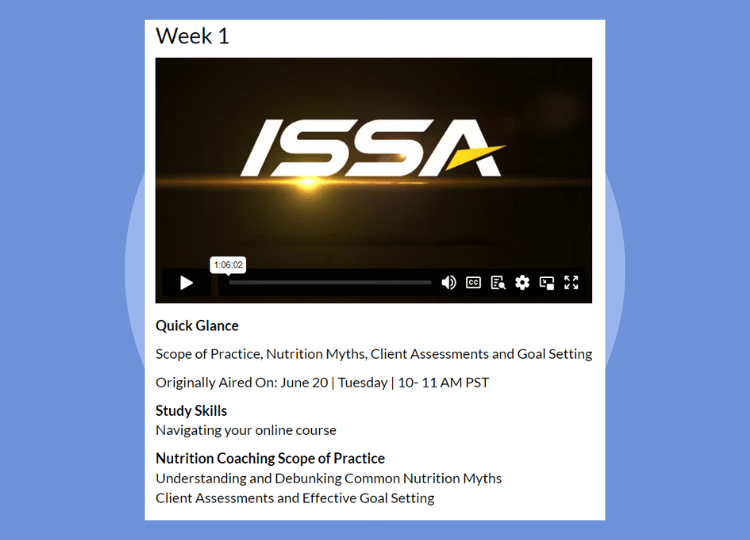 Forms and Handouts
One of the standout features of ISSA Nutrition certification is the additional forms and handouts provided to students.
These resources are really useful for anyone looking to start their practice or enhance their existing services. Instead of starting from scratch, students have access to professionally designed, comprehensive materials that they can use with their clients.
From dietary logs to meal planning templates, these handouts ensure that you're well-equipped to guide your clients effectively. It's like having a toolkit at your disposal, ensuring you're prepared for every client interaction.
Finding Forms within Portal
The handouts and client forms can be found in the "Downloads" section of the portal. Here you can also download the main course textbook.
Follows Standard ISSA Course Format
ISSA Nutrition Certification adheres to the standard ISSA course format, which many will find very appealing.
It's a self-paced program, allowing students to progress at a rhythm that suits their personal and professional commitments. The final exam is open-book, untimed and has 200 questions.
There are also quizzes after each chapter to test your knowledge and ensure you're on track for your final exam.
A very popular ISSA feature that most alternatives don't include is that the course offers a free retake for the exam, ensuring students have the best chance at success.
This can often cost around $200 with other providers.
EREPS Approved Training Course
European students will be happy to hear that the course is EREPS approved.
EREPS, or the European Register of Exercise Professionals, is a widely recognized body in the fitness industry. This approval signifies that the certification meets high European standards, and is beneficial for trainers in Europe who want to ensure any course meets local requirements.
Unlimited Student Support
Another aspect of ISSA that we really like is the unlimited student support.
This ensures that students never feel isolated or overwhelmed during their learning journey. Whether it's clarifying doubts, seeking guidance on specific topics, or needing assistance with course material, the support team is always available to help.
As a test, we frequently asked questions and were always met by quick responses that were friendly, professional and ultimately provided the help we asked for.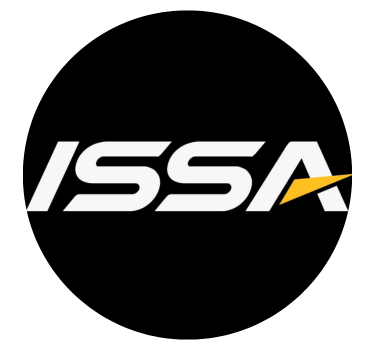 ISSA NUTRITIONIST CERTIFICATE
100% online certification, study at your own pace, highest pass rate in the industry, globally recognized brand, unrivalled support, money-back guarantee.
Things to Consider
You Might Not Need All Information
While the course is comprehensive, covering a broad spectrum of topics related to nutrition, not every module may be directly applicable to your specific needs or clientele.
It's a vast buffet of knowledge, and while variety is the spice of life, you might not need to sample everything. Depending on your client base, niche, or personal interests, certain sections might be more relevant than others.
But, it goes without saying, you'll need to cover everything to ensure you pass the exam.
Nutritionist Vs Dietician
It's important to distinguish between a terms like "Nutritionist" and "Dietician".
While both roles involve guiding individuals on their dietary choices, Dieticians often deal with medical dietary needs and require a more rigorous educational background.
ISSA Nutrition Certification is tailored for those aiming to provide general nutrition guidance.
If you're looking to delve into medical nutrition therapy or handle clinical conditions, you might need to pursue more advanced qualifications.
Most job descriptions will include details on what qualifications are required, so that can be a good starting point if you're wondering what type of course you should do.
Personal Trainer Certifications
How It Compares to Alternatives
Two of the other big names in online nutrition certifications at the moment are NASM and ACE.
NASM positions most of their certifications for sports performance and training athletes. In relation to nutrition, this means most of the focus is on how to use nutrition for better athletic performance. The course dives deep into the science of nutrition with 24 course chapters.
In contrast, ACE approaches things in a much more holistic way, and focuses on the role nutrition plays in general health – with resources such as supermarket shopping recommendations and cooking demonstrations.
Interestingly, we think ISSA fits quite nicely between these two approaches, which probably makes it the more useful certification for CPTs and those working with clients, as it covers the basics of nutrition as well as using this to help achieve specific fitness goals.
In terms of learning experience, all 3 offer quite a similar online learning experience.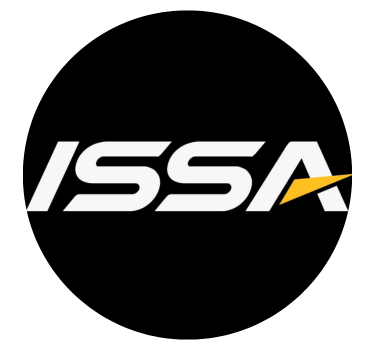 ISSA NUTRITIONIST CERTIFICATE
100% online certification, study at your own pace, highest pass rate in the industry, globally recognized brand, unrivalled support, money-back guarantee.
FAQs
How Much Does ISSA Nutrition Certification Cost?
ISSA Nutrition Certification is currently priced at $53.27/month for 12 months. But, it's essential to note that this price can fluctuate based on promotions and bundled packages.
The bundle deals such as Elite Trainer mean that you actually get this Nutritionist certification for free.
How Long Does it Take to Pass?
While the ISSA Nutrition Certification is designed for self-paced learning, on average, students typically complete the course in 8-10 weeks.
Of course, this duration can vary based on prior knowledge, study habits, and other commitments.
Some might breeze through in a month, while others may stretch it over several months. With consistent effort, most students find the 3-month mark to be a reasonable timeframe.
Is ISSA Nutrition Certification Online?
Yes, ISSA Nutrition Certification is a fully online course. This digital format offers unparalleled flexibility, allowing students to study anytime, anywhere.
From accessing course materials and engaging lectures to taking quizzes and the final exam, everything is available online.
What's the average ISSA Nutritionist Salary?
On average, an ISSA-certified Nutritionist in the U.S. could expect to earn between $40,000 to $75,000 annually.
But, this range can vary based on several factors: location (urban areas might offer higher pay), years of experience, specialization, and the clientele's demographic.
Additionally, Nutritionists who continuously upskill, network efficiently, and expand their services often find opportunities to increase their earnings significantly.
Bottom Line
Ultimately, we really like ISSA Nutrition Certification and think it is a great choice for anyone working in the fitness industry that wants to double down on nutrition services.
With its comprehensive curriculum, practical approach, and robust student support, it stands out as a valuable asset for anyone passionate about nutrition.
Whether you're a Personal Trainer aiming to amplify your service offerings or an individual keen on delving deep into the world of nutrition, ISSA offers a blend of theory and real-world application.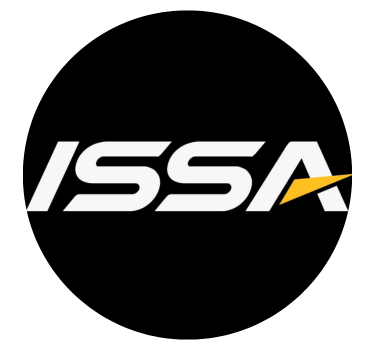 ISSA NUTRITIONIST CERTIFICATE
100% online certification, study at your own pace, highest pass rate in the industry, globally recognized brand, unrivalled support, money-back guarantee.
Related Articles
ISSA Yoga 200 Review – What's the Certification Like