We are reader supported and may earn a small commission on some (but not all) links within our content to products we think will genuinely help our readers at no extra cost to you.
If you're looking to strengthen your tibialis anterior… this buyer's guide is a must read.
We've tried and tested all the leading tib bars and tibialis anterior training equipment currently on the market… as well as attempting to use DIY alternatives, so we can help you understand which ones are worth your money, and which ones aren't.
Do you actually need a Tib Bar or tib machine?
From our experience, Tib Bars are the most effective way of strengthening the tibialis anterior muscle, which runs along the lateral side of the tibia bone, on the shin. Without using a Tib Bar, it's really difficult to isolate the tibialis anterior and progressively overload the muscle (which is how most of us would look to strengthen other muscles in our body).
If you're serious about strengthening your tibialis anterior, we've found using a Tib Bar is your best option. There are some other tibialis training machines worth noting and other equipment that can produce similar outcomes too, as we discuss in this roundup review.
In this buyer's guide, we provide a clear and honest review of the best tib bars and alternative tibialis anterior training machines, helping you decide which one is most suited to your goals and training style.
At a Glance – Best Tib Bars and Tibialis Anterior Muscle Machines
Why Trust Us? Review Process Explained
Here at Fitness Drum, we want to help our readers understand which products are worth the money, and which ones aren't. We believe in editorial integrity and providing honest reviews that genuinely provide value. For this review, we did tib raises with a whole host of Tib Bars, tibialis anterior equipment and other gym gear. We then picked the best equipment for specific goals and requirements.
HGG Tib Bar – Best Overall & Best for Strength Training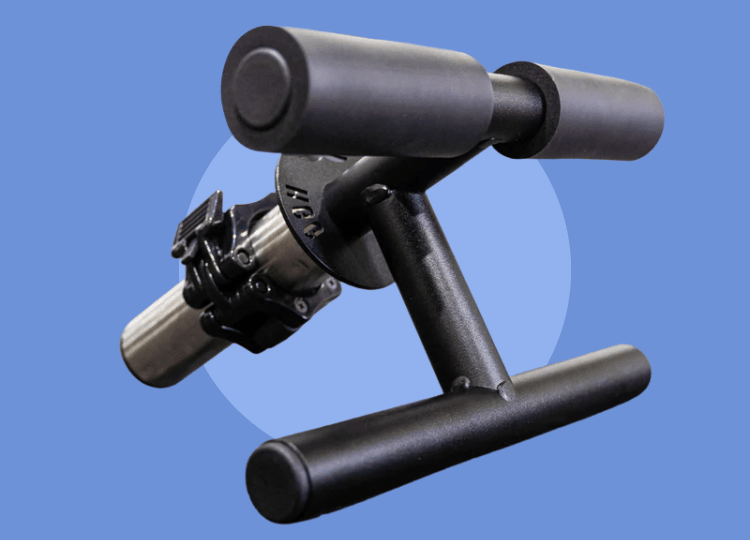 HGG Performance Tib Bar Key Features
Perfect for progressive overload training.
Best option for applying maximum load to tib raises.
Best quality Tib Bar we've tested.
Really easy to use and adjust.
Lightweight and portable.
HGG Performance created the original Tib Bar and are the leader in tibialis anterior strengthening equipment. The quality of their Tib Bar is second to none and you can instantly tell the difference between their bars and pretty much every other brand promoting Tib Bars that have just outsourced manufacturing to save money.
We've placed the HGG Tib Bar as best overall because this ultimately is the Tib Bar that created the industry. Every other brand is simply copying HGG's.
Something we really like about the HGG Tib Bar is the fact it is so easy to use. We found wearing different footwear still allowed you to train effectively, and the product also dismantles easily so we could take it to the gym to use too.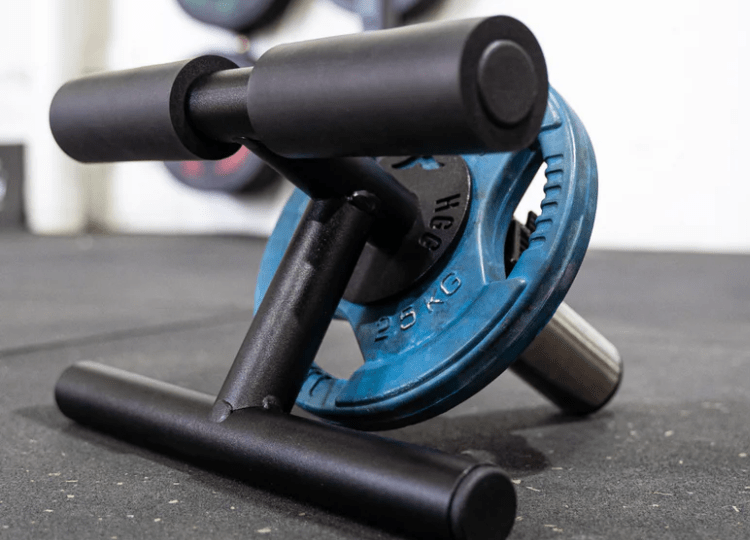 Featuring a clamp and ankle cushion, training the tibialis anterior really doesn't feel like much trouble at all with HGG Performance (especially compared to DIY alternatives and other cheaper products that can be quite the hassle to set up and use).
Compared to the Isotib, we think the original Tib Bar is best for those looking to apply maximum load to their tib raises, and aren't as interested in the extra ankle movements a single leg bar brings.
Our guide on Tib Bar benefits includes a full list of the outcomes you can expect to get from using a Tib Bar consistently.
We've been so impressed with HGG Performance game changing product, we've managed to negotiate a 10% discount on all their products, including their original Tib Bar.
HGG Isotib Bar – Best Single Leg Bar & Best for Physical Therapy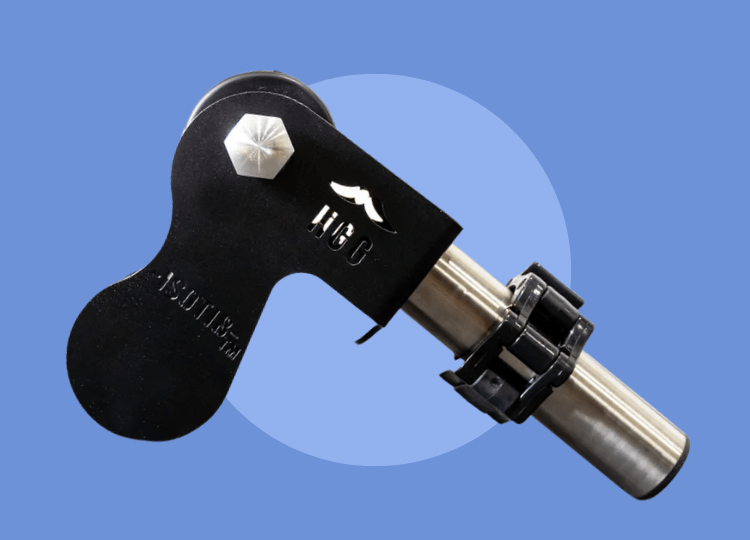 HGG Performance Isotib Bar Key Features
Best single leg bar.
Allows for more ankle movements, including inversion and eversion.
Helps strengthen the peroneal muscles too.
Great for injury rehabilitation and Physical Therapy.
More versatile and you can include other movements and stretches.
Looking to continually innovate and push the industry forward, HGG Performance recently launched another incredibly effective tibialis anterior strengthening bar… the Isotib Bar.
The Isotib Bar is designed for single leg tib raises. This means you train each tibialis anterior individually and benefit from unilateral training. This avoids one leg overcompensating for the other and ensures muscular imbalances don't develop.
But the real benefit that we've found with the Isotib Bar is that it allows for ankle inversion and eversion movements, as well as ankle dorsiflexion. This helps to further strengthen the muscles, ligaments and tendons around the ankle.
You can also rotate your leg to work the peroneal muscles (outer shin) too.
We think athletes would really benefit from the Isotib Bar as these additional movements can really help build up the muscles that keep the ankles stable, which can reduce the risk of a rolled ankle or sprain.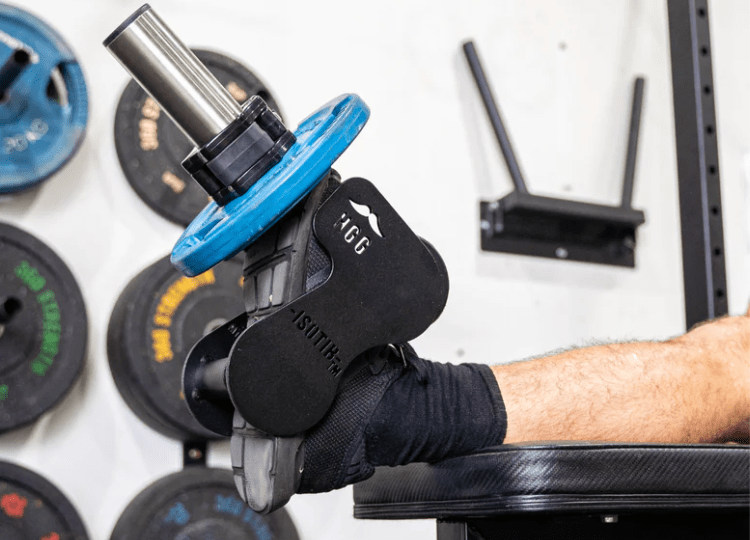 The way the clamp works, the Isotib Bar also feels more secure to perform other exercises, such as psoas marches. It becomes a more versatile tool that you can get creative with. It acts like an ankle weight too, so you could use it whilst doing straight leg clamshells too, for example.
The clamp does take more time to secure than the regular HGG Tib Bar, so if you like the idea of getting set up quickly, then the original Tib Bar might be better suited.
Due to the ability to move your ankle so freely, you'll find you need to focus more during tib raises, to ensure weakness in your ankle doesn't mean your leg rotates.
Don't Get Lost in the Ocean of Copy Cat Tib Bars
We could list out 5-10 other brands that have made "Tib Bars"… but truth be told, they don't come anywhere near the quality of HGG Performance and are often only slightly cheaper. If you want a Tib Bar, go with HGG. If you aren't set on a Tib Bar but still want to strengthen your tibialis anterior, keep reading, as we've got some other options for you to consider.
MonkeyFeet – Best Knees Over Toes Equipment Alternative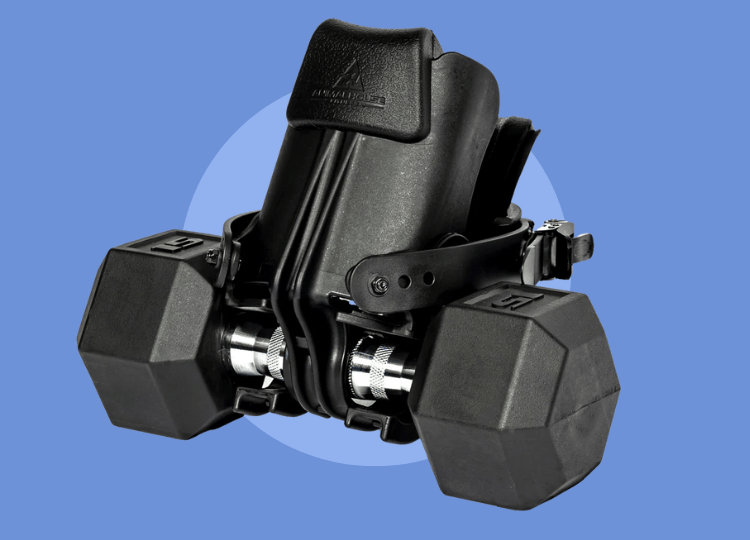 MonkeyFeet Key Features
Add weight to all sorts of lower body movements.
Great for low impact workouts.
Lends itself perfectly for functional exercise routines.
Another popular tool in the Knees Over Toes workout program.
Some reviews do mention that it can be uncomfortable to use.
MonkeyFeet is another innovative product, designed to engage lower body muscles, without the need for big, bulky gym machines.
They are reminiscent of Iron Boots… as well as an upgrade from the standard ankle weights.
It doesn't allow for effective dorsiflexion of the ankle, due to the ski boot style strap… but it does allow for all sorts of leg movements and if you're thinking about a Tib Bar, you may be thinking about generally strengthening the lower body muscles without traditional gym equipment.
Similarly, MonkeyFeet is useful for Knees Over Toes workouts too (like a Tib Bar).
They aren't really suited to tib raises as the ankle isn't able to move much (although this depends on how tight you make the strap), however, they support all kinds of exercises to strengthen the glutes, hamstrings, quads and calves, so they can help address things like knee pain, which is often why people want to get a Tib Bar.
As a comparison, MonkeyFeet feels quite similar to the Isotib bar, but allows for more varied workouts, due to the weight (i.e. a dumbbell) being more securely fixed and not getting in the way as much.
The caveat is, however, that due to MonkeyFeet being more securely fixed, some customers do complain about them not being as comfortable. Creating a product that universally fits any foot is a challenge… and it's likely some users will find MonkeyFeet comfortable but some, might not.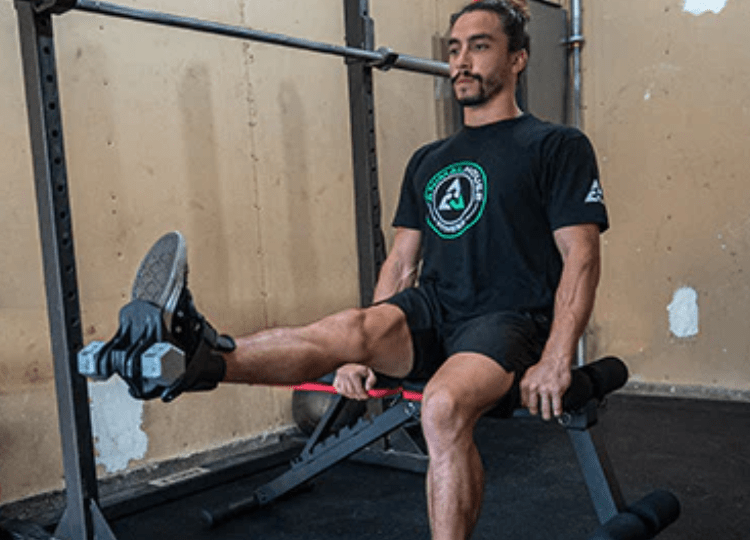 If they don't feel comfortable, a thick pair of socks might solve that problem for you. We would still wear training shoes with them too.
You also really need hex dumbbells (with a flat edge) to fully make us of the product.
From weighted donkey kicks, to being a great alternative to glute cable kickbacks, MonkeyFeet allows you to add load to all sorts of lower body movements.
The ability to do standing hamstring curls is probably our favourite exercise with MonkeyFeet.
Resistance Band – Best Tibialis Anterior Strengthening Alternative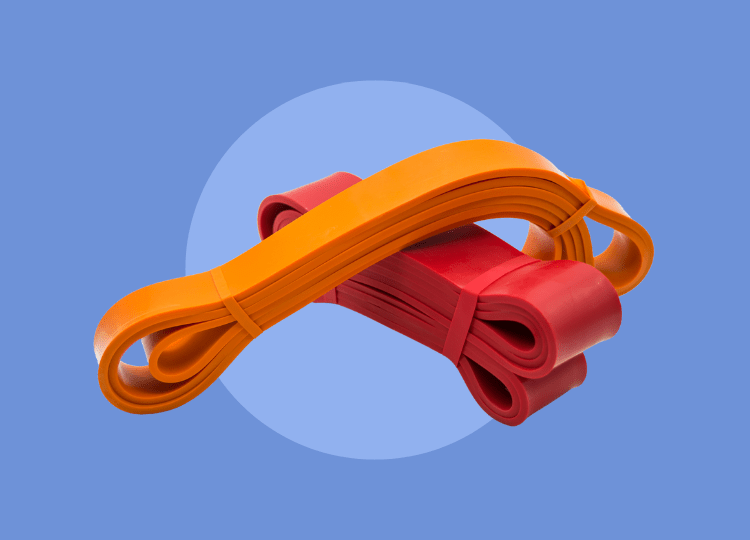 Resistance Band Key Features
Versatile home exercise equipment.
Lightweight and portable.
Different size bands allow you to increase resistance over time.
Very affordable.
In our search for the best Tib Bars, we've come across a lot of DIY options and homemade alternatives.
A common option is to attach your feet between a kettlebell handle or to try and attach a dumbbell to your feet using straps. These options can work, but we feel simply using a resistance band is the better (and safer) alternative.
A resistance band allows to you carefully add resistance to tib raises in a safe and controlled way.
The drawback is that the ankle range of motion isn't as complete as with a Tib Bar, just because you need to ensure the band doesn't fly off your toes during repetitions. Also, you may find it more time consuming to set up and track the exact level of resistance (e.g. the distance you sit from the resistance band fixing is going to influence the difficulty).
Nevertheless, bands are very cheap and very versatile, so if you're looking for a simple way to progress from standing tib raises, using a resistance band is a great choice.
As far as resistance bands, there are lots of different brands on Amazon that all have great reviews and offer pretty much the same thing. Most come in between $12-25 and include different size bands too.
Titan Fitness Tibia Dorsi Calf Machine – Best Tib Training Machine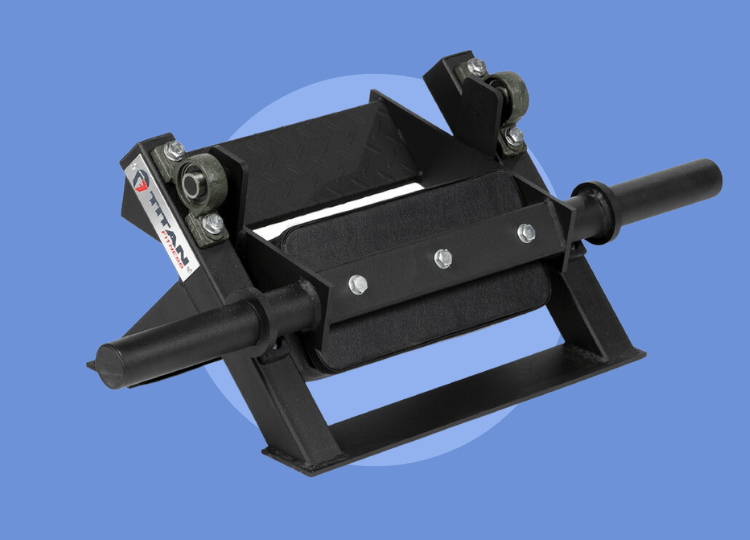 Titan Fitness Tibia Dorsi Calf Machine Key Features
Very easy to use.
Thick pad for comfort.
Smooth gliding motion.
Cast iron plates sold separately.
The Titan Fitness Tibia Dorsi Calf Machine is the closest thing to a Tib Bar we've found.
Interestingly, tibia dorsi calf machines are actually quite old and have been around for a while… but perhaps without adequate instruction and understanding of the benefits of a stronger tibialis anterior, this equipment often just gathered dust in gyms and most stopped including them in their set up.
Fast forward a few decades, and the benefits of stronger tibialis anterior muscles may mean some forward-thinking gyms start re-stocking their weights room with tibia dorsi machines… (although Tib Bars come in cheaper and tend to be the preferred equipment for workouts like Knees Over Toes).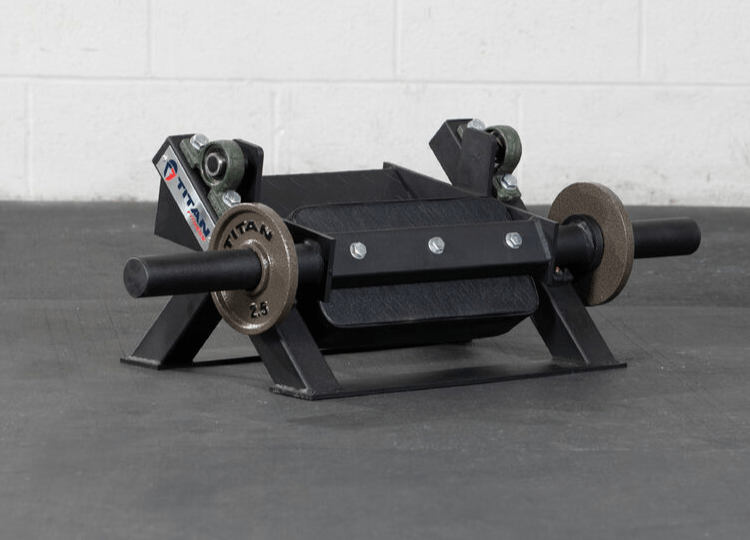 As far as tibia dorsi machines go, the one created by Titan Fitness is worth considering. It's heavy duty and built to last… and provides a simple way to activate the tibialis.
In terms of whether you opt for a Tib Bar or tibia dorsi calf machine, we would tend to say, if you prefer traditional gym equipment, and follow bodybuilding workouts, then the tibia dorsi calf machine might be a better option. If, however, you want something that is lightweight, more versatile and cheaper, either the Tib Bar or Isotib are probably the better choices.
FAQs
What is a Tib Bar?
A Tib Bar is a piece of exercise equipment designed to strengthen the tibialis anterior. This muscle is often undertrained and is hard to isolate with progressive overload training. When the Tib Bar was invented, it provided a simple way for anyone to efficiently activate and strengthen the tibialis anterior.
How to Use a Tib Bar
A Tib Bar is primarily designed to add resistance to tib raises. You add barbell plates to the end of a Tib Bar, attach the collar to secure the weight in, place your feet between the bars at the other end, and perform tib raises. We have a whole exercise guide on how to do tib raises, including the difference between bodyweight versions and ones using a Tib Bar.
Tib Bar Vs Tib Machine?
Tib Bars are generally lightweight and portal, designed to attach barbell plates to the end to add resistance to exercises like tib raises/curls. In contrast, tib machines tend to be larger, heavier and more suited to gym environments. They also allow you to add plates to add resistance, but involve dorsiflexion of the ankle with a bent knee (i.e. sitting on a bench with your feet on the machine).
Tib Bar Vs Isotib Bar
The Tib Bar and Isotib Bar are both effective ways of strengthening the tibialis anterior. The Isotib is slightly more expensive but allows for more movement at the ankle, which opens up more exercises and stretches to do.
What to Look for in a Tib Bar
From our first-hand experience and researching other customer reviews online, it's clear that extra padding on the Tib Bar is definitely an important feature, and one that can have a significant impact on the overall experience of using the equipment.
Not all padding is the same, and we found the thicker, denser foam tended to keep its shape and firmness. This is an area where many cheaper Tib Bars didn't perform very well in.
Sleeve compatibility is another key feature to check – being able to use standard barbell plates is likely going to be the most user-friendly option. Narrower sleeves may mean you have to buy specific types of weights, which is going to be an extra cost to consider. Luckily, most Tib Bars use the same size sleeve which allow you to load standard barbell plates.
Similarly, most use the same type of clamp collar (probably due to HGG's popularity) which makes changing weights really fast.
Bottom Line
Ultimately, a Tib Bar is a great tool to help strengthen the tibialis anterior. We think you really can't go wrong with either the HGG Performance Original Tib Bar or the Isotib Bar.
When it comes to home workout equipment, quality is everything. Investing a little bit more will ensure you have a product that lasts the test of time and doesn't let you down when you need it.
Compared to paying for Physical Therapy sessions or even knee/ankle surgery, investing in a Tib Bar is definitely a wise move, to help protect your joints, muscles and tendons.
Related Articles
Best Ice Baths and Cold Water Plunge Tubs
Best Stretching Straps with Loops
This website, fitnessdrum.com, is a participant in the Amazon Services LLC Associates Program, an affiliate advertising program designed to provide a means for sites to earn advertising fees by advertising and linking to Amazon.com.