We are reader supported and may earn a small commission on some (but not all) links within our content to products we think will genuinely help our readers at no extra cost to you.
If you're on a quest for a stronger, perkier derriere, you may well have got sucked into the world of "glute trainers" on social media.
Raving reviews, influencer-endorsements and bold claims… you'd be forgiven into thinking this equipment is a must for any sort of glute workout.
One of the most popular brands is BootySprout.
With conflicting reviews and experiences online, we wanted to provide a BootySprout review that outlines the science behind hip thrusters, the quality of the equipment and ultimately, if it's worth it or not.
Key Takeaway – Would We Recommend BootySprout?
If you want to add load to hip thrusters at home, then BootySprout is definitely worth considering. Resistance bands do tend to be more comfortable than a barbell, and take up less space, so there are certainly benefits of this sort of equipment. Our list of the best home glute trainers and equipment includes alternative methods for isolating the glutes, but as far as a home hip thrust machines go, BootySprout does exactly what it sets out to do.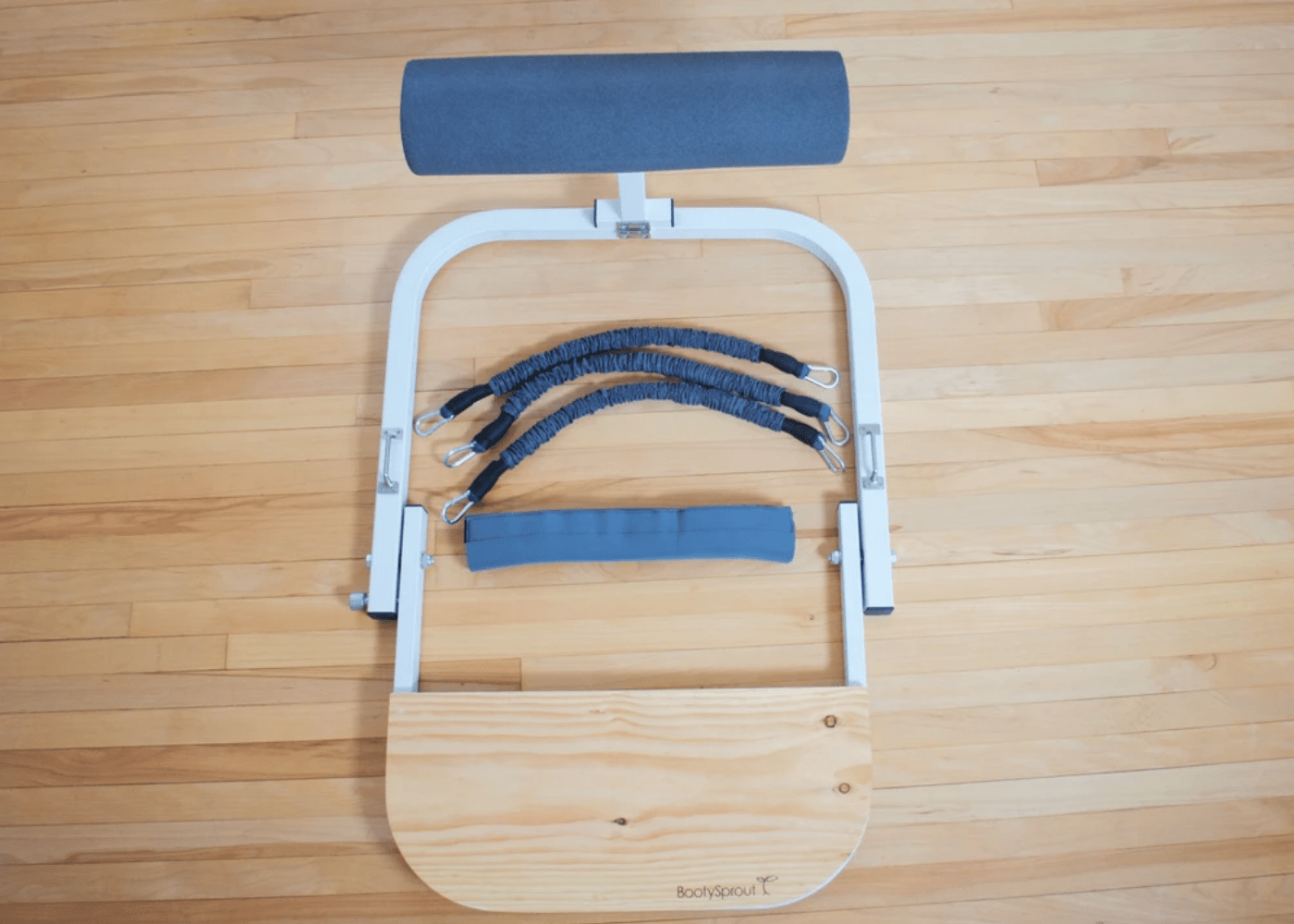 How We Got Here
If you search online or on Amazon, you'll currently find quite a few machines that look very similar to BootySprout.
Collectively, this category of home fitness equipment has been referred to as "hip thruster machines" – namely, because they allow you to do loaded (i.e., with additional resistance) hip thrusters.
As far as strengthening your glutes, hip thrusters are a great option, and would likely be included in any sort of glute workout plan.
But as with many bodyweight movements, it can sometimes feel like you have to do 20+ repetitions before you feel like your glutes are actually working.
So… one option is to add a barbell across your waist to create additional resistance. This has been a common progression to hip thrusts for some time and are probably one of the most popular glute exercises in gyms.
But what about training at home? What about if you don't have a barbell (which can be expensive), or lots of weighted plates to put on it?
Similarly, what if you don't like holding a heavy weighted barbell across your hips?
Well, instead of just reverting back to bodyweight hip thrusters and aiming for high reps, there has been some recent innovation and new products that specifically address the need for at-home equipment to help support such movements.
One of the leading brands and products in the space that is getting a lot of buzz at the moment is the BootySprout.
What is BootySprout?
BootySprout is a manufacturer of fitness equipment that is designed to improve at-home hip thrusters. The equipment helps create a safe and secure frame to provide additional resistance for the movement.
Creating the extra resistance means your glutes work harder, helping to build muscle and tone them.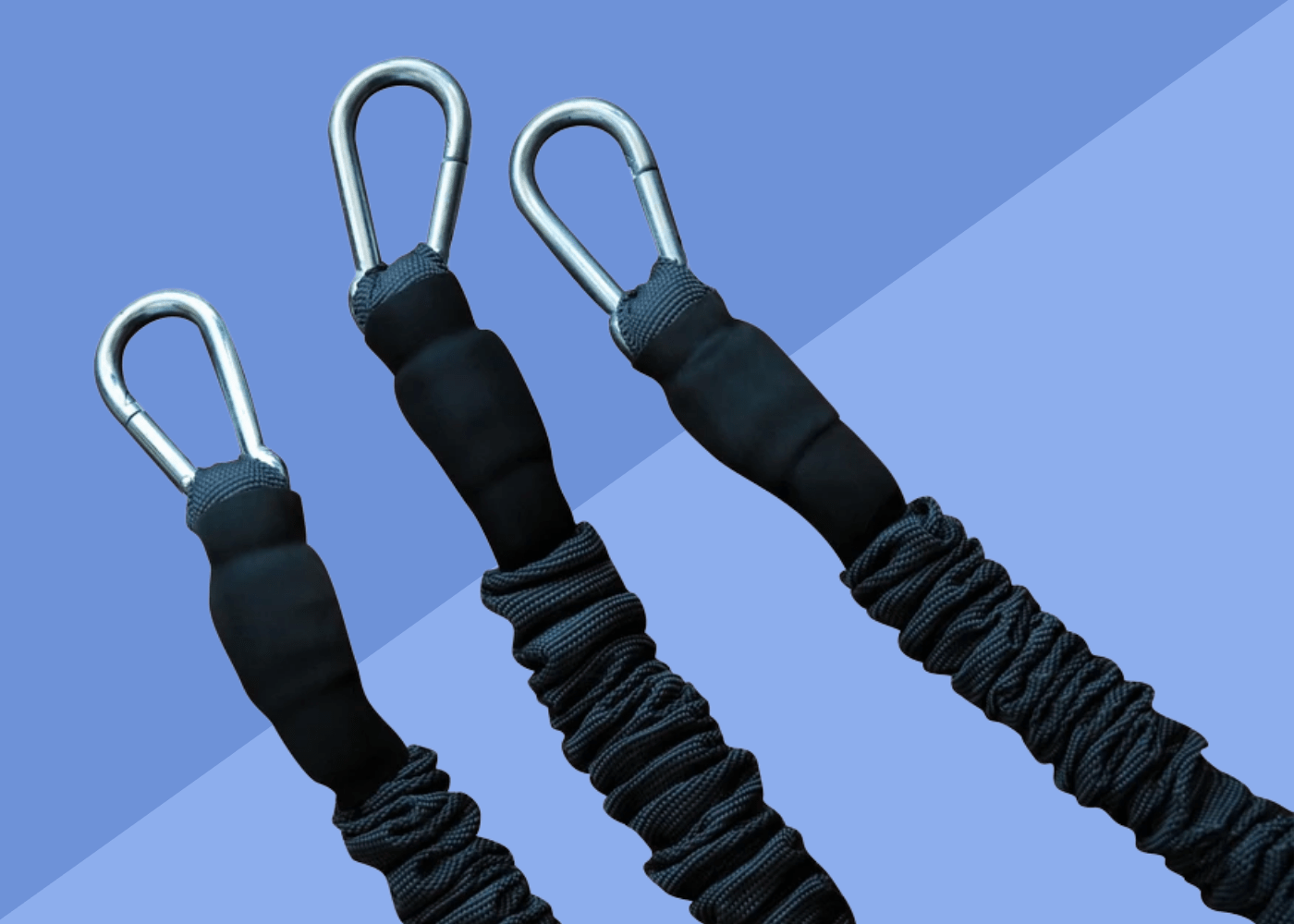 The ability to create resistance without the need to use heavy barbells placed on your hips is also a much better approach in terms of avoiding injury and is definitely more comfortable.
N.B. Due to their popularity, BootySprout often sells out so if you are serious about taking your hip thrusters to the next level, it's worth buying one when they are in stock.
BootySprout and the Benefits of Resistance Hip Thrusters
Hip thrusters are a proven way to build strength in the glutes. If this is something you want to achieve, then BootySprout will undoubtedly help you achieve this.
Hip thrusters help to:
Improve posture and alignment
Combat back ache
Improve lower body movement
Strength glutes
Increase the size of the glutes
Improve athletic performance
For some example exercises using the BootySprout, check out the video below. A simple way to get more from the existing resistance you currently have access is to, is to opt for b stance hip thrusts.
BootySprout: What's in the Box
1 BootySprout glute machine, with wooden floor platform
High-density NBR foam
3 durable, soft resistance bands (45-135 lbs)
1 neoprene sleeve
6 rubber foot pads
How to Use BootySprout
The BootySprout is super easy to set up and use. It is very similar to regular hip thrusts on a bench, but is much easier to add resistance compared to using barbells or extra weight. One of the big painpoints of using barbells is needing help removing it from your waist once you've finished… not ideal if you're working out on your own or at home.
To perform the hip thrusts with the BootySprout:
Sit in the center of the machine, with your upper back resting on the padded back support.
Place your feet on the wooden platform, roughly shoulder width apart, with your feet pointing forward.
Strap the resistance band across your waist.
Squeeze your glutes and engage your core to lift your hips up.
Your chest, core and torso should be parallel to the floor, and your knees at a 90 degree angle.
Hold for a moment before lowering your body down.
Repeat this movement for sets.
Tip – Keep your back straight and avoid arching or rounding your spine. If you are struggling with the movement, use a lighter resistance band.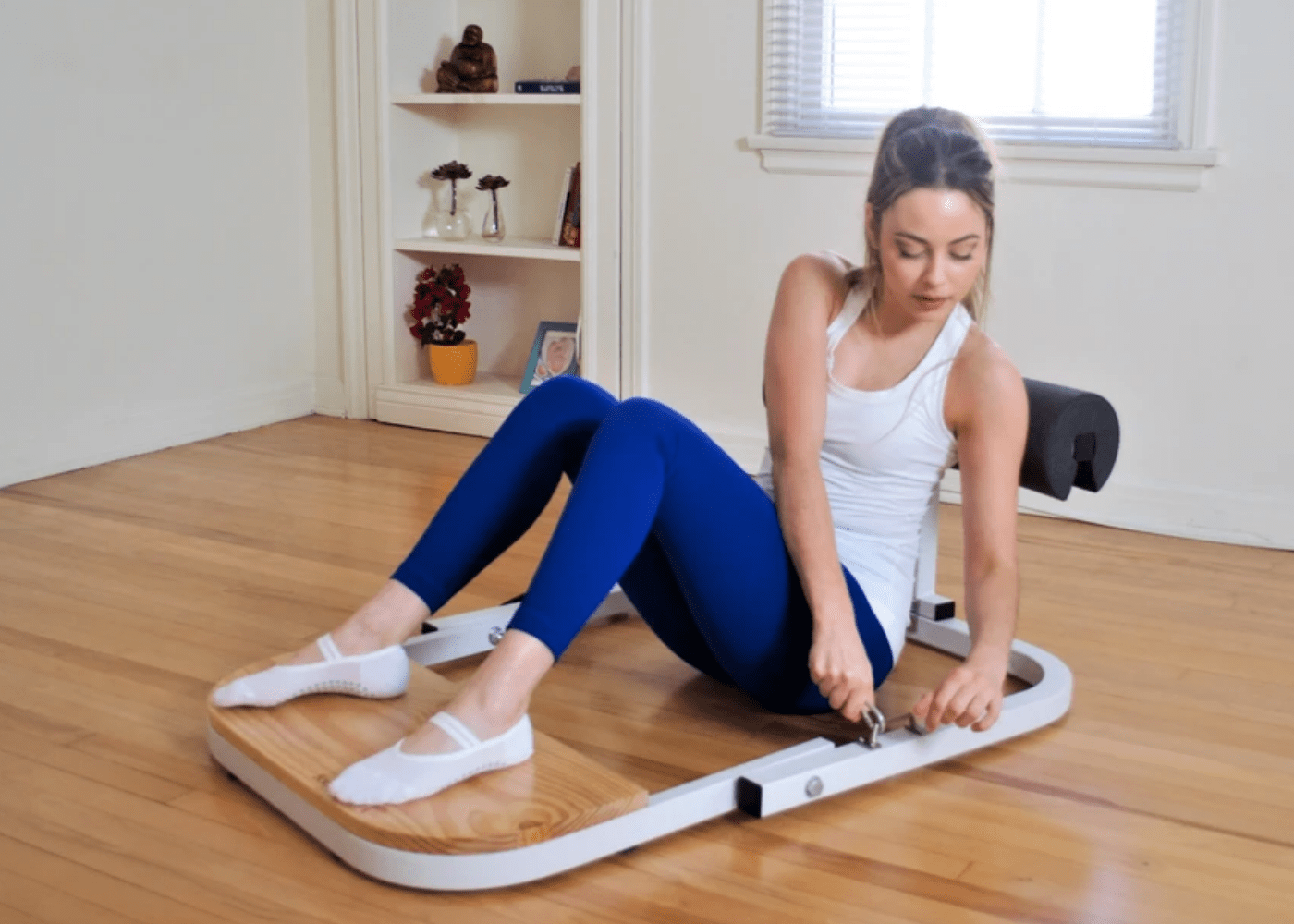 Things to Consider
At the time of writing, the TrustPilot reviews for BootySprout are generally quite negative. Lots of customers mention that they never heard back from customer support.
Something worth noting, however, is that some customers have highlighted that BootySprout's emails ended up in their junk folder… so before you sound the alarm, double check you haven't already got a response to help resolve any issues.
BootySprout Alternatives?
The most notable competitors and alternatives to BootySprout would probably be;
CHOOYOU Hip Thrust Machine
This is very similar to BootySprout in terms of design. In fact, it almost looks identical.
View the ChooYou Hip Thrust Machine below.
COBA Glute Trainer
Unlike the ChooYou Hip Thrust Machine, the COBA Glute Trainer looks nothing like BootySprout, however it still offers a glute-hitting workout. The COBA Glute Trainer is a platform with attached resistance bands. It allows you to do all sorts of resistance moves on it, including lots that target the glutes.
View COBA Glute Trainer below or read our full review of the COBA glute trainer here.
Booty Bands
Booty bands are basically just thick resistance bands, usually made with material instead of rubber. These can be placed around the hips and legs to add resistance for exercises like donkey kicks.
View our favourite booty bands below.
Is BootySprout Worth the Money?
BootySprout does want it claims… it provides an effective way to add resistance to hip thrusts at home or in a studio.
If this is your goal and the price tag doesn't put you off, then it's likely going to be a great addition to your home gym.
Compared to using a weighted barbell, the experience is certainly more comfortable and consequently a great option for beginners.
Having 3 bands also means it's easy to change up the intensity and resistance which is useful. It is possible to buy heavier resistance bands too, but this is an extra cost.
The design is also very nice, and the wooden platform is a nice feature for home fitness equipment. It would fit nicely in any home or yoga studio.
It's a relatively compact size so it doesn't take up too much room either. The low height means it could be stored under a table, for example.
The machine would undoubtedly take up less space than a barbell and bumper plates would.
It's important to follow a variety of exercises, and include things like squats, lunges and deadlifts as well, when trying to do a glutes/leg workout. Just doing the same movement every day won't create the muscular balance your body needs. So, we would recommend getting and prioritizing a variety of home fitness equipment that allows you to add load safely to all sorts of movements.
At the time of writing, it costs $164. This may not suit the lower budget but quality fitness equipment is worth investing in.
If you're working out in the gym, you might consider smith machine hip thrusters as a way to add weight to the movement too, as well using a barbell.
FAQs
How long does it take for glutes to grow?
This is very much dependent on the individual, the workout plan you follow and your diet.
What muscles does the BootySprout work?
BootySprout primarily targets the glutes, but will also engage the hamstrings, quads and core.
Does BootySprout work your core?
During hip thrusts, your core will be engaged to help provide stability and balance.
How often should I use BootySprout?
It's best to follow a varied exercise plan, so avoid doing glutes every day. Maybe try incorporating glutes and legs once or twice a week. BootySprout recommend the following in terms of a workout plan to use:
Set 1: 12 normal thrusts
Set 2: 10 normal thrusts and 6 half thrusts
Set 3: 10 wide stance thrusts and 6 half thrusts
Set 4: 10 normal thrusts and burn out on half thrusts
Related Articles:
Top Speed Bands for Explosive Power
The Ultimate Calisthenics Equipment Kit List
A Buyer's Guide to Stretching Straps and Bands
This website, fitnessdrum.com, is a participant in the Amazon Services LLC Associates Program, an affiliate advertising program designed to provide a means for sites to earn advertising fees by advertising and linking to Amazon.com.