We may earn a small commission on some links at no extra cost to you. Learn more.
If you're looking to upgrade your home gym setup, you may well come across smart workout machines and mirrors. One of the biggest names in that space is Tempo Fit.
We thought it was about time someone wrote a clear, honest review of this artificial intelligence powered workout equipment, and answered the begging question, "is this home workout studio worth it?"
In a hurry? Check out the latest best price below. 👇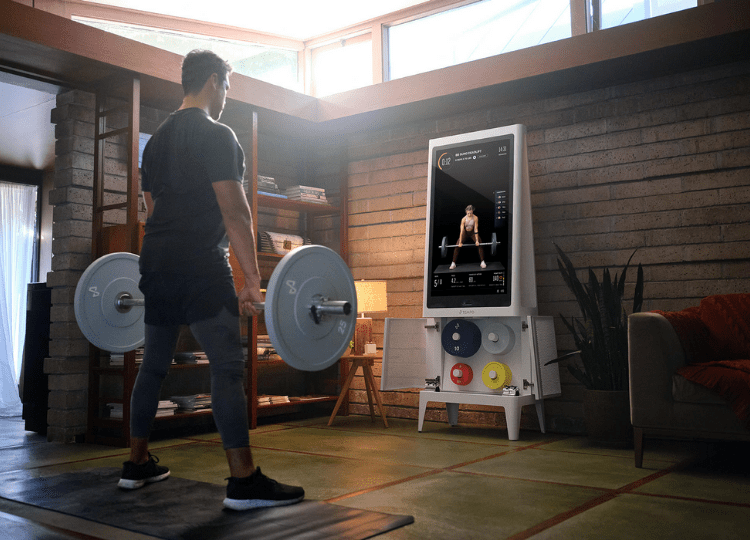 Tempo Home Studio: An Overview
Overall: 93%
Price: 17/20
Workouts and Classes: 20/20
Customer Service: 20/20
Equipment: 18/20
Effectiveness: 18/20
We've based the overall score on price, workouts/classes, customer service, equipment and effectiveness.
Based on these factors, we score the Tempo Home Studio gym 93%.
The smart mirror/home gym is an emerging market with exciting new brands entering it. For us, 93% is certainly at the top end and can be seen as a benchmark for competitors to target.
This review delves into the specifics and provides insights so you can decide whether the Tempo Studio is worth buying or not.
Pros:
Perfect Your Technique and Form
One of the features that will instantly impress you is the built-in artificial intelligence sensors. This basically helps to improve your form and ensures you follow correct technique when performing exercises.
In other words… it's like having a virtual personal trainer in your home 24/7.
For us, this feature alone provides so much value that the price suddenly starts to feel like a bargin. A few months of personal training sessions soon adds up so when you think about how much you can save, it really does provide so much benefit in keeping fit and healthy.
Exercises like deadlifts, squats and other compound movements bring with them so many benefits, but only if done correctly. Tempo will help you improve your form so you see results faster.
This helps you achieve your goals and train smarter, not necessarily harder.
Live Classes
Training at home doesn't need to feel isolating and boring. The live classes provided by Tempo mean you can bring the excitement and motivation of a live class into your living room.
We've found live classes are a great way to boost motivation and commitment and increase the likelihood of exercising.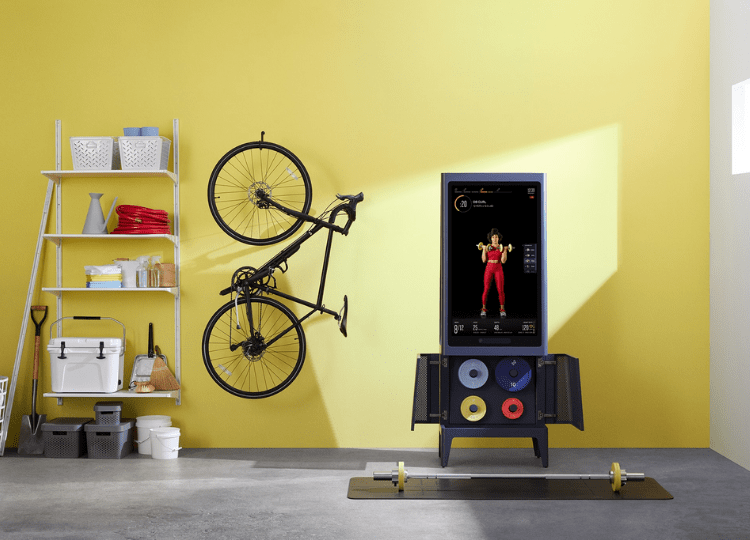 On-Demand Workout Library
Tempo comes with a vast workout library so you can follow along to one whenever you want. From strength training to HIIT routines to yoga, there really is something for everyone. It's like a fitness Netflix!
Preview Classes/Workouts
A notable feature we also love is being able to preview classes and workouts. It can be frustrating to get half way through a workout only to discover it includes some exercises you struggle with (e.g. due to bad knees, or the difficulty involved).
Previewing the movements ensures you feel comfortable in the workouts and know what to expect. We find this also means you can be prepared and potentially reserve some energy in case the workout finishes with some tough exercises.
Quality Coaches
The coaches are great and definitely a great addition to the product. The coaches and live classes are a big feature of what you're paying in terms of your membership, so having coaches that keep you motivated is a vital component for any smart home gym.
Variety
Unlike some other smart mirrors, the variety of the Tempo is second to none. The use of dumbbells and barbells means there are so many types of workouts to follow along to. It also means you can adapt the weights to suit your level.
Focus on Strength
Speaking of dumbbells and barbells, we think this is a big thumbs up. So many people simply don't do any sort of strength training or have connotations of World's Strong Man when they think of lifting weights. The truth is, everyone should use resistance training within their fitness routine, and Tempo makes this simple, fun and not intimidating.
Cons:
Need Space for Workouts
Something to be aware of, especially if you have a small flat or room, is that you do need a bit of space. Ideally, you should be stood 8ft from the machine so the sensors can track your movements.
In some homes, low ceiling may also make certain movements, like any sort of overhead press, slightly nervy.
Need Membership for Classes/Workouts
When evaluating the cost, it's important to remember the ongoing membership fee. This unlocks all the value from the machine in terms of workouts and classes, so it's a necessary feature that can't really be by-passed.
Tempo: What's in the Box
There are 3 different packages to choose from, which will influence what's in the box.
All packages include the Tempo machine itself (available in white or dark grey), which includes:
3D Motion Capture System
Form Feedback
Weight recommendations
42″ touchscreen display
10th gen i5 processor
Weighs 100lbs
High Tensile Aluminum Frame
Unlimited accounts per household
Tempo Starter
5mm Workout Mat
2 x 7.5lb Dumbbells
4 x Collars
75lbs of Weight Plates
Tempo Plus
5mm Workout Mat
2 x 7.5 lb Dumbbells
1 x 25 lb Barbell
Heart Rate Monitor
Recovery Roller
Folding Bench
6 x Collars
75 lbs of Weight Plates
2 x 25 lb Competition Plates
Tempo Pro
5mm Workout Mat
2 x 7.5 lb Dumbbells
1 x 25 lb Barbell
Heart Rate Monitor
Recovery Roller
Folding Bench
Folding Squat Rack
Kettlebell System
Weight Plate Storage
6 x Collars
75 lbs of Weight Plates
2 x 25 lb Competition Plates
2 x 45 lb Competition Plates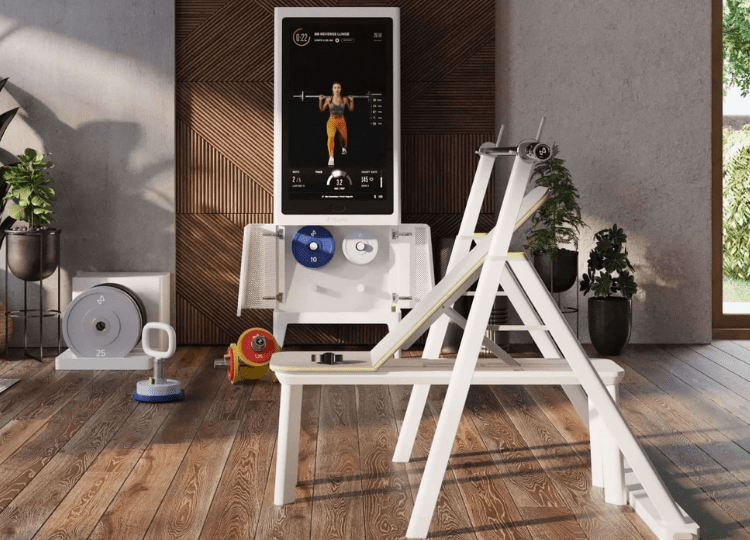 Tempo Home Workout Studio: The Details
Packages
As previously discussed, what's in the box is influenced by which package you buy. You can decide if the additional equipment and resources are worth upgrading. This is really just personal preference.
You can always use your own weights too. For example, if you already have a barbell, you can just use that for the exercises.
We've found the Tempo equipment to be very good quality, so if you're on the fence, the higher packages won't disappoint.
Membership Cost
The Tempo membership starts at $39/month. A full year is required.
It's important to remember that you will require a membership to access ongoing live classes and the interactive dashboard.
Can you use Tempo without a membership? Technically you can, but you'll lose access to most of the main features, so a membership is definitely advised if you want to make the most out of your purchase.
This membership gives anyone in your home access to live classes and workouts, so compared to group classes at your local gym, or individual online classes, the price point is competitive.
Finance
They do offer finance options, starting at $69/month if you don't have the budget up-front.
Other Info
Shipping and Installation currently costs $250
A 30 day free trial is available
Impressive 3 year Warranty
Touch screen
Portable
What is a Smart Home Gym/Mirror?
Tempo falls into the very exciting category of smart home gyms and mirrors. This technology is very new but could be one of the most disruptive things to hit the health and fitness industry in years.
They offer personal training through artificial intelligence, live classes and built-in equipment. This opposes using a service like Future Fitness that offers remote coaching through real personal trainers.
For those that enjoy exercising at home, a smart home gym is definitely worth considering.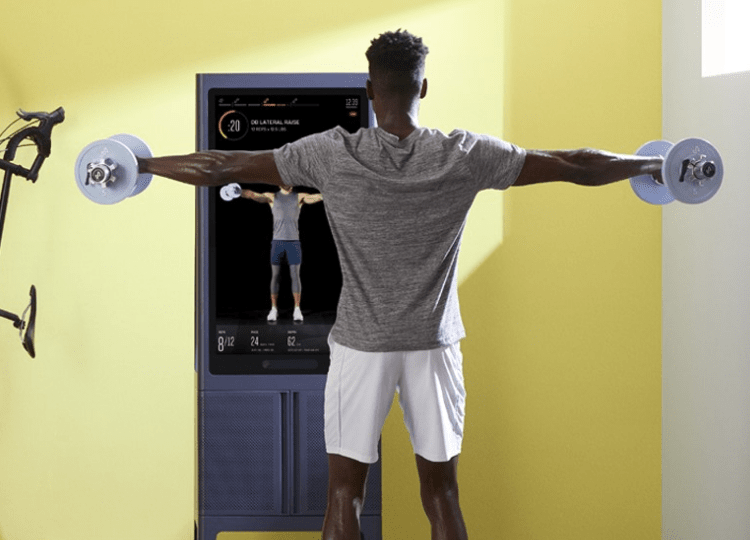 Tempo Alternatives?
Looking to see how Tempo stacks up against its direct competitors?
We thought you might… so we've put some of the leading brands, Tempo, Tonal and Mirror, in a head-to-head comparison and review.
Read it here – Tempo Vs Tonal Vs Mirror.
Who is Tempo For?
The inclusion of a wide range of workouts and classes means Tempo is suited to pretty much anyone. From cardio based workouts to strength training, there's plenty to keep you busy.
The benefit of having sensors monitor your technique and provide feedback during movements, particularly strength based exercises, is a huge bonus for beginners. Working out with bad form can lead to injury so avoiding this is really where there is so much value to be gained from Tempo's A.I.
The coaching and live classes are also great for motivation, so anyone who struggles to get motivated to exercise will find that a big help too.
The leaderboards are likely to be a popular feature for competitive types and those who want to push themselves further.
We also think it's great for families as it can encourage everyone to keep fit.
Bottom Line
The Tempo Home Studio Gym is more expensive than just buying some dumbbells, but the value it offers is truly revolutionary.
We've scored it 93% which puts it at the top of the leaderboard for smart home gyms.
If you enjoy exercising at home (or in a studio) and are looking to upgrade your setup, the Tempo is well worth considering.
Check the latest best price below. 👇
Related Articles:
NordicTrack Vault Smart Workout Mirror Review
Best Affordable Dumbbells for Women