We may earn a small commission on some links at no extra cost to you. Learn more.
Like opening a wardrobe and finding Narnia, the NordicTrack Vault is the doorway for a new fitness world.
Beautifully chic but highly functional, this smart home gym mirror is promising to change the way we workout at home. If you're looking to bolster up your at-home workouts, you'll want to learn more about this innovative piece of kit and how it can help you reach your fitness goals.
In this comprehensive review, we outline the core features and compare it to other leading smart home gyms as well as delving into whether or not it's worth the money.
NordicTrack Vault Overview
Overall: 93%
Price: 17/20
Workouts and Classes: 20/20
Customer Service: 20/20
Equipment: 18/20
Effectiveness: 18/20
Check out the product pages below to start shopping. 👇
We've based the overall score on price, workouts and classes, customer service, equipment and effectiveness.
Based on these factors, we score the NordicTrack Vault 93%.
The smart mirror/home gym is an emerging market with exciting new brands entering it. For us, 93% is an impressive score and definitely puts it within the top bracket of competition.
This review delves into the specifics and provides insights so you can decide whether the NordicTrack Vault is worth buying or not.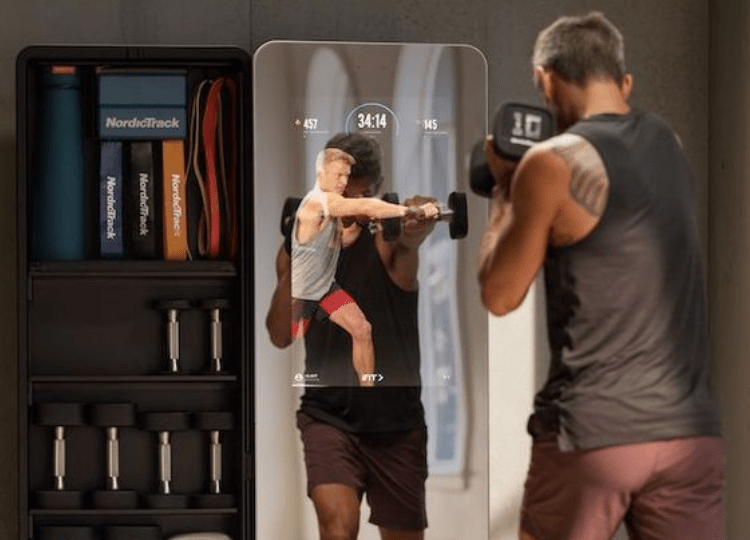 Pros
Trusted Brand
One of the big benefits of the Vault is that NordicTrack is a well established and trusted brand. In fact, there's a very good chance you've used their equipment if you've spent any times in gyms.
NordicTrack equipment is high quality, designed for commercial premises that need to withstand lots of use.
NordicTrack also has very good customer service and support, should any issues arise.
iFIT Workouts
NordicTrack uses their iFIT system to deliver workouts through the smart mirror. iFIT is a world class online fitness service, with endless hours of on-demand classes. Getting these classes delivered via the stunning Vault display will really transform your home into an immersive workout class.
The iFIT workouts really do have something for everyone, from strength training to yoga to cardio. The classes also include beginner friendly workouts, as well as those looking to push themselves at a more intense level.
Reflective Mirror
The reflective mirror is really beautiful, which does make a difference if it's going to be in your home. When not in use, it can just be used as a mirror, naturally fitting into any room or home.
The mirror is 60 inches, which is a big display for you to monitor your form and technique.
Built-In Storage
The built-in storage is a huge bonus when reviewing the Vault against some of the other leading smart mirrors. It's something many of the machines have struggled with, but is such an important thing for home gym equipment.
Having large barbells and kettlebells around your living room floor isn't really ideal for when you're not exercising.
The NordicTrack Vault uses a very clever design in which the mirror slides to the side, exposing a surprisingly large amount of storage for the equipment. This makes it perfect for anyone who doesn't want their home workouts to take over their entire home.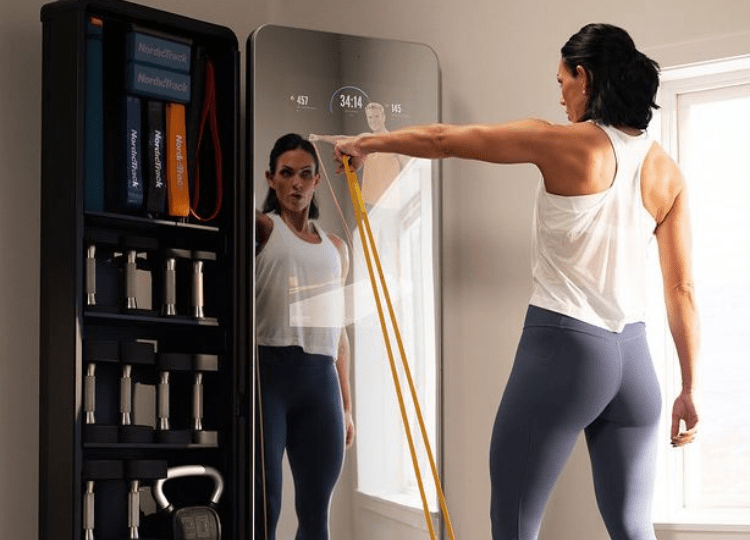 Quality Equipment
The equipment, namely the dumbbells, resistance bands, kettlebells and foam roller feel very high quality. It feels very much like the type of equipment you'd use in a gym.
There's also no reason why you couldn't use your own equipment too if you wanted, e.g. if you wanted to use extra weights.
Better for Small Spaces
The compact design is ideal for smaller homes and spaces. It can fit very nicely into a room corner so it doesn't need to become the focal point of the space.
Touch Screen
The display is also touch screen which is handy. We've found it makes following a workout much easier than having to navigate via an app.
The touch screen feels easy to use and coupled with the intuitive web interface, finding your next workout is a breeze (even for non-techy people).
Convenience
One of the biggest benefits of the NordicTrack Vault is simply the convenience of it as a solution for getting set up with a home gym in next to no time.
It really is an all-in-one in terms of equipment, workouts and smart mirror display. You don't need anything else to start exercising and getting fitter. For those who just want a simple solution, the NordicTrack Vault definitely fits the bill.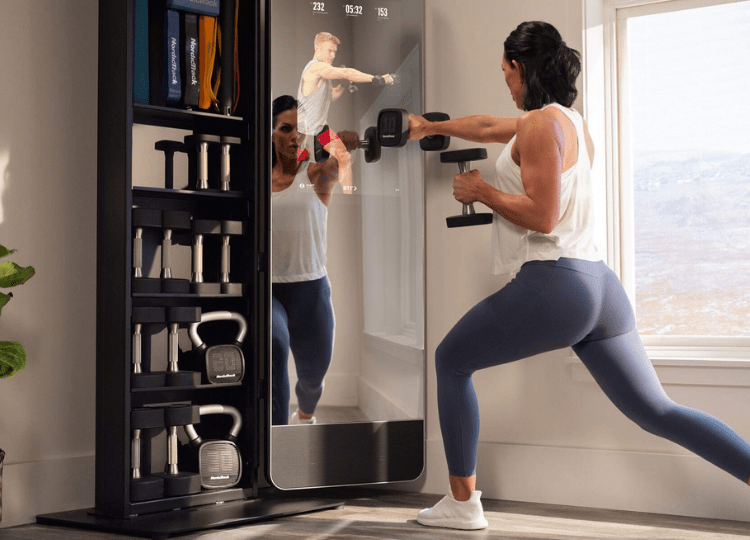 Cons
Limited Equipment/Weights
The equipment included in the Vault Complete is ideal for beginners but those who are used to lifting heavier weights may have wanted more options. This is the big challenge for all-in-one home gyms as supplying equipment like dumbbells for everyone is difficult.
The weights included are what you'd expect but if you wanted to do heavy lifts on movements like deadlifts, some experienced lifters may want more weight. Similarly, there are no barbells (due to storage requirements). However, you could always use other equipment if you wanted. The Vault Standard doesn't include equipment so you could opt for this version and use your own weights if that was a concern.
iFIT Needs Renewing
iFIT membership is free for a year with your purchase (which is better than a lot of competitor's offerings), however this does need to be renewed separately after a year. This is pretty standard with any home smart mirror, so it's not really a negative, but it is worth highlighting to avoid any surprises.
No Sensors/Monitoring
Tempo Fit has really upped the game in terms of leveraging artificial intelligence to create unique at home workouts. Tempo uses sensors to track your movements to provide feedback on your form and technique. The Vault doesn't offer this, which is a feature we really like and hope that most smart gyms eventually adopt too.
Having said that, the whole purpose of having a mirror is for you to watch yourself and check your technique and form, so it could definitely be argued that a mirror is enough.
Wall Mounted
Due to the weight of it, the Vault does need to be wall mounted. This is just for safely and makes sense. It does however, just mean installation takes that little bit longer and those in rental accommodation may have to get permission from their landlord.
Luckily the price includes delivery and professional installation so you don't have to worry about that coming in at an extra cost.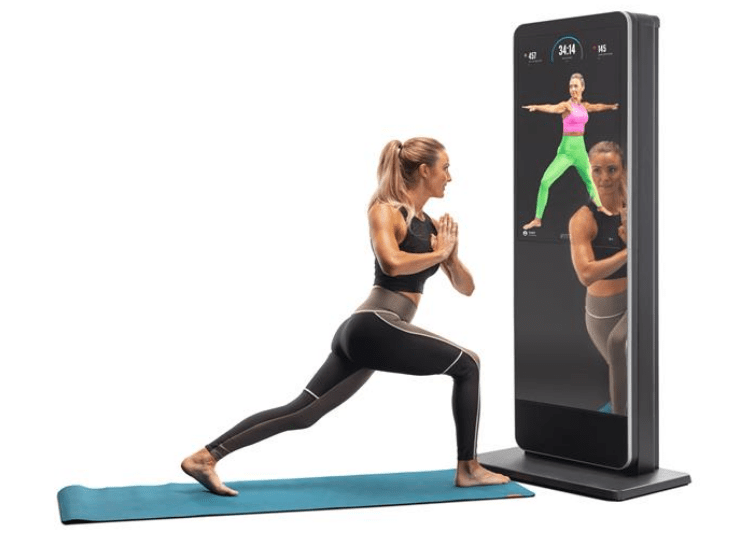 NordicTrack Vault: What's in the Box?
There are currently two versions of the NordicTrack Vault; the standard and the complete.
NordicTrack Vault Standard
1-Year iFIT® Membership Included ($396 Value)**
Hanging Shelves
Cleaning Towel
NordicTrack Vault Complete
1-Year iFIT® Membership Included ($396 Value)**
Exercise Mat6
2 Yoga Blocks
3 Loop Bands
3 Super Resistance Bands4
5-30 Lb Dumbbells
20 Lb & 30 Lb Kettlebells
Premium Shelves
Hanging Shelves
Cleaning Towel
NordicTrack Vault: The Details
Packages
There are two packages to choose from; the Standard and the Complete. The difference is basically the inclusion of the weights.
If you're looking for something that's got everything included, the Complete is the better choice. If however, you already own some weights, or prefer lifting heavy, you may want to go for the Standard and save some money.
Membership
The Vault uses the NordicTrack iFIT system to deliver on-demand workouts. After a year, you'll need to renew this membership.
Without this membership, you'd lose access to the workouts, which is a big part of the overall value the Vault offers.
Warranty
Your purchase includes a warranty of 10 years for the frame and 2 years for the parts.
Installation
Installation is included in the price which is great. The unit does need to be wall mounted, so that may influence where you decide to position it in your home. This also means it's not really something you can move around once installed, so take your time and think about where best it should go before it's delivered.
NordicTrack Vault Alternatives?
If you're looking for a smart home gym mirror, the main alternatives to NordicTrack Vault would probably be Mirror, Tempo and Tonal.
They're all unique and have their own unique selling points. Tonal, for example, uses it's built-in resistance system for workouts, while Mirror doesn't include any weights.
Our latest guide provides details on the best home fitness mirrors.
Who is NordicTrack Vault for?
When evaluating NordicTrack Vault against competitors and reviewing all the features in detail, we think it is the best option for those looking for a quick way to set up with a comprehensive home gym. You'll have plenty of weights to use and the ability to follow along to workouts right away.
If you enjoy following along to classes, then you'll find iFIT great fun.
The iFIT classes are also great for people who love variety and want to try new styles of workouts, such as yoga, HIIT, recovery, kettlebells, etc.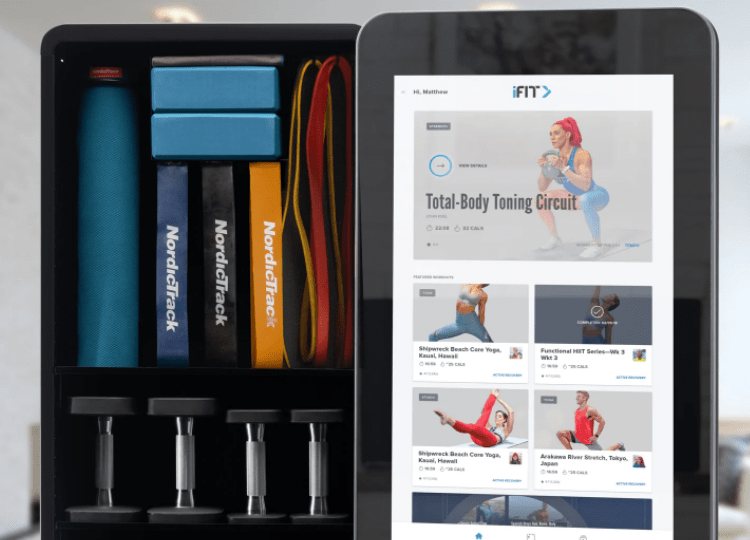 Bottom Line
Competition in home smart mirrors is heating up with new brands and products entering at a rapid pace. At the end of the day, you know what kind of workouts you enjoy.
If you like following classes, then the Vault and iFIT is definitely worth considering.
Check the latest best price below.
Related Articles:
Coba Board Home Portal Gym Review
Best Affordable Dumbbells for Women in 2021