We are reader supported and may earn a small commission on some (but not all) links within our content to products we think will genuinely help our readers at no extra cost to you.
If you thought yoga was due a rebrand, then you'll want to take note of the Skill Yoga app.
The benefits of yoga are abundantly clear… whatever your age or fitness level, yoga can help build muscle, improve flexibility, help with weight loss, as well as boasting all sorts of mental health benefits too.
But yoga has a branding issue… it's long been heavily associated with the spirituality side of things and that has often led to some people, often men, rejecting this form of exercise.
Until now…
Skill Yoga noticed the benefit yoga can bring for high performance athletes and has created an app with workouts that help showcase of value of doing yoga to support other sporting activities. Whether you're a keen walker or semi-professional footballer, Skill Yoga uses proven yoga based movements to enhance your favourite past-times.
In this Skill Yoga review, we delve into everthing you can expect from the app. We've signed up and taken it for a test drive, so you can learn from our first hand experience of what the workouts are like.
In a hurry? You can sign up for free below. 👇
Would we recommend Skill Yoga? Alo Moves is still our top recommendation when it comes to yoga apps. The library of live and on-demand classes really empowers you to benefit so much from yoga. Nevertheless, Skill Yoga is still a great app with a lower price tag, ideal for those who want to focus more on tracking progress, compared to following immersive online classes.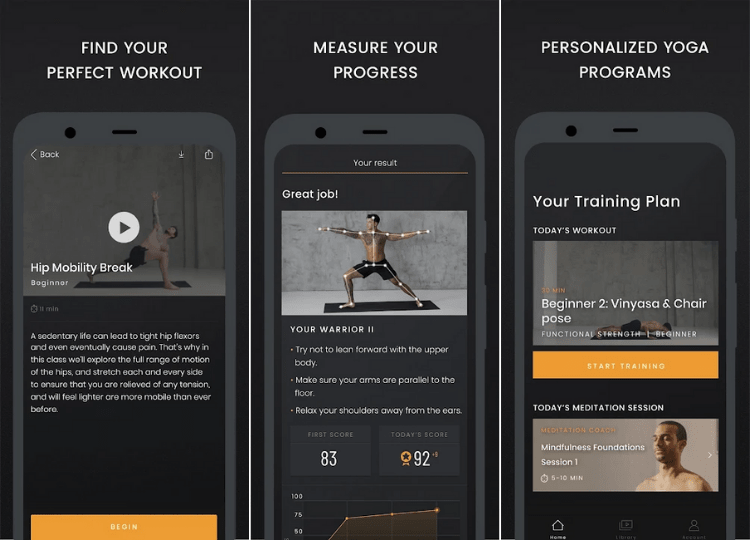 What is Skill Yoga app?
Skill Yoga is a yoga app that aims to become your "digital yoga coach." It blends tech with teaching, to create immersive online yoga programs that have real-world impact.
Skill Yoga is less about deep breathing and connecting the mind, body and soul, and more about opening up hip flexors, combating bad posture, and enhancing athletic performance with specific yoga poses.
It has found a unique angle within the yoga app market and executed it very well.
Skill Yoga will personalize your experience using the app, partly based on the answers you provide during the onboarding quiz and assessment. This helps create your recommended workouts and schedule.
Although Skill Yoga uses words such as "athletes" and pictures of those in extremely good physical condition, the app is suitable for beginners as well. There are plenty of workouts that are simple, and slowly introduce you to various yoga routines and flows.
The first question in the onboarding quiz is "what are we working towards", with 3 choices, including;
functional strength
athletic mobility
skills and technique
These 3 core pillars summarize the focus and benefits of Skill Yoga, especially when comparing to other yoga and fitness apps.
Free Vs Paid
There is a free version, making it easy to get started. This allows you to create a profile, take the assessment and get a flavour for what the workouts are like. If you want access to the whole library and advanced features, you'll need a premium account.
The premium version costs just $6.99/month which firmly puts it in the category of one of the most affordable yoga apps on the market. Especially when comparing to other popular yoga apps, like Alo Moves, Glo and Obe, it is very well priced.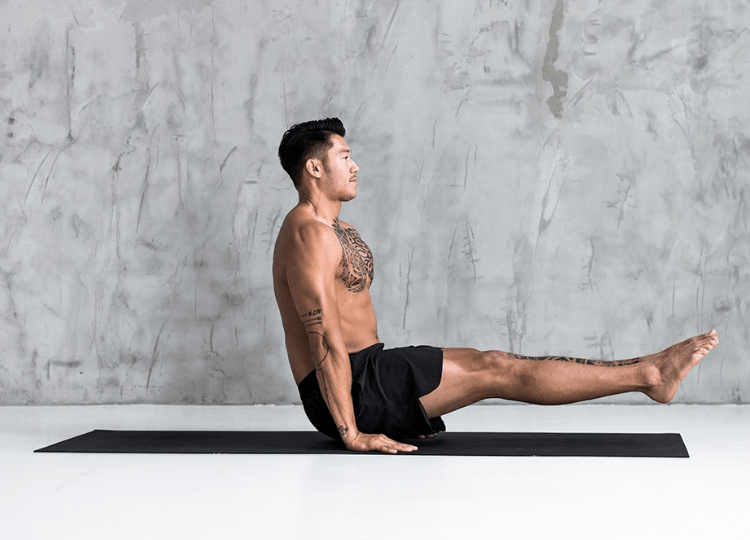 What We Like About Skill Yoga
Tangible Outcomes
Yoga is very broad, so it always feel slightly unjust trying to compare yoga apps and workouts to one another. Gaia, for example, has a raving fanbase of users who love the yoga workouts, but these look and feel a world apart from the likes of Alo Moves or Skill Yoga.
What we like about Skill Yoga is that the benefits are tangible and visible. Following a program to improve hip mobility has a very clear goal and ultimately the success of such a program will be very clear.
This helps keep your yoga routine accountable and instead of just going through the motions, you are working to improve the way you move.
Showcases the Benefits of Yoga
We're huge fans of yoga here at fitness drum, so it's great when an app can showcase the benefits of it so clearly. Being able to tie specific yoga poses and flows to your life, e.g. improved hip flexibility, it helps users understand the true value they get from doing yoga.
Although yoga brings a lot of mental health benefits, for us, the ability to transform someone's flexibility, mobility and functional strength, are why the team here do yoga every day at part of their daily routine.
Progression
If I told you to do a headstand, you'd probably laugh and say it'll never happen.
But Skill Yoga helps show how you can slowly work towards these specific skills and poses through very clear and actionable instructions.
Of course a headstand won't happen over night, but having a clear roadmap of how to do it and the progression leading towards such a movement is definitely the way to approach such advanced skills.
AI Movement Coach
Considering the price, we were blown away to see such a high-tech feature so casually included in the app. The AI movement coach basically montiors your movements during yoga flows and provides real-time feedback.
Imagine you drop your hips too much during downward dog, for example, the AI coach would provide feedback to help you perfect the movement and improve your form.
When Tempo included a similar feature in their fitness workout mirror, it grabbed headlines in all major tech publications, so it's surprising Skill Yoga can include such a feature for such a low price.
Skill Yoga have officially dropped the gauntlet for other yoga apps to step up their tech stack. This feature is probably still in developmental phase, but it promises a new feature for yoga apps, in which technology is more integrated into the workouts and features.
To use this feature to its best, you'll want a phone stand so your phone can really see your whole body during the workouts.
Personalized
The app will tailor suggested workouts and programs based on the info you give it. This makes a big difference to the overall experience, and much better than lots of the free yoga apps that just present generic yoga poses to everyone.
Wanting to build core strength, as opposed to improve hamstring flexbility, are two very different goals, so your workouts should reflect that.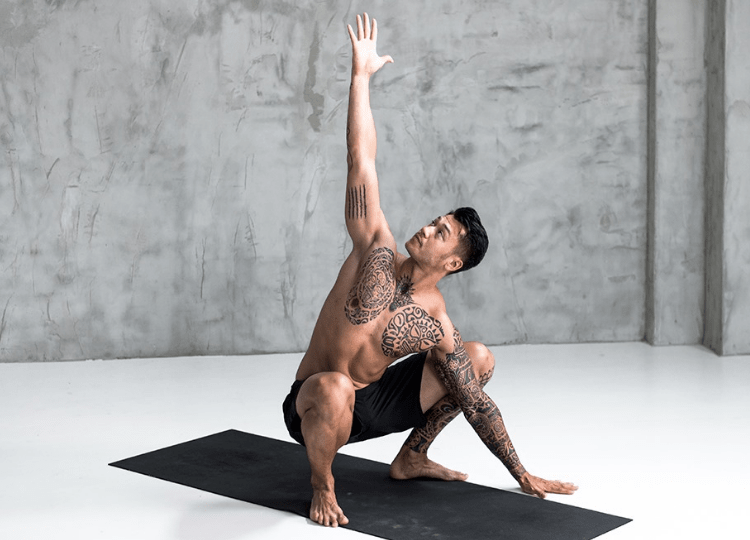 Things to Consider
Skill Yoga doesn't include live classes, which many other yoga apps do. Obe, Beachbody, Yoga International, and others, all have a schedule where you can join live classes and follow along to an instructor doing the workout.
For some, this component of a live class really helps with motivation. Having said that, live classes will always increase the cost, and on average, apps that include live yoga classes, will all be more expensive that Skill Yoga.
Skill Yoga Reviews
The reviews for Skill Yoga are positive all round.
The app currently has 4.5/5 on Android, and 4.8/5 on Apple.
Check out the video for a sneak preview into what the app is like.
Who is Skill Yoga Best For?
With a tagline, "yoga for athletes" it would be stating the slightly obvious to say Skill Yoga is best for athletes and high performance athletes.
We think it would also bring a lot of value to the wider market in general. If you feel stiff, struggling with mobility (hip, shoulder, ankles, etc), yoga can definitely help… the issue is, sorting through the thousands of yoga apps and videos online to find relevant workouts. Skill Yoga makes accessing the relevant content to help improve your strength, mobility and technique through yoga extremely simple and effective.
If you want to improve your strength or flexibility, Skill Yoga can help.
It also has a free version, so there's really no risk in signing up and taking it for a test drive.
Bottom Line
Mobility, stretching and recovery are vital for our overall health and fitness, yet so often ignored. We would really recommend everyone includes these activities into their weekly fitness routines.
There are specialist mobility apps, but as Skill Yoga includes these areas, as well as strength and yoga skills, you definitely feel like you get a lot value for the price.
Follow the link below and sign up for free to see if Skill Yoga works for you.
Related Articles:
We Tried Physique 57 On Demand – Here's What We Thought
Future Fitness Personal Training App Review