Walking groups are becoming increasingly popular with over 50's across the UK. They provide the perfect environment to get fit, visit new places and meet new people.
What's not to like?
For tips on finding walking groups near you, our top walking groups in the UK and the types of walking groups you can join, read on as we've detailed everything you need to know below.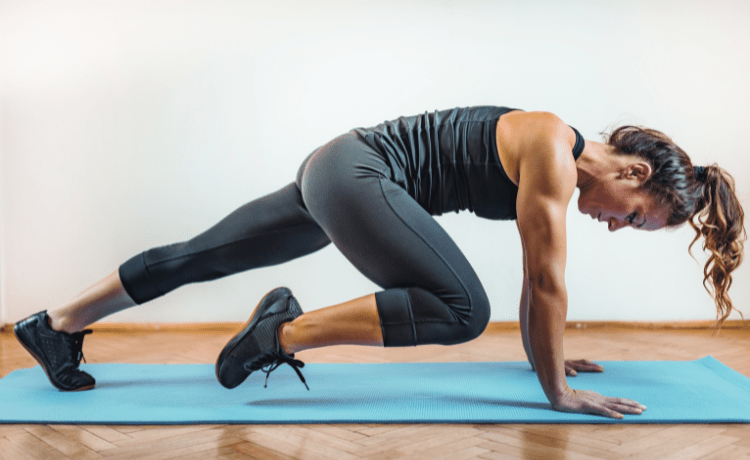 A FITTER, STRONGER YOU
A simple science-based workout plan that is proven to help build muscle, burn calories and lose weight. Suitable for all levels.
Finding a Walking Group Near You
The great news is that if you are looking for a local walking group, particularly one tailored to over 50s, there are plenty around.
To start with check out some of the below to help you get started.
Berkshire Weekend Walkers
Berkshire Weekend Walkers is a great walking group for anyone in the Berkshire area. Their walks range in length, from 5 to 15 miles and each walk has a different difficulty score. They also have a very active social calendar.
Capital Walkers
Capital Walkers is located in London and perfect for anyone living in or around the capital city. The walks are varied and there is something for everyone.
If you're looking to escape the capital for a bit, this walking group will help you find hidden gems close by and get you in the great British countryside.
Manchester Weekend Walkers
Manchester Weekend Walkers is a Ramblers' walking group located in Manchester. They explore the North West and offer anyone living in that area a great opportunity to meet like-minded people.
What is a Walking Group?
A walking group is quite simply a group, community or club that actively organises walks. There are many types of walking groups and they will vary in structure and format, but generally speaking, they will all invite members to participate in regular walks.
Some walking groups can be quite informal, but others may include paying a membership fee but this may go towards travel costs or other benefits.
Types of Walking Groups?
Believe it or not, but there are many types of walking groups. Depending on what type of walking you want to do, you can pick one that best reflects your ambitions and interests.
Some popular types of walking groups include:
Nordic Walking
Nordic walking offers a full body workout and boasts some serious health and fitness benefits.
You'll need to grab yourself some Nordic walking poles, Nordic walking gloves and some quality walking shoes before heading out on a walking adventure.
Unlike some of the other types of walking groups, Nordic walking involves specific technique so if you're a beginner you'll want to make sure any group accommodates this and can help you progress.
If you're looking to get really fit and healthy, Nordic walking is definitely worth considering.
Rambling Groups
Rambling in the UK is something special. Exploring this great country with like-minded people on organised walks is a great way to spend a day.
The Ramblers Association is one of the best places to go if you're looking to join a walking group.
Rambling celebrates the great outdoors and provides support and participation in organised walks.
Hiking and Trekking Groups
There are also hundreds of general hiking and trekking groups around the UK. These vary in structure, ability and activity.
Some hiking groups will be aimed at more experienced walkers, while others offer beginners a great platform to start walking.
Hiking and trekking groups are likely to be more adventurous and involve more rural walking that is likely to involve steeper inclines and even a bit of scrambling from time to time.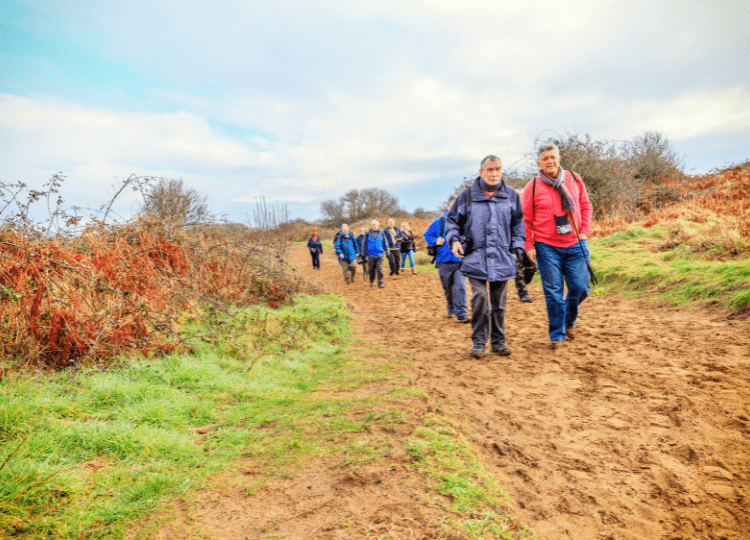 Urban & Rural
Depending on where you live and where you want to walk, you can find walking groups that either focus on urban or rural areas. Many urban walking groups may walk around a city and spot off at popular landmarks or cafes along the way. Meanwhile, if you prefer a rural setting, rural walking groups offer a chance to unplug from the hustle and bustle of cities and towns, exploring hidden gems in the countryside.
Dog Walking Groups
If you have a dog, then there are plenty of dedicated dog walking groups.
This offers dog walkers a chance to join a group of like-minded people to walk with on their dog walks. This can enhance social and mental wellbeing associated with group activities and is a great option for all dog walkers.
Dating Walking
For singles over 50, there are numerous dating apps and companies that are designed to help walking enthusiasts meet people who share their love of walking, adventure and the outdoors.
These groups and organisations can be a great way to connect with people who share your values and interests.
Benefits of Walking Groups for Over 50s
Walking groups offer a plethora of benefits, namely:
Aerobic Fitness – Walking is a great way to improve your aerobic fitness. It will keep you active, help you lose weight and help develop functional fitness by strengthening important muscles.
Social Wellbeing – Walking groups provide a fantastic social aspect, whereby you can meet and socialise with people who share your love you walking and the outdoors. Don't be surprised if you make lifelong friends in these groups!
Challenging – Certain walks may be challenging and hard-work. This helps give you targets and ambitions to aim for. You'll work up a sweat and deserve that celebratory drink by the end of the walk.
Travel – Unlike just working out in a gym, walking means you'll be to visit and experience lots of incredible places. From cities and town, to stunning countryside and mountains, walking groups will help you experience everything the UK has to offer.
Cost Effective – Walking doesn't require much equipment or gear compared to other activities so if budgets are tight, walking is a great form of exercise.
Joining a Walking Group
The Ramblers' Association and Walking for Health are 2 great places to start if you're looking to join a walking group or club locally.
With so many organised walks happening all over the country, whether you just want a bit of fresh air, or a intense hiking expedition, there is something for everyone!
Related Articles
Swimming for Over 50's – The Ultimate Guide