Nordic walking is a fantastic activity for anyone looking to get fit and healthy. Our recent article highlights all the benefits of Nordic walking as well as tips for getting started.
Nordic walking doesn't require much gear or equipment, but there is one thing that you need before lacing up your shoes and heading for the hills – walking poles!
Nordic walking poles define the activity. They help reduce stress and strain on your knees and ankles, make your core, shoulders and arms work harder and offer support and balance for those more adventurous treks.
To ensure you get the most out of Nordic walking, buying the right poles is vital. Walking poles and sticks often have different designs and features, tailored to different circumstances and requirements. This article outlines what features you should look out for and our top picks when it comes to Nordic walking poles and sticks.
Our Top Pick 🏆 – LEKI Traveller Carbon Walking Poles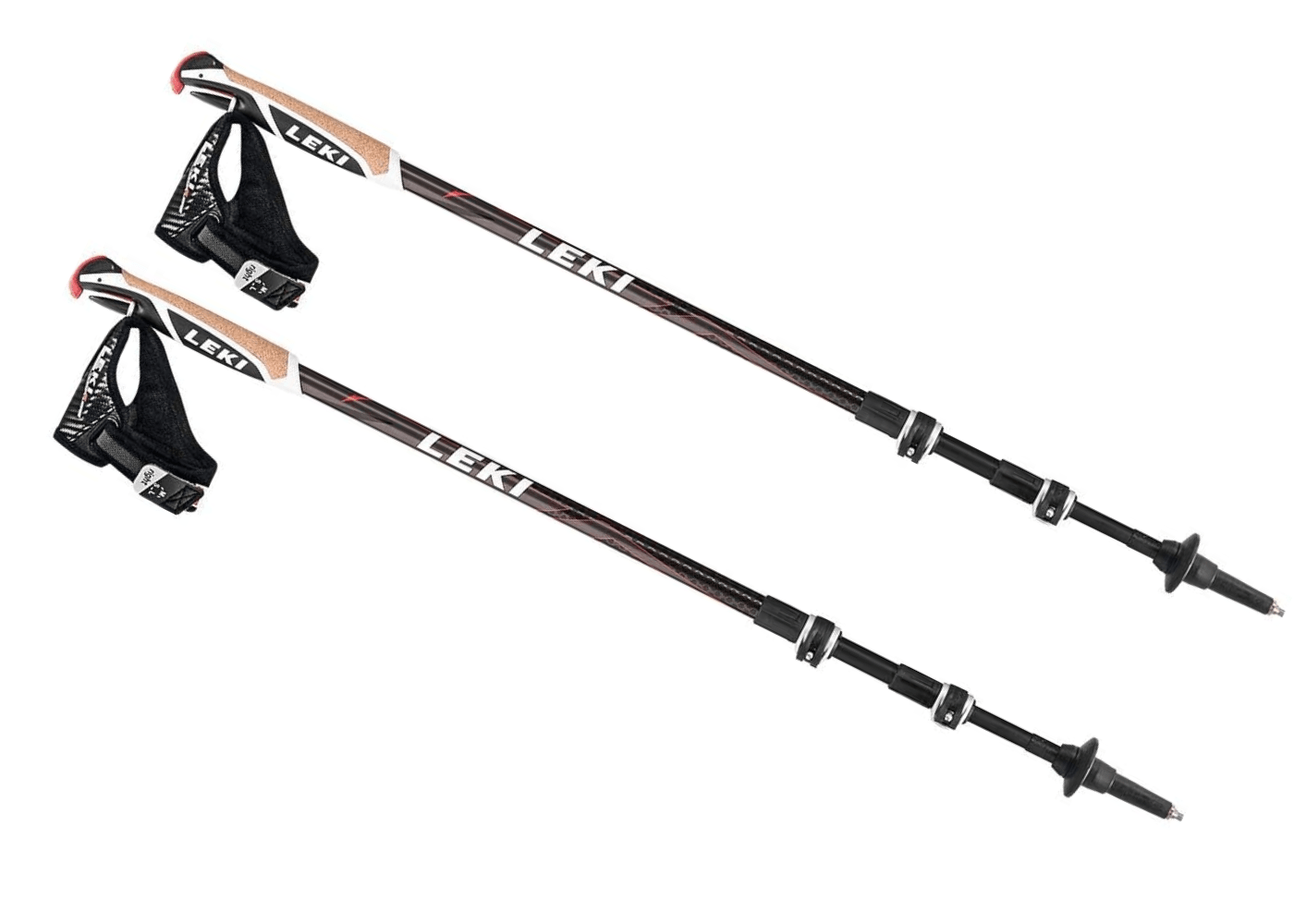 Leki is without doubt synonymous with Nordic walking. Their poles and sticks have been fan favourites for a long time.
The Leki Traveller Carbon is a fantastic option for all abilities. With glowing reviews, almost all of which are 5 stars, this pole is hard to beat. Beginners can get their hands on a trusted and reliable pole, while experienced walkers can upgrade their poles to this highly rated Nordic walking pole.
At a Glance…
LEKI Traveller Carbon Walking Poles
Very durable and hardwearing
Beautiful design
Comfortable grip
TrailBuddy Lightweight Trekking Poles
Affordable
Versatile
Additional features
York Nordic Ultralight Folding Walking Poles
Foldable
Great for Travel
Includes Paws and Straps
Top 3 Nordic Walking Poles
1. LEKI Traveller Carbon Walking Poles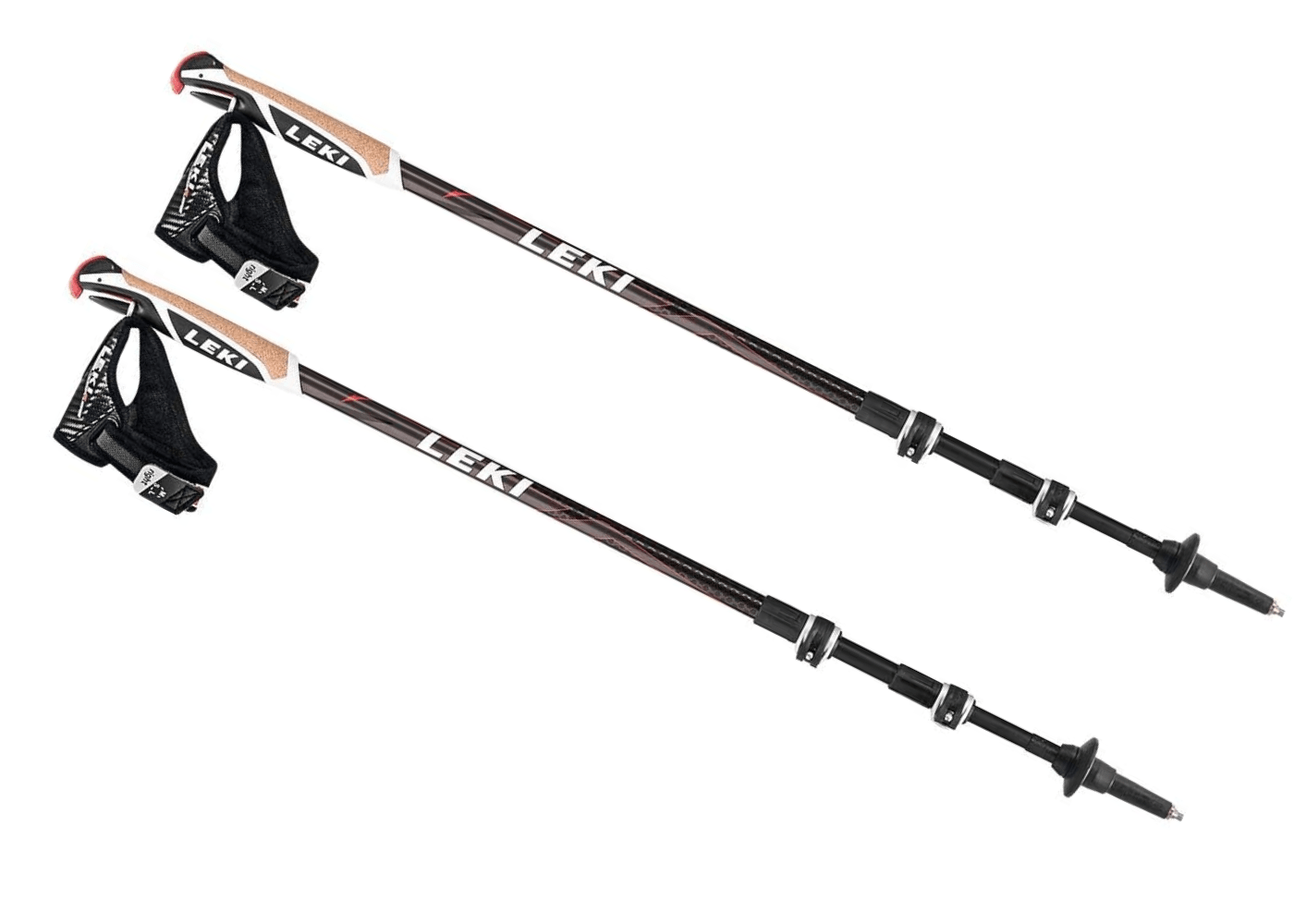 Leki comes with a strong reputation and it's Traveller Carbon poles do not disappoint.
These poles are durable, hardwearing and won't let you down. If you take Nordic walking seriously, then poles like this are want you need. They can take the downward pressure of the back stroke with ease and ensure you can just focus on the walk and never worry about the poles bending or causing problems.
The hand grips have been upgraded from previous models which allows for a very comfortable grip.
They can be disassembled so if you do want to take them travelling, that's no problem.
2. TrailBuddy Lightweight Trekking Poles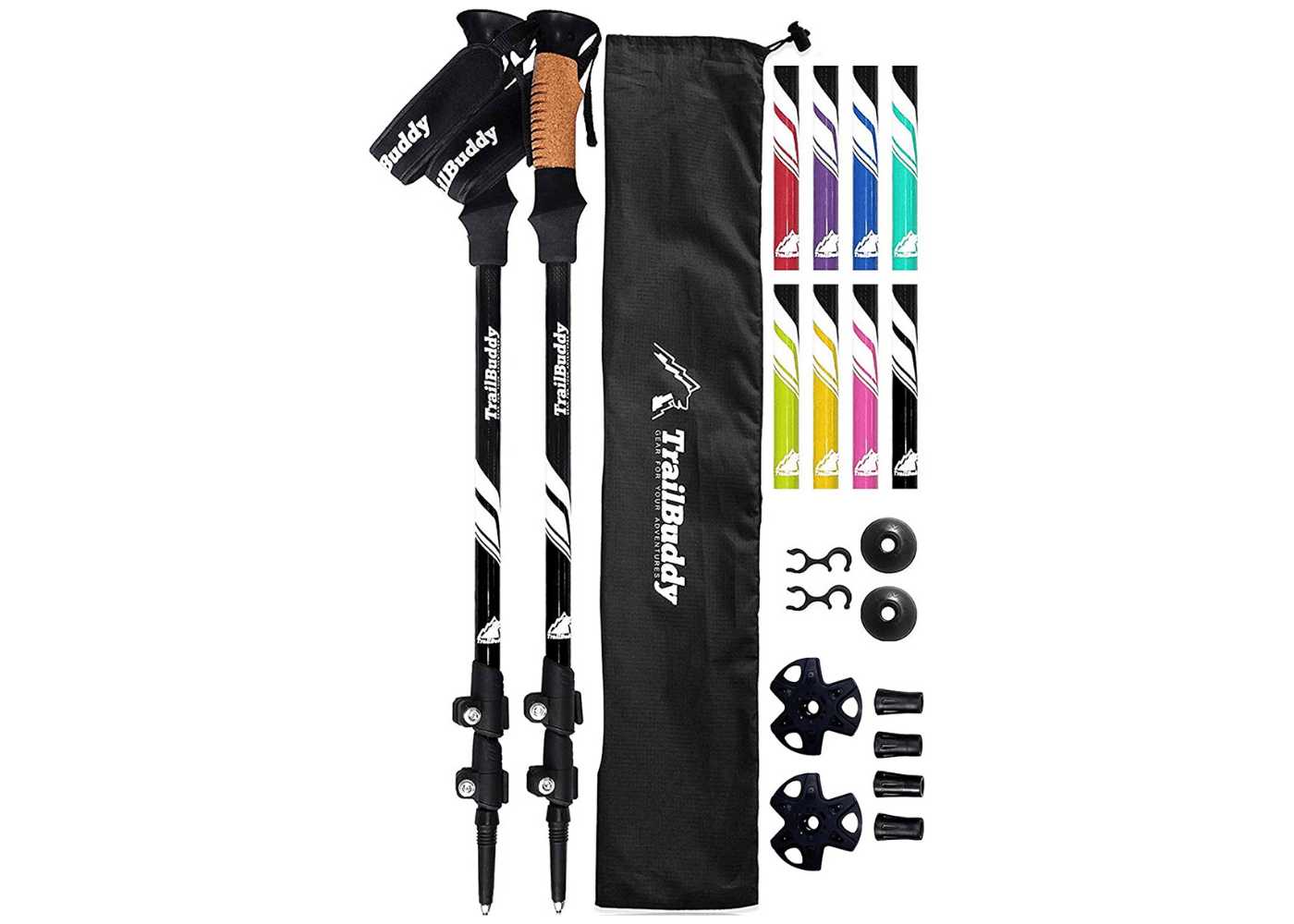 This Trail Buddy pole is the complete package, ideal for Nordic walking or any sort of trekking. The poles come with different features and accessories so you can transform your pole to suit your environment.
It uses a lever lock instead of a twist lock to adjust the height, which is useful if you have gloves on or want to adjust height on the move.
It's one of the cheapest walking poles on the market but comes with glowing reviews. It's ideal for any beginner Nordic walkers who are perhaps looking for a cheaper pole to get started.
The aluminium poles are extremely durable which is useful if you're planning on going offroad with your Nordic walking adventures.
It is also available in a range of colours.
3. York Nordic Ultralight Folding Walking Poles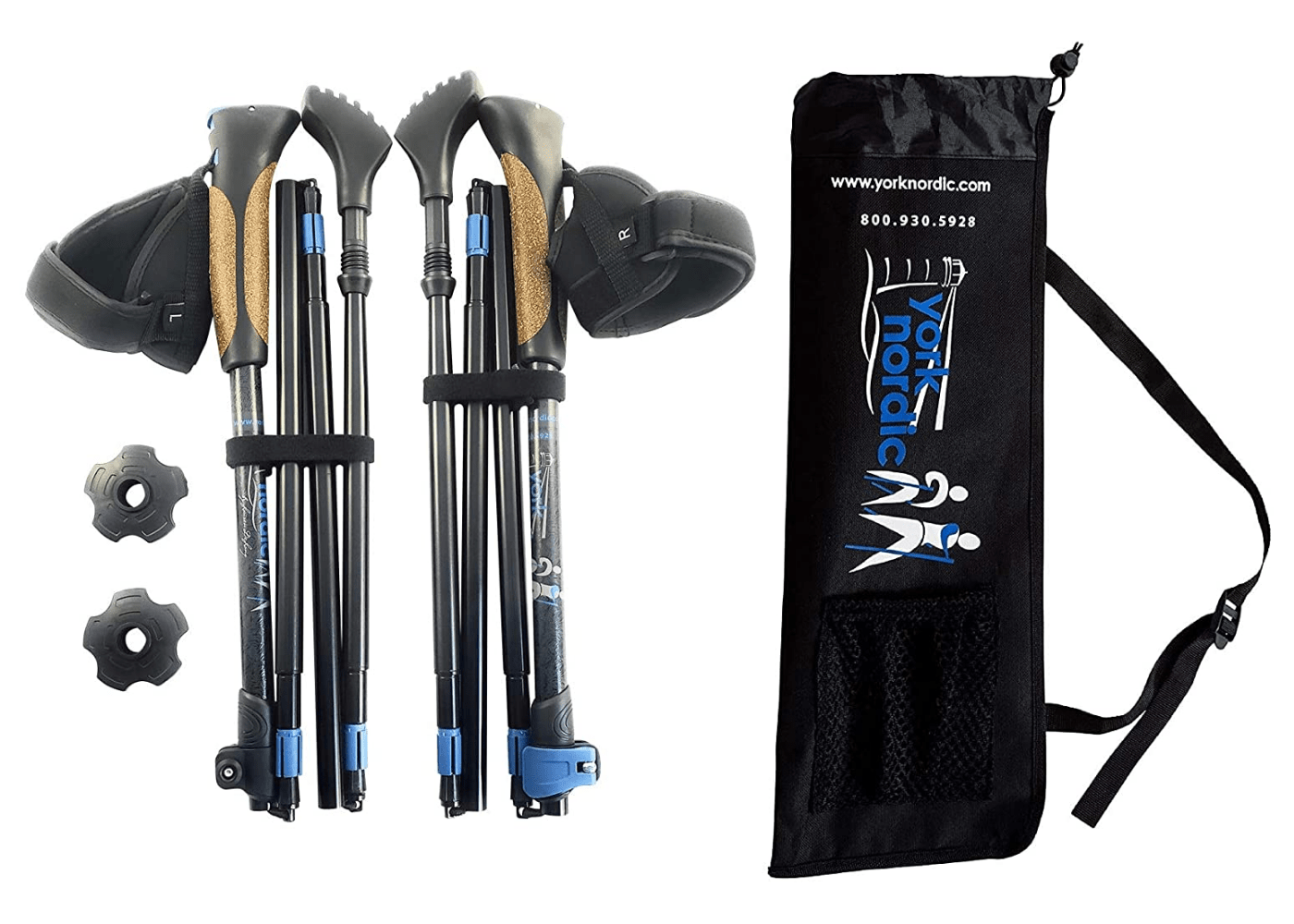 This is a fantastic option at a very affordable price. The folding poles make it easy to travel and take with you on adventures. It comes with everything you need, including a travel bag, paws and straps.
The poles themselves are lightweight, suitable for all levels.
The expanded poles adjust from 42.5 to 53 inches so it is easy to adjust the size depending on your height. This ensures you can follow correct Nordic walking form.
York Nordic is a brand worth looking into, especially if the Leki poles are not within your budget.
Things to Consider When Buying Nordic Walking Poles?
Nordic walking poles (or Nordic walking sticks), are used for Nordic walking. They are similar to trekking poles but have a few distinct differences.
Different models offer specific benefits and features. Things to be aware of include; adjustable sizes, weight, durability, comfort, quick release, and glove/strap quality.
Weight
Nordic walking poles usually come in either carbon fibre or aluminium. Carbon fibre is more expensive and super lightweight (but still incredibly strong). Aluminium is still a great material but not as light, but these poles/sticks are lightly to be cheaper.
Size
It's becoming increasingly desirable for adjustable and even foldable poles. This often makes them much easier to transport and travel with. Nordic walking poles and sticks are available as a fixed length, foldable or adjustable.
Your personal preference will dictate which type of pole is best for you.
Nordic Walking Poles Vs Trekking Poles?
Something to bear in mind is the subtle but notable differences between Nordic walking poles and regular trekking poles. Trekking poles are usually designed for more rugged and uneven surfaces, such as trekking up a steep hill, mountain, or rocky path. They come in handy for added support and stability. Walkers may use them as and when they need to, thus they aren't a continuous part of the walk, rather there during times of need.
Nordic walking poles, however, are used for the whole walk, as part of the activity. They tend to be better suited to flatter environments. Nordic walking poles will have a gloves that attaches to the poles for use. They also don't tend to have baskets at the bottom, compared to trekking poles whereby this is a popular feature (to prevent them sinking in mud).
Nordic walking poles are also much lighter. If you are serious about Nordic walking then investing in an ultra-light pair of poles will reap benefit when you're out walking.
Nordic walking poles are often shorter than trekking poles. This is because of the walking technique used during Nordic walking and the poles being used for forward momentum as opposed to balance and support.
Conclusion
Nordic walking poles/sticks are the perfect piece of fitness gear that will last the test of time. They come in a range of styles to best suit your specific requirements and needs.
Related Articles:
Best Gloves for Nordic Walking
Recommended Nordic Walking Equipment
Is Nordic Walking Good for Weight Loss?
This website, fitnessdrum.com, is a participant in the Amazon Services LLC Associates Program, an affiliate advertising program designed to provide a means for sites to earn advertising fees by advertising and linking to Amazon.com.