We are reader supported and may earn a small commission on some (but not all) links within our content to products we think will genuinely help our readers at no extra cost to you.
The 7.8 AT is Horizon's most powerful treadmill to date and includes a whole host of impressive features…
But how does it compare to previous models (the 7.0 AT and the 7.4 AT), as well as similarly priced home treadmills from other brands?
This comprehensive review aims to get to the bottom of all your questions and covers everything you need to know about this popular piece of home cardio equipment, helping you decide if the Horizon Fitness 7.8 AT is the treadmill for you or not.
In the hurry? You can check out the latest best price from Horizon by clicking the link the below. There's currently $700 off the MSRP buying directly with them👇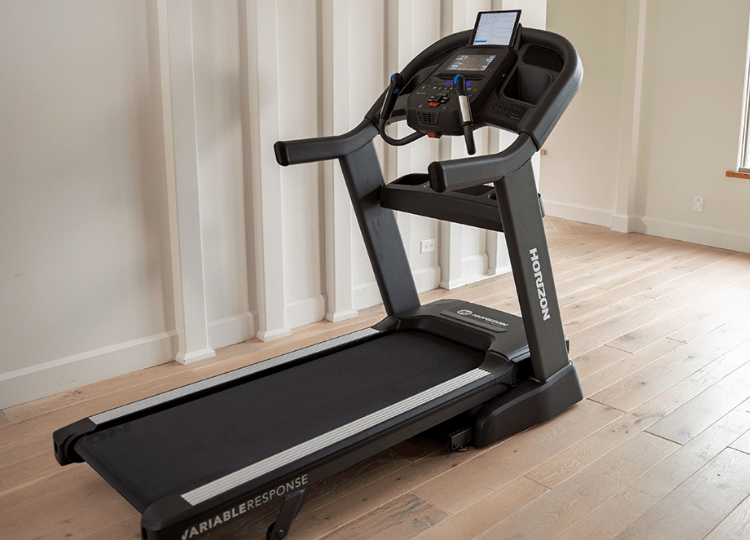 Horizon Fitness 7.8 AT Treadmill Overview
At a glance…
12 MHP top speed
365 user weight limit
60″ length running deck
22″ width running deck
Folding deck
QuickDial speed and incline control on handles
4.0 HP responsive motor
Under $2,000
Follow along to various fitness apps via Bluetooth
Enjoy a "smart" treadmill without being locked into a single membership plan
Lifetime warranty on frame and motor
What We Like About the 7.8 AT Treadmill
Sturdy Yet Foldable Frame
Like all of Horizon's equipment, the 7.8 AT treadmill leverages a very solid and sturdy frame (which actually comes in at 330 lbs). This is ideal for anyone looking for a durable piece of home exercise equipment that will last the test of time.
The frame includes two quite thick supports on either side of the deck, similar to what you'd find on treadmills in studios and gyms. Although this makes the machine look slightly bulky, it creates a very sturdy platform to exercise on.
This is one of those key features that divides the home treadmill market… those that try and create commercial/studio quality machines that risk being slightly bulky, and those that try and make something very lightweight and practical, that risk being unstable and flimsy.
Horizon firmly sits in the first camp.
We'll delve into the max weight limit later in this review, but this frame lends itself much better for heavier due to this solid frame.
The running deck also folds up, so it takes up less space when not in use. It locks into place very easily. The folding feature is certainly a bonus and does reduce the overall floor space… however, it's worth noting, that it still comes in at 42″ x 37″ x 71″ when folded. The ability to fold it up might actually be more of a safety feature, to help avoid children using the machine unsupervised.
If you're looking for really compact cardio equipment, our recent review of the best compact home rowers highlighted some products that fold up into very compact designs without compromising quality. With treadmills, we've found many foldable ones end up feeling very lightweight and not as sturdy. So this is something to bear in mind… if you're lacking space but want a quality machine, home rowers may be a better option.
Smooth and Fast Transition Between Speeds
The Horizon Fitness 7.8 AT provides an incredibly smooth and fast transition between speeds… making it ideal for anyone who enjoys HIIT (high intensity interval training) or fartlek training (frequently changing speed).
One of the reasons why it does this so well is the inclusion of the speed adjusters on the handlebars (Horizon call this "QuickDial"). By simply rolling your thumb over the dial, you can increase or decrease speed. Particularly when you're running fast, this ability to change speed so effortlessly is a real bonus. (You can also change speed using the regular buttons on the dashboard too, if you'd prefer).
This seems like an obvious feature but most treadmills have stuck to changing speed via pre-set programs or buttons. Reaching out to press a button is likely to impact your stride and if you're looking to track your running performance, being able to adjust speed so easily via the handlebars is definitely a feature worth noting.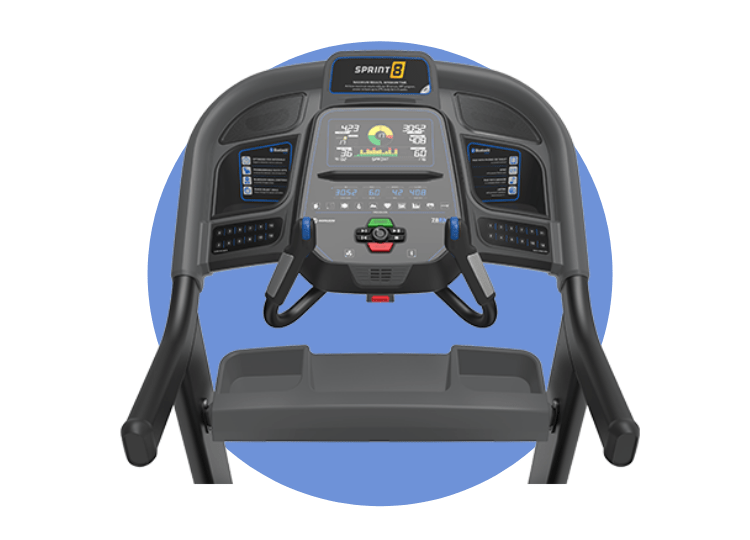 15% Incline
The 7.8 AT offers a 15% incline, which is great for varying up your workouts.
Changing incline is also pretty much instant… there's no lag time (which is surprisingly rare amongst treadmills). This is largely due to the powerful (4.0HP) motor which uses RapidSync technology for a more responsive outcome.
Coach's Tip
Changing incline is a simple yet effective way of getting more out of your treadmill workouts. An incline will not only increase difficulty, but it will further activate your glutes and hamstrings.
It's worth pointing out, however, that there are some treadmills that include very high incline options (all the way up to 40%)… so if you like the idea of incline workouts, 15% is certainly good, but there's a whole category of treadmills that almost specialize in their ability to create an incline/decline, so bear that in mind.
(High incline settings are usually only recommended for walking, as running may lead to injury).
60″ x 22″ Running Deck
The 60″ x 22″ running deck is very generous and provides plenty of space to run at a natural stride, even if you're tall.
The actual length and width of the running deck is something to pay close attention to when buying a treadmill, as cheaper models (or foldable ones) often leverage a much smaller deck… which can impact your running on it.
A 60″ length deck is plenty of space to really adopt a natural running posture and not worry about getting too close to the dashboard.
We've found a lot of treadmills for home use opt for a 20″ width deck, so the 22″ you get with the Horizon 7.8 AT just gives you that little bit extra space compared to other models and brands at similar price points.
375 lbs Weight Limit
The Horizon Fitness 7.8 AT treadmill comes with a max user weight of 375 lbs. This is an increase from the max user weight of the Horizon 7.0 AT (325 lbs) and 7.4 AT (350 lbs).
It's a more inclusive weigh limit than many home treadmills. This higher weigh limit is also more reflective of a durable machine that is built to last.
The inclusion of shock-absorbing 3-zone variable response cushioning also provides a very comfortable running experience, even for heavier users.
Lifetime Warranty on Frame and Motor
Horizon have put their money where their mouth is when it comes to delivering cardio equipment that lasts… with a lifetime warranty on the frame and motor.
When comparing prices and costs to other treadmills, this sort of warranty isn't standard practice, so it's definitely a bonus for Horizon customers.
Better Display
Interestingly, the 7.8 AT is the first Horizon treadmill to feature a quality dual-color 9.3" TFT screen. This instantly creates a better overall user experience to the previous models (the 7.0 AT and the 7.4 AT) that used quite an out-dated basic screen.
Although the only purpose of this improved display is to show your running performance and metrics, it is in fact, quite a noticeable upgrade.
App Integration Via Bluetooth
The Horizon 7.8 AT would probably fall under the category of "smart" home treadmill… even though it doesn't actually come with any streaming content.
This is because it allows you to integrate a variety of fitness apps (including Peloton), via Bluetooth and your own smart device (phone or tablet).
For some, this is going to be a drawback, but we really like this approach to home fitness… and think the separation but integration between machine and content is actually a very cost-effective solution for consumers.
This ability to leverage a fitness streaming app, but not getting tied into a pricey ongoing membership, creates more flexibility for users and even allows them to test different apps to find one that may resonate with them more (without needing to change equipment).
Zwift, for example, is an app that has quickly gained popularity and if you have a Horizon 7.8 AT, you can simply pair your machine to this app to try it out. If you like it, you could consider a long-term subscription… if it's not for you, simply try another app and see how you get on.
(Zwift is also currently free for runners!)
Even if you don't want to use fitness apps, you can stream things like Netflix or YouTube too… or even do a bit of work on an iPad!
You can also transmit heart rate data to third party apps to track your progress and performance via a heart rate chest band that's included in your purchase.
Running/HIIT Programs
The 7.8 AT treadmill includes 8 pre-built HIIT running programs, helping to create more dynamic workouts. Although we found live workouts from other apps, such as Peloton or iFIT more fun, these pre-built programs are still very effective for a quick running workout that delivers results.
These pre-built programs will automatically adjust the speed/incline to create effective treadmill workouts.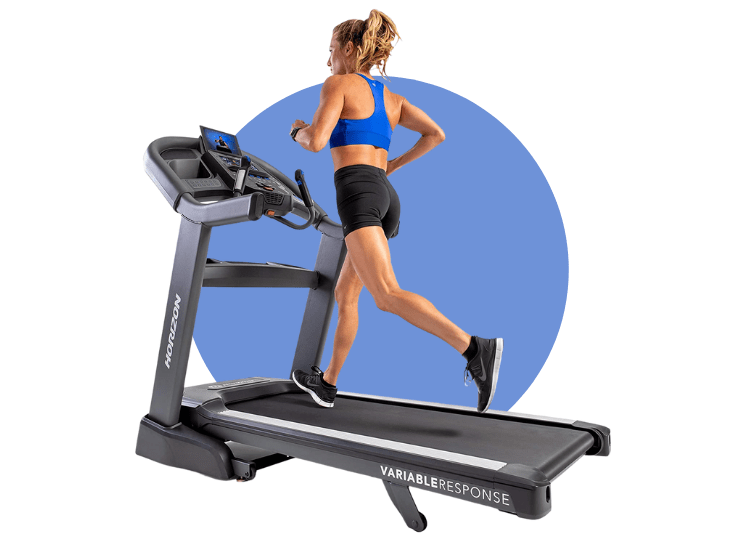 Quiet
As far as home treadmills go, the Horizon Fitness 7.8 AT is definitely on the quieter side of things. This is likely due to the quality motor and belt, that provide a high finish for home use.
Obviously, the faster you run and the faster the belt turns, the louder it becomes… which is the same for all treadmills.
Things to Consider
No HD Screen
Many "smart" treadmills (and rowers, bikes, etc) include a very fancy HD screen to view workouts and stats. Ultimately, this is included in the price and means you're paying more for such a feature.
The reality is, however, is most of us have a smartphone or tablet that we could actually use to stream content.
This means with Horizon, your money is going towards a quality treadmill… not a fancy HD screen (that you may not need). This is a trend we've seen other brands adopt too, such as with the Tempo Move.
We like the concept of using our own device, however, if you're comparing the Horizon 7.8 AT to products like Peloton's treadmill or some of NordicTrack's treadmills, you may decide you like having a built-in screen.
(It's worth noting, most "smart" fitness equipment also require an ongoing membership, so comparable machines in a similar price range, will likely work out more expensive over time if you're locked into their membership plans).
Dashboard is a Little Bulky for Home Use
The dashboard is a little bulky… especially for home use. It includes a fantastic visual overview of your workout and has built-in speakers, but for small apartments or rooms, it might have been better to have a smaller dashboard.
It doesn't feel like a space-saving design, which for home exercise equipment, is perhaps a little surprising.
Heavy
The machine comes in at 330 lbs… so as far as home exercise equipment goes, it's definitely on the heavier side. This helps create the sturdiness which is such a bonus in our opinion… however, it means moving it needs careful consideration.
Once it's set up, you probably won't have the energy to frequently move it, so that's something to consider as you get it installed for the first time. Although it has 4 wheels under the frame to make it easier to move, the sheer weight will mean some users find this difficult.
On a side note, based on the weight, we'd recommend opting for Horizon's assembly option, whereby they will assemble it for you. It's a little bit extra but it's well worth it. The machine isn't too difficult to assemble, but based on the weight, this buyer's option would make your life easier.
Low Impact Alternatives
Using treadmills can be quite high impact, i.e. your hips, knees and ankles will need to bear your body weight during the activity. For many, this isn't a problem, but for others, this can create unwanted discomfort or pain when exercising. If you want a low impact alternative, elliptical trainers are worth considering. We recently reviewed Horizon's 7.0 AE elliptical to learn what this cardio equipment was like to use.
Horizon 7.0 Vs 7.4 Vs 7.8 AT Treadmills
The Horizon Fitness 7.8 AT treadmill is the premium model in the Studio series… including some extra features from the previous models, the 7.0 and the 7.4.
The 7.0 is quite a lot cheaper and includes a lot of the core functionalities, but has a narrower run deck at 20″. It's also quite a bit lighter, but the user max weight limit is also lighter at 325 lbs.
The 7.4 is more comparable to the 7.8, as it still includes a 22″ width run deck and has a max weight of 350 lbs.
The 7.4 and 7.8 both do away with the blue plastic strap over the side of the dashboard which aesthetically is much nicer than on the 7.0.
The 7.8 also leverages a much better display.
Learn more about the Horizon 7.0 AT.
Learn more about the Horizon 7.4 AT.
Who is the Horizon 7.8 AT Treadmill Best Suited For?
We think the Horizon 7.8 AT is best suited for those serious about running at home, who are looking for a reliable and quality machine.
Due to the 375 lbs max user weight, 60″ length and 22″ width, the machine is also very well suited to larger users too.
The specifications of the 7.8 AT, coupled with the pre-built workout programs and ability to pair third party apps with it, also means it's great for those who want to follow along to varied running workouts. For example, if you want to try a new fitness app every couple of months, it's super easy to do so… compared to buying a Peloton or NordicTrack, where you're stuck with their content.
Due to the lack of HD screen and built-in streaming services, for the price range, you're getting more "treadmill" for your money… i.e. it's a better machine than similarly priced models, simply because those models include premium features like screens and content memberships, that will certainly be factored into their price.
If you want something that folds into a very compact design, or a product that allows you to immerse yourself into a virtual running world via an integrated display, there are other brands and products likely more suited… but if you just want a quality treadmill to run on, the 7.8 AT is definitely one to consider.
Customer Reviews
The online customer reviews for the Horizon 7.8 AT treadmill are very impressive, with an average customer rating of 4.2/5 (based on 149 verified reviews).
A lot of customer reviews mention how it performs very well, without any bells or whistles… it is simply a quality treadmill, designed to last.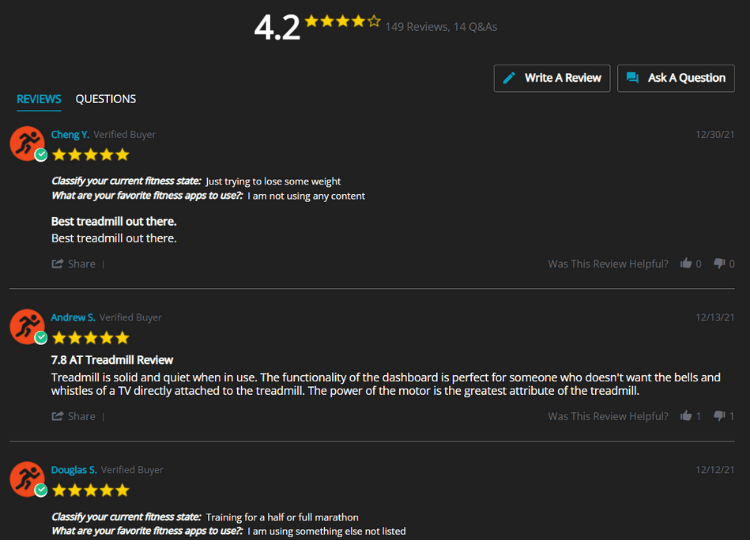 Bottom Line
Ultimately, we think the Horizon Fitness 7.8 AT treadmill is a very good home treadmill. Unlike some other brands, Horizon's equipment feels like it's commercial quality… you don't feel like it's a compromise for home use.
If you want a reliable treadmill to rack up plenty of miles on, the 7.8 AT is definitely worth considering.
If it's a little too pricey, the 7.0 AT is the more basic version of this treadmill that still offers a lot of the core functionality and features.
Alternatively, brands like Peloton and NordicTrack offer quite different experiences, heavily integrating their tech into the treadmills, creating quite a different overall experience… so if this is intriguing, check those out too.
As far as where your money goes, buying any Horizon equipment, you're getting a very good machine, that is designed to be used. Some new "smart" treadmills and fitness equipment include such fancy tech, the actual machine itself is sometimes a bit lacking.
Related Articles
Best Long Stride Elliptical Trainers for Tall People
Teeter FreeStep LT3 – What is this Recumbent Elliptical Cross Trainer Like?