We may earn a small commission on some links at no extra cost to you. Learn more.
Looking to take your home recovery to the next level? Or perhaps re-set your mental focus?
It's time to talk ice baths and plunge pools…
Even if the very mention of dipping your toes into ice cold water gives you goosebumps, the mental and physical benefits might just be too enticing to ignore anymore.
From reducing muscle soreness after a workout, to improved mental focus, ice baths come with some big claims around unlocking newfound health and wellbeing. If you're serious about these benefits, plunge pools make cold water therapy simple and convenient.
But with price tags varying considerably, and the science being conflicted, researching ice baths and cold plunge tubs is far from straight-forward.
In this buyer's guide, we outline the best ice baths and plunge pools currently on the market, and highlight what we like about them, don't like, and ultimately which ones are worth the money.
At a Glance – Best Home Ice Baths and Plunge Pools
Why Trust Us? Review Process Explained
We believe in editorial integrity and providing genuine value for our readers. For this review, we used our
internal review guidelines
to provide quantitative metrics to help better communicate our own experience of using the products. We hope this creates a better overview of how each product compares to one another.
Best Home Ice Baths & Plunge Pools
PLUNGE – Best Overall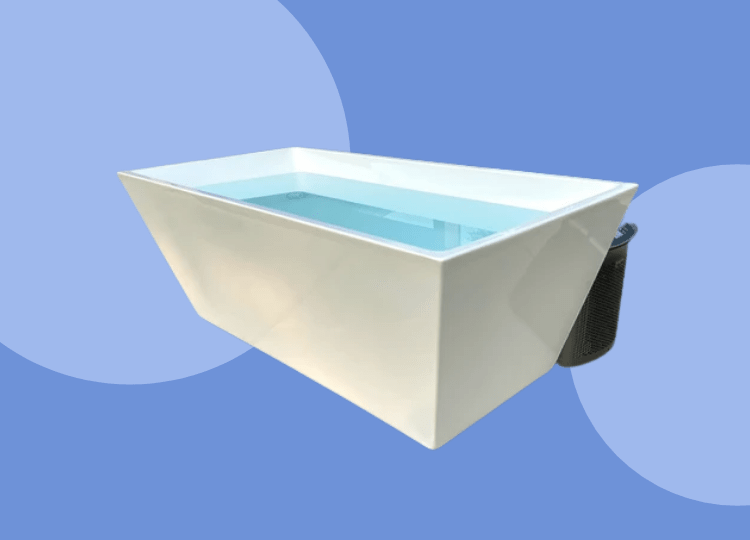 With their fair share of celebrities and athletes endorsing the product, PLUNGE is unapologetically creating the ultimate cold plunge experience.
If you want the absolute premium cold water therapy experience, PLUNGE is the way to go.
PLUNGE opt for a built-in filtration, cooling and cleaning system, which means taking a cold plunge has never been easier. Whenever you want to take a cold bath, everything is basically ready and waiting for you. The built-in filtration for better sanitation is also a great feature and something that will definitely appeal to those who are looking for that very premium option.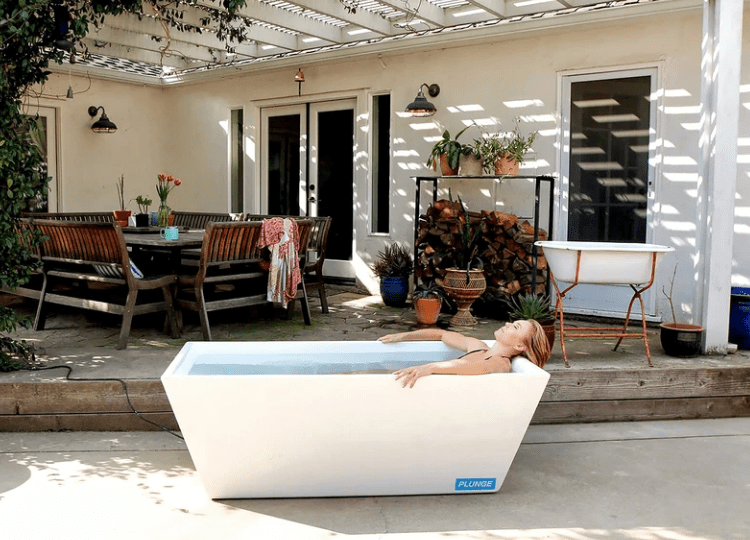 The ability to set the temperature also means your experience can be much more controlled.
For such features, it does come in at a higher price range but if you're serious about cold water therapy, then it's hard to look past PLUNGE as your best option.
ICE BARREL – Best Standing Tub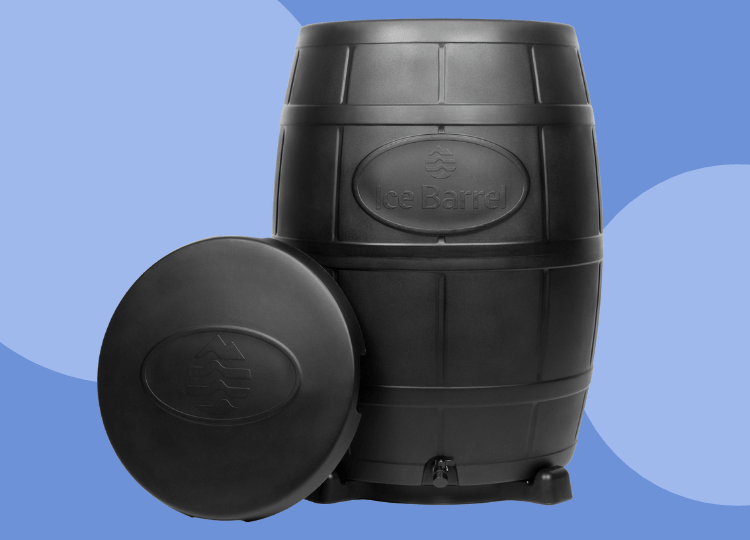 Ice Barrel is made from 100% recycled plastic (which we love), in the shape of a traditional whiskey barrel. The barrel itself only weights 55lbs when empty, so it's light enough to move around your home or garden (or even take down to your local gym or friend's house).
Ice Barrel comes with simple yet purposeful features, such as easy drainage, steps and a lid.
It doesn't boast lots of tech that the premium plunge pools offers, yet still comes in at over $1,000, so it sits very much in its own price bracket.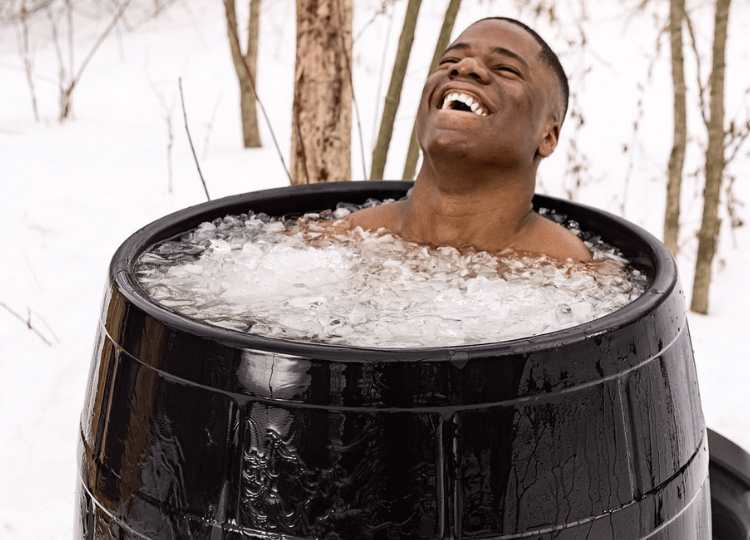 As far as the barrel itself, we love the small details like having decent insulation in the barrel so the water stays cold for days. This means if you're looking to use it frequently, you can often reuse the water or just top it up with a bit of ice (instead of needing to replace it all). This just adds to the user-friendliness of Ice Barrel.
Whether you want to save money and buy your own barrel to convert into a plunge pool or use theirs, the concept of using a barrel for an ice bath is undoubtedly cool (excuse the pun!)
If you want to learn more, our detailed Ice Barrel review outlines all the pros and cons of this plunge tub.
You can currently get $125 off Ice Barrel by using the discount code FITNESSDRUM at checkout too – shop now.
PEAKn – Best Inflatable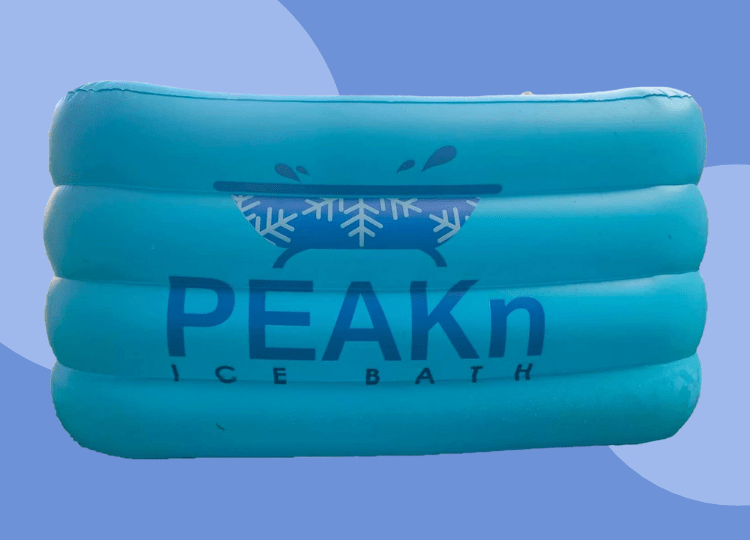 Based out of Australia, PEAKn wanted to create a lightweight, portable ice bath that could appeal to the masses. They've definitely achieved this and at a very reasonable price too.
PEAKn is inflatable so that does mean it's naturally not as sturdy as a durable plastic or wooden structure. Nevertheless, the shape is very well designed, making it easy to plunge into the water.
Being inflatable brings advantages, namely how easy it is to transport, as well as being able to pack it away when not in use. Perhaps you only need your ice bath during the sports season, or during summer, in which case PEAKn's ability to pack away is very useful.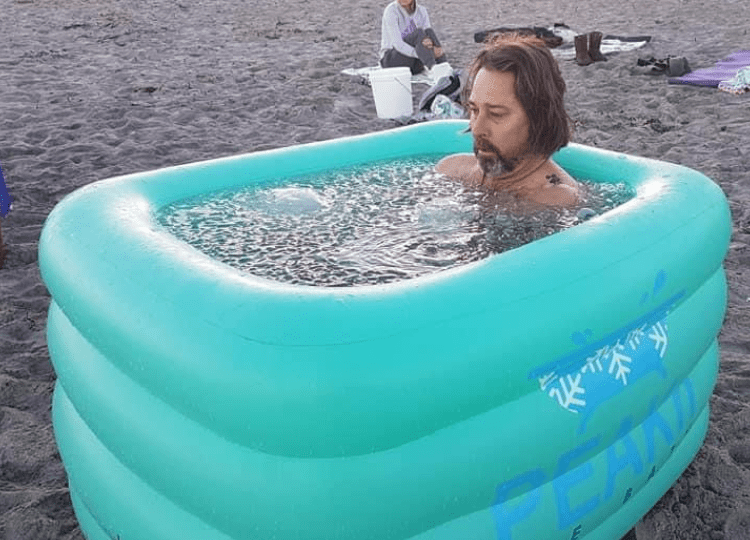 For us, PEAKn is ideal for events or travel. Having a PEAKn tub waiting for athletes to finish a run or sporting event, for example, would offer a very practical and easy option.
Due to the tub being inflatable, it just won't be as durable as heavy duty plastic/metal, so if you want something to last the test of time, inflatable tubs probably won't cut it.
ICE ONE – Best for Teams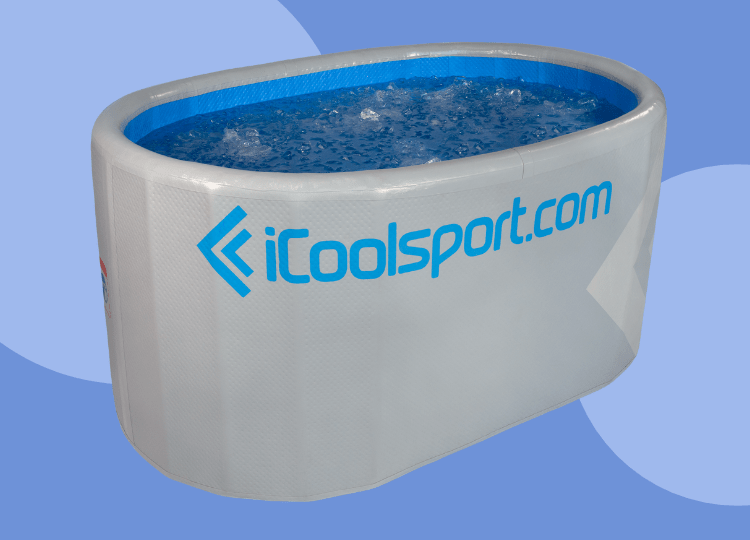 The IceOne comes with some interesting features… namely, the ability to create ice cold water without the use of ice! They have cooling units that can attach to the tub, meaning you can control the temperature very accurately. The caveat is that the cooling units are considerably more than the tub itself, so although this feature is impressive, it may not be the most practical in terms of costs and an investment.
The tub itself is very durable, yet very portable and easy to transport. The structure is inflatable, but the use of specific materials means it feels very sturdy and quality once inflated. The sides become rock hard when inflated and ready for use.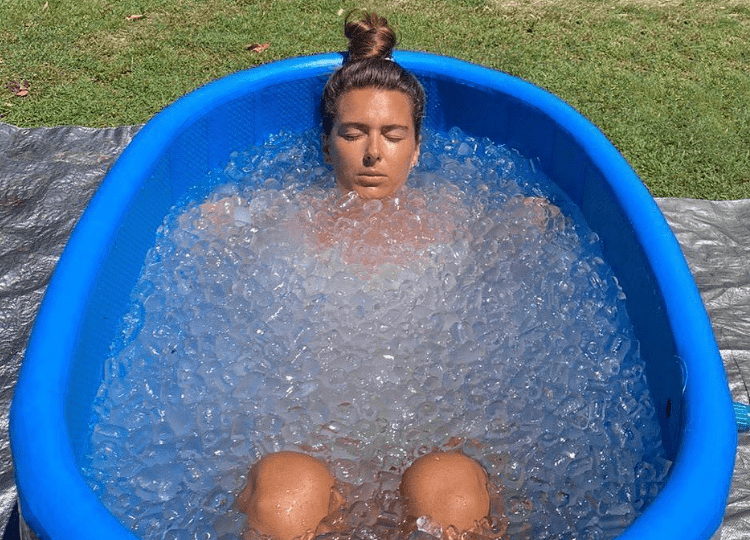 Created by iCoolsport, IceOne is just one of many ice baths available from the company. As well as IceOne, iCoolsport offers all sorts of tubs, including multi-person tubs, ideal for sports teams.
If you want a more durable ice tub that is practical for travel, then IceOne is worth considering too.
MURO – Best Budget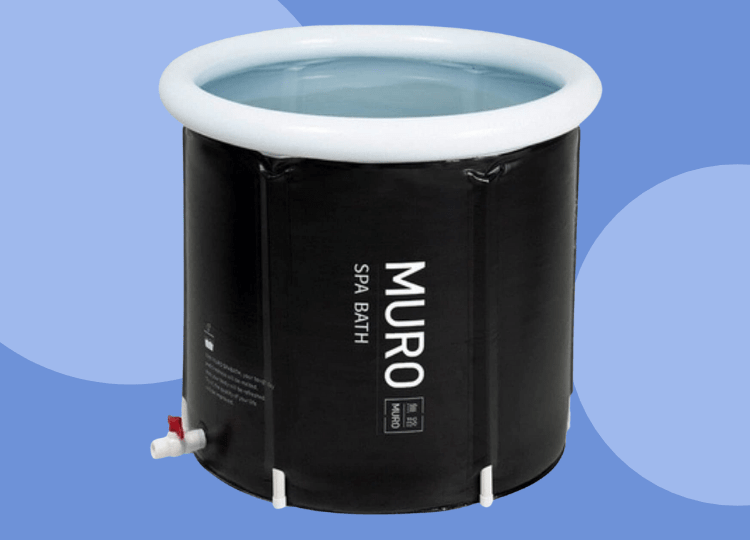 The MURO is the cheapest of the tubs on this list and is ideal for anyone on a tight budget.
It's inflatable, and the material choice isn't likely to compete against the other tubs, but for the price, it offers a practical solution that won't break the bank.
The tub itself is slightly on the smaller side but the bonus is that it could fit in small spaces. The material probably isn't designed to be left outside and exposed to the natural elements though, so again, this is where something like Ice Barrel really offers the ultimate home cold therapy solution.
RENU THERAPY – Best Luxury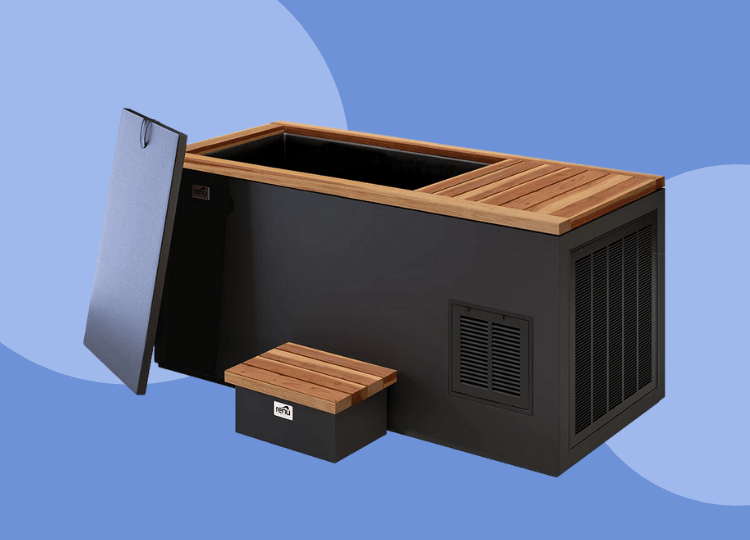 RENU is another high end luxury tub, built using quality materials and to a very high finish.
It's offering is similar to that of PLUNGE and you definitely feel like you've got a luxury spa product in your home.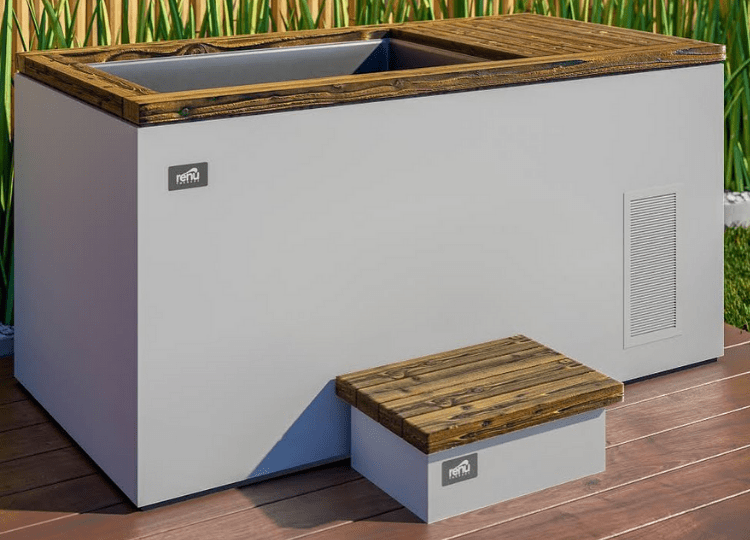 The ability to set the temperature as well as a very practical yet stylish design, RENU will make your cold plunge an exciting part of your day.
With plenty of athletes as fellow customers, you'd be in good company.
Things to Consider When Buying an Ice Bath Tub
Understand the Science
Before you invest in a cold plunge pool, it's important to understand the science.
Ice Barrel's website has lots of good guides on the science behind cold water therapy and links to scientific research.
There may be reasons why certain individuals, perhaps with underlying health issues, would not be recommended to use ice baths. As a result, it's worth consulting with your doctor to ensure you can use it with confidence and enjoy the benefits without worry.
Price
From cheaper inflatable options to high end tubs fit for a luxury spa, there are ice baths for every price range.
The main consideration is really on how often you think you'll use it, your own realistic budget and the features you want.
For us, we rate Ice Barrel so highly as it is within most people's budgets, yet offers a very effective solution that is easy to use.
Convenience
The convenience between different tubs is worth noting and considering. Firstly, some tubs get cold by adding ice, whilst other (more expensive) options use a power system to cool the water.
Similarly, some inflatable options may not be suitable to leave outside all year round, so they may be less convenient to use if you need to pack them away after use.
Commitment
Before buying an ice tub, you want to make sure you are fully committed to the science and benefits. The last thing you want is for it to go unused.
Purpose
Cold water therapy brings with it so many benefits, from physical to mental.
If you are really just wanting a specific benefit, such as muscle recovery, there are other options such as massage guns that may be worth looking into.
Having said that, the combination of all the benefits is really why we love cold water therapy so much.
FAQs
Do Plunge Pools Work?
Plunge pools have been shown to help provide numerous benefits, such as reducing swelling and muscle pain, improved mental clarity and helping to boost immune system functioning.
It should be stated, however, there is still little scientific research that has looked into the specifics yet… so many healthcare professionals are still slightly cautious to give it the complete seal of approval (but that's not to say these benefits aren't true, it's just a lack of research to back support it).
If you have any health issues, we would definitely recommend consulting with a doctor before putting your body through extreme temperatures, that plunge pools do. Exposing your body to this sort of stress can pose serious complications for anyone with certain existing health conditions.
What's the Best Ice Plunge Pool?
At this moment in time, we think Plunge is the best overall ice plunge pool. The ability to set the temperature, coupled with the premium tub itself, it makes taking an ice bath really easy and hassle-free.
Ice Vs Electricity?
We think the main decision that you need to consider is whether you want to use ice or a temperature gauge (that uses electricity) to create the cold temperature.
Tubs that use electricity are more expensive and more complex, but probably easier to use. They also tend to be bigger and perhaps less suitable for small, indoor spaces.
Cold Shower Vs Ice Bath?
Cold showers and ice baths are two effective ways at using cold temperatures to shock your body. You'll notice more scientific research uses ice baths in studies, compared to cold showers, simply because this is easier to control.
Ice baths allow you to experience colder temperatures than you could with a shower, so for that reason, are often the preferred method for many athletes.
Cold showers are a great way to get used to sensation of cold water therapy though, and might be suitable for your wellbeing routine.
Bottom Line
It's not for everyone, but for many, having an ice cold bath will become their new secret weapon. From better muscle recovery to improved mental wellbeing, the power of a cold plunge can be second to none.
As far as home plunge pools, the market is starting to heat up (metaphorically of course!) and we're excited to see how things progress.
At this moment in time, our top choice is – PLUNGE
Related Articles:
Benefits of Wild Water Swimming
How to Prevent DOMs and Improve Muscle Recovery
Best Long Stride Elliptical Cross Trainers
This website, fitnessdrum.com, is a participant in the Amazon Services LLC Associates Program, an affiliate advertising program designed to provide a means for sites to earn advertising fees by advertising and linking to Amazon.com.