We are reader supported and may earn a small commission on some (but not all) links within our content to products we think will genuinely help our readers at no extra cost to you.
Looking to take your yoga business to the next level?
You'll most likely benefit from using yoga studio software to help with taking bookings, payments and organizing your schedule.
Even if you're a solopreneur and operating on your own, investing in the right studio software can save you heaps of time and effort… wich ultimately means you can swap spreadsheet headaches for extra time getting zen.
When searching for the best yoga studio software, a relative newcomer on the block that is fast gaining popularity and glowing reviews is Momoyoga.
We thought we'd put Momoyoga's software to the test and provide a detailed review of what we liked, didn't like and ultimately if it's worth the money or not.
In a hurry? Momoyoga are offering fitness drum readers a 30 day free trial. Sign up below risk free and try it out for yourself. 👇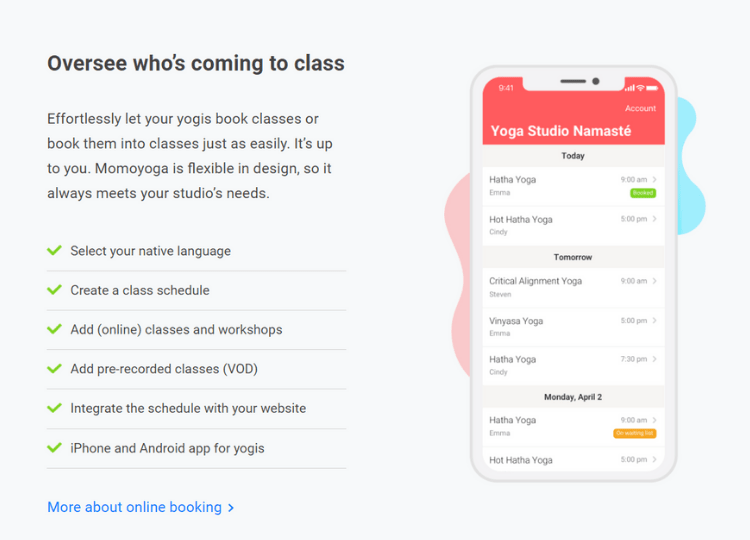 What is Momoyoga App?
Founded in 2016, Momoyoga falls under the category of "yoga studio software." This type of software is designed to help yoga instructors, entrepreneurs, and larger yoga businesses manage their daily operations in an easier way.
Momoyoga offers an all-in-one platform to take payments, allow students to book classes, automate the management of this and upload videos for virtual on-demand classes.
Momoyoga is available on desktop, Android and Apple.
At the time of writing, more than five million classes have been booked by more than 450,000 yogis on their platform, highlighting the reliability of the tech.
Some key features include:
Take online bookings
Receive online payments via card, PayPal, Apple pay or Android pay
Automated emails
Automated managment tasks
Add pre-recorded video classes
Sync with website
Free app for students to use and book classes through
Create waiting list
Offer subscriptions or membership plans to students
What We Like About Momoyoga
The Price
Yoga studio software can range in price quite considerably… and it's not necessarily a case of "you get what you pay for." We've been quite frankly shocked at some enterprise level yoga software, that will charge a lot of money, and the quality of platform is far from perfect.
Momoyoga plans start from €20/month and the pricing is very simple.
The price increases for yoga studios with more than one instructor, by €4/month.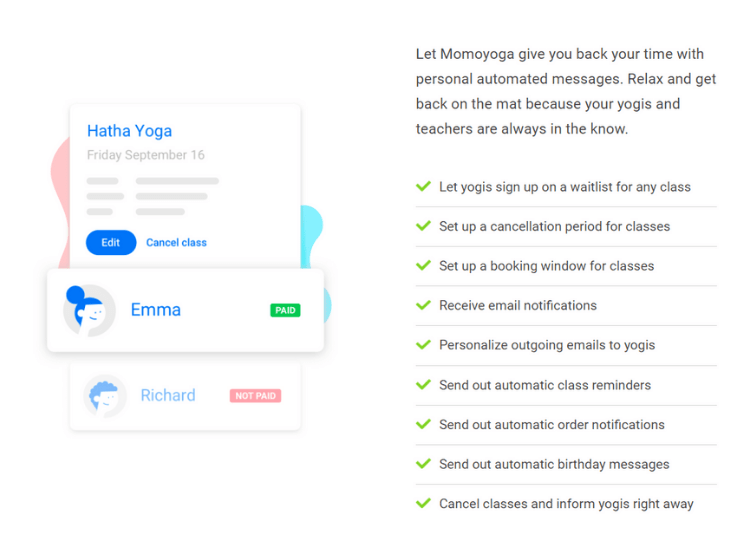 Simplicity
Like so much software, the battle to add more and more functionality often means some software ends up feeling confusing and overwhelming.
Momoyoga has kept things beautifully simple. In fact, the user interface is really up there as one of our favourites. You won't get lost using the app, and it's straight forward with clear icons and designs.
This is also really useful when you've got students using the platform and you know they will find it easy to use as well.
Getting bad reviews for your service when it was the software's fault is tough to take, and with Momoyoga, that seems like a situation that won't happen.
Built-In Automations
Automating tasks is a necessity when it comes to scaling a business. Getting lost in spreadsheets and manually inputting data is not only time-consuming and boring… but it can also lead to human error (which can impact your service).
It doesn't take more than a few simple typos and your whole weekly schedule could be in complete chaos.
Using a tool like Zapier has proved a game-changer for many, as a way to automate things. But hands up who's ended up spending days trying to get Zapier to work, and then discover the data you hoped to automate didn't work… and now it's taking up even more of your time and less reliable than if you did it manually. 🙋
Momoyoga really comes into its stride with its built-in automations feature. The automations are designed specifically for yoga studios, making your service appear very proactive and professional.
For example, Momoyoga let's students join a waiting list, if you're fully booked. This means if someone cancels, the yogi next in line will get informed right away so they can join. The result? Less empty seats, a more productive business and no manual input from you.
Momoyoga's automations also include cancellation features, such as setting a clear cancellation policy so it isn't possible to cancel too close to the class.
The icing on the cake is that Momoyoga's automations also include personalized emails… so you can ditch your email marketing software too! This allows you to send personalized emails based on user behaviour in the app.
Considering how much you're likely to pay with email services, having all this in one place, and synced so perfeclty together is a huge bonus.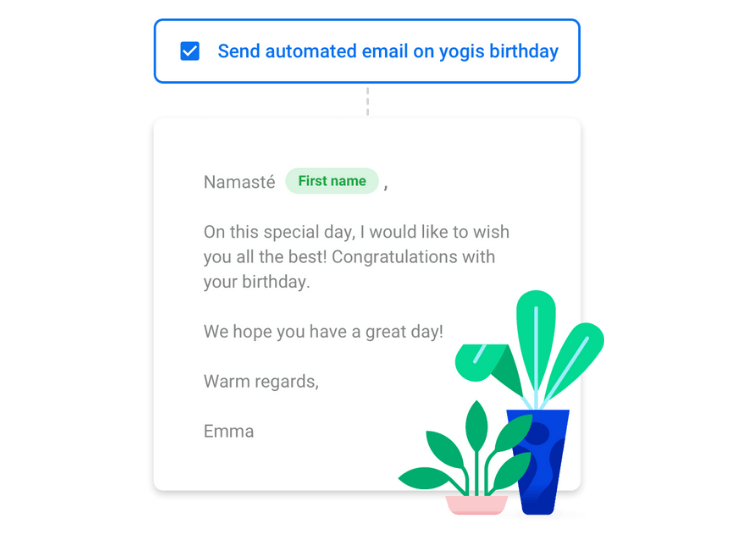 Take Online Payments
We would have been pretty much sold on Momoyoga if it was just for the automations, but the ability to take payments too means you can really benefit from your social media and web presence. You can simply share payment links and let customers pay in just a few clicks.
The payment options also include nifty features like recurring billing, ideal for any subscription or membership service.
Being able to take payments upfront is also much better for cash flow.
Studio Management
All these specific features create the overall ability to manage a small or growing studio very well.
The platform also comes with a simple dashboard to provide an overview of your business. From number of classes, to revenue generated, it's a great way to gain a clear picture of your business, without the need to spend hours looking through spreadsheets and bank statements.
Web Integration
Momoyoga also has a WordPress, Wix and Squarespace plugin that makes it easy to take online bookings from your website. The user experience will be seamless and help you use your website alongside your yoga studio software.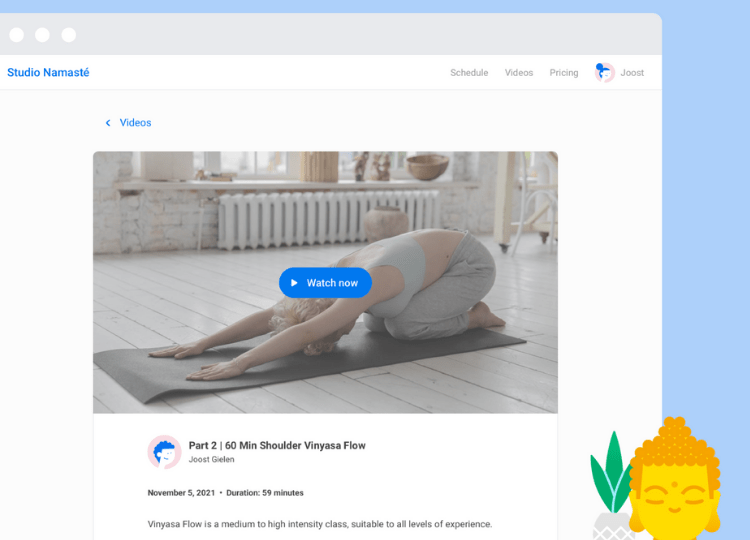 Things to Consider
The main thing to consider is whether you want some of the additional features other yoga studio apps promote. Bigger names like MindBody, for example, give you the opportunity to create your own branded app. For some, this sort of thing is a core feature they want when it comes to growing their yoga business.
Whether you opt for Momoyoga or an alternative, really comes down to understanding what you want, and what your budget is.
Momoyoga Reviews
The wider reviews for Momoyoga are all very positive.
It currently boasts 4.9/5 on the iOS app store.
Most reviews talk about how user friendly it is to use, as well as the quality of the customer service.
Who Is Momoyoga Best For?
We think Momoyoga is a great choice for any individual yoga instructors or small yoga studios.
It has all the tools you need to help you deliver an expectional service, both online and in a studio.
Bottom Line
With so many apps and software out there, it can a real challenge for yoga teachers (along with other fitness professionals) to find a platform that works for them.
At the end of the day, you need to decide what features are important to you, and find an option within budget.
Momoyoga is affordable and brings a whole host of useful features designed specifically for yoga professionals. With a 30 day free trial, there really isn't any excuse for not giving it a try and seeing how you get on.
Related Articles:
Mindbody Review – Studio Management Software
Best Yoga Apps for Weight Loss
Alo Moves Vs Glo Vs Yoga International Vs Gaia: 2021 Online Yoga Classes Comparison