We may earn a small commission on some links at no extra cost to you. Learn more.
If you're looking to train your glutes at home, you'll be pleased to know there is a whole host of specialist fitness equipment dedicated to helping you get the derrière of your dreams.
Beyond the aesthetic reasons, home glute machines and trainers provide a simple yet effective way to ensure you are activating your glutes.
Due to sedentary lifestyles, weak glutes are actually very common these days and can lead to all sorts of issues, such as lower back pain and poor posture. As a result, giving this muscle group some dedicated time within your home workouts is definitely worthwhile.
So… when it comes to those booty gains, what is the best home equipment out there and what can actually help strengthen and tone your butt?
Fear not, we've been hard at work to help you get to the "bottom" of all the top rated products, so you can find one that best suits your needs. Coupled with an effective glute workout, the following equipment and gear is all designed to help enhance your tush based workouts, so you see results faster.
Home Glute Trainers, Equipment and Machines
COBA Board – Best Overall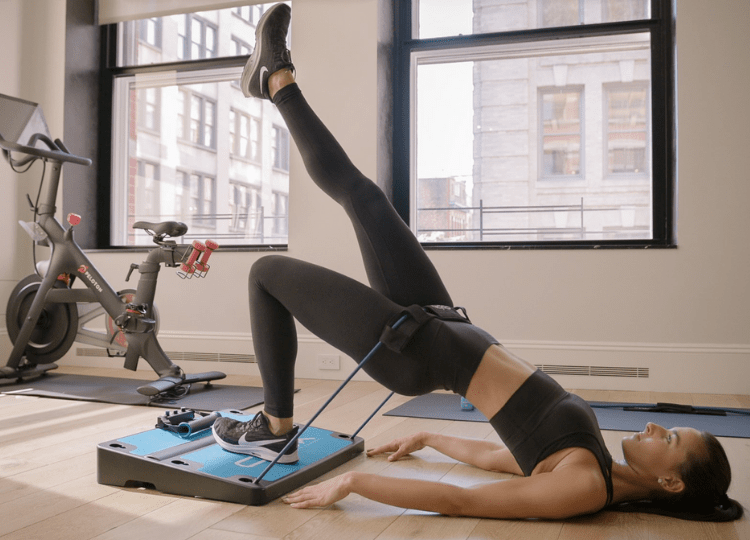 The COBA Board is scientifically proven to activate the glutes quicker during workouts.
It is a versatile home glute trainer that really offers you everything you could need to target your glutes.
With attachable resistance bands, adding more resistance to your glute exercises is simple and quick to do. The patented 7 degree angled board means that doing exercises like squats will put more emphasis on your glutes and hamstrings, as opposed to your quads.
The board allows for all sorts of exercises, including squats, lunges, deadlifts, hip-thrusts, glute bridges, kickbacks, donkey kicks and adductors. As far as training your glutes goes… COBA will make sure it never gets boring.
We've picked the COBA Board as best overall as it is very competitively priced, compact and really effective – making it the best option for the home.
We've written a whole in-depth review of the COBA Board so you can discover everything you need to know about it.
Something to bear in mind is that if you're quite strong, you may want to opt for the board that comes with 3 extra heavy resistance bands.
BootySprout – Best for Hip Thrusters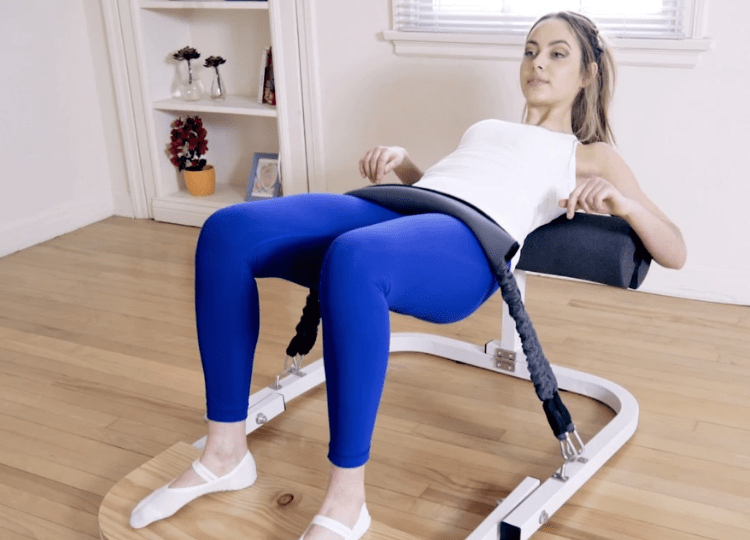 BootySprout has become incredibly popular across social media in recent years… and with good reason.
The product is basically a hip thruster machine, so if you enjoy hip thrusters as a way to train your glutes, then this could be the product for you.
Hip thrusters are a great way to activate your glutes and BootySprout makes it easy to add additional resistance to this staple glute exercise.
Compared to trying to place weights on your legs (which isn't ideal, especially at home), BootySprout's bands tie across your body and only take a few moments to attach. The result is that you are able to do a workout whereby you can almost instantly change up the resistance.
This practicality is a huge bonus for anyone who trains at home.
The drawback to the BootySprout is that it's often sold out, so if your heart is set on it, you may want to set up alerts for when it's next in-stock if it isn't available now. There also appear to be a growing number of brands who have released almost identical products, so you may be able to get an alternative for slightly cheaper.
P.Ball – Best for Toning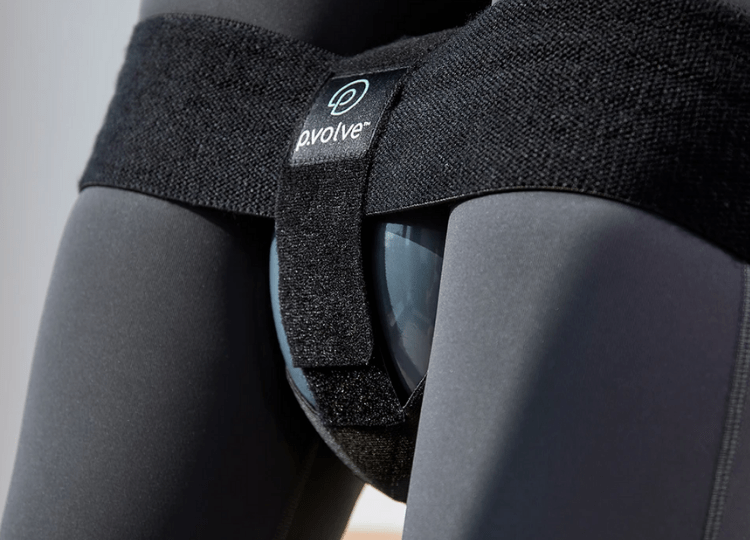 We love P.volve and their approach to fitness.
With a focus on functional movements to help strengthen, tone and sculpt, P.volve's online workouts and exercise programs are definitely worth checking out.
The brand also has some pretty nifty equipment too.
The P.Ball is their flagship product, and something used in a lot of their workouts. The ball is often used betweeen the legs which requires you to squeeze your thighs together. This results in additional glute, thigh and pelvic floor benefits, as you complete specific movements and exercises.
The product naturally lends itself to help lift the glutes, tone the legs and improve hip mobility, but it can also be used for all sorts of other movements, including arm and upper body workouts.
We picked the P.Ball as when used alongside P.volve's online workouts, you'll experience a whole new level of lower body toning.
It isn't the cheapest fitness product, but P.volve is a trusted brand with a loyal following, so you can be confident their products to get the job done for you.
Terra Core – Best for Burning Calories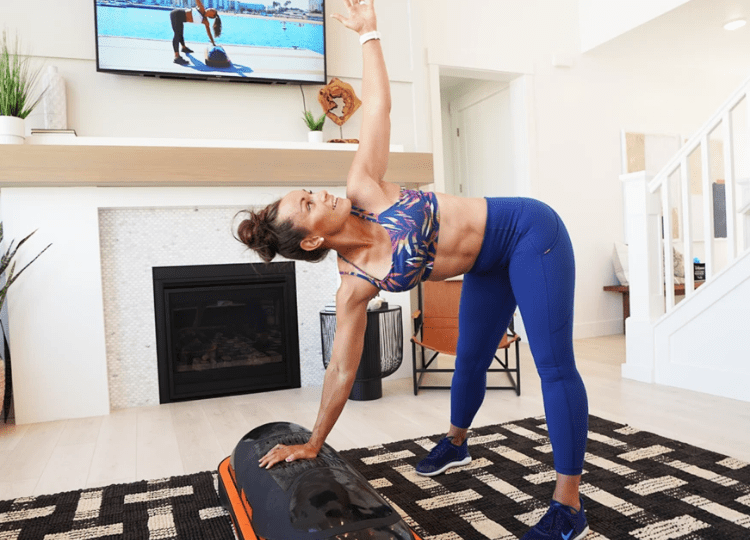 Terra Core broadly falls into the category of a balance trainer, but for us, it's so much more than that and it really is one of the ultimate bits of home fitness equipment out there.
The large inflated dome offers up a versatile base to do all sorts of exercises on. The product is high enough to do movements like hip thrusters, but equally, it also provides an unstable surface to enhance classic glute movements like squats and lunges. This will enage your muscles like never before as they work to keep your body stable.
This also helps to burn more calories, so if you're looking to shed some pounds at the same time as strengthening your glutes, Terra Core is for you.
With attached resistance bands, the Terra Core also makes adding resistance to your workouts simple and effective.
We picked the Terra Core for its versatility and a piece of equipment that really lends itself to all sorts of movements, including glute exercises. If you simply don't have the space for lots of fitness equipment in your home, or even want something that is simple to transport, the Terra Core is worth considering.
Terra Core also offer an on-demand workout service so you can follow along to workouts that specifically use the product, which is really useful too.
BodyBoss 2.0 – Best for Versatility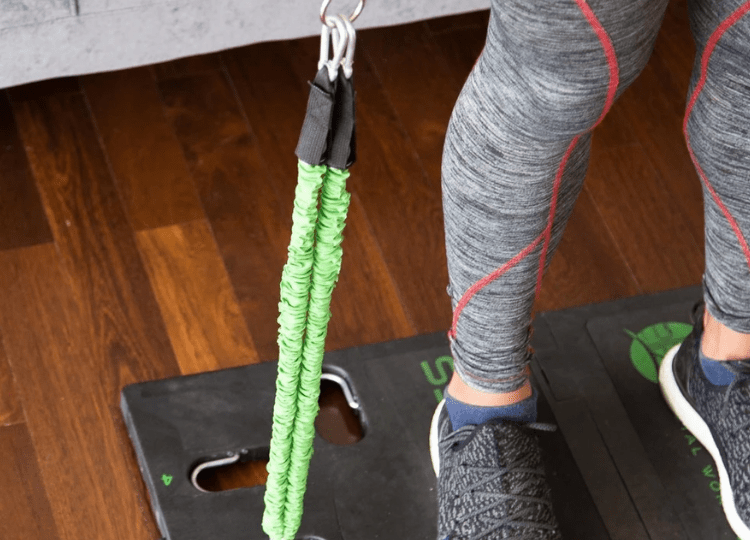 BodyBoss 2.0 is a popular all-in-one compact home gym.
With a board, resistance bands and a bar, BodyBoss 2.0 really opens up a whole plethora of exercises and workouts.
As far as home workouts go, if you want to keep things simple, then something like the BodyBoss is ideal.
It wouldn't be as suitable for anyone who wants to focus more on power and strength… something like dumbbells or kettlebells would be a better choice in that instance.
BodyBoss is however, affordable and designed for the home, so it makes training the glutes, and other muscle groups doable, even in a small space. With so much fitness equipment available, it can soon become overwhelming, so if you'd rather just have a single piece of exercise gear, BodyBoss is worth considering.
Kettlebells – Best for Functional Movement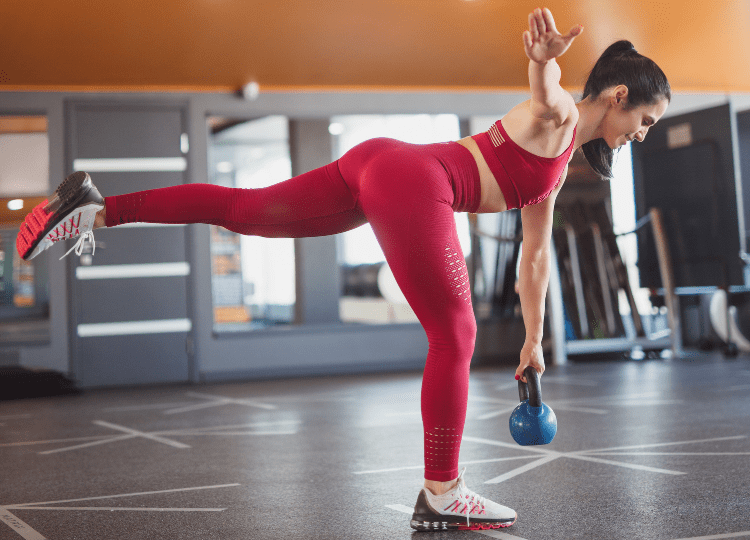 Although the likes of your kettlebells and dumbbells may not seem as exciting as other equipment that can target the glutes, the truth is, when it comes to strengthening and toning, this sort of equipment allows you to do some of the best glute exercises.
Kettlebells lend themselves really well for straight leg deadlifts and similar movements that hinge at the hips. These movements are ideal at strengthening and toning the glutes (and creating that rounder appearance). You can include both high rep workouts as well as low rep heavier powerlifts, to create a comprehensive glute workout.
The iconic kettlebell swing will also engage the glutes too (as well as pretty much every muscle in your body!)
As far as kettlebells go, there are a lot on the market but the Bowflex SelectTech Adjustable Weights and Dumbbells are more than enough to get the job done. They offer a kettlebell/dumbbell hybrid option that is easy to adjust the weight and with an impressive amount of 5 star reviews, it's clear they are one of the most popular options out there at the moment.
Side Shaper – Best for Targeting Abs and Glutes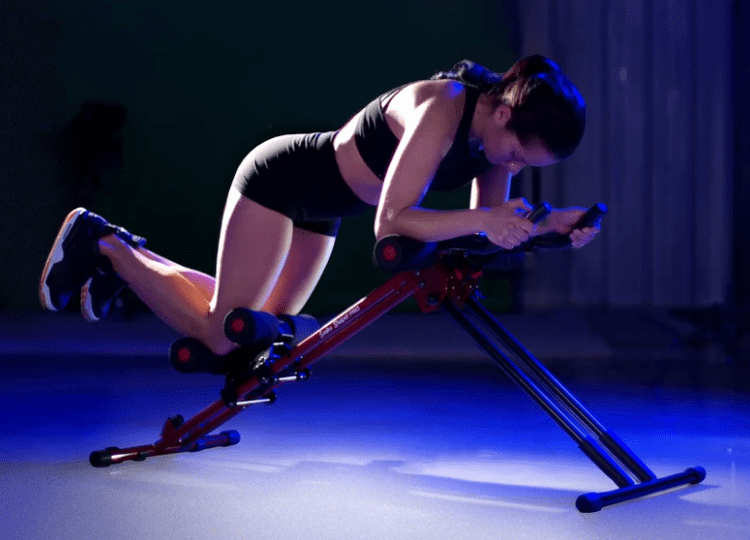 The side shaper more of an ab machine, but it still engages the glutes during the movement, especially if you rotate.
As many people want to train the abs and glutes at the same time, a product like the Side Shaper is ideal.
Although it probably won't provide the effectiveness of some of the more specialist glute trainers, the ability to engage the core and glutes at the same time is one of the reasons this product has become so popular worldwide.
With 3 different angles, it's a more versatile piece of equipment than you might initially give it credit for.
Our Side Shaper review includes a full breakdown of the product and why over 5 million people have bought one already.
Resistance Bands – Best Affordable Option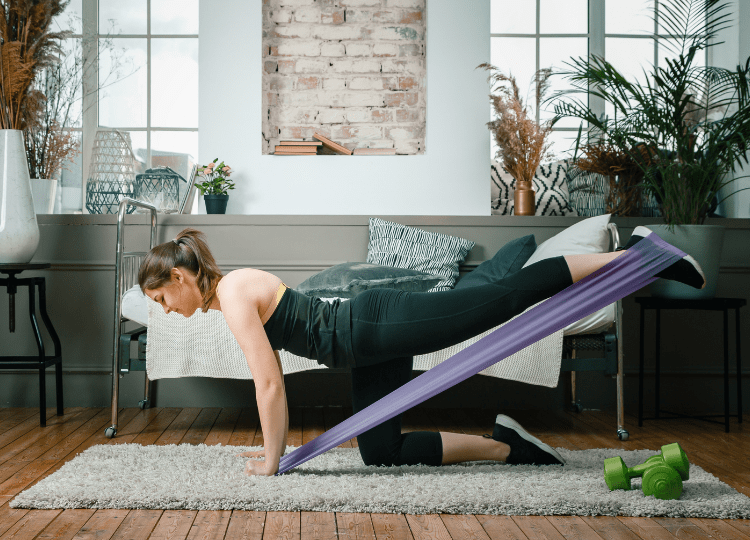 We couldn't write an article about the best equipment to sculpt your tush and not include resistance bands.
The humble resistance band is a must for any home workout, as nothing beats their effectivenss within that price range. Starting at just a few dollars, you can get your hands on some resistance bands and start adding resistance to your favourite glute exercises.
Equipment like Terra Core and BodyBoss have solved a slight issue with resistance bands in relation to the need to hold them (or attach them to an object). As a result, if you like the idea of using resistance bands a lot, then opting for a machine that includes them may be more suitable.
If you're looking for the absolute strongest bands out there, it's worth checking out Torroband.
FLYBIRD Adjustable Dumbbell – Best for Mass and Strength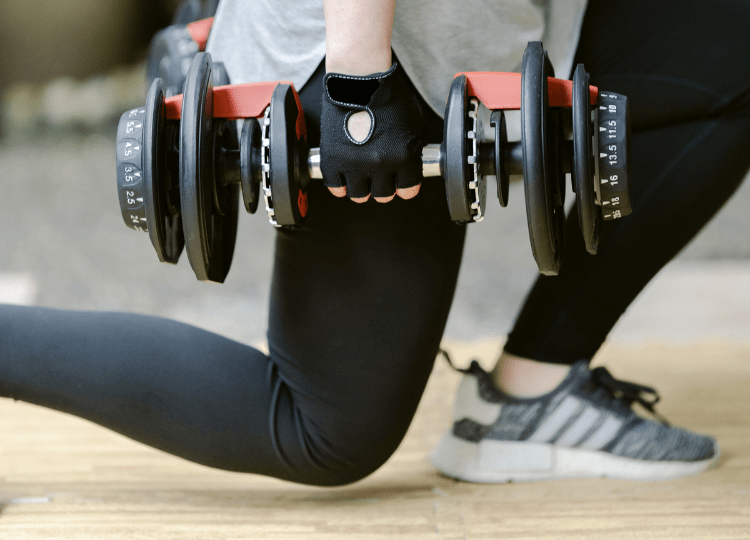 If you prefer more traditional weight lifting movements, then simply getting a pair of good dummbells is worthwhile.
Dumbbells are incredibly versatile too, and can be used for all sorts of exercises. You can effectively target every muscle in your body with dumbbells so they really are a great investment for your home fitness gym.
Dumbbells lend themselves really well for things like weighted squats, deadlifts, Romanian deadlifts, and lunges… exercises that will engage and activate the glutes.
We picked FLYBIRD's adjustable dumbbells as we feel these provide versatility for different exercises and avoid the need to buy a big selection of dumbbells. It is easy to change the weight of them so you can spend less time changing weights and more time exercising.
FLYBIRD topped our list of the best affordable dumbbells for women in our recent buyer's guide, due to the ability to change the weight so easily and the quality of the product.
You could of course select other dumbbells and still be able to do the same exercises. The main decision is whether you opt for adjustable dumbbells or buy a set that includes different weights. You'll find with some glute exercises, like Romanian deadlifts, that you can lift heavier than say a bicep curl, so having different weights is definitely an advantage.
What is Glute Equipment?
The "glutes" are made up of three muscles; the gluteus maximus, gluteus medius, and gluteus minimums.
They are located above the hamstrings and what most people would refer to as the bottocks (or any other term associated with them).
These muscles are incredibly important for any sort of lower body movement. They provide the power and strength for all sorts of weight lifting exercises, as well as helping to support better overall mobility.
Glute equipment is simply fitness gear that specifically targets these muscles. By activating the glutes, this equipments helps to strengthen and tone them, creating the desired results.
Glute equipment comes in all shapes and sizes, from larger machines to smaller items such as resistance bands.
As the wave of home workouts continues, getting glute equipment in your home is becoming a popular choice for many, as it means the ability to do an effective at-home glute workout has never been easier.
When buying glute equipment for home use, you'll want to consider things like; price, space and your own skill level.
Training Your Glutes at Home
When you've got access to a gym, things like cables are popular ways to add resistance to your glute exercises… but realistically, most people don't have access to such large fitness equipment for their home.
Instead of just relying on bodyweight movements, such as glute bridges, donkey kicks and the like, to train your glutes at home, using equipment listed in this article can allow you to add that all important resistance to your workouts.
Any of the best glute machines and equipment discussed here will help enhance traditional bodyweight movements to help you see better results.
Things to Consider
Building strong, toned glutes at home involves more than just high repetition movements.
High repetition workouts will undoubtedly mean you "feel the burn" but effective glute training benefits from progressive overload of the muscle too.
To fully activate the glutes, you should incorporate some movements that have higher resistance with lower repetitions. This will help add power and strength to the glutes. Even if you aren't a powerlifter, this style of exercise will help to create a rounder appearance and will improve all sorts of lower body movements.
Compound movements, like squats, Romanian deadlifts, straight leg deadlifts, lunges, etc, are examples of how you could add resistance to your glute workout. These movements also engage other lower body muscles too, so you get more bang for your buck.
These movements also support improved stability too.
Bottom Line
Training your glutes is a vital part of fitness, helping to support better lower body movement and combatting muscular imbalances.
Whether you opt for doing tradititonal weightlifting movements with a dumbbell, or use specialist glute trainers and equipment, the results should be stronger, rounder glutes.
If you don't have access to a gym, home glute machines and equipment offer practical solutions for getting the results you want.
Related Articles:
Pelvic Clock Review – Everything You Need to Know
Best Online Fitness Progams and Apps
This website, fitnessdrum.com, is a participant in the Amazon Services LLC Associates Program, an affiliate advertising program designed to provide a means for sites to earn advertising fees by advertising and linking to Amazon.com.