We may earn a small commission on some links at no extra cost to you. Learn more.
MyCurves On Demand promises fun and inclusive 30-minute workouts to help women feel fitter and stronger on the inside and out.
Having over 25 years' experience in the health and fitness industry, Curves is one of the longer standing fitness brands with a very loyal following all over the world.
But how do the online workouts feel? Are they effective? And what's it like using the platform?
This guide will reveal all!
This MyCurves On Demand review outlines everything you need to know about the workout classes, instructors, equipment and platform… to help you decide if it's the right fit for your goals, experience level and exercise preferences.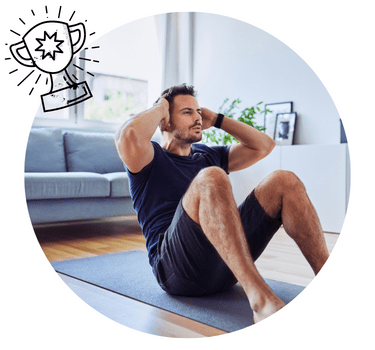 BEST OF THE BEST – 2023
Discover which online workout programs and fitness apps made our shortlist (inc. unique discount codes).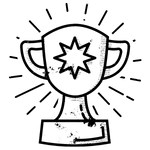 MyCurves On Demand Scorecard – Updated 2023
Ease of Use – 4/5
Exercise/Workout Quality – 4/5
Performance Tracking – 4.5/5
Technical/Support – 4/5
Price – 4/5
Overall Rating – 4.3/5
Learn more about our review scorecards as part of our editorial review guidelines.
What is MyCurves On Demand
MyCurves On Demand is the new online streaming and coaching service brought to you by Curves. Curves has been a household name in fitness for a while and is a company that owns and operates female gyms and health clubs all over the world. Although their presence on the high street has perhaps declined in recent years, their new On Demand service promises to offer everything that made the brand so popular throughout the 90's and 00's.
MyCurves On Demand has a very clear selling point in that it is designed for women, by women. This slightly goes against the grain at the moment, with many apps like Obe, Alo Moves, and others opting for workout apps that target a broader audience.
MyCurves makes no attempt to deny the fact its platform, workouts and coaching are for women.
What to Expect from the Workouts
The MyCurves On Demand Workouts are exactly what you'd expect (and hope) from a product associated with Curves. They have managed to capture some of that magic from the Curves fitness clubs and gyms for their online classes.
The Curves workouts include 3 core elements; strength training, cardio and stretching. All workouts are roughly 30 minutes long and designed to offer complete, full body training routines, helping to burn fat, create lean muscle and tone up your body.
The exercises are safe for all levels, even beginners and those who haven't done much exercise before.
The workouts are designed to have practical relevance for you too, i.e. so you find everyday life easier. From taking the shopping home, to walking the dog, Curves workouts incorporate functional movements and exercises that provide real-world impact.
The workouts will vary depending on what package you buy. For example, you can opt for the "Quick Start" which doesn't use any equipment. The regular On Demand package will require some equipment, most commonly resistance bands. Curves sell their own resistance band too, if you wanted to buy one when you sign up.
MyCurves On Demand Price and Subscription Options
There are 4 main packages to choose from, as well as a nutritional package:
On Demand
This is the flagship program, providing unlimited access to all the workouts and programs.
Priced at $24.99/month
On Demand Quick Start
This is tailored to those without any equipment, and focuses on bodyweight movements.
Priced at $24.99/month
On Demand with Pelvic Floor and Coaching
This includes the main package plus a special pelvic floor addition as well as coaching.
Priced at $69.99/month
MyCurves On Demand + Group Coaching
This includes the flagship on demand service as well as group coaching.
Priced at $69.99/month
Nutrition Package
This includes the MyCurves On Demand and coaching, and also includes nutrition modules to help with your diet.
What We Like About MyCurves On Demand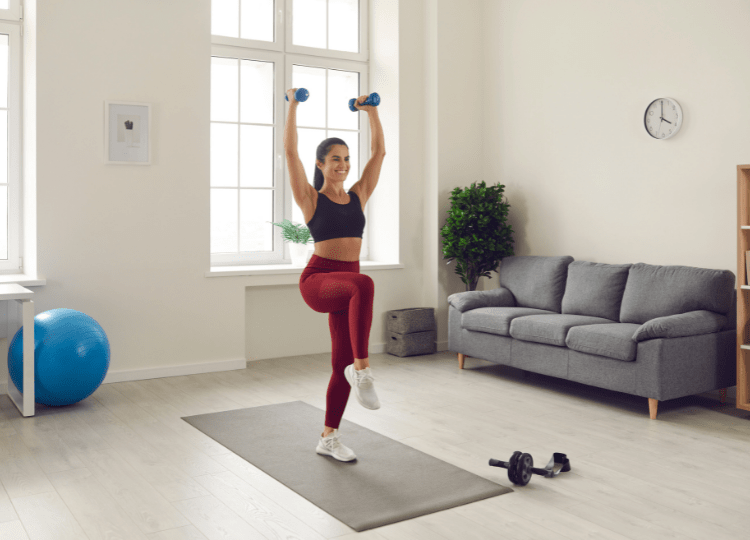 No Local Curves? No Problem
Probably the main thing we love about MyCurves On Demand is that it gives anyone access to the Curves workouts, knowledge and coaching.
So many women all over the world have become avid fans, training with Curves for 20+ years. Due to the economy, many Curves gyms closed, and thus if any closures happened in your area, your favourite exercise club was suddenly no more.
So many online reviews talk about people falling back in love with Curves and enjoying being able to train once again to the Curves mantra.
If you've ever exercised at a Curves fitness club before and can't find a local one to join, the On Demand service is ideal.
Simplicity
MyCurves On Demand is simple. It doesn't opt for futuristic technology, fancy gadgets and the like. When we think about the innovations happening with smart gym mirrors (e.g. Tempo's A.I. tools), it sometimes feels like the tech is taking over from good old fashioned exercise programs and classes.
MyCurves doesn't boast the best tech, nor the fanciest app, but the platform simply allows you to find workouts to join very easily.
For anyone who isn't very tech-savvy, this is a welcome change and potentially a big selling point.
Demographic
Like we said, MyCurves definitely makes no secrets that it targets women. But it also probably targets slightly older women. When browsing through other fitness apps, this demographic definitely feels like it's being ignored.
Simple things like including low impact workouts makes a massive difference. The amount of fitness apps and workouts we've signed up to and find that within a few minutes we're doing explosive squat jumps and pounding our knees and ankles.
When you get to a certain age, workouts do need to be adapted and tailored to ensure no injuries occur.
Familiar Brand
New fitness apps seem to pop up on a daily basis, so deciding which one to use can be tough.
When such an established and trusted brand launches one, it definitely makes the decision easier. Curves has been around for a long time and knows women's fitness. Its coaches know what motivates women, what common struggles women have with their fitness and solutions to help women reach their goals.
This experience and expertise really can't be overlooked when it comes to health and fitness.
Quick Start Package
We liked the Quick Start package as a way to sign up and start exercising right away. This package doesn't require any equipment, so if you don't have access to the normal at-home exercise equipment (like dumbbells, resistance bands, etc), this package means you can still get started.
This package will mean you do bodyweight movements, which may sound easier, but trust us, you can still have a very tough and rewarding workout from using bodyweight movements.
If you are looking for some equipment, our recent guide on the best dumbbells for women includes a variety of at-home dumbbells at an affordable price.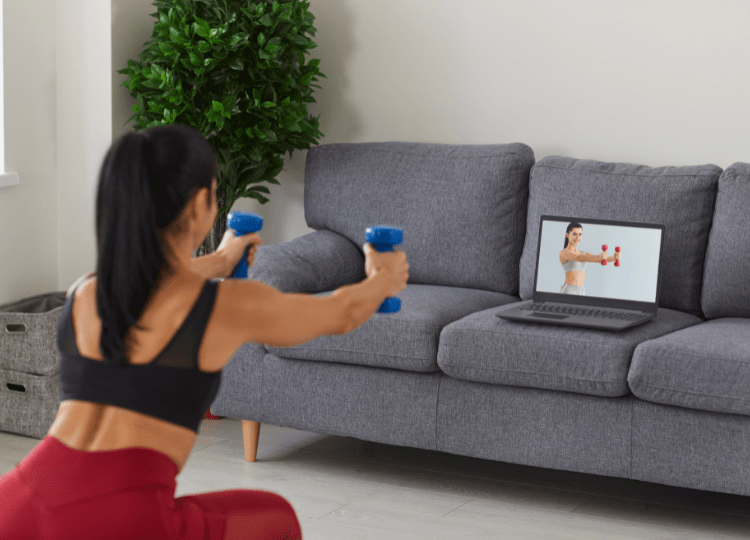 Coaching Bundle
The packages that include coaching and community support are worth it. They obviously cost more, but the value you get from having a real coach you can ask questions to and receive personalized advice and recommendations from is well worth the extra price.
When you think about how much a personal trainer is, the value you get from the coaching bundle is insanely high.
The important thing is, is to use this feature. Don't feel shy about asking questions. The more involved you get, the more motivated you'll be to impress your coach and train harder.
Down to Earth
MyCurves On Demand offers a refreshing approach to workouts which feels very down to earth. The coaches and instructors feel like your friends, making the experience feel very accessible.
Some fitness apps go a bit overboard using fitness models for all the workouts or coaches who are basically professional athletes and simply don't know what it's like to struggle with certain movements.
MyCurves coaching and workout style really understands their audience and customers, helping to craft a very effective program.
Weight Loss Goals
If weight loss is one of your main goals, the Curves system is going to be right up your street.
With the option of including a nutritional bolt-on as well, Curves is definitely a viable solution for anyone looking to lose weight. The workouts include cardio and strength movements, helping to burn calories and replace fat with muscle.
Community
There's a great community with fellow Curves users. The On Demand service and their social media channels harness a lot of the energy and magic from the local gyms.
MyCurves Sneak Peek
Check out the video below for a sneak peek into an introduction to Warrior II pose.
Things to Consider
If you're looking for very high intensity workouts, then Curves probably isn't for you. Compared to something like FiiT, the workouts are designed to be done at a gentler pace.
Unlike a lot of modern fitness apps, MyCurves currently don't offer a free trial, which is slightly disappointing. Brands like Obe, Alo Moves, and Yoga International, all make it easy to set up free trials and decide whether you like it before signing up to a membership.
Having said that, some reviews do suggest there are free trials available at certain times, so you may get lucky.
Bottom Line
If you're looking for at-home workouts that are designed for women, include low impact movements and come with coaching, then MyCurves is definitely worth considering.
With so many fitness apps to choose from, you've got to decide what features are worth it for you.
We think MyCurves offers a great solution for anyone looking to follow along to effective workouts at home.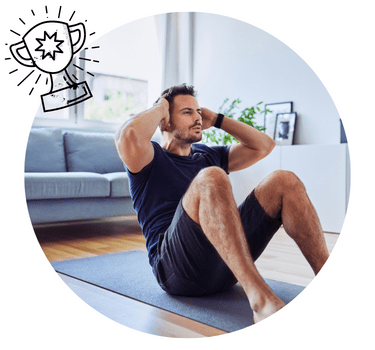 BEST OF THE BEST – 2023
Discover which online workout programs and fitness apps made our shortlist (inc. unique discount codes).
Related Articles:
FiiT TV On Demand Workouts Review