Important Update – Bande has now unfortunately closed down
From celebrity-backed fitness apps to pricey home connected gym studios, exercising in the comfort of our own homes has never been easier.
But trying to decide which service or product is worth using soon becomes mission-impossible. With new apps popping up each day, all sounding vaguely similar but with slightly different hooks, you could certainly be forgiven for feeling overwhelmed when it comes to trying to find an online fitness class or app to use.
So, we decided to start sharing our experience with these apps to help provide clear and concise overviews that help our readers find fitness products and services that can truly help them.
One of the latest to come under our radar is Bande.
Bande is an award-winning virtual fitness studio that offers immersive boutique studio classes.
This Bande fitness review compares how the classes measures up to other popular online fitness apps, and ultimately who it is best suited for.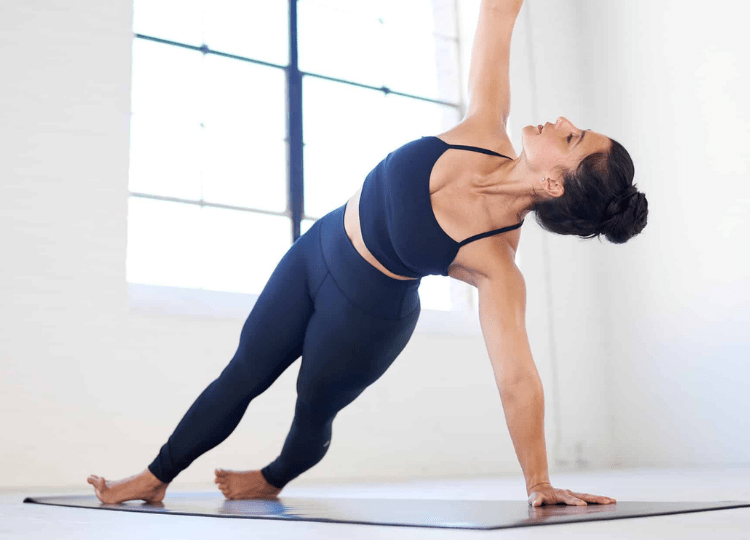 What is Bande?
Bande (pronounced "bond", which means "group" in French), is an ode to the joy and benefits a boutique studio class can offer. Bande have taken everything that makes these sorts of exercise classes so popular and presented this in a simple, online format, for anyone around the world to enjoy.
Founded by Rebecca Balyasny, Bande's mission is simple… to bring the boutique in-studio experience to your home.
Although this may sound similar to lots of other fitness apps, Bande have executed this differently from most and tuned in heavily to the 2-way, interactive nature of group classes. Beyond just getting your name read out during an online workout along with a hundred other people, Bande offers a truly interactive class experience that allows participants to receive personal feedback from instructors.
With instructors actually being able to see users, the level of personalized coaching Bande offers is currently unmatched and consequently separates them from a lot of the generic on-demand and live workout apps.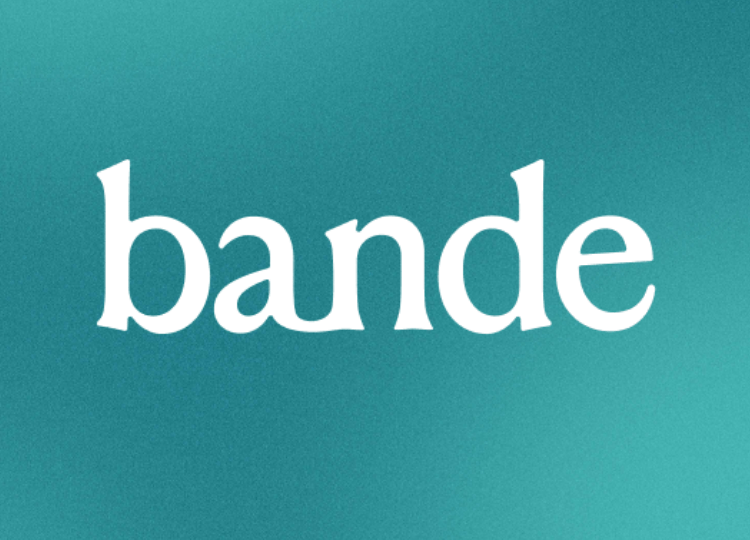 The Platform
Bande's platform (available on desktop, mobile and as an app), allows you to browse and book online classes. You can filter on exercise style, instructor, equipment and other features so you can quickly see what tickles your fancy.
Bande describe most of their classes as falling into one of the following categories:
Barre + Advanced Barre
HIIT + Advanced
Strength & Conditioning
Cardio Boxing
Cardio Dance & Sculpt
Power Yoga
Flow Yoga
Yoga Sculpt
Gentle Yoga
Slide & Sculpt
Pilates
Stretch & Recover
This is quite similar to lots of other apps that tend to lean towards a female audience… but this isn't a criticism, it's just want is popular and effective.
The platform is light on snazzy tech but this means it doesn't suffer the same pitfalls as other apps when they experience bugs and technical issues from their more advanced code. Bande, in essence, is really focused on the classes themselves, as opposed to leveraging artificial intelligence or other fancy tech to wow users.
At the end of the day, the Bande app looks nice, is simple to use, and allows you to join classes with ease… which is all you need really.
Bande Costs and Membership
Bande offers a 7 day free trial so you can try before you buy.
After that, they offer 3 core packages; Starter, Premium and All-Access.
The Starter package is $40/month and grants access to 4 classes. The Premium package is $80 and grants access to 12 classes and personal training. The All-Access package is $180/month and grants unlimited access to classes and personal training services.
There is also a pay as you go option for $15/month. This allows you to just pay for the classes you want to do.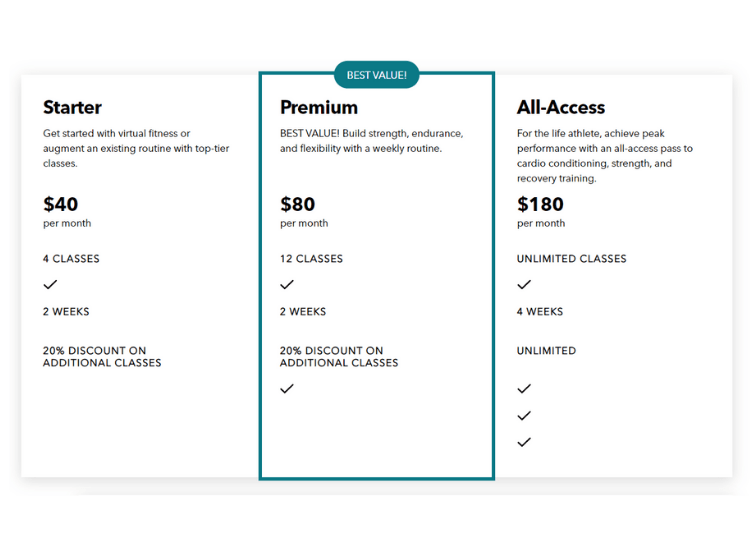 What We Like About Bande
2-Way, Live, Interactive Classes
When comparing Bande to other fitness apps, the inclusion of a 2-way, live, interactive environment is what really separates Bande from a lot of other more generic apps and platforms.
This ability to receive feedback from instructors and fellow members is huge when it comes to reaching your fitness goals and is really benenfical for technical movements in things such as strength training, where correct form is so important.
Although there are lots of platforms that offer "live" classes, nothing in the Bande price range comes close to providing this sort of interactive environment.
Community
Due to the ability to see fellow users and the instructors, Bande instantly creates more community than lots of other apps.
It's this sort of service that can allow people to join others who are on a similar journey and provide support and friendship, even if they're on the other side of the planet. Community is often an afterthought when designing online classes and workouts, but it's really where a lot of the longterm value comes from.
The app also allows you to message other users to stay connected, long after the class has finished.
Unrivalled Feedback
Especially for beginners, having a direct communication channel with a world-class instructor is certainly not to be underestimated.
Something we've noticed most fitness brands getting wrong these days is their obsession with marketing to the fitness loyalists and enthuasists… which doesn't reflect society in the slightest.
Most people don't know what a clean and jerk is… so apps and platforms need to come down a peg and provide the actual support and guidance that most of us need.
Whether Bande expands into other areas of fitness like weight lifting, or another app sees a gap, we think there's still plenty of opportunity to carve out an audience in the competitive fitness app landscape by focusing on a more interactive relationship that uses coaching and feedback to ensure users are supported during classes and workouts.
Although the Tempo Move is attempting to automate this sort of feedback, it currently doesn't come close to what a human coach can provide.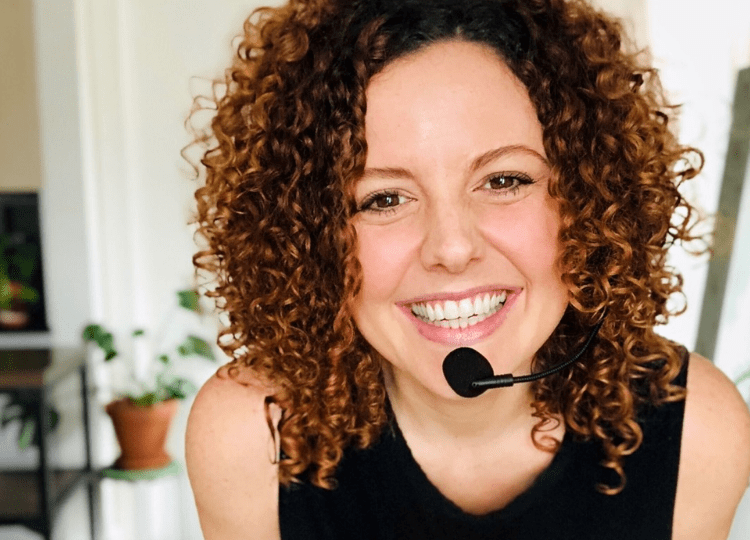 Impressive Live Schedule
The live schedule is impressive, with plenty of classes to join each day.
We've seen other apps and services promote "live" classes which have ultimately turned out to be just one or two a day… but Bande have a comprehensive range of classes every day, that cover all sorts of styles.
You can see their live schedule on their website, even if you haven't signed up yet. You'll see a wide range of styles of exercise, so whatever you're in the mood for, you can get your sweat on.
This is also ideal for anyone with a busy schedule and needs flexibility in when they can workout.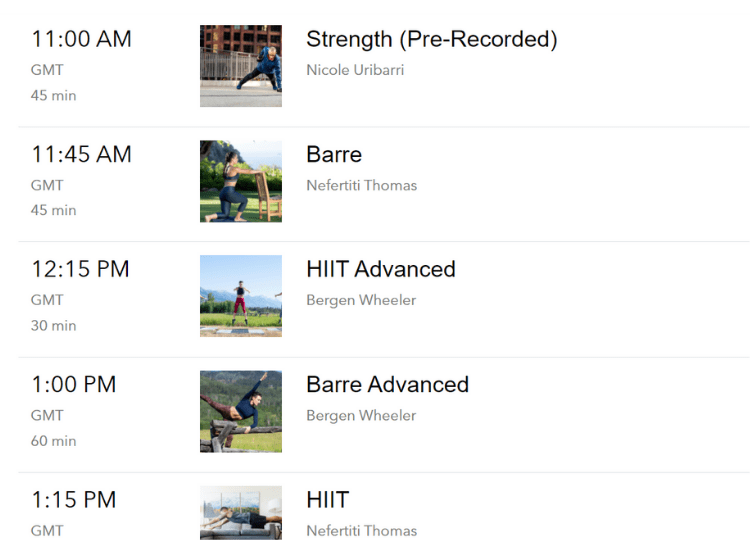 Boutique Studio Vibe
Bande was definitely born from the boutique studio and this is reflected in their workouts and online classes. It feels very personal and offers that same 1-2-1 attention you can get from a boutique studio class (as opposed to a more generic gym class).
We've found this is great for motivation as well as benefiting from things like barre, sculpt and other exercise types that many people won't have tried before.
Specialist Instructors
Bande have a great selection of instructors that all have unique specialties and areas of focus. Their roster isn't as large as other apps like Alo Moves, Peloton, etc… however it's more than enough to leverage specialists for specific exercises.
The slightly smaller team of instructors is also better for getting to know specific instructors and developing a deeper connection with them.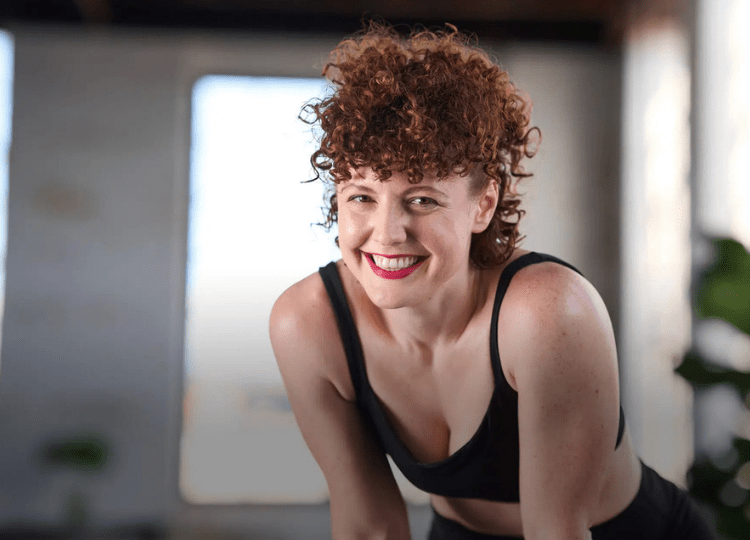 Power of Barre and Sculpting
Barre, yoga, sculpt and HIIT are probably the most popular types of classes Bande offer… and they're all really effective for a lot of fitness goals.
If you've never done these sorts of classes, you may be really impressed by the results. Barre and sculpt can be really effective ways to tone up and get in shape. If you've found yourself spending a lot of time on the treadmill and haven't had the results you were hoping for, simply including a bit of sculpting workouts into your week could make all the difference.
These sorts of workouts also don't tend to require much, if any, equipment too… ideal for home workouts and those who just want to get started right away.
Quality Exercise Programming
The classes themselves are put together very well and clearly follow a structure and process.
We've found following along to YouTube workouts can often lead to quite unbalanced fitness routines that have just been put together in any old order.
Bande's classes feel like an instructor has carefully planned out each exercise to create an effective overall class. Whether you join a HIIT, sculpt, boxing or yoga class, this is evident in all of Bande's classes.
Flexible Membership Options
As outlined in the membership costs, Bande currently offer a variety of payment options, including a pay as you go option for $15/month.
This makes it easy to get started and try Bande before committing to anything long term. Gyms are notorious for trying to get users to sign up for long-term contracts, when most prefer to have flexibility in their membership options.
Simple Tech, Bug Free
The simplicity of the platform makes it really easy to use and means it doesn't come with bugs and technical issues like some of the more complex fitness apps do.
You can also use it on a desktop or use the app, so you can use it in whichever way best suits your home workout set-up.
Inclusive
Online workouts are inherently more inclusive than local studios, simply because anyone can sign up and join in. Especially for those living in quite remote regions, having this sort of access to professional instructors and world class exercise programming can be incredibly useful.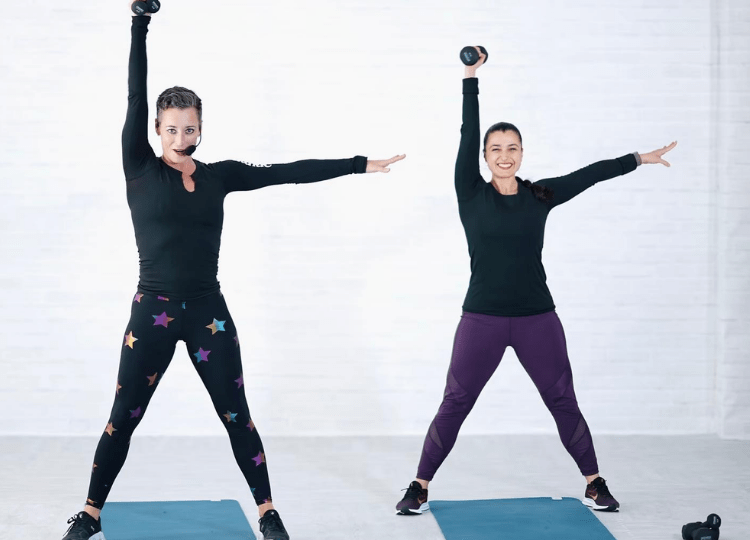 Cancellation Policy
Your Bande membership comes with a very user-friendly cancellation policy.
If something comes up and you can't make the class, simply cancel 2 hours before the class starts and maintain your class credits for another time.
Things to Consider
What makes Bande so appealing for some… may in fact, be the things that make it unappealing for others.
If you don't like the idea of interacting with an instructor and following a structured class, then Bande likely isn't the best fit for you. If you prefer plugging in your headphones and doing the same exercises you've always done, you're probably not going to gain the same value as someone who is looking for that interactive, community-led class.
You'll also want to think about where you're planning on exercising. Although the you can access Bande via any device, you might prefer being able to hook up your laptop to your TV so you can see the instructor better as you follow along.
Although equipment isn't necessary, some equipment is definitely useful. Having some light and heavier dumbbells is certainly beneficial, as well as things like a yoga mat, blocks and stretching straps.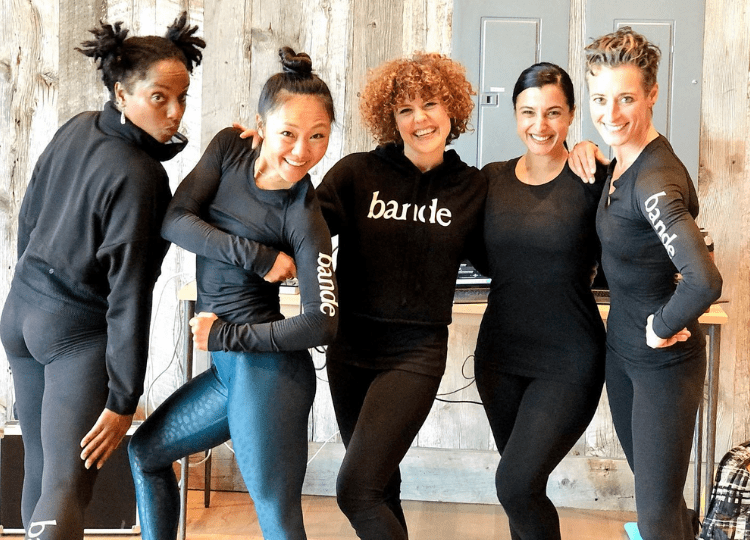 Bande Fitness Reviews
Bande boast some impressive reviews online, which highlights the effectiveness and popularity of the app and service.
Currently on the Apple app store, Bande has an average rating of 5/5 stars… which put another way, means every single person who left a review gave it 5 stars… which is mightily impressive.
We think the reason why Bande fitness reviews are so impressive is because they are focusing on providing a truly personal online experience, which ultimately gets users better results.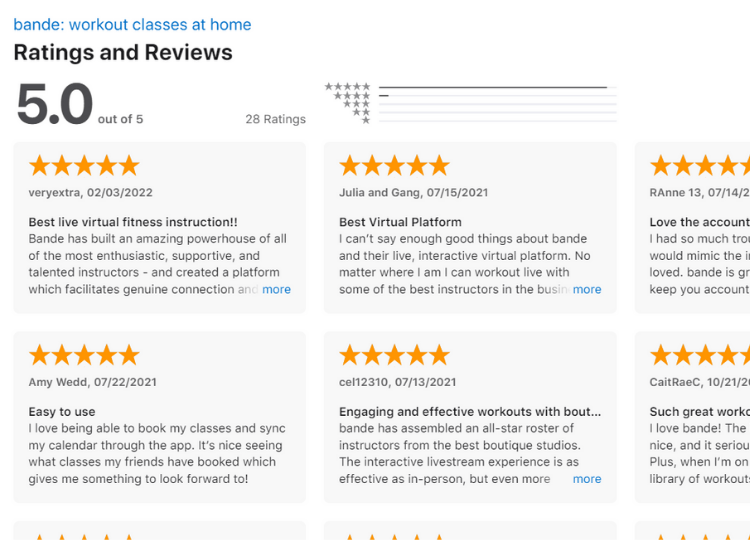 Bottom Line
With a 7 day free trial, Bande couldn't have made it easier to get started and give their live classes a go.
You can sign up below and be ready to join a live class within a few minutes. During your trial, it's worth joining a few classes throughout the week, led by different instructors, so you get a good feel for the service and can ultimately decide if you want to continue your membership.
Related Articles
Asana Rebel Review – What's the Yoga Inspired App Like?