If you're looking to buy an exercise bike, you're likely to come across the Slim Cycle 2-in-1 bike.
This bike has a lot of buzz around it and comes with big promises. It offers more than just at-home cardio routines, and offers high intensity bike workouts that deliver twice the results. It includes resistance bands, interactive display and both upright/recumbent riding positions.
An exercise bike is a great addition to any home gym and provides the perfect platform for an effective workout, a gentle warm-up and a simple cool down. But with so many bikes to choose from, including big names like Peloton entering the market, this handy guide cuts through the noise and provides a clear review of the Slim Cycle 2 in 1, and whether this is the bike for you.
In a hurry? Check the latest price of the Slim Cycle below. 👇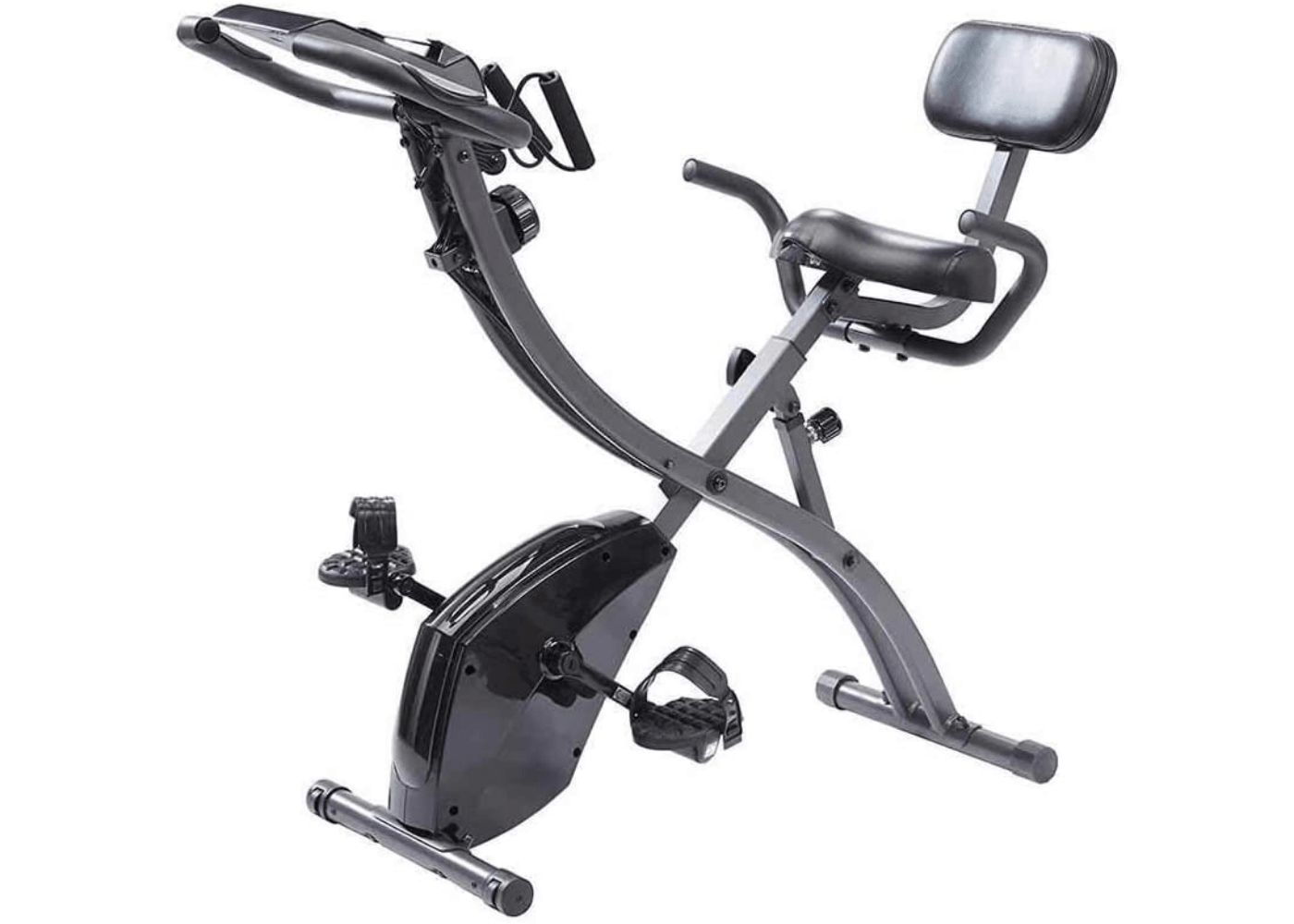 Slim Cycle 2 in 1 Exercise Bike Overview
The Slim Cycle is a foldable at home exercise bike. It combines cardio and strength training to deliver a full body workout. The aim and the promise is simple… do some strength training at the same time as using the bike, so you can benefit from both forms of exercise at the same time.
For those in a rush, this is definitely an attractive offer. We all have big exercise plans, but between late nights in the office, picking the kids up from school and everything else that fills our days, the time to fit a workout in during the day suddenly disappears.
With something like the Slim Cycle, even just a few minutes could be enough time to fit a decent workout in, so that's certainly a bonus for the bike.
The bike comes with a magnetic resistance system and hand grip pulse sensors. With an adjustable seat, it feels sturdy to use so you can up the intensity with confidence.
The company recommends a maximum weight of 135kg (21st 4lb).
It would have been nice to perhaps have the ability to change the resistance bands, depending on strength level, but the bands they've selected are very suitable for most users. If you're a fitness fanatic and looking for a bike to push your body to the limits, then there are maybe other bikes that you could look at too. However, if you just want a reliable home exercise bike, that helps incorporate resistance training into your regular cardio workouts to help burn more calories and tone up your upper body as well as your lower body, we think the Slim Cycle is a great way to go!
Slim Cycle: What's in the Box
Slim Cycle bike
Resistance bands
Tablet Stand
Digital Tracker and Heartrate Monitor
User manual
What We Like About It
So, now you've got a bit of an idea about the bike and it's core functionality, let's talk about what we liked and if the features live up to their promise.
Makes Resistance Training Easy
Firstly, our favourite part of the Slim Cycle is the fact it incorporates resistance training. It makes resistance training effortless and just apart of your bike workout.
Resistance training is so beneficial for everyone and too many people think it just applies to people looking to bulk up or build muscle mass.
Doing just a bit of resistance training each week will help improve functional strength, which at the very least will help make everyday activities that much easier. It can also help burn more calories, help lose weight, and tone up your body.
The resistance bands on the Slim Cycle feel sturdy and of quality material.
They are position mainly for arm exercises, so its ideal for anyone looking to tone up their arms.
Beginner Friendly
It's a bike that is definitely beginner friendly. Some of the other home exercise bikes can feel a little intimidating, offering hundreds of settings and all sorts.
The Slim Cycle keeps it simple, which we like.
Large Ergonomic Seat and Back Rest
The seat is surprisingly comfortable for an exercise bike. It comes with a nice ergonomic back rest too which is useful when using the recumbent riding position.
Speaking of the recumbent riding position…
Upright and Recumbent Positions
Another big benefit of the Slim Cycle is the ability to change the riding position. Most exercise bikes are either upright or recumbent, but to be able to swap this around whenever you want, really feels like you have two separate pieces of exercise equipment.
The upright position is great for more intense workouts, e.g. HIIT style routine.
The recumbent position allows you to recline or lean back. This is better for gentler workouts, for example, using the bike in the recumbent position while you read a book or watch television is a great way to boost your daily movement, without scarifying activities that you enjoy.
Resistance Levels
The Slim Cycle comes with 8 resistance settings for the bike. This is a simple way to change the intensity and difficulty of your workouts. It also means the bike is suitable for all sorts of levels.
During a workout, you can easily switch up the level and increase difficulty for a few minutes, before returning to an easier level.
Track Your Workouts
The mounted dashboard displays your workout numbers and is connected to the heartrate monitoring system.
The display isn't anything too fancy but again, keeps everything simple, which we like.
Folds for Storage
Having the ability to fold the bike away is a huge bonus, especially if your home is on the smaller side.
This means you can pack it away when it isn't in use.
Slim Cycle Alternatives?
The most notable competitors and alternatives to Sim Cycle would probably be;
PLENY 3-in-1 Total Body Workout Exercise Bike
This bike is rated highly and offers 3 riding positions, as well as the resistance bands.
BARWING Foldable Exercise Stationary Bike
This foldable bike also comes with resistance bands and multiple riding positions.
The straps can be used at the base on the bike too, so you can do resistance band exercises on the lower body too, which is a great feature.
YOSUDA Indoor Cycling Bike Stationary
This is a stationary indoor bike so doesn't come with some of the flexibility as the Slim Cycle, but the reviews don't lie… people love this bike.
Should you buy the Slim Cycle?
As home exercise bikes go, the Slim Cycle is definitely value for money.
For the price, the bike offers a quality build with very impressive customer service. The reviews of the bike all mention how the customer service team resolved any issues quickly, which is a big benefit when thinking of what brand to go with.
If you want a bike to use every day, that feels solid and reliable, as well as making it easy to incorporate upper body toning while you cycle, then the Slim Cycle is for you.
Related Articles:
Top Nordic Walking Poles This Year
An Honest Review Of The BootySprout
Best Essential Walking Equipment
This website, fitnessdrum.com, is a participant in the Amazon Services LLC Associates Program, an affiliate advertising program designed to provide a means for sites to earn advertising fees by advertising and linking to Amazon.com.