We are reader supported and may earn a small commission on some (but not all) links within our content to products we think will genuinely help our readers at no extra cost to you.
If you're searching for an inversion table, chances are, you've come across Teeter.
Founded in 1981, the company has long established itself as a marketer leader in home exercise products that focus on relieving and managing back pain (as well as more recently, products suited for general low impact workouts too).
Teeter's most advanced inversion table to date is the LX9… which is part of the FitSpine series that includes the LX1 and LX3.
In this Teeter FitSpine LX9 review, we outline everything you need to know about the product, including what we like, don't like and ultimately who we think it's best suited to. We also delve into the effectiveness of inversion tables and what kind of results you can expect.
In a hurry? Teeter are currently offering a 60 day trial period for the LX9.👇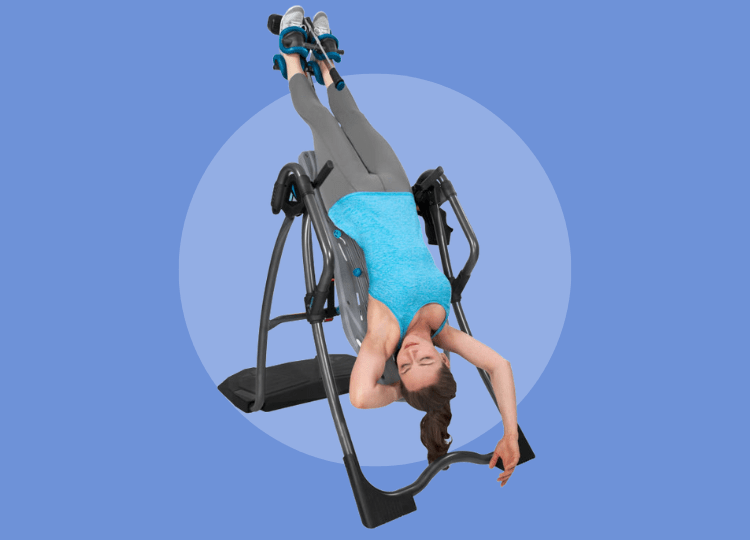 At a Glance – Teeter LX9
Pros
Teeter's best inversion table to date
UL safety certified
5 year warranty
Easy to use and adjust
Very solid and reliable structure
Proven way to relieve back pain for so many users
Acupuncture nodes and lumbar bridge
Flexible inversion table bed for better stretching
Loading platform, ergonomic frame and storage caddy (features unavailable on the LX1 and LX3).
60 day trial period
Cons
$100 more than the LX3
Although arrives 85% assembled, some users might need an extra pair of hands to get it set up due to the weight of some parts.
Inversion therapy can't fix all back pain, so the root cause of your pain will likely determine the effectiveness of the product.
Would We Recommend The Teeter FitSpine LX9?
Yes, we would definitely recommend the Teeter FitSpine LX9 inversion table. If you're looking for a high-end inversion table that offers extra features and specifications from a trusted brand built around safety and quality, you really can't beat the LX9. If the price point is slightly too high, the LX1 and LX3 include the same core features at lower prices, so they are worth considering too.
What We Like About the Teeter FitSpine LX9
Unrivalled Safety and Quality
When it comes to shopping online, we all get tempted by a bargain… but when it comes to exercise equipment, especially inversion tables, we'd really recommend avoiding the suspiciously cheap options.
When you're lying upside down, having the peace of mind you opted for a quality inversion table that meets the highest safety standards will definitely make the whole experience more enjoyable (especially if you're using it daily).
Teeter has been in the inversion table market for over 40 years and that expertise definitely makes a difference. They've released new models, tweaked designs and over time, continually improved their products.
We found some cheaper inversion tables for around $100 on Amazon, but the frames are really thin and the weight limit is often very low.
Teeter's LX9 includes a 5 year warranty and is UL safety certified. Teeter is also the only brand of inversion table that are FDA-Registered Medical Devices, indicated for back pain and related conditions.
Intuitive Ankle Locking System
One of the key things to remember with inversion tables is that it's a product you may end up using very frequently… e.g. daily. So having one that is easy to use really does make a difference.
The LX9 uses a very intuitive ankle locking system which makes getting in and out of the inversion table much easier compared to older versions.
If you've got back pain (which there's a very good chance you do if you're using an inversion table), this ability to avoid bending all the way down to set up the ankle lock is actually a significant game-changer for inversion tables. We'd predict most other brands will likely try and emulate this feature down the road.
The ankle locking system also feels very secure, especially compared to other brands where your feet are just "wedged" in place… which makes us a bit nervous when you're upside down!
The foam also feels much denser and secure too (which means if you want increase comfort, we'd recommend wearing thicker socks).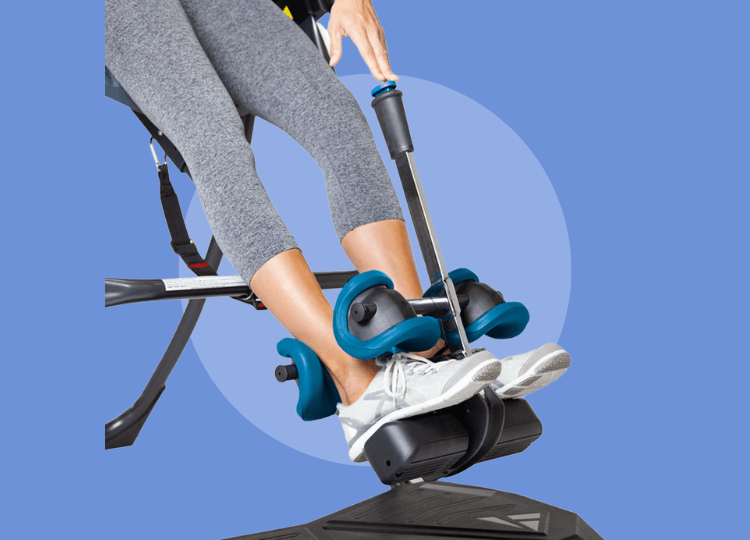 Flexible Bed for Better Stretching
The Teeter LX1 and LX3 are both solid inversion tables and share the same core features as the LX9.
The actual "bed" (i.e. the bit you lay on) is attached to the frame in 8 points. Due to the bed being made of plastic and having a bit of bend, this 8-point attachment makes for a really comfortable inversion table… especially if you want to twist and rotate more. The bed will be able to adapt to your movements more suitably than a very rigid bed would.
A lot of the upgrades for the LX9 relate to comfort and ease-of-use, such as making the most out of the flexible bed.
Further down this review we highlight a more direct comparison between the LX9 and LX3, but we really like the extra features the LX9, such as the boarding platform and ergonomic frame compared to these older models. For an additional $100, you can enjoy these subtle but effective enhancements from the LX1 and 3 inversion tables that just makes it easier to use… especially if your mobility is limited.
Best Frame Available
Teeter use an ergonomically designed heavy duty carbon steel frame for the LX9 and it's very noticeable. It confidently takes up to 300 lbs and shows no signs of wobbling or weakness.
The addition of the loading platform, which isn't on the other models in the FitSpine series also contributes to a more stable feeling inversion table.
The frame also folds up, so it takes up less storage space… although it doesn't take up that much space anyway. If you're going to use it daily, if you have the space available, you may find it's just easier to leave it set up.
As far as home exercise equipment goes, it's also a lot easier to move (compared to say a treadmill or rower).
60 Day Trial Period
A 60 day trial period really is a sign of a trusted brand. This gives you ample time to really get to know your new inversion table (whether you opt for the LX9, or one of the other models in the FitSpine series.
Teeter also has fantastic support, including US based phone customer support, should you need any advice.
Although some users don't report lifechanging results… many do… so having a 60 day trial seems like a no-brainer if you're currently in two minds about it.
85% Assembled
The Teeter LX9 comes 85% assembled which makes trying it super easy. There is also video instructions to help with the remaining assembly you need to do. Some reviews do say it is still a bit fiddly… and if your strength is limited, you may benefit from a second pair of hands to help support the weight. Overall though, it is easier to assemble than most on the market.
Teeter Move App
In our opinion, the Teeter Move app is seriously undersold by Teeter… it's a gateway to taking your inversion exercises to the next level. Expertly led by certified coaches, the app allows you to follow tailored sessions on your inversion table to help you get more out of it.
It turns out there's much more to an inversion table than simply rotating 180 degrees… there are more specific exercises and movements you can do that may help alleviate your back pain more effectively, so they're definitely worth trying.
We've reviewed plenty of on-demand fitness streaming services that require a ongoing monthly subscription, that can soon add up over time… so getting a quality workout app that is focused on inversion therapy is a significant perk.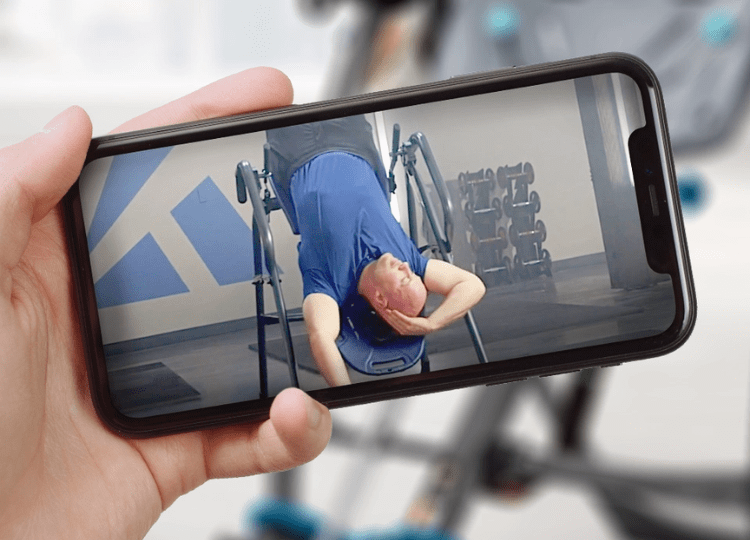 Things to Consider
Accessories are Extra
Although the LX9 comes with a lumbar bridge and acupressure nodes, there are some accessories that costs extra, namely the comfort cushion, inversion mat program and the neck support.
You certainly don't need these extras to use the LX9, but if you wanted them, you'd need to buy them separately.
The comfort cushion in particular may be something that is worthwhile, as it provides a thick and supportive surface to lay on. You can also buy this with heat and vibration technology to enhance your inversion therapy.
Inversion Therapy Doesn't Work for Everyone
The research appears slightly inconclusive as to the long-term benefits that inversion tables have on back pain, but research like this found that inversion therapy using a 60 degree angle did help reduce back pain, as well as improving torso flexibility and strength.
For some, the ability to decompress the spine to help reduce back pain brings with it lifechanging results. However, it doesn't work for everyone, and many users simply don't experience a noticeable reduction in pain (based on verified customer reviews of inversion tables in general).
It also isn't recommended for anyone with cardiovascular disorders (such as high blood pressure), fractures, spinal injuries, or if you're pregnant.
The reviews alone suggest a lot more people find it extremely useful, but it is something to bear in mind.
If you are thinking about inversion therapy though, a table is likely the bette choice than "gravity boots" as you can control the degree of decline with a table so you can gently ease into it.
Complexities of Back Pain
The likely reason why some users praise inversion therapy as an effective solution for managing back pain, whilst others claim it hasn't worked, is due to the complexities of back pain. Depending on what is the root cause of your pain, could impact how success an inversion table is at solving it. Which leads up nicely into the next point…
Doesn't Replace Physical Therapy
Using any sort of inversion table isn't a replacement for physical therapy. If you're living with any sort of chronic pain, your first point of call should be to get expert diagnosis and treatment.
A Physical Therapist will help identify the root cause and give recommendations on the next steps you should take. This may include inversion therapy, but it might suggest more complex issues that need specific care and treatment too.
Weight Capacity is 300 lbs
The weight capacity is 300 lbs… which is more than most inversion tables we've come across, but it's still lower than we'd hope for. This means if you're heavier than 300lbs, you may struggle to find a suitable inversion table if we're honest.
LX9 Vs LX3
Ultimately, the LX9 is an upgrade from the LX3 (and the LX1).
The main difference is the boarding platform and the enhanced ergonomic frame. This sounds quite minimal, but the better frame is certainly noticeable in terms of making it much easier to get in and out of the inversion table.
There's probably a bigger difference between the LX1 and the LX3, compared to the LX3 and the LX9.
The exclusion of the Deluxe EZ-Reach Ankle System, EZ-Stretch Traction Handles and Stretch Max Handles on the Teeter FitSpine LX1, means if you were thinking of opting for a cheaper model, we would lean towards the LX3 instead of the LX1. These features all make the experience of using the product much easier, so it's worth having them if you intend on using it frequently.
All the inversion tables in the FitSpine series are FDA registered and UL certified.
Alternatives?
As far as the most suitable alternatives go, we've listed out 3 products we think provide similar value and are also top of the range inversion tables.
Teeter LX3
We've mentioned it quite a lot during this review, but the LX3 and LX9 are similar. Priced slightly cheaper, you lose a few features, but you keep a lot of the core specifications with the LX3.
If you aren't too fussed about these enhancements from the LX3 to the LX9, you might want to opt for the more basic version to save a bit of money.
Harison Heavy Duty
With a max weight capacity of 350 lbs, the Harison Heavy Duty inversion table is built for heavier users. It's a durable, solid inversion table, and it uses a similar ankle locking system to the Teeter FitSpine LX3 and LX9.
It's not as ergonomically designed as Teeter models, and it lacks the FDA and UL certification.
Learn More About Harison Heavy Duty
Innova Health and Fitness ITX9600
This is probably the most popular inversion table on Amazon. It lacks some of the features from the LX9 but comes with lots of very good reviews and happy customers.
It's also under $200, which is impressive considering the quality of the product. It does rival inversion tables double its price.
Online Reviews for Teeter LX9
Although the scientific research on the long term effectiveness of inversion therapy is still somewhat unclear… the real-life stories, feedback and reviews from verified Teeter customers certainly highlight the merits of the product.
The Teeter FitSpine LX9 currently has an average rating of 4.7/5, based on well over 2,500 verified customers on their website.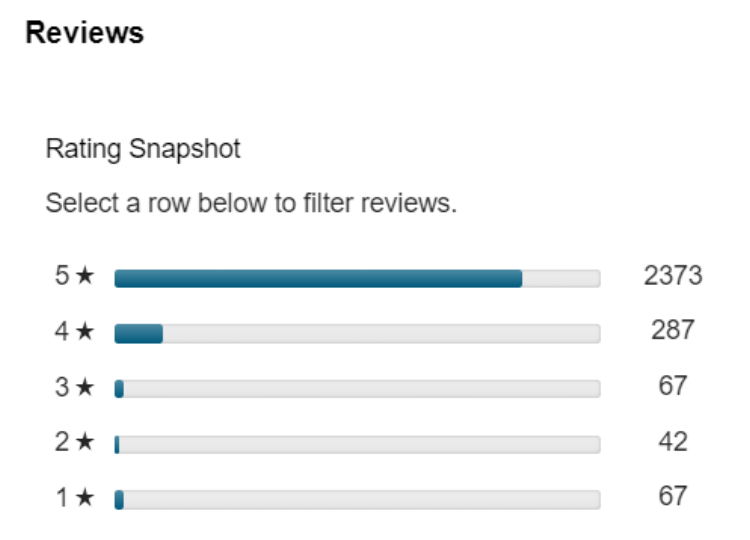 Bottom Line
As far as inversion tables go, the Teeter LX9 is hard to beat. It's the best inversion table to date from Teeter, the market leader in inversion therapy, so if you want a product that has the highest safety standards, FDA registered, UL certified and has very good reviews online, it's worth trying out the 60 day free trial.
The LX3 would probably be the most suitable alternative. We would tend not to opt for very cheap inversion tables simply due to safety concerns.
You can try the LX9 with a 60 day free trial by clicking below.
Related Articles
Horizon 7.8 AT Treadmill Review
Teeter FreeStep LT3 Review – What's This Recumbent Cross Trainer Like?
Long Stride Ellipticals – Best Elliptical Cross Trainers for Tall People
This website, fitnessdrum.com, is a participant in the Amazon Services LLC Associates Program, an affiliate advertising program designed to provide a means for sites to earn advertising fees by advertising and linking to Amazon.com.