Promoted as "The World Series of Fitness", Hyrox is looking to fill a gap left open by the likes of CrossFit, Tough Mudder and Spartan events.
With a mix of functional workouts and running, this European brand is expanding rapidly.
Below, we take a bird's eye view of Hyrox and why "fitness-as-a-sport" is probably here to stay.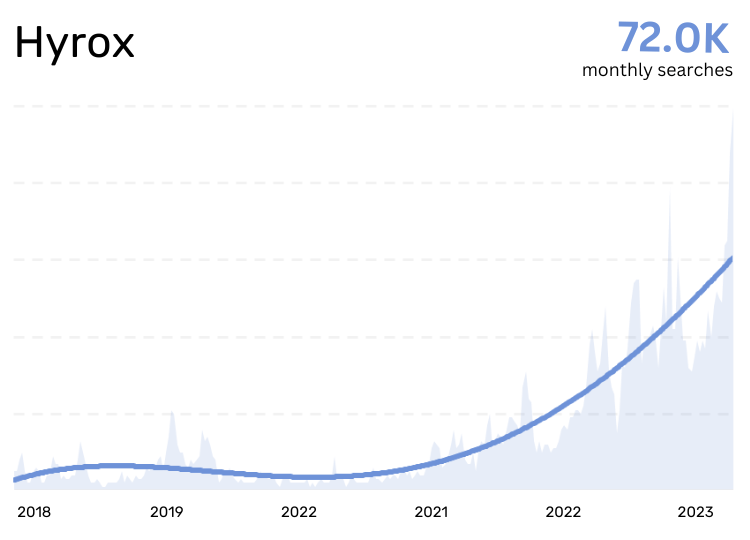 What is Hyrox?
Hyrox is a fitness event mixing endurance and strength exercises, designed to be conquerable by athletes of all levels.
The company hosts in-person race events around the world, where participants follow the exact same format (consisting of a 1km run followed by a functional workout, repeated 8 times).
Founded in Germany in 2017, Hyrox has grown from strength to strength in recent years… and has subsequently pulled in sponsorship deals with Puma and Redbull, as well as investment from Infront Sports & Media Group.
Why is it Popular?
Running
Believe it or not, the activity of running is making a comeback.
Just look at the growth of people searching for a running coach below.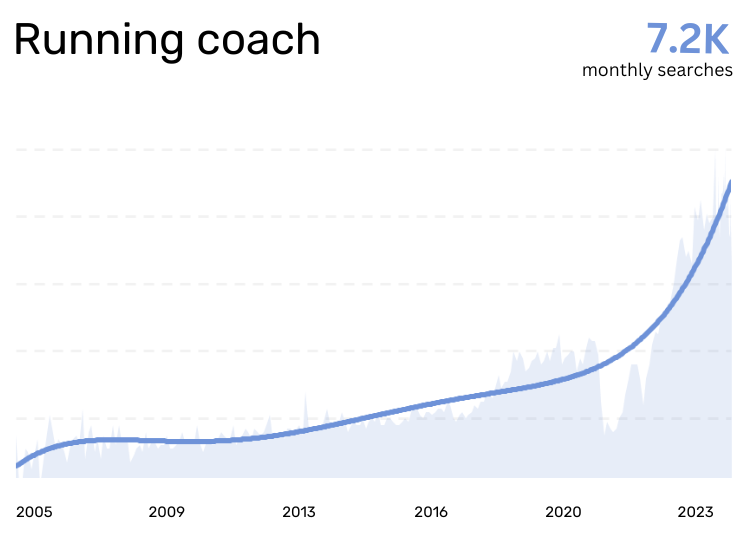 As running makes up half a Hyrox event, they're naturally taking advantage of a new running boom.
Being one of the pandemic's top ways to keep fit when gyms were closed, the continued growth of running suggests people are enjoying this type of exercise.
Fitness as a Sport
CrossFit pioneered this concept of "fitness-as-a-sport"… but the brand has had a shaky few years.
This has allowed new concepts like Hyrox to leverage this idea of fitness-as-a-sport but tailor it to a slightly different audience.
With more running and no Olympic lifting (as well as less controversy), Hyrox could end up appealing to a wider audience.
Community
Hyrox is prioritizing community… and it's paying off.
Participants are travelling around the world to attend races, which creates a very strong community feel.
Functional Workouts
The interest in functional workouts has also been on the rise for some time now, signalling a change in how people define "fitness".
As the search interest for bodybuilding has declined, it's opened the door for new HIIT, functional workout and calisthenics brands and programs to grow in popularity over the past decade.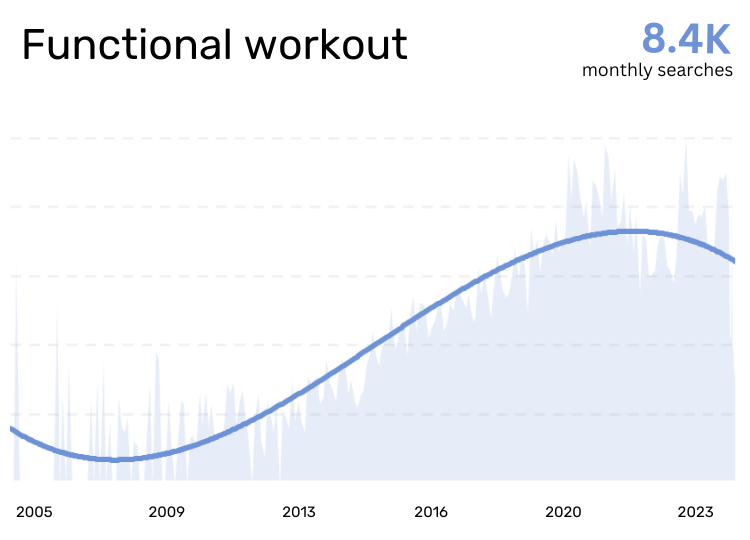 There's no Olympic weightlifting here either (unlike CrossFit), which means beginners will likely feel more comfortable with the functional workouts.
Wellness Tourism
Wellness tourism is more than just yoga retreats and spas… travelling for fitness events like marathons, triathlons and races like Hyrox, is becoming increasingly common.
Booking a nice hotel, sightseeing for a few days, participating in a Hyrox event and then celebrating with fellow participants… it's clear why this trend is taking flight.
What Can We Learn?
Hyrox Coaches, Training and Gyms
At a local level, Hyrox is still relatively untapped.
If Hyrox was to follow in the footsteps of CrossFit, there could be a huge "first-mover" advantage for gyms and coaches to attach themselves to the brand.
With CrossFit experiencing a decline in interest, CrossFit gyms in particular might want to pay close attention to this.
Products and Events around Hyrox Races
Launching products or events that provide value for race participants could be a great way to partner with a brand like Hyrox.
And if the events continue to grow in popularity, this could prove quite lucrative.
Lots of brands, including clothing and tech companies, attached themselves to CrossFit with great success over the past decade.
The Core Characteristics of Hyrox
It's no coincidence that characteristics like running, functional workouts, community and travel are key pillars of Hyrox… and that they are also seeing growth in demand.
For fitness professionals, embedding these sorts of things into existing or new services could be a recipe for success.
FITNESS TRENDS
THAT MATTER
We help coaches, businesses and everyday athletes make smarter decisions with data-backed insights into the latest fitness trends.