Pilates head cushions, pads and blocks help achieve better neck and spine positioning and alignment during mat exercises and movements.
They are usually made from foam and placed underneath the head during Pilates exercises. They can also be used to support the knees, hips and lower back during other exercises, making them a versatile piece of gear to have around the house or Pilates studio.
By improving the alignment between the neck and spine, you reduce unnecessary strain on your neck and help limit the risk of aches and pains during movements. It can also increase the comfort level during Pilates classes and help you enjoy the exercises more. The last thing you want is to be worrying about your neck when you're trying to follow along to Pilates movements.
As a result, we think Pilates head cushions and blocks are a great purchase for anyone looking to do Pilates, whether at home or at a studio.
So, when it comes to Pilates head and neck cushions, what are the best ones out there?
We're glad you asked…
Our Top Picks for Pilates Head Supports
Ajna Bolster Pillow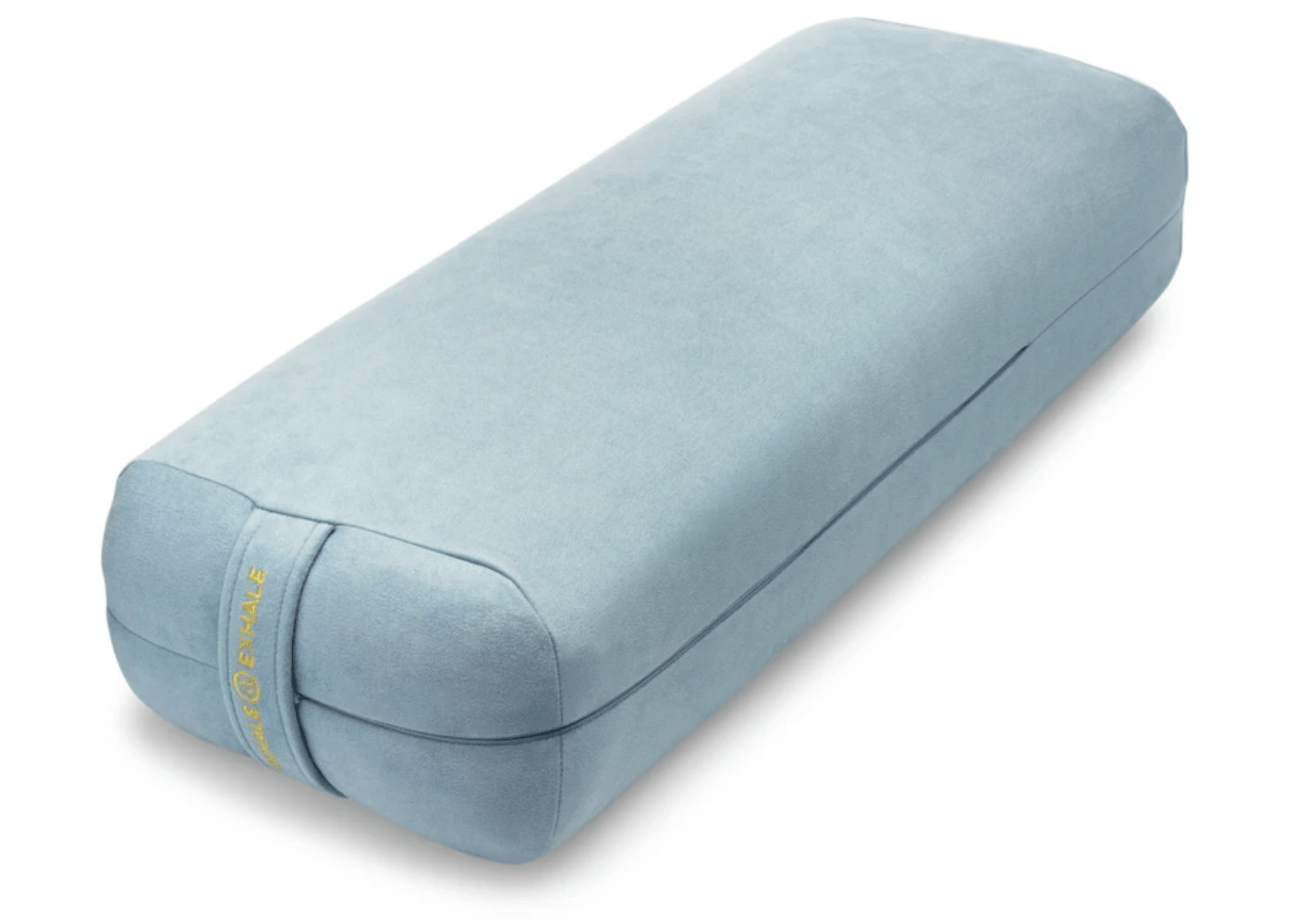 The Ajna bolster pillow is a fantastic all-round Pilates and Yoga supportive cushion. It can be used in all sorts of movements and provides effective support due to its firmness. This would be a great choice for anyone looking for a versatile cushion that can be used for all sorts of Pilates and stretching movements. Simply put, it's just a very useful piece of Pilates equipment to have around the house.
Made from foam, with a dense core, it is built to last, and keeps its shape and structure, even with a lot of use. This makes it ideal for anyone doing a lot of Pilates and needs something they can rely on.
The cover is removable, making it easy to wash.
The pillow is made from eco-suede and is very soft to touch, creating a comfortable and relaxing Pilates support, ideal for the head, as well as the back and knees.
The stylish design (available in a range of colours) also means it will look good in any home.
Size – 64.26 x 27.18 x 16 cm; 1.66 Kilograms
FelizMax Crescent Pillow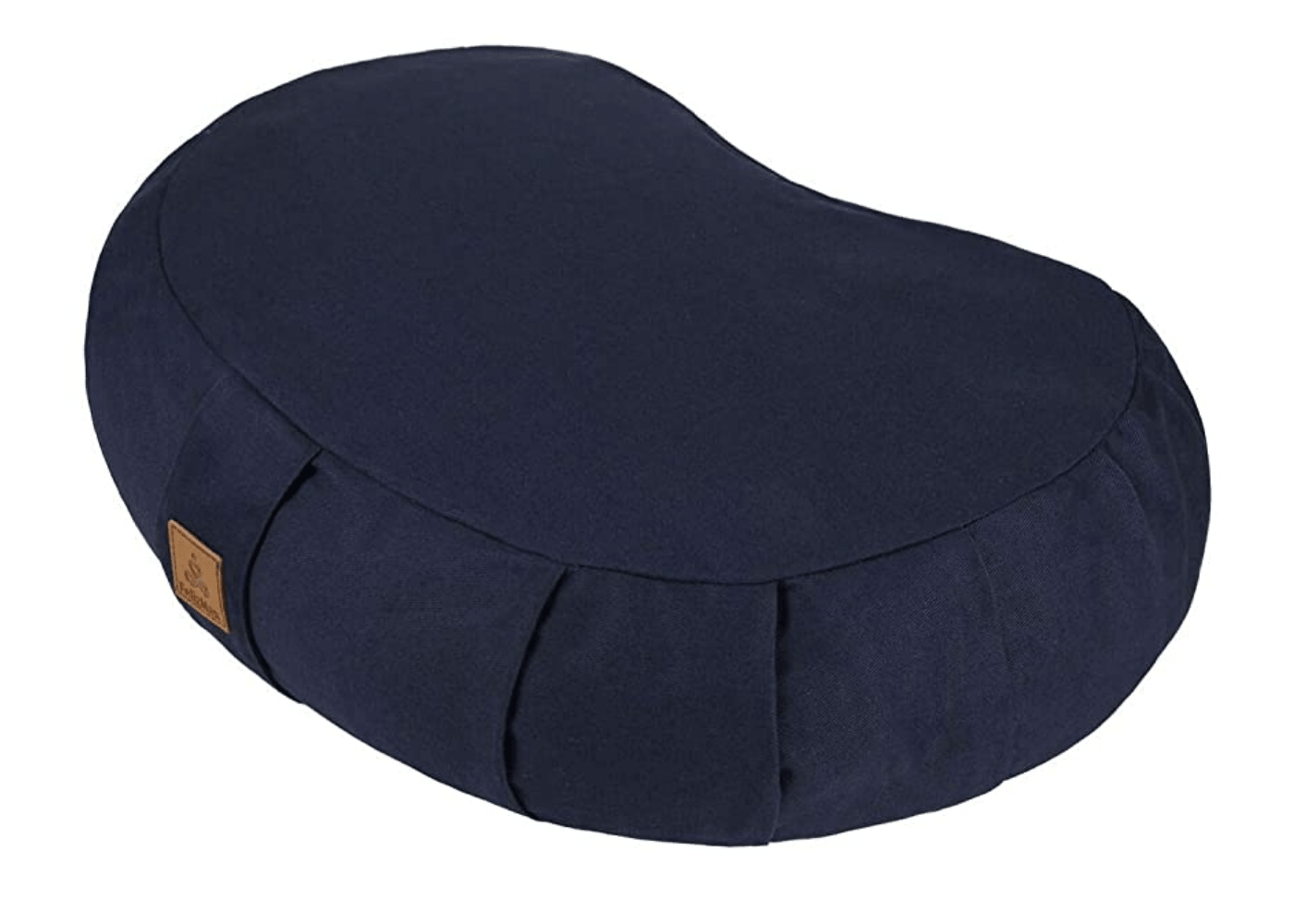 The FelizMax Crescent pillow is filled with natural bucketwheat, providing a beautiful balance between firmness and comfort. In constrast to foam, bucketwheat is softer, so you're likely to sink into it more and the pillow will take shape around your head.
This pillow would be recommended for anyone who would place comfort at the top of their wishlist when it comes to a Pilates head cushion.
The crescent shape means your neck fits nicely into it so your head feels the support from either side, creating a very comforting and relaxing experience.
The organic cutton cover is also removable and can be machined wash on a cold cycle.
Size – 43.18 x 27.94 x 12.7 cm; 2.11 Kilograms
HarderWill Wedge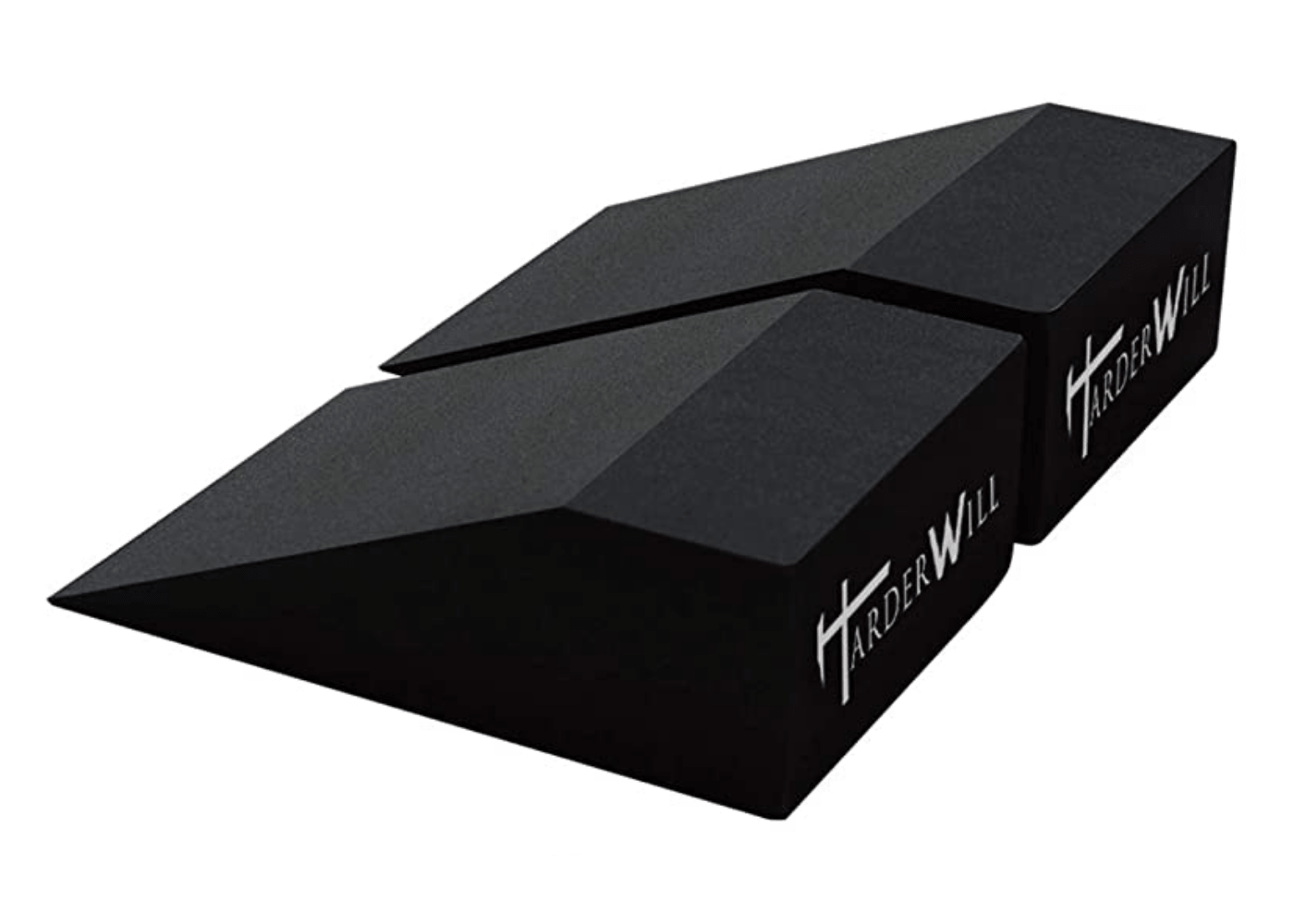 The HarderWill Wedges are a fantastic all-round piece of exercise equipment. These seamingly simple foam wedges can transform a whole host of exercises and movements.
The incline on the wedges mean you can use them as pads to support your head during Pilates too. The dense foam creates a very firm surface with little give. This makes it suitable for those looking for a head support where comfort isn't as important as versatility.
As well as a head rest, the wedges can be used to change the incline of bodyweight movements like squats and push-ups, as well as stretching poses like calf stretches and the cobra pose. This brings with it similar benefits of a decline stretching board.
This sort of Pilates block would be recommended for those who like to get creative with their Pilates and exercises, being able to change up movements with the wedges to test the muscles from new angles.
Size – 22.86 x 15.24 x 7.62 cm; 531 Grams
StrongTek Foam Pad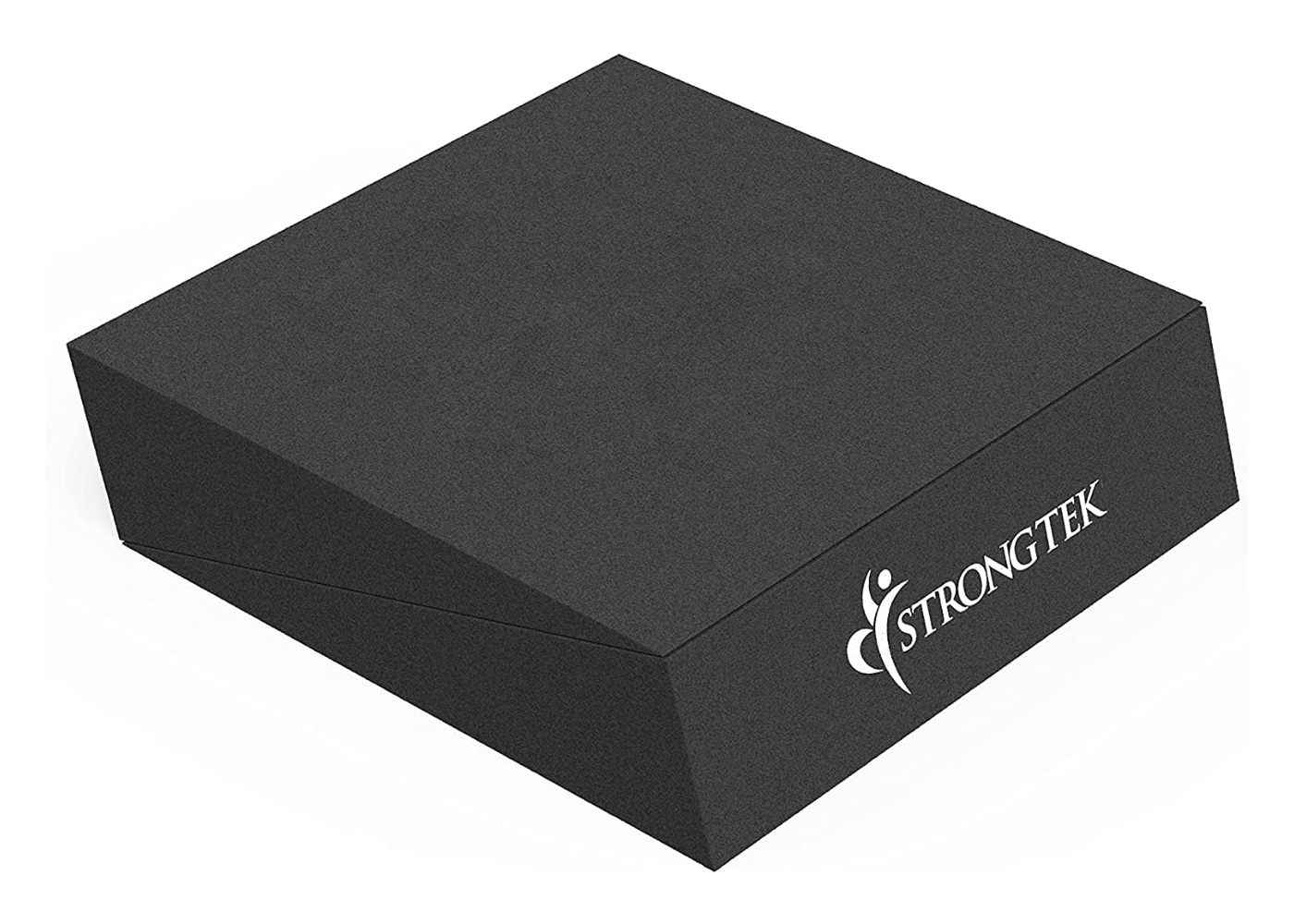 The StrongTek foam pad can be used for all sorts of exercises and Pilates movements, including a head rest. The dense foam creates a supportive yet firm cushioning that you can rest your head on.
Similiar to other balance pads, this sort of Pilates pad is very versatile and can be used to support a range of fitness movements, such as balance exercises.
The surface is easy to clean and can be wiped down after each use.
This head pad would be recommended for anyone who simply wants a simple but reliable head support for Pilates. The firm foam will provide all the support you need, whilst also giving you a tool that can open up a whole new range of movements to improve your overall functional fitness.
We rate this highly due to the versatility of it and the fact it can be used as a balance pad (which we think everyone can benefit from). Our recent guide highlights some of the best balance pad exercises to get started with.
Size – 40.13 x 24.13 x 6.1 cm; 370 Grams
Gaiam Essentials Block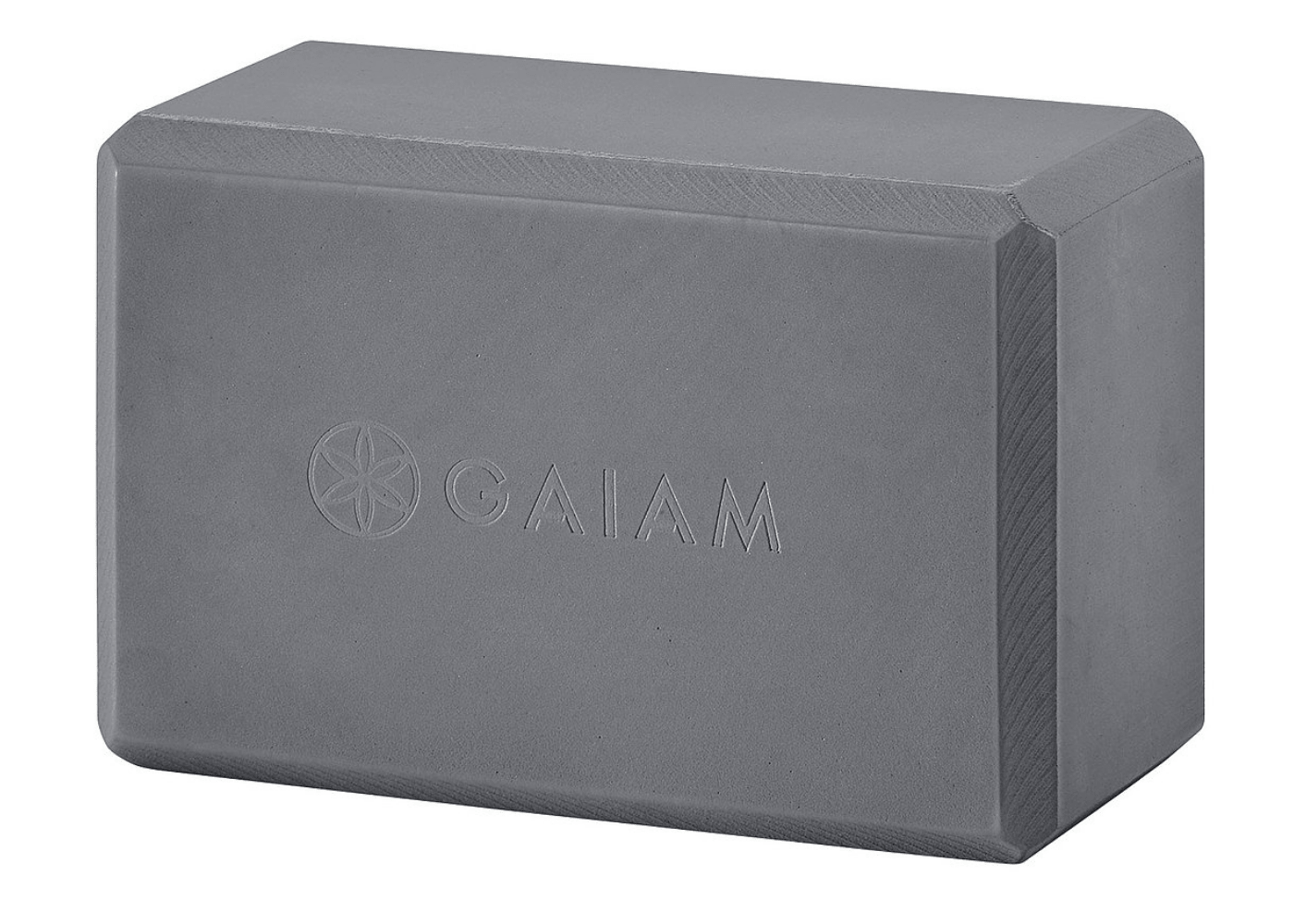 Gaiam is a popular yoga and Pilates brand, and these blocks are highly rated.
Available in a few different colours, these blocks are firm and solid, giving you support where you need it. These fit nicely under the head, helping to improve spine and neck alignment, but they also can be used to help support a range of Pilates and yoga movements, as well as being used under the hips to tilt the pelvic floor during other stretches.
Blocks like this can help to really increase and improve your stretching.
As a head support, the firm dense foam will have little give and provide a very hard surface to rest your head. This may not be as comfortable as a softer pillow or cushion, but the versatility of the blocks means you can then use them for all sorts of movements too. Some people also prefer the harder surface during exercises so they don't feel too relaxed when trying to complete a challenging workout.
Size – 33.53 x 24.38 x 15.49 cm; 395 Grams
Neck Roll Memory Foam Pillow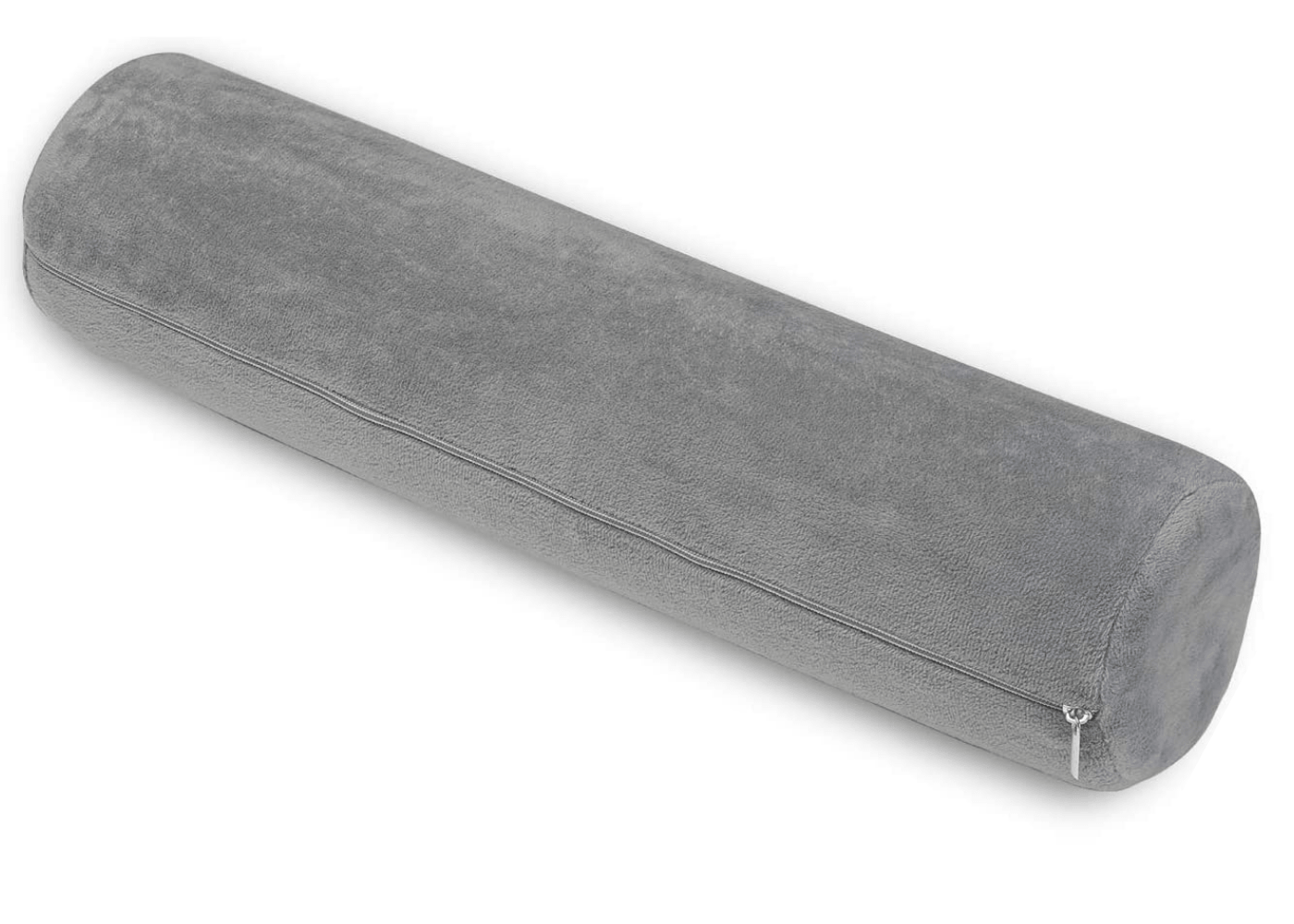 The Neck Roll Memory Foam pillow is a universal neck pillow that adds effective support and alignment when laying down. It feels like an upgrade to rolling up a towel and placing that under your head.
The cover is removable and washable, making it easy to take care of.
This Pilates head support would be perfect for anyone who wants to prioritize comfort and who may also want to use the head support for other activities. For example, this would also make a great travel pillow, or even for use sleeping.
The memory foam creates a firm support so it works well for Pilates or any kind of stretching.
Size – 43.18 x 10.16 x 10.16 cm; 299 Grams
Leewadee Pilates Eco-Friendly Brick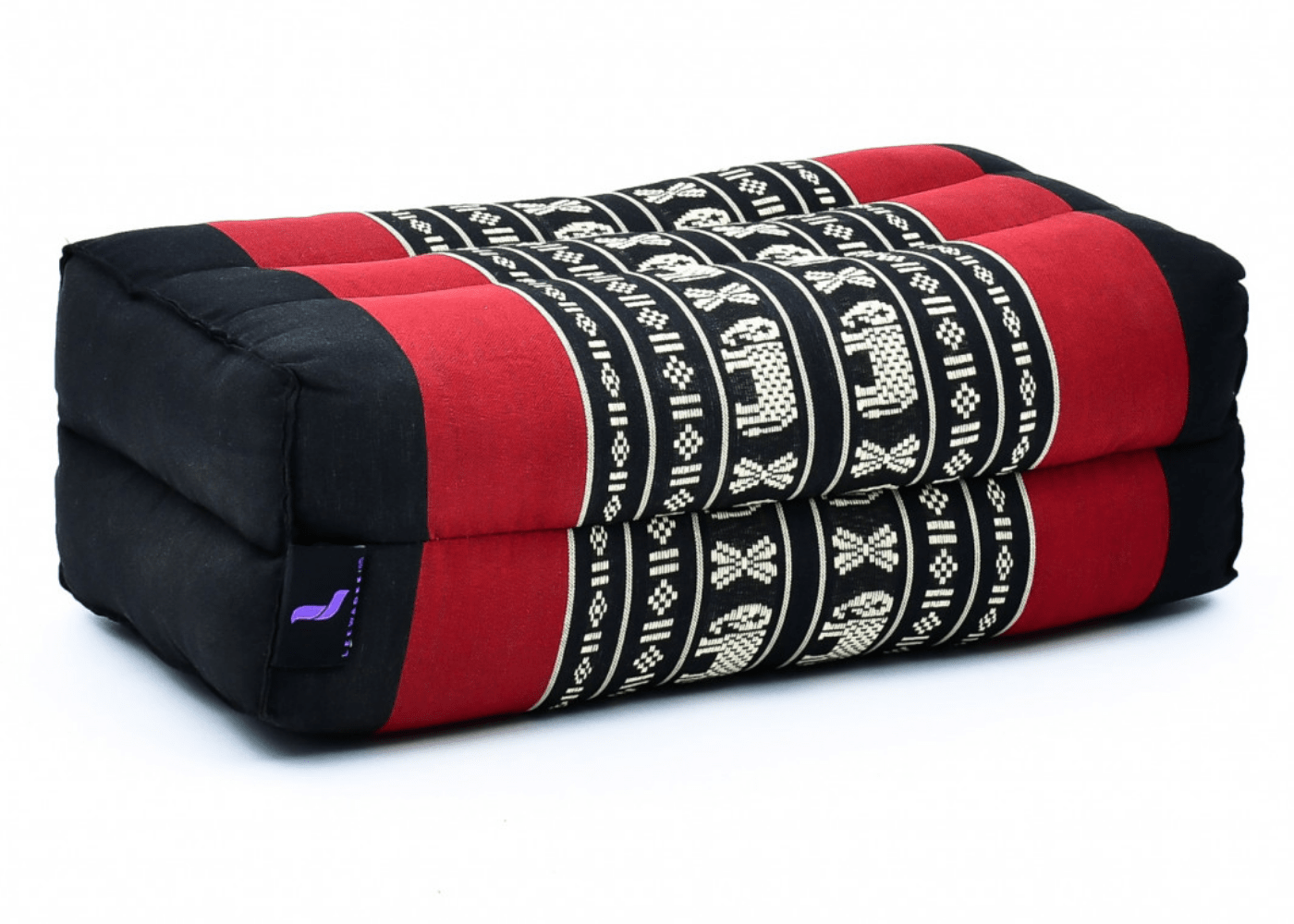 This beautifully designed Pilates block is fit for any home. The cultural patterns make sure you can practice your Pilates in style.
The block itself is filled with kapok, which is fibre extracted from the fruits of a tree, commonly found in the tropics.
This creates a nice balance between support and comfort, creating a block that is ideal to use as a head rest during Pilates.
It takes the appearance of a cushion/pillow style, but has the support of a pad/block, meaning it is a great hybrid that will do the job for any Pilates matwork.
Size – 14″W x 7″D x 5″H
Gaiam Bolster Rectangular Pillow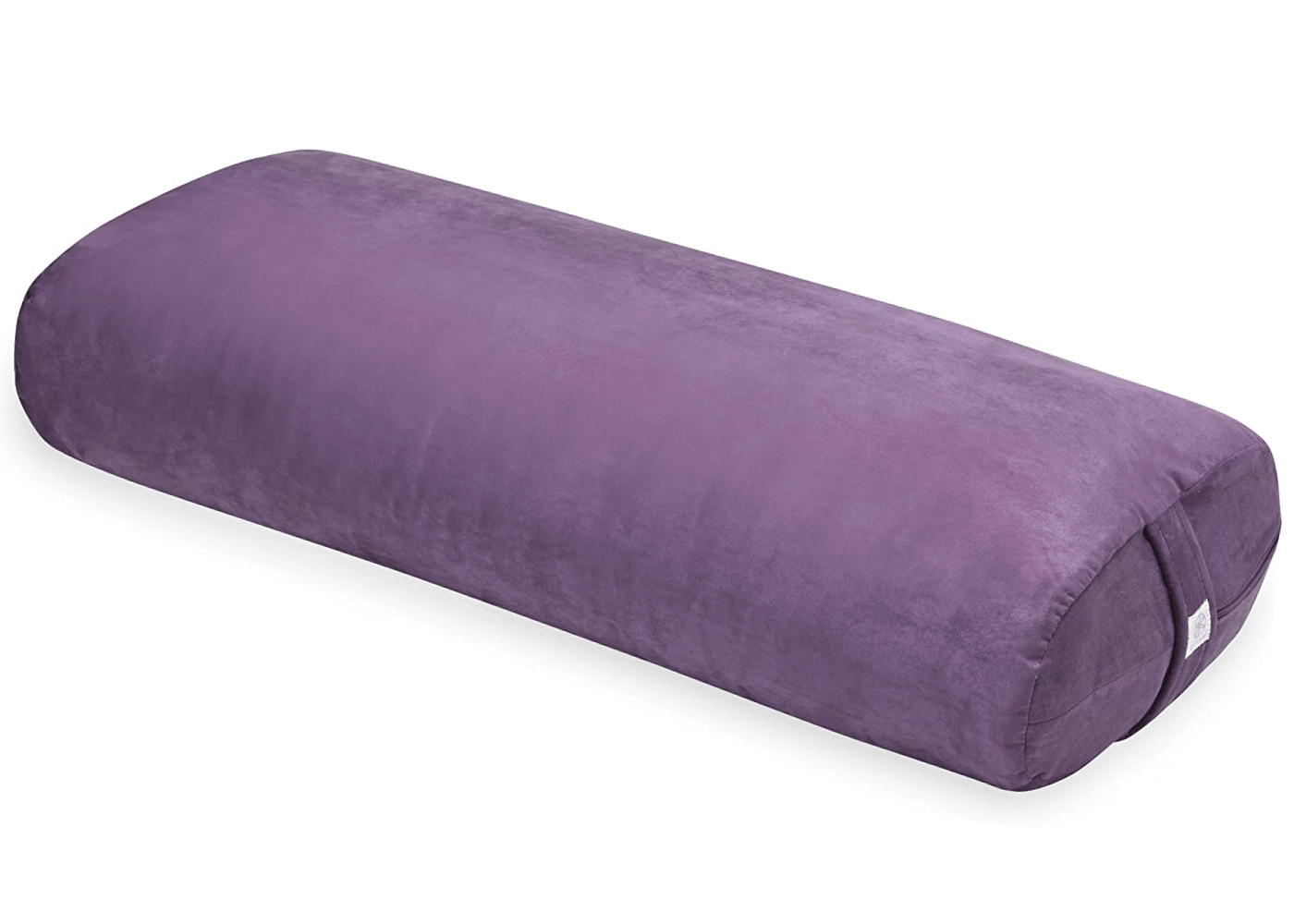 This Gaiam rectangular cushion is another versatile Pilates support, ideal for use under the head, as well as the back or knees.
The cover is made from cotton and has a real quality feel. It is soft and creates a very comfortable feel under the head.
The cushion balances support and comfort very well. Your head sinks into it, creating a comfortable rest, yet the cushion core is firm enough to feel like your head has adequate support.
You can press around the cushion to create an even surface as you may find it doesn't bounce back like denser memory foam. This means it can lose its shape over time which you may find slightly annoying if you want to quickly use it. This is why dense foam is often the most popular filling for any type of Pilates or exercise support.
Size – 25 x 12 x 5
What to look for in a Pilates Head Cushion, Pad or Block
If you're looking to buy a Pilates head cushion or block, there are a few things to consider to ensure you end up with the right one based on your requirements.
Cushions and Pillows Vs Pads and Blocks
One of the first things to consider is whether you want a softer "cushion" or a firmer "block". This really boils down to personal preference.
Your head will sink into a cushion and you can often move around to find that comfortable spot. Cushions and pillows are soft, but they are still firm enough to provide effective support.
Blocks and pads are often much denser, and your head will simply rest on the elevated position. If you are familiar with either Pilates or yoga, you may have used blocks for within classes to support the back and knees. For example, you may already be used to using blocks to tilt the pelvis to create a deeper stretch.
Cover (washable)
A Pilates head cushion, pillow or block with a removing cover is a popular feature that is bound to come in use. It's no surprise that you're likely to get sweaty during any form of exercise, so being able to remove and wash your head cushion is a real bonus.
Blocks often don't come with removable covers, so look for ones that are easy to wipe clean and resistance to moisture and bacteria.
Thickness
The thickness of the cushion or pad will impact both the comfort and stability. It will also influence how you are positioned and how you can flow in and out of specific positions during a Pilates class.
A thicker surface will allow your head to enjoy more padding and support, whilst a thinner surface may feel more natural for some.
Support
You want to feel support when using a Pilates cushion or block. This is why regular pillows aren't usually recommended as they are often much softer. In contrast, specialist Pilates cushions and pillows will be made from foam that is designed to offer premium support and comfort during exercise.
Size
Head cushions and pads are available in a range of sizes. You want to ensure you can fit your head on it comfortably.
Some smaller sizes are useful for travel.
Multipurpose
Some pillows or blocks will be really designed specifically to support the head and neck, whilst more general blocks may be used for all sorts of movements and support.
If budget is tight, you may want to buy some blocks that can be used for different purposes.
A note of warning though, any object used to support the head and neck should be the correct size. Using a block that is too thick, may create an unnatural tilt of your head forwards, which could lead to injury. As a result, when it comes to head support, having a dedicated cushion is often a recommended.
Related Articles:
Yoga stretching straps with loops
Office desk equipment kit list
This website, fitnessdrum.com, is a participant in the Amazon Services LLC Associates Program, an affiliate advertising program designed to provide a means for sites to earn advertising fees by advertising and linking to Amazon.com.