We may earn a small commission on some links at no extra cost to you. Learn more.
99 Walks offers fun, virtual walking challenges to help provide the accountability and motivation needed to walk more during the day and live a healthier life.
The benefits of walking are vast… and it's an activity that doesn't require any equipment, specialistic knowledge or expert coaching. All you need is the motivation to get out to do it.
Which is where 99 Walks comes in. If you find you're lacking motivation or struggling to commit to go for a walk each day, the app and rewards program is a great way to instantly create an environment that will help you stay on track.
In this 99 Walks review, we delve into everything you need to know about the app, bracelets and who it is best suited to.
In a hurry? You can join 99 Walks today with a 44% discount by clicking below. 👇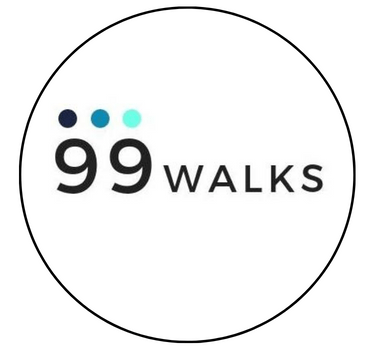 99 WALKS
Walking workouts, track walks, supportive community, earn rewards each month.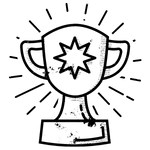 99 Walks Scorecard – Updated 2023
Ease of Use – 4/5
Exercise/Workout Quality -4/5
Performance Tracking – 4/5
Technical/Support – 5/5
Price – 4.5/5
Overall Rating – 4.7/5
Learn more about our review scorecards as part of our editorial review guidelines.
What is 99 Walks?
99 Walks is a virtual walking app that rewards users with real bracelets each month for completing goals.
The premise is simple… but the benefits can be huge.
99 Walks is, in essence, an accountability app. It creates accountability that helps you to stick to your walking goals. It is designed for all abilities and lets you select what distance you want to reach at the end of the month. This means you can opt for a shorter distance if you're just getting started, or really challenge yourself if you're feeling confident.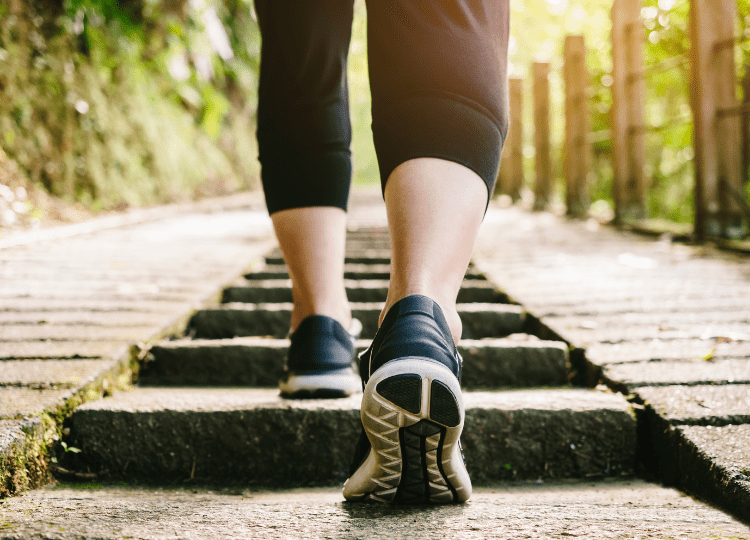 As far as fitness goes, going on walks is a great way to get the muscles moving and to combat a sedentary lifestyle.
The video below shows Co-Founder and CEO of 99 Walks, Joyce Shulman, share her mission and the values around the brand.
How Much Does 99 Walks Cost?
99 Walks costs $16/month. This includes unlimited access to the app and your bracelet.
You can save by paying quarterly ($15/month) or annually ($12.41/month).
99 Walks Bracelets
99 Walks uses bracelets to reward users. There is a new theme for the bracelets each month, so over time you can start to collect the various bracelets. The bracelets are adjustable cuffs, designed to fit all wrist sizes and are custom made specifically for 99 Walks using 316L stainless steel.
The bracelets can only be earned, not bought… which means you really do need to ensure you stick to your walking schedule to earn your bracelet.
The benefit of using bracelets for rewards (as opposed to medals) is that you can wear your bracelets continuously and even wear them on your walks for added motivation.
The use of bracelets as rewards does largely mean 99 Walks attracts a female audience.
The App
The app is surprisingly comprehensive… and means 99 Walks goes well beyond just being a company that ships bracelets.
For starters, the app includes a built-in GPS tracker. This means you can track your walks directly in the app to see how far you've walked. This is really convenient and means you don't need to buy a separate tracking device for your walks.
The tracker will also show a map of your walk, so you can see your route. This is particularly useful if you're walking somewhere new so you can visualize the distance you've covered.
The app also includes an impressive library of talks, podcasts and audio workouts to listen to during your walks. These are all fantastic at enhancing your workouts. For example, the audio workouts can provide tips and a structure for walking along to, such as doing intense bursts, followed by a slower pace for a set time, etc.
The app doesn't stop with this content and also has a valid community section, known as Teams, that allows you to join virtual walking groups and message other walkers.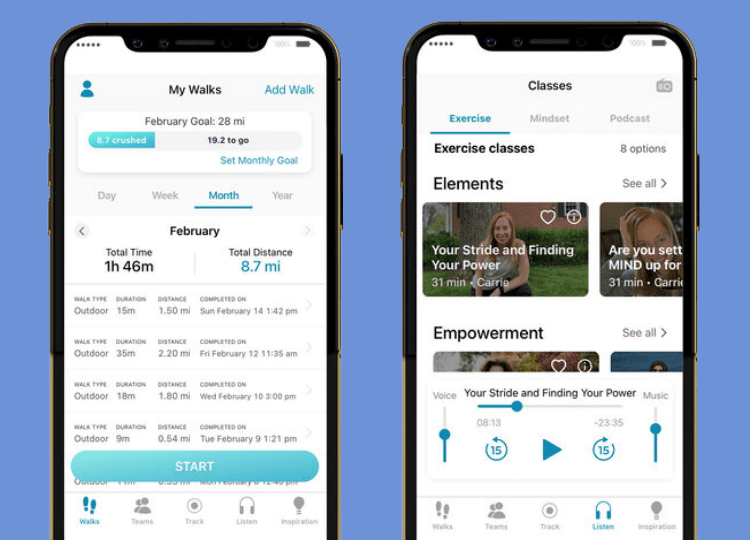 99 Walks Best Bits
Great for Families
99 Walks is a great app to get the whole family motivated to exercise. Although it's primarily targeted towards women, the accountability and tracking can help encourage whole families to walk more.
Walking as a family, or with friends, is not only a great way to exercise and keep fit, but it's also a great bonding activity to do.
Reward Yourself
Rewarding yourself is a proven concept in goal setting and helps to provide ongoing motivation.
Receiving bracelets in the post for completing walks may sound simplistic, but the impact on motivation can be huge.
Knowing you need to hit your targets to earn your bracelet will undoubtedly give you that little extra push if you're considering having a lazy day.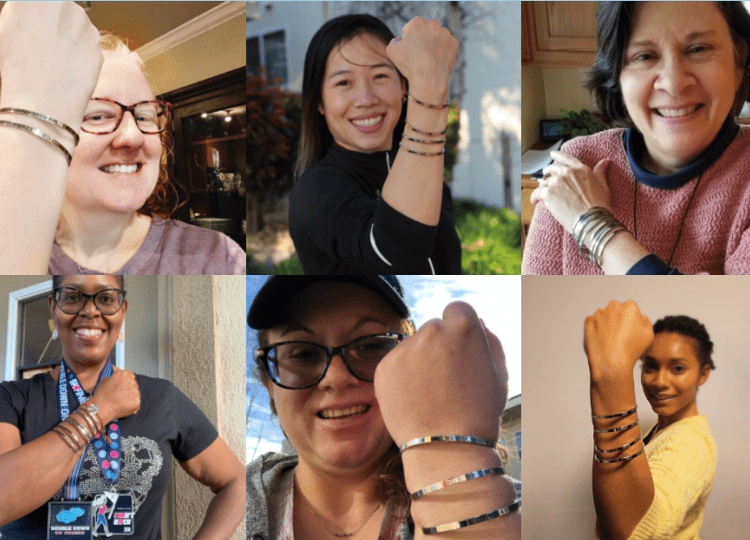 Benefits of Walking (Esp. Outdoors)
Walking is a great form of exercise and helps to lower the risk of all sorts of health conditions, such as heart disease, cancer, and type II diabetes (source).
Walking outdoors has also been proven to have mental health benefits too.
99 Walks helps users enjoy these benefits, as well as the social benefits of doing it as part of a community of like-minded people.
Teams
Teams is a great feature of 99 Walks and allows you to share your journey with other women around the world. As well as earning bracelets, this is another way to create accountability and increase the likelihood you'll stick to your walking goals.
Teams allows you to see the performance of other members, as well as allowing you to post messages to each other. This creates a great virtual community and supportive environment.
Walk Tracker
The walk tracker is really easy to use and having it built into the app means all your walking data is there right.
There's also little mention of the tracker being incorrect when you look through all the 99 Walks reviews online (which can happen with free GPS tracker apps), so that's also a big bonus.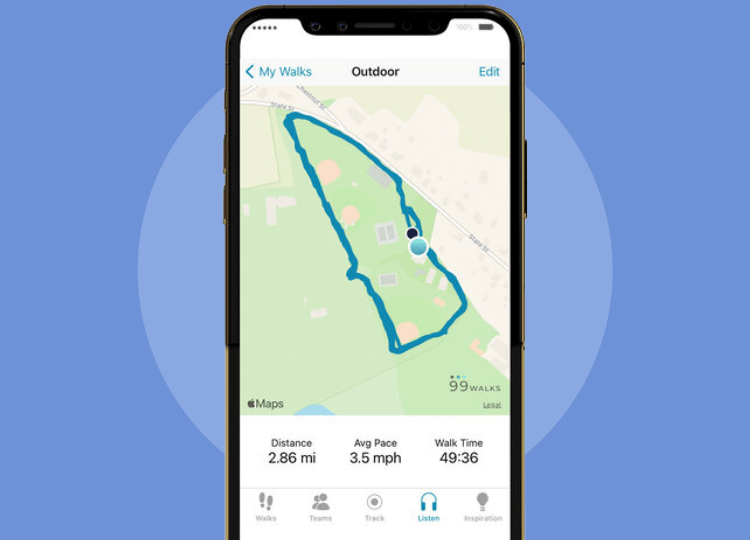 Audio Walks, Meditations and Podcasts
The "inspiration" tab in the app includes content such as podcasts, audio workouts and meditations. These have all been expertly created and are great to enhance your walks, especially if you're walking alone.
From Nordic Walking to Power Walking workouts, there are all sorts of styles and different types of walking to keep you engaged and motivated.
The video below shows Coach Jillie talking about what you can expect on some of her guided audio walks.
Available on Apple and Android
We've reviewed our fair share of fitness apps that are exclusive to Apple and iOS devices, which is frustrating if you have an Android device.
Luckily for 99 Walks users, there is a native app available for both Apple and Android, offering the same experience.
Great Value
One of the main selling points of 99 Walks is the value. It's really not too expensive, considering what you get access you. The Teams and audio content in themselves are really valuable, and the tracker and bracelets are also aligned with a premium product… so for $16/month, it's definitely well priced.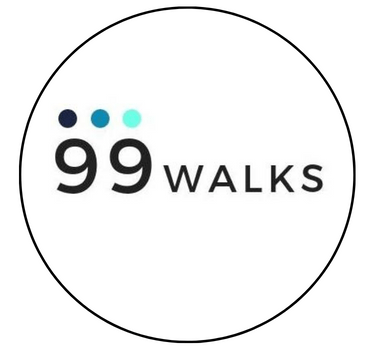 99 WALKS
Walking workouts, track walks, supportive community, earn rewards each month.
99 Walks Reviews
The online reviews for 99 Walks are largely very positive. The app currently has an average rating of 4.9/5 based on 6.6K verified users.
A common theme amongst the reviews is that 99 Walks creates the motivation and accountability to exercise more.
99 Walks Free Trial
99 Walks are currently offering a 2 week free trial to help you get started.
Just click on "Try 2 Weeks Free" at the bottom of the homepage.
Alternatives?
We couldn't really find any direct competitors to 99 Walks. The app, community and bracelets are very unique, so if you're intrigued by the service, you probably won't find a direct competitor.
There are virtual walking companies that offer medals, but these often don't include the community and app that you get with 99 Walks. As we've highlighted, the app in itself is really impressive and something other virtual walking services don't currently compete on.
If you enjoy the audio workouts, classes and meditations, a great complementary app worth checking out is Yoga Wake Up. We think yoga and walking go really well together and Yoga Wake Up could help keep you supple and flexible after your walks with their guided audio yoga flows.
Bottom Line
Virtual walking challenges are a great way to boost motivation and keep you to sticking to your goals. 99 Walks makes virtual walking fun and accessible, at an affordable price.
You can try 99 Walks for free for 2 weeks by clicking below.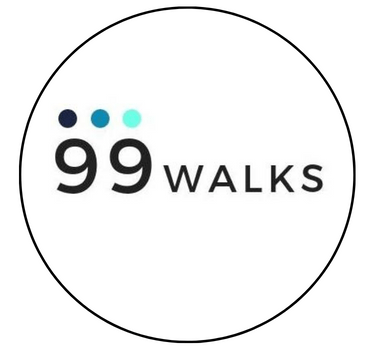 99 WALKS
Walking workouts, track walks, supportive community, earn rewards each month.
Related Articles