What is Wild Camping?
Wild camping, also known as stealth camping, is an activity for the true adventurers and trailblazers.
Wild camping involves camping in the wilderness. No campsites, no facilities, no one else – just you and nature.
Unsurprisingly, it is starting to gain popularity as it allows people to unplug and reconnect with themselves and their surroundings.
Regardless of whether you embark on an adventure on your own, or with family or friends, it is something that is pleasantly simple but meaningful.
Whatever your age, whatever your fitness level, wild camping is possible. All it needs is a sense of adventure.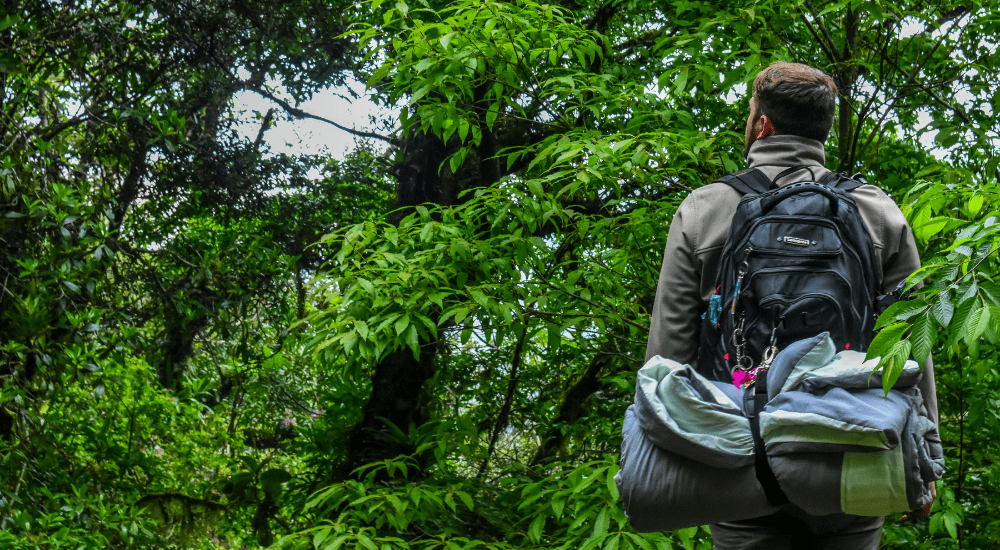 Is it Legal?
In short, wild camping is broadly legal in Scotland and illegal in England.
That being said, its still possible to go wild camping in England (so long as you understand the laws and have done your research).
Scotland famously embraces wild camping and is a popular wild camping destination with people all over the world (so long as you follow basic rules and aren't close to roads, houses or impacting anyone else).
Scotland matches this adventurous stance with stunning landscapes and environments, making Scotland a Mecca for anyone wanting to embark on a wild camping trip.
England, however, has a slightly different stance so its worth understanding this to ensure you don't get caught out on the wrong side of the law. Generally speaking, in England, wild campers must seek and gain permission from the land owner. This will vary around the country and campers may get rejected from some areas and welcomed with open arms in other areas.
Some counties in England, such as Dartmoor and Devon have actually followed suit with Scotland where it is completely legal (even though those counties are in England, where it is illegal – starting to get confused?)
The best approach to wild camping is being prepared. Knowing what area you plan on going to and asking the land owner if you can camp there is the best way to go. As discussed in this article, there are certain areas in England that embrace wild camping and will usually let you stay.
Wherever you go, you should absolutely adopt the mantra of "leave no trace." The Scottish Outdoor Access Code outlines guidelines you should follow but as you can imagine, the general principle is to not disturb others or the surrounding environment and not to leave a trace that you were ever there. If everyone left bits of rubbish or camping gear, beautiful areas would soon become littered and undesirable areas.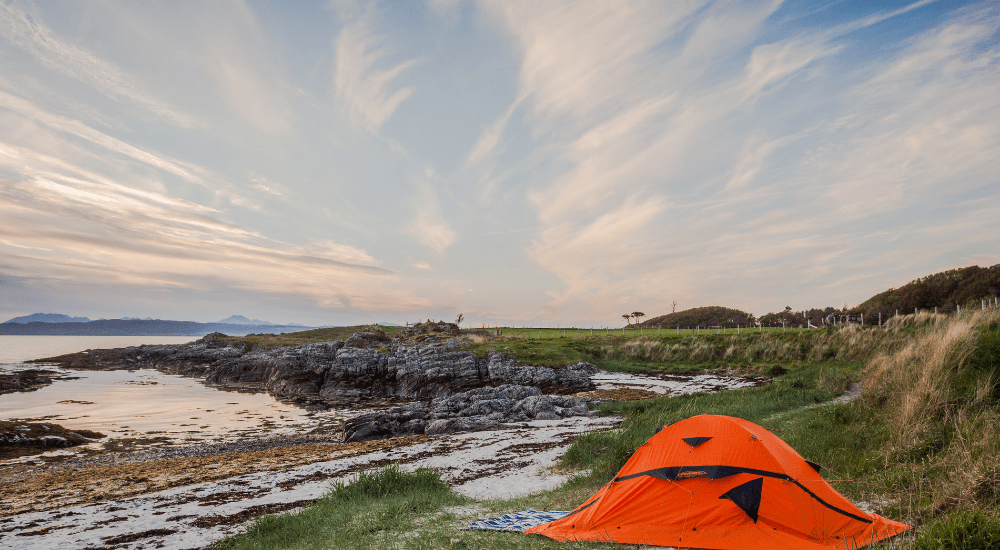 Wild Camping for Motorhomes and Caravans
The rules and regulations surrounding wild camping are different if you are planning on staying in a motorhome or caravan. The Scottish laws surrounding wild camping assume no motorised vehicles.
Common sense should hopefully prevail here – if you're driving your motorhome or caravan all over private land, chances are the land owner isn't going to be very happy.
The Land Reform Act in Scotland states that wild camping is lightweight, and only for a few nights in one place.
Simply put, wild camping technically isn't allowed in motorised vehicles such as motorhomes or caravans. Nevertheless, there will be areas that do welcome this sort of camping, but extra preparation and research should be taken to ensure you follow regulations.
Any sort of wild camping would also mean that there is no electrical hook up for your motorhome or caravan, as well as nowhere to empty waste water or refill water. As a result, the benefits of bringing that sort of vehicle start to become limited and simply packing up a tent and rucksack is likely to be the best option.
Nevertheless, some land owners will welcome motorhomes and caravans. The following websites are worth looking into to see if there are any good spots near you:
https://www.park4night.com/
https://www.searchforsites.co.uk/
If you are looking to make the most out of your motorhome or caravan, there are plenty of beautiful camping spots throughout England, Wales, Scotland and Ireland. These are located in National Parks, on the coast, in the highlands, and everything in between, so even if its not technically "wild", you can still celebrate the great outdoors and feel at one with nature by picking your campsite carefully.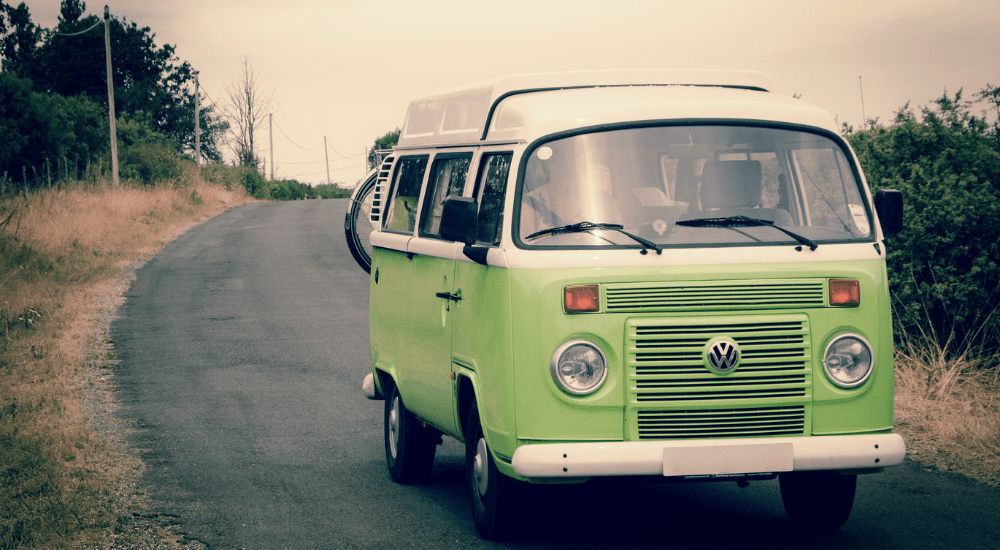 Where to go Wild Camping in the UK?
England, Scotland, Wales and Ireland have some absolutely stunning spots to go wild camping. From recommended spots to completely untouched lands, there is a whole new world out there.
We've outlined some tips for some of the top wild camping regions around the UK.
Wild Camping Tips
To make the most out of your wild camping adventure, following the tips below:
Check Permission
As discussed already, its always worth checking if you need permission for a particular area or spot. Particularly if you're thinking of travelling around a certain region for a few nights, ensuring you aren't asked to leave will ensure your trip goes to plan.
Asking permission and starting a dialog with a land owner can also be a great way to discover any hidden gems in the local area.
Arrive Late, Leave Early
Due to the lack of facilities, its best to arrive late and leave early. This will ensure you can find toilets and other facilities in the morning. This also means you don't disturb walkers or others during the day by being camped out.
Arriving late and leaving early is considered wild camping etiquette.
Bring Essentials
Having essentials like clean water and enough food for the night will ensure your trip is enjoyable and doesn't turn into a survival mission. You don't want to go overboard though and bring too much. Just bringing the essentials will make for the best that wild camping has to offer.
You'll most likely be doing lots of walking and rambling. Luckily there is plenty of hiking for both beginners and experienced walkers around the UK.
Remember things like head torch, warm clothing, map and a first aid kit too.
Leave No Trace
"Leave no trace" is a must for wild camping. You really need to leave an area exactly how you found it. This refers to both litter and waste, but also things like digging holes or damaging vegetation.
Avoid Flat Lands/Rivers
Although you might think you've found the best spot on the water's edge, be careful in lowland. The last thing you need is to find your tent flooded in the middle of the night. Generally speaking, aim high and set up camp in high ground areas.
Wild Camping Cooking
In terms of food and cooking, this is all down to personal preferences. Simplicity is probably going to be the best option here. Minimising the amount of cutlery and food will mean you can travel light and enjoy yourself.
You might simply want to prepare something like pasta or sandwiches the night before and simply eat that.
Or perhaps cook up a camping classic soup or baked beans. Food that comes in boil bags are also handy as you can then just boil up some water and enjoy a hot meal.
Nuts are a great addition to any camp kit list. Protein bars are also a hassle free snack to keep hunger at bay.
Just remember to use a stove and not a campfire. Creating open fires is prohibited for wild camping (in case they spread and get out of hand).
Wild Camping Toilet
Wild camping means wild. This means there are no conveniently placed toilets and showers for use. If you arrive very late and leave early, you may escape from comforting wild camping toileting, but chances are, most will at some point need to relieve themselves.
It is recommended to keep 50 metres away from any water (e.g. stream or lake). Find a spot and dig a hole, covering it up with soil once you have finished. Any toilet roll used shouldn't go in the hole but should be taken with you.
Ideally, you'll have a bag for this that you can dispose of when you get the chance.
Hand sanitiser is a must and will ensure you maintain good hygiene during your camping trip.
Wild Camping Books
There's some great wild camping books and resources out there. These books offer plenty of tips and tricks from people who have wild camped all over the world and will help you feel prepared and ready for what nature throws your way.
Check out some of the following: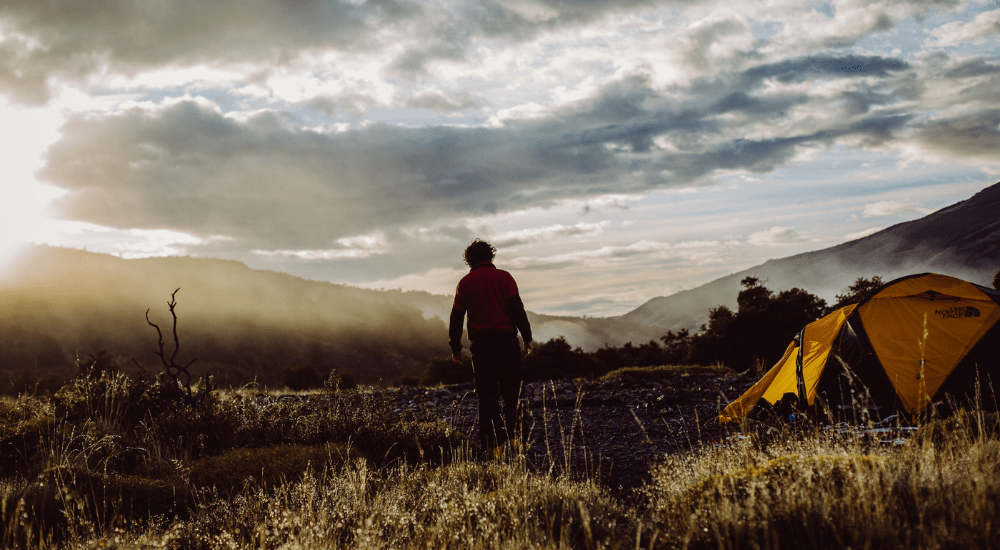 Alternatives to Wild Camping
Wild camping is a true celebration of the great outdoors, but its not the only way to celebrate the great outdoors. Wild camping may not be for everyone but that doesn't mean you can't benefit from unplugging from civilisation and enjoying the wilderness.
There are plenty of amazing camping spots in the UK anyway. Particularly if you're not restricted to going in the school holidays, these campsites can sometimes be quite empty. Like planning any type of trip or adventure, read reviews and look at what previous guests said about their stay. If people say it felt remote and isolated (but its still technically a campsite), this could be a good option to ease into the wild camping lifestyle.
Alternatively, if you can't live without the basics, then glamping is a great way to stay in quirky accommodation in some of the best spots in the UK. From shepherd huts and yurts, to hobbit homes and treehouses, there's an amazing mix of accommodation out there that is worth exploring.
You can even buy these types of huts and pods for you own garden – perfect to turn into a home gym!)
Conclusion
Wild camping isn't for the faint hearted, but it shouldn't be intimidating. It can be incredibly fun and allow you to get back to nature and simply enjoy the great outdoors.
If you're looking to live an active and healthy life then getting outdoors is proven to be the perfect solution.
So, whether you opt for wild camping or something with a few more facilities, we hope you see you out there!
Related Articles:
A Beginner's Guide to Hiking in the UK
This website, fitnessdrum.com, is a participant in the Amazon Services LLC Associates Program, an affiliate advertising program designed to provide a means for sites to earn advertising fees by advertising and linking to Amazon.com.