We are reader supported and may earn a small commission on some (but not all) links within our content to products we think will genuinely help our readers at no extra cost to you.
Les Mills offer some of the most fun and effective workout classes from any brand we've reviewed.
Initially gaining popularity with in-person studio classes, they've recently doubled down on their Les Mills+ subscription service and equipment bundles, designed to transform the way you exercise at home.
Ultimately, the product bundles and on-demand workouts help bring the energy and excitement of an iconic Les Mills studio class to your living room.
Our recent Les Mills+ review highlights our experience of the streaming service… but we thought we'd create a separate guide that delves into what their equipment (most notably, their SMARTBAR) is like, to help you decide if it's worth buying or not.
In a hurry? You can currently save almost $200 on one of their most popular equipment bundles below.
SHOP LES MILLS EQUIPMENT BUNDLES
Save big on Les Mills iconic SMARTBAR and weights, as well as other equipment in their exclusive bundle deals.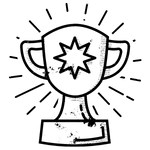 Les Mills Equipment Scorecard – Updated 2023
Build Quality and Safety – 5/5
Workout Diversity – 5/5
Muscle Engagement – 4.5/5
Shipping, Customer Support & Warranties – 5/5
Price – 4/5
Overall Rating – 4.8/5
Learn more about our review scorecards as part of our editorial review guidelines.
Les Mills Equipment – Our Overall Verdict
Overall, it's hard to criticize Les Mills equipment… so much so, we'd truly struggle to name a brand of fitness equipment better for HIIT and home workouts.
Les Mills pioneered a unique and innovative design (referred to as "gator" teeth) that completely transformed how their customers could use barbells in workouts, and for us, that certainly needs recognizing.
Barbells, in particular, are usually tailored to powerlifters and Olympic weightlifting… but this means that trying to do a high rep HIIT workout with them can often be slightly challenging (or at the very least, a big old faff).
For this reason, if you're looking for equipment so you can follow Les Mills and other HIIT style workouts at home (such as a Kayla Itsines workout on the Sweat app), then products like the SMARTBAR are definitely worth it.
You probably could find cheaper barbells, but you'll be compromising convenience… so you just need to decide what best suits you and your budget and your overall fitness goals.
Shop Direct – Avoid Counterfeit Equipment
If you are interested in getting any Les Mills equipment, we'd recommend buying direct from their website. Les Mills have stated that counterfeit versions of their SMARTBAR are sometimes seen on websites like eBay and Facebook Marketplace (and these won't be the same quality or have any warranty).
Pros:
Innovative Design
The Les Mills SMARTBAR allows you to change the weight without needing any clips (or barbell collars). The weight plates also have handles and flat edges, making them more versatile and suitable for high-rep, HIIT workouts.
Easy to Use
The SMARTBAR is one of the easier barbells to you. The design means you can just slot weight plates in, without needing additional clips or collars.
The weight plates also come in a range of weights, making them easy to use for different fitness levels.
Quality Material
Les Mills don't compromise on quality when it comes to their equipment. They use aluminium for the SMARTBAR and the weight plates have a very durable rubber coating.
This equipment was originally designed for commercial use, so it really can go through the reps without looking worse for wear.
Versatile
Equipment like exercise/yoga mats and resistance bands are naturally versatile in terms of what exercises you can do with them, but Les Mills SMARTBAR does feel noticeably different from other barbells when it comes to following Les Mills workouts.
Similarly, the SMARTSTEP also feels like it's been designed to go beyond just stepping workouts, as it also doubles up as an effective exercise bench.
Perfect for Home Use
If you want to create a home gym, it can soon get very costly, but Les Mills offer bundle deals that basically give you all the tools you'd need.
With just the Les Mills SMARTBAR and weights, you'd be able to follow most workouts and programs from all the apps we feature on our shortlist of the best home workout apps and programs this year.
Warranty
Les Mills offer a very generous warranty (SMARTBAR comes with a 3 year warranty), demonstrating the confidence they have in their own products.
Payment Plans
Buying direct from lesmills.com, you can opt for payment plans/financing to spread the cost out (which is great for bundle deals, or if you want their more expensive items like the bike).
Risk Free Trial
Les Mills offer a 30 day risk free trial of their equipment. If you aren't 100% happy, you can get a full refund within that period (currently for US customers only).
SHOP LES MILLS EQUIPMENT BUNDLES
Save big on Les Mills iconic SMARTBAR and weights, as well as other equipment in their exclusive bundle deals.
Cons:
Price
Les Mills is pricier than other fitness equipment. You're basically paying for the convenience their equipment offers (i.e., how versatile and easy it is to use).
Do You Need Official Les Mills Equipment for Les Mills+ Workouts?
No – you don't need official Les Mills equipment to follow their workouts… but it does improve the overall experience. Don't buy something you can't afford, but if you do need some home fitness equipment, Les Mills really is a good brand to go with.
Les Mills SMARTBAR and Weights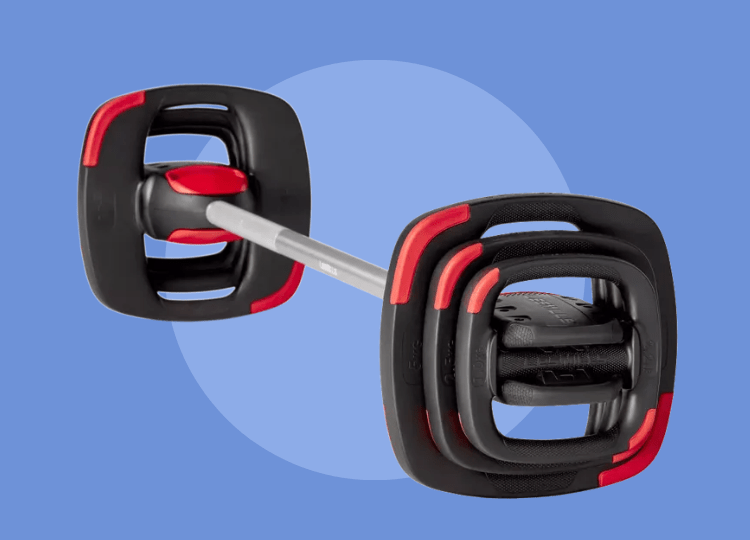 The Les Mills SMARTBAR is one of the most iconic pieces of fitness equipment from any modern fitness brand. The "gator" teeth mechanism to secure the weights in place is patented, which is why you won't have seen another barbell quite like it.
It means you don't need clips, which allows you to remove weights really easily… transforming how you can approach HIIT workouts with weights.
If it takes you 60 seconds to change the weight on the barbell each time, over the course of a 15 minute workout that includes lots of different movements and exercises, it really does change the overall experience.
You can also hold the weight plates as hand weights (i.e., a replacement for dumbbells). The clever design means you can even hold multiple plates at once.
The Les SMARTBAR and Weight set comes with:
bar (x1)
1kg / 2.2lb weight plates (x2)
2.5kg / 5.5lb weight plates (x2)
5kg / 11lb weight plates (x2)
You can buy the bar and weights separately, but it works out much cheaper to opt for one of the bundle deals or the SMARTBAR and weights set.
The SMARTBAR features heavily in the following Les Mills workout programs:
BODYPUMP
CORE
GRIT
TONE
BARRE
SMARTBAR and Olympic Weightlifting
If you want to lift heavy weights for powerlifting style workouts, then the SMARTBAR isn't your best option. This barbell isn't designed to stack 100kg on either side for a new deadlift PR. Instead, its designed for Les Mills workouts which tend to focus on higher-reps, lighter weights and full body conditioning.
Les Mills SMARTSTEP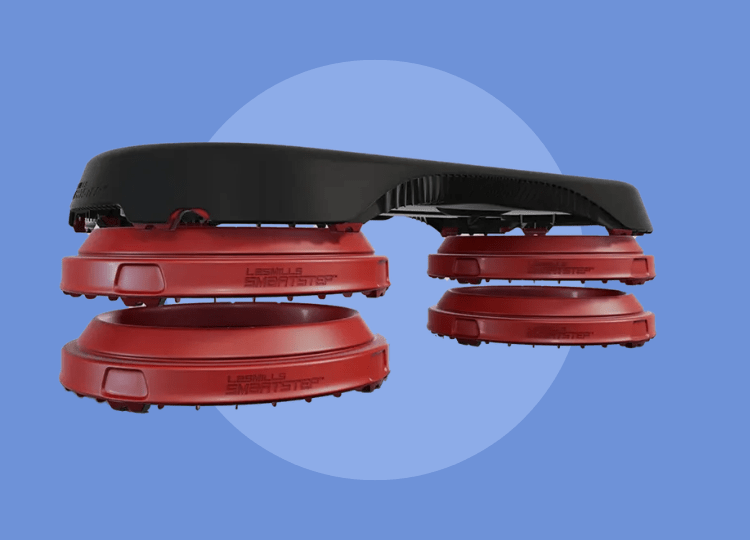 The Les Mills SMARTSTEP is an ideal way to enhance your at-home workouts and opens up a whole-host of new exercises.
It's not just a piece of equipment for step-ups… it goes well beyond that and doubles up as a workout bench, as well as providing an elevated surface for exercises like Bulgarian split squats, and incline/decline push-ups.
The SMARTSTEP comes with 4 risers, allowing you to change the height (for both individual fitness level and for specific exercises).
These risers lock into place very easily and create a very sturdy step to use, even in high tempo cardio workouts.
The SMARTSTEP comes with:
Includes 4 red risers
Includes 1 platform
Les Mills SMARTSTEPPER
As far as steppers go, this one from Les Mills is as good as it gets. But, we don't think it's as different to others on the market (in comparison to the SMARTBAR, which is very unique due to its patented design).
The SMARTSTEP features heavily in the following Les Mills workout programs:
Yoga Mats and Resistance Bands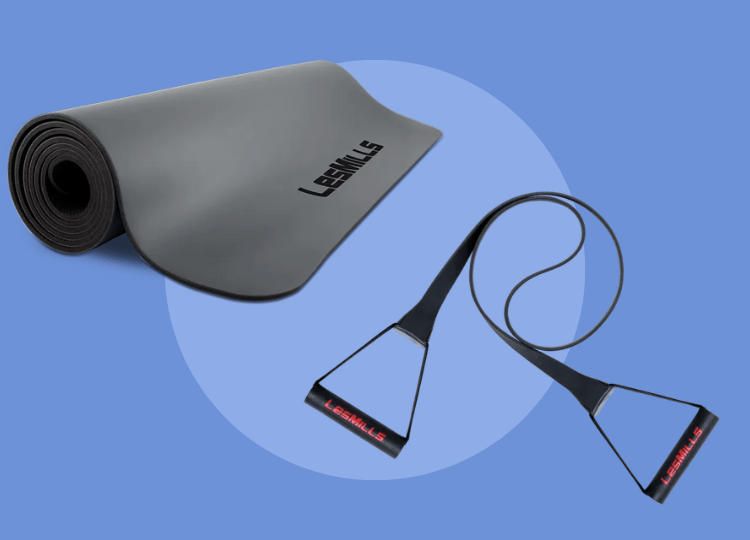 Les Mills also sell yoga mats and resistance bands. Again, these are really high quality and built to last… but in terms of function or design, they are similar to what other brands offer.
These are often available in equipment bundle deals (sometimes thrown in for free), but bought individually, their value isn't as noticeable as the SMARTBAR, for example.
Buying Used Les Mills Equipment
It's worth noting, Les Mills also sometimes sell used equipment directly from their online shop.
If you're looking to save some money and don't mind used equipment, then this is the best way to ensure it is genuine.
You can browse genuine used Les Mills equipment here.
Bottom Line
Les Mills offer a range of equipment options, including bundle deals that save you money.
We think the SMARTBAR is definitely worth considering if you want to do Les Mills workouts at home. The SMARTSTEP is a great option if you don't currently have a stepper, although other brands do offer similar products.
The yoga mats and resistance bands are also great things to have in the house for any sort of workout… and when thrown in with bundle deals, what's not to like about free products!
SHOP LES MILLS EQUIPMENT BUNDLES
Save big on Les Mills iconic SMARTBAR and weights, as well as other equipment in their exclusive bundle deals.
Related Articles
9 Best Weightlifting Apps for Strength Training
Knees Over Toes Equipment Kit List